Welcome to the fourth entry in October's Medium Mod-Ster Contest.  One Medium Mod will be published in every Email Alert in October.  At the end of the month we'll hold a reader vote to determine October's winner.  For information about the Mod-Ster Contest, including how to enter, click here.
Robert Castle, Columbia Falls, Montana
Olympian Wave 3 Installation
1996 Ford F250
1991 Lance 480
By installing a Wave 3 heater, I wanted to save on battery power and avoid noisy furnace use in milder weather.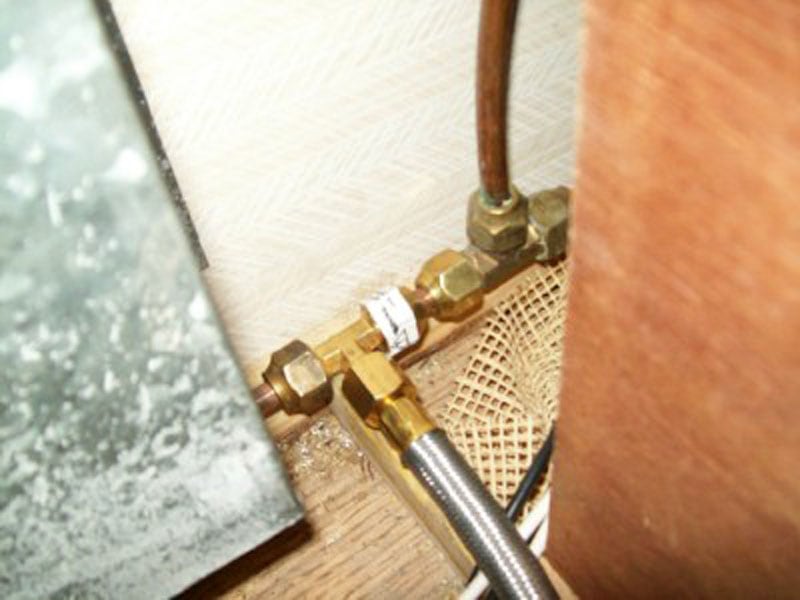 I used a T-fitting to tap into the propane and feed the range and water heater. I added a T and SS braided hose to reach the water heater access door area.  Another approach would have been to tap into the line under the cooktop.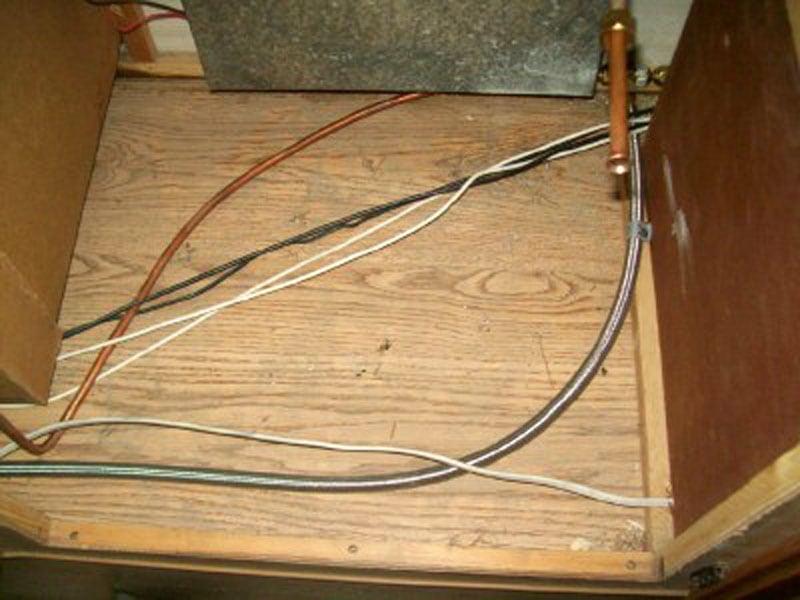 Then, I removed water heater's access door and stowed it alongside. I added a 2×4 spacer to get the removable TV arm far enough out to clear the cabinet's edge.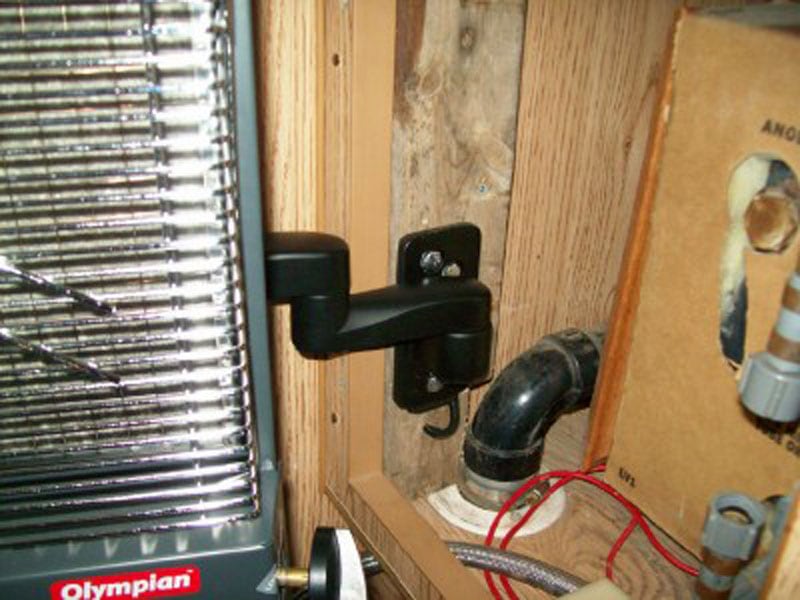 I cut plywood to mount onto the TV arm and installed the Wave 3 to it.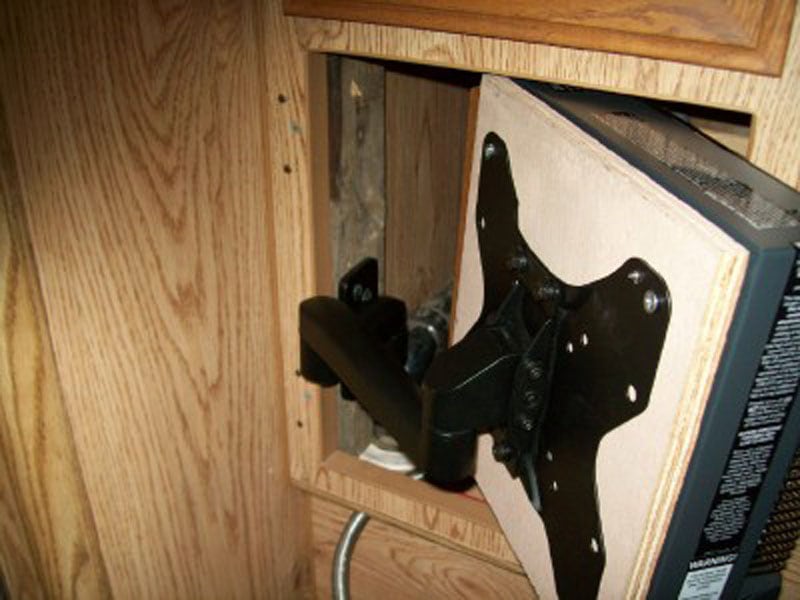 I added a shut off at the end of the braided line and a three-foot rubber hose securing the valve to the wall.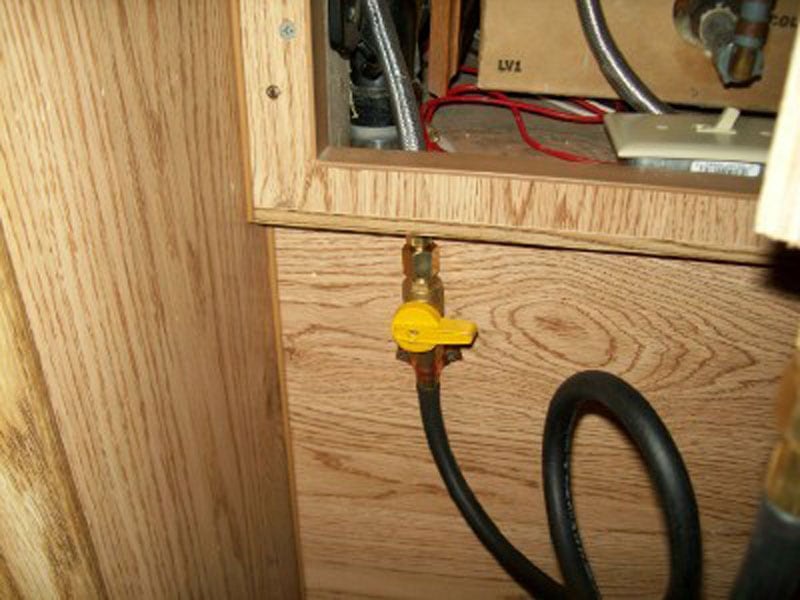 The Wave 3 is in stowed in the daytime operating position.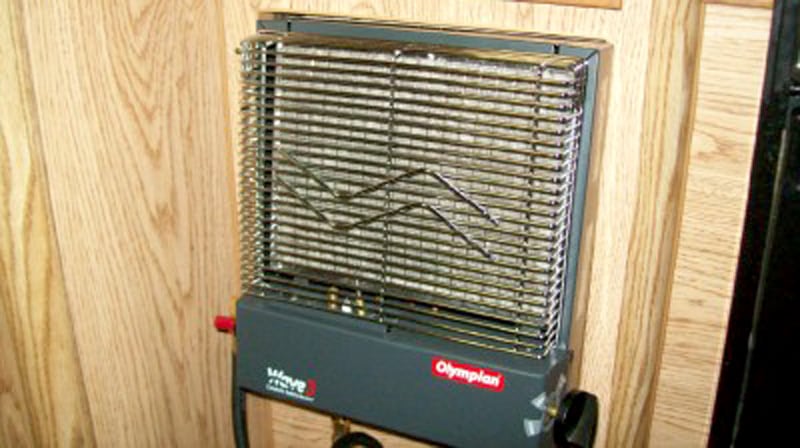 The Wave in the night position allows for maximum heat toward the cabover and I have room to pass by.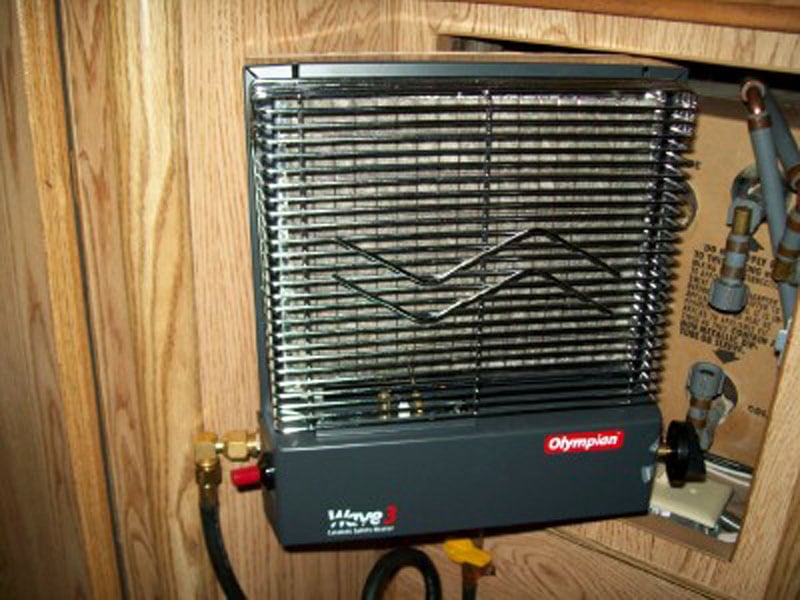 I did a short test on its performance. After one-hour on high, it brought my Lance 480, a 9.5 foot non-slide, from 50-degrees Fahrenheit to 70-degrees Fahrenheit. It was 45-degrees Fahrenheit outside.
Overnight, the outside temperature dropped to 21-degrees Fahrenheit. The inside temperature was at 63-degrees Fahrenheit. I checked a couple times during the night and the inside temperature varied from a 35 to 40-degree rise from the outside temperature.
The temperature was measured at the cabover bed height. It was 10-15-degrees Fahrenheit lower at the dinette away from heater's focus. I didn't have any fan mixing the air. I plan on adding a couple of computer fans in the future to address this.
I really didn't have room in my camper for a larger Wave heater. In a bigger camper, at these temperatures, I would suggest finding a way for the larger Wave 6. The Wave 6 is double the footprint and offers 150-percent of the output.
My initial view of the Wave 3 is that it fits smaller campers. It will need furnace to supplement it below 32-degrees Fahrenheit. I will be able to use it to about 55-degrees Fahrenheit on low without opening vent more than current 1/2-inch.
It sips propane. Even on high it only uses one pound every seven hours, so it would run just short of a week on one 20-pound tank. It's dead quiet; I can't hear it. The humidity has been maintained at 37-percent with the top vent and dinette window both cracked 1/2-inch for safety. The CO alarm hasn't sounded.
Be sure to follow ventilation requirements and use a CO detector for safety.
Installing the Wave 3 took about hour of hands-on time, and a few more to plan. This modification cost me about $350.  In my opinion, the skill level of this modification is medium.
Disclaimer: The modifications above are submitted by Truck Camper Magazine readers. It is your responsibility to make sure that any do-it-yourself modification project you undertake is safe, effective, and legal for your situation.
Enter Your Mods Now!
If you'd like to enter a modification you've done on your truck camper, click here. You can enter as many mods as you want, at any time.  Good luck mod makers!