Welcome to the fourth entry in September's Medium Mod Contest.  One Medium Mod will be published in every Email Alert in September.  At the end of the month, we'll hold a reader vote to determine September's winner.  Click here for information about the 2021 Mod Contest, including how to enter.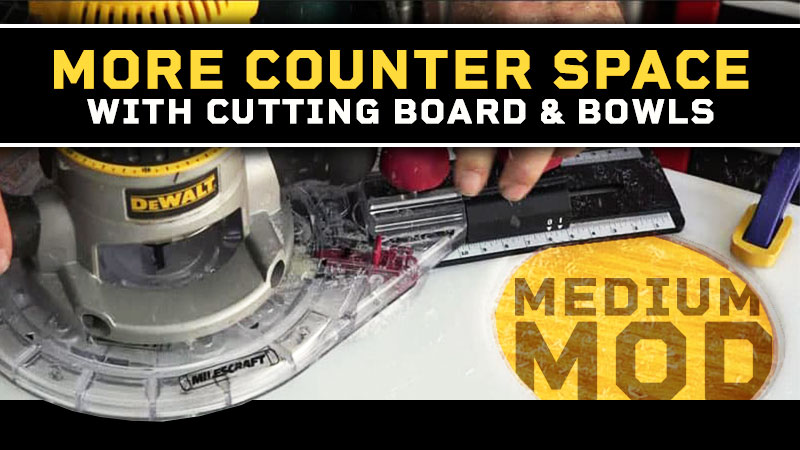 Charles Coushaine, Punta Gorda, Florida
More Counter Space with Cutting Board and Bowls
2001 Ford F350
2012 Chalet DS116RB
All campers can use more counter space and ours was no exception. I decided to make an extra-large cutting board that goes over our double sink and has two bowls integrated into it for cuttings.
I started the project by purchasing a large 1/2-inch thick piece of HDPE (High Density Polyethylene) plastic and two small perforated bowls. The plastic chosen was FDA approved for food safety, doesn't dull knives very fast, and doesn't absorb moisture. The bowls were chosen to allow cut-up food (celery, carrots, etc.) to go into one and peelings to go into the other thus allowing easy transfer away from the cutting board while continuously working.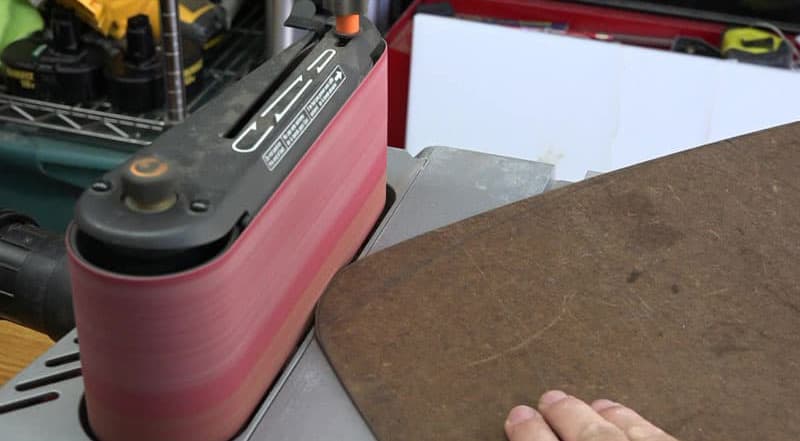 I first determined a custom shape that was approximately 1/2-inch larger on all sides than my double bowl island sink. Then, I shaped a piece of 1/8-inch Masonite to the exact measurements and assured all edges were sanded perfectly smooth.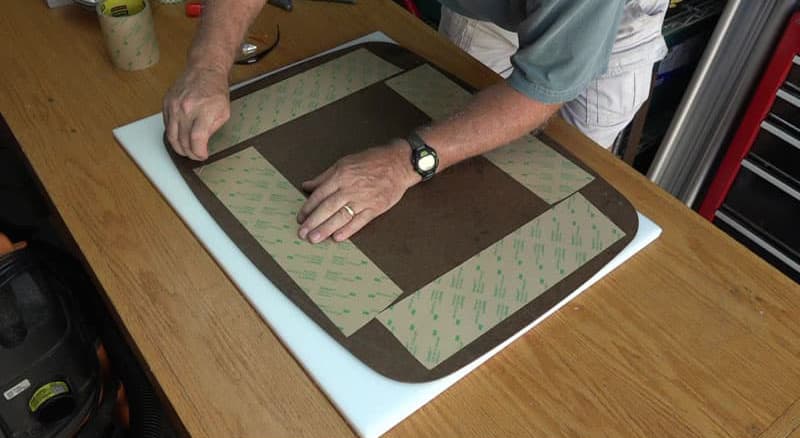 This masonite template was then adhered down with double back tape to the HDPE sheet.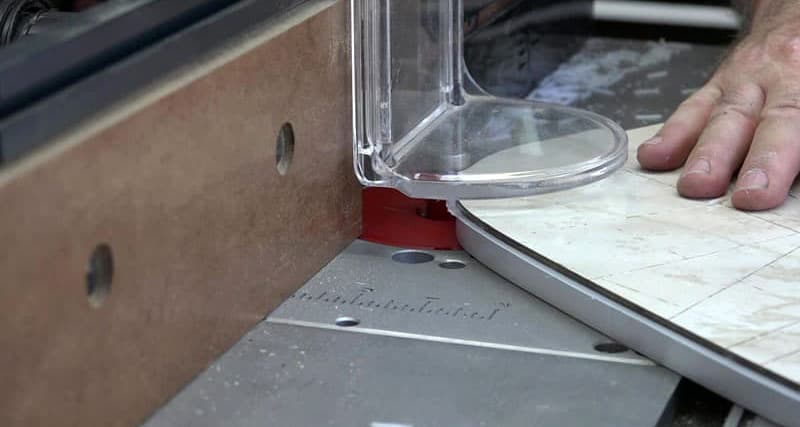 After bandsawing within 1/8"-inch of the template, a flush-trim router bit was used to make a perfectly smooth outer surface. The next step was to add a nice smooth blend to all the top and bottom edges for ease of handling.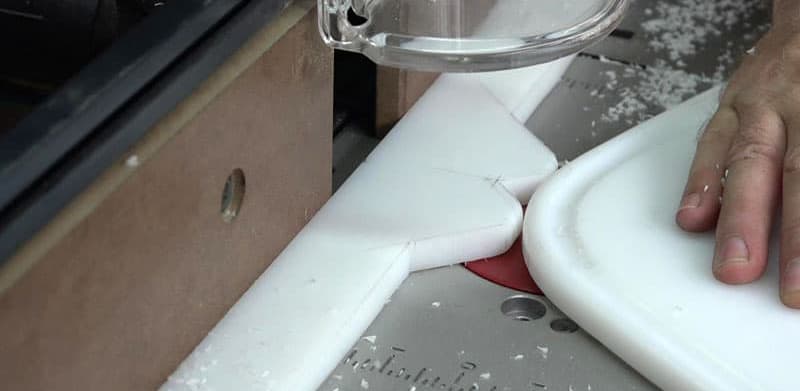 The next step, which was the hardest, was to cut a juice groove into the top and bottom surfaces. Being curved on all surfaces required me to invent a cutting technique that allowed keeping the router bit a consistent distance from the edge. I made a jig with two protruding edges to form a short plane to keep the HDPE piece square to the router bit and it worked perfectly.
The last step was to carefully locate where the bowls were to be positioned and drill two holes through the HDPE sheet to fix the locations.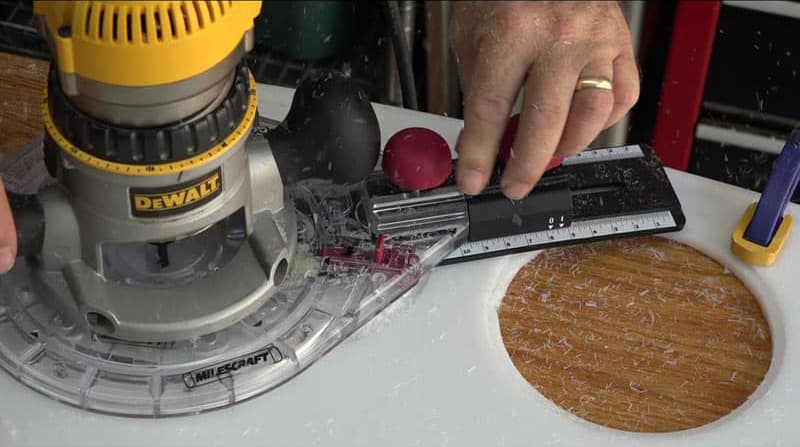 A router circle cutting jig was then used to cut two sets of concentric circles. The first circle cut, 1/8-inch deep, was to hold the top bowl flange, and the next inner circle was to allow the bowl to pass through into the sink area. A little light sanding and the project was completed.
The cutting board works fantastic. It is designed to be flipped any of four ways (bowls left, bowls right, flip board, bowls left, bowls right) and work the same.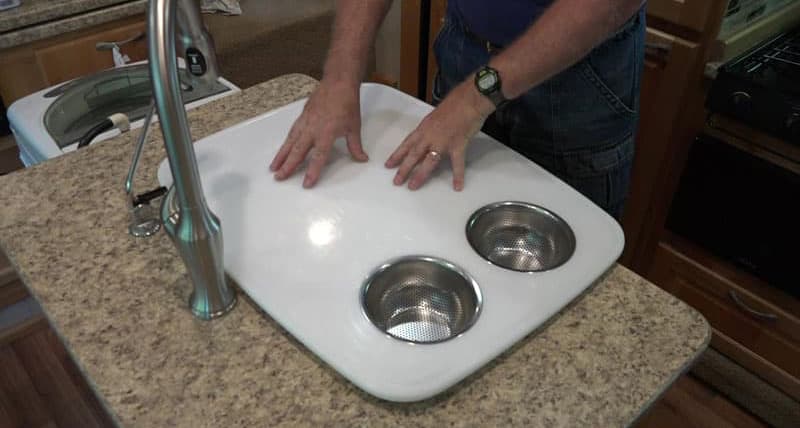 This allows my wife (a lefty) to put the bowls on either side for ease of cutting, and also allows the entire cutting board to be flipped over for maximum usage during food preparation.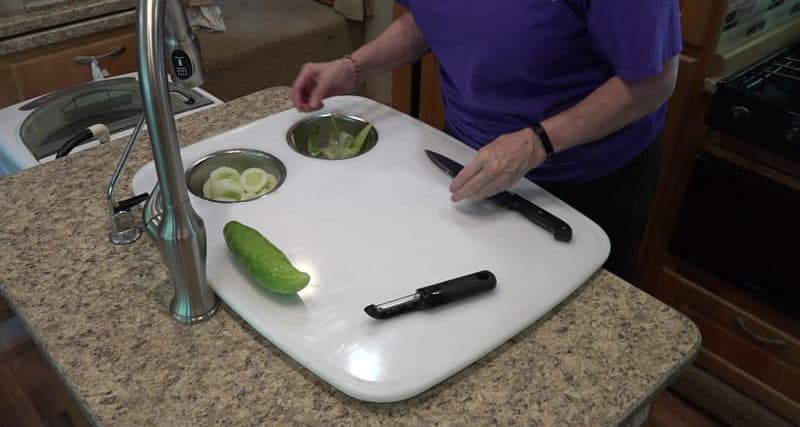 The perforated bowls also allow for liquids to drain into the sink for easy cleanup and are easily removed to transfer cut-up food by simply grabbing the outer edge and lifting it out of its hole. My wife loves it so it's a win-win for me!
Watch the video to see all the details of the construction:

For this modification, I used an HDPE (High Density Polyethylene) Sheet, Opaque White, 1/2-inch Thickness, 24-inch Width, 48-inch Length, RSVP Endurance Precision Pierced Stainless Steel Berry Colander, Milescraft 1219 Circle Guide Kit, and a DEWALT Router, Fixed Base, 1-3/4-HP (DW616).
It took me 6-hours to complete this modification and cost me $95.  In my opinion, the skill level of this modification is medium-hard.
Disclaimer: The modifications above are submitted by Truck Camper Magazine readers. It is your responsibility to make sure that any do-it-yourself modification project you undertake is safe, effective, and legal for your situation.
Enter Your Mods Now!
If you'd like to enter a modification you've done on your truck camper, click here. You can enter as many mods as you want, at any time.  Good luck mod makers!