Welcome to the third entry in March's Medium Mod Contest.  One Medium Mod will be published in every Email Alert in March.  At the end of the month we'll hold a reader vote to determine March's winner.  Click here for information about the 2021 Mod Contest, including how to enter.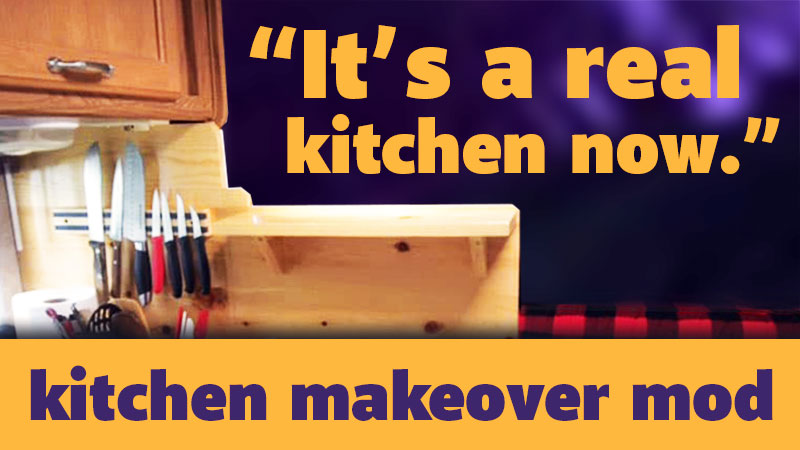 Roch Nadon, Whitehorse, Yukon Territory
It Is A Real Kitchen Now!
2008 Chevy Silverado 2500 HD
2007 Okanagan 89WS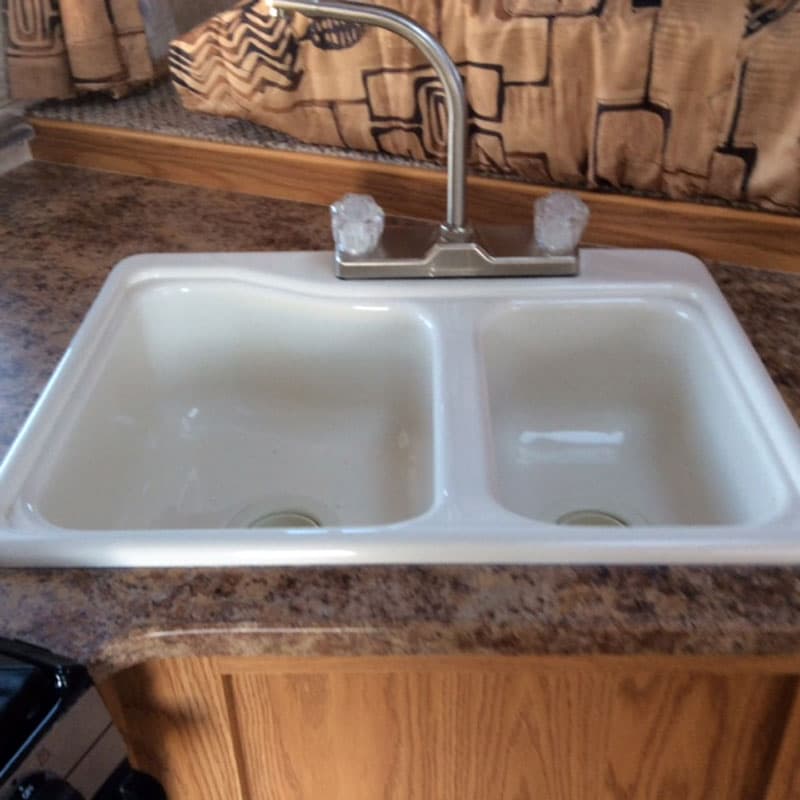 Above: The kitchen space before the modification
I like to cook and I need some room to do it.  Unfortunately, the design of the kitchen in my camper does not give me that luxury.  Furthermore, the mattress is too close to the sink and counter.  I wanted more counter space, a splash guard and an easy way to get my knives and cooking utensils.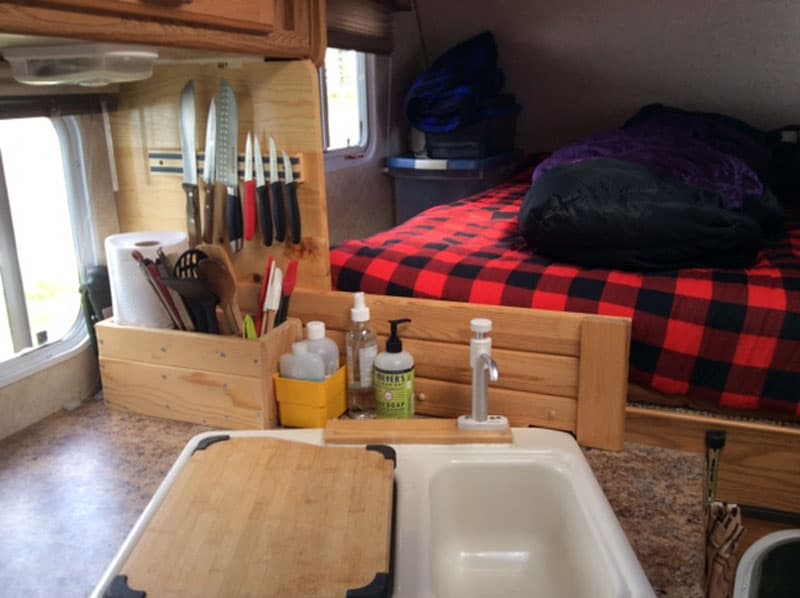 First, I made a division between the kitchen and the bedroom.  The division is in fact two parts of a wall.  One part is fixed, and the other one is removable.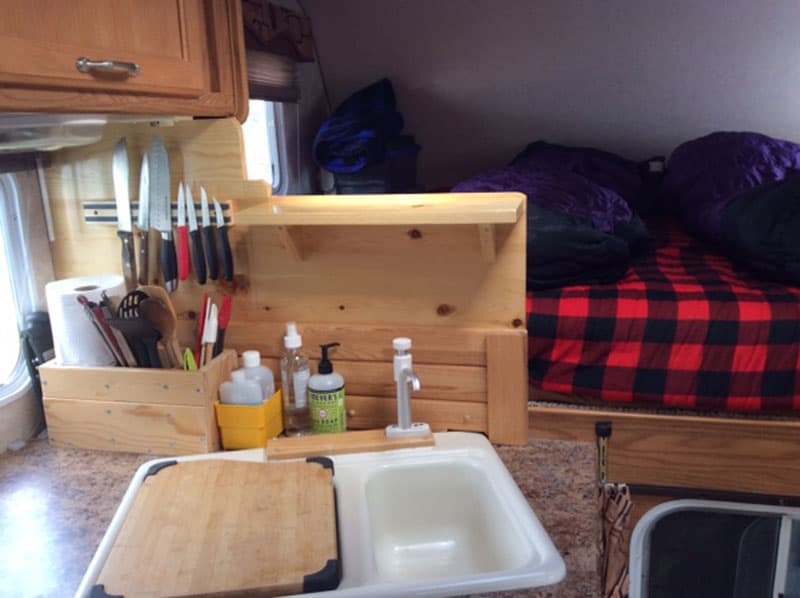 I added a magnetic bar for my knives on the fixed one.  I also made a divider for my cooking utensils.  Finally, I made a removable counter (shown below) between the sink and the refrigerator.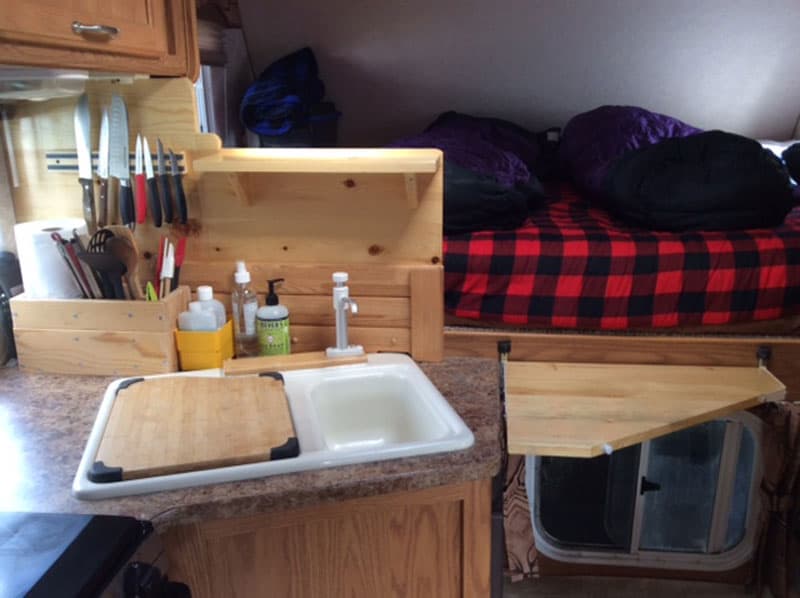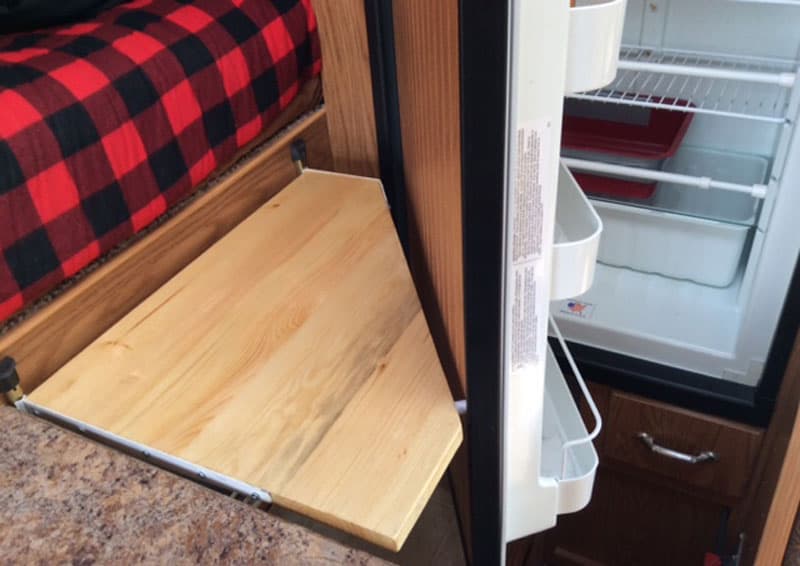 The mod is perfect!  I should have done it a years ago.
I used a table saw and jigsaw to make the cuts, along with a drill/screwdriver.  I already had the varnish, glue, sandpaper, screws, shelf rail and brackets.  I bought the pine at Home Depot and the magnetic bar was bought online at Lee Valley.
It took me three-hours to plan, make cuts, assemble and tweak.  I put on four coats of varnish.  You have to wait 24-hours before adding another coat.
It cost me $90 Canadian.  In my opinion, the skill level of this modification is medium.
Disclaimer: The modifications above are submitted by Truck Camper Magazine readers. It is your responsibility to make sure that any do-it-yourself modification project you undertake is safe, effective, and legal for your situation.
Enter Your Mods Now!
If you'd like to enter a modification you've done on your truck camper, click here. You can enter as many mods as you want, at any time.  Good luck mod makers!