Welcome to the sixth entry in May's Medium Mod Contest.  One Medium Mod will be published in every Email Alert in May.  At the end of the month, we'll hold a reader vote to determine May's winner.  Click here for information about the 2022 Mod Contest, including how to enter.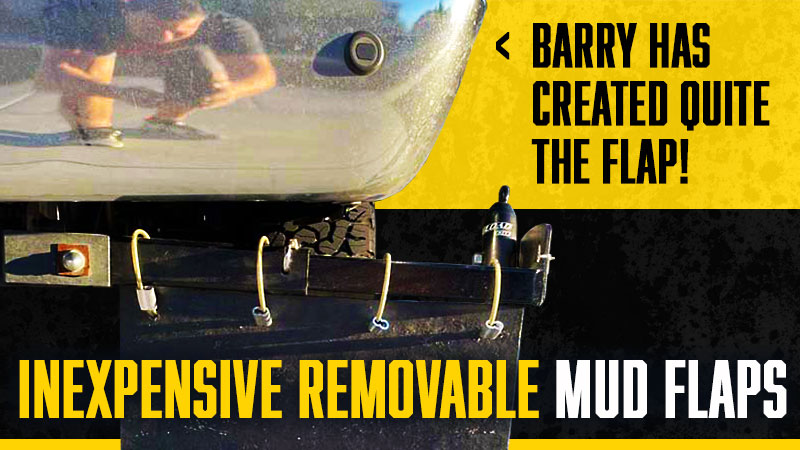 Barry Edwards, Oro Valley, Arizona
Removable Mud Flaps
2014 Ford F-350
2014 Lance 1050S
After pulling a utility trailer behind my truck and truck camper across multiple states, I found several paint chips on the front of the trailer. Then, after hitting a few mud puddles on other outings, the mess it created on the bottom side of the truck camper was something I didn't want to duplicate. We have since purchased a boat to add to our adventures and I didn't want to chip the hull or the trailer.
I needed mud flaps, but I didn't want them on the truck all the time. Researching removable mud flaps resulted in some pricey options. With the removable Torklift tie-down system already on my truck (photo below) for the camper, I thought, "How can I create a removable flap that can be quickly removed like the tie-downs?"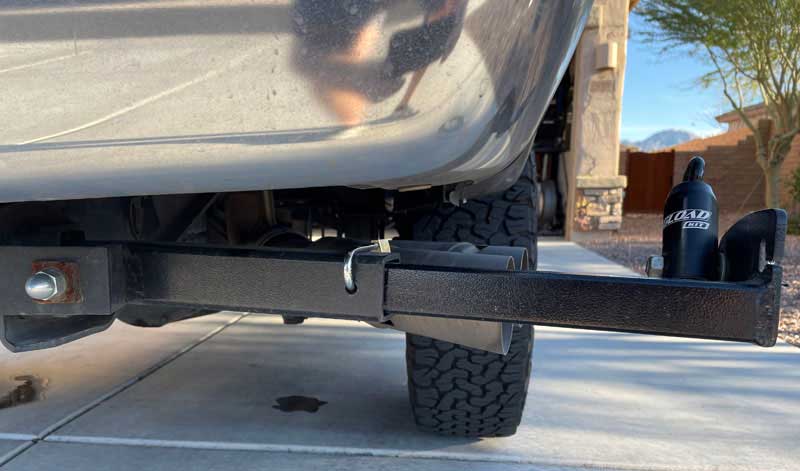 After following a semi-truck one day, I saw the driver had temporarily repaired a hanging mud flap with wire. Then, it hit me! No, not the semi, the idea for mud flaps.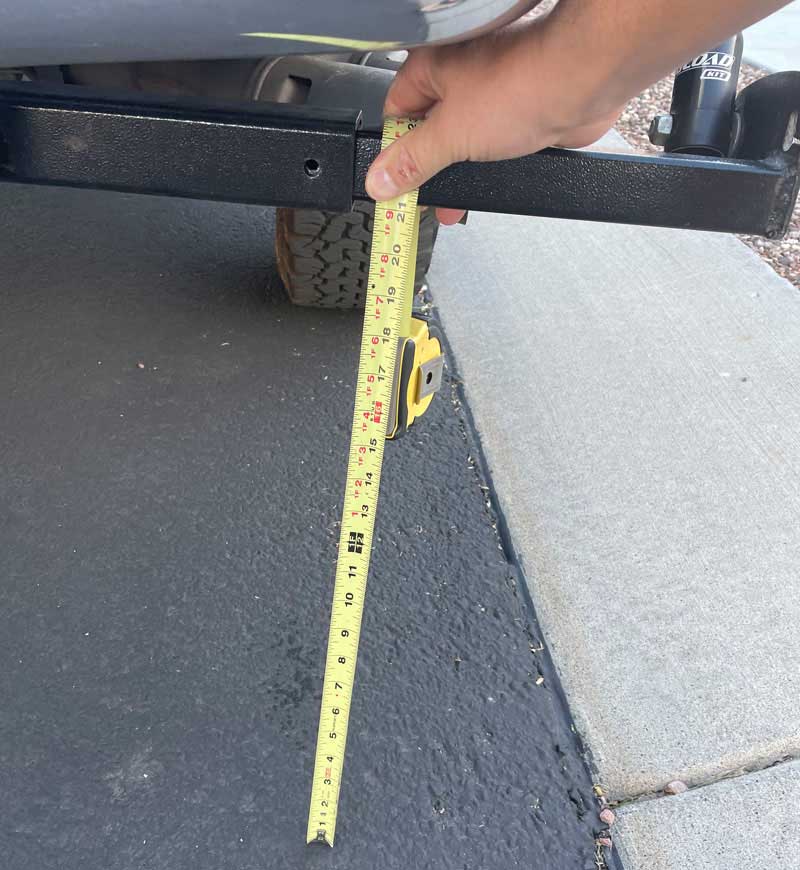 First, I measured my tie-down dimensions with the suspension air bags deflated to prevent the flaps from dragging when not in towing mode. Next, I looked around for parts already on hand and found a dog-run cable we were not using (1/4-inch coated braided wire). The flaps and aluminum crimping sleeves were ordered online for $33 and $15 respectively.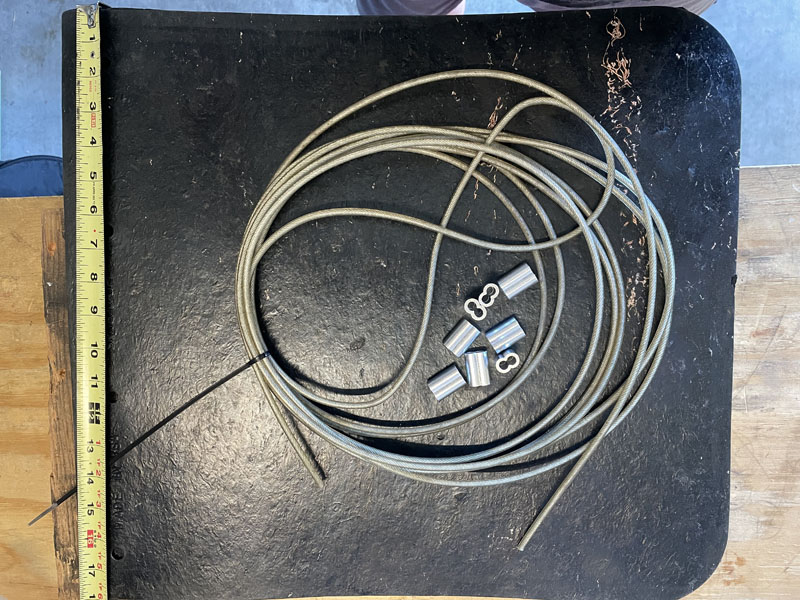 Once received, each flap had four recessed areas for mounting and I drilled out the rubber. Placing the flaps up to the tie-downs, I was able to measure the diameter for the coated cable, cutting them to required lengths. I elected to place two crimps on each length of cable to prevent it from rotating and rubbing the tie-downs while traveling.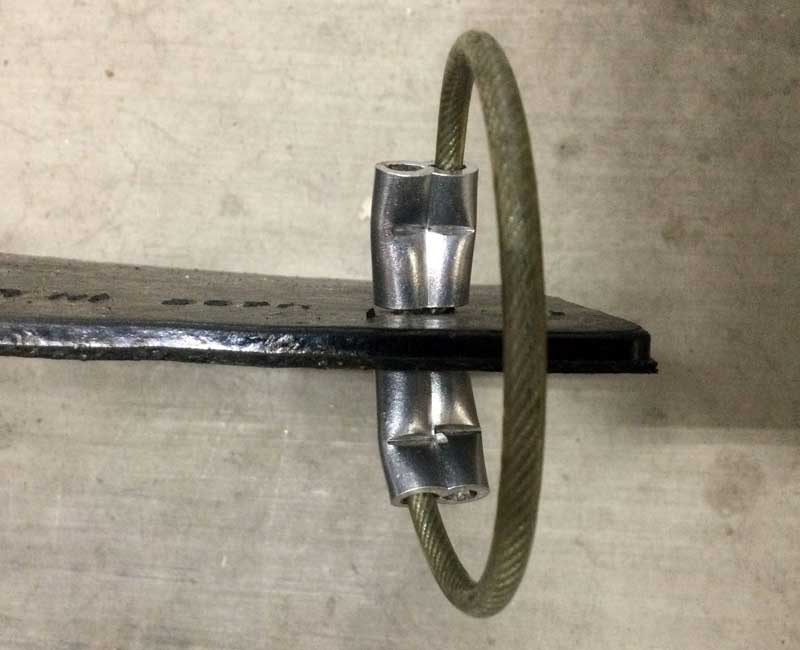 The crimping process was simply using a cold chisel and hammer against the concrete. In the photos, I elected to not paint the wires and crimps to show the work. I have since painted them black to blend in with the truck. Overall, it took me less than one hour to complete this mod.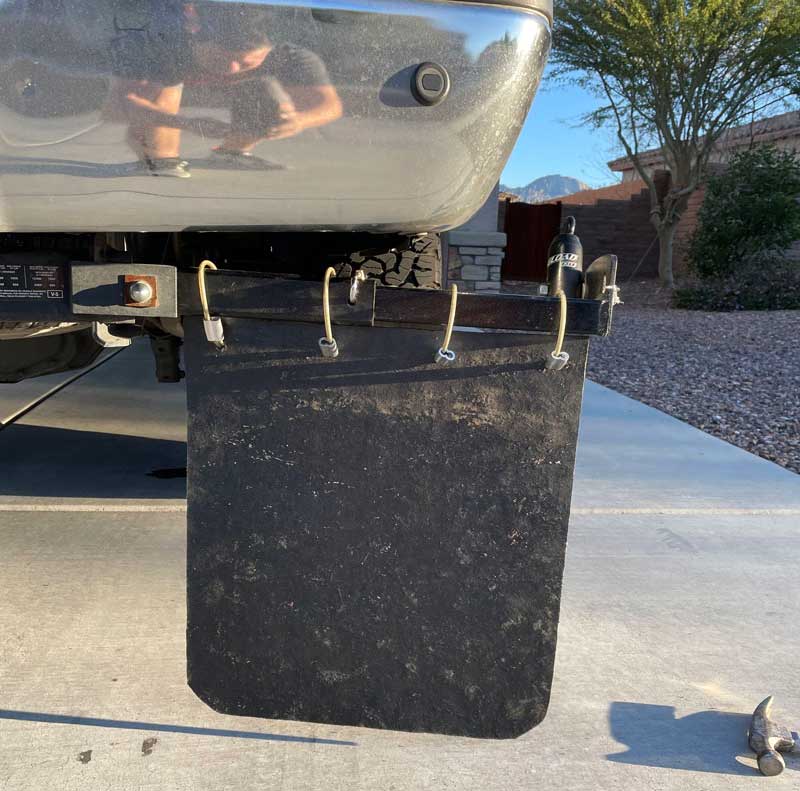 This mod has been extremely useful in deflecting rocks and debris. In fact, family and friends have asked me to make sets for them. The removal process is smooth and easily accomplished by sliding the flap off when removing the tie-down. The weight of each flap is minimal and holds them in place while traveling.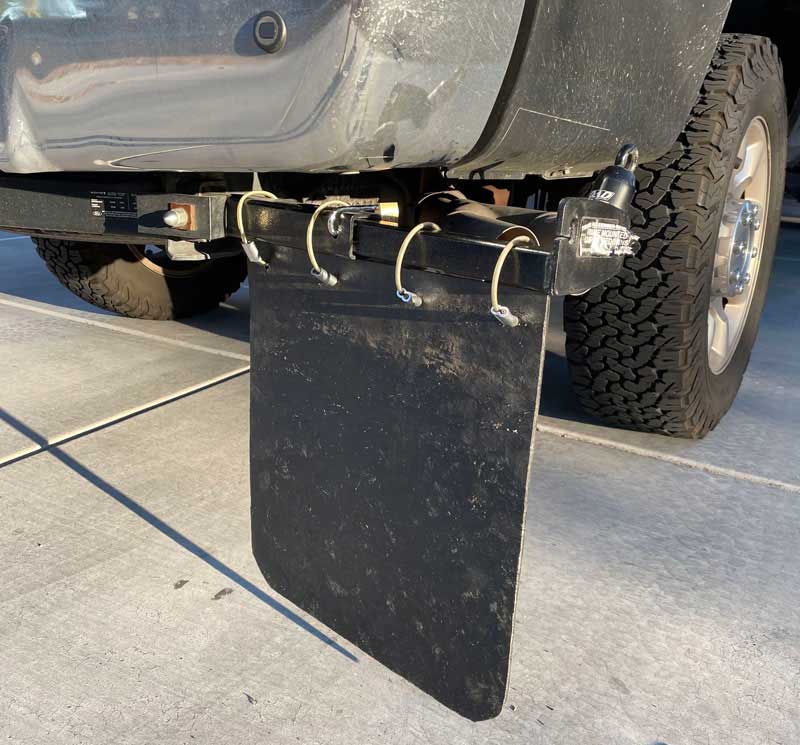 Materials Used:
Mud flaps: $33
Aluminum crimps (50-pack): $15
Coated wire: A 30-foot kit is $9 at the hardware store
It took me one hour to complete this modification and cost me $48.  In my opinion, the skill level of this modification is easy.
Disclaimer: The modifications above are submitted by Truck Camper Magazine readers. It is your responsibility to make sure that any do-it-yourself modification project you undertake is safe, effective, and legal for your situation.
Enter Your Mods Now!
If you'd like to enter a modification you've done on your truck camper, click here. You can enter as many mods as you want, at any time.  Good luck mod makers!