Welcome to the third entry in April's Medium Mod Contest.  One Medium Mod will be published in every Email Alert in April.  At the end of the month, we'll hold a reader vote to determine April's winner.  Click here for information about the 2022 Mod Contest, including how to enter.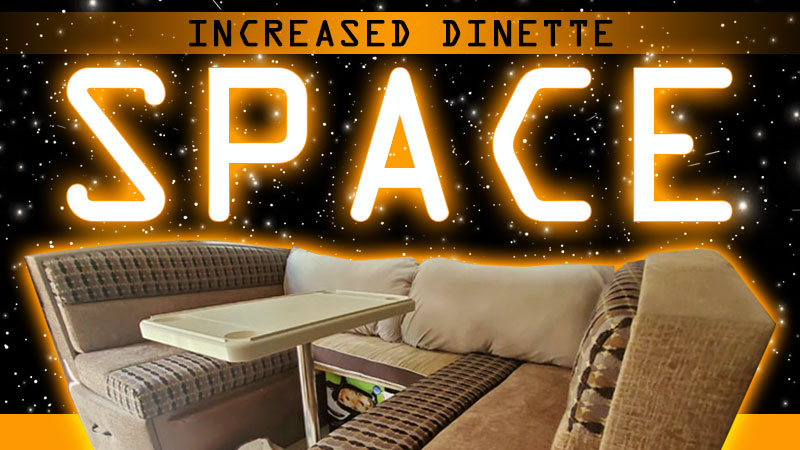 David Fradkin, Effort, Pennsylvania
Increased Dinette Space
2017 GMC 3500
2017 Lance 975
We rarely use our dinette as a bed.  We mostly use it to watch TV on the entertainment center on the opposite wall and lay across on the dinette booths with our backs against the wall.  For meals, we didn't need as much space as the original table provided.  The dinette table was bulky and got in the way when we were getting in and out of the dinette area and when lying to watch TV.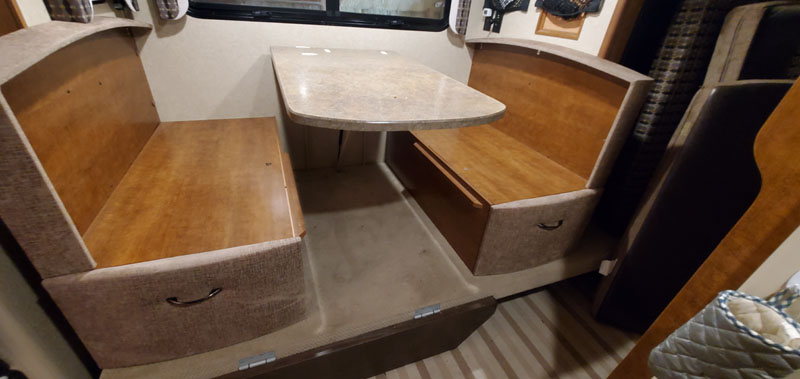 Above: Original dinette with no cushions
I decided to remove the bulky table and magic dinette mount and replace it with a simple pole-mounted table.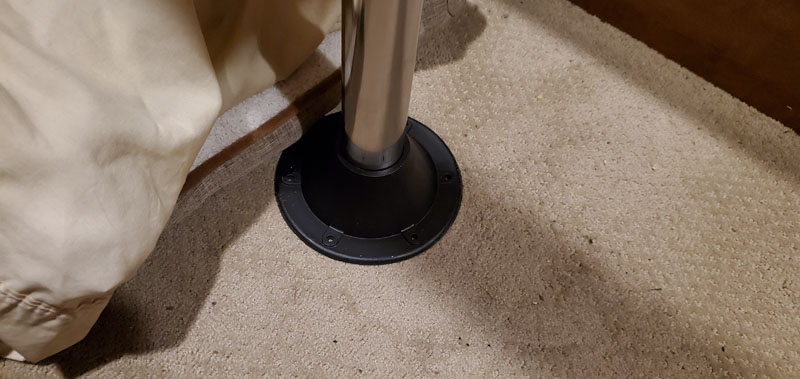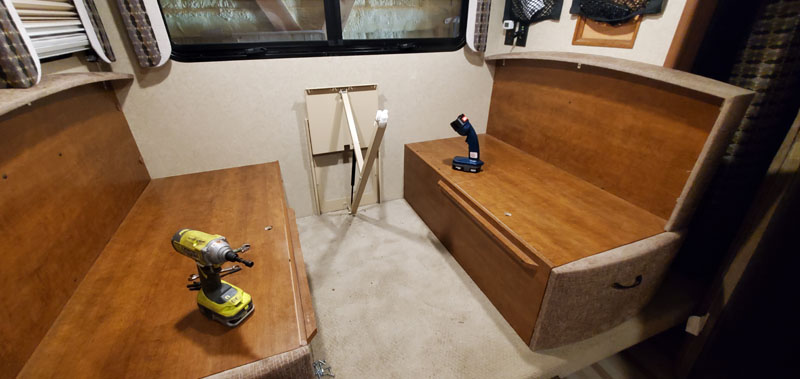 Above: The original dream dinette table was removed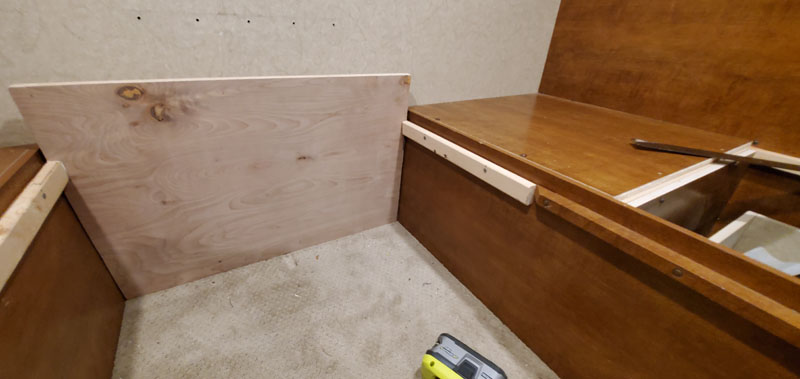 Across the back wall, I added a bench with cushions.  I spaced the wood dowels away from the back wall.  That way there was a crack that allowed storing the plywood shelf out of the way in case I needed the full dinette space.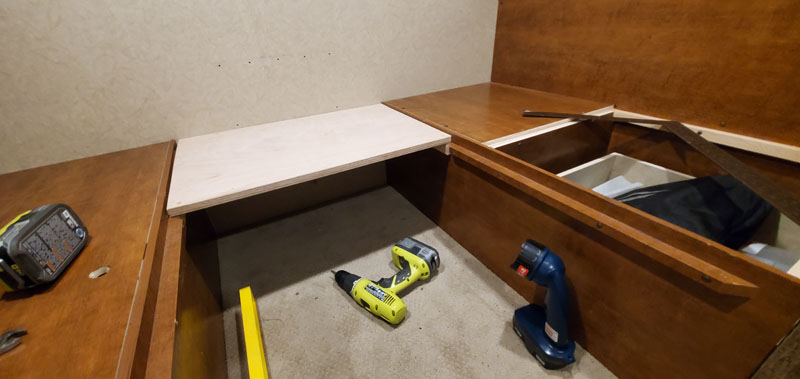 I also wanted to be able to reinstall the original dinette table if I were to sell the camper.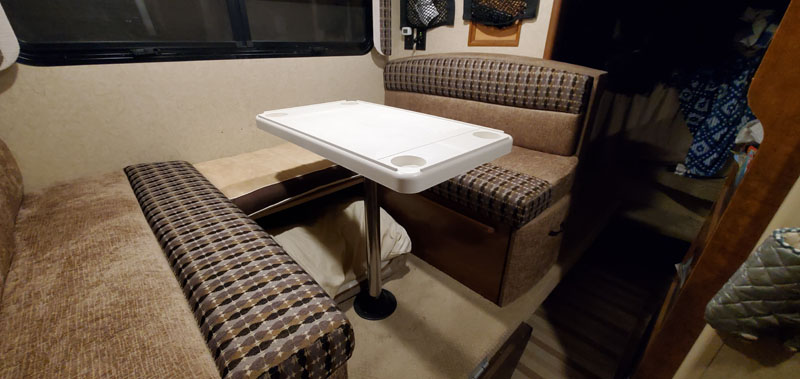 We also purchased cushions that go across the back wall.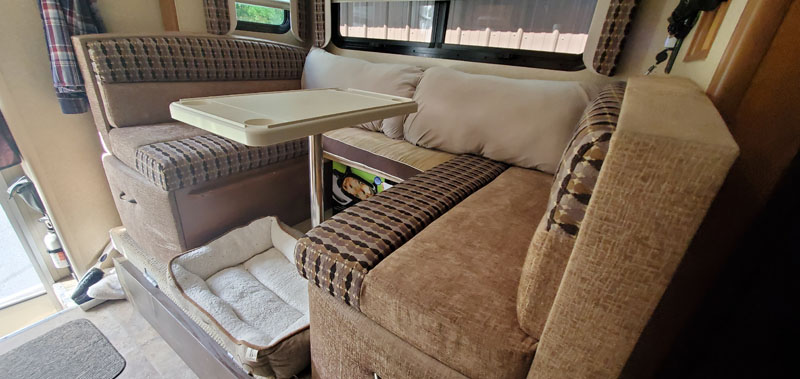 This new table arrangement is perfect.  It opened up the dinette area giving us much more space.  We can lay across the benches with cushions for our backs against the wall and have a place to put snacks and drinks.  It also added an additional storage area under the new bench. Our two toy poodles love their little nest under the table.
Materials used:
1×1 wood dowel (sometimes called furring strips).  I had them on hand, but they cost about $2.00 in 8-foot length at Home Depot.
One sheet of plywood that I had on hand.  You can get a 7/16-inch Square Edge OSB Sub-Floor Panel for $20 at Home Depot.
Detmar 12-1106C Removable Rectangular Marine/RV Table on Amazon.  These come in rectangular or round, wood or plastic.
26×18 pet bed pad; $12-$25 on Amazon.
Long Couch Pillows; $12-$20 on Amazon depending on style; fabric or leather, etc.
It took me two hours to complete this modification and cost me $200.  In my opinion, the skill level of this modification is easy.
Disclaimer: The modifications above are submitted by Truck Camper Magazine readers. It is your responsibility to make sure that any do-it-yourself modification project you undertake is safe, effective, and legal for your situation.
Enter Your Mods Now!
If you'd like to enter a modification you've done on your truck camper, click here. You can enter as many mods as you want, at any time.  Good luck mod makers!