Welcome to the first entry in November's Mega Mod-Ster Contest.  One Mega Mod will be published in every Email Alert in November.  At the end of the month we'll hold a reader vote to determine November's winner.  For information about the Mod-Ster Contest, including how to enter, click here.
Steve and Beth Edwards, Fremont, Wisconsin
Improved Camper Entrance Step
2011 Dodge Ram 3500
2008 Lance 881
We are in our 70s and it was getting too difficult to climb the steps, unlock the door, open the door, and continue into the camper with the stuff we are inevitably carrying. We often have a trailer or tow dolly hooked on and falling on the hitch was always a reality that we wanted to avoid.
We did not want to do any serious modifications to the camper itself. We asked our son, a professional welder, if somehow we could make a platform that we could step up to easily and that would allow us to stand comfortably while opening the door.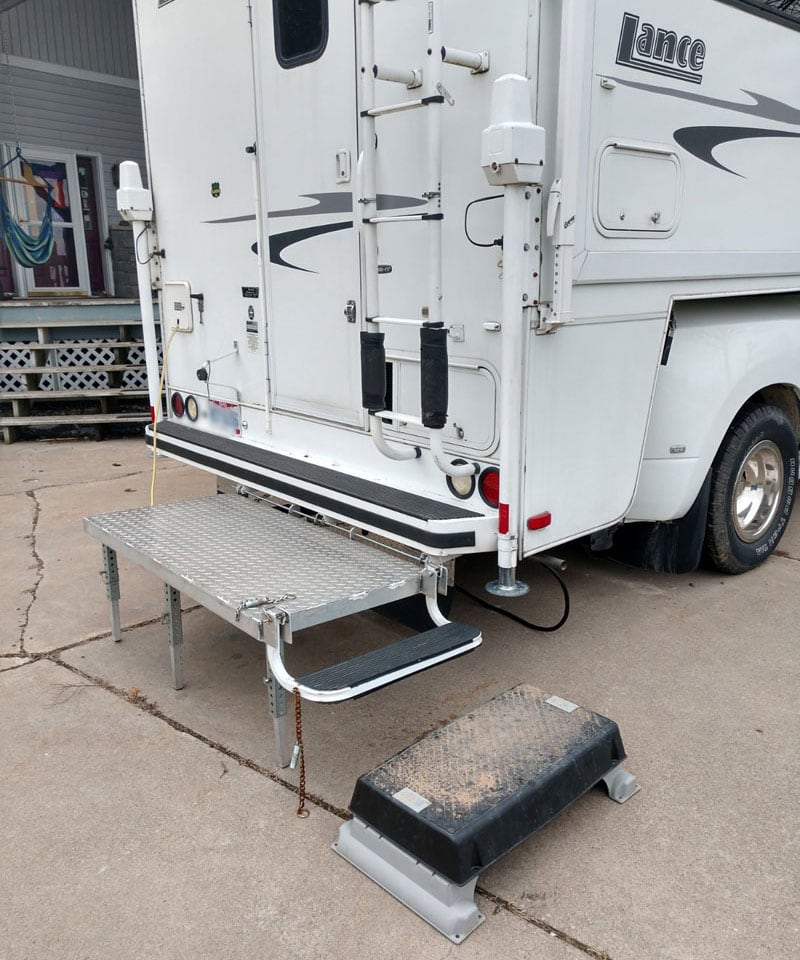 It also had to allow us to keep the trailer or car dolly hooked up. His reply was, "Is that all?" He and I thought about it for a while.
We first built the platform out of 2-inch x 1.5-inch 11-gage (~1/8-inch) box aluminum with a couple of cross braces and with 1/4-inch aluminum diamond plate on top. We took a guess at the best size and built it 25-inches wide by 49-inches long. That turned out okay.
Next we used 1/4-inch thick aluminum flat and cut out some ears that we would weld to the front of the platform. Then we drilled a 3/8-inch hole the same place in each of them about 3/4-inch ahead of the platform and the same above it.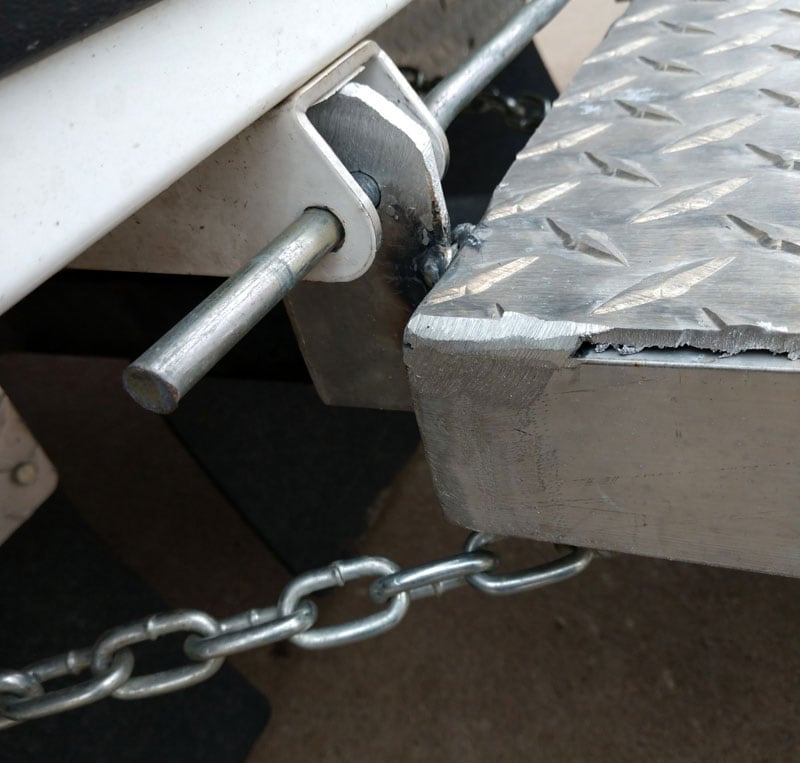 We fed a 5/16-inch stainless steel rod through the camper's step holder holes with the rod being a bit longer than the platform. We used four of these ears (2-inch x 3.5-inch) and put them on this rod near the camper's brackets as we pushed it through. We used stainless steel rod because it won't rust and because it is stiffer than mild steel or aluminum.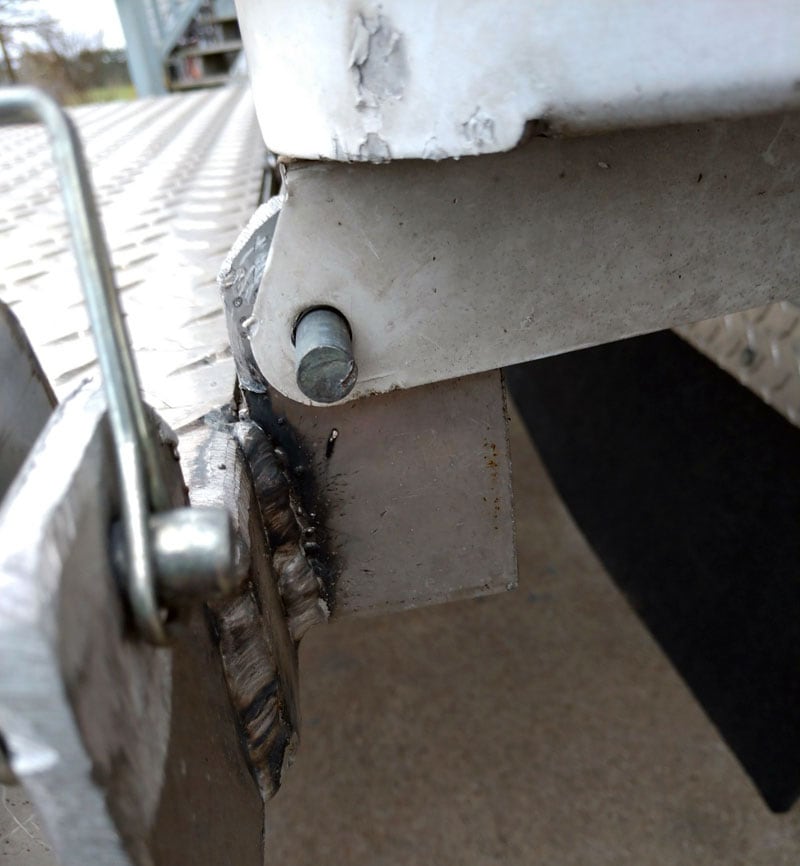 Before we welded these ears to the platform we used jack stands to hold it, with and without a trailer or dolly hooked on. We wanted to be sure we could fold it up and down and not interfere with anything. We also rounded the corners off these ears so it would fold up without hitting the camper's bumper.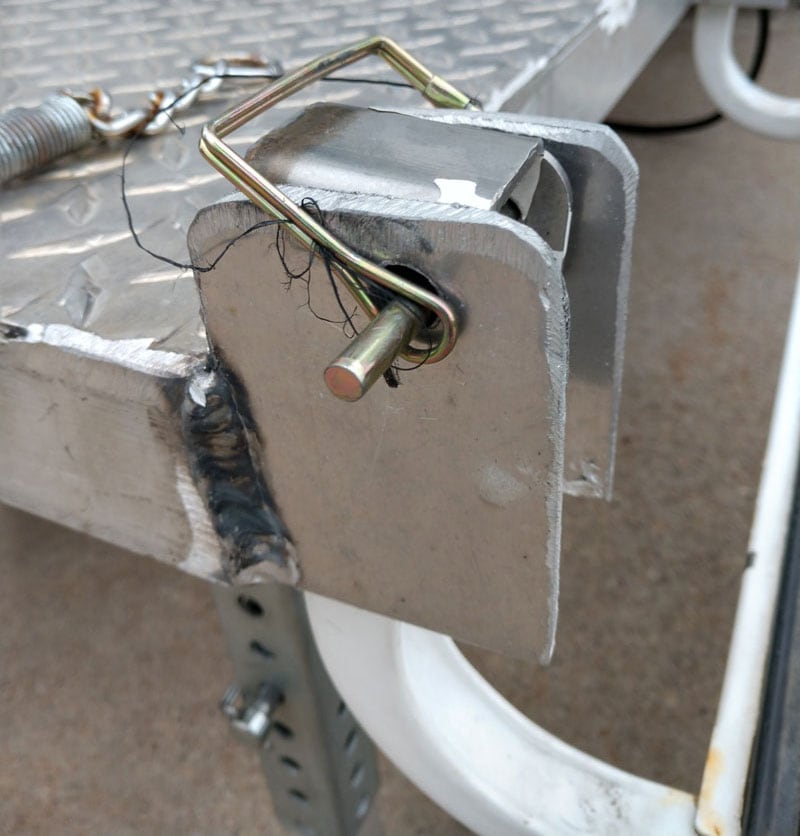 The most difficult part was mounting the four extra ears on the end of the platform to hold the Lance step that we took off the camper. We wanted it tight in the hole and flush with the 2-inch face of the platform.
With all the curves and bends in the step, we just drilled larger holes and then installed the clevis pins to hold it. Actually, the larger holes made it easier to fold up the step and hold it tight to the camper's jack when traveling.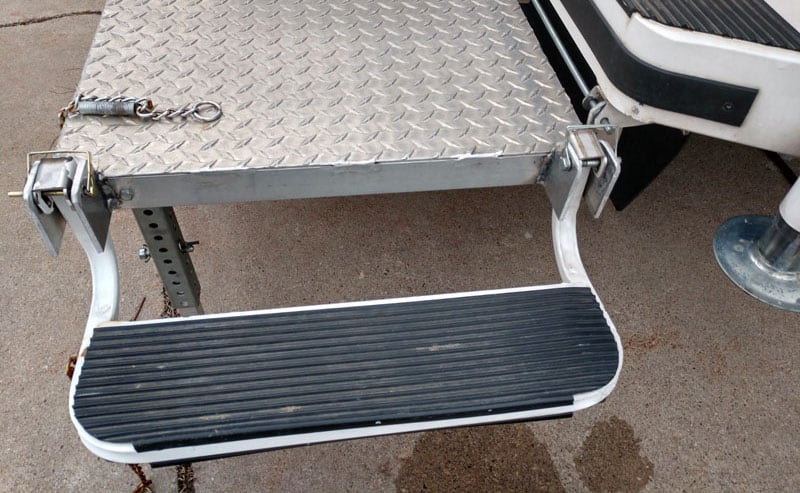 One of the last things we did was mount three adjustable legs on the back underside of the platform. In hindsight, two would have been enough, especially if pulling a trailer is involved.
The legs are made up of 1.5-inch square tubes that have holes with smaller square tubes inside them. The inner tubes have one hole in them and their height is set using the clevis pins.
On level ground we made them produce the right flatness at the mid point of the holes. That way they will adjust to a variety of camping conditions. They automatically fold up when the platform is raised.
Sometimes, in really soft sand, we slip a small board under the legs to keep them from sinking in. We installed a J-hook behind the ladder so we could hook a stainless steel dog chain from both the platform and the step. This holds it all against a piece of swim noodle we put on the ladder.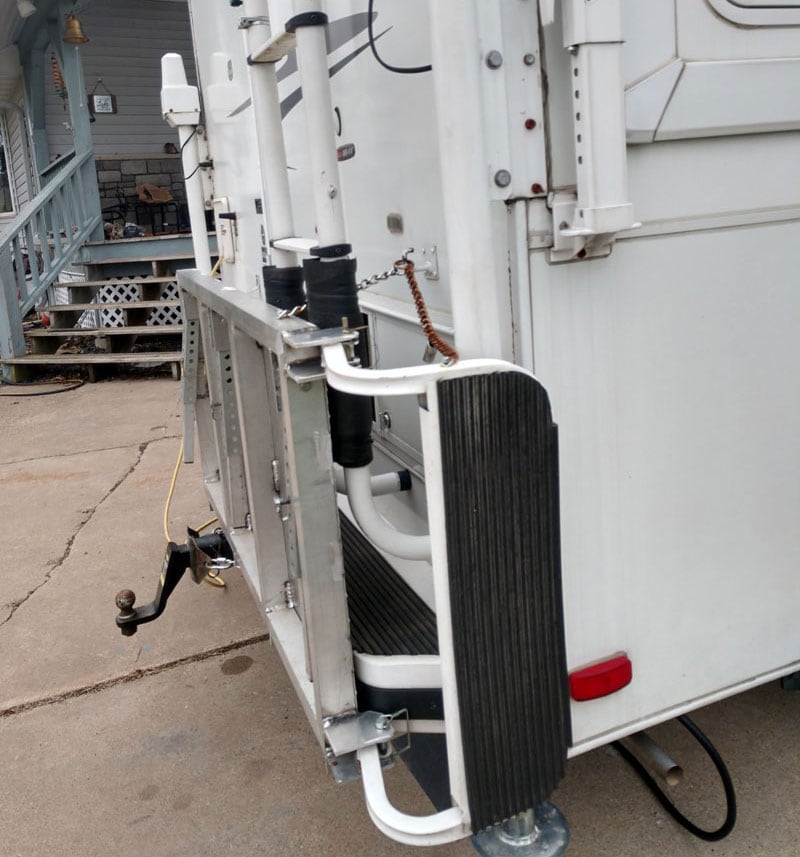 We put another chain on the step to hold it against the right rear jack stand. To do these we put a tension spring into the chain that must be stretched to get it hooked. This keeps everything tight. Make sure the spring is strong enough to hold it all yet weak enough for you to hook by hand.
We absolutely love it. It has worked as planned and is allowing us to continue to use our truck camper even though it is quite high off the ground compared to other campers.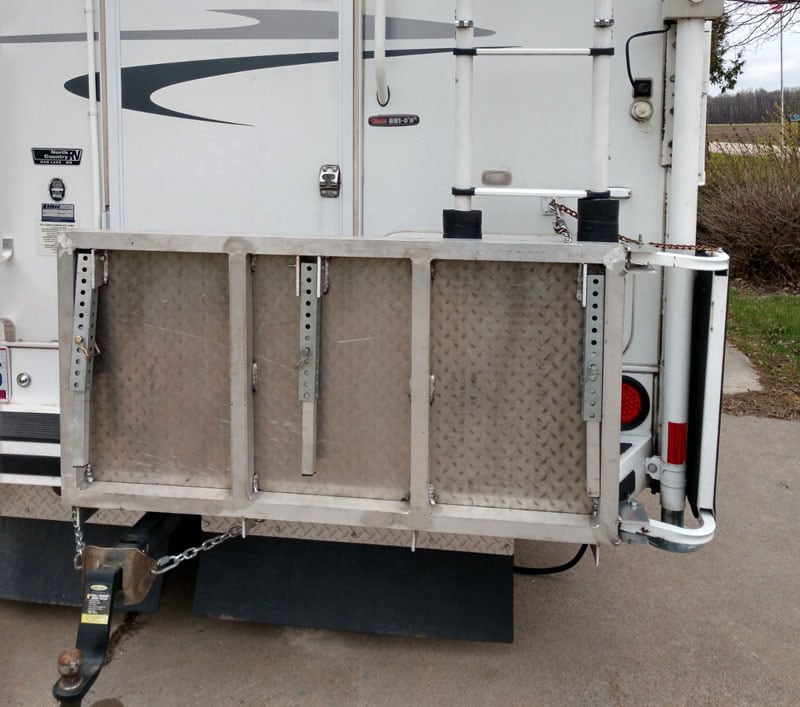 An unexpected bonus was how nice it works for our grandkids (three and five years old) to get into and out of the camper by themselves. The ladder also works great for a hand hold getting up on the platform.
It took us about four hours to complete this modification and cost about $150, but metal costs change daily. Had my son not helped, it would have added about four hours of fabricator time at $60 an hour.  In my opinion, the skill level of this modification is hard since aluminum welding is required.
Disclaimer: The modifications above are submitted by Truck Camper Magazine readers. It is your responsibility to make sure that any do-it-yourself modification project you undertake is safe, effective, and legal for your situation.
Enter Your Mods Now!
If you'd like to enter a modification you've done on your truck camper, click here. You can enter as many mods as you want, at any time.  Good luck mod makers!