Welcome to the fourth entry in January's Medium Mod Contest.  One Medium Mod will be published in every Email Alert in January.  At the end of the month, we'll hold a reader vote to determine January's winner.  Click here for information about the 2022 Mod Contest, including how to enter.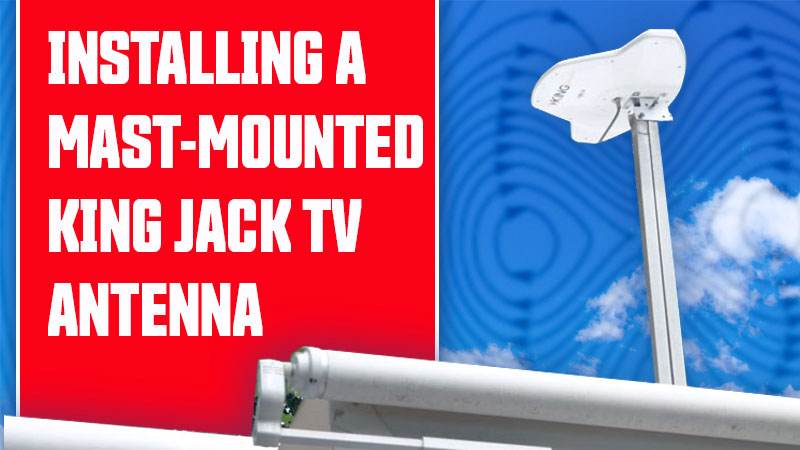 Charles Coushaine, Punta Gorda, Florida
How to Install A Mast-Mounted King Jack Antenna
2001 Ford F-350
2012 Chalet DS-116RB
While pulling into a campground I accidentally brushed up against a tree branch that caught my RV's old batwing style antenna and broke it.  With this mod, I will show you how easy it was to replace it with the newer technology King Jack antenna.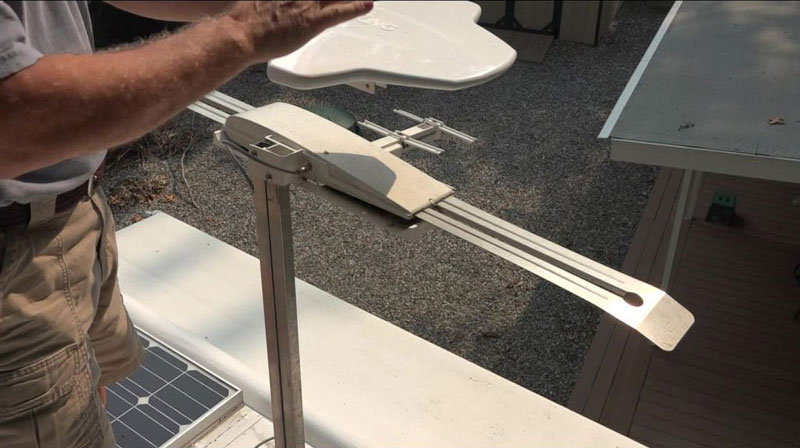 The first step in this mod requires the removal of the old batwing antenna.  From up on the RV roof, unscrew the coax cable from the antenna and then remove the two pins holding it to the crank-up mast.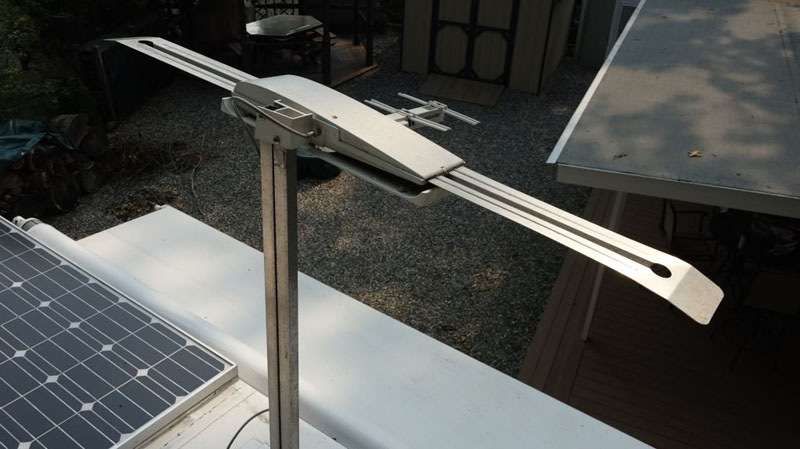 To attach the new King Jack antenna, the assembly is exactly the same.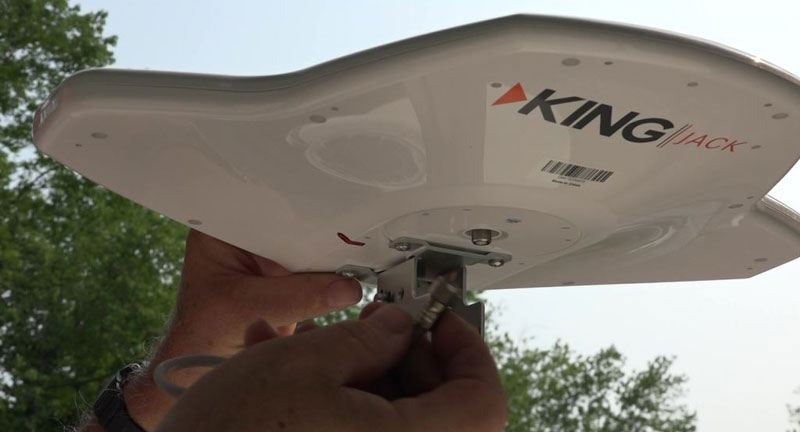 Attach the antenna to the mast using the same two pins and then screw on the coax cable.  Done!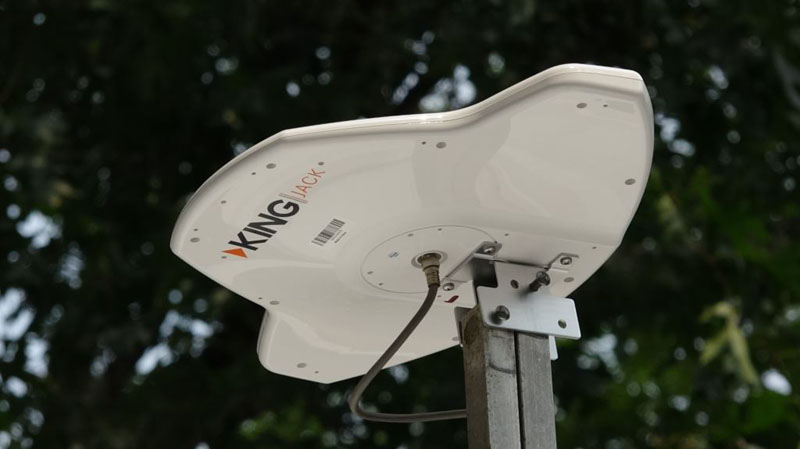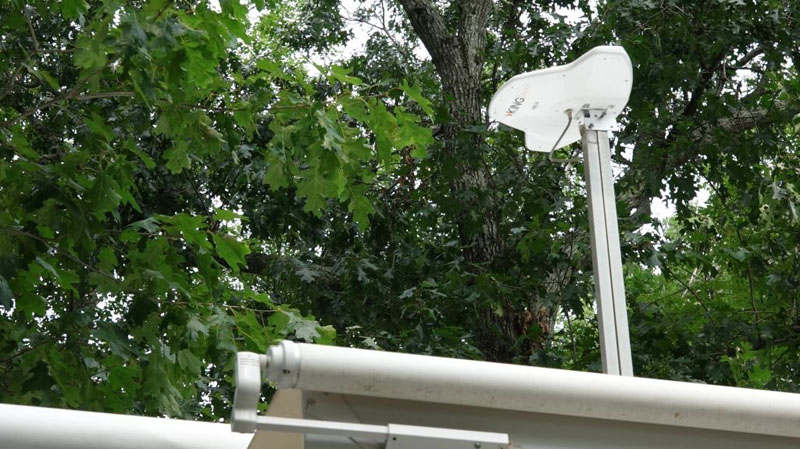 Note:
1. The new King Jack antenna is powered by your existing amplifier from your RV.  If you don't have an amplifier, the King Jack comes with one and you must install this as well.
2. While on the roof, it is my recommendation that you take this opportunity to apply some lithium grease to the gear teeth that allow the mast to be raised and lowered.  I have noticed a great improvement in the ease of cranking with the grease applied.
3. The old batwing antenna had rubber bumpers that laid on the rubber roof when it was in the down position.  The new King Jack provides none.  Therefore, it is necessary to add a rubber bumper to the arm itself or add some sort of other protection to the roof.  In my case, I added a piece of UHMW (ultra-high molecular weight) polyethylene tape to the roof under the antenna arm to prevent scuffing.
Watch my video below to see how I performed this mod.
So far this new antenna seems to be working very well.  From my initial tests, it appears to pull in slightly more TV stations than the older batwing antenna did.
Although King Jack makes a ridged roof-mounted version, I like this mast-mounted version because it makes it higher and allows it to get above lower obstacles and potentially receive more stations – since TV signals are line-of-sight.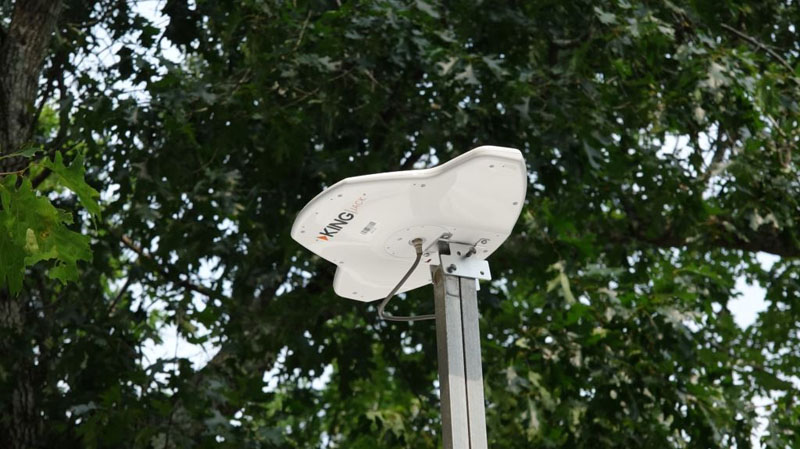 Materials Used:
UHMW (Ultra-high Molecular Weight) Polyethylene Tape, Resists Abrasion, Impact, for Surface Protection and Friction and Noise Reduction (2-inch by 5-yards, 10-mil thick)
KING OA8300 Jack Replacement Head HDTV Directional Over-the-Air Antenna – White
Silicone Grease, General Purpose Dielectric Paste, Waterproof Marine Grease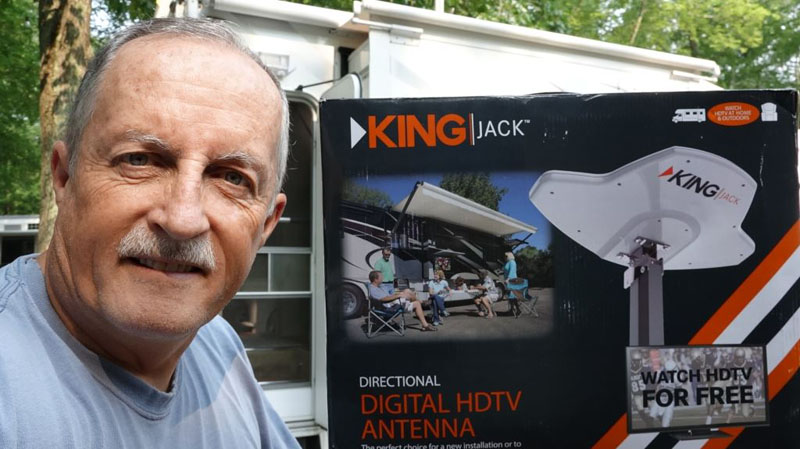 It took me two hours to complete this modification and cost me $50.  In my opinion, the skill level of this modification is easy.
Disclaimer: The modifications above are submitted by Truck Camper Magazine readers. It is your responsibility to make sure that any do-it-yourself modification project you undertake is safe, effective, and legal for your situation.
Enter Your Mods Now!
If you'd like to enter a modification you've done on your truck camper, click here. You can enter as many mods as you want, at any time.  Good luck mod makers!