Welcome to the third entry in September's Medium Mod-Ster Contest.  One Medium Mod will be published in every Email Alert in September.  At the end of the month we'll hold a reader vote to determine September's winner.  For information about the Mod-Ster Contest, including how to enter, click here.
Kevin Presson, Abingdon, Maryland
Hinged Table To Go With Reclining Chairs
1997 Dodge Ram 2500
2011 Outfitter Apex 9.5
A big thanks to Charlie Coushaine for the link to the comfortable chairs he put in his camper. We have done the same chair modification as Charlie.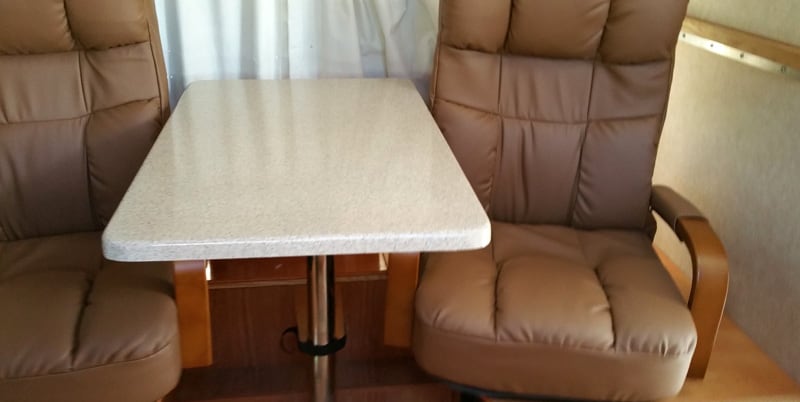 Above: Before the hinged table; not enough room
When swiveled, with our feet in the aisle, I found the original table up against my arm. Thus, I built a new table; the feature of my modification.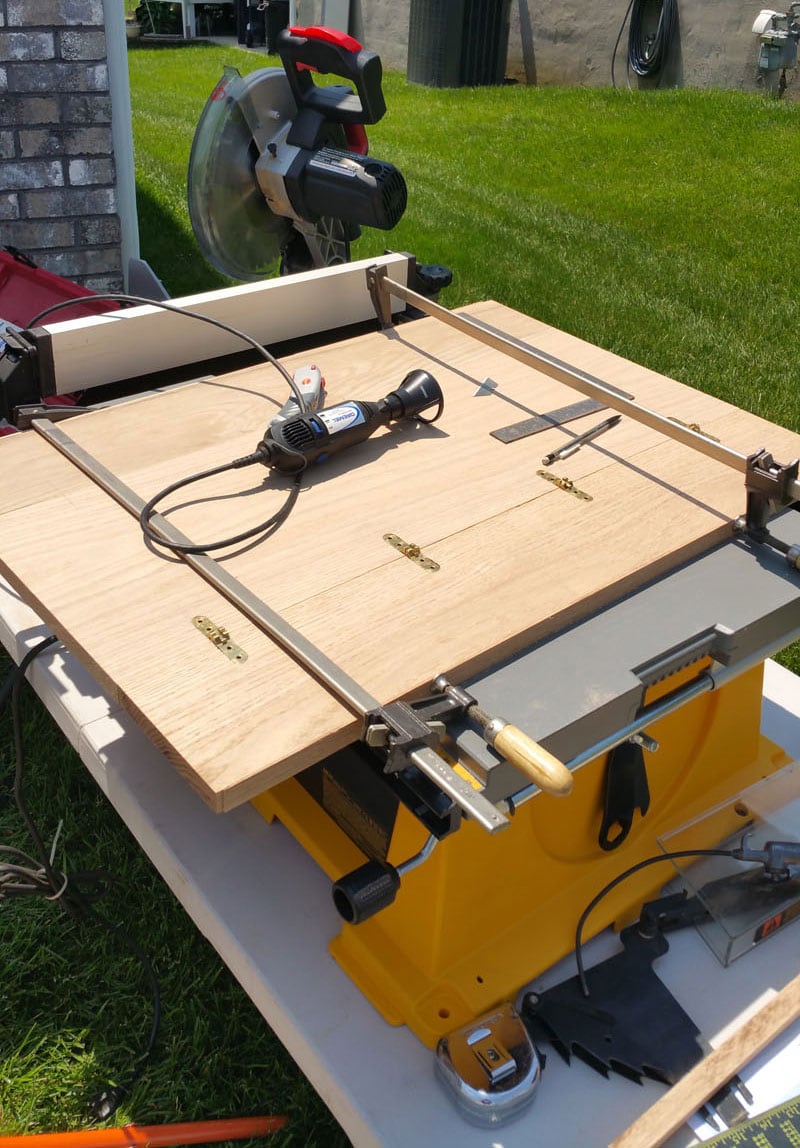 A table saw, router, large clamps and Dremel tool were what I used to complete this modification. I used red oak from the local Lowes hardware store.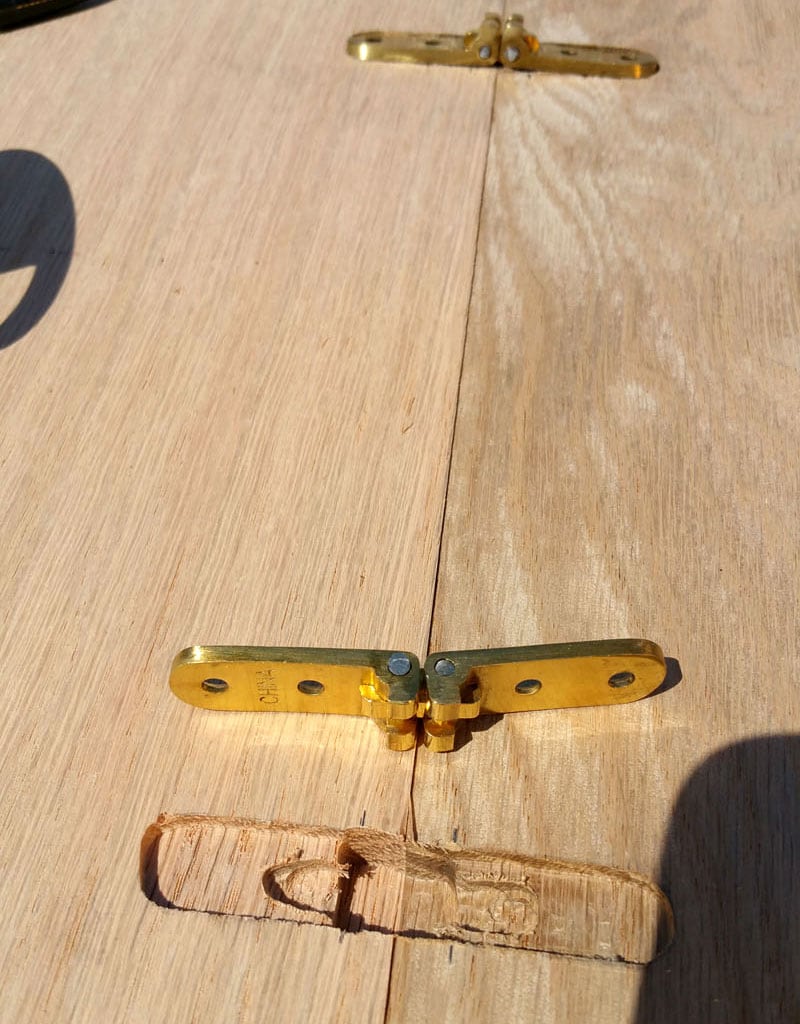 The time consuming part is making the slots for the hinges to sit in. I should have asked a friend with a CNC router to do this and it would have come out perfect – and probably quicker.
I used sewing machine hinges and supports from Rockler.
Parts for Ordering:
1. Narrow Twin Pin Sewing Machine Hinge, 1/2-inch wide x 3-inches long, SKU: 30897 – 4 pairs total $51.96
2. Metal Drop Leaf Support, SKU: 30006 – 2 pairs total $25.98
The subtotal was $77.94, shipping and handling $11.99, and tax was $5.40. The grand total was $95.33.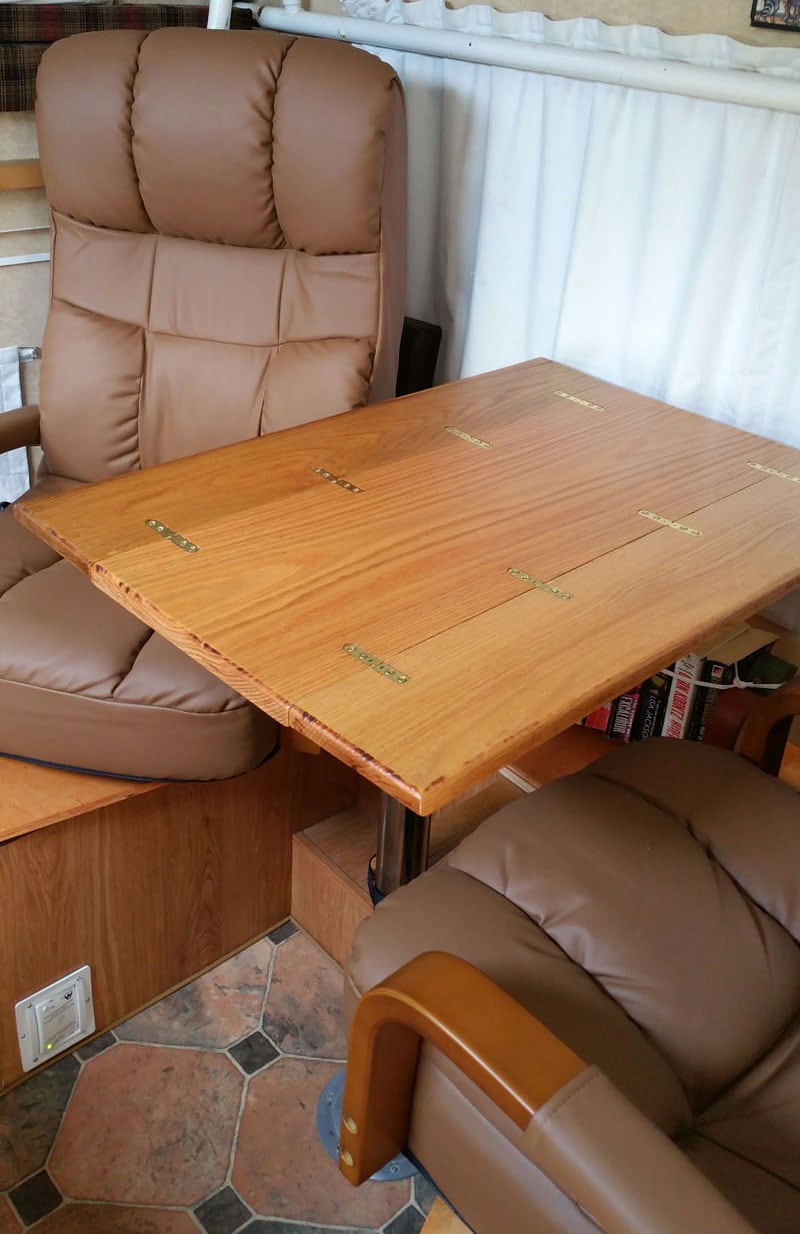 When we want to eat, the two leaves fold down to give a full size table. When we're relaxing they fold on top to give us a narrow table.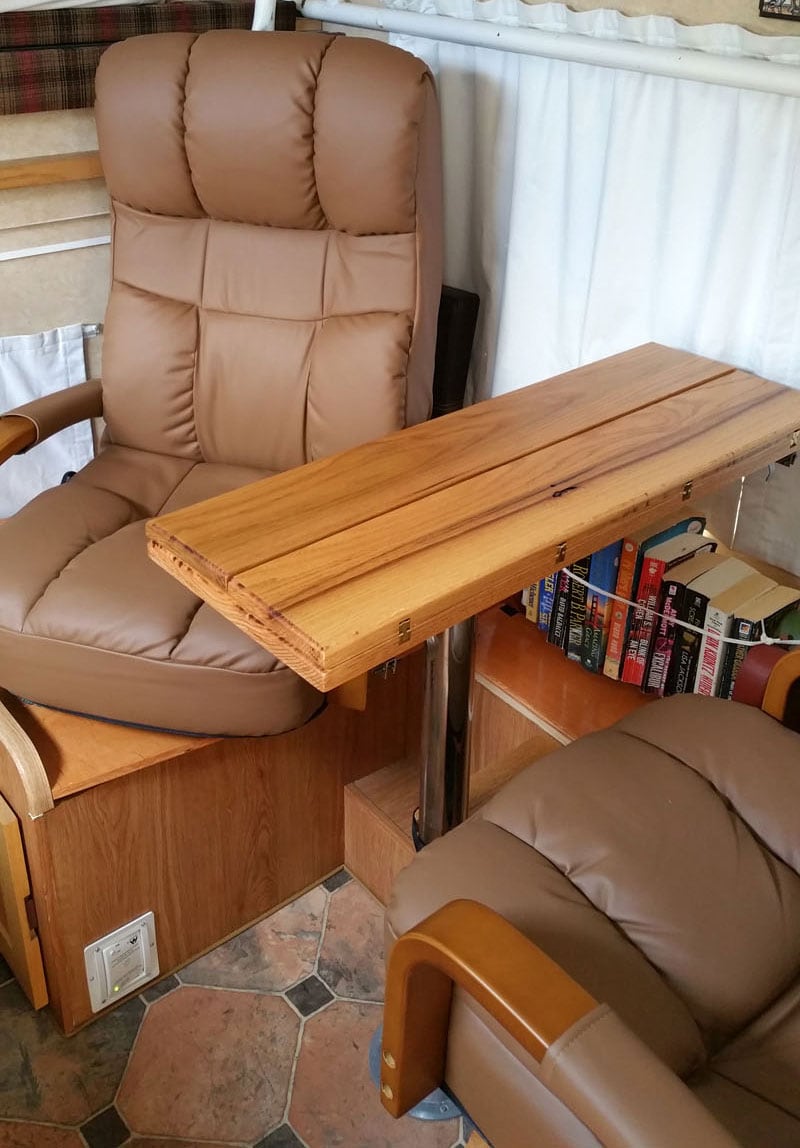 So far this has met my needs. I mounted it off center to give a bit more room in the aisle. The next mod may be a Lagun table leg.
To make the table, not including application of polyurethane, was about eight hours. In total it cost about $160.  The difficulty rating on this would vary depending on your tools, but I'd say it's easy, but tedious.
Disclaimer: The modifications above are submitted by Truck Camper Magazine readers. It is your responsibility to make sure that any do-it-yourself modification project you undertake is safe, effective, and legal for your situation.
Enter Your Mods Now!
If you'd like to enter a modification you've done on your truck camper, click here. You can enter as many mods as you want, at any time.  Good luck mod makers!