Welcome to the eighth entry in June's Medium Mod Contest.  One Medium Mod will be published in every Email Alert in June.  At the end of the month we'll hold a reader vote to determine June's winner.  Click here for information about the 2020 Mod Contest, including how to enter.
Steve M. Fruita, Colorado
Floor Storage Box and Stowable Chess Table
2018 Toyota Tacoma
2018 Palomino SS-500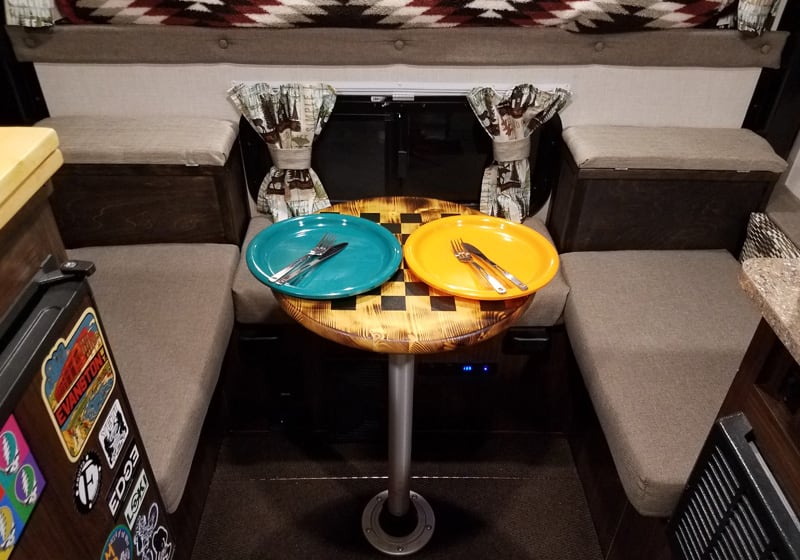 I have a 2018 Palomino SS-500.  My biggest complaint when I purchased the camper was the lack of storage.  Besides the kitchen cabinet and the small nook next to the refrigerator, there is nowhere to stow anything.  So you are living out of duffle bags, even on overnight trips.
But the price and the amenities were right, so I decided I would do a few modifications to make the camper more livable.  I call them my winter projects.
My first big mod was to remodel the dining area completely.  I wanted a new table because the original was way too big and I needed storage.  My idea was to build a floor box to store manuals, tools, power cords and more.  But, I also wanted a place to stow the table and table leg so that they aren't on the bed during travel.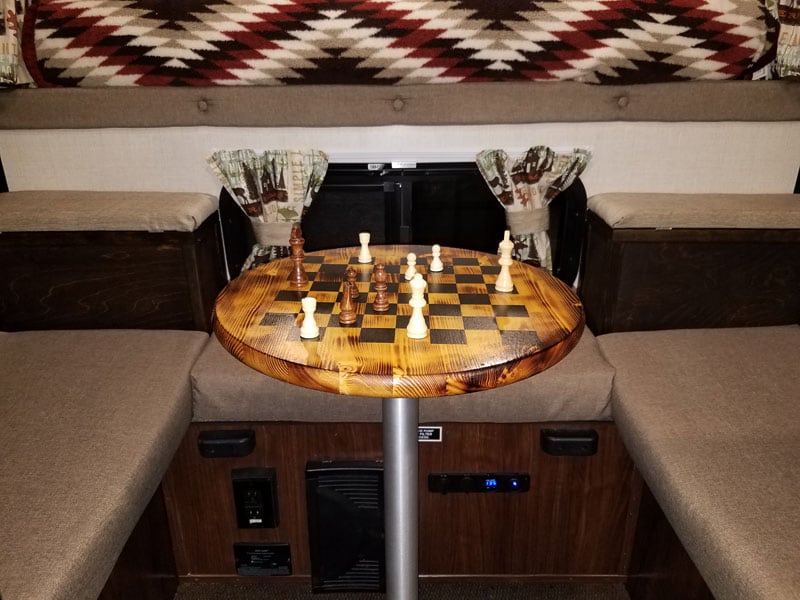 First, I replaced the table with an 18-inch circular pine piece that I painted into a chess/checkerboard (rainy day and cold activities).  While I was at it, I also replaced the table leg with a flush mount system called a Sequoia Table Leg System.
The box itself is plywood covered in outdoor brown carpet and hinged with a piano hinge along the back.  The base of the box is recycled cedar that I had lying around from an old backyard project.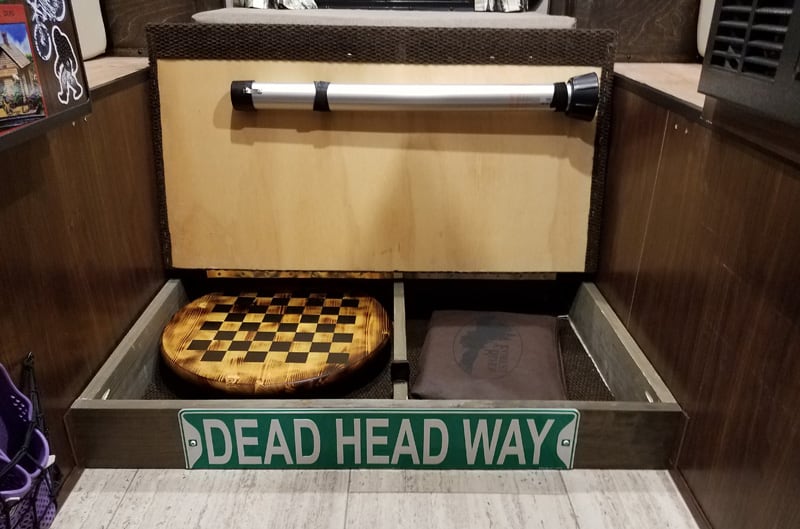 I ripped it down to 4.5-inches wide and cut to fit the area.  I used a jigsaw to cut the opening for the table leg and screwed on some Velcro straps to keep the table leg-mounted under the lid.  I put down a couple of extra pieces of carpet in the bottom of the box and tacked my old Dead Head Way road sign to the front for some character.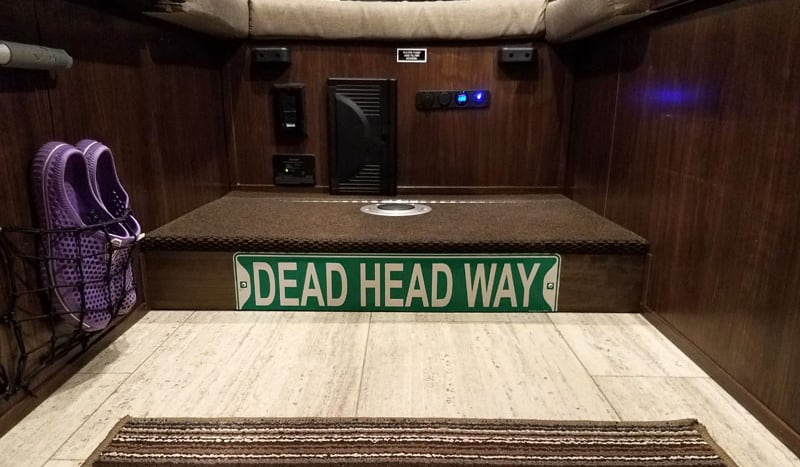 So far the only complaint I have is that it is really hard to keep the indoor/outdoor carpet clean in any situation.  I did purchase a little 12-volt handheld vacuum though, so hopefully that helps!
Other than that, this is the perfect situation.  We no longer have the bulky table and leg sitting on the bed when not in use which makes the entire camper livable when the table is not set up.  The flush mount system for the table leg is totally awesome.  No more stubbing toes on the floor mount!
It took me five to six hours to complete this modification and cost me about $100.  In my opinion, the skill level of this modification is medium.
Disclaimer: The modifications above are submitted by Truck Camper Magazine readers. It is your responsibility to make sure that any do-it-yourself modification project you undertake is safe, effective, and legal for your situation.
Enter Your Mods Now!
If you'd like to enter a modification you've done on your truck camper, click here. You can enter as many mods as you want, at any time.  Good luck mod makers!