Welcome to the fourth entry in October's Medium Mod Contest.  One Medium Mod will be published in every Email Alert in October  At the end of the month, we'll hold a reader vote to determine October's winner.  Click here for information about the 2021 Mod Contest, including how to enter.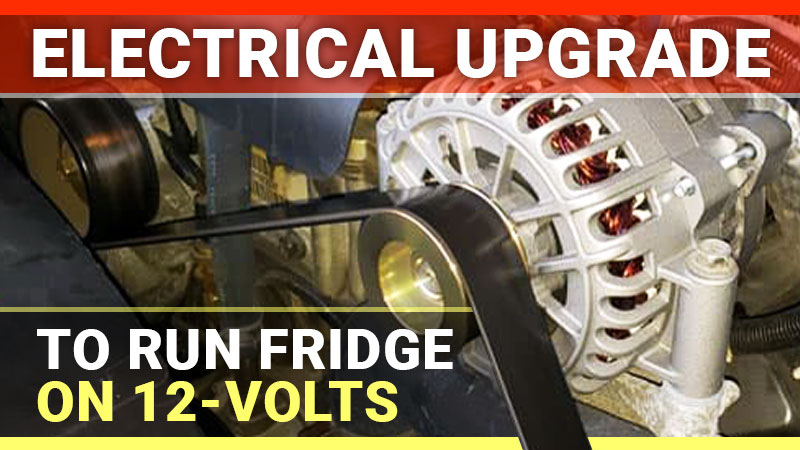 Charles Spray, Bryson City, North Carolina
Electrical Upgrade To Refrigerator On 12-Volts
2002 Ford F-350
2016 Travel Lite Illusion 1100
I have owned eight truck campers in my life.  I have also owned other RVs including two fifth wheels, three travel trailers and a motorhome.  One thing I have learned to look for in an RV is a three-way refrigerator with the option to run on 12-volts.  For safety, I like to keep the propane bottles turned off when traveling.
A problem we have experienced with all of our RVs and campers is draining the batteries while running the refrigerator on 12-volts.  Even with the truck alternator charging the battery bank, the 12-volt draw from the refrigerator is too much to keep up with.
A 30-amp charging circuit is standard on all RVs.  However, the 12-volt circuit on an RV's refrigerator is also rated at 30-amps.  With voltage drop from the length of wire that runs from the alternator (along with other items that draw power), the RV's battery just can't keep up.  Every unit we have owned has had this issue.
When I worked as an RV service tech, this was a common complaint.  It's not as much of a problem in a motorhome since the wiring is shorter and there are no plugs involved, which can be a source of resistance.
Another potential issue is our truck's stock alternator.  It's the original making it 19-years old.  It is only rated at 120-amps.  Over the years I upgraded the stereo to a system with multiple amplifiers and a subwoofer.  Add the electrical demands of the camper you get an overworked aging alternator.  This is a recipe for a breakdown.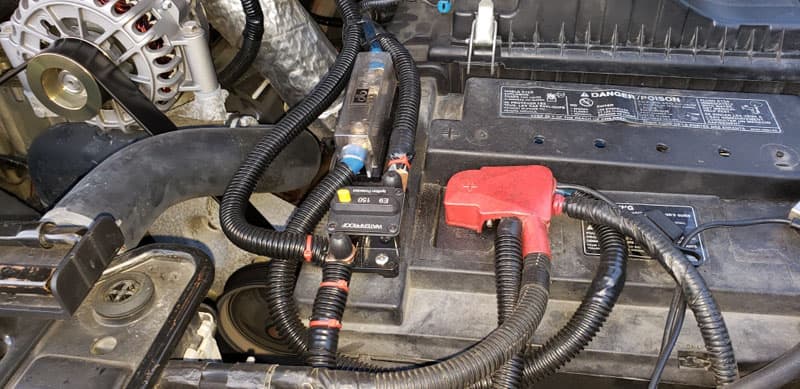 My first step was to upgrade the alternator.  I chose a Tuff Stuff 250-amp alternator.  The unit is built inside of a stock housing albeit the next size larger than our truck is designed for.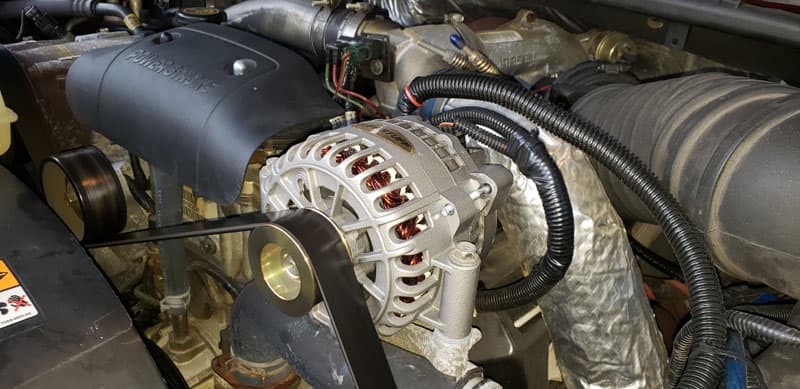 Four flat washers between the alternator and the bracket provide enough clearance for a good fit.  Don't forget to upgrade the charge wire from the alternator to the truck batteries.
The next step was a direct connection from the truck to the camper.  HD starter cable was used.  The cable is rated for 200-amps.  I placed the cable inside of wire loom for extra protection.  I installed a 150-amp circuit breaker at both ends of the circuit for added safety.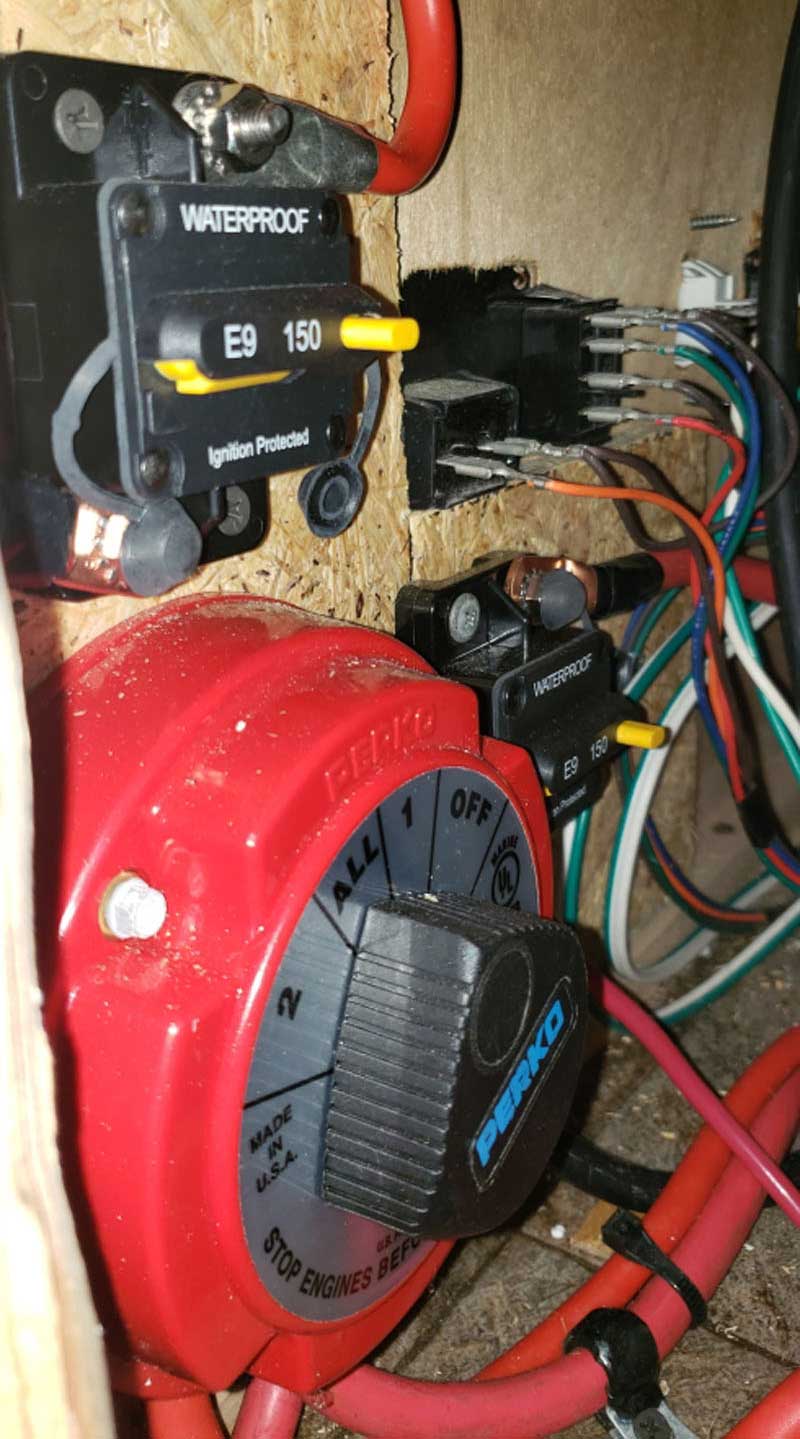 A marine battery selector switch was installed in the camper.  It allows us to select the camper battery, truck batteries, all batteries, or off.  For a quick disconnect, I used a 200-amp welding plug.  In the picture, the plug is not secured, but it is now.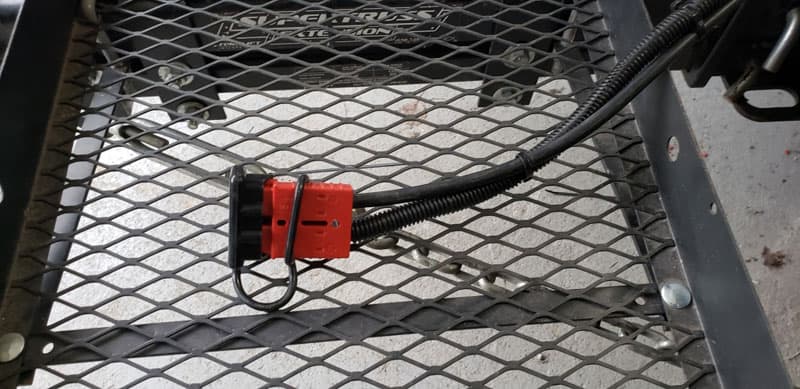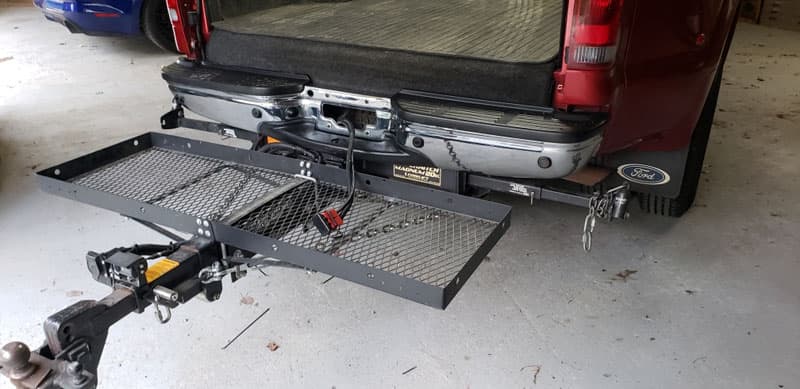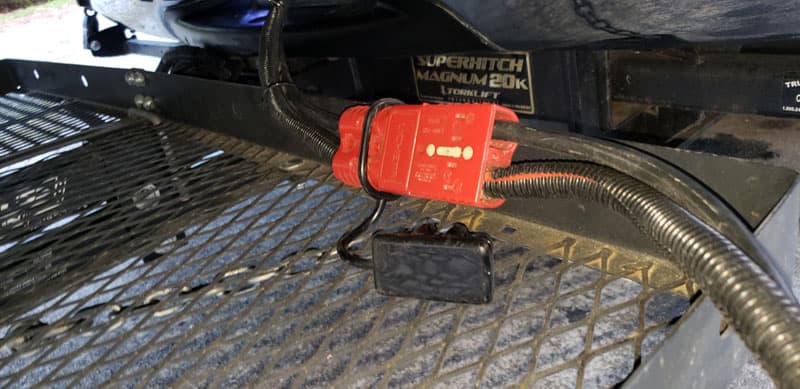 With this modification, the whole electrical system maintains peak voltage and everything is working as designed.  The alternator keeps everything charged.  The refrigerator works all day long without any voltage drop.  The power converter can charge the truck batteries while it charges the camper.  We are very happy with this mod.
It took me 25-hours to complete this modification and cost me $800.  In my opinion, the skill level of this modification is moderate.
Disclaimer: The modifications above are submitted by Truck Camper Magazine readers. It is your responsibility to make sure that any do-it-yourself modification project you undertake is safe, effective, and legal for your situation.
Enter Your Mods Now!
If you'd like to enter a modification you've done on your truck camper, click here. You can enter as many mods as you want, at any time.  Good luck mod makers!