Welcome to the sixth entry in April's Medium Mod Contest.  One Medium Mod will be published in every Email Alert in April.  At the end of the month, we'll hold a reader vote to determine April's winner.  Click here for information about the 2022 Mod Contest, including how to enter.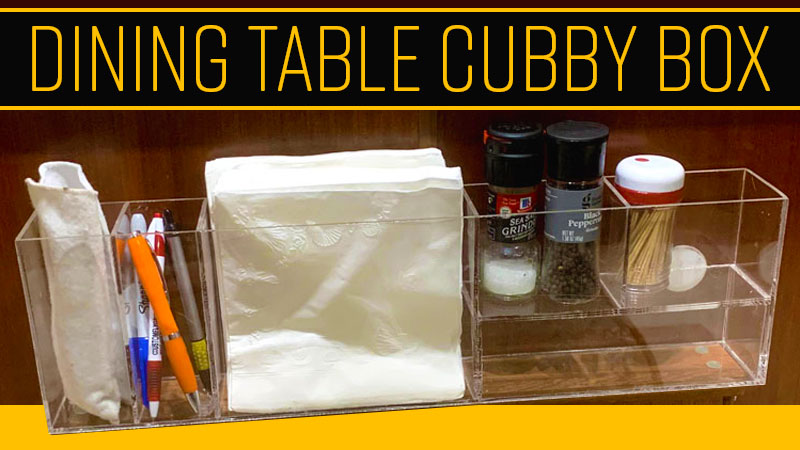 Philip Bogardus, Bothell, Washington
Dining Table Cubby Box
2014 Ford F-350
2018 Northern Lite 8-11 EXSE
In our Northern Lite, there's a 3-inch gap between the dinette table and wall.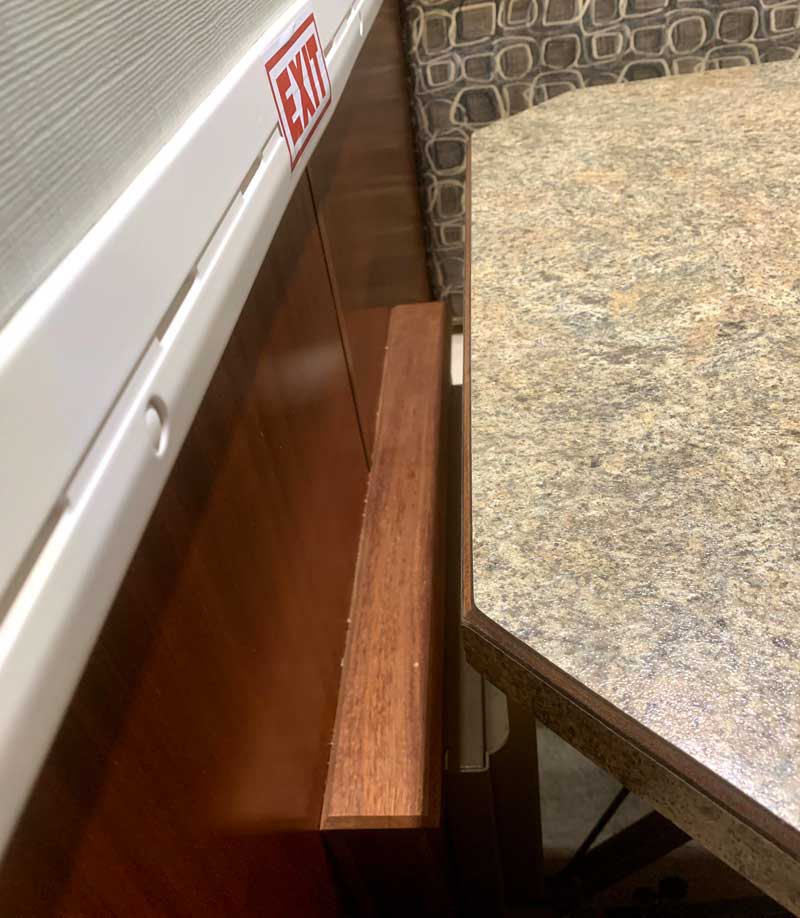 My Queen, aka my wife, decided that this was a space that could be used in some way to store small items.  She looked long and hard trying to find a small plastic bin to put in this space.  Because of the unique width and depth of the space, she could not find anything that fit and stayed in place.  To make her happy, I designed and fabricated a custom cubby box.
I decided to use 1/8-inch plexiglass and custom-build a cubby box for the space.  There's a small wooden ledge (see photo above) for the table support system.  The box would be supported on that.
From there, we decided there were several requirements that had to be met for the cubby box.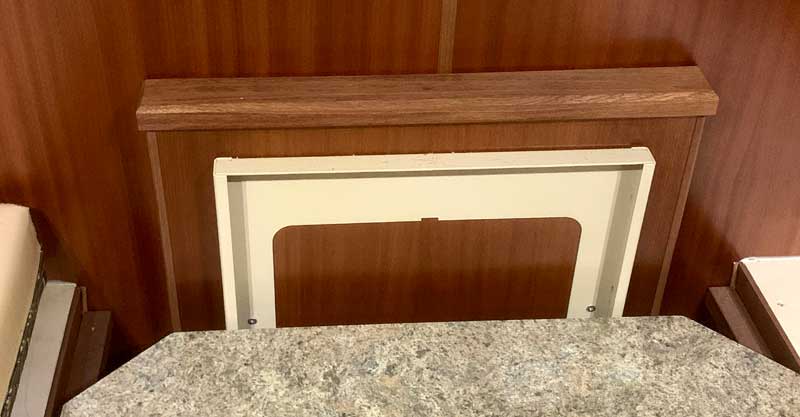 1. It needed to be removable both for cleaning and to allow the dinette to still function as a bed.
2. It had to be able to stay in place during travel.
3. It had to be tall enough to create a lip above the table to prevent items from falling off the table into the cubby box.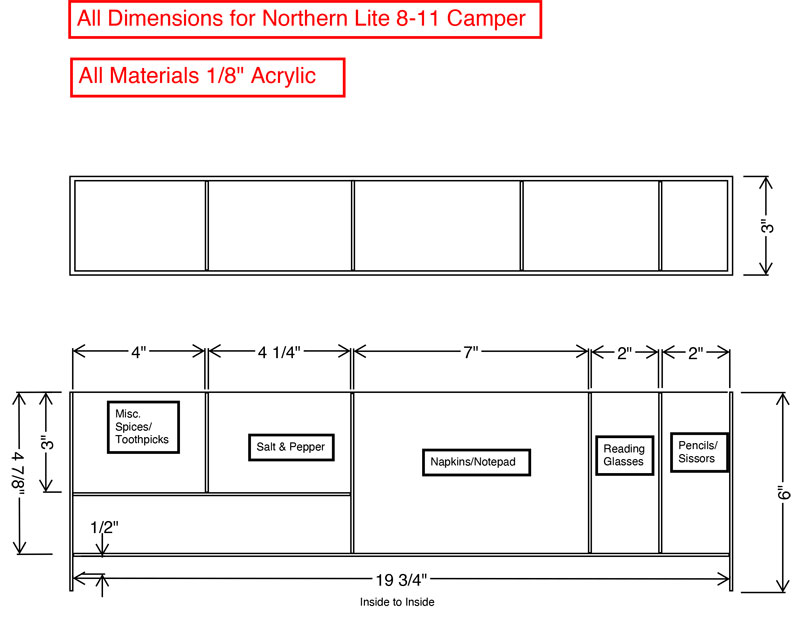 First, we came to an agreement on what items the cubby box would hold.  We decided it would hold napkins, reading glasses, writing pens, a notepad, scissors, salt/pepper grinders, and toothpicks.  Next, we agreed on how they would be arranged within the space.  With this done, I designed the box to fit and organize everything.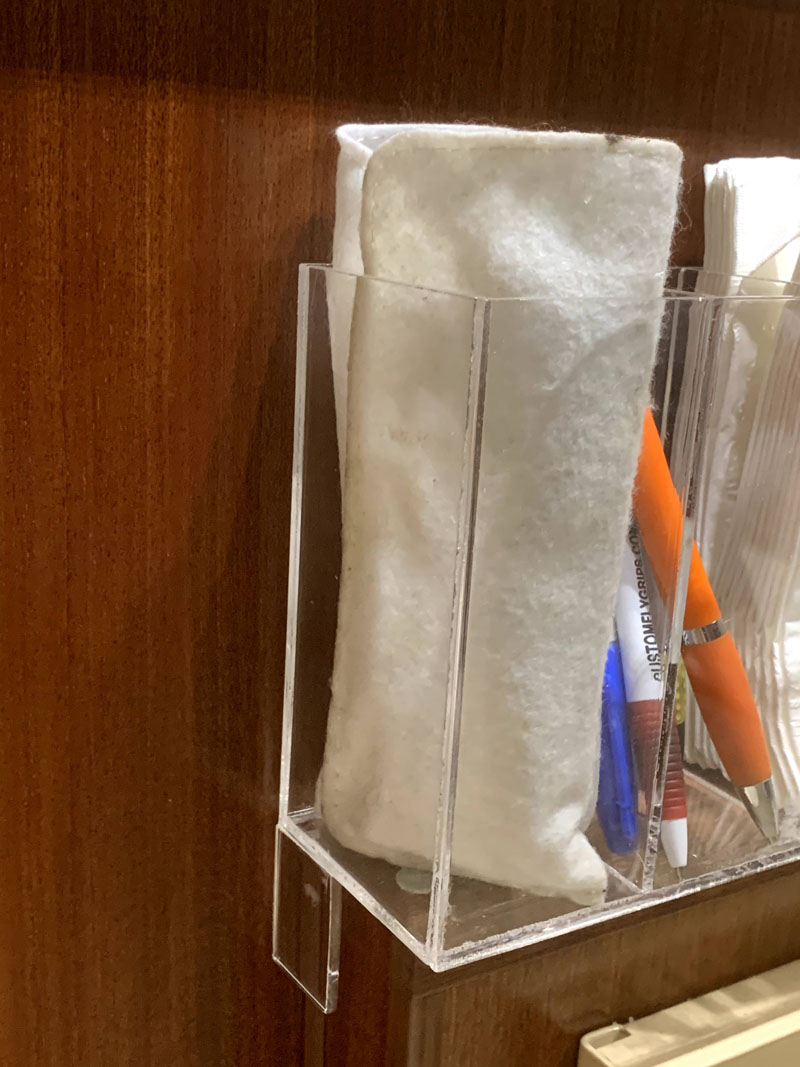 Using 1/8-inch clear acrylic plastic, I cut out the parts and glued the box together.  On the ends of the cubby box, I added tabs that fit over the ends of the wood shelf.
This locks the box in place end to end during travel.  The box is set on the shelf with the tabs dropping over the edge.  With the box set in place, the table is raised and this locks the box in place securely.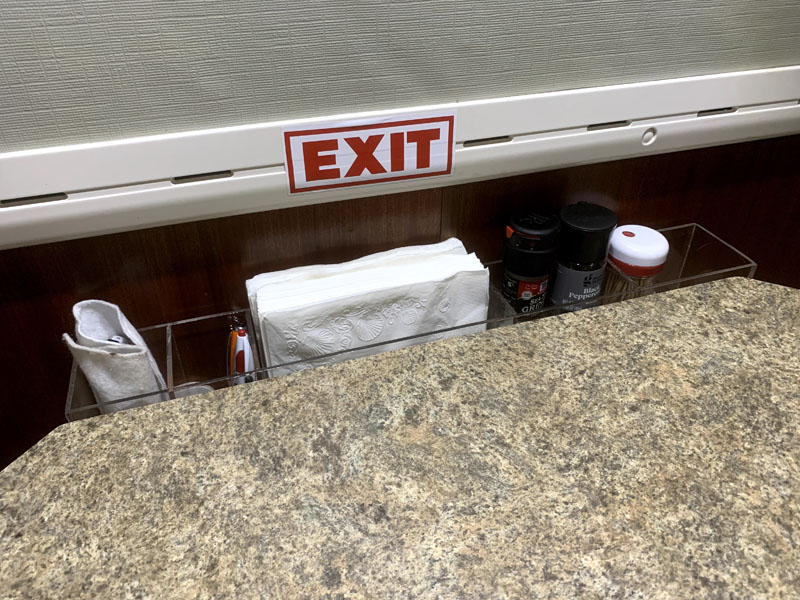 This mod has accomplished exactly what we wanted.  We have a great space to store items that are used on a daily basis.  Napkins and spices are available at the table for meals.  Our reading glasses are right at the table where we often read.  We have even found a few other items that are convenient to store in the cubby that we didn't originally think of.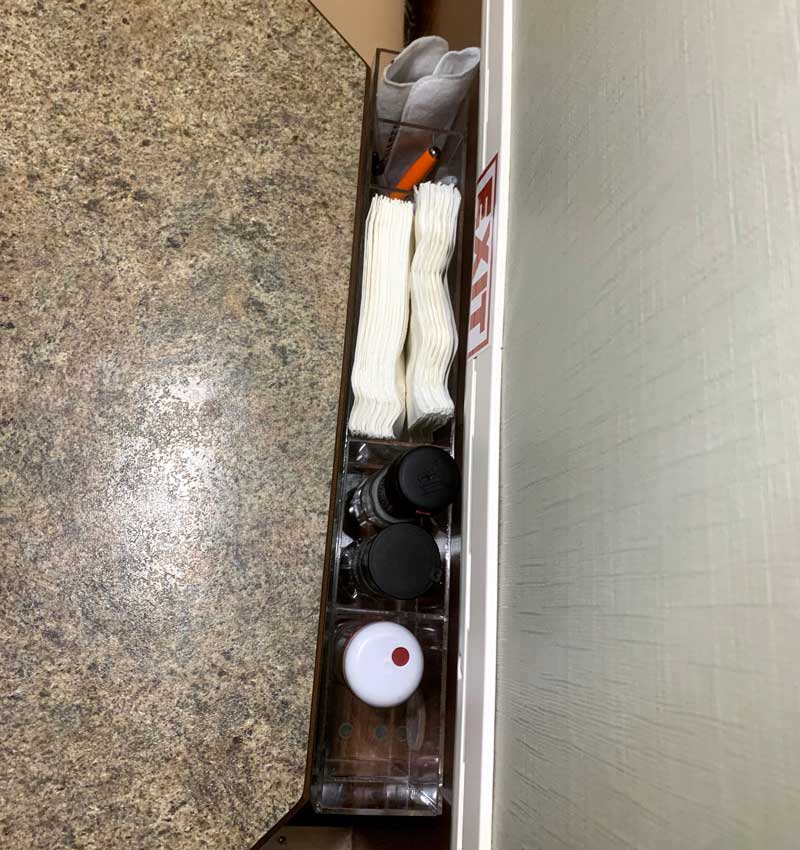 The cubby box and items stored in it stay securely in place during travel.  That small 3-inch space that originally held nothing has become a very efficient storage spot for everyday items we use.
Materials Needed:
1/8-inch Clear Acrylic Plastic (buy scrap end cuts if possible)
It took me about 6-hours to complete this modification.  The cost to build this mod was minimal because I already had the acrylic plastic sheet sitting around in my shop.
Tap Plastics does sell cheap scrap-end pieces of plastic.  If you can find suitable sizes of scrap plastic, I would say this cubby box would cost $5-$10 for the acrylic materials.  The acrylic glue and applicator cost about $13.
In my opinion, the skill level of this modification is medium.  Cutting and gluing acrylic plastic is relatively easy.  I have a well-equipped shop with the tools to cut the plastic.
I got the materials from my local Tap Plastics which also has great instructional videos on ways to cut the plastic and how to glue it up.  If you don't have the tools to cut the plastic, they can cut your parts to your dimensions.  And if you don't want to do the gluing, they are happy to build the box for you.  If Tap Plastics isn't located in your area just look for a similar plastic supply store near you.
Disclaimer: The modifications above are submitted by Truck Camper Magazine readers. It is your responsibility to make sure that any do-it-yourself modification project you undertake is safe, effective, and legal for your situation.
Enter Your Mods Now!
If you'd like to enter a modification you've done on your truck camper, click here.  You can enter as many mods as you want, at any time.  Good luck mod makers!