Welcome to the sixth entry in November's Medium Mod Contest.  One Medium Mod will be published in every Email Alert in November.  At the end of the month we'll hold a reader vote to determine November's winner.  Click here to submit a mod to the Mod Contest.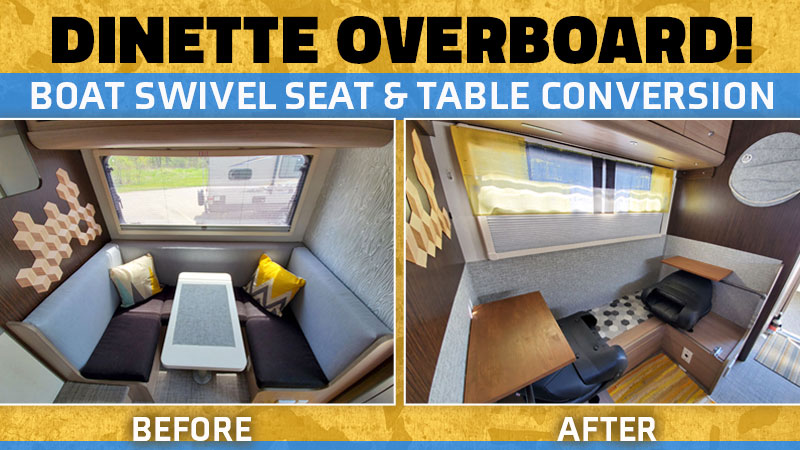 Bill Parrott, Holland, Michigan
Dinette to Swivel Boat Seating and Tables
2013 Ford F-250
2016 Cirrus 800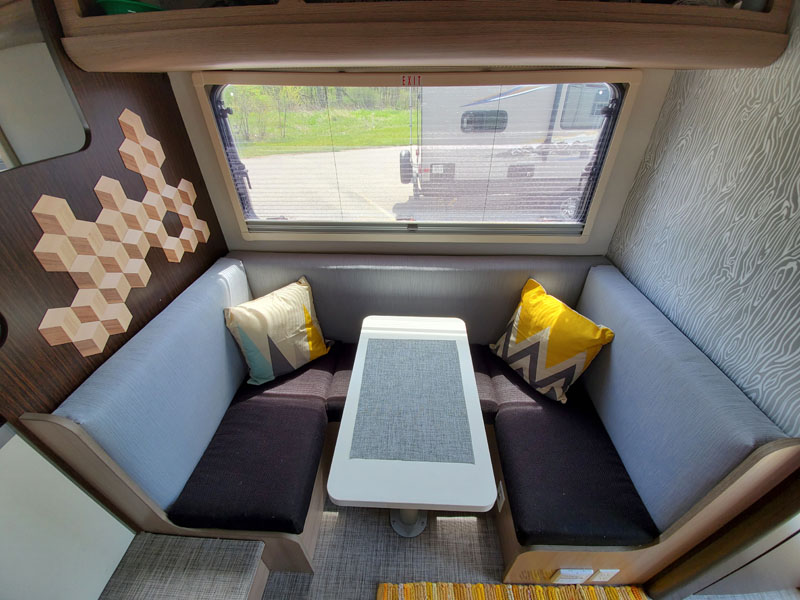 Once we started full-timing in our camper, the dinette became uncomfortable for every day use.  There was no way to relax or stretch out our legs.  We wanted flexible, comfortable seating that allowed for a variety of uses.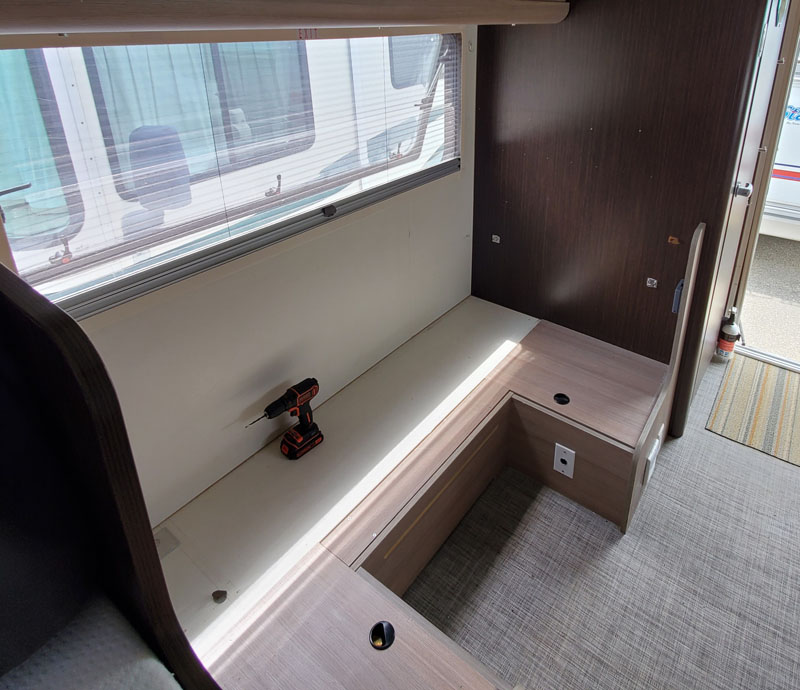 This project had two parts; the seating and then the tables.  First, we removed the dinette cushions and unbolted the table from the floor.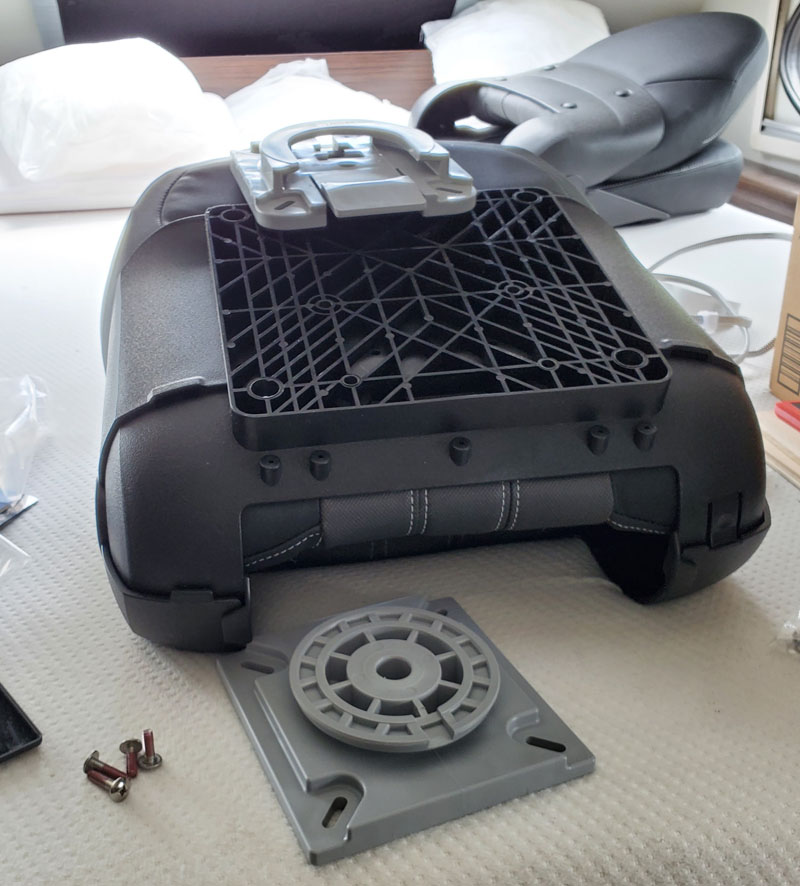 For the seating, we found Tempress Probax High Back Boat Seats which are premium locking boat seats on Amazon.  We also ordered quick release swivel mounts.  We liked that they were more lightweight and compact than office chairs or recliners.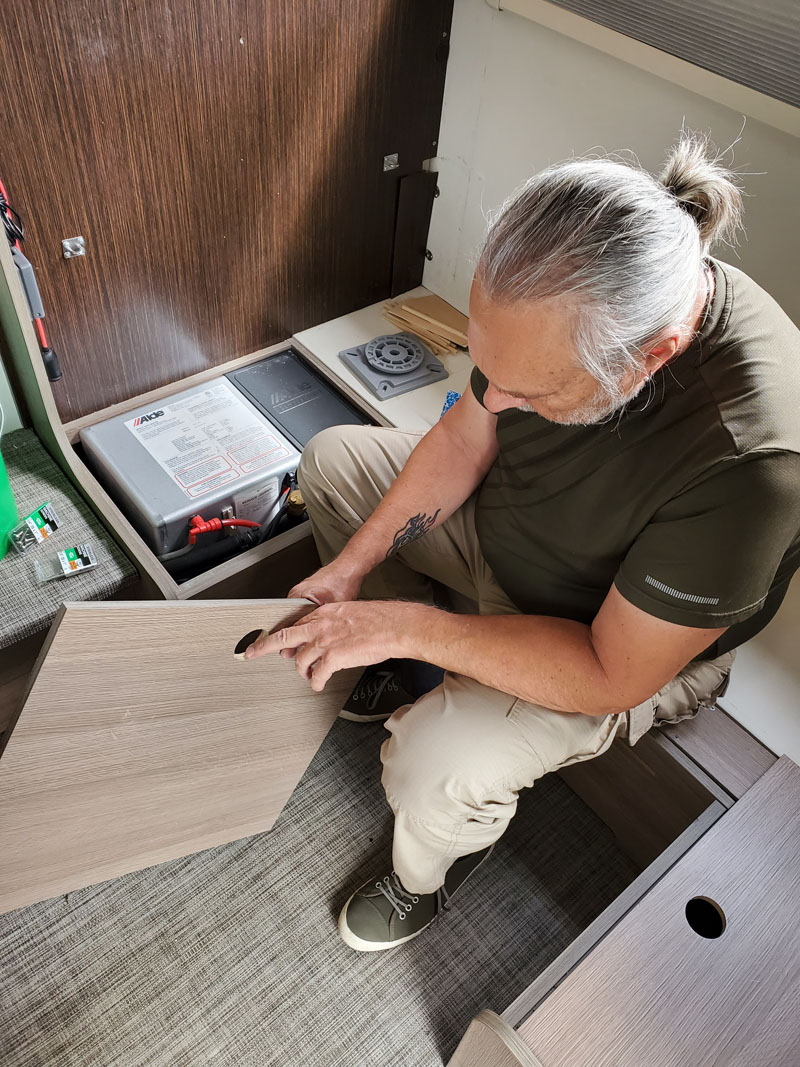 The arrangement of the dinette bench didn't give us many options, since our Alde heating system and components are housed inside the seat base (see above).  In order to mount the seats to the existing seat base, we hinged the storage cabinet lids.  We added bolt locks for stability and to keep them from opening during travel.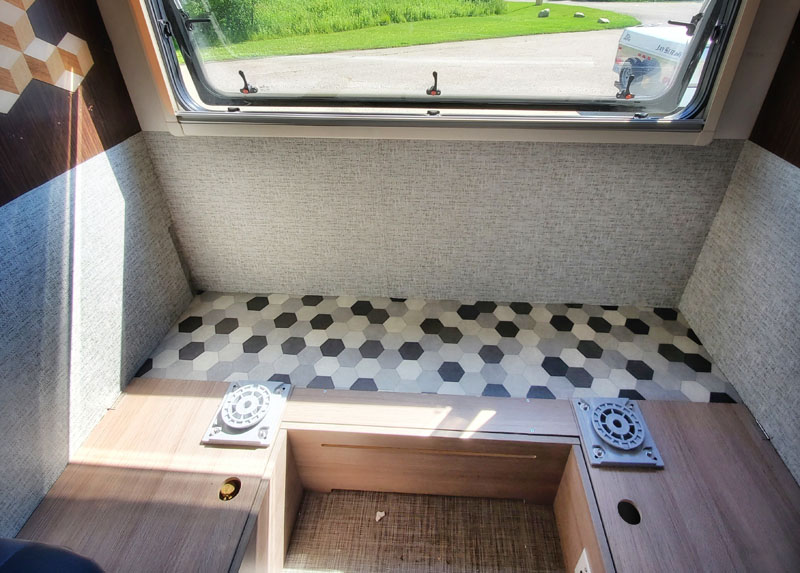 Then we screwed the swivel mount bases directly to the lids.  We had to exchange the bolts that came with the chairs for slightly longer ones.  The seats are on 360-degree swivels, so we can sit with our legs out on the floor, or up on the bench in any direction, and can turn to look out the window.  The swivel is nice for getting in and out of the seat and we can now stretch our legs out all the way.  The seats fold down and lock for travel.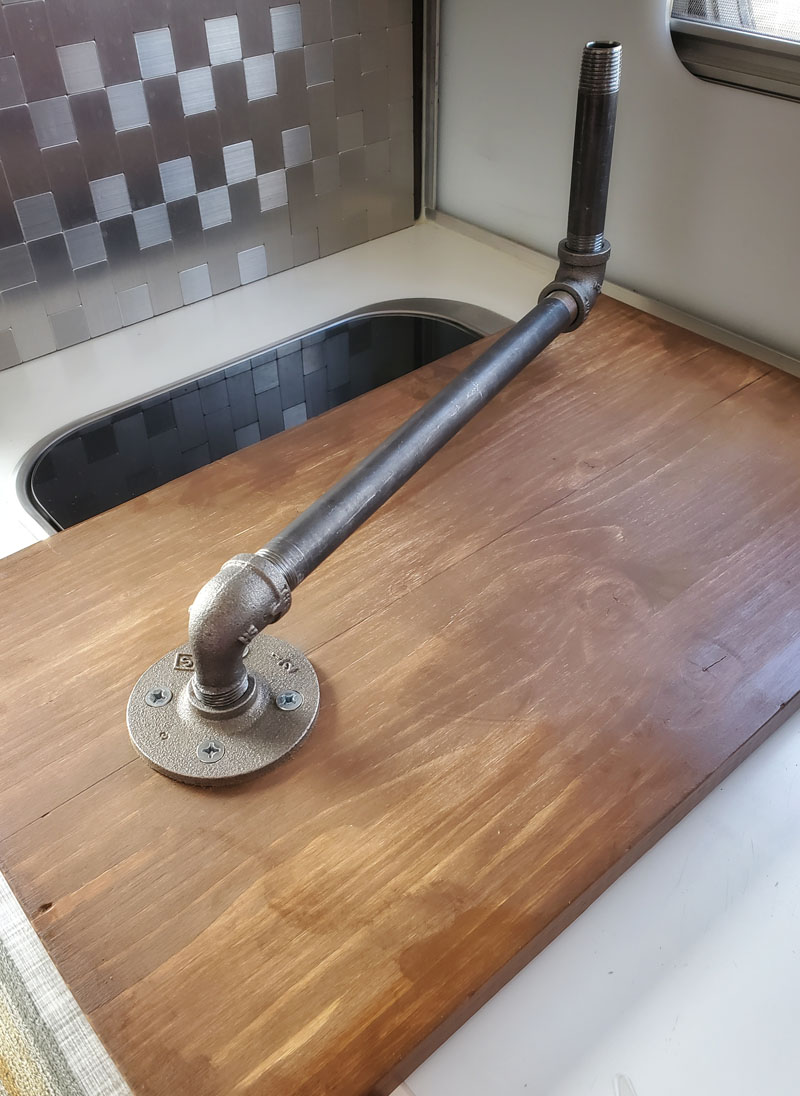 For the tables, we scoured the internet for ideas.  After many brainstorming sessions, we came up with using aluminum square tube and galvanized pipe.  We cut the aluminum tube to 9-inch lengths and drilled three holes all the way through (see below).  We screwed the tubes directly to the existing dinette side panels, used spacers to provide room for the table to swivel without interference, and cut 20-inch tables out of 1-inch by 12-inch pine board.  Then we assembled two pipes and two elbows to create a pivot arm for each tabletop, connecting them with a flange (see above).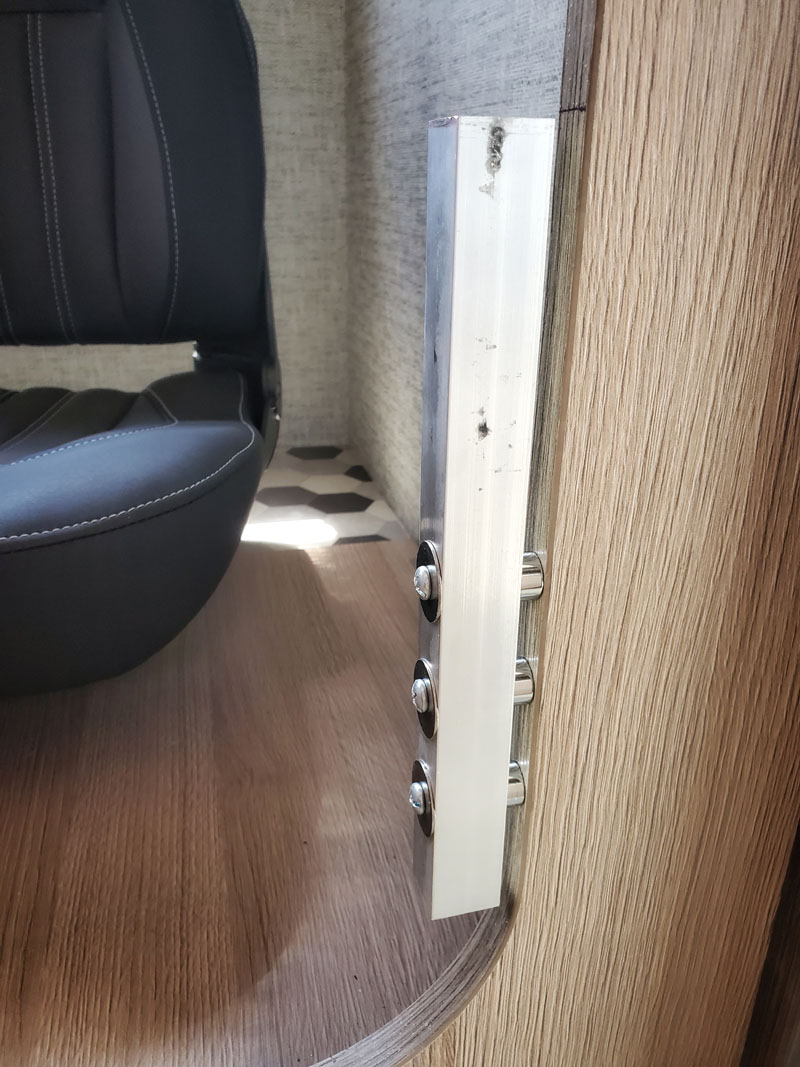 The whole table assembly sits inside the aluminum tube on the 4 1/2-inch end pipe.  Because they are seated in the tube, the tables are able to swivel to the wall or out into the aisle and rotate for use in a number of positions.  They are easy to remove since they just slip into the square tube.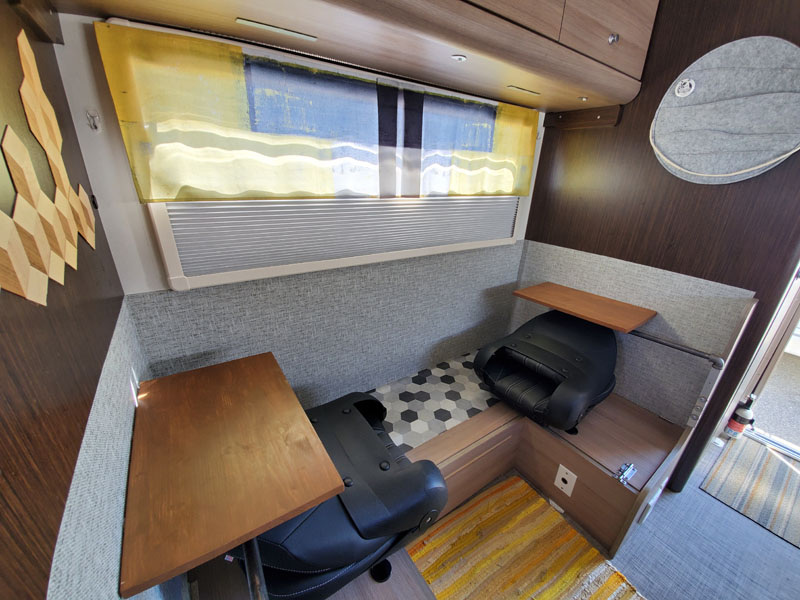 To finish the project, we covered the back of the bench seat with a piece of vinyl flooring and added peel and stick wallpaper all around the area.  The tables were finished with stain and finish cloths.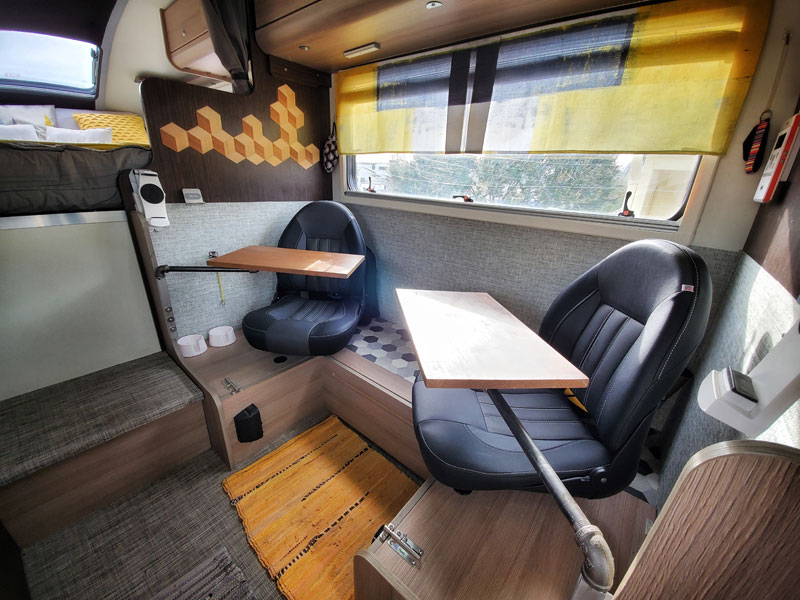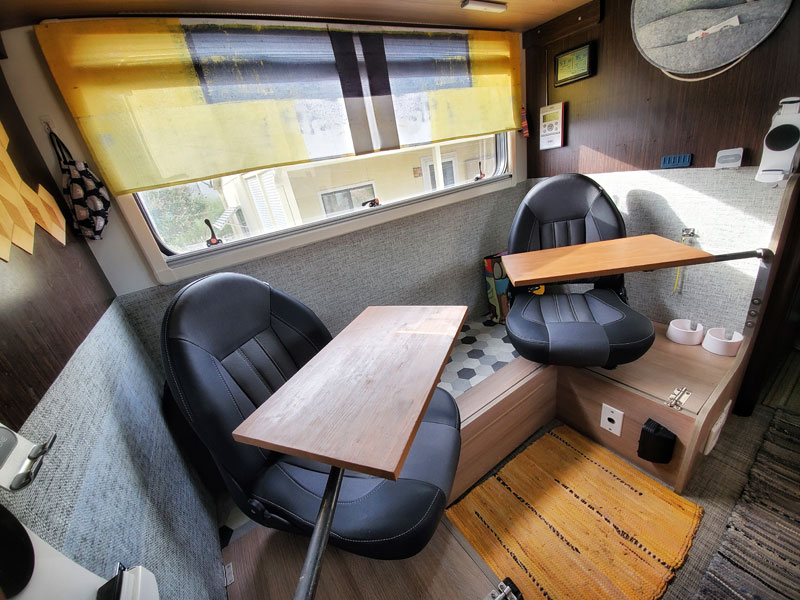 Given our space constraints, this is a much more comfortable and usable space for us and the way we live.  We have supportive bucket seating with maneuverability and independent tables.  It's also very lightweight, which is important in today's truck campers.  It fits our minimalist lifestyle and looks great too.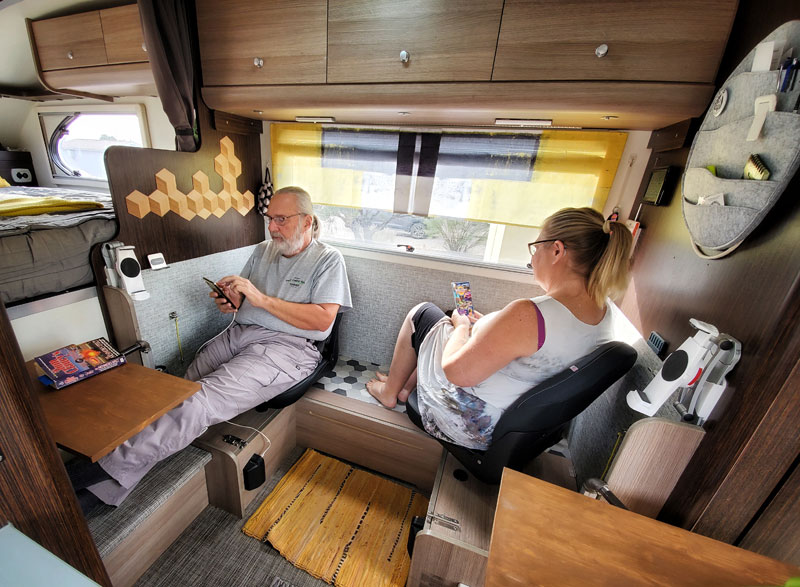 Materials for the seats:
2 Tempress Probax High Back Boat Seats (Amazon) – $199 each
2 Bass Pro Shops Quick Release Seat Swivel (Cabela's) – $19.99 each
4 Cabinet Door Hinges (Menards) – $2.50 each
2 Stainless Steel Barrel Bolts (Menards) – $6.50 each
Materials for the tables:
1 36-inch by 1-inch Aluminum Square Tube cut to 2 9-inch pieces (Menards) – $11.99
2 1/2-inch MIP by 4 1/2-inch Black Steel Pipe Nipple (Menards) – $1.18 each
2 1/2-inch MIP by Black Street Elbow (Menards) – $3.64 each
2 1/2-inch MIP by 12-inch Black Steel Pipe Nipple (Menards) – $2.97 each
2 1/2-inch FIP Black Pipe Floor Flange (Menards) – $4.26 each
1 1x12x4-foot Pine Board – cut to 2 20-inch lengths (Menards) – $14.00
Misc. Hardware: 6 1-inch fender washers, 6 #10 Panhead Sheet Metal Screws, 6 ⅜-inch Spacers, 8 #10 ½-inch Flat Head Wood Screws (Menards) – $10.00
Finishes:
1 roll NuWallpaper Peel and Stick Wallpaper (Amazon) – $29.00
Length of vinyl flooring to cover bench seat area (Lowe's) – $10.00
Minwax Wood Finishing Cloths in Chestnut (Amazon) – $7.99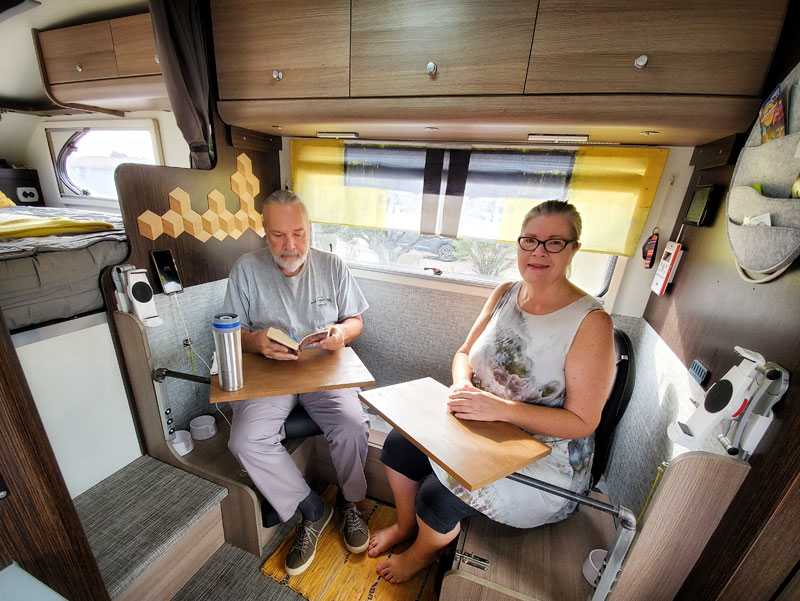 It took me eight hours to complete this modification and cost me $568.  In my opinion, the skill level of this modification is medium.
Disclaimer: The modifications above are submitted by Truck Camper Magazine readers. It is your responsibility to make sure that any do-it-yourself modification project you undertake is safe, effective, and legal for your situation.
Enter Your Mods Now!
If you'd like to enter a modification you've done on your truck camper, click here. You can enter as many mods as you want, at any time.  Good luck mod makers!