Welcome to the fifth entry in August's Medium Mod Contest.  One Medium Mod will be published in every Email Alert in August.  At the end of the month, we'll hold a reader vote to determine August's winner.  Click here for information about the 2022 Mod Contest, including how to enter.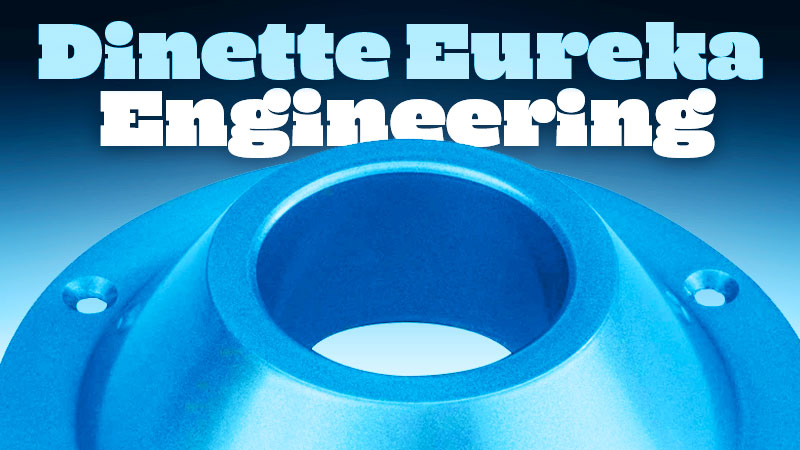 Mark Zeisberg, Elkton, Maryland
Dinette Eureka Engineering
1994 GMC K2500 6.5 TD
1997 Shadow Cruiser
The dinette space in our camper needs ultimate flexibility to serve as a day bed, library, lounge, dining area, and game room.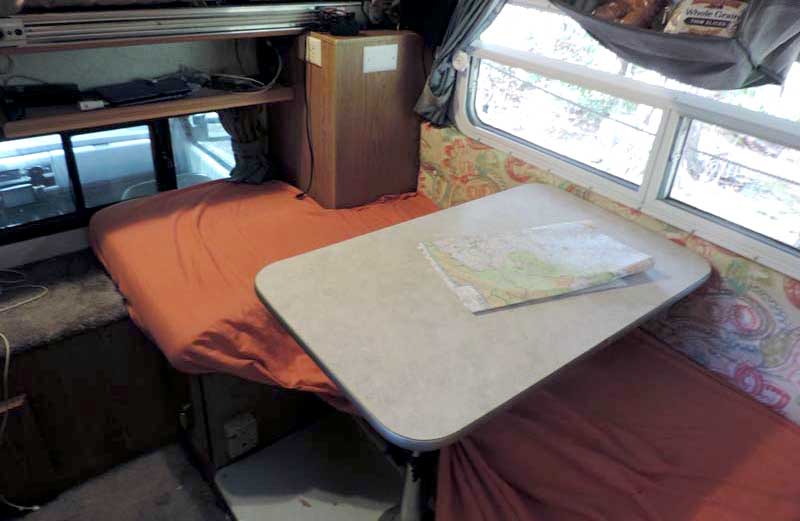 In our 1997 Shadow Cruiser, the dinette has some oddities. The biggest one is the propane box on the outside (in the corner of our dinette – see picture above) requires a special cushion and it invades the normal dinette rectangle. Also, the floor in our dinette is elevated.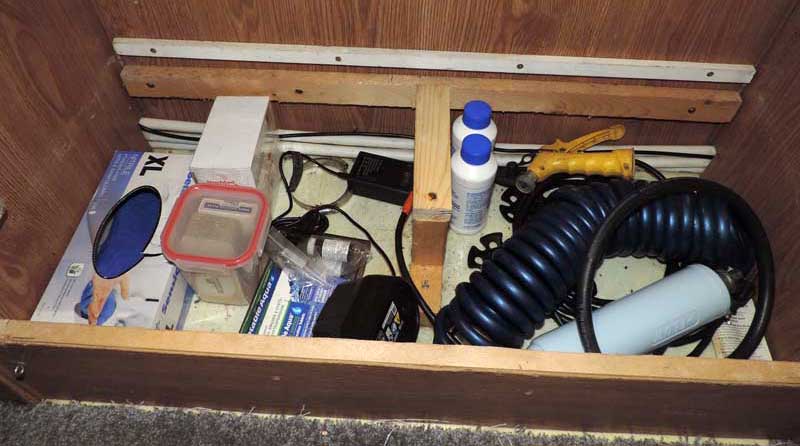 We needed more adjustability for me to lean back and stretch my legs. I needed to sit east-west, avoid the posts, and stretch into the main hall.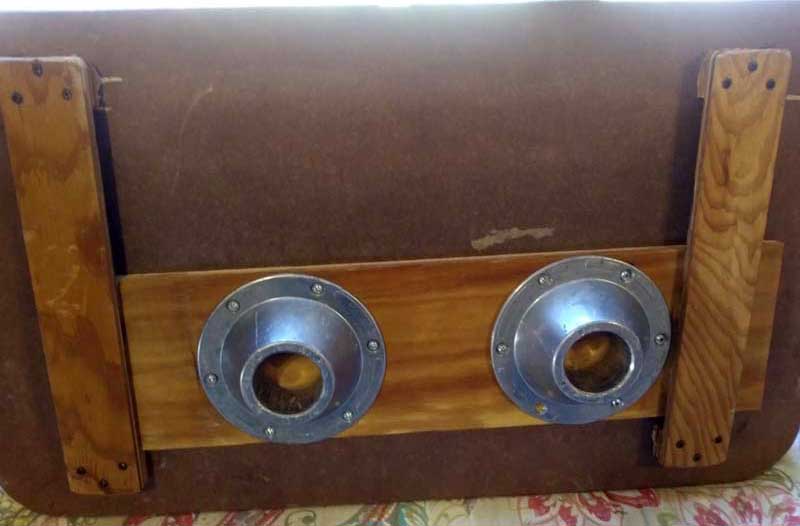 Adding a new floor and cleats, I now have a removable cover to access storage area underneath. Then, we adjusted the table and post locations. The table already had a slick system of an omni-adjustable plywood slide base supported by two posts, matching the receivers on the floor.
Reviewing several expensive RV table supports, it was clear that one post was the answer. Needing to center and fasten the post tight to the wall, I got a muffler clamp, wing nuts to fit, a metal L-bracket and welded my support.
Relocating one bottom post receiver, I also eliminated one receiver and one post. Some filler and another coat of paint should finish this modification.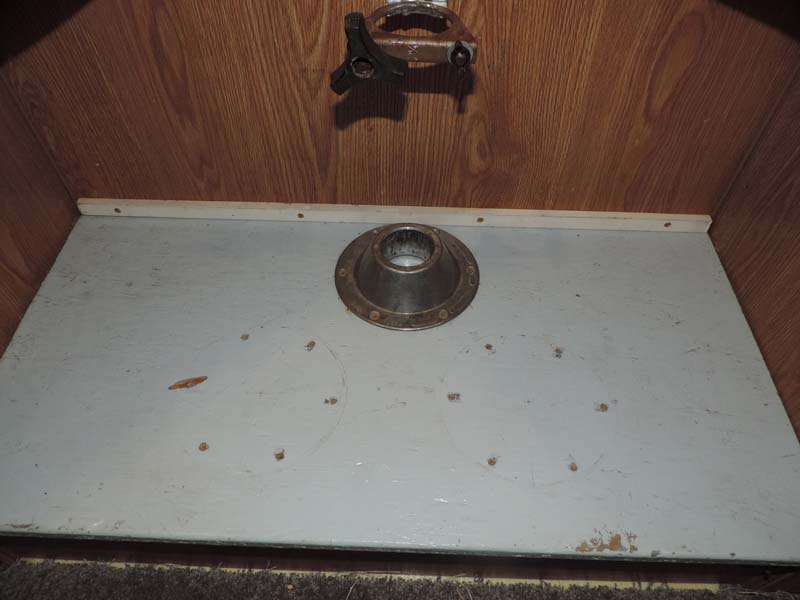 It turned out much better than expected. The table position is more flexible with no appreciative change with stability. An added benefit is that I can lift the table and take the leg out of the holder and clamp. Then, I slide the floor cover to access stowed items.
The table already had the slide positioning system. The other items I had in the shop. If purchased, it would cost less than $15.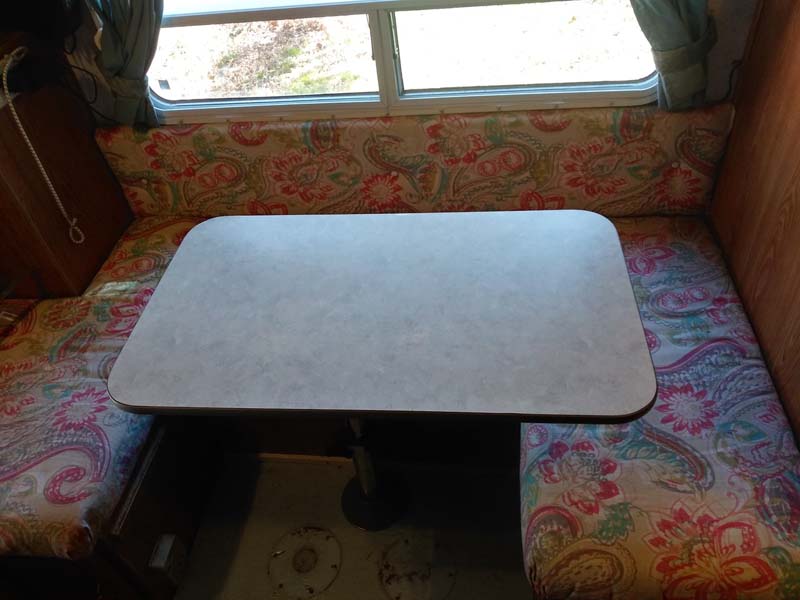 It took me three hours to complete this modification. In my opinion, the skill level of this modification is medium.
Disclaimer: The modifications above are submitted by Truck Camper Magazine readers. It is your responsibility to make sure that any do-it-yourself modification project you undertake is safe, effective, and legal for your situation.
Enter Your Mods Now!
If you'd like to enter a modification you've done on your truck camper, click here. You can enter as many mods as you want, at any time.  Good luck mod makers!