Welcome to the third entry in August's Mega Mod Contest.  One Mega Mod will be published in every Email Alert in August.  At the end of the month, we'll hold a reader vote to determine August's winner.  Click here for information about the 2021 Mod Contest, including how to enter.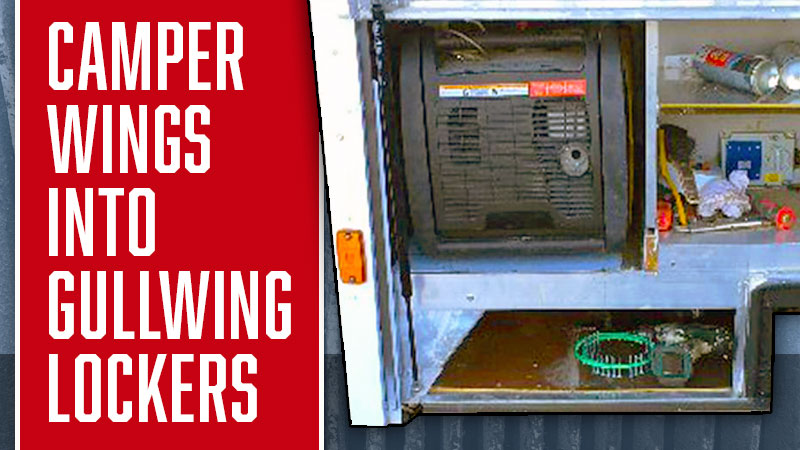 Jonathan Cox, Caldbeck, Cumbria, England
Camper Wings Into Gullwing Lockers
2005 Chevrolet Silverado 3500
2002 Lance 1130
Our camper was showing signs of significant water damage in both rear wings.  The driver's side rear-tie down point had also broken away.  The frame needed to be strengthened and the original Generac generator removed to make space for a 240-volt UK spec Champion 3.5K-watt remote control generator.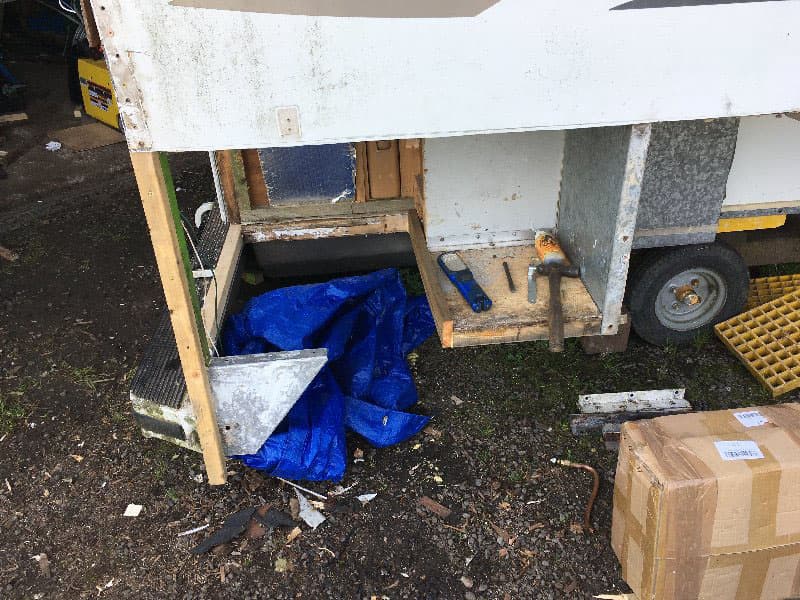 The original wooden frame rear wings were removed and the skins were retained as patterns. New wings were made up in the form of gull-wing doors lifted by gas struts.  An aluminum frame was made from a 1-inch square alloy box section, bent to the original shape using a plumbers pipe bender.  The new doors were skinned in an alloy sheet.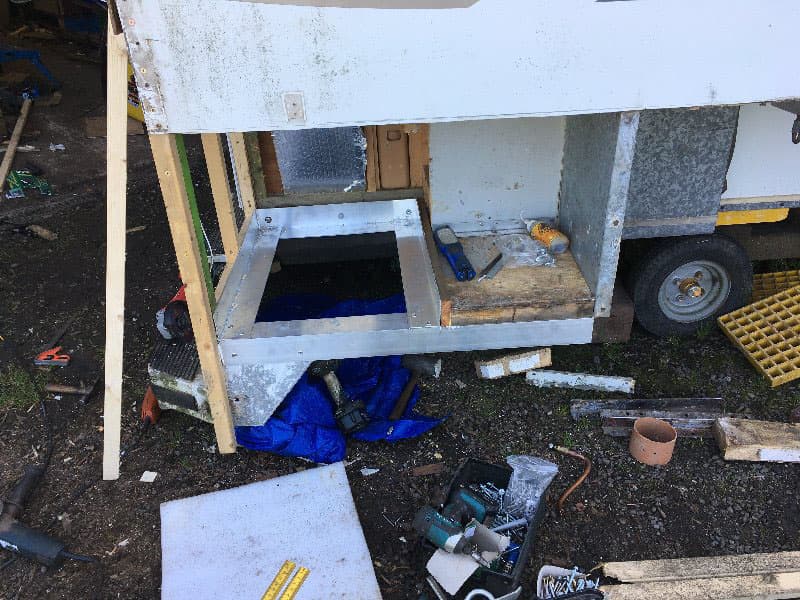 To repair the tie-down point, the original damaged timber was removed and new treated timber spliced in.  This was then strengthened by installing 3-inch by 3-inch angled aluminum along the full length of both sides.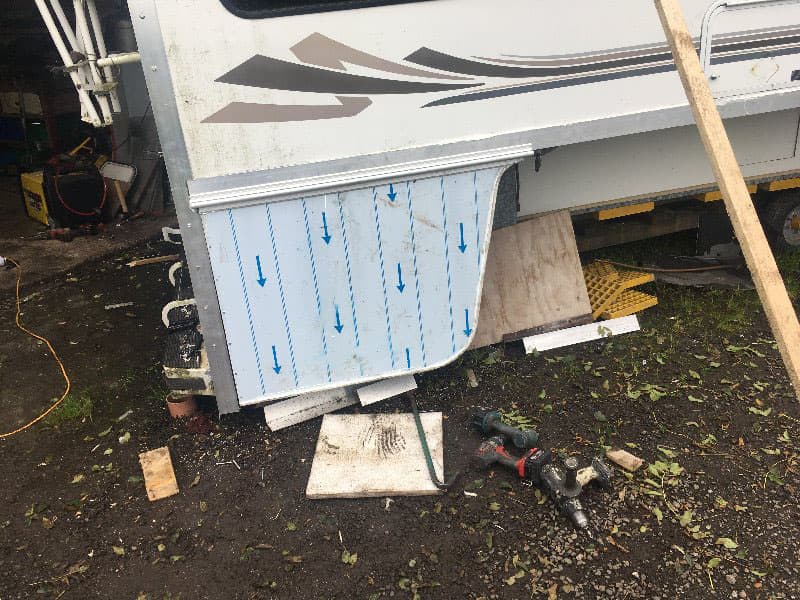 The rear panels on either side of the access door were also rotted out, as well as below the door.  The original fiberglass skin was cut off at waistline height and replaced with new framing an alloy skin and 3-inch by 3-inch angled alloy up both corners to reinforce the jacking points.
The Generac was removed and a series of lockers were made up from leftover alloy frames and sheets to house the Champion.  It also provides additional storage.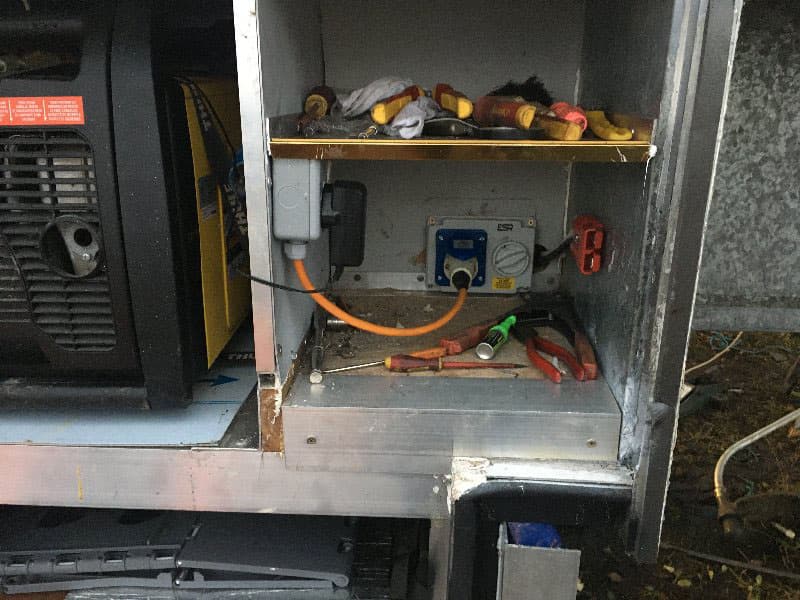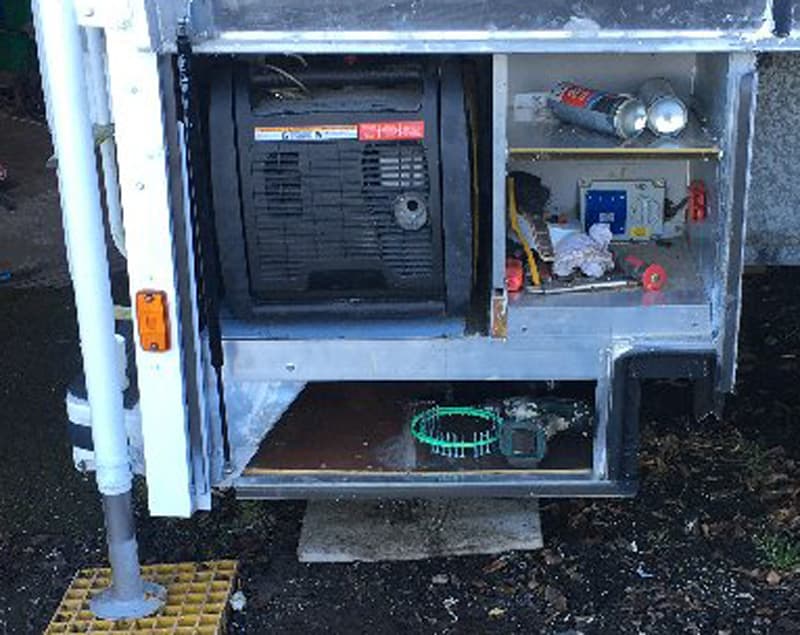 The wiring was modified to provide a 12-volt connection point in the locker (using original Generac starter motor cables) and a 240-volt connection point that can be used to connect generator or shore power.  When the original shore power cable is used, this provides an external 240-volt outlet socket.  The United Kingdom is on 240-volts.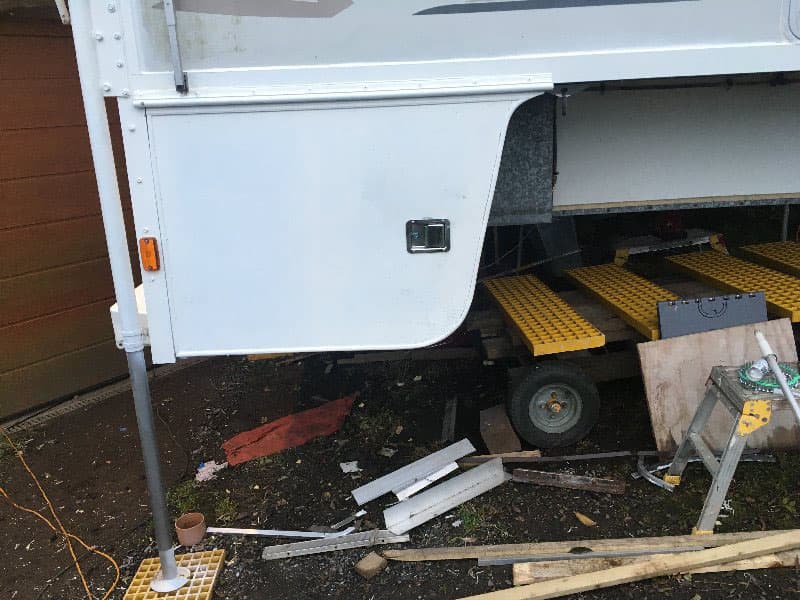 The modifications have worked out well.  It has increased storage space on both sides, improved access to black and grey drain valves, and plumbing for the shower.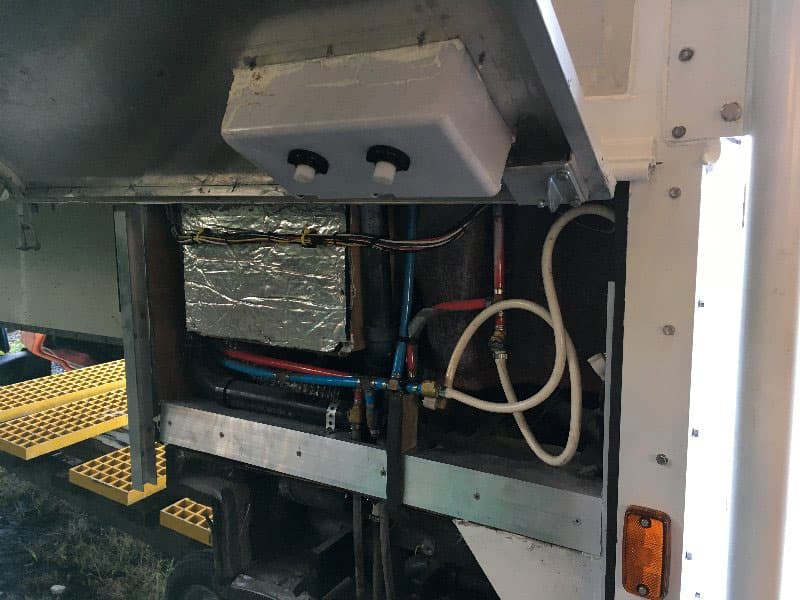 I now have a removable access panel at the back of the WC which makes connection and maintenance much improved.  Strengthening the frame has removed all flex when jacking up and has substantially reinforced all four tie-down points.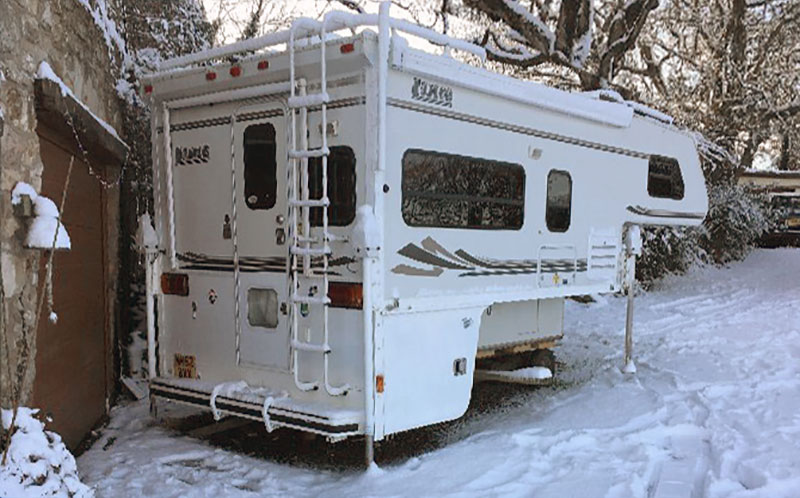 I used four-meter lengths of 3-inch by 3-inch by 3mm angled aluminum, 8-feet by 4-feet sheets of 2mm alloy sheet, stainless self-drilling screw fixings large alloy pop rivets, two boxes of Sikaflex 221, eight cans of etch primer paint spray, and 12-cans of mat white spray.  They were all purchased online and delivered to my door.
It took me more than 200-hours to complete this modification and cost me £1200 ($1,450 USD).  In my opinion, the skill level of this modification is hard single-handed given the size and length of materials used.
Disclaimer: The modifications above are submitted by Truck Camper Magazine readers. It is your responsibility to make sure that any do-it-yourself modification project you undertake is safe, effective, and legal for your situation.
Enter Your Mods Now!
If you'd like to enter a modification you've done on your truck camper, click here. You can enter as many mods as you want, at any time.  Good luck mod makers!