Welcome to the fifth entry in November's Medium Mod Contest.  One Medium Mod will be published in every Email Alert in November.  At the end of the month we'll hold a reader vote to determine November's winner.  Click here to submit a mod to the Mod Contest.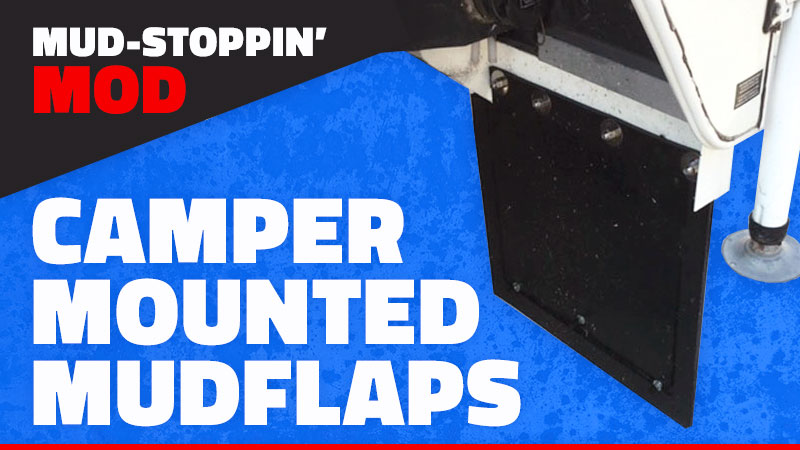 Bryce Dillree, Meridian, Idaho
Camper Mounted Mudflap Install
2007.5 GMC 2500HD
2013 Wolf Creek 850
We recently bought a Jeep to flat tow behind our rig.  I was concerned about debris flying up from the truck and hitting the Jeep.  I installed regular sized mud flaps on the truck but found them inadequate.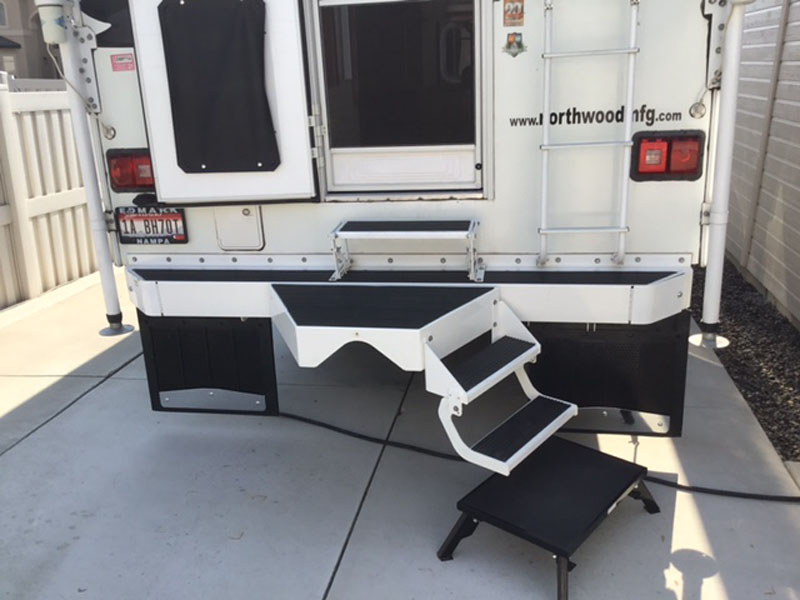 I noticed there was room behind the Fox Landing to install a set of semi truck mud flaps.  The mud flaps are 24-inches by 24-inches inches.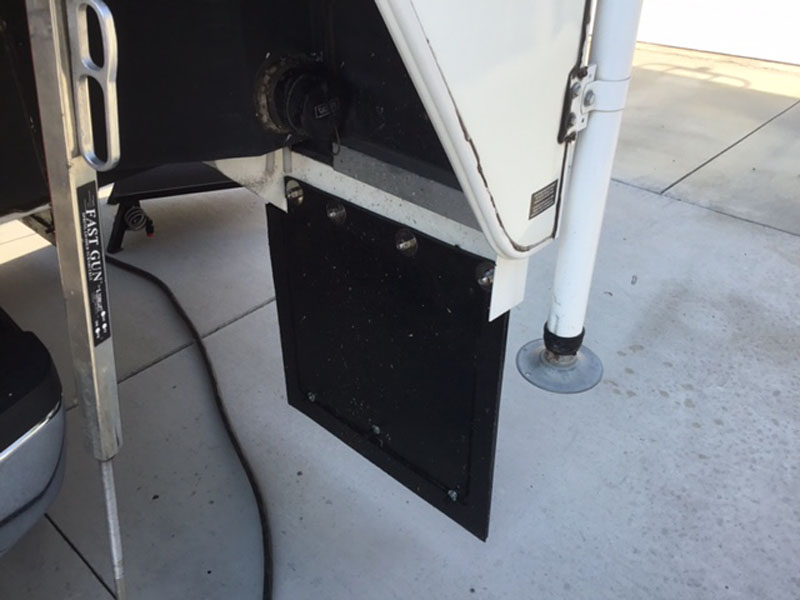 Some trimming was required, which is not easy because of the toughness of the material.  I used a razor blade box knife and a hacksaw.  I also installed chrome anti-sail weights.  With cardboard from an old box, I mocked up where and how to mount the mud flaps.  The mud flaps need to be a few inches above the ground.  They also come in 24-inches wide by 36-inches long.
On a recent trip in northern Nevada, we drove through swarms of locusts on the road.  The road was red with squished bugs.  At our next stop, I got out to inspect the carnage.  Things were pretty messy, but the front of the Jeep was spared most of it.
I got the mud flaps and anti-sail weights from Raney's (raneystruckparts.com).  The mud flaps were $15 each and the weights were $7.50 each.  The shipping and handling was about $35.  The stainless steel bolts, washers, and nuts were purchased at Lowe's for about $30.
It took me three hours to complete this modification and cost me $110.  In my opinion, the skill level of this modification is medium.
Disclaimer: The modifications above are submitted by Truck Camper Magazine readers. It is your responsibility to make sure that any do-it-yourself modification project you undertake is safe, effective, and legal for your situation.
Enter Your Mods Now!
If you'd like to enter a modification you've done on your truck camper, click here. You can enter as many mods as you want, at any time.  Good luck mod makers!