Welcome to the seventh entry in August's Mega Mod Contest.  One Mega Mod will be published in every Email Alert in August.  At the end of the month, we'll hold a reader vote to determine August's winner.  Click here for information about the 2021 Mod Contest, including how to enter.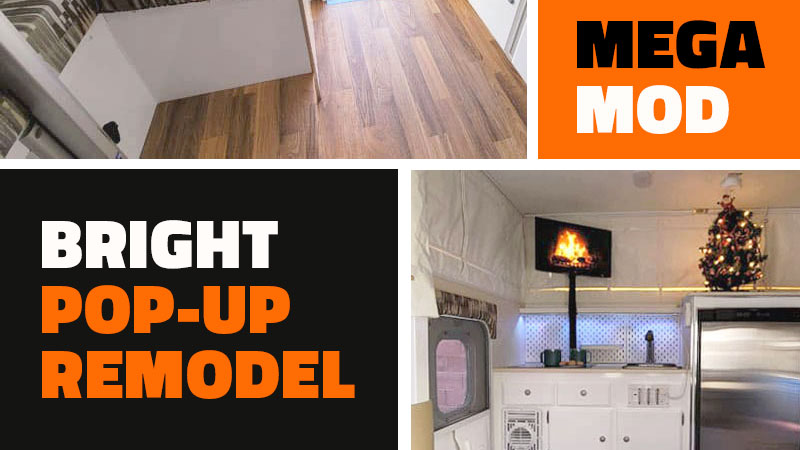 Ted Rocheford, Las Vegas, Nevada
Pop-Up Remodel With A Brighter Interior
2018 Toyota Tundra
2019 Northstar TC650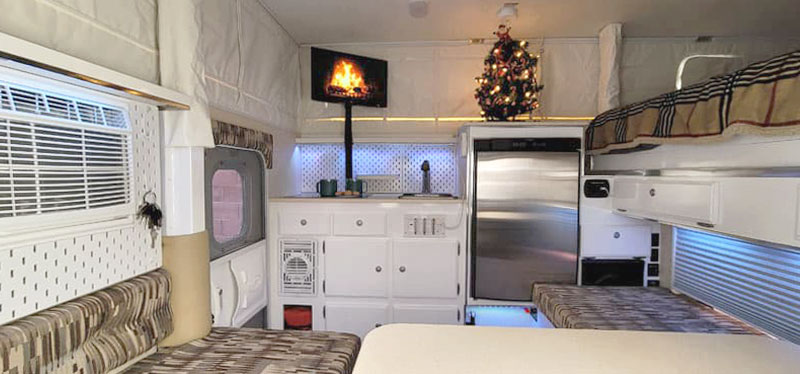 My days of oak cabinets are long past and I felt that our 2019 (bought new) Northstar TC650 needed a refresh.  I'm inspired by the clean modern interiors of newer European caravans with their bright interiors and modern accessories.
Every inch of the oak laminate was covered with high-quality durable 3M high gloss vinyl wrap.  The cabinets were cleaned thoroughly before applying an adhesion promoter to make sure the wrap stays put, especially at creases and corners.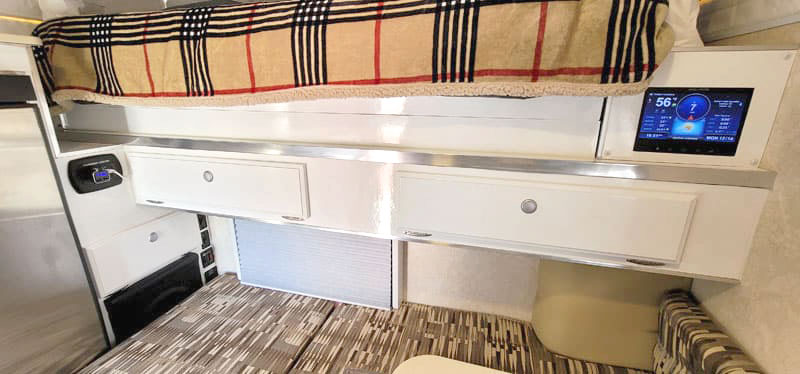 The same process was applied to every brown plastic strip where I applied a brushed aluminum wrap.  There have been no problems keeping the vinyl clean when it gets scuffed since I also applied a ceramic spray coating to it.  The 3M wrap I used is designed to last eight years when applied to its intended use on vehicle exteriors, so I imagine it should last a lot longer for interior use.
The 3M vinyl wrap has been applied for about six-months and survived interior temperatures up to 120-degrees and as low as 29 degrees Fahrenheit, with no signs of bubbling or peeling.
The 3M vinyl wrap was $60 per roll.  I used two 5-foot by 6-foot rolls.  The 1-foot by 3-foot roll of Vivid vinyl wrap in brushed aluminum was $12.  I purchased these materials on Amazon.
The tools required were a box cutter with new blades, a 3-foot metal ruler, and a 19-inch metal ruler.  I also needed an adhesion promoter, painter's tape, and tape measure.
It took me 24-hours to complete this modification and cost me approximately $130.  In my opinion, the skill level of this modification is hard.
Disclaimer: The modifications above are submitted by Truck Camper Magazine readers. It is your responsibility to make sure that any do-it-yourself modification project you undertake is safe, effective, and legal for your situation.
Enter Your Mods Now!
If you'd like to enter a modification you've done on your truck camper, click here. You can enter as many mods as you want, at any time.  Good luck mod makers!