Welcome to the seventh entry in November's Mega Mod-Ster Contest.  One Mega Mod will be published in every Email Alert in November.  At the end of the month we'll hold a reader vote to determine November's winner.  For information about the Mod-Ster Contest, including how to enter, click here.
John Bell, Surprise, Arizona
Barbecue Grill Made From Propane Tank
2007 Dodge Ram
2000 Lance 1130
I wanted a compact gas grill that was convenient to store and use. I couldn't find what I wanted so I made this one.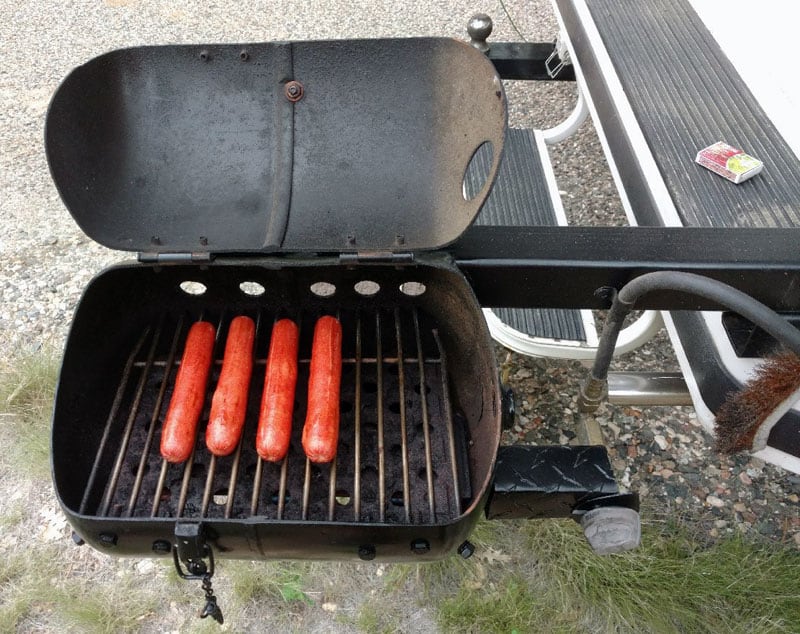 The mount design was the harder thing to figure out. There is very limited space between the ladder and the rear jack which is why I chose a 10-pound tank. I wanted the grill to fit nicely in this space.
I used a couple of small pieces of wood temporarily on the ladder and the jack post to determine proper position. I used a ratchet strap to hold the tank in proper position and adjust to proper height. Then I could measure where the arm should be welded to the tank.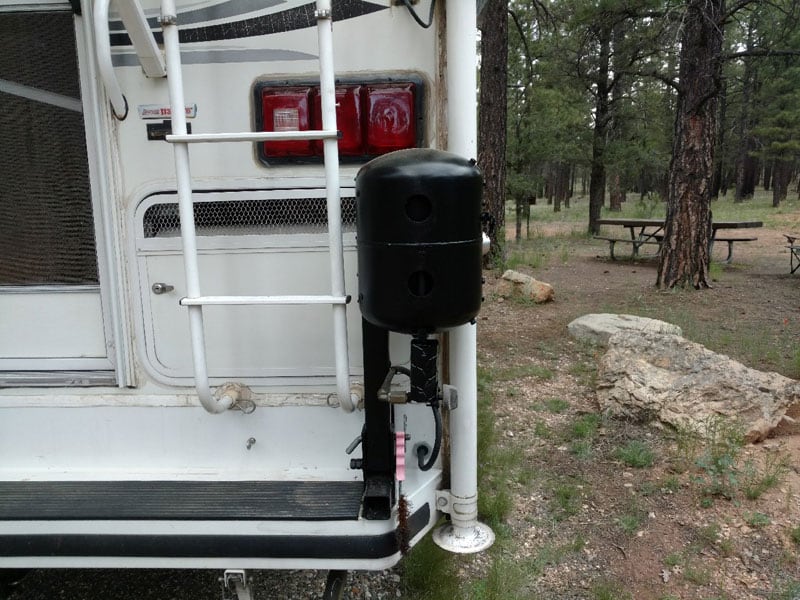 The arm is actually positioned on the back side, toward the top. I had to put it there so that the swing mount could bolt to the bumper as the tank extends a little further out than the bumper. After I got this design figured out the rest was fairly easy.
I used an angle grinder with a cutoff wheel to cut the 10-pound propane tank open. It's cut on a curve at the ends to allow space for the arm mount.
I got the tank from a propane dealer friend of mine. It was in good condition, and had not been used in years. It did not have an OPD valve.
I removed the old valve and inspected the inside. It looked clean and had very little odor. I washed it out well before I cut it open.
I used the stainless burner from a larger grill and cut down the stainless rack from the same larger grill to fit. I put a tee fitting in the generator compartment and flex line to supply propane to the grill.
I am 72 years old and first learned to weld in high school. Welding was not my profession, but I have always repaired and built things in my home shop.
I have made many things in my life using wood or metal. It's been a great hobby. It seems like I am always happiest when building something. I find it difficult to sit and do nothing.
The barbecue grill has been a great addition, and it's so simple to use. Just pull the pin to lower and light it. After cooking, I just raise it up put the pin in and I'm done. It fits neatly in this corner. No muss. No fuss.
It took me 20-hours to complete this modification and cost me $40. In my opinion, the skill level of this modification is hard.
Disclaimer: The modifications above are submitted by Truck Camper Magazine readers. It is your responsibility to make sure that any do-it-yourself modification project you undertake is safe, effective, and legal for your situation.
Enter Your Mods Now!
If you'd like to enter a modification you've done on your truck camper, click here. You can enter as many mods as you want, at any time.  Good luck mod makers!