Welcome to the third entry in January's Medium Mod Contest.  One Medium Mod will be published in every Email Alert in January.  At the end of the month, we'll hold a reader vote to determine January's winner.  Click here for information about the 2022 Mod Contest, including how to enter.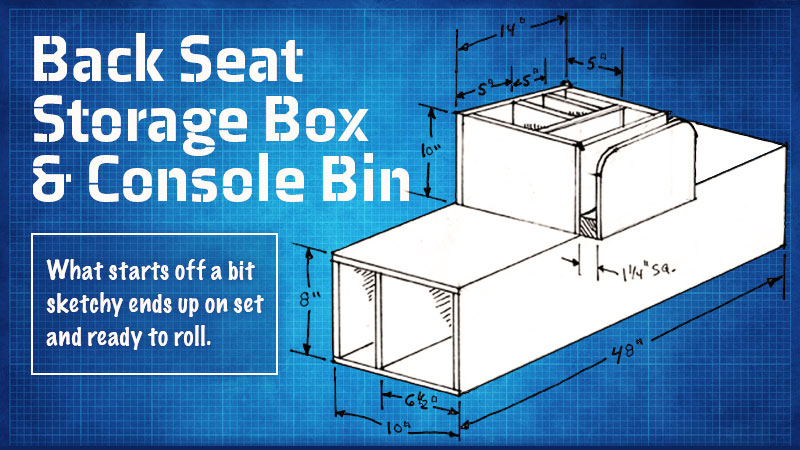 Jeff Johnston
Back Seat Storage Box and Console Bin
2021 Ram 2500
2021 Palomino SS-1240
My job with Rollin' On TV (recently rebranded RVing Today) means we haul along a modest selection of video equipment when we're out adventuring with our Palomino SS-1240 fold-down and 2021 Ram 2500 crew cab truck.
It also means, given the Palomino's skimpy storage spaces, we started looking for another partial solution to the gear-hauling dilemma.  Fortunately, we have a large back seat and no bodies riding along on these trips, so a plan started to take shape.
We prefer to keep our camera and tripod easily accessible so we can grab them, set up, and shoot in short order as needed.  Our back seat is typically cluttered with the camera in ready-to-shoot shape, camera bags or cases.  The tripod is piled somewhere on top of it all for fast access.  We knew there had to be a better way.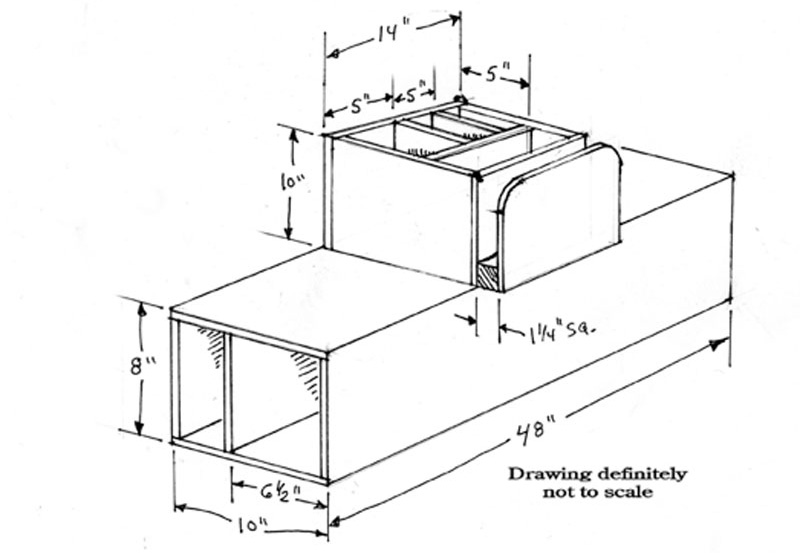 I started with a sketch that looked like figure 1 which gives rough dimensions for our application.  My requirements were that the tripod had to be in its own protected and padded enclosure and quickly accessible.  There should be a similar spot for a couple of light stands and the container would be strong enough to have other gear stored on it.  On top of the unit, there'd be a separate console box for things we need on the road such as a thermos, water jug and map books.  Yes, we have paper DeLorme maps.  We love them.
As for other details, the box needed to allow the driver and passenger seats to recline without interference and slide all the way back for the tallish truck occupants, which dictated some dimensions.
I chose moderate-quality – hey, I'm not a millionaire – 1/2-inch plywood for the structure.  Yellow carpenter's glue and 1-inch 18-gauge brad nails from an air gun made fast work of assembling the parts.  This was a good point to test the storage clearances before assembly moved too far along.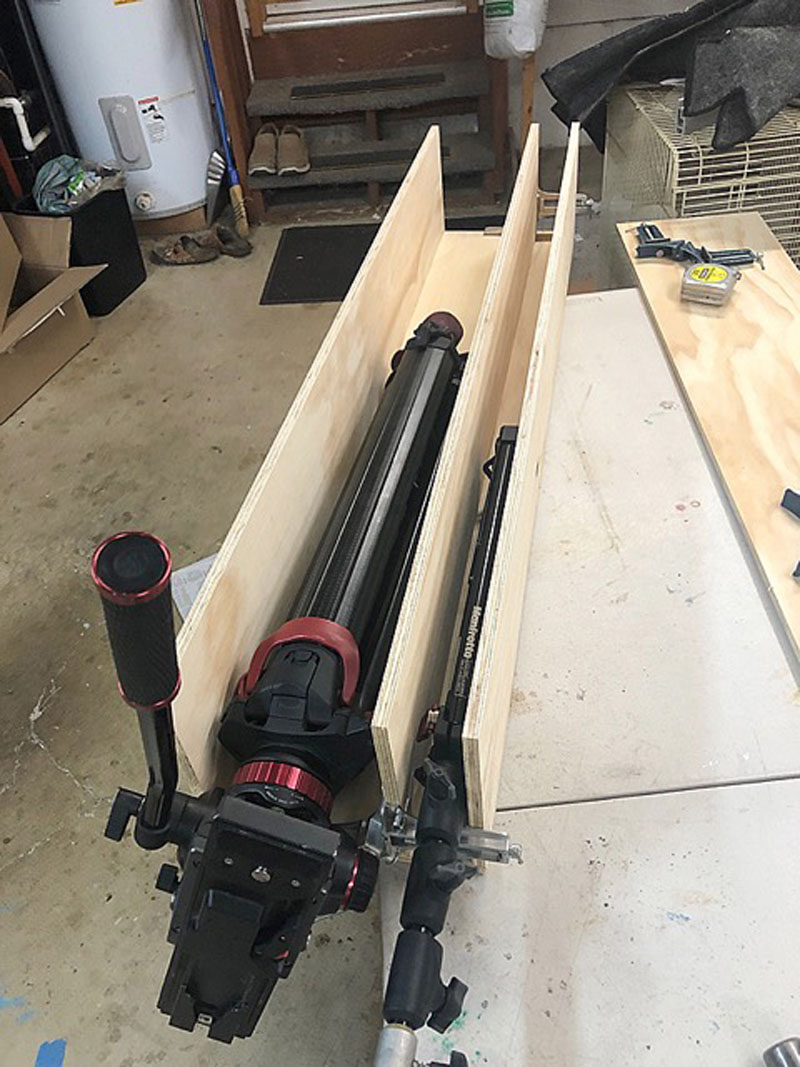 Quarter-inch staples and Contact Cement held the fabric padding strips, scrounged from a workshop shelf, in place to pad the tripod.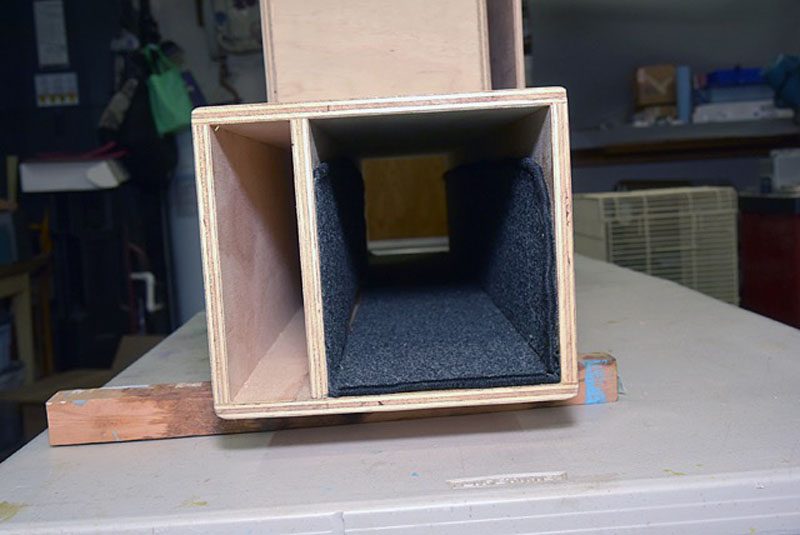 It was no more than Carpentry 101 to put the storage box together.  The topside console box was a good match for the project.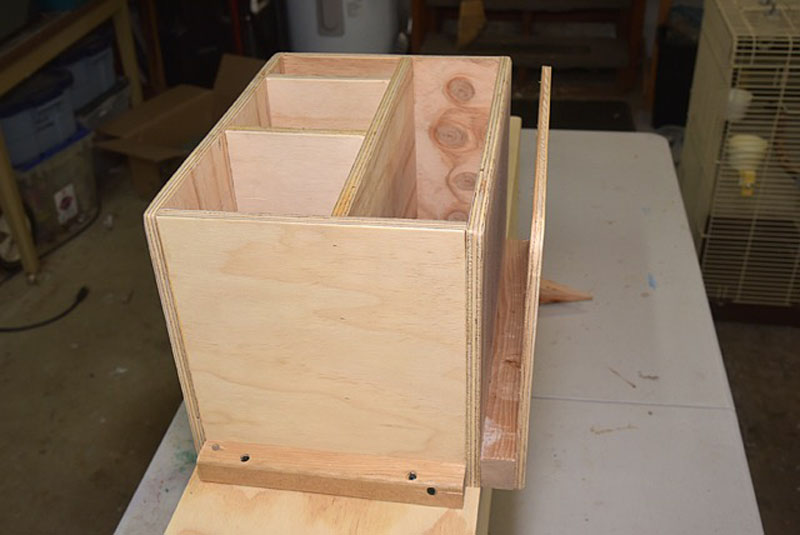 A pass with a palm sander and a couple of coats of varnish finished the job.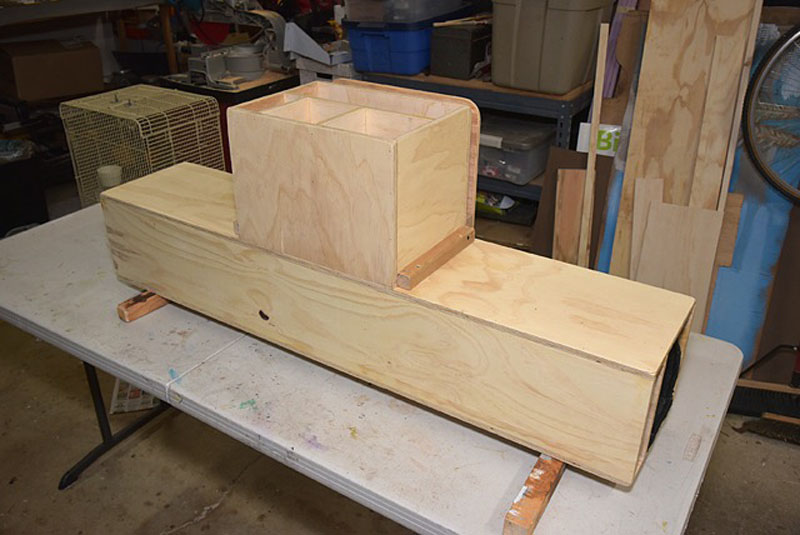 From raw plywood to finished first coat of varnish was somewhere under five-hours, so it's not a big deal job.
The first test fit in the Ram was a success.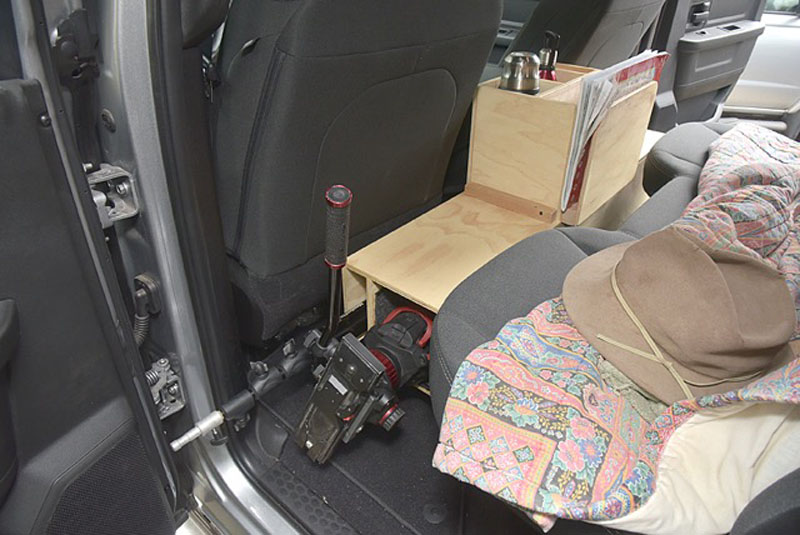 The tripod fits neatly into place and the topside box corrals its planned contents with ease.  It's nice to have the thermos and water jug where they're accessible, as in the photo below, and they won't leak as they roll around underfoot as in the past.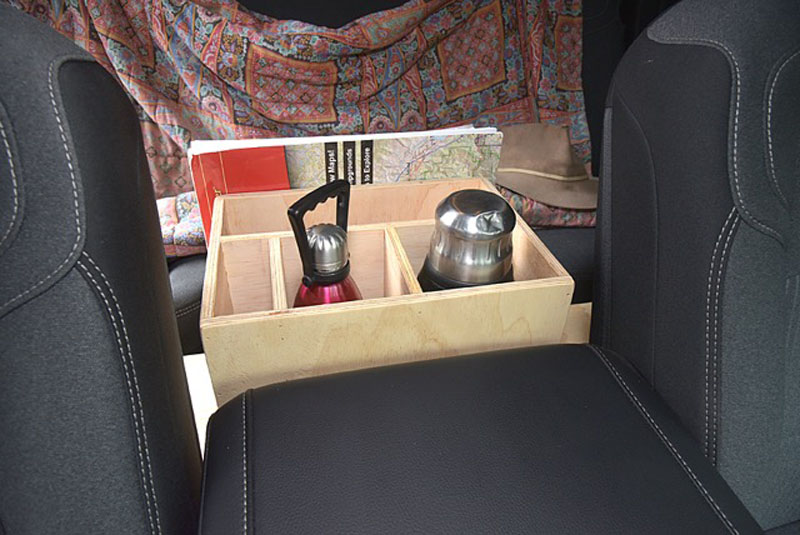 My briefcase and ancient laptop fit neatly under the box in the driver's side rear footwell and the notch in the rear bench seat clears the map pocket.  Other camera bags or personal baggage can be piled on the tripod box without fear of damaging anything.
Our back-seat storage box is a simple, functional solution to our equipment storage situation.  The same general idea can be applied to long-ish sports or hobby equipment that must be hauled along on an adventure.  That $75 for plywood was a bit of a bite, but it'll last a long time and will serve our needs well.
Disclaimer: The modifications above are submitted by Truck Camper Magazine readers.  It is your responsibility to make sure that any do-it-yourself modification project you undertake is safe, effective, and legal for your situation.
Enter Your Mods Now!
If you'd like to enter a modification you've done on your truck camper, click here.  You can enter as many mods as you want, at any time.  Good luck mod makers!