Welcome to the sixth entry in October's Medium Mod Contest.  One Medium Mod will be published in every Email Alert in October.  At the end of the month we'll hold a reader vote to determine October's winner.  Click here for information about the 2020 Mod Contest, including how to enter.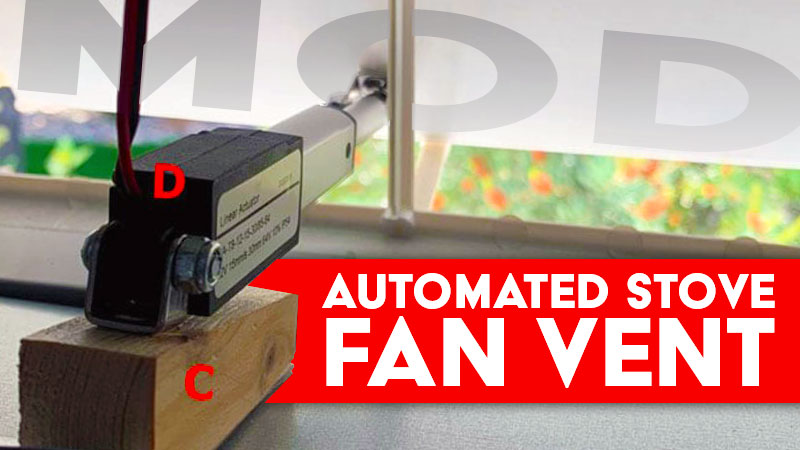 Dave Ruane, Windsor, Colorado
Automated Stove Fan Vent
2008 Chevrolet Silverado 3500HD
2020 Northern Lite 9-6 LE
The stove fan has a functional opening on the outside. However, the opening requires you to open/close two tabs to let the vent open. It takes a long stick and careful manipulation to undo these tabs. It is easy to forget to close them before traveling. And the vent makes a lot of racket if you leave the tabs open on a windy night!
My 2020 Northern Lite 9-6QLE has a Furion stove hood, but I believe this type of Ventline stove vent is common on lots of truck campers. This mod allows me to open or close the outside vent cover from the inside of the camper.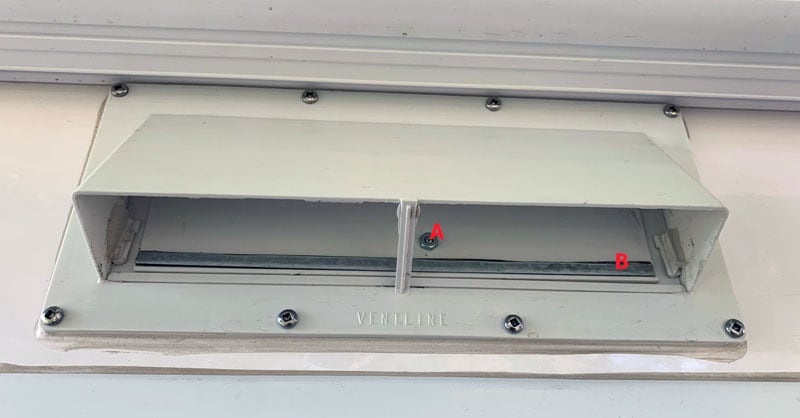 Above A: The attachment screw for the linear actuator – use a small nut and make sure threads don't extend past nut (use LOCTITE).
Above B: I attached a strip of 1/8″ thick, 1/4″ side metal to the edge of the vent cover to make the closure more solid and mitigate deflection (attached with HD)
I used a wooden dowel rod marked at 30mm to determine where the attachment points on the vent cover and the inner side of the fan shroud should be. It is important to use small nuts/bolts on the vent cover and to make sure there is clearance for them on the full-open position. The same applies to the full-closed position.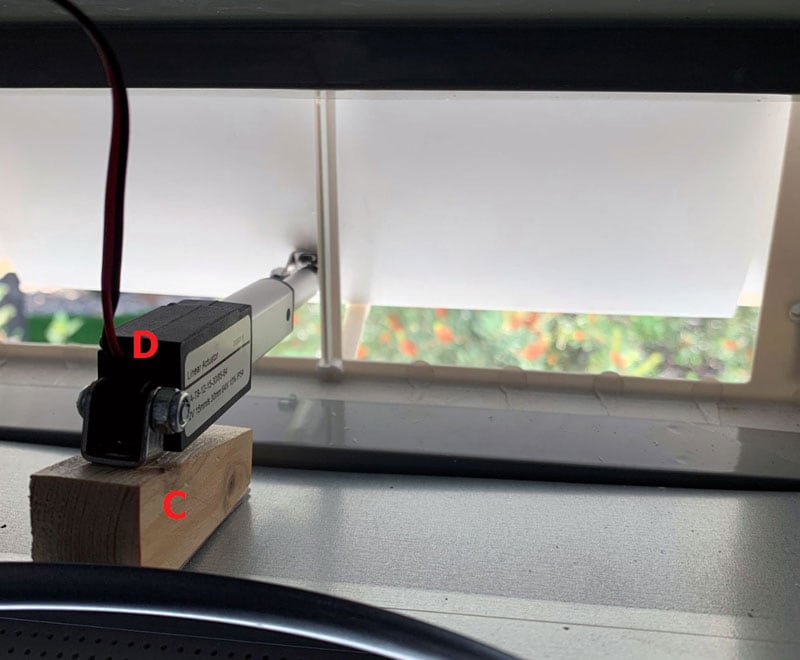 Above C: Because the installation area is so tight, I mounted the linear actuator to a small, wedge-shaped block of wood.  Then, I used a screw and double-stick tape to attach the wood to the fan manifold easily.
Above D: The linear actuator's open and closed positions were carefully calculated before attachment.
Linear actuators are powerful. Make sure to time the full close properly to avoid deflection of the vent cover. From the factory, the vent cover is intended to blow open with the fan air so it is lightweight and flimsy. A piece of metal attached to the outer edge makes a much more solid closure.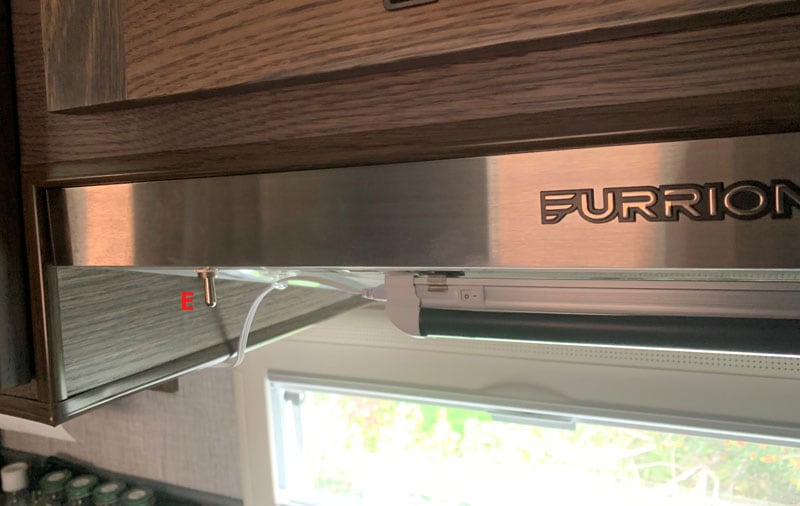 Above E: A switch was installed in a convenient place on the underside of the stove's hood.  Make sure there is sufficient room for the wiring of the switch!  Using this DPDT-Momentary type toggle, I set it up so that pushing the toggle forward (towards the window) opens the vent cover, and pulling it towards you will close it.  I only have to hold it for about three seconds before it auto stops at full open or full close.
While it wasn't difficult, the work area had some tight spots that I had to overcome. And the timing of the full-close and full-open was tricky.
Watch my short video to see how this works:
Linear actuator on stove fan vent from Dave Ruane on Vimeo.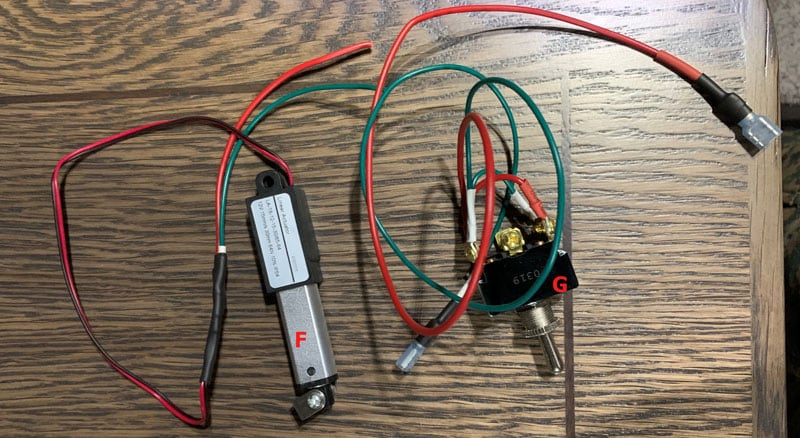 Above F: The linear actuator from Amazon. There are many options, but this one was called, "ZCONIEY Micro Linear Actuator with Limit Switches 12V DC, 64N, 30mm Stroke 1.2″ with Mounting Brackets".
Above G: Dual pole dual throw (DPDT) switch, on-off-on momentary from Amazon. There are lots of options, but make sure it is DPDT with 6 terminals on the back. Momentary type means that it moves while pushed or pulled allowing me to open it half-way if desired. The wiring was 16-gauge.
This very functional modification cost me about $36 for the linear actuator, $12 for the DPDT switch, and minimal money for the wiring and connectors.
Disclaimer: The modifications above are submitted by Truck Camper Magazine readers. It is your responsibility to make sure that any do-it-yourself modification project you undertake is safe, effective, and legal for your situation.
Enter Your Mods Now!
If you'd like to enter a modification you've done on your truck camper, click here. You can enter as many mods as you want, at any time.  Good luck mod makers!