Welcome to the fifth entry in May's Medium Mod Contest.  One Medium Mod will be published in every Email Alert in May.  At the end of the month, we'll hold a reader vote to determine May's winner.  Click here for information about the 2022 Mod Contest, including how to enter.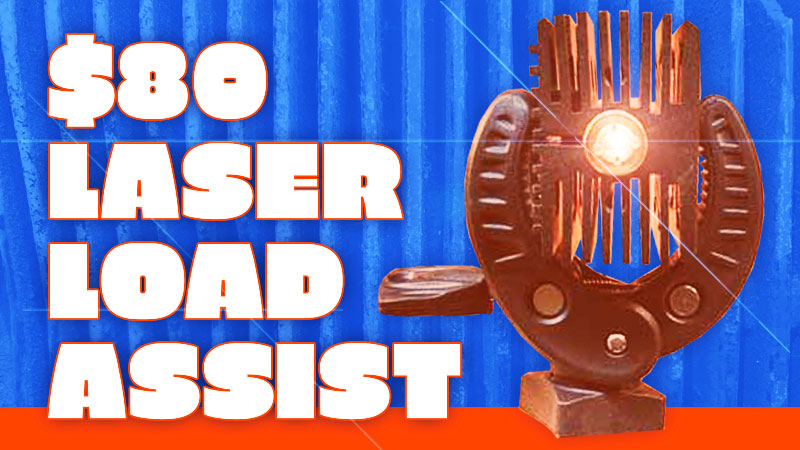 Ken Ehlers, Ferndale, Washington
$80 Laser Load Assist
2021 Ford F-450
2021 Northern Lite 10-2 Dry
We are new to truck campers and wanted to simplify the camper loading process. What I did is a variation on earlier submitted mods that utilize a laser for camper loading.
Using a magnet to hold the laser on the truck wasn't an option in my case since the bed is aluminum. I accomplished the same thing with a wood mount that fits firmly between the truck's cab and the bed, right under the rear window.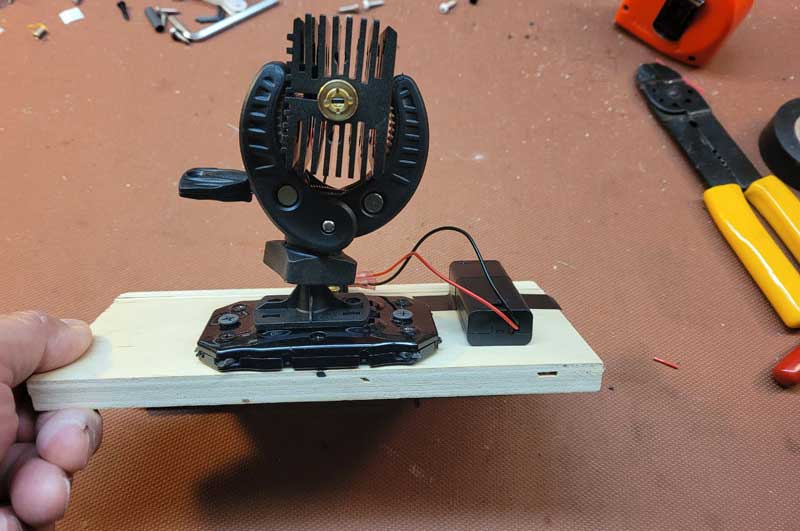 No drilling of holes is required. I also used a universal cell phone mount that I bought for use on a bike or shopping cart. The phone mount allows adjustment of the laser after the wood mount is in place on the truck.

Finally, I made a center-point target using a dowel that extends across the tailgate void. This is what I use to align the laser. The laser, heat sink and battery box/switch were the same as an earlier laser mod and obtained from Z-Bolt in Portland, Oregon.
I load by squaring the camper to the camper jacks. Once I'm basically aligned to the jacks, the laser helps with the last part of the loading process.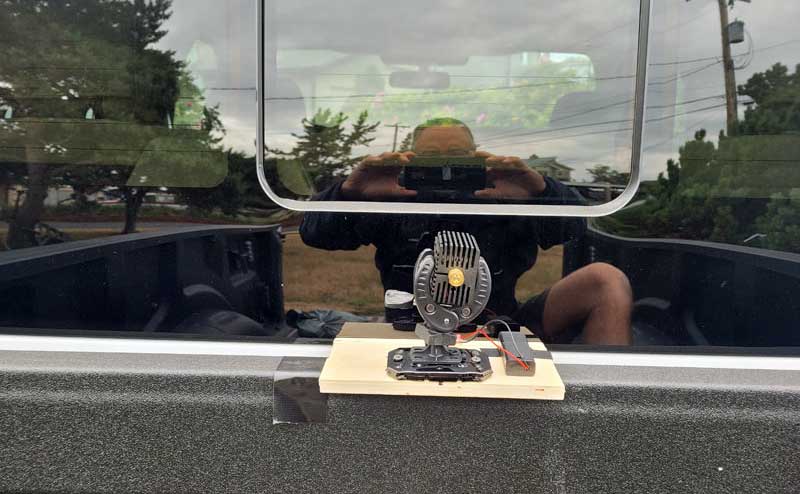 As a side note, readers should be wary of a laser loading product called RV Align, which I bought. This laser in this product is much weaker than the one from Z-Bolt, not visible in daylight. It's basically worthless unless you load in the dark, which isn't likely!
Materials Used:
Laser and related: Z-Bolt.com $60
Universal cell phone mount: Amazon.com $10
Plywood and dowel: used shop scraps
Reflective tape for camper: Home Depot
It took me three hours to complete this modification and cost me $80.  In my opinion, the skill level of this modification is medium.
Disclaimer: The modifications above are submitted by Truck Camper Magazine readers. It is your responsibility to make sure that any do-it-yourself modification project you undertake is safe, effective, and legal for your situation.
Enter Your Mods Now!
If you'd like to enter a modification you've done on your truck camper, click here. You can enter as many mods as you want, at any time.  Good luck mod makers!