Welcome to the second entry in September's Medium Mod-Ster Contest.  One Medium Mod will be published in every Email Alert in September.  At the end of the month we'll hold a reader vote to determine September's winner.  For information about the Mod-Ster Contest, including how to enter, click here.
Neil and Yoly Mullen, Dawsonville, Georgia
1500-Watt Pure Sine Wave Inverter Installation
2016 Ram 2500HD
2018 Eureka Camper
Our Eureka truck camper is very utilitarian and has no propane system on board. The manufacturer supplied a 110-volt compressor refrigerator. Unfortunately it only runs when connected to shore power or a generator.
I really like the idea of a compressor refrigerator since I've had nothing but problems with almost every absorption refrigerator I've owned. The compressor refrigerator comes down to working temperatures in about 15-minutes, uses no power when the compressor isn't running and isn't so sensitive to being level or altitude.
Faced with the prospect of keeping our food cold and frozen while driving, it was obvious that we would need an inverter to convert battery power to 110VAC. This would also serve as a power source to run our television, Playstation 4 and laptop chargers when we are not connected to shore power or our generator.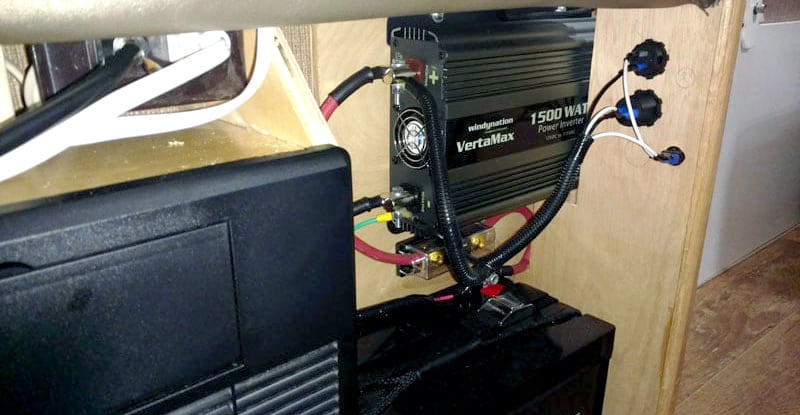 We chose a VertaMax 1500-watt pure sine wave inverter since it will run pretty much everything except the space heater and air conditioner, including the 700-watt microwave.
The Eureka is an aluminum square tube construction with 1-inch high density insulation between the frame members. This is covered with a fairly thin interior skin so you just can't bolt or screw things to the wall anywhere you want.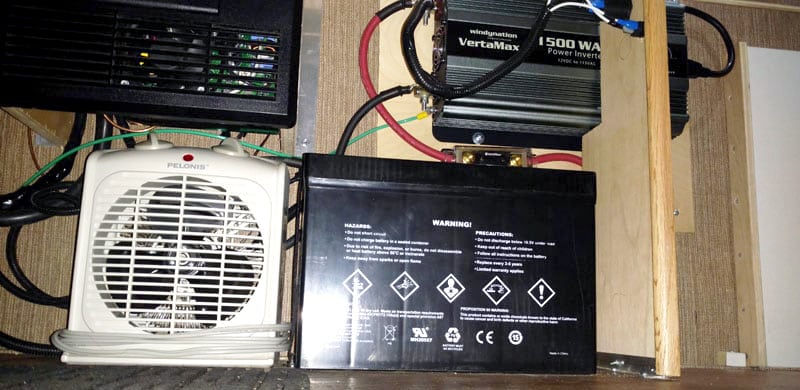 The first thing I did was mount a half inch thick birch plywood board to the wall area using the available frame members for support. Then I mounted the 1500-watt inverter, connected the inverter to a 100AH AGM battery using 2AWG inverter cables.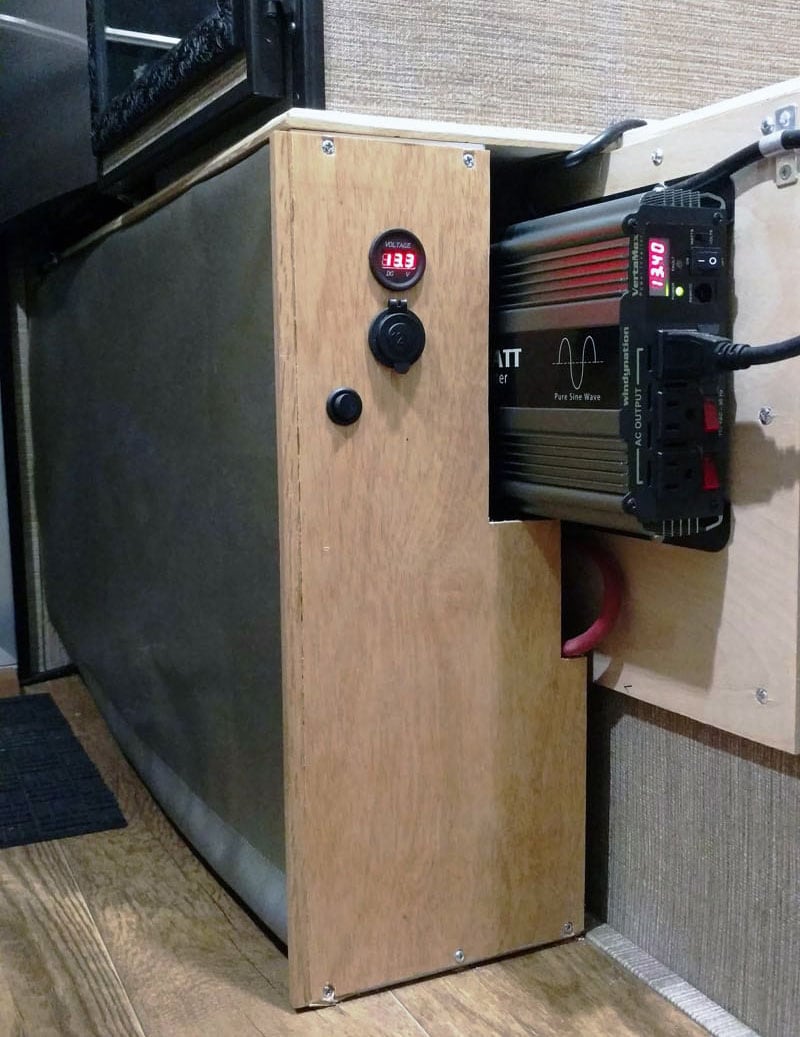 I also included a standard 150-amp in-line ANL fuse and holder. Then I added a conventional digital volt meter and accessory power socket and a small switch to turn the display off.
The inverter incorporates three 20-amp sockets to distribute power. I mounted a power strip that uses one of those plugs. It incorporates four additional plugs as well as two USB outlets.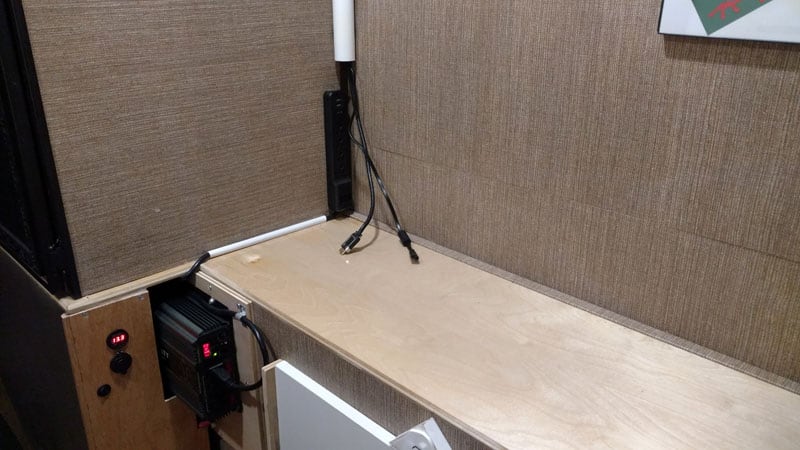 The 100AH battery charges via the large alternator on our Ram truck's 6.4L HEMI engine while driving and actually charges the battery quite rapidly. The refrigerator is plugged directly into the inverter and draws approximately 80-watts and 1-amp – only when the compressor runs.
While driving, the compressor runs for a couple of minutes every hour. When we arrive at the end of the day, the battery always has a full charge. So far the battery has only dropped to 12.5-volts after three days of powering the refrigerator and occasionally running the Fantastic Fan.
I can charge the battery by connecting to shore power or plugging in my Honda EU2000i which has an 8-amp DC charge system. If I'm running the generator, I can also choose instead to connect my 12-amp battery charger to replenish the battery very quickly.
For extended boondocking I may have to add a second AGM battery, but that will be easy and not cost prohibitive. I like the simplicity of the system as it is in line with the utilitarian concept of the Eureka. I do not care for the complexity and cost of a typical solar panel system, so I'm happy with the basics. We are not full-time campers and plan our adventures around our capabilities.
It took me eight hours to complete this modification and cost me about $440 for the system including the battery hold down kit.  In my opinion, the skill level of this modification is medium.
Disclaimer: The modifications above are submitted by Truck Camper Magazine readers. It is your responsibility to make sure that any do-it-yourself modification project you undertake is safe, effective, and legal for your situation.
Enter Your Mods Now!
If you'd like to enter a modification you've done on your truck camper, click here. You can enter as many mods as you want, at any time.  Good luck mod makers!