That sounds like a dream assignment.  With one of you being stationed in the backcountry and doing backcountry  patrols, and the other handling interpretation with park visitors, were you able to see each other every day?
Mark: With the occasional exception of overnight patrols or training events, we saw each other pretty much every day since we lived at the contact stations.  In Denali, however, our jobs were in separate areas of the park.  In the summers, I would be stationed fifty five miles into the park at a remote ranger station/road camp, and Phyllis would be stationed year round at headquarters.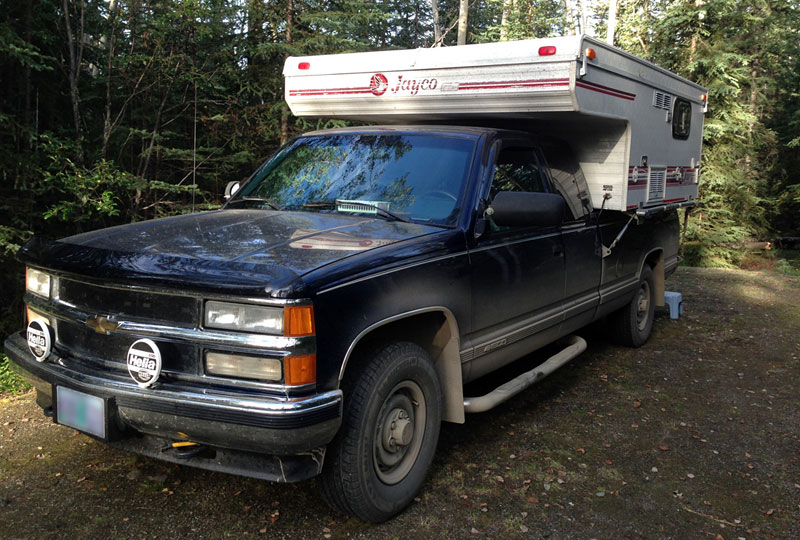 Obviously you saw RVs of all descriptions as Park Rangers, but what led you to getting your own truck and camper rig?
Mark: It started in 1993 when Phyllis and I were in Alaska crammed in our 1986 Mazda Pickup with a canopy.
We had just spent several days driving north from North Dakota and were parked in Haines, Alaska during a very drippy day.  Next to us was a truck camper, and the people inside were drinking wine and playing cards in the warmth of their camper.  That planted the seed.
"We don't like campgrounds. If there's a two track that's good, we're driving on it."
Secondly, our neighbor in North Dakota had a Palomino truck camper.  We would watch him leave on Friday night and come back refreshed on Sunday.  That was something we needed to do.
After exploring Alaska in our little pickup, we returned home to Theodore Roosevelt National Park and purchased a Jayco pop-up truck camper, and a new Chevy 1500 pickup.
Phyllis: That was 1994.  Prior to that I had been on wild land fires for six weeks and sleeping in a tent.  I was so tired of sleeping on the ground.  I said to Mark, "You can't make me sleep in a tent again!".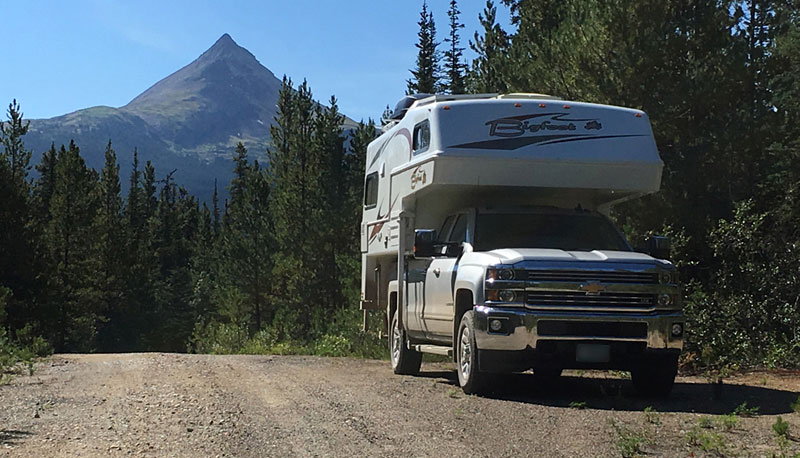 How did you end up with your current Bigfoot truck camper?
Mark: Twenty-two years of use on gnarly roads eventually racked the Jayco's frame, so we had to do something else.
While working in Alaska, we saw a number of Bigfoot truck campers.  It would be 20 below and we would see Bigfoots camping.  We were very impressed that Bigfoots could camp in those temperatures.
After that we went to several RV shows and saw the fit, finish, and quality of construction of Bigfoot truck campers.  We wanted a well-insulated and structurally strong camper that would allow us to travel on sketchy gravel roads.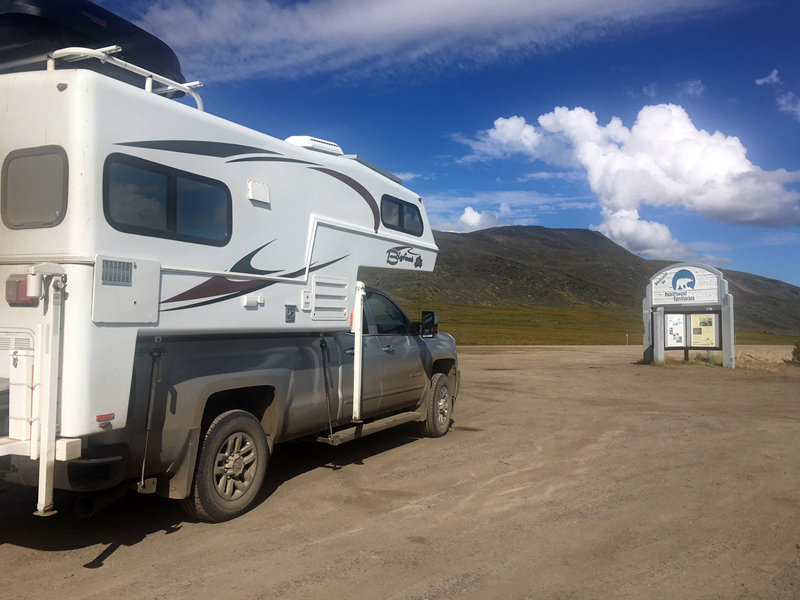 Above: Crossing into the Northwest Territories on the Dempster Highway
Bigfoot's two-piece fiberglass shell construction with radius corners eliminated stress points found on right angle campers.  The 1-inch closed cell foam insulation would allow us to travel in the fall and even winter months.
Since we often camp in remote areas, power efficiency was also important.  When we placed our order, we had a roof-mounted solar panel installed.  We also ordered the LED package to reduce power consumption.  We do not have air conditioning or a microwave since we rarely stay in campgrounds with hookups.
In 2016, we stopped at the Bigfoot factory in Armstrong, British Columbia and got a tour.  It was wonderful to see how they are constructed and meet the people who build them.  Grant Bilodeau, President of Bigfoot Industries, will answer your questions via email.  He always gets back to me.  That's a nice personal touch.