Mark and Phyllis Motsko were career National Park Service Rangers.  Their last assignment was 17 years at Denali National Park.  Guess what type of RV they bought when they retired?

What if the drive to Denali National Park wasn't part of a life-long dream, but your daily commute to work?  What if a remote cabin in Great Smoky Mountains National Park wasn't something amazing you found on AirBNB, but your home?  And what if a boat ride the middle of Crater Lake wasn't a once-in-a-lifetime experience, but something you did almost every day?
Retired National Park Rangers, Mark and Phyllis Motsko, have been there, done that, and made a successful career of it.  For roughly thirty years, the Motsko's got paid to live in National Parks, patrol the wilderness, and interpret trails and outdoor experiences.  Does anyone else wish they had known about this incredible lifestyle and opportunity a few decades ago?
After years of immersion in the remote back country, Mark and Phyllis Motsko's thirst for the great outdoors remains unquenched.  They continue to plot new long distance adventures and push themselves far beyond the beaten paths to explore everything the United States and Canada have to offer.
Along the way they pickup a few rocks, catch and release a few trout, and drive down a few forest roads.  Their ideal boondock campsite is as deep into nature and as far from fellow man as possible.  If their 2016 Bigfoot 15C95FS and 2016 Chevrolet Silverado 3500 can get there, the Motskos want to go.  Now that's a retirement plan.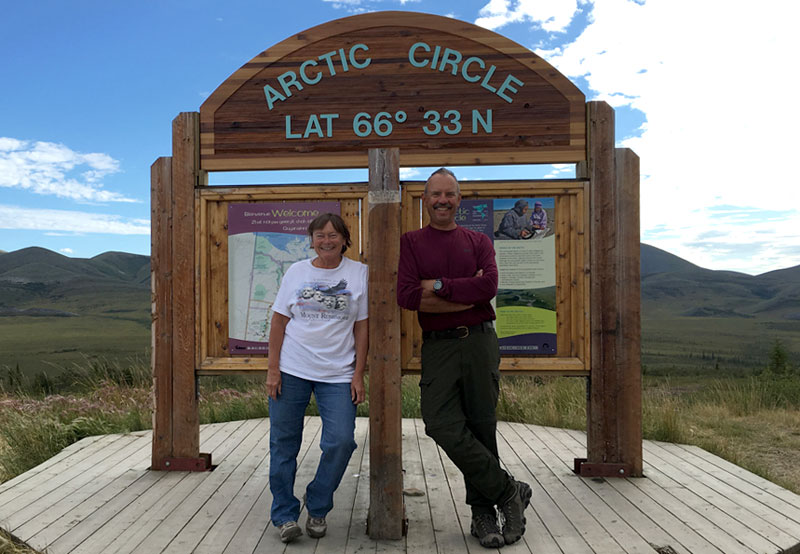 Above: Phyllis and Mark Motsko, on the Dempster Highway, Arctic Circle
We have talked to many fellow truck campers who have volunteered at various national parks, but you were both career National Park Service (NPS) Rangers.  Tell us about that experience.
Mark: Phyllis and I are retired National Park Service Rangers.  I started with the National Park Service in 1979 as a student intern at Great Smoky Mountains National Park.
From there I went to Buffalo National River in Arkansas and then to Yellowstone National Park in Wyoming.  After Yellowstone, I returned to the Smokies where I met Phyllis, who was working in the private sector at a Resort adjacent to the park.
We got married and had an adventurous couple of years living in a remote part of Great Smoky Mountains National Park before transferring to Crater Lake National Park in Oregon.  We were there from 1989 to 1991.  Phyllis joined the National Park Service during this assignment.
After Crater Lake we transferred to Theodore Roosevelt National Park in North Dakota for five years.  Needing a mountain fix, our last assignment with the National Park Service was in Denali National Park where we served for sixteen years (and seventeen winters).
It was great to have a career where both of us were interested in same thing.  We enjoyed the good fortune of living and working together in some amazing places.  Our days off were often filled with exploring the parks and other wild places.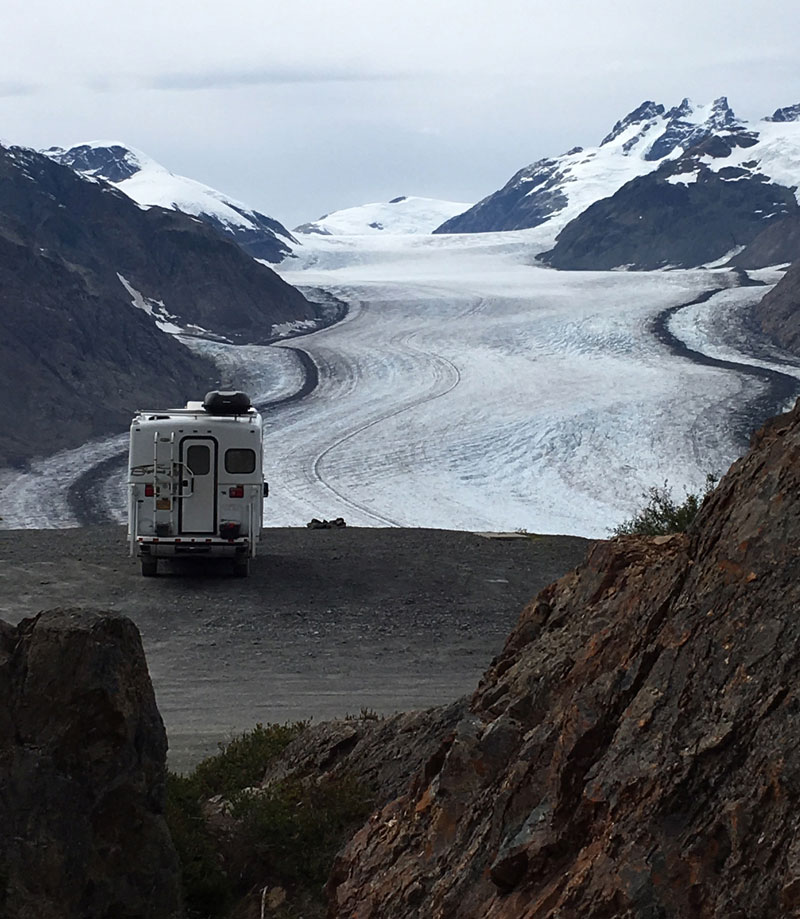 Above: Located in British Columbia near Stewart, 30 miles of gravel road to this spectacular view
What were you doing as National Park Rangers?
Mark: I often worked at a backcountry contact station.  Just about every National Park location has a remote component to it.
At one park I was responsible for patrolling 60,000 acres.  I would hike or horseback patrol the trails and talk to backpackers, day hikers, and other park visitors.  I would ensure fishing regulations were enforced.  We had a backcountry contact station in our house, but most of the time I was out in the wilderness.
Phyllis: I had several positions with the NPS, but the best job of my life was when I was an interpretive ranger.  As an interpretive ranger, I led hikes and presented talks – the educational component.  I especially enjoyed being an interpretive ranger at Crater Lake National Park because of the geologic component, and I love rocks.  I still can't believe I was paid to provide interpretation on a boat inside that impressive caldera.