Mark and Phyllis Motsko were career National Park Service Rangers.  Their last assignment was 17 years at Denali National Park.  Guess what type of RV they bought when they retired?

What if the drive to Denali National Park wasn't part of a life-long dream, but your daily commute to work?  What if a remote cabin in Great Smoky Mountains National Park wasn't something amazing you found on AirBNB, but your home?  And what if a boat ride the middle of Crater Lake wasn't a once-in-a-lifetime experience, but something you did almost every day?
Retired National Park Rangers, Mark and Phyllis Motsko, have been there, done that, and made a successful career of it.  For roughly thirty years, the Motsko's got paid to live in National Parks, patrol the wilderness, and interpret trails and outdoor experiences.  Does anyone else wish they had known about this incredible lifestyle and opportunity a few decades ago?
After years of immersion in the remote back country, Mark and Phyllis Motsko's thirst for the great outdoors remains unquenched.  They continue to plot new long distance adventures and push themselves far beyond the beaten paths to explore everything the United States and Canada have to offer.
Along the way they pickup a few rocks, catch and release a few trout, and drive down a few forest roads.  Their ideal boondock campsite is as deep into nature and as far from fellow man as possible.  If their 2016 Bigfoot 15C95FS and 2016 Chevrolet Silverado 3500 can get there, the Motskos want to go.  Now that's a retirement plan.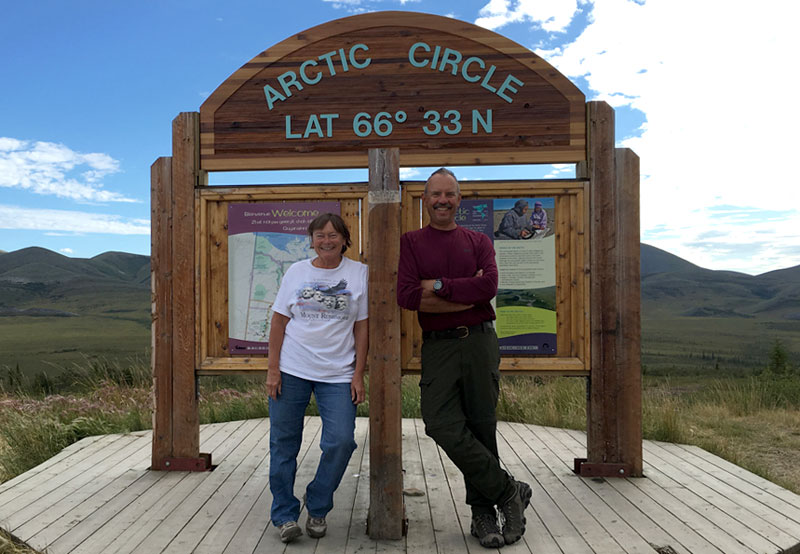 Above: Phyllis and Mark Motsko, on the Dempster Highway, Arctic Circle
We have talked to many fellow truck campers who have volunteered at various national parks, but you were both career National Park Service (NPS) Rangers.  Tell us about that experience.
Mark: Phyllis and I are retired National Park Service Rangers.  I started with the National Park Service in 1979 as a student intern at Great Smoky Mountains National Park.
From there I went to Buffalo National River in Arkansas and then to Yellowstone National Park in Wyoming.  After Yellowstone, I returned to the Smokies where I met Phyllis, who was working in the private sector at a Resort adjacent to the park.
We got married and had an adventurous couple of years living in a remote part of Great Smoky Mountains National Park before transferring to Crater Lake National Park in Oregon.  We were there from 1989 to 1991.  Phyllis joined the National Park Service during this assignment.
After Crater Lake we transferred to Theodore Roosevelt National Park in North Dakota for five years.  Needing a mountain fix, our last assignment with the National Park Service was in Denali National Park where we served for sixteen years (and seventeen winters).
It was great to have a career where both of us were interested in same thing.  We enjoyed the good fortune of living and working together in some amazing places.  Our days off were often filled with exploring the parks and other wild places.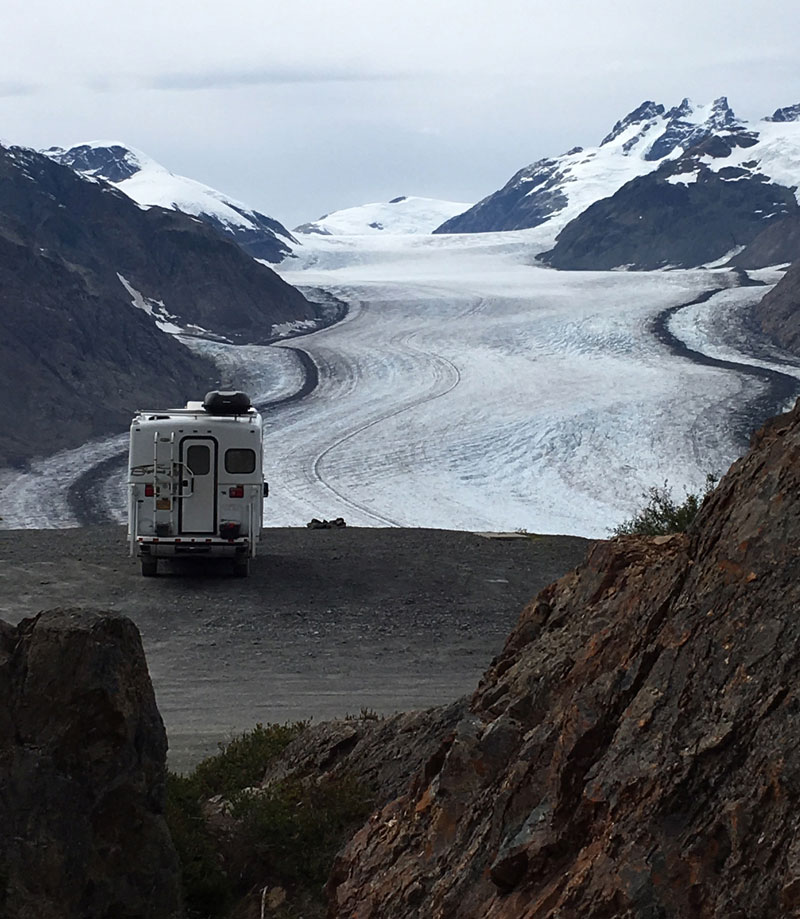 Above: Located in British Columbia near Stewart, 30 miles of gravel road to this spectacular view
What were you doing as National Park Rangers?
Mark: I often worked at a backcountry contact station.  Just about every National Park location has a remote component to it.
At one park I was responsible for patrolling 60,000 acres.  I would hike or horseback patrol the trails and talk to backpackers, day hikers, and other park visitors.  I would ensure fishing regulations were enforced.  We had a backcountry contact station in our house, but most of the time I was out in the wilderness.
Phyllis: I had several positions with the NPS, but the best job of my life was when I was an interpretive ranger.  As an interpretive ranger, I led hikes and presented talks – the educational component.  I especially enjoyed being an interpretive ranger at Crater Lake National Park because of the geologic component, and I love rocks.  I still can't believe I was paid to provide interpretation on a boat inside that impressive caldera.
That sounds like a dream assignment.  With one of you being stationed in the backcountry and doing backcountry  patrols, and the other handling interpretation with park visitors, were you able to see each other every day?
Mark: With the occasional exception of overnight patrols or training events, we saw each other pretty much every day since we lived at the contact stations.  In Denali, however, our jobs were in separate areas of the park.  In the summers, I would be stationed fifty five miles into the park at a remote ranger station/road camp, and Phyllis would be stationed year round at headquarters.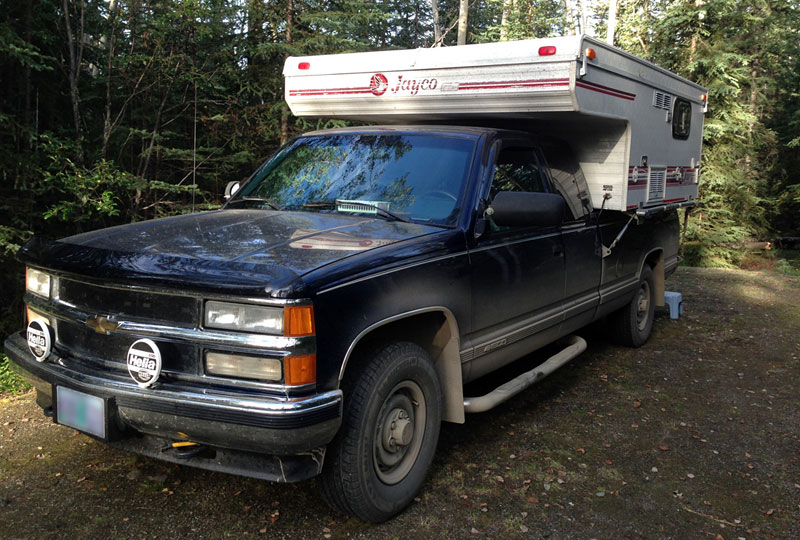 Obviously you saw RVs of all descriptions as Park Rangers, but what led you to getting your own truck and camper rig?
Mark: It started in 1993 when Phyllis and I were in Alaska crammed in our 1986 Mazda Pickup with a canopy.
We had just spent several days driving north from North Dakota and were parked in Haines, Alaska during a very drippy day.  Next to us was a truck camper, and the people inside were drinking wine and playing cards in the warmth of their camper.  That planted the seed.
"We don't like campgrounds. If there's a two track that's good, we're driving on it."
Secondly, our neighbor in North Dakota had a Palomino truck camper.  We would watch him leave on Friday night and come back refreshed on Sunday.  That was something we needed to do.
After exploring Alaska in our little pickup, we returned home to Theodore Roosevelt National Park and purchased a Jayco pop-up truck camper, and a new Chevy 1500 pickup.
Phyllis: That was 1994.  Prior to that I had been on wild land fires for six weeks and sleeping in a tent.  I was so tired of sleeping on the ground.  I said to Mark, "You can't make me sleep in a tent again!".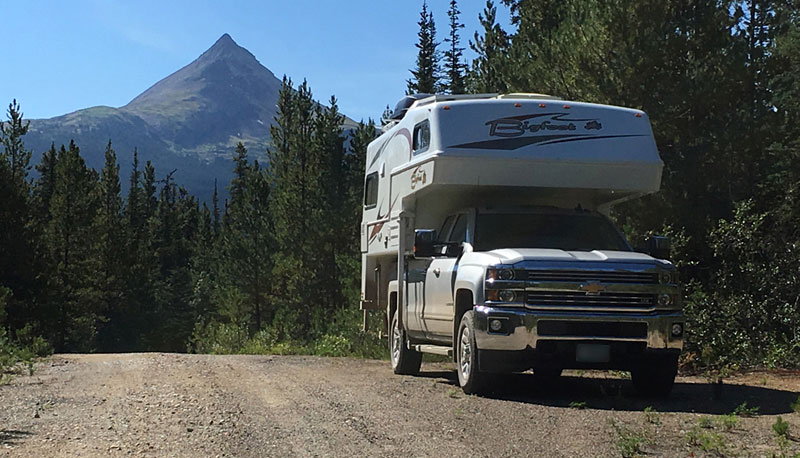 How did you end up with your current Bigfoot truck camper?
Mark: Twenty-two years of use on gnarly roads eventually racked the Jayco's frame, so we had to do something else.
While working in Alaska, we saw a number of Bigfoot truck campers.  It would be 20 below and we would see Bigfoots camping.  We were very impressed that Bigfoots could camp in those temperatures.
After that we went to several RV shows and saw the fit, finish, and quality of construction of Bigfoot truck campers.  We wanted a well-insulated and structurally strong camper that would allow us to travel on sketchy gravel roads.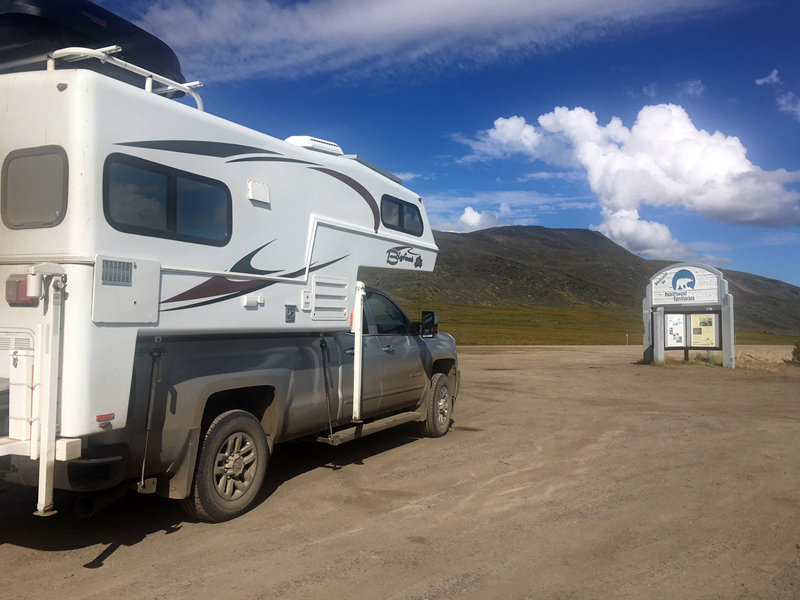 Above: Crossing into the Northwest Territories on the Dempster Highway
Bigfoot's two-piece fiberglass shell construction with radius corners eliminated stress points found on right angle campers.  The 1-inch closed cell foam insulation would allow us to travel in the fall and even winter months.
Since we often camp in remote areas, power efficiency was also important.  When we placed our order, we had a roof-mounted solar panel installed.  We also ordered the LED package to reduce power consumption.  We do not have air conditioning or a microwave since we rarely stay in campgrounds with hookups.
In 2016, we stopped at the Bigfoot factory in Armstrong, British Columbia and got a tour.  It was wonderful to see how they are constructed and meet the people who build them.  Grant Bilodeau, President of Bigfoot Industries, will answer your questions via email.  He always gets back to me.  That's a nice personal touch.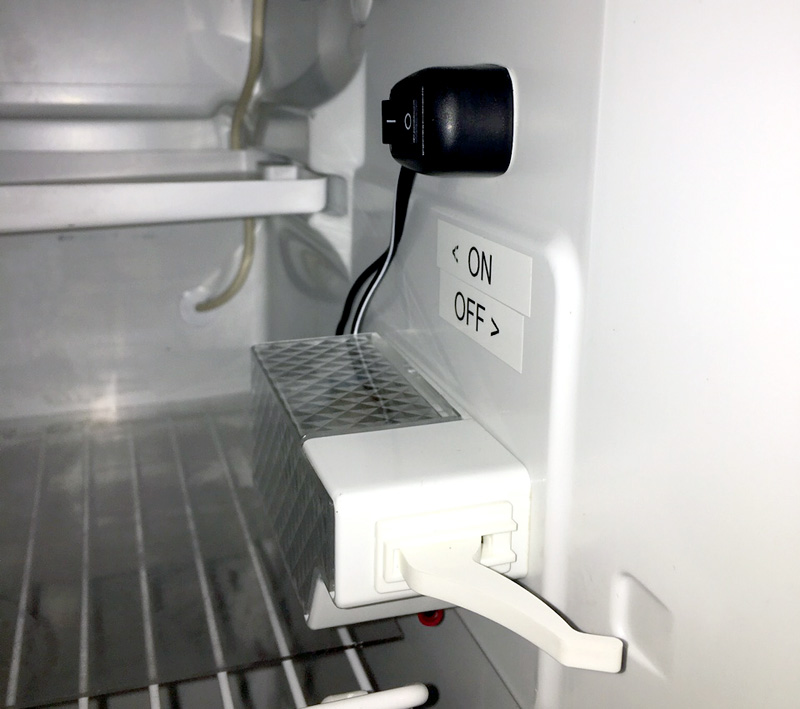 Above: A switch was installed to isolate power using the climate control heat wire in the refrigerator
We have visited Bigfoot Industries three times over the past decade and can also vouch for their impressive facility and team.  Have you made any modifications to your Bigfoot?
Mark: Yes, we have several modifications.  First I wanted to maximize our electrical efficiency.  I took several steps to isolate power draws by installing switches.  That allows me to turn off phantom draws including the Sirius XM Satellite Radio docking station, and the climate control heat wire on the refrigerator.  I also installed a larger Group 27 battery.
I installed a relay switch on the power supply coming from our 2016 Chevrolet Silverado 3500. Unfortunately the design of GM products maintains a constant 12-volt feed from the trailer wire even when the key is off.  My concern was the drain from the camper would draw down our truck's batteries.  The new relay only connects the power when the key is on.
Finding and isolating phantom power draws with switches and relays is an interesting idea.  Have you made any storage modifications?
Mark: I installed shelving in the wardrobe compartment of the camper since we rarely have the need to hang clothes.  I also installed a battery operated LED light to illuminate the inside of the cabinet.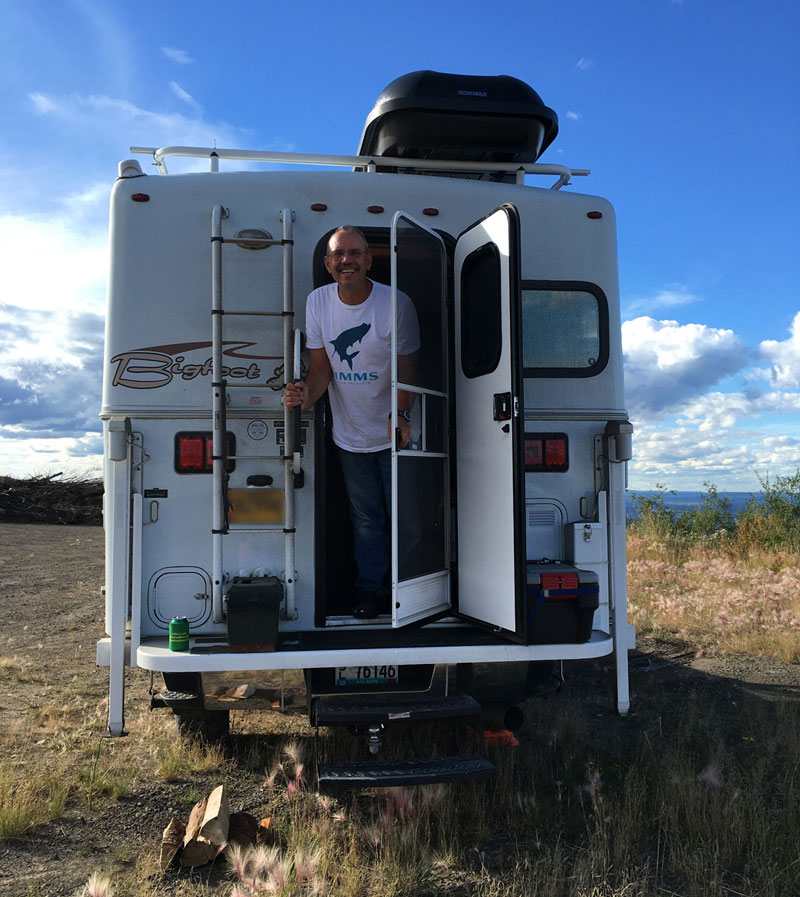 Above: The Yakima Rocket Box on the roof of their Bigfoot Camper
We needed more storage room, so I installed a Yakima Rocket Box on the roof.  To secure the Rocket Box, I employed unistrut steel channels to form a cross member between the existing tubular roof rails.  We store seldom used items in the box.
The cabover portion of the Bigfoot blocks the Sirius XM Satellite Radio antenna.  To solve this, I ran an antenna wire with a disconnect between the camper and the truck.  I mounted the satellite antennas on the roof rack for better reception.
We use a Sirius XM docking station which allows us to take the receiver from the truck to the camper.  This required a second antenna.  I installed a second docking station inside the camper and tied it into the existing radio.
The sewer hose storage compartment in the Bigfoot was woefully small.  To correct this I mounted a square vinyl fence post with end caps on the rear bumper of the truck.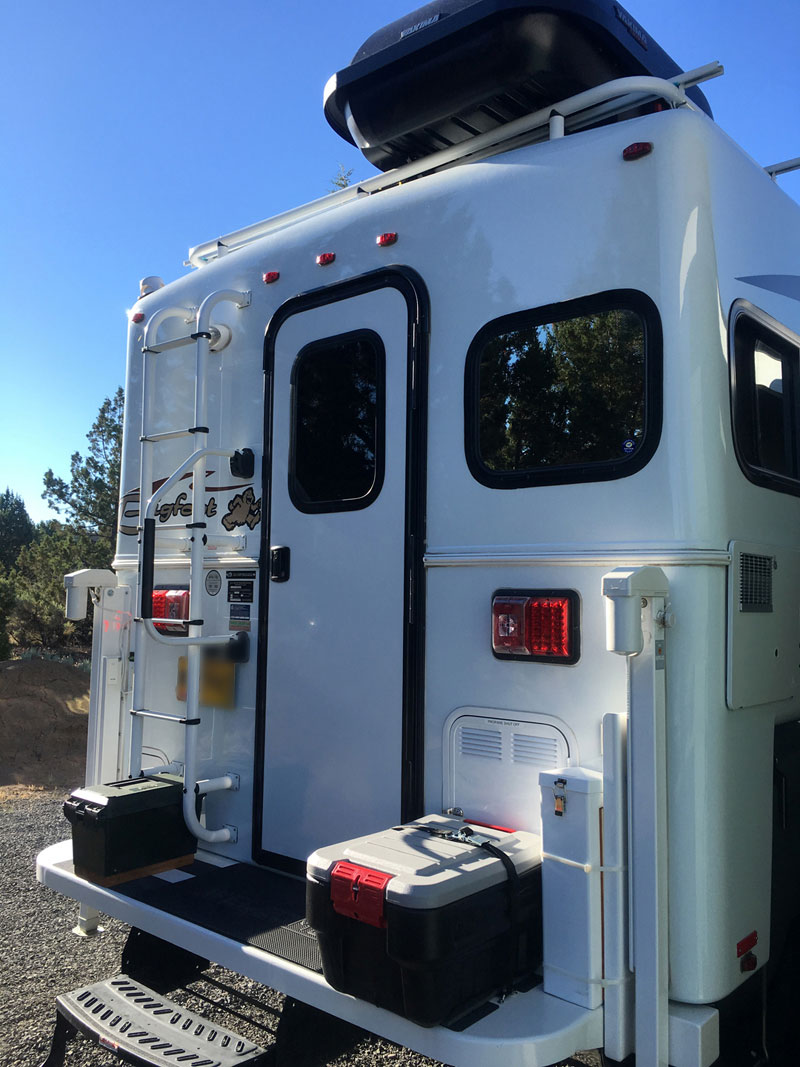 The two boxes on our rear bumper were added for the rocks collected by Phyllis.
The last modification that I made was to install LED strobe lights that activate when I use the turn signals or apply the brakes.  We have received numerous compliments from folks following us regarding the increased visibility and safety.
Those are some very large rock boxes.  Where did that interest come from?
Phyllis: I became interested in rocks as a kid.  My parents were from the mountains in North Carolina which are rich with gems and interesting rocks.
When I was 8 or 9 years old, my dad showed us kids how to find some great rocks in those mountains.  He scratched into the dirt and said, "Look at this".  It was quartz crystal.  That started my interest in rocks.  I'm not one for souvenirs, but I have rocks in my yard from all over the United States.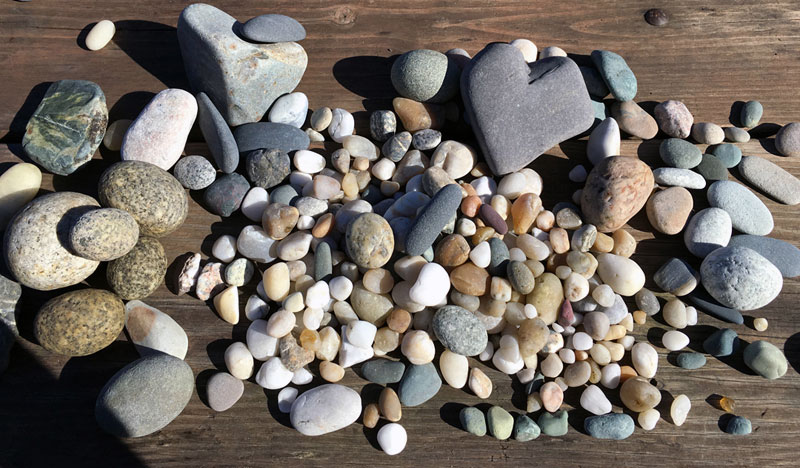 Above: Rocks from Homer, Alaska
How do you know where you can legally collect rocks?
Phyllis: That's a good question.  Rock collecting is not permitted within the National Park System.  That includes National Parks, National Monuments, and National Historic Sites, etc.  As former National Park Rangers, we are sensitive to that.
Flowers, rocks, artifacts, and any other resources or property on federal land is protected and cannot be removed.  State parks with similar resources post their regulations at park access points.  If you are observant and aware, you will see the signs.
Most Bureau of Land Management (BLM) areas and U.S. Forest Service (USFS) areas are usually not restricted for collection.  Local BLM and USFS offices are good about identifying specimen collection areas.  Always check with them before collecting.
A lot of people don't read the signs or care about following the rules.  They'll pick up an arrowhead even though it is integral to the purpose and importance of preserving an area.  Education is key.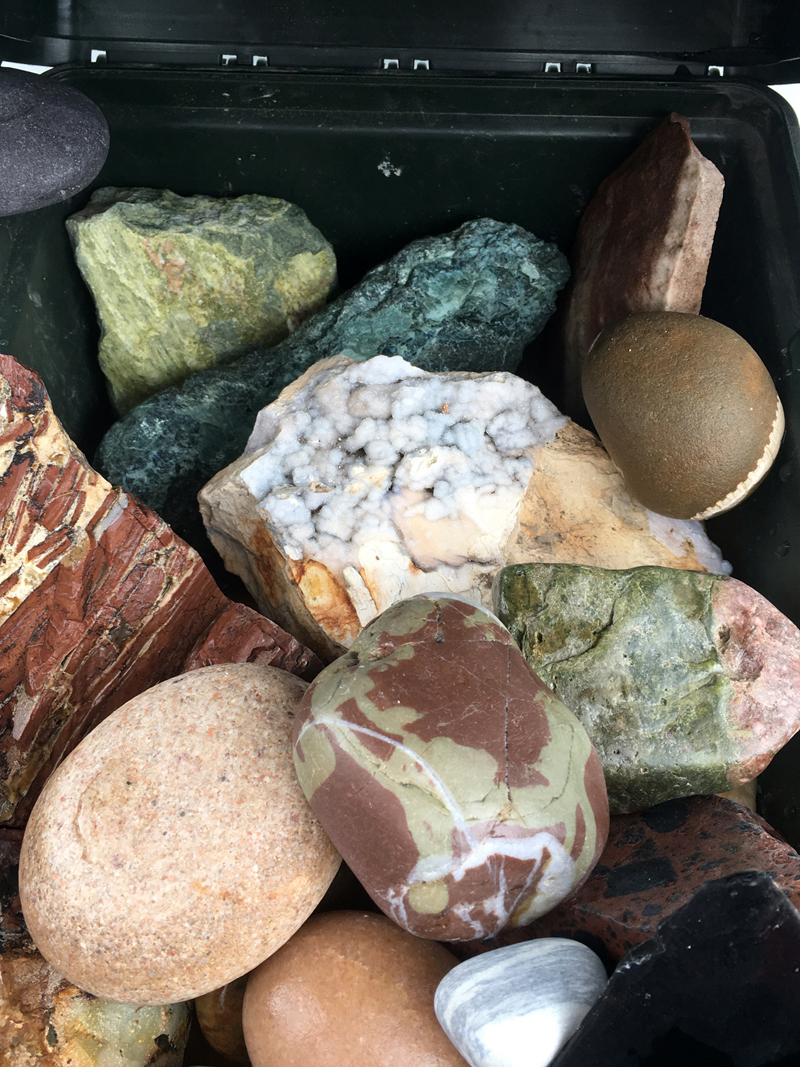 What do you do with all these rocks once you've collected them?
Phyllis: Some rocks are good candidates for polishing.  Polishing takes off the dullness and sharp edges creating a gem that's shiny and pretty.  I've been polishing rocks since Mark gave me a rock tumbler for my birthday two years ago.
The biggest rock I can polish is approximately 2-inches in diameter, and that's pushing it.  The hard rocks like agates, granite, and marble polish well.  With agates, polishing clears off the cloudiness, and makes them nearly crystal.
Mark: It takes five weeks for Phyllis to polish one batch of rocks.  It's a process.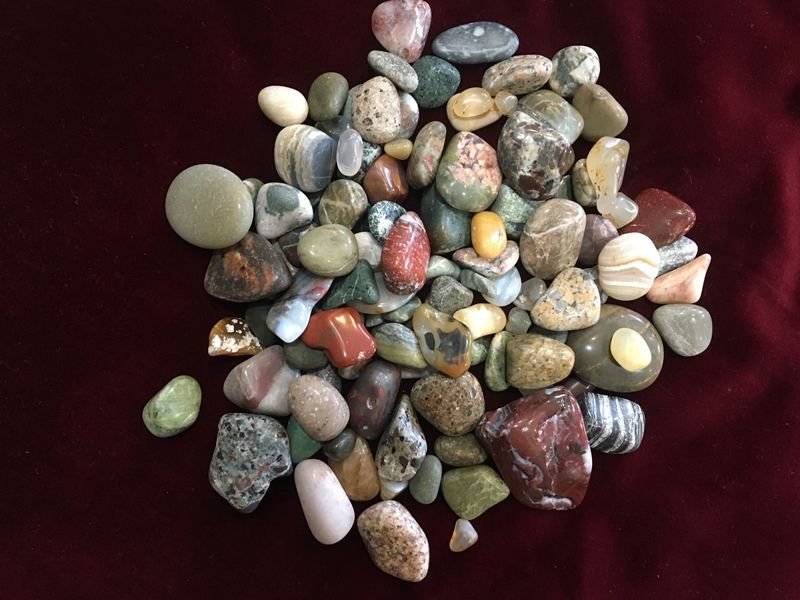 Above: Rocks that are polished
Phyllis: It's a four step process beginning with a 7-10 day tumbling cycle with a coarse grit.  This step removes most rough edges, cracks, and blemishes.
Next, I use a finer grit that further abrades the surface which yields a fairly smooth rock.  I can lose 30% of the rock's mass during the first two steps.
The last two steps involve pre-polishing and final polishing.  Hopefully that results in a nice, shiny stone.  Each step takes anywhere from 7-14 days.
Above: Rocks at their home in Oregon in the garden
Do you label the rocks so you know where they came from?
Phyllis: They're not labeled.  I just remember where they came from; many of them anyway!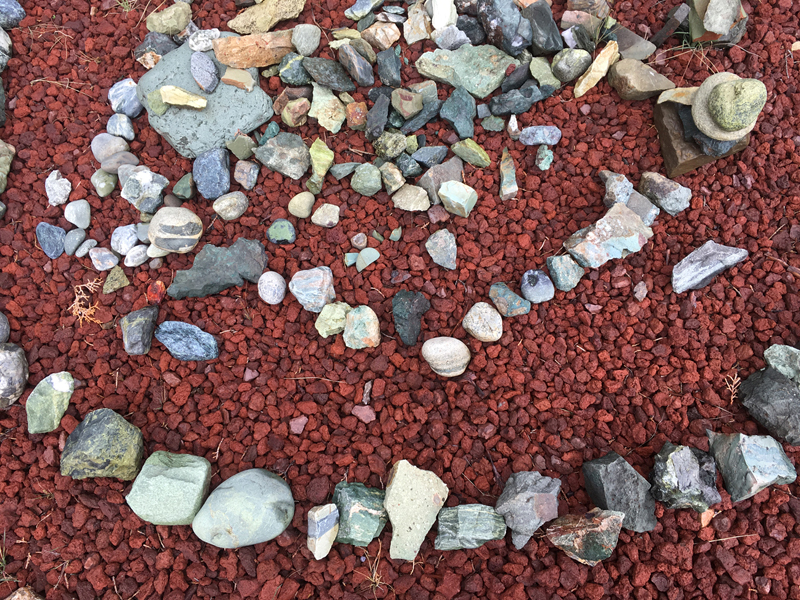 Mark: Heaven forbid someone moves her rocks.  We have them all over the yard.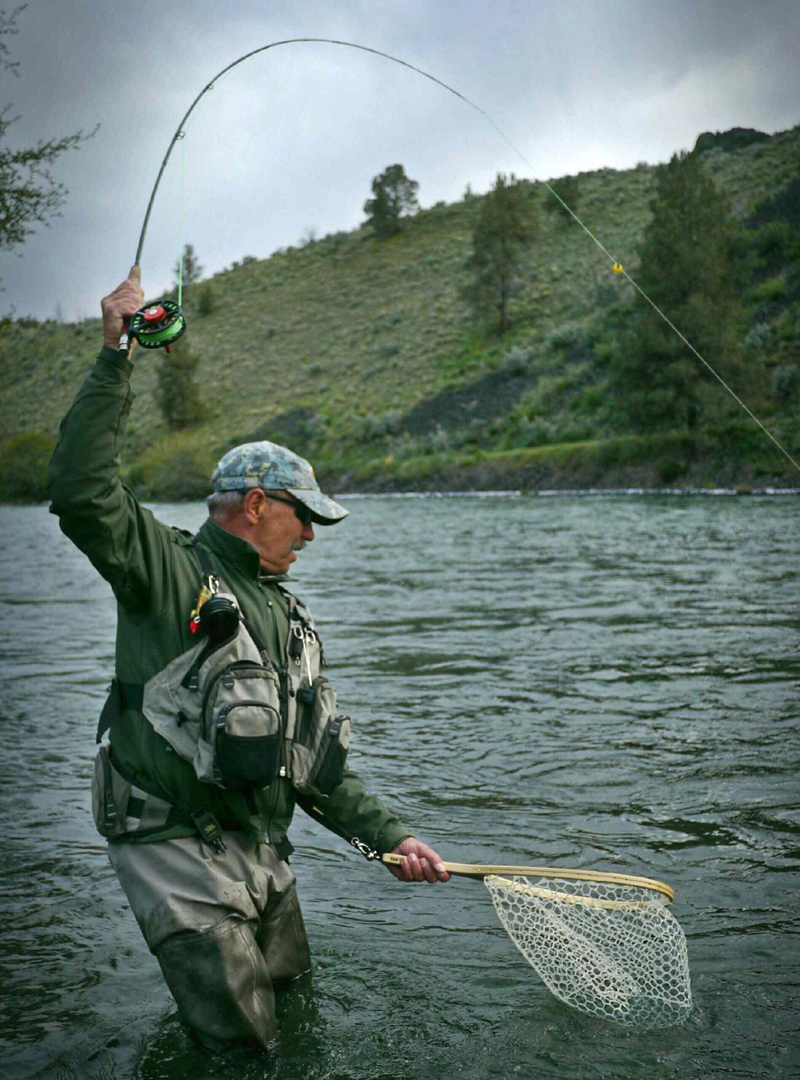 In the pictures you sent, we see Mark fly fishing.  Tell us about that.
Mark: I mostly catch and release, and mostly for trout.  I use a fly rod and tie my own flies.  That adds excitement to the experience.
Fly fishing is fairly complex because you have to understand the insects the fish like and when they hatch.  It takes time and understanding.  There are times when I don't have success.
I like native waters in remote areas.  I would rather catch less fish in remote wilderness areas than be around folks where the fishing might be better.  That's part of my personal connection to nature.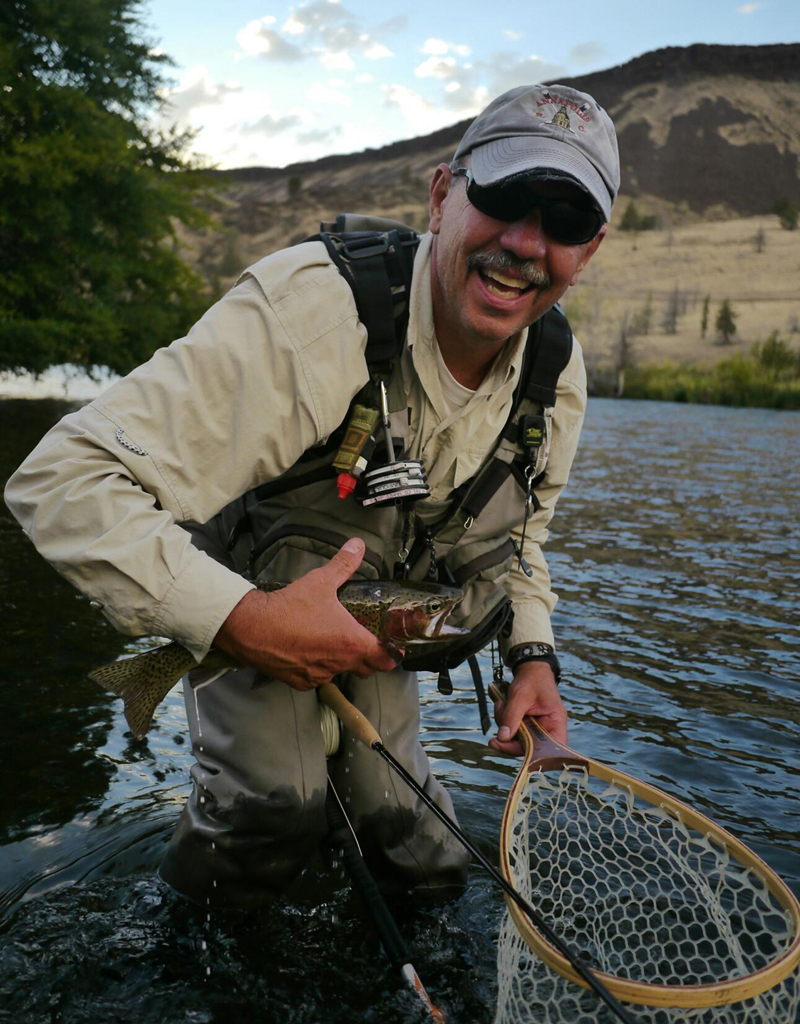 Where do you keep your fishing rods and gear in your camper?
Mark: The Rocket Box on the roof holds my waders and boots.  That box has been a huge advantage to our lifestyle.  The fly rods break down into four parts and fit into a tube for easy storage.
Phyllis: In the double cab of our truck, the back seat folds up and the seat back becomes the cradle for the rods.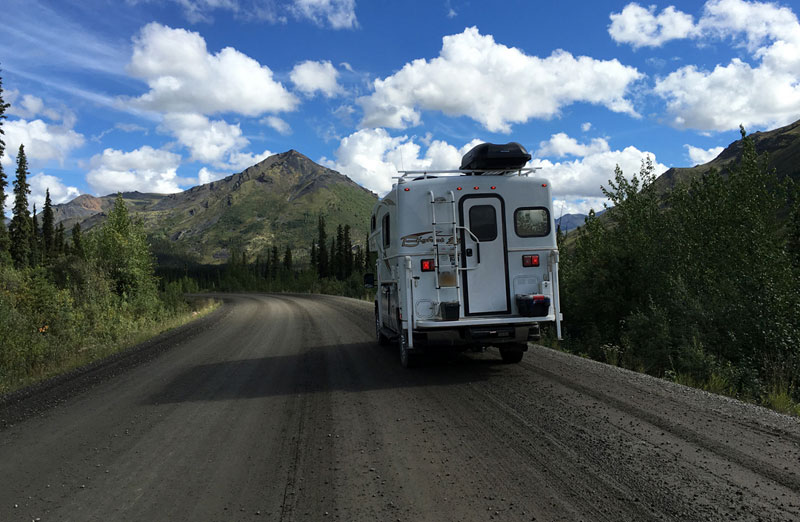 Above: Driving the Dempster Highway
That's great.  We are often challenged to find storage for hobby items, like Gordon's metal detector.  Tell us about your trip on the Dempster Highway.
Mark: We fulfilled a dream to explore the Dempster Highway in late summer of 2016 traveling between Dawson City, Yukon Territory and Inuvik, in the Northwest Territories of Canada.  It was a stunning trip, remote and wild, untouched in many places.  The views of endless tundra and far off mountains made for exceptional windshield time.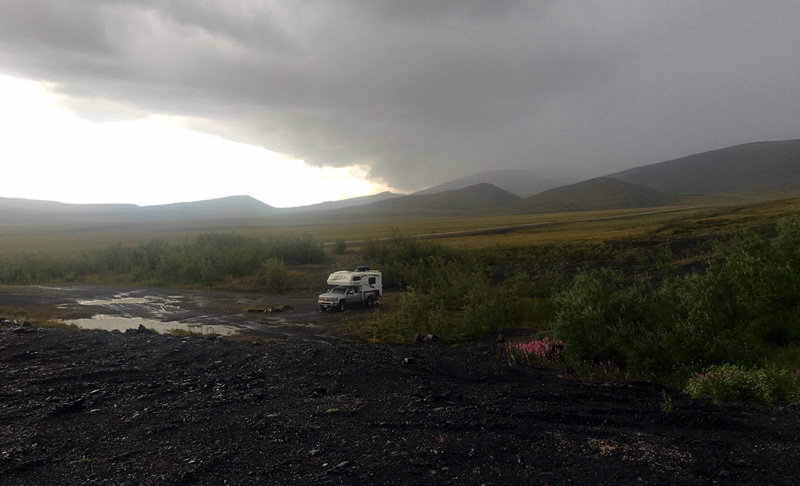 Above: Before the flood on the Dempster Highway
It was unseasonably warm when we drove north on the Dempster Highway.  While we were in Inuvik, we had seen clouds south of us and knew it must be raining there.  We didn't know the weather system had stalled and had dumped enormous amounts of rain.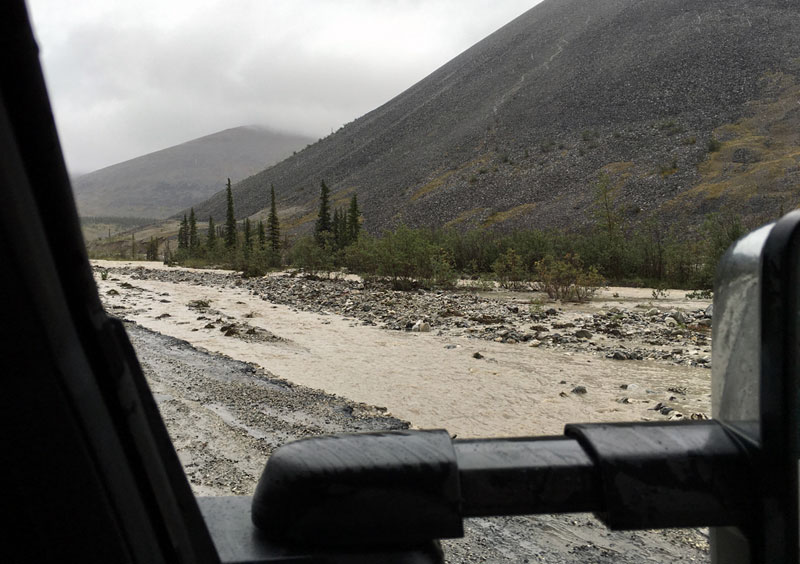 As we drove back south, we observed steadily deteriorating sections of road.  I remember thinking that we hadn't seen any maintenance trucks or anyone dealing with the water and road conditions.  Then we came around a bend and there was the heavy equipment.  The road had flooded.  There were landslides.  There were sections of the elevated road completely gone.
"Mark had the passenger's side wheels barely on the road surface and the driver's side wheels as far over on the shoulder as he dared to go."
We came to conclusion that we needed to get out before the rivers crested.  With our truck camper rig, we squeezed around the eroded road areas.  We would never have driven where we did with a trailer or motorhome.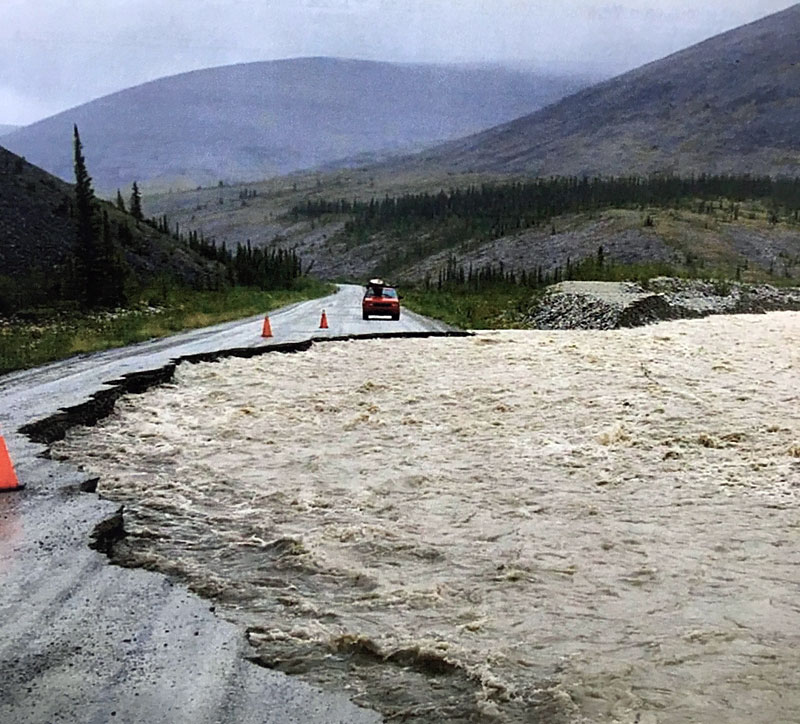 That must have been a stressful experience.
Mark: We saw a dump truck go through an area where water was half way up on its wheels.  I slowly inched across that same area.  We didn't know how deep things had eroded under the water, but my tires stayed on firm ground.  As we drove through the water, I could actually feel the washed out rock under the truck.
The reassuring part of this experience was that there was another truck behind us, so we would pair off.  He would watch us and we would watch him.  That's how we got through several fords.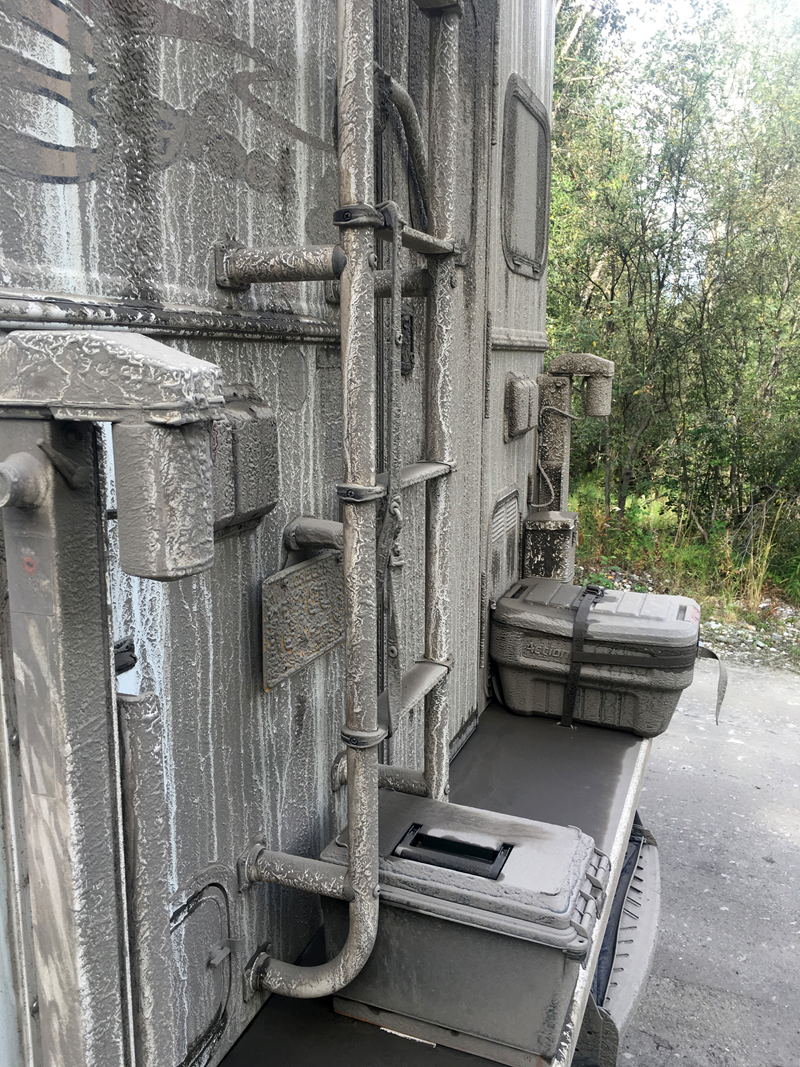 Above: The mud on the camper after driving the Dempster Highway
Phyllis: It was terrifying.  There were so many wash outs.  During the first one Mark had the passenger's side wheels barely on the road surface and the driver's side wheels as far over on the shoulder as he dared to go.  Trees were floating down the river and rocks were rolling.  It was so noisy and scary.
After the last wash out, they let two vehicles go behind us and then the Royal Canadian Mounted Police closed the road for three days.
Mark: It's important for your readers to know that, as a Park Ranger, I've had a lot of experience fording rivers and driving in remote areas.  I wouldn't recommend that most people do what I did.  It was a skill learned early in my career.  I recommend that most people find a high spot and wait it out.
Phyllis: I trusted Mark's driving, but I wouldn't have driven it.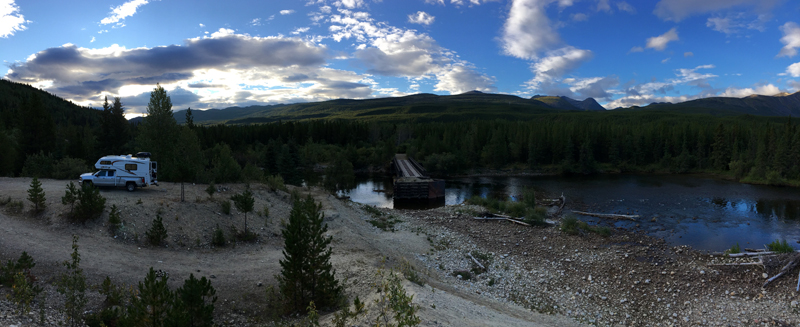 Some of the camping spots in your photographs look really remote, especially the ones labeled Yukon boondocking.  How did you find those spots?
Mark: The Yukon boondocking photos weren't from the Dempster Highway.  They were actually from the Alaska Highway.   We are constantly on the lookout for parking areas and roads that go off on the side.  We'll see something, stop, and check it out.  That's how we found the place in the pictures.  If we like a boondocking spot, we mark it in our log-journal.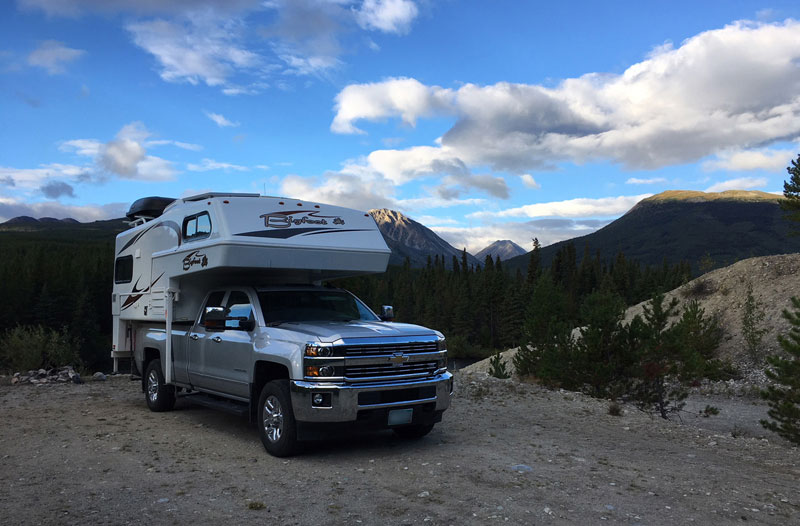 How do you plan for a trip like the one you took up the Dempster Highway to Inuvik?
Mark: Aside from the time it takes to do it, driving to Alaska and the Yukon is not that difficult.  The roads are generally in good shape.  Despite what many may tell you, there are not big long stretches without fuel stations, but you do need to think about logistics and where you can get provisions.
There are stories about busting out windshields and going through tires.  We did not experience any of these issues, but I strongly recommend you have 10-ply tires.  Gravel roads will puncture tires.  Also make sure your camper is well matched to your truck.  You're more likely to shred tires and break axles if you're overloaded.
The Alaska Milepost magazine is a must.  You should never go north without it.  It talks about the Alaska Highway, other routes to Alaska, and the side roads and dirt roads in the Yukon Territory and Alaska.  It gives a mile-by-mile description on what you'll see from fuel to dump stations.
I'd also like to point out that the journey through the Yukon Territory and British Columbia is just as stunning as Alaska, and in some ways even more so.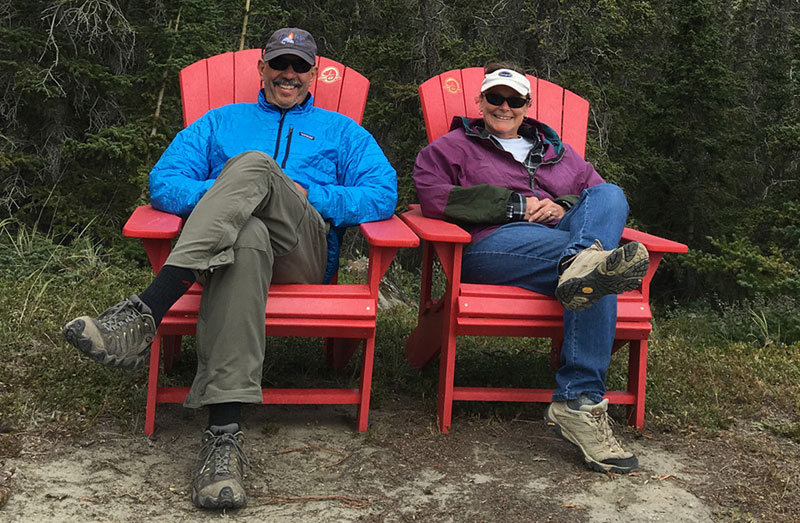 Above: Mark And Phyllis, Soldiers Summit, Yukon Territories
We haven't talked to anyone who went to Alaska that didn't highly recommend The Milepost.  Is there anything else that you'd like to share about your truck camping lifestyle?
Phyllis: Most of our camping is off-grid.  We don't like campgrounds.  If there's a two track that's good, we're driving on it.  We're self-contained and comfortable with that.
Mark: Truck camping has been our release.  We love the fact that we can go to places that larger RVs can't go.   A truck camper is smaller and doesn't have the living space of a big motorhome or trailer, but it allows us to go to remote areas and reduces complexities.  It's a great way to get around.  We really enjoy it.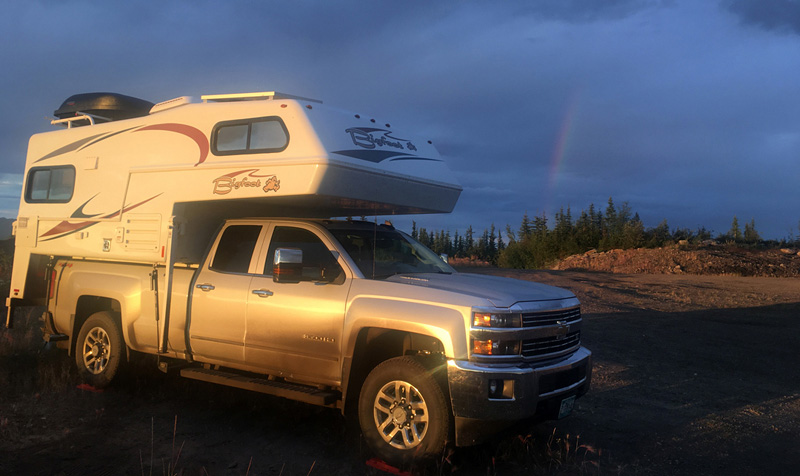 Phyllis and Mark's Rig
Truck: 2016 Chevrolet Silverado 3500, double cab, 8 foot bed, diesel
Camper: 2016 Bigfoot 15C95FS
Tie-Downs and Turnbuckles: Torklift Tie-Downs and Fastguns
Suspension: None