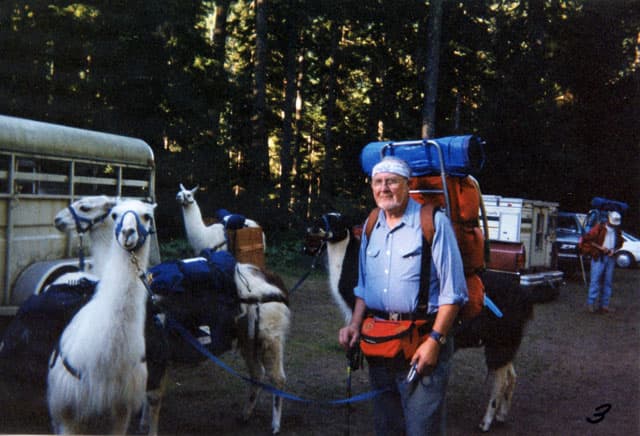 Above: Ken at a trail head with the llama pack team. Do you see his Four Wheel in the background? 
TCM: Tell us about the llamas.
Kenneth: When we couldn't hike back and forth within a day, we used the llamas.  Some shelters were within a mile or two, where we could come back to the camper in the evening.  But, for the shelters that were six to eight miles from the trailhead, we needed the llamas to help us with carrying equipment.  We had saws, hammers, tools, ladders, nails, spikes and food. Only original tools can be used in wilderness areas.
Volunteer groups brought the llamas and we also used mules and horses.  For those trips, we would take in tents and stay in tents.  Hiking is a big in this part of the world, so these shelters are good safety areas if you're out and caught in a storm.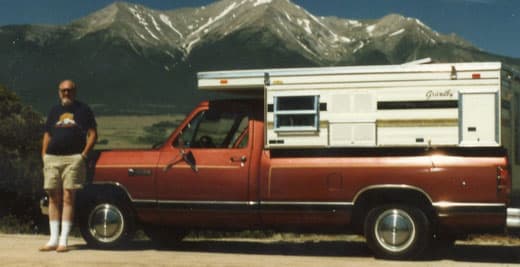 Above: High Country, Colorado
TCM: Is there anything that I didn't ask you that you'd like to add?
Kenneth: Did I mention that we have two big dogs that come with us as well?  They know immediately when things start to move, they're going on a trip.  I have protected the couch areas with outdoor carpeting.  We also take our fourteen-foot fishing boat along with our Four Wheel Camper.
With camping you meet great people.  We have never had a bad experience with all the thousands of hours and miles that we've gone camping.  One time when we were pulling our fishing boat, and we had a bearing go bad on the fishing boat trailer.  I couldn't believe the amount of people that came around to help us.
The camper is well designed.  We enjoy it and it's held up over the years.  We plan on going out for many more years.  And then we have lots of family to give it to later as I'm sure it will still be in good shape.
Speaking of being in good shape, our health is good and we intend to continue to go out whenever possible.  Our family all lives around here so we have family things in the summer as well.  Our Four Wheel Camper lifestyle has been wonderful.
KENNETH AND FRAN EICKHOFF'S TRUCK CAMPER RIG
Truck: 1985 Dodge Ram 1500, crew cab, single rear wheel, standard bed, 4×2, gas
Camper: 1986 Four Wheel Camper Grandby
Tie-downs and Turnbuckles: 4 bolts, permanently on truck
Suspension Enhancements: Air shocks for towing
Gear: N/A