Kenneth: We have set out mainly in the western United States to visit the major national parks.  Every national park is absolutely worth visiting.  We have also visited at least close to 90% of the national monuments.  We are very interested in the history and geography of this part of the United States and enjoy the national monuments as a part of that.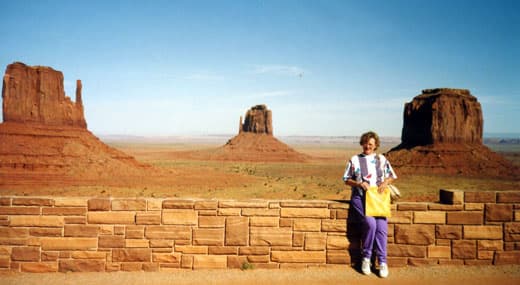 Above: Navajo National Monument, Northern Arizona
We always take the secondary roads or state highways.  We stay off the interstate whenever possible, seeing more interesting parts of the country.  My wife enjoys the camping aspects as much as I do.  We camp in everything from Good Sam parks to state parks to wilderness areas, a mixture of everything.
Now that we are in our early eighties our travel has slowed down, but I would say in the past we went out four to six trips a year.  Our son lived in Phoenix for fifteen years, so we would take one trip down there using various routes each year.  We would also go to British Columbia, Canada once every two years.  Then we would drive within our own state and camp and fish a half a dozen times a year.  We have been out four times this year.  With gas at four dollars a gallon, give or take ten cents, the low profile adds up to gas savings.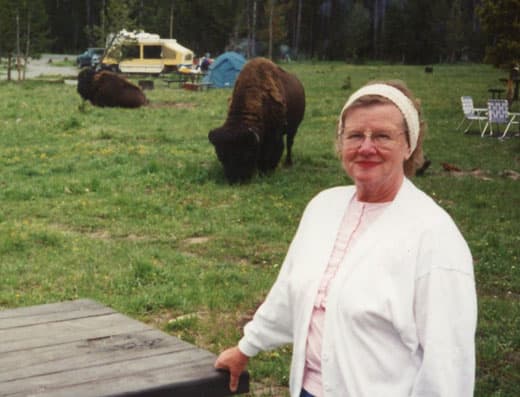 Above: Fran at Yellowstone National Park
TCM: You've been truck camping for twenty-six years.  You must have some great stories to share.  What are some of your most memorable experiences while truck camping?
Kenneth: One that pops in my mind, as we camped in Yellowstone, was that several years ago we encountered some buffalo.  We had a pull through site and my wife went out to put something on the picnic table.  A buffalo came up as he was grazing and lied down on other side of the picnic table.  I was born and raised on a farm in Nebraska, so I wasn't really concerned.  I'm used to wild animals.
You see pictures of places like White Sands National Monument, but until you actually drive in, you can't conceive of how amazing the place is.  It takes your breath away.  Mt Rainier is where Fran and I met.  We like that place because you can actually drive up on the side of a mountain and get spectacular views.
TCM: You've been all around the mid and western United States in your truck camper.  Where do you recommend people go with their truck campers?
Kenneth: I'm going to assume if you have a camper, you're going to do some planning.  I believe in maps.  If we go on extended trips, we dig out the state maps.  I'll look for a state park and get their camping information.  I also have the BLM maps and all of the national forest maps for the western United States.  We'll look through those, plan a route, and try to find and locate a campground near an interesting area to see.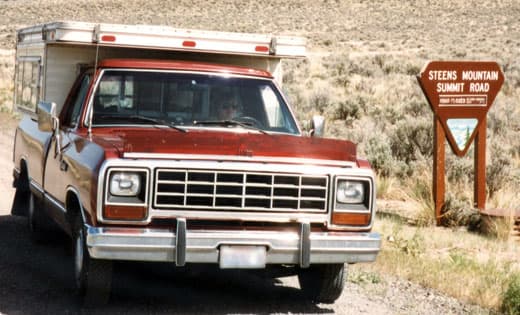 Above: Steen Mountain Summit Road, Oregon
Steens Mountain is a rough drive, but a spectacular one.  There is a high plateau and you can look into the Alvord desert valley.  In Brisbee, Arizona you can back your camper to the edge of an open pit mine and camp right there.  There's a fence so you can't back into it.  The Oregon state parks on the ocean are excellent, but you usually need reservations.
Above: The trail shelter restoration projects that Ken and Fran worked on

TCM: You participate in trail shelter restoration projects.  Tell us about that and how your camper was helpful in those efforts.
Kenneth: Trail shelters were originally built in 1930 by the Civilian Conservation Core in the western United States, and probably in the eastern United States, too.  They had not been kept up and were slowly disappearing.  A friend of mine from Scouts became interested in restoring these shelters and did the legwork to get permission from the forest service to restore them.
Let's back up a bit.  All of these shelters require going twenty-five to forty miles on dirt forest roads to get to them and then usually hike to the shelter.  This camper has been a godsend.  In some cases the shelters have been close enough to be a permanent base for four to six days.  We could hike back to the camper and stay overnight.  And we had a way to refrigerate our food.
My participation with the trail shelter restorations started in 1993 when about five of us ex-Scouters started restoring them.  There was a total of ten restored shelters on our Olympic Peninsula from 1993 until 2007.