Kenneth and Fran Eickhoff bought a brand new Four Wheel Camper Grandby in 1986.  Twenty-six years and 225,000 miles later, they're still going strong.

Between the ravages of the sun, a relentless attack from the elements, and the wear and tear of real-world use, truck campers need a regiment of persistent maintenance to keep them going strong.
First, we need to properly winterize the camper each year to avoid damaging our plumbing, water pump, hot water heater, and related components.  Some folks even blow their plumbing lines out with compressed air to make sure all of the fluid is out of the system.
Second, we need to monitor and maintain our exterior seals to prevent water from entering the camper structure and causing mildew and rot.  Regularly inspect your camper inside and out for signs of water intrusion like stains, mildew smell, interior or exterior walls that appear rippled or soft, or walls that are soft when pushed upon.  Any one of these is a clear indication of a leak that needs immediate attention.  If you want to take this approach to the extreme, run a Sealtech test just before and immediately after winterizing your camper to spot any hidden seal breaks.
Those two are the big maintenance items, but the rest of your truck camper needs to be regularly examined and maintained as well.  Batteries need to be trickle-charged to stay healthy when not in use.  Propane tanks need to be purged and checked for leaks now and then.  Some hot water heaters need anode rods replaced.  Holding tanks sometimes need to be sterilized.  Even refrigerators will need maintenance now and then.
The good news is that if you stay vigilant and master the maintenance of your camper, or at least master the schedule of maintenance so your dealer can help, your camper should last for decades.  Today's story is proof.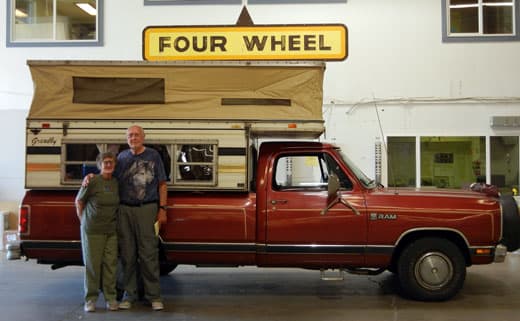 Above: Kenneth and Frances Eickhoff at the Four Wheel Camper factory
TCM: How did you get into truck camping?
Kenneth: I wouldn't say it was by accident, but in a sense it was.  I retired in 1986 and my present to myself was a new truck.  Shortly thereafter, we were driving in Tacoma, Washington, and saw a Four Wheel Camper.  We had looked for campers for my truck, but most had high profiles.  We saw the low-profile Four Wheel Camper and said, "That's it!" and bought it that day.  A month or two later we drove to Colorado to pick up our new Four Wheel Camper and had it installed.  In 1986, Four Wheel Campers was based in Denver.
TCM: You just recently visited the current Four Wheel Camper factory in Woodland, California.  Why were you there?
Kenneth: After twenty-six years, the middle hinge on the front lift panel had some rivets that had rotted out.  Living near Seattle, we live in a climate with more moisture than most.  We went to Woodland to have them replace that panel.  Everything else on the camper is original from 1986, and in very good shape.
TCM: That's amazing.
Kenneth: Four Wheel Campers are an extremely well-designed and well-built camper.  They are built with aluminum framing and structure.  There's no wood frame to rot.  I try to maintain my things well.  We spent $3,600 dollars when we bought the camper in 1986.  That was a lot of money back then so I kept the camper maintained.  I have also regularly maintained my truck.  It purrs like a kitten.
Also, our truck camper hasn't stayed in a garage in all these years.  We've been in the same home for fifty years and the Four Wheel Camper has been outside since we bought it.  That's twenty-six years outside in the Northwest elements.  Other than the recent lift panel replacement, I have never had anything go wrong.  I fire up the refrigerator and stove, and they fire up.  It all just works.
TCM: Four Wheel Campers recently announced that their lift panels are now made from a composite material so your lift panel rot experience will be impossible for new Four Wheel Camper owners.  What did you think of the brand new Four Wheel Campers that you saw there?  Do you find them to be very different than yours?
Kenneth: They had about five Four Wheel Camper models on display at their factory.  They are still making them essentially the same way as our camper including the aluminum framing which I believe accounts for their amazing durability and longevity.  My impression was that they had redesigned the interiors, but the overall configuration seemed to be the same.
Four Wheel has designed a jack that you can use to lift the roof.  I'm 81 years old, so I don't have the muscle power I used to.  This new lift has opened up a whole new world.  Fran and I envision going out a lot more because we can get the top-up easier.  I was about to the point where I couldn't lift it anymore.  Now it's much easier.
TCM: We used the assisted lift system when we borrowed a Four Wheel Camper in 2010 and it did make it much easier to lift the roof.  What do you like to do while you go out truck camping in your Four Wheel Camper?
Kenneth: We have set out mainly in the western United States to visit the major national parks.  Every national park is absolutely worth visiting.  We have also visited at least close to 90% of the national monuments.  We are very interested in the history and geography of this part of the United States and enjoy the national monuments as a part of that.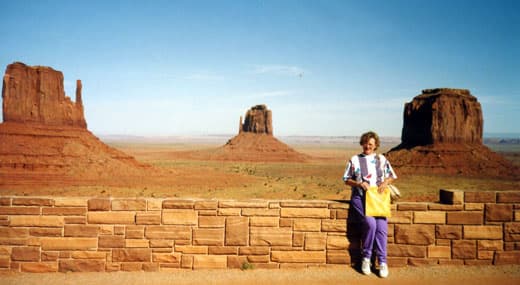 Above: Navajo National Monument, Northern Arizona
We always take the secondary roads or state highways.  We stay off the interstate whenever possible, seeing more interesting parts of the country.  My wife enjoys the camping aspects as much as I do.  We camp in everything from Good Sam parks to state parks to wilderness areas, a mixture of everything.
Now that we are in our early eighties our travel has slowed down, but I would say in the past we went out four to six trips a year.  Our son lived in Phoenix for fifteen years, so we would take one trip down there using various routes each year.  We would also go to British Columbia, Canada once every two years.  Then we would drive within our own state and camp and fish a half a dozen times a year.  We have been out four times this year.  With gas at four dollars a gallon, give or take ten cents, the low profile adds up to gas savings.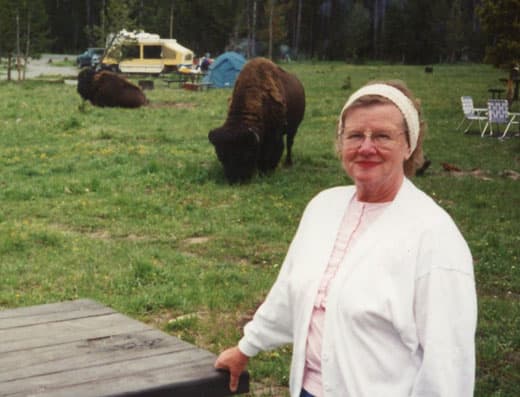 Above: Fran at Yellowstone National Park
TCM: You've been truck camping for twenty-six years.  You must have some great stories to share.  What are some of your most memorable experiences while truck camping?
Kenneth: One that pops in my mind, as we camped in Yellowstone, was that several years ago we encountered some buffalo.  We had a pull-through site and my wife went out to put something on the picnic table.  A buffalo came up as he was grazing and lied down on the other side of the picnic table.  I was born and raised on a farm in Nebraska, so I wasn't really concerned.  I'm used to wild animals.
You see pictures of places like White Sands National Monument, but until you actually drive-in, you can't conceive of how amazing the place is.  It takes your breath away.  Mt Rainier is where Fran and I met.  We like that place because you can actually drive up on the side of a mountain and get spectacular views.
TCM: You've been all around the mid and western United States in your truck camper.  Where do you recommend people go with their truck campers?
Kenneth: I'm going to assume if you have a camper, you're going to do some planning.  I believe in maps.  If we go on extended trips, we dig out the state maps.  I'll look for a state park and get their camping information.  I also have the BLM maps and all of the national forest maps for the western United States.  We'll look through those, plan a route, and try to find and locate a campground near an interesting area to see.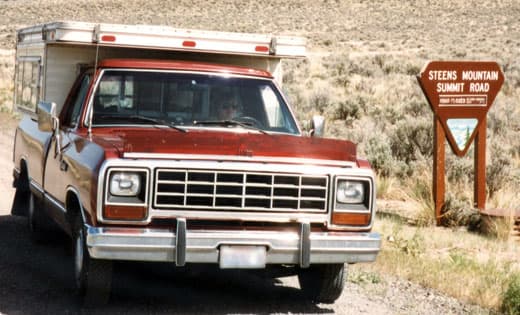 Above: Steen Mountain Summit Road, Oregon
Steens Mountain is a rough drive, but a spectacular one.  There is a high plateau and you can look into the Alvord desert valley.  In Brisbee, Arizona you can back your camper to the edge of an open-pit mine and camp right there.  There's a fence so you can't back into it.  The Oregon state parks on the ocean are excellent, but you usually need reservations.
Above: The trail shelter restoration projects that Ken and Fran worked on

TCM: You participate in trail shelter restoration projects.  Tell us about that and how your camper was helpful in those efforts.
Kenneth: Trail shelters were originally built in 1930 by the Civilian Conservation Corp in the western United States, and probably in the eastern United States, too.  They had not been kept up and were slowly disappearing.  A friend of mine from Scouts became interested in restoring these shelters and did the legwork to get permission from the forest service to restore them.
Let's back up a bit.  All of these shelters require going twenty-five to forty miles on dirt forest roads to get to them and then usually hike to the shelter.  This camper has been a godsend.  In some cases, the shelters have been close enough to be a permanent base for four to six days.  We could hike back to the camper and stay overnight.  And we had a way to refrigerate our food.
My participation with the trail shelter restorations started in 1993 when about five of us ex-Scouters started restoring them.  There was a total of ten restored shelters on our Olympic Peninsula from 1993 until 2007.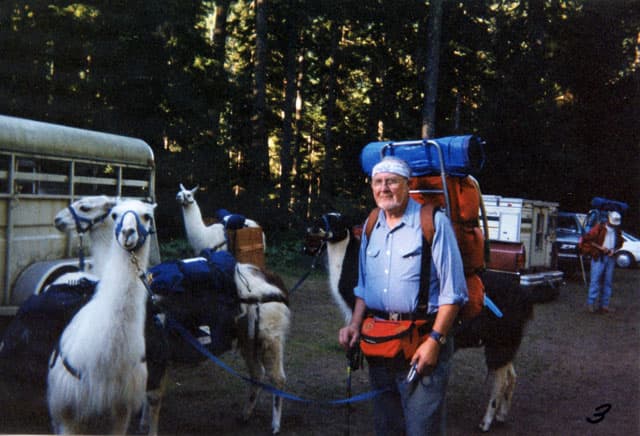 Above: Ken at a trailhead with the llama pack team. Do you see his Four Wheel in the background? 
TCM: Tell us about the llamas.
Kenneth: When we couldn't hike back and forth within a day, we used the llamas.  Some shelters were within a mile or two, where we could come back to the camper in the evening.  But, for the shelters that were six to eight miles from the trailhead, we needed the llamas to help us with carrying equipment.  We had saws, hammers, tools, ladders, nails, spikes, and food. Only original tools can be used in wilderness areas.
Volunteer groups brought the llamas and we also used mules and horses.  For those trips, we would take in tents and stay in tents.  Hiking is a big in this part of the world, so these shelters are good safety areas if you're out and caught in a storm.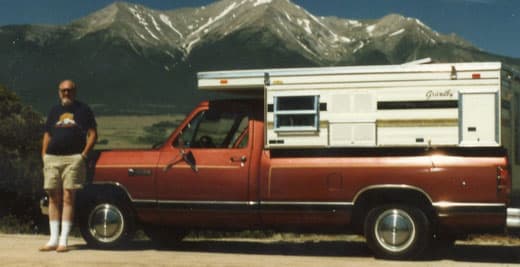 Above: High Country, Colorado
TCM: Is there anything that I didn't ask you that you'd like to add?
Kenneth: Did I mention that we have two big dogs that come with us as well?  They know immediately when things start to move, they're going on a trip.  I have protected the couch areas with outdoor carpeting.  We also take our fourteen-foot fishing boat along with our Four Wheel Camper.
With camping you meet great people.  We have never had a bad experience with all the thousands of hours and miles that we've gone camping.  One time when we were pulling our fishing boat, and we had a bearing go bad on the fishing boat trailer.  I couldn't believe the amount of people that came around to help us.
The camper is well designed.  We enjoy it and it's held up over the years.  We plan on going out for many more years.  And then we have lots of family to give it to later as I'm sure it will still be in good shape.
Speaking of being in good shape, our health is good and we intend to continue to go out whenever possible.  Our family all lives around here so we have family things in the summer as well.  Our Four Wheel Camper lifestyle has been wonderful.
To visit the Four Wheel website, go to fourwheelcampers.com. Click here for a free Four Wheel brochure.
Kenneth and Fran Eickhoff's Rig
Truck: 1985 Dodge Ram 1500, crew cab, single rear wheel, standard bed, 4×2, gas
Camper: 1986 Four Wheel Camper Grandby
Tie-downs and Turnbuckles: 4 bolts, permanently on truck
Suspension Enhancements: Air shocks for towing
Gear: N/A