Kenneth and Fran Eickhoff bought a brand new Four Wheel Camper Grandby in 1986.  Twenty-six years and 225,000 miles later, they're still going strong.

Between the ravages of the sun, a relentless attack from the elements, and the wear and tear of real world use, truck campers need a regiment of persistent maintenance to keep them going strong.
First, we need to properly winterize the camper each year to avoid damaging our plumbing, water pump, hot water heater, and related components.  Some folks even blow their plumbing lines out with compressed air to make sure all of the fluid is out of the system.
Second, we need to monitor and maintain our exterior seals to prevent water from entering the camper structure and causing mildew and rot.  Regularly inspect your camper inside and out for signs of water intrusion like stains, mildew smell, interior or exterior walls that appear rippled or soft, or walls that are soft when pushed upon.  Any one of these is a clear indication of a leak that needs immediate attention.  If you want to take this approach to the extreme, run a Sealtech test just before and immediately after winterizing your camper to spot any hidden seal breaks.
Those two are the big maintenance items, but the rest of your truck camper needs to be regularly examined and maintained as well.  Batteries need to be trickle charged to stay healthy when not in use.  Propane tanks need to be purged and checked for leaks now and then.  Some hot water heaters need anode rods replaced.  Holding tanks sometimes need to be sterilized.  Even refrigerators will need maintenance now and then.
The good news is that if you stay vigilant and master the maintenance of your camper, or at least master the schedule of maintenance so your dealer can help, your camper should last for decades.  Today's story is proof.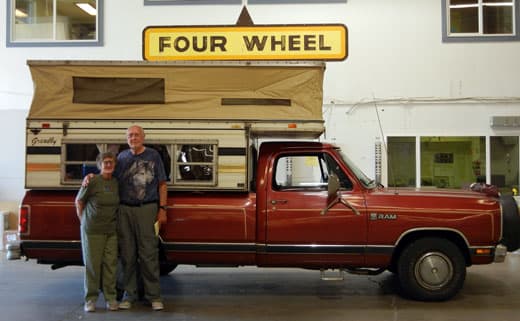 Above: Kenneth and Frances Eickhoff at the Four Wheel Camper factory
TCM: How did you get into truck camping?
Kenneth: I wouldn't say it was by accident, but in a sense it was.  I retired in 1986 and my present to myself was a new truck.  Shortly thereafter, we were driving in Tacoma, Washington, and saw a Four Wheel Camper.  We had looked for campers for my truck, but most had high profiles.  We saw the low profile Four Wheel Camper and said, "That's it!" and bought it that day.  A month or two later we drove to Colorado to pick up our new Four Wheel Camper and had it installed.  In 1986, Four Wheel Campers was based in Denver.
TCM: You just recently visited the current Four Wheel Camper factory in Woodland, California.  Why were you there?
Kenneth: After twenty-six years, the middle hinge on the front lift panel had some rivets that had rotted out.  Living near Seattle, we live in a climate with more moisture than most.  We went to Woodland to have them replace that panel.  Everything else on the camper is original from 1986, and in very good shape.
TCM: That's amazing.
Kenneth: Four Wheel Campers are an extremely well designed and well built camper.  They are built with aluminum framing and structure.  There's no wood frame to rot.  I try to maintain my things well.  We spent $3,600 dollars when we bought the camper in 1986.  That was a lot of money back then so I kept the camper maintained.  I have also regularly maintained my truck.  It purrs like a kitten.
Also, our truck camper hasn't stayed in a garage in all these years.  We've been in the same home for fifty years and the Four Wheel Camper has been outside since we bought it.  That's twenty-six years outside in the Northwest elements.  Other than the recent lift panel replacement, I have never had anything go wrong.  I fire up the refrigerator and stove, and they fire up.  It all just works.
TCM: Four Wheel Campers recently announced that their lift panels are now made from a composite material so your lift panel rot experience will be impossible for new Four Wheel Camper owners.  What did you think of the brand new 2012 Four Wheel Campers that you saw there.  Do you find them to be very different than yours?
Kenneth: They had about five Four Wheel Camper models on display at their factory.  They are still making them essentially the same way as our camper including the aluminum framing which I believe accounts for their amazing durability and longevity.  My impression was that they had redesigned the interiors, but the overall configuration seemed to be the same.
Four Wheel has designed a jack that you can use to lift the roof.  I'm 81 years old, so I don't have the muscle power I used to.  This new lift has opened up a whole new world.  Fran and I envision going out a lot more because we can get the top up easier.  I was about to the point where I couldn't lift it anymore.  Now it's much easier.
TCM: We used the assisted lift system when we borrowed a Four Wheel Camper in 2010 and it did make it much easier to lift the roof.  What do you like to do while you go out truck camping in your Four Wheel Camper?