Bed or nest – We have a cat bed on a platform in the cab of the truck.  It is their safety place, and the perch from which they can view their world.  I have had cats that were more reclusive.  They have free range as long as they stay in the house, cab, or camper.  I think they have a better experience then being shut in a cat carrier.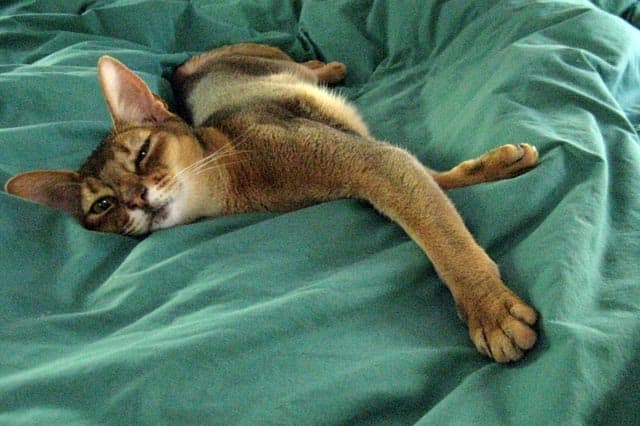 Above: Lily hanging out on the Hawk's overcab bed
Security – We were in a campground in Idaho.  There were heartbreaking signs posted around the grounds for a lost cat, with a photo and description.  I talked to a ranger.  The cat had got loose from the camper and had not come back.  The family stayed two extra days searching.  They finally had to pack up and drive home.  They'd called each day from the San Francisco peninsula.  The situation gave me chills.  I have read numerous times that a lost cat tends not to go far.  They are often times found on the near side of a neighbor's yard or in a dark snug place.  Of course, this means nothing when you are taking the long drive home with a empty cat bed.  We don't let our cats outside at home.  We do not let our cats out when on the road.  This is how it's always been, and they don't expect anything else.      

Parking – When you're tooling down the road with the air conditioning blasting, there is little to worry about.  But, when you park to fill the tank, or do a bit of exploring, don't forget the needs of your cats.  In many communities it's illegal to leave a pet unattended in a car.  These laws seem a bit heavy handed, but they are in place because there have been tragedies.  If it is very hot, we park in the shade and leave the engine running with the air conditioning running, locking the truck up with the second set of keys.  That is rare.  More often times we leave a bit of a gap in the windows, and make sure there is water in the bowl.
Ventilation – When in a campground we have ventilation in the camper, but we also leave a gap in the cab windows.  We unfortunately do not have a screen door on the camper.  That would be a wonderful upgrade.
Car Sick – I've had a cat react in an unfortunate way to the undulations of a mountain road.  He tossed his cookies on my brother-in-law's lap.  At that point I thought my brother-in-law would lose his lunch as well.  Oh boy.  Fortunately we keep small white utility towels in each door pocket and in the console.  These are mainly to clean up coffee when poured from the vacuum flask, or to sop up mustard from a burger.  We have been very lucky with cats and motion sickness.
Campsites – We select our campsite so we will have shade.  It's good for us, and the cats.  We tend to enjoy preparing our meals and eating outside.  We love the option of cooking inside, should the weather turn sour.  Cooking inside gives us the option of winter camping.  We set up the camper and table so the cats can watch us.  We also bring them their toys.  If they are feeling playful, they are gong to play with something, better it be theirs.  Swede has a wire toy, and a small stuffed puppy.  They both spend their non-sleeping time walking the parameter, like good guard cats, looking out each window.
TCM: Do you worry with having a pop-up camper that animals may try to get them?
Stephn: It's not anything I've ever thought of.  When the camper is in the back of the truck, it's high up and it's got the coated canvas.  We're not generally not far away from the truck when we're camping.  I worry more about them getting outside at home.
TCM: Can they go back and forth between the camper and the truck or do you physically pick them up and bring them back to the camper each time?
Stephn: They go back and forth using the pass through/window slider I was talking about before.  I made a five to seven centimeter foam gasket that I've put in between the camper and the truck.  Our cats can step on the foam gasket as they go back and forth.  There's an additional platform in the truck with a bed and some food and water.  I also keep my camera up there so I can grab it at all times.
TCM: You said in your email that you have some fun stories of the cats on the road.
Stephn: Mike's Roadhouse is a dive; a quirky off the beaten path roadhouse/cafe.  We were walking out to our truck and I passed a van where I caught these yellow eyes looking back at me.  I went to our truck and alerted my wife.
I went back to the van and a guy was walking out.  I asked him about the cats in his van.  He scooped out a beautiful Ayssinian.  He had three of them and we had our two cats.  We swapped stories and talked about his travels with his cats internationally.
Once while we were on the road I attempted to acclimate Levi to a harness.  He didn't like it.  When he gets on the ground, he starts rolling.  He took two steps and rolled.  I picked him back on his feet.  He took two steps and fell down.  It took him ten minutes to cross the road to get from one campsite to another.  He wasn't too happy about going outside.
TCM: We tried Harley on a leash once.  He just sat there.  What Levi did would be major progress for Harley.  As they say, "Dogs have owners.  Cats have servants".  Thanks for the interview Stephn.
Stephn: So true.  And you're welcome.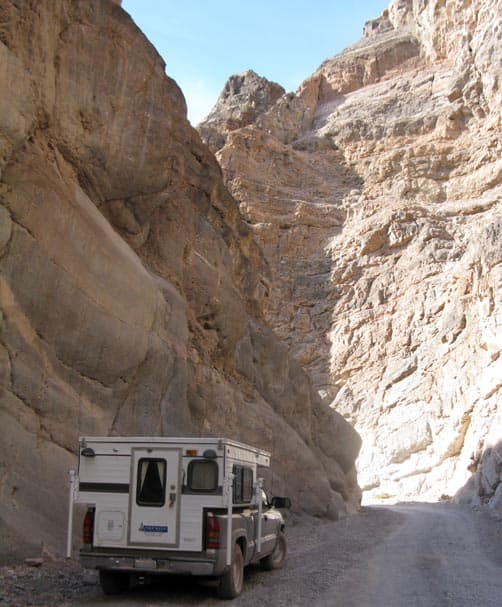 Above: Titus Canyon Narrows, California