Cayetano: Louisiana was a delightful surprise. We were able to spend a whole week during Mardi Gras in New Orleans.
The National Parks in Utah were one of our best experiences. We would recommend Zion, Arches, Bryce, Capitol Reef, and Canyonlands National Parks to anyone. We enjoyed getting lost on the different trails and photographing the amazing landscapes.
The Columbia River Gorge in the northwest was another area we enjoyed. The drive up the coast from Northern California to Astoria, Oregon was an incredible experience.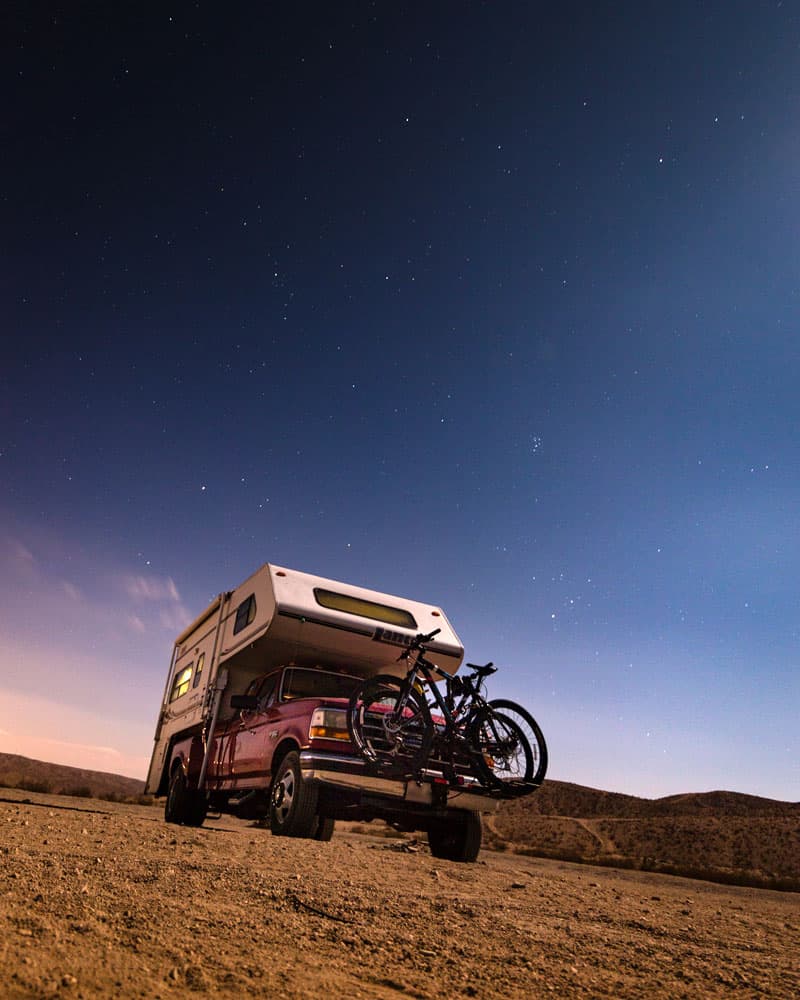 Above: Free OHV BLM Dry Camping, Barstow, California.
TCM: We can certainly vouch for Utah's National Parks, the Columbia River Gorge, and the west coast drive. They are all spectacular truck camping experiences. Is there anything else that you'd like to share?
Cayetano: Starting a full-time truck camping adventure is a radical experience. You can only prepare for it so much. You need to be ready for surprises. Good and bad things happen on the road. At the end of the day, more good things happen.
To live full-time on the road, you really have to like your partner. We really enjoy exploring and discovering things together. It's a good relationship test, that's for sure.
Being young, we find ourselves feeling a little isolated from our peers on the road. Our work constraints don't allow us to socialize and meet more people. We also find that we are often the youngest people in the campground. More young people should try this amazing lifestyle.
Christelle and Cayetano's Rig
Truck: 1995 Ford F350 XLT Dually 7.5L V8 EFI, Extended Cab, 4×2, Gasoline, Dual Rear Wheel, Long Bed
Camper: 2002 Lance 1130
Tie-Downs and Turnbuckles: Torklift Custom Frame-mounted Camper Tie-downs
Suspension: None, apart from towing package
Gear: Hollywood Racks Sportrider Se2 2-bike Rack – Front