Christelle and Cayetano Gil terminated their San Francisco lease, bought a Lance Camper, and hit the road with an entirely new vision.  That truck camper next to you might be working on the next big thing.

When most of us envision a start up company, we might think of a small elite team of young tech savvy entrepreneurs working in Silicon Valley, glued to laptops, and surviving on Ramen Noodles, Red Bull, and occasional sleep.  We certainly don't think the folks in the Lance Camper next door are doing anything posted on AngelList.
A year ago, Christelle and Cayetano Gil were living in San Francisco, paying exorbitant rent, and asking themselves the big life questions.  Happily married with jobs and no kids, they were fortunate to have some tantalizing options available to them.  Rather than choosing the obvious, they threw caution to the wind, cancelled their lease, bought a truck and camper, and took a huge leap.
Make no mistake, this is no vacation.  Christelle and Cayetano may be loving every minute of their coast to coast adventure, but they need an income.  Monday through Friday (and beyond), Cayetano works remotely on a San Francisco start up.  They might be in Zion National Park, but Cayetano is inside their camper, on his laptop, and helping his West Coast team push forward.  Thank you, cellular internet.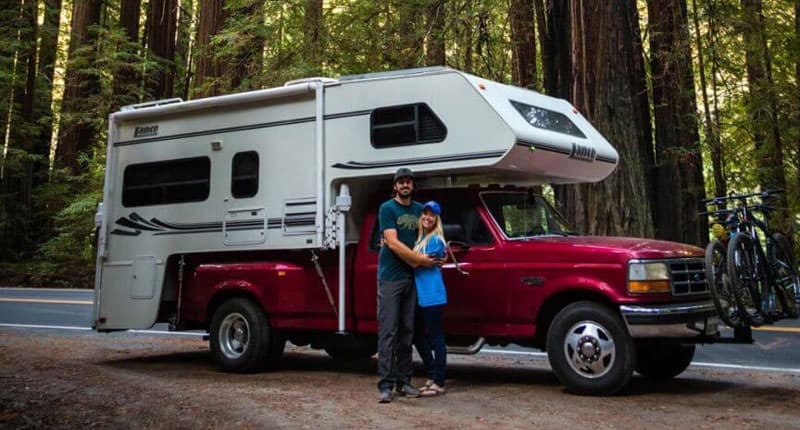 Above: Cayetano and Christelle with their 2002 Lance 1130
TCM: Tell us about your camping experiences and lifestyle over the years.
Cayetano: Both of us had tent camped over the years, but our first true RVing experience was spending two weeks in 2016 exploring Alaska with a Class C.
After that, we dreamed about hitting the road in an RV full-time and researched different ways to do it. We wanted something compact and sturdy. All of the van conversions, trailers, and motorhomes within our budget would not work for us.
Then we met a couple who had just spent six months on the road in a Lance 1030 truck camper. We loved their setup. The Lance Camper interior felt really comfortable. We really liked the level of craftsmanship and overall robustness. This was the sturdy build we were looking for.
We also liked the idea that the camper was demountable from the truck. This feature would make it easier to manage any issues that came up with either the truck or the camper.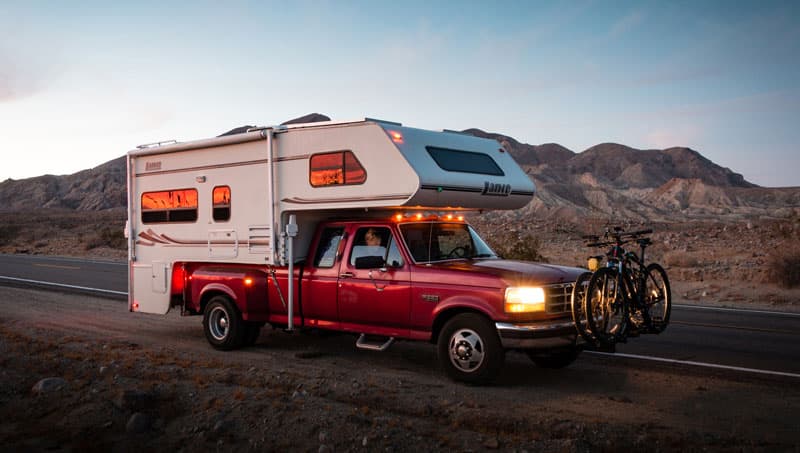 Above: On the way to Palm Springs where they spent Thanksgiving with friends.
TCM: Being demountable is a huge benefit to a truck and camper rig. What led you to choose your specific truck camper?
Cayetano: After seeing the Lance 1030, we started researching different models of Lance Campers. We were looking for a fairly new unit, but our budget was a constraint. Other requirements included no slide-outs to minimize weight, and a dry bath. Finding the right camper was a challenge.
We eventually found a Lance 1130, a longer version of the 1030 we had seen, but with a dry bath and additional counter space and a spice rack.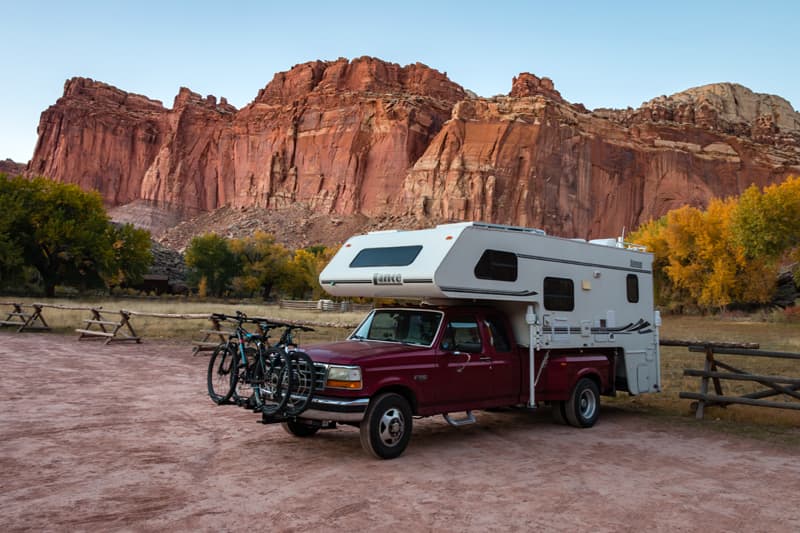 Above: Capitol Reef National Park, Utah
TCM: Our very first truck camper was a Lance 1030. We loved that camper. After only spending two weeks in a Class C in Alaska, why did you want to go full-time on the road in a truck camper?