Christelle and Cayetano Gil terminated their San Francisco lease, bought a Lance Camper, and hit the road with an entirely new vision.  That truck camper next to you might be working on the next big thing.

When most of us envision a start up company, we might think of a small elite team of young tech savvy entrepreneurs working in Silicon Valley, glued to laptops, and surviving on Ramen Noodles, Red Bull, and occasional sleep.  We certainly don't think the folks in the Lance Camper next door are doing anything posted on AngelList.
A year ago, Christelle and Cayetano Gil were living in San Francisco, paying exorbitant rent, and asking themselves the big life questions.  Happily married with jobs and no kids, they were fortunate to have some tantalizing options available to them.  Rather than choosing the obvious, they threw caution to the wind, cancelled their lease, bought a truck and camper, and took a huge leap.
Make no mistake, this is no vacation.  Christelle and Cayetano may be loving every minute of their coast to coast adventure, but they need an income.  Monday through Friday (and beyond), Cayetano works remotely on a San Francisco start up.  They might be in Zion National Park, but Cayetano is inside their camper, on his laptop, and helping his West Coast team push forward.  Thank you, cellular internet.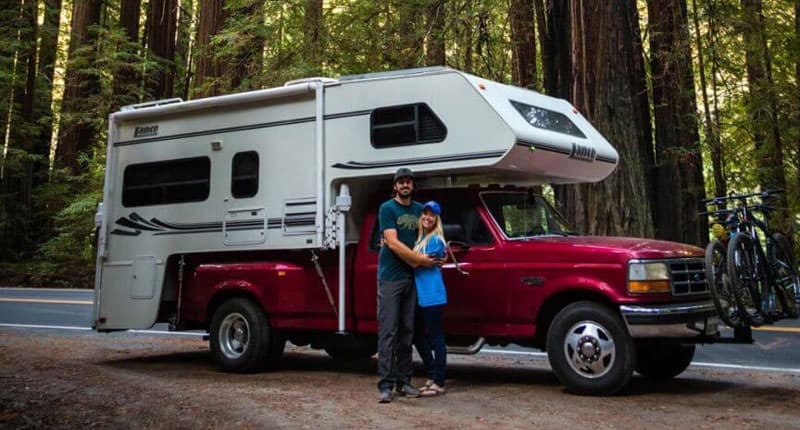 Above: Cayetano and Christelle with their 2002 Lance 1130
TCM: Tell us about your camping experiences and lifestyle over the years.
Cayetano: Both of us had tent camped over the years, but our first true RVing experience was spending two weeks in 2016 exploring Alaska with a Class C.
After that, we dreamed about hitting the road in an RV full-time and researched different ways to do it. We wanted something compact and sturdy. All of the van conversions, trailers, and motorhomes within our budget would not work for us.
Then we met a couple who had just spent six months on the road in a Lance 1030 truck camper. We loved their setup. The Lance Camper interior felt really comfortable. We really liked the level of craftsmanship and overall robustness. This was the sturdy build we were looking for.
We also liked the idea that the camper was demountable from the truck. This feature would make it easier to manage any issues that came up with either the truck or the camper.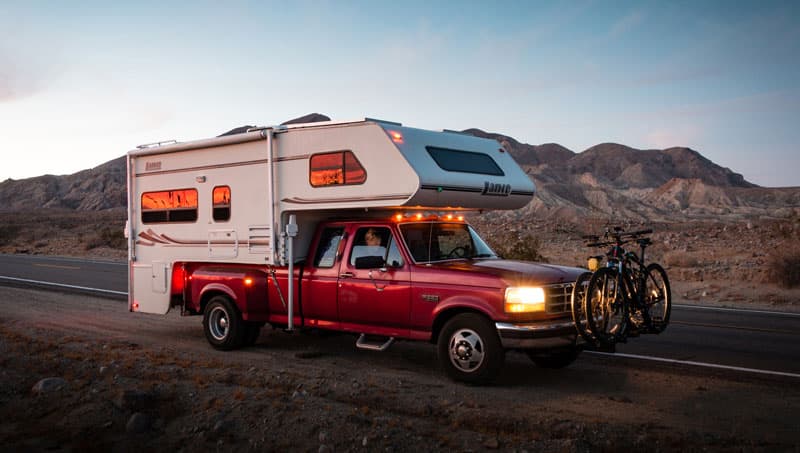 Above: On the way to Palm Springs where they spent Thanksgiving with friends.
TCM: Being demountable is a huge benefit to a truck and camper rig. What led you to choose your specific truck camper?
Cayetano: After seeing the Lance 1030, we started researching different models of Lance Campers. We were looking for a fairly new unit, but our budget was a constraint. Other requirements included no slide-outs to minimize weight, and a dry bath. Finding the right camper was a challenge.
We eventually found a Lance 1130, a longer version of the 1030 we had seen, but with a dry bath and additional counter space and a spice rack.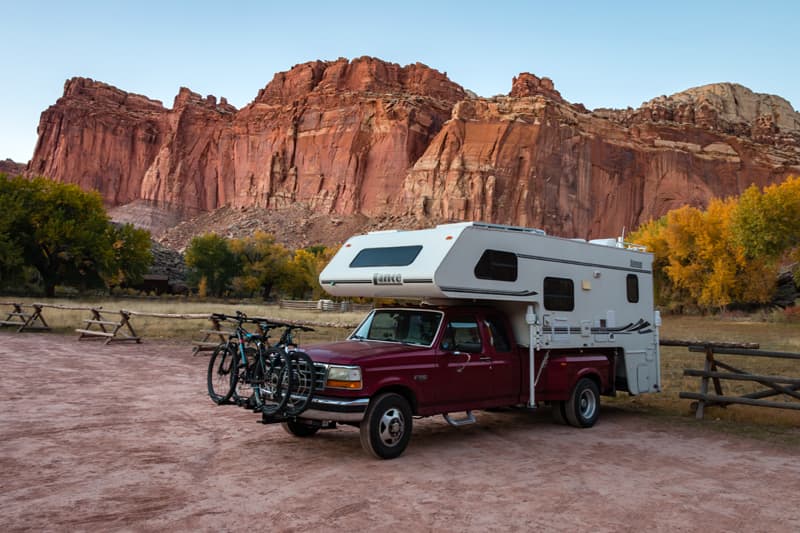 Above: Capitol Reef National Park, Utah
TCM: Our very first truck camper was a Lance 1030. We loved that camper. After only spending two weeks in a Class C in Alaska, why did you want to go full-time on the road in a truck camper?
Cayetano: We had this conversation for a long time. We were living in the San Francisco area where housing is very expensive and asking ourselves, "What's next? Buying a house? Starting a family?"
We were thinking about the future knowing that living in San Francisco would be difficult. A two bedroom unit can be upwards of $1 million dollars.
We don't have kids or pets, so it's the perfect time to start something different and explore what else is out there.
I work for a start up company in the Bay area, and didn't know how they would feel about me working remotely. Luckily, they already had some people working remotely, so it wasn't something entirely new for the company.
My wife left her job as it was time for a career change. We stopped our lease, and gave away some of our stuff. The rest we stored at a family's house.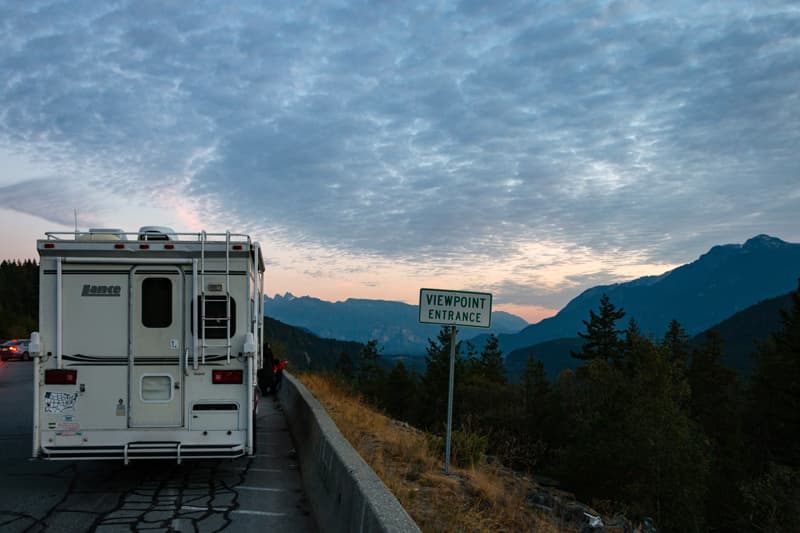 Above: Exploring British Columbia.  A truck camper is perfect in size for quick stops at most viewpoints.
TCM: That's quite a leap. Can you tell us anything about the nature of the start up?
Cayetano: I work for a small start up that focuses on optimizing the performance of big data applications and workloads in other companies, providing them with automated insights and recommendations. My work focuses mainly on the design and implementation of the user interface for the application that we ship to our clients.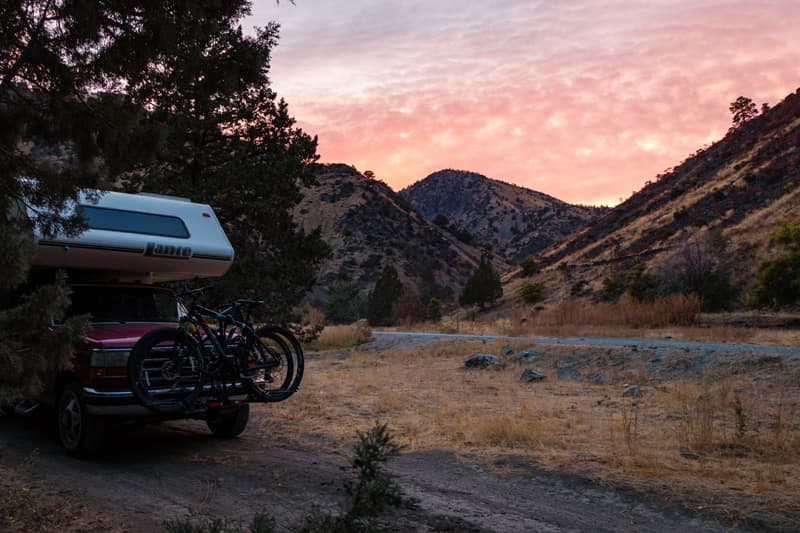 Above: Boondocking on BLM land while driving from Oregon to Idaho
TCM: Has living full-time on the road worked out so far?
Cayetano: We have been on the road for eight months now. We are having fun and seeing new places we otherwise would not have known about.
However, working on the road and traveling at the same time has been demanding. I have to keep to a schedule and attend conference call meetings. It requires a lot of planning. For example, we cannot be outside of cell range.
Sometimes people think we're just traveling around and taking pictures; that we're on vacation. It's not that way at all. I make sure to over-communicate with my team so they know what I'm working on. It can be challenging.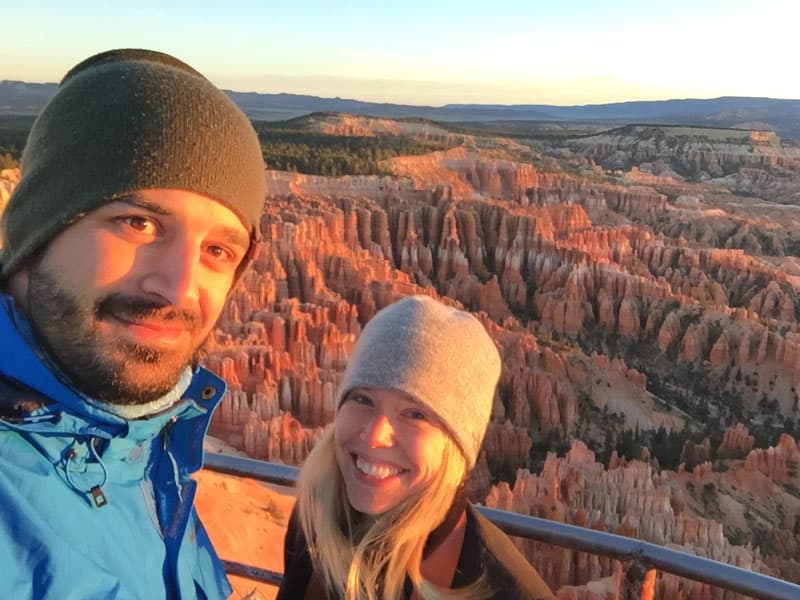 Above: Cayetano and Christelle at Bryce Canyon National Park
I work for a start up, so I am constantly on call and need to be responsive to my team members. I work long nights and weekends often.
With the company being in California, sometimes there is a time zone difference. Sometimes this is to my advantage because I can get work done before my team starts, or we can go exploring early in the morning before they get in the office.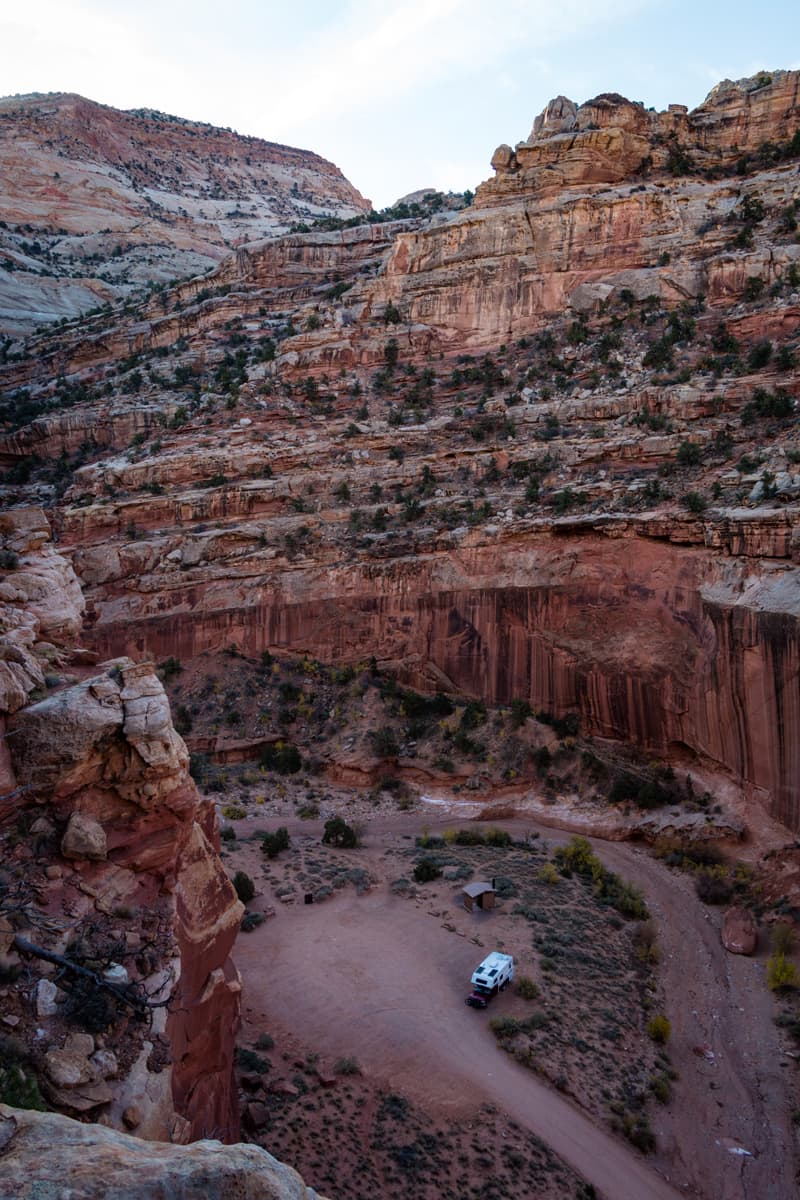 Above: Not as popular and overcrowded as the other parks in Utah, Capitol Reef National Park it's the perfect combination of adventure and beauty in near solitude.
My work requires being constantly online, so a cell booster was one investment we thought would help us to camp in locations further from civilization, and cell towers.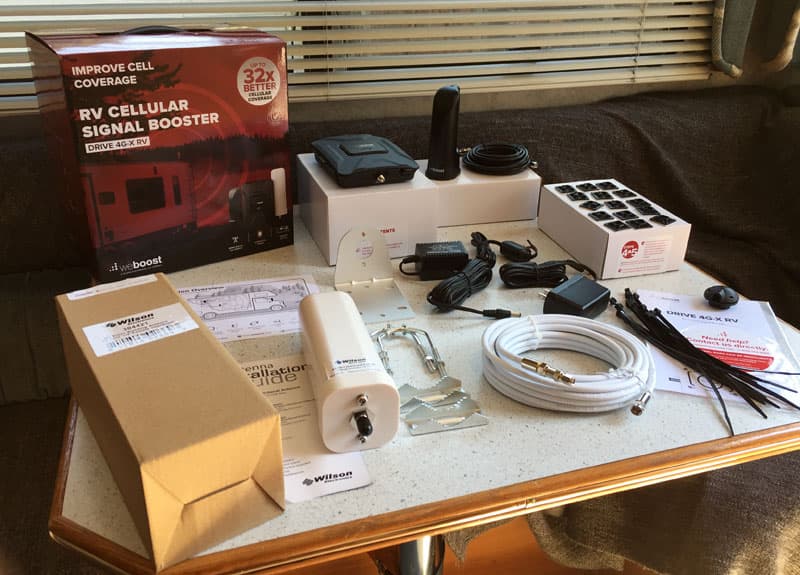 Above: Drive 4G-X RV from WeBoost Cell Phone Booster
TCM: We run Truck Camper Magazine from the road using cellular internet, but we don't have a cell booster. What make and model of cell booster do you use?
Cayetano: After some research we went with the Drive 4G-X RV from WeBoost. We had heard good things about it, and although rather expensive, it seemed like our best bet to get the job done. The installation was easy. We removed the TV antenna from our camper and used the original TV antenna pass through to connect the new exterior antenna to the booster controller inside.
TCM: Has it worked as well as you hoped?
Cayetano: It's been useful a few times. It makes the signal stronger and helps a little with speed. In Utah we might have had one bar, and with the cell booster we would get three bars. But, it's not going to get you a signal where there's no reception.
It's worth the investment because anything that makes working on the road a little easier is worth it. Right now we are using T-Mobile for our cell phones and Verizon for our hot spot. We also go to public libraries and Starbucks.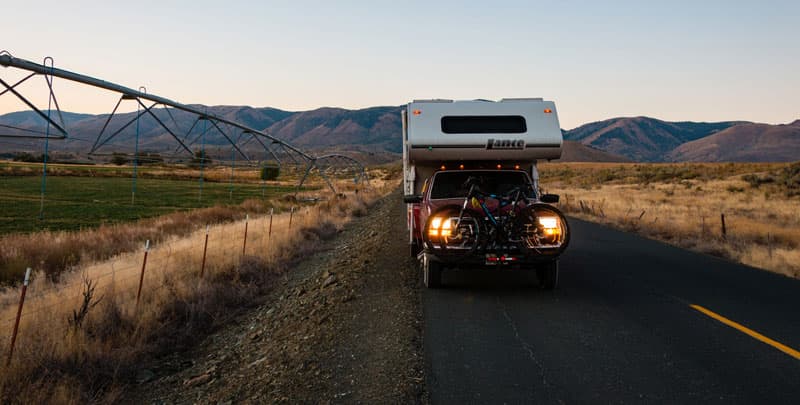 Above: On the Idaho/Oregon border.  For Christelle and Cayetano, it's not just about going from point A to point B.  It's about enjoying the ride in between.
TCM: Obviously you didn't hit the road full-time just to work. What do you enjoy doing while you're out truck camping?
Cayetano: We love the freedom that our truck camper offers in terms of spending time in nature and away from cities. We really enjoy hiking, running, and generally exploring the trails in state and national parks.
Both of us are into photography and love to document the places we visit. Our goal is to discover everything this country has to offer, from coast to coast, and mix nature with urban exploration.
This lifestyle allows us to learn more about the history and culture, while discovering local gems, great food, and places we wouldn't be able to see living a 9 to 5 life.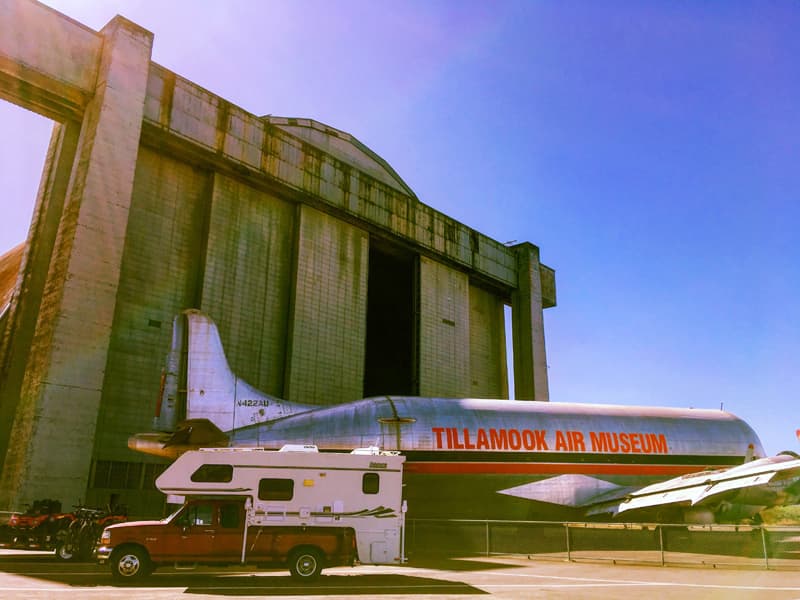 Above: Stopping at roadside attractions that catch their eye; lunch next to a plane at the Tillamook Air Museum in Tillamook, Oregon.
TCM: Is there a travel plan that you're working from?
Cayetano: The plan is to see the different urban areas in the United States with as much of the surrounding environment as time may permit. We avoid taking lots of time driving during the work day. On weekends we explore our surroundings. With my job, we can only explore so much.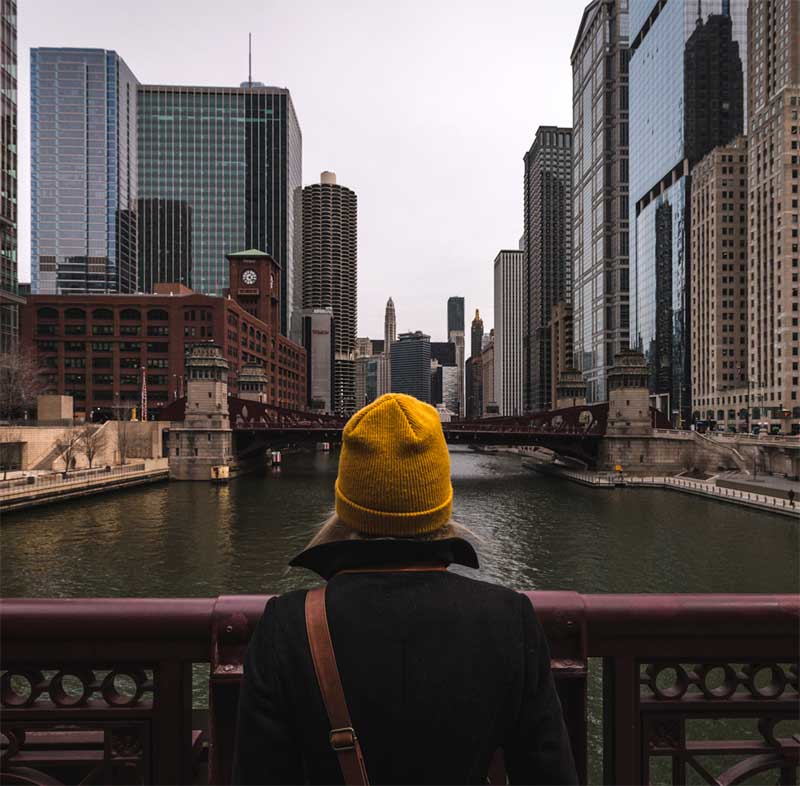 Above: Chicago's boat tour
Along the way, we might find a place to buy a house. So far there are cities and areas we have liked better than others. We have enjoyed exploring areas we haven't been to before.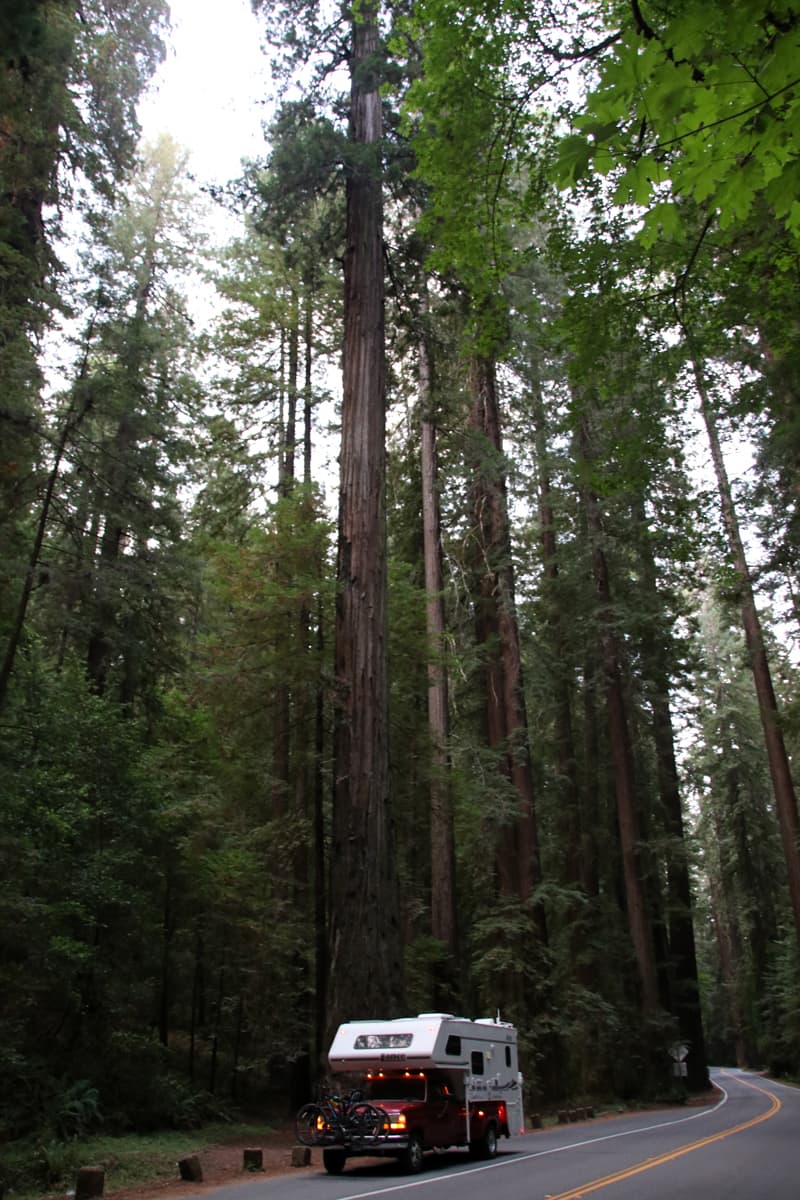 Above: One of their first stops full-timing; the Redwood trees at the Avenue of Giants.
TCM: Sounds like a good balance between work and play, especially for a young couple with no kids.
Cayetano: Things still happen on the road. We had our first major breakdown in Twin Falls, Idaho. Our alternator broke and we had an interesting night getting a tow truck that was willing to tow us. Life on the road is not as easy as many would think.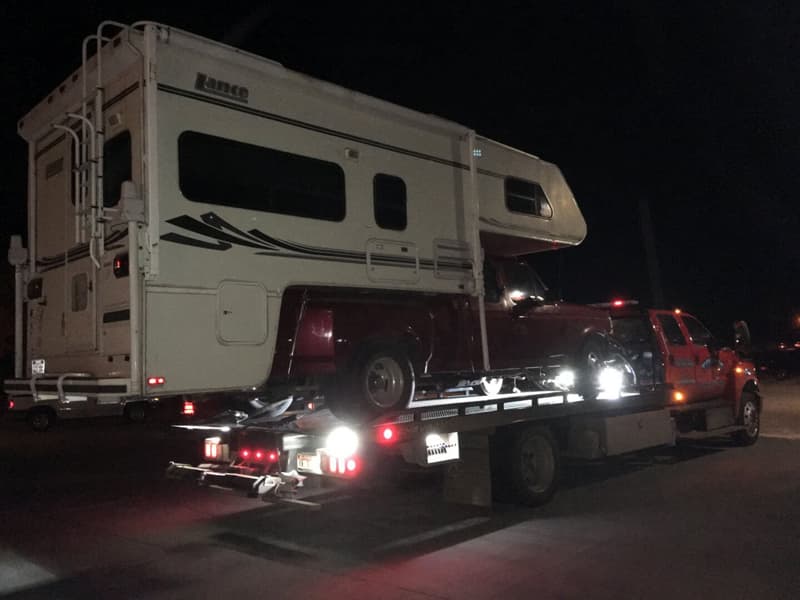 TCM: That's part of traveling, or life in a house for that matter. Things break that need immediate attention. How did you handle the truck breakdown?
Cayetano: It was not a good experience, but we were lucky because the breakdown happened as we arrived in Twin Falls. We were at a truck tire place. When we tried to leave late in the day, the alternator failed.
Finding a tow company to tow our truck and camper was not easy. A lot of companies refused us because they said our rig was too long and could not be towed behind a tow truck.
Eventually we found someone who could tow our rig. He also knew a mechanic in town who would allow us to stay in his parking lot. It was interesting sleeping there that night, but at least everything we needed was with us and we were comfortable. The following day they worked on our truck right away.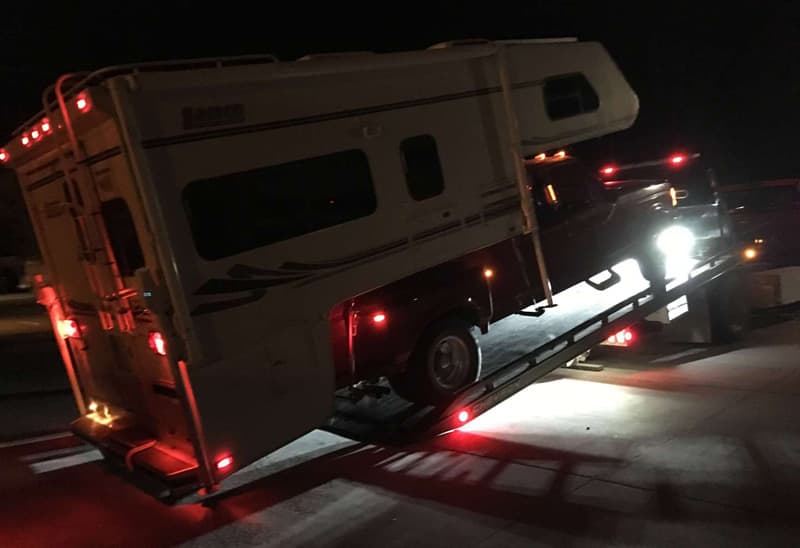 Above: Holding their breath as the camper was loading
TCM: We have been through a few truck breakdowns over the years, but never required a tow. Did they end up flatbed towing your truck camper rig?
Cayetano: Yes. After much waiting, we were lucky to find a tow driver that would accept the challenge and risk of bringing our big and heavy rig on top of his truck. The process was not easy at all. The back of the camper would touch the ground before getting to the angle it needed to get onboard the tow bed. After some time and trying different approaches, the rig was loaded and secured. The tow driver even took pictures, proud of his catch. We have more information and pictures on our  blog.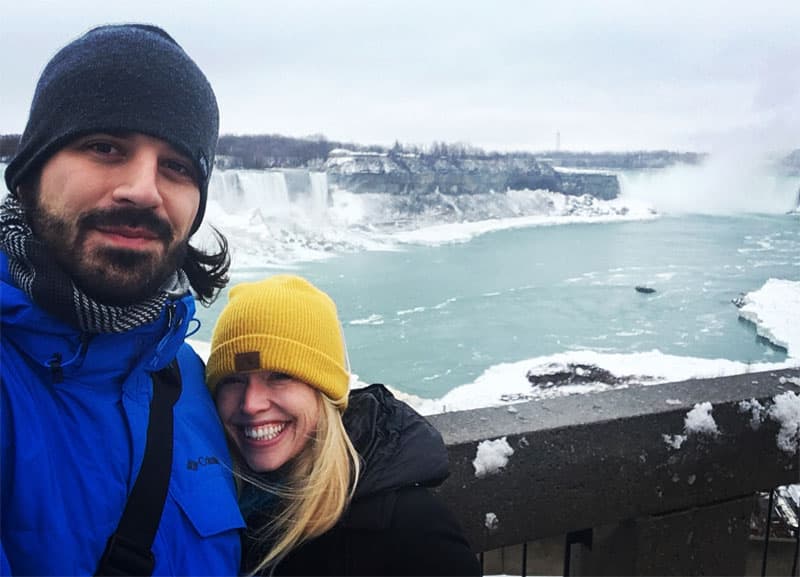 Above: Cayetano and Christelle exploring Niagara Falls
TCM: Have you made any modifications to your camper to better accommodate your work or truck camping lifestyle?
Cayetano: Boondocking was a big part of our truck camping plans, so we installed a composting toilet. A composting toilet seemed like a good decision to extend our time away from dump stations and hookups, and gave us the potential to modify the holding tanks to double our grey water holding capacity.
We removed the flush toilet that came with the camper and replaced it with a C-Head brand composting toilet. The way the RV flush toilet was removed and the composting toilet was installed allows us to change back to a RV flush toilet should we decide to.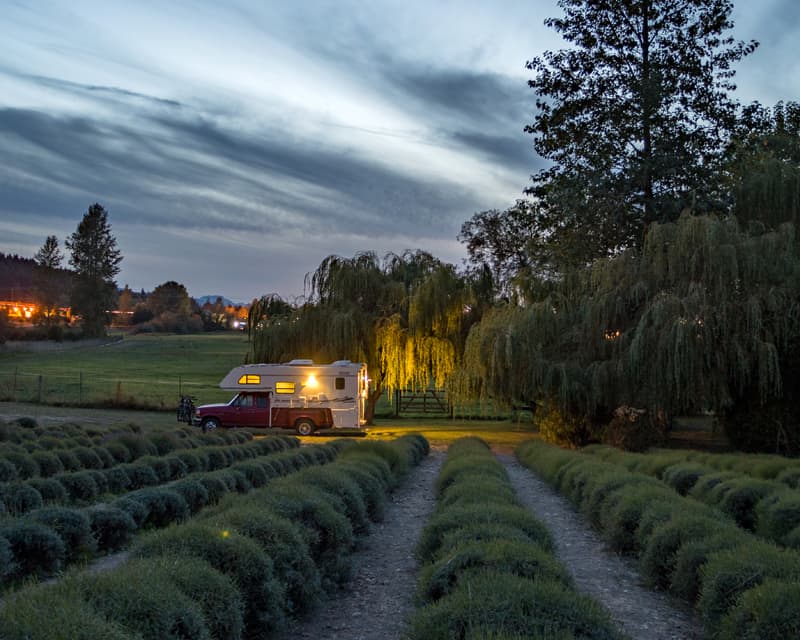 Above: A Harvest Hosts location in Washington
TCM: It's not always possible to find a boondocking spot, especially in the kinds of urban areas you're frequenting. So where are you staying at night?
Cayetano: We use Passport America, Good Sam, Harvest Hosts, and casinos to find places to camp. On our smartphones we use the Campendium and AllStays apps.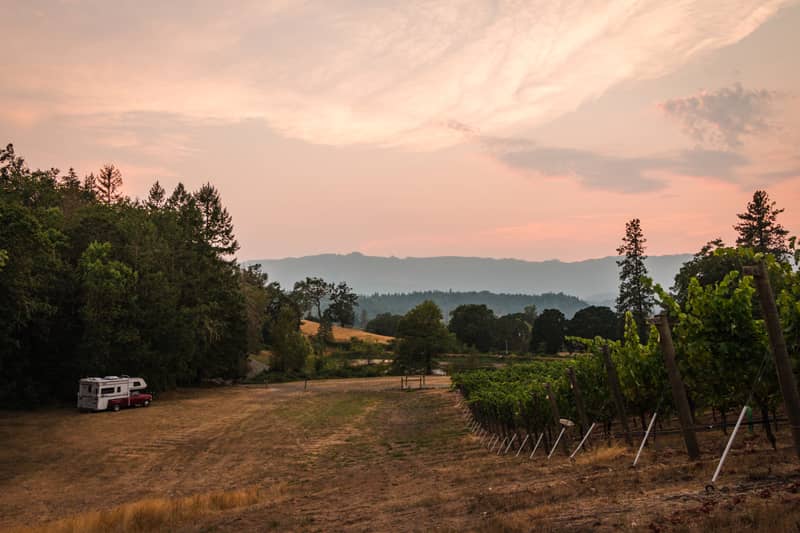 Above: Their very first experience staying at a winery, with an amazing sunset to enjoy.
You need to be careful because some of the places and information in these apps is outdated. When in doubt, we call ahead.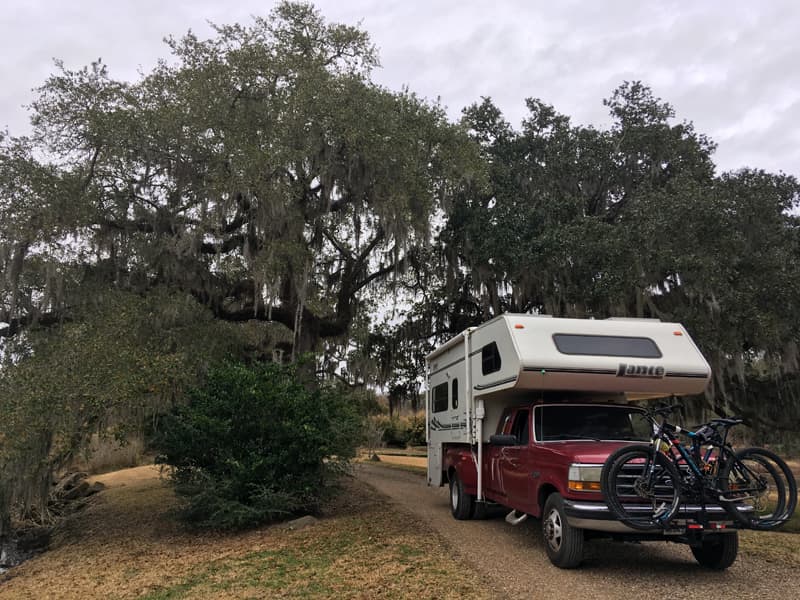 Above: Avery Island, Louisiana.  Christelle and Cayetano research new areas ahead for access, the parking situation, and clearance.
We really like finding unexpected places, especially in little towns in the middle of nowhere. When we arrived in Morgan City, Louisiana, we entered an RV park with no amenities. It was like a parking lot, so we decided to find another place to stay.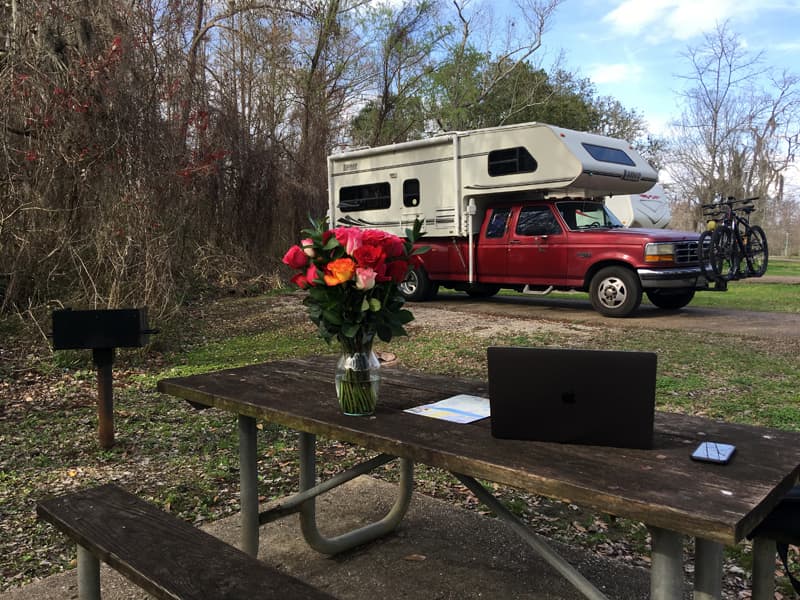 Above: Madisonville Fairview Riverside Park, Louisiana
We found a county park in town that was really nice. It had lots of trails for exercise and ducks waking us in the morning. It was much better than the first place. We ended up staying three days. We look for places like that.
We do have a warning for younger people who are looking to travel in an RV. Campgrounds in retirement states tend to have more 55+ age restrictions. In some areas, 55+ only campgrounds are the norm.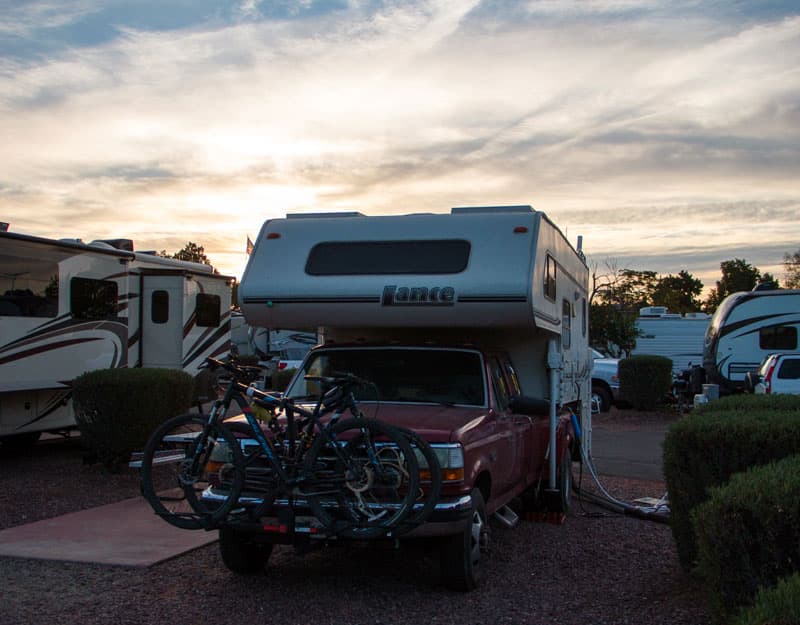 Above: The need to be connected at all times makes Christelle and Cayetano spend a lot of time in campgrounds where they have access to shore power, cell service, and perks like WIFI.  It's also a good opportunity to recharge, and do laundry.
We were denied in the Phoenix, Arizona area by 55+ age restrictions. We were thinking of spending Christmas there because of family. My wife does all the planning and it took her a long time to find places for us to stay.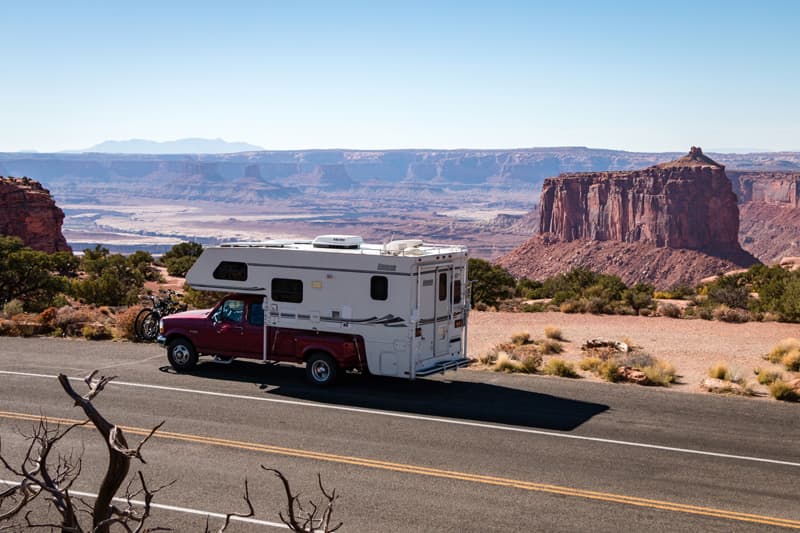 Above: Canyonlands National Park, Utah.  They made good use of the America the Beautiful pass to get access to the National Parks.
TCM: We have experienced that too, but not as much as you have. Where have you been so far that you would recommend to fellow truck campers?
Cayetano: Louisiana was a delightful surprise. We were able to spend a whole week during Mardi Gras in New Orleans.
The National Parks in Utah were one of our best experiences. We would recommend Zion, Arches, Bryce, Capitol Reef, and Canyonlands National Parks to anyone. We enjoyed getting lost on the different trails and photographing the amazing landscapes.
The Columbia River Gorge in the northwest was another area we enjoyed. The drive up the coast from Northern California to Astoria, Oregon was an incredible experience.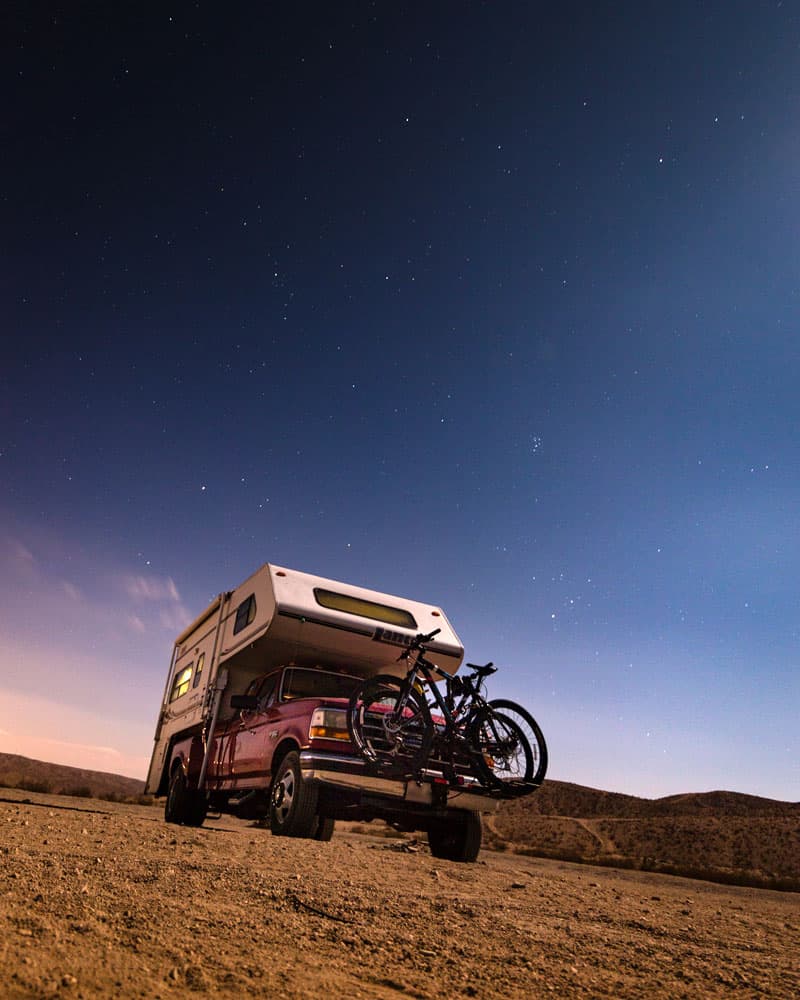 Above: Free OHV BLM Dry Camping, Barstow, California.
TCM: We can certainly vouch for Utah's National Parks, the Columbia River Gorge, and the west coast drive. They are all spectacular truck camping experiences. Is there anything else that you'd like to share?
Cayetano: Starting a full-time truck camping adventure is a radical experience. You can only prepare for it so much. You need to be ready for surprises. Good and bad things happen on the road. At the end of the day, more good things happen.
To live full-time on the road, you really have to like your partner. We really enjoy exploring and discovering things together. It's a good relationship test, that's for sure.
Being young, we find ourselves feeling a little isolated from our peers on the road. Our work constraints don't allow us to socialize and meet more people. We also find that we are often the youngest people in the campground. More young people should try this amazing lifestyle.
Christelle and Cayetano's Rig
Truck: 1995 Ford F350 XLT Dually 7.5L V8 EFI, Extended Cab, 4×2, Gasoline, Dual Rear Wheel, Long Bed
Camper: 2002 Lance 1130
Tie-Downs and Turnbuckles: Torklift Custom Frame-mounted Camper Tie-downs
Suspension: None, apart from towing package
Gear: Hollywood Racks Sportrider Se2 2-bike Rack – Front