If you think every article needs a sensational angle, we challenge you to click this post.  Meet your fellow truck campers.  They may not be celebrities, cliffhangers, or continent crossers, but they are deeply inspiring, idea sharing, and gotta-go-there bucket list creating.  Don't miss out.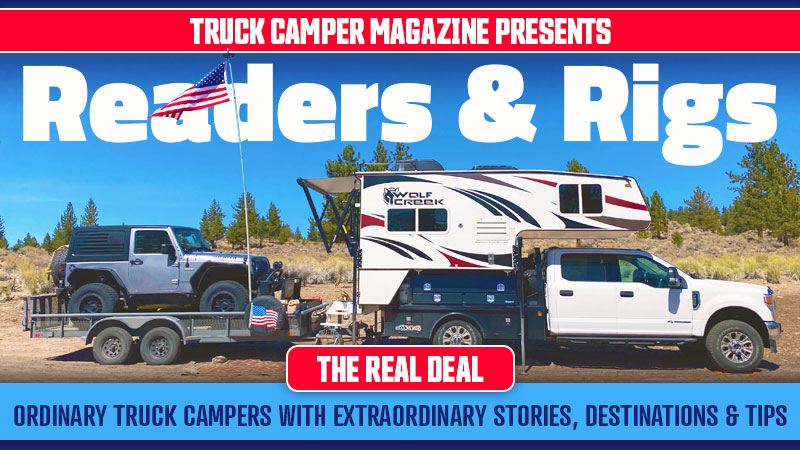 From day one of Truck Camper Magazine, we set out to feature the lifestyles of fellow truck campers.  For starters, we wanted to know how other truck campers got into truck camping, what they did during their travels, and where they recommended exploring.  Believe it or not, back in the mid-2000s it was nearly impossible to find truck camping lifestyle stories like this.  Not any more.
Over the years and many dozens of lifestyle features, we noticed that some lifestyle stories were read more than others.  Digging in, it was clear that lifestyle stories with a unique and extreme hook got the clicks.  No longer was it enough to feature a fellow truck camper and their travels.  Now our readers wanted an angle; the more over-the-top, the better.
From that point, we upped the ante.  Enter more extreme-rigs, world-travelers, rocket launchers, race car drivers, and death-defying rock climbers.  Before pursuing a lifestyle story we would ask, "What's the angle?"  If we didn't think our readers would click on the story, we skipped it.  Sadly, a lot of otherwise good stories have been passed over – just not compelling enough.
At the end of 2021, Angela and I had a number of conversations about how we would like to celebrate TCM's upcoming 15th Anniversary.  At the top of the list was to get back to highlighting the real stories of regular truck campers.  Not just the rocket launchers, around-the-world explorers, and famous celebrities, but the amazing truck camping folks we meet at the rallies and on the road.
In reality, most of us don't have some over-the-top unique angle to our truck camping lifestyle.  We have a truck and camper because we enjoy the go anywhere, camp anywhere, and tow anything versatility.  Add to that a love for travel, adventure, and maybe a hobby or two; photography, fishing, geocaching, etc.  There's a good reason why these and other more common pursuits are so popular; they're endlessly fun, richly rewarding, and life-affirming.  We love them too.
This story is for those of us who remain curious about our fellow truck campers; how they got into truck campers, what they do while they travel, and where they recommend we go.  No unique angle, just real-life truck campers, and their stories.  And surprise, surprise – there are some inspiring modifications, bucket-list worthy recommendations, and cool-lookin' rigs along the way.
Karen and Alan Bebka
2016 Ram 3500
2016 Northern Lite 8-11 SE
Our first camper was a 2009 Adventurer 85WS that we purchased new.  We were still tenting up to that point.  We decided a truck camper would work nicely, get us off the ground and allow us to tow a small boat.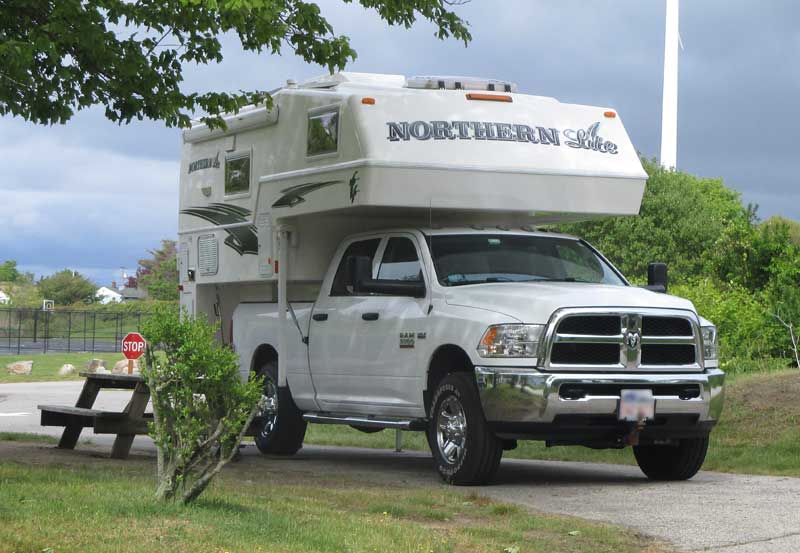 Then, we discovered Northern Lite with the clamshell fiberglass design.  That made way more sense to us to eliminate the seams except for the one around the middle.  We purchased a 2016 Northern Lite 8-11 SE.  We have had no problems whatsoever and love it.
We love having the automatic gas/electric refrigerator so we don't have to worry about having enough ice for a cooler.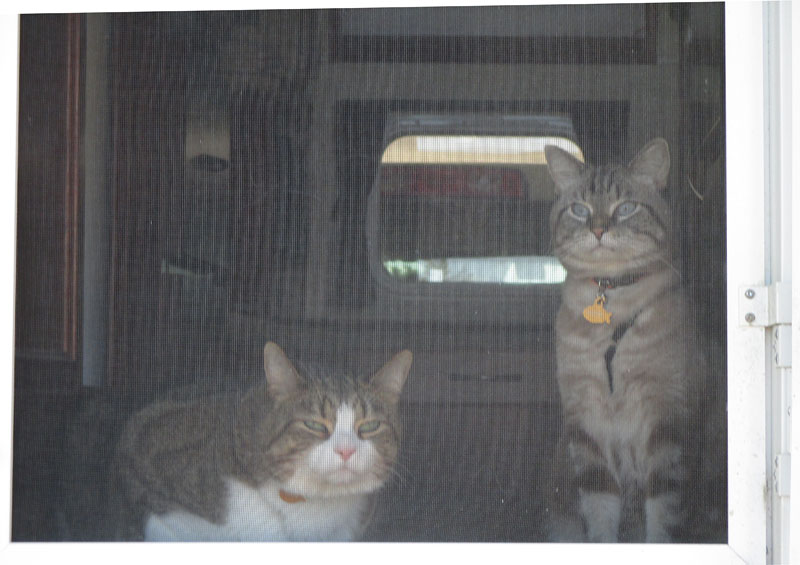 We also like having a secure, comfortable place for our two cats, Luke and Salem, when we leave the campsite to do some exploring.  Luke thinks camping is just the inside of the camper, but Salem ventures out on his leash a little if there are no dogs nearby.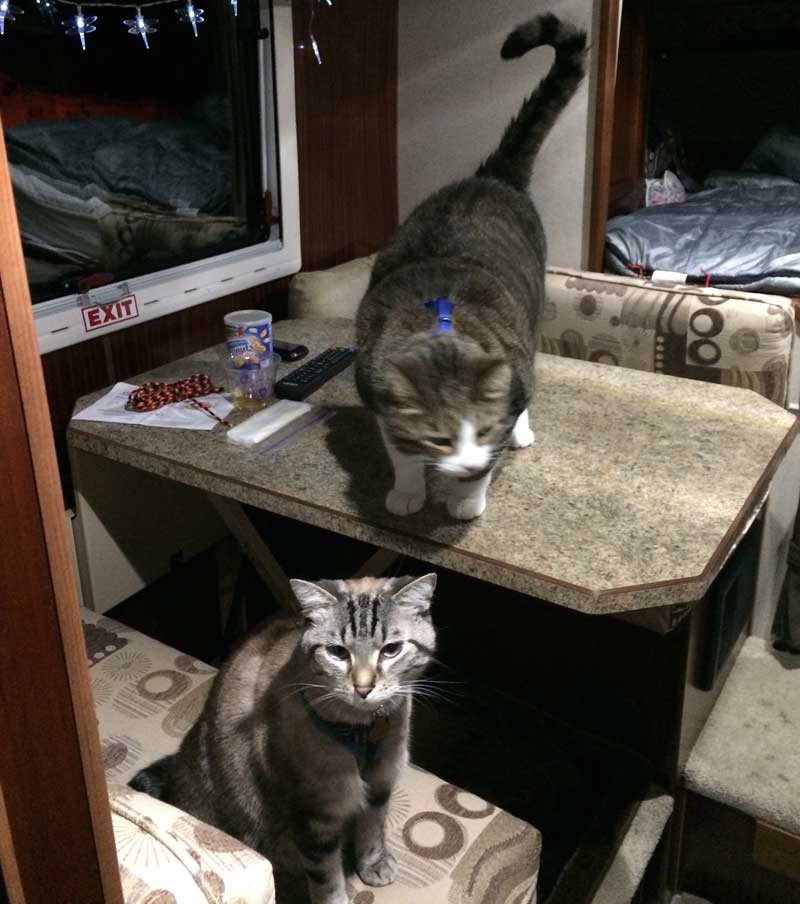 We installed a trailer hitch to the front of the truck for a bike carrier.  We also use a luggage carrier to transport firewood purchased at the campground when we don't take the camper off the truck.
We enjoy Moosehead Lake in Maine when we tow the boat.  We frequent state parks in Massachusetts for bicycling.
Tim Pollard
2014 Toyota Tacoma
2016 Outtfitter Caribou Lite
I'm blessed to be the CEO of a successful global consulting firm. My work takes me all over the world constantly, frantically, and (pre-covid at least) puts me on planes for over 150,000-miles each year.  My world is too big and often utterly overwhelming.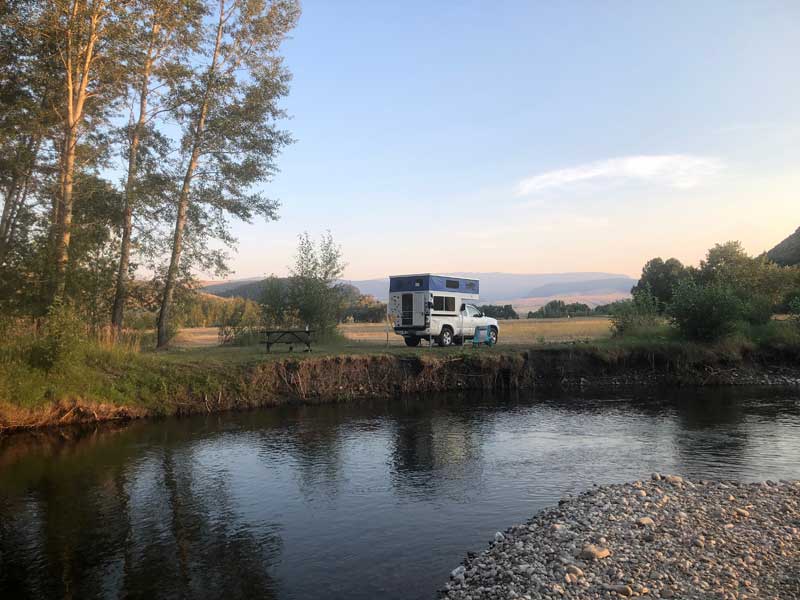 Above: Boulder River in Montana
It took me three years to realize the whole purpose of my camper was my subconscious attempt to create the exact opposite existence.  My camper reduces my world.  It shrinks it.  It makes it tiny and controllable.
My camper is – and I mean this literally – like the cell of a monastery.  In my camper I don't have to think about the vaccine passport I need to get into France or the legalities of doing business in China.  My world shrinks to cook, eat, wash up, sleep, fish, tidy, and monitor propane and water.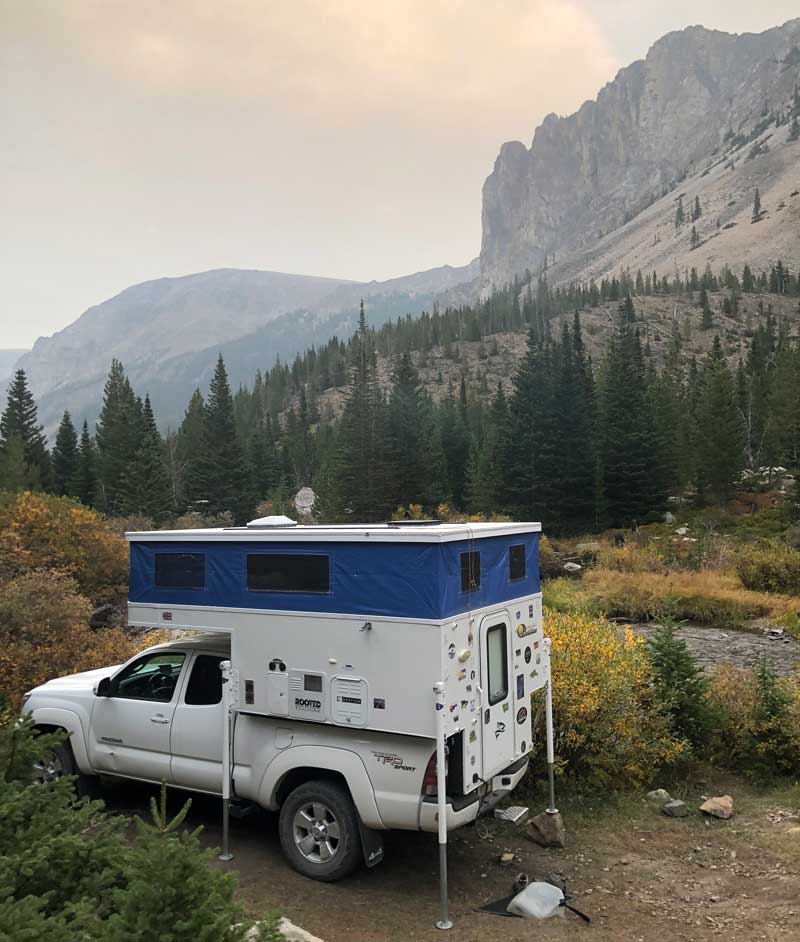 Above: Upper reaches of Rock Creek near Red Lodge, Montana
I could have bought any camper I wanted, but I opted for the smallest, simplest, and least complicated I could find and it sits on top of my beloved Tacoma.
My camper is my haven, and for a little while at least, (one night a week, always solo) it takes all the madness and complexity out of my world, replacing it with peace and simplicity.  Maybe I'm not the only one.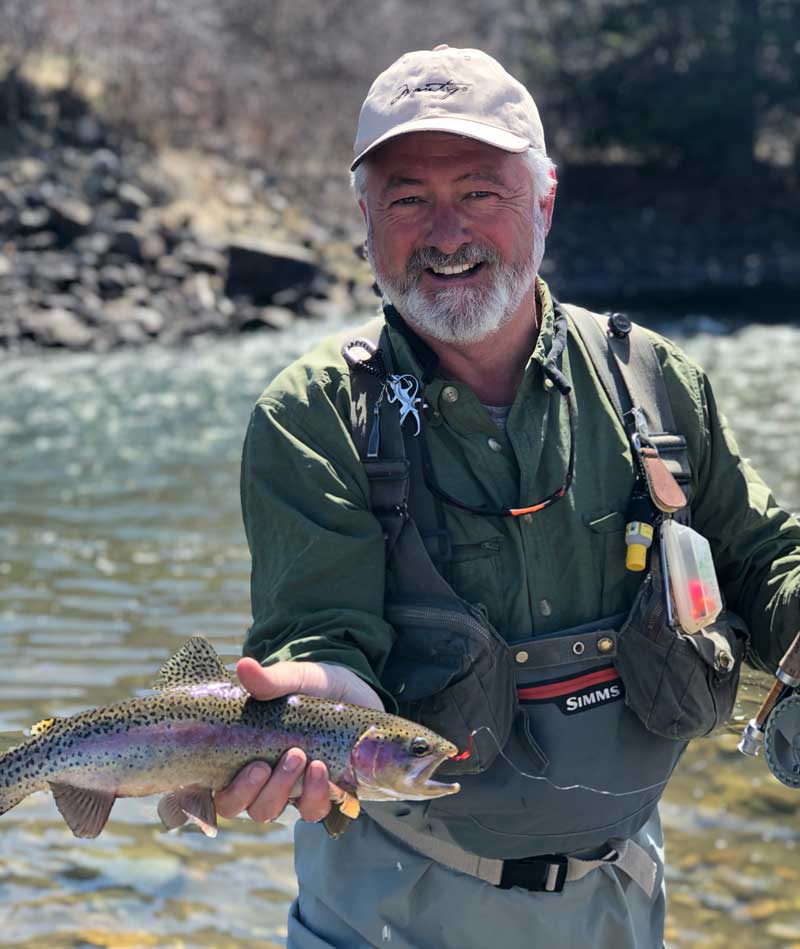 I never go to a campsite.  I always boondock.  I park by great Montana trout streams and fish and hike.
Esther Fiddes
2001 Chevy 2500 HD
2006 Lance 915 Lite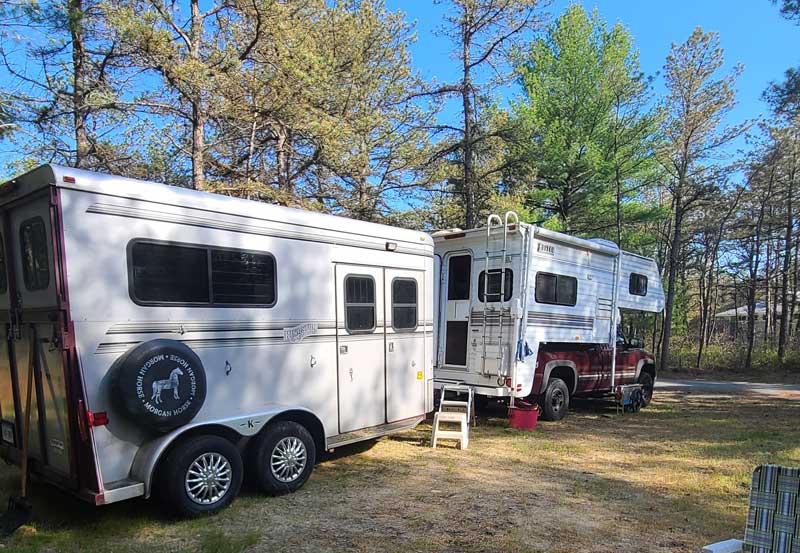 We horse camp for a total of more than one month a year.  Our Lance Camper gives us comfort and amenities no matter where we are.  We also haul our horse trailer.  Once the camping season is over, we can use the truck and trailer without the camper.  A de-mountable truck camper gives us options.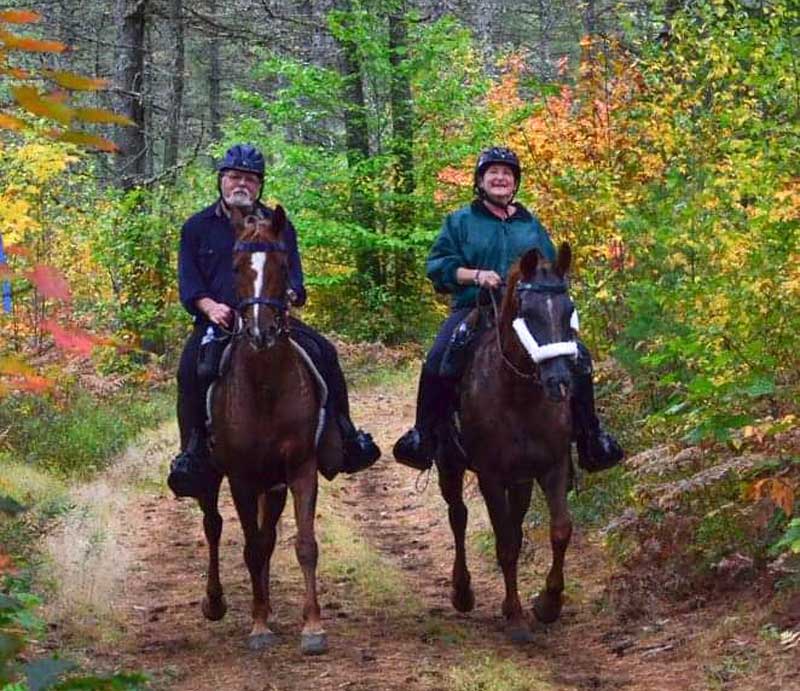 Above: Myles Standish State Forest, Massachusetts
We added an extended anti-sway hitch and added multiple suspension improvements.  We have a large solar panel that keeps the battery charged.  We bought a specialty step ladder because you can't use steps with the trailer attached.
We carry portable electric pens for the horses and everything else they need, in the horse trailer.  For the most part, we cook outside on a portable Webber Baby-Q gas grill.  The ample-sized refrigerator in the Lance is terrific.
We mainly travel to Vermont, Maine, New Hampshire, New York, Massachusetts, and Pennsylvania.  We particularly love Otter Creek Horse Trails in Glenfield, New York, and Myles Standish State Forest in Massachusetts.  Both areas have huge trail systems, with well-maintained trails.  They are very different topography, but each is lovely.
Beth and Greg Hill
2021 Ford F-350
2020 Wolf Creek 850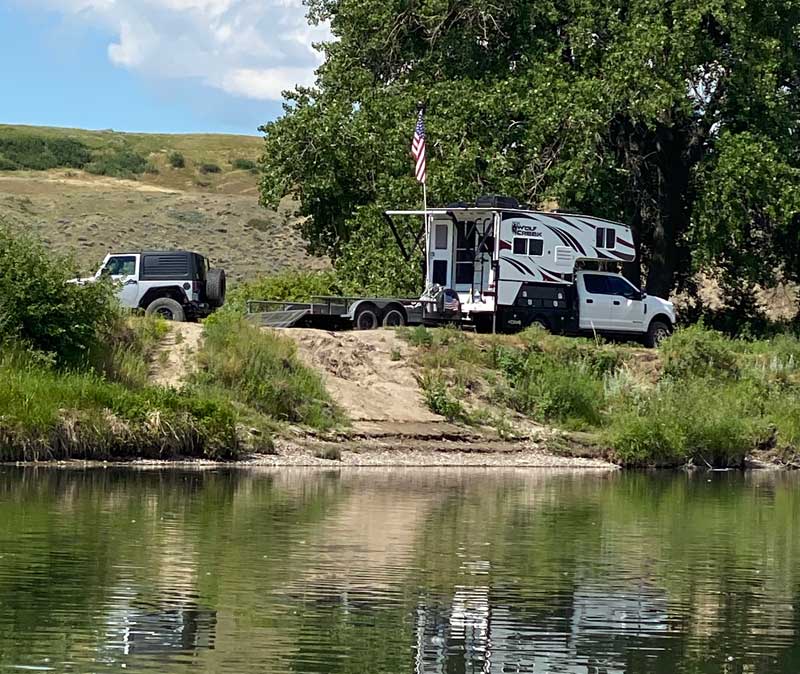 Above: Upper Missouri River Breaks, BLM Land, Montana
Truck camping allows my wife and I to tow our Jeep when we explore new places.  We have a 2021 Ford F-350 cab and chassis flatbed with a 2020 Wolf Creek 850.  We mounted storage boxes along the sides to give us plenty of space for everything we need.
We ordered the truck from the factory as a cab/chassis and it came with no bed.  We had a 9.5-foot Northstar flatbed installed and then we added some high-side boxes that fit perfectly.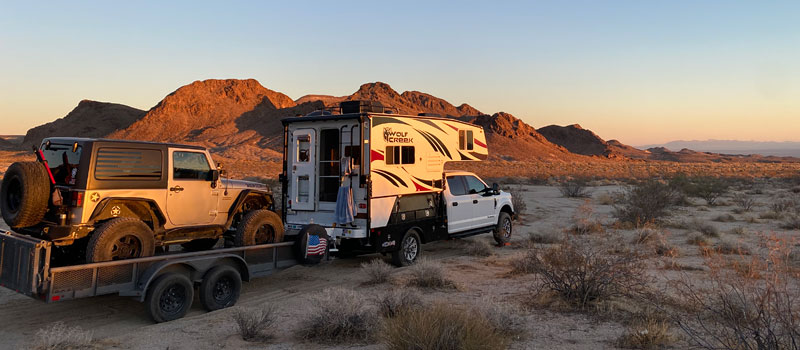 Above: Mojave Desert, BLM Land, California
My friend is a fabricator and built a U-shaped bracket that holds the camper from sliding around.  It is bolted to the frame.  This gives us plenty of storage and a place for a 10-pound LP tank on the passenger's side (for the griddle and BBQ) and two 5-gallon water jugs on the driver's side.  We carry enough water to last 8 to 10-days before we need to refill and empty tanks.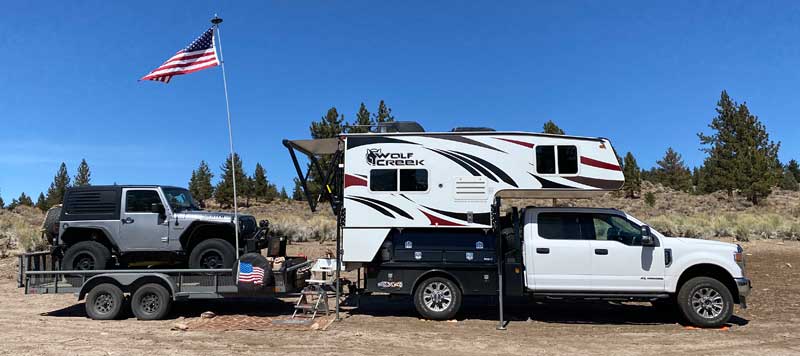 Above: Southeast of Crowley Lake, Eastern Sierras, California
We have been all over the western US, but our favorite places are central Montana at Missouri River Breaks, the Mackay, Idaho area, the Four Corners area, and the Eastern Sierras.  The boondocking in these areas is second to none.
Susan and Gerry
2004 Ford F350
1996 Northern Lite 8.5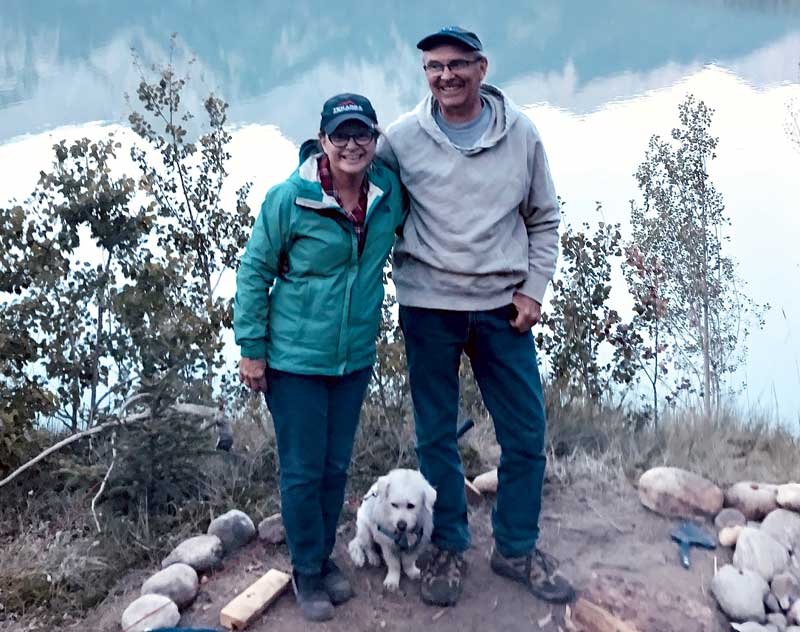 Above: Boeing, Susan, and Gerry at Lake Abraham
We became the owners of a little dog, Boeing, and were frustrated by the ridiculous rates hotels and motels wanted for pet-friendly rooms in the Canadian mountain towns.  Already having a one-ton truck, we found a reasonably priced used Northern Lite 8.5 that has since opened our eyes to some fantastic travel destinations.
Our Northern Lite has been retrofitted with a Stable Lift.  It is great for loading and unloading but has over-stressed the camper's front wall due to our poor understanding of how to tension it.  We will fix that this winter and be off again for more adventures next summer.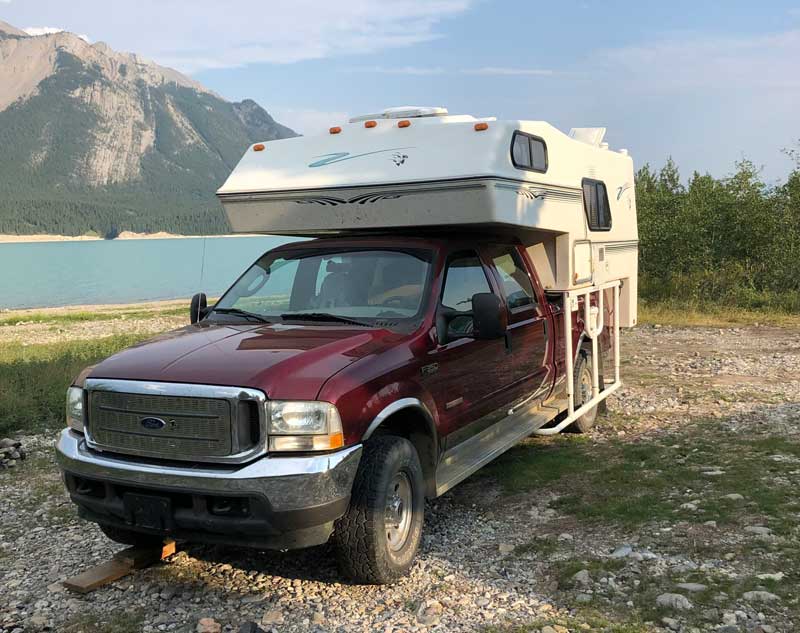 We like boondocking in the Rockies where the views are great and the cost of campsites is zero.  Abraham Lake is one of our favorites for boondocking but Kananaskis Lakes, Castle Falls, Shunda Lake, Banff National Park and Waterton Lake campgrounds are some of the special places we have also been to.

Above: Boondocking at a Lake Superior boat yard found on the iOverlander app
We also completed a cross-country trip in our very big country of Canada not worrying about how far to go on any given day to find a place for the night.
Grant and Linda Sorge
2014 GMC Sierra 3500
1996 Weekender by Skyline restored
We have a truck camper to be more flexible about where we can go and the places we can camp.  It is way less stressful and easier to travel in and with than our 30-foot 5th wheel.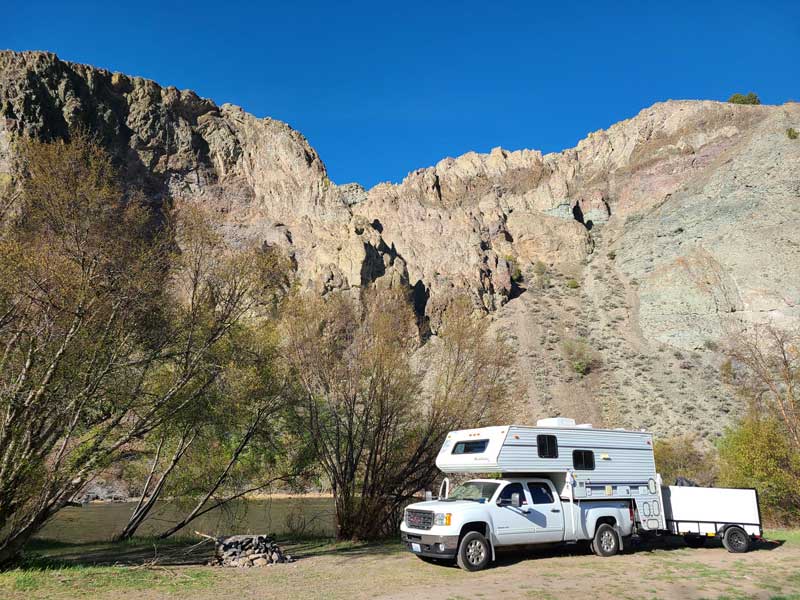 Above: 1996 Weekender by Skyline
We also get better gas mileage and don't have to worry about height clearances.  The truck camper is 11'3″ and the fifth wheel is 12'5".  Outside Reno, Nevada, our 5th wheel vent cover let us know the gas station's roof was unmarked and only 12-feet tall.
We have our 2014 GMC Sierra HD 3500 four wheel drive, four-door truck to easily carry our 11-foot 1996 Weekender by Skyline.  We also tow a Big Tex 5×8 trailer that holds my BMW F800 motorcycle, generator, chairs, bicycles, 10×10 canopy, firewood, air compressor, and gear.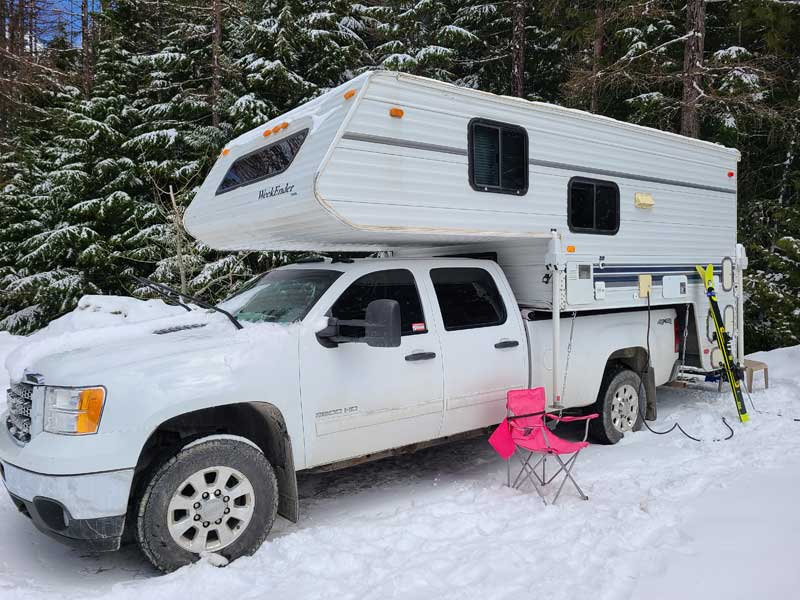 Above: Skiing, 49-degrees, North in Chewelah, Washington
We've done some modifications that we have seen in Truck Camper Magazine such as bicycles mounted in the dinette when we don't take the small trailer.  We have also added 160-watts solar panels which have been very helpful and provide plenty of effortless power to the whole camper.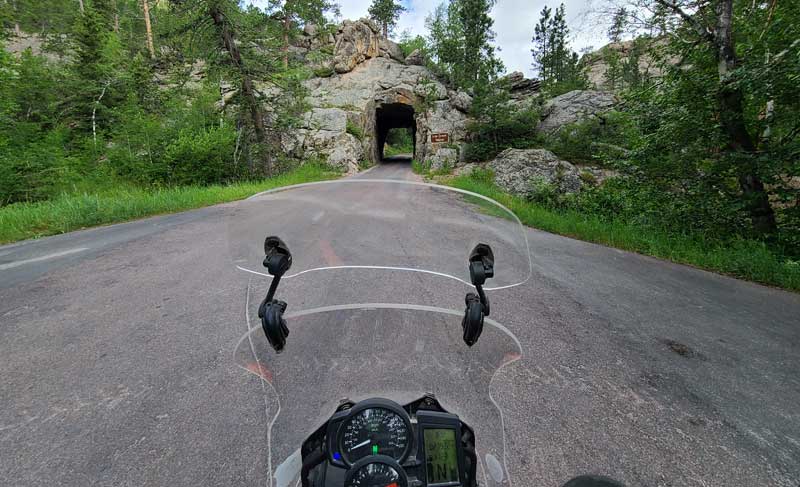 We have enjoyed South Dakota's Iron Mountain Road on our motorcycle near Mt. Rushmore. It's 17-miles, 314 curves, 14 switchbacks, 3 pigtails, 3 tunnels, 2 splits, and 4 Presidents (going counterclockwise Mt. Rushmore is framed in the last 2 tunnels).  It is the best riding road.  Needles Highway in that area is another road with small rock-cut tunnels where you get to 'thread the needle'.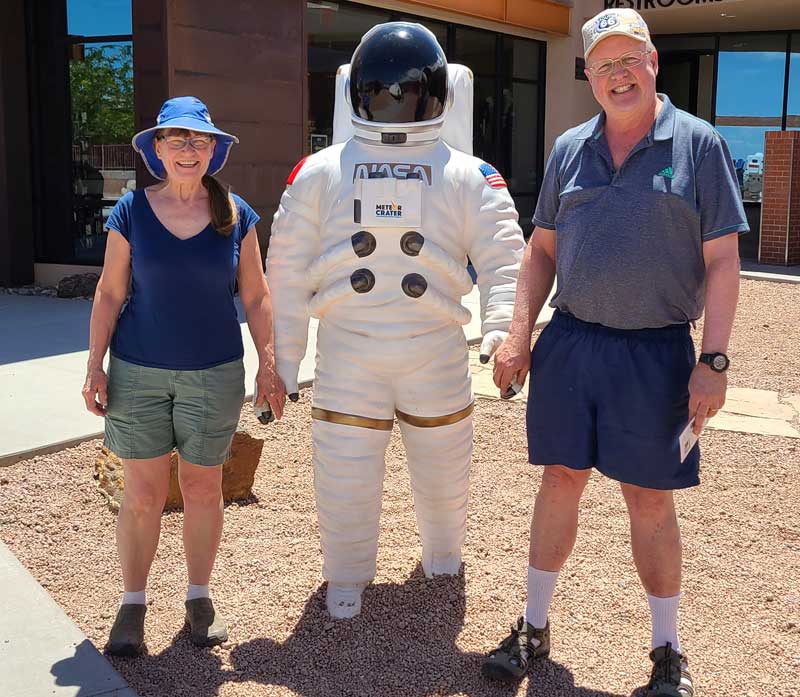 Above: Meteor Crater, Barringer Space Museum, Winslow, Arizona
For quiet, we go into Idaho over the Bitterroot Mountains dropping down the narrow steep road to an eight-spot campground few know about.  It is along the Salmon River with high cliffs surrounding it and has a huge bird diversity.  We use an app called Ultimate Campgrounds (UC Public CG) that lists an amazing variety of boondocking locations all over the United States and Canada.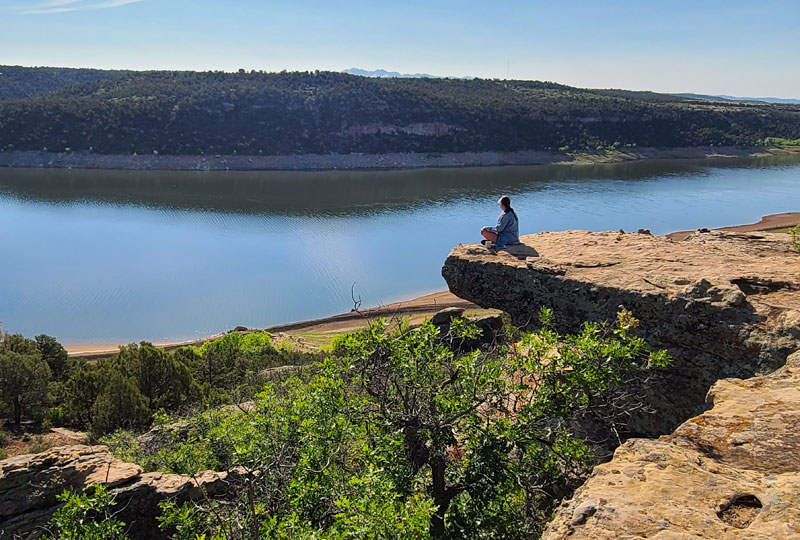 Above: Pinion Campsites at the McPhee Recreation Complex in Colorado.  There were two campgrounds right next to each other.  Big Reservoir which is in the picture.  There are easy well-marked hikes all along the Reservoir.  Clean nice restrooms, no electricity, reservations are taken.
We love boondocking and finding secluded places with amazing views.  One of our favorite destinations is Capitol Reef.
Jeremy Nelson
2015 Chevrolet 2500HD
2002 Lance Lite 845
Truck camping for me is going to bed when it is cold out and being warm as I can be in my camper.  I love watching the sunrise over the mountains, and knowing there is an adventure waiting for me.
I enjoy hiking and the views.  I have visited Zion, Pine Valley, Lake Mead in Nevada and Arizona, Mt Charleston, Duck Creek.  I enjoy the southwest and southern California.  If there is a group of truck campers here in Las Vegas, I would like to connect.
Larry Robson
2000 Dodge 2500
2018 Wolf Creek 850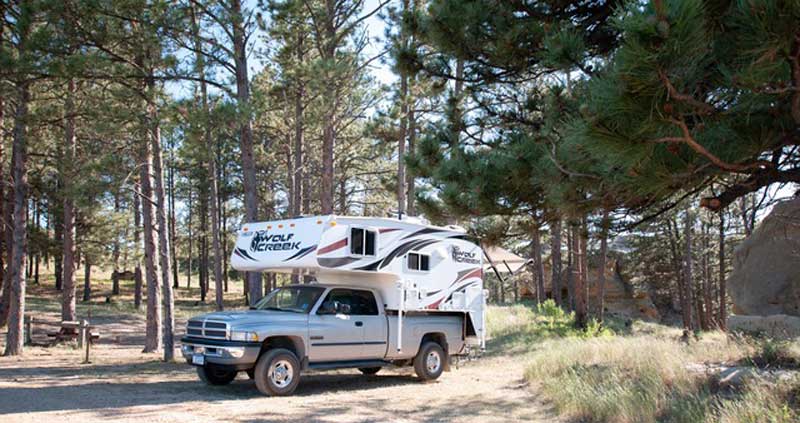 Above: Campground Site 3, Medicine Rocks State Park in eastern Montana
As a photographer, consider my camper, my truck, and all of my photo equipment to be a means to an end.  By end, I mean the images I have captured.  No matter what my purpose for traveling is, my camper allows me to travel more conveniently and with less expense.  I really appreciate the go-anywhere capability.
I visit Yellowstone National Park as often as I can because I live about two hours away.  In 2020 I visited Hebgen Lake area located east of the town of West Yellowstone, Montana, and Yellowstone Park.
The purpose of that trip was to obtain photos of wild animals that my wife could use in her artwork.  Unfortunately, we never saw wild animals on that trip, but it did allow us to visit the Hebgen Lake area.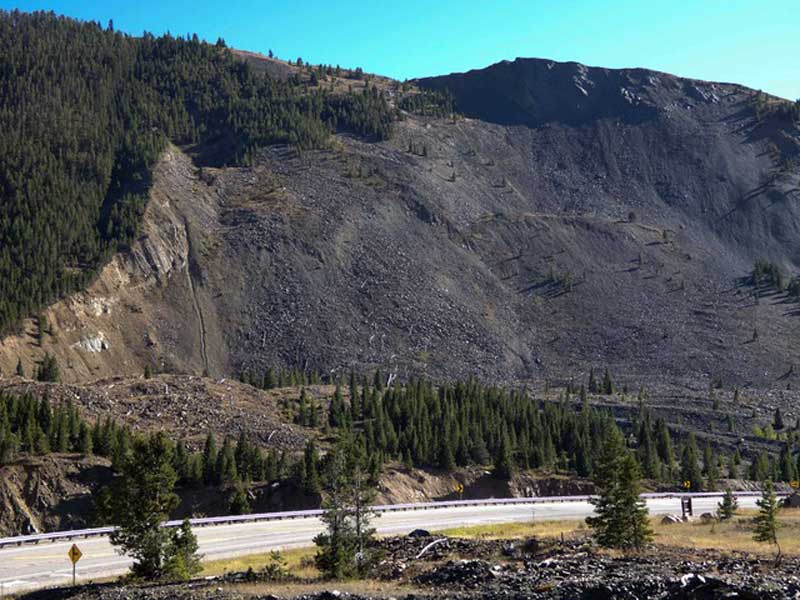 Above: The mountain that gave way, Hebgen Lake earthquake, Montana, 1959
An earthquake and massive landslide struck the area on the night of August 19, 1959.  In all, over 20 tourists were killed.  Many remain buried under the massive landslide.  There is a U.S. Forest Service Visitor Center there to honor the victims.  For those who have plans to visit Yellowstone National Park in the future, the site is worthy of visiting in remembrance of the victims.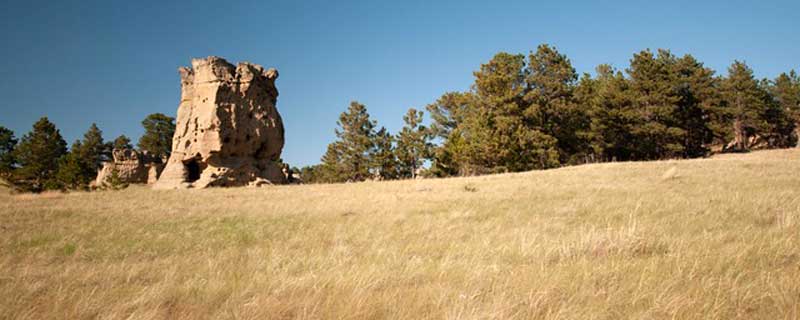 In June 2021, I made a trip to Medicine Rocks State Park (pictured above) in southeastern Montana.  The park is located between the towns of Baker and Ekalaka, Montana.  It's a unique island of ponderosa pine and sandstone formations surrounded by miles of prairie.  The area is also of spiritual significance to Native Americans who have inhabited the region for hundreds of years.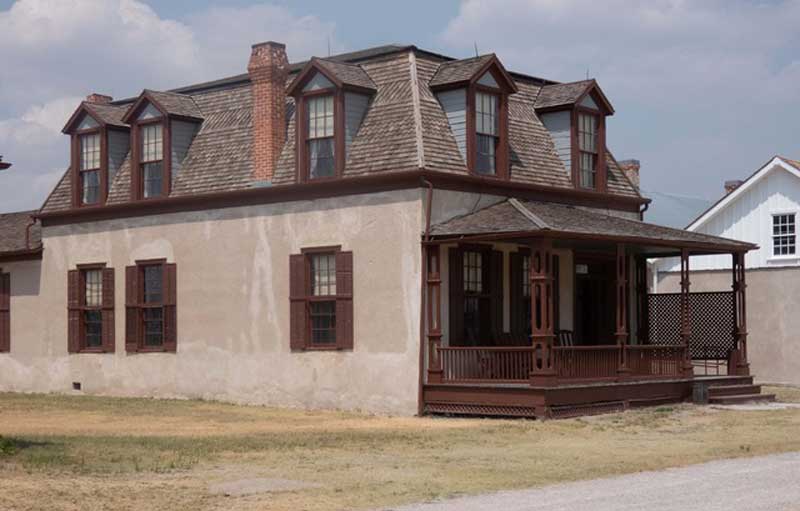 Above: Fort Laramie Historic Site, Wyoming
In August 2021, I made an excursion into Wyoming with the sole intent of photographing historic sites, including old military forts. While some of the military forts no longer exist (except, perhaps, for the existence of a stone monument), others have buildings still intact.  Fort Laramie is a prime example.  Some of the buildings there exist either as they were originally built or have been restored.  Other structures are in various stages of decay.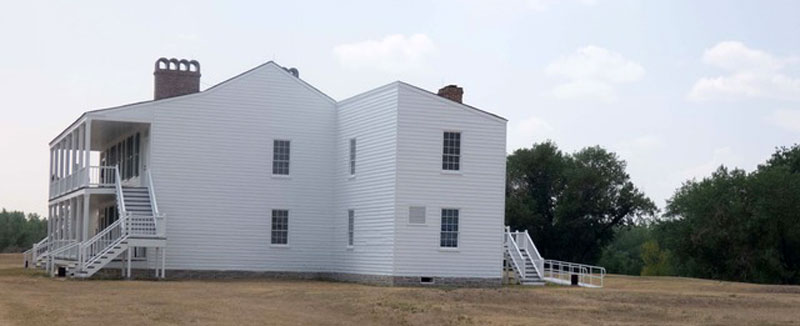 Above: Fort Laramie National Historic Site, Wyoming
Fort Laramie was my final destination.  Not to be confused with the town of Laramie, Wyoming, Fort Laramie is located northwest of the towns of Torrington, Wyoming, and Scottsbluff, Nebraska.  It was instrumental in the settling of the American West.  This fort is located along the old Oregon Trail and, along with many other historic sites in the area, is definitely worth visiting.
John Petterson
2015 Ram 1500
2018 Palomino SS-550
I only do short-term camping; usually up to a week at music festivals, bike fests, sightseeing, casinos, etc.  I'm usually away from the camper. I  only use it for sleeping, morning coffee, and occasionally, lunch.  The interaction with the neighbors is great when camping.  It's nice to not pull a trailer around and my fuel economy is greatly improved.
I made a smaller table, as seen on Truck Camper Magazine.  I'm thinking of installing an air dam under the front.  Hopefully, the MPG will improve to some degree.  I also want a better way to access the bed instead of a small step stool.
Tom and Ruthie Ralls
2009 Chevy Silverado 2500HD
2005 S&S 8SC Montana Bitterrot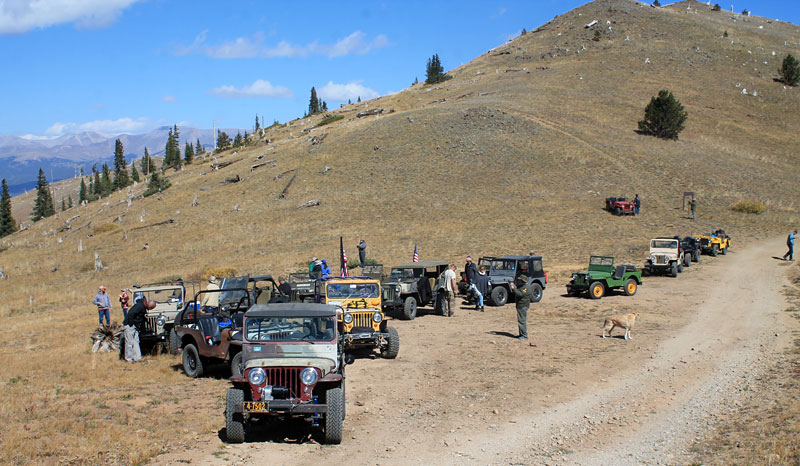 Above: End of the road with a view in Colorado
We enjoy taking our 1952 M-38 Jeep on a trailer to meet up with friends and their Jeeps.  Dispersed camping is the best in the Black Hills.  We are not rock crawling, but trail running with four-wheel drive required.  We added an extension for the trailer hitch and airbags to level the load on the pickup.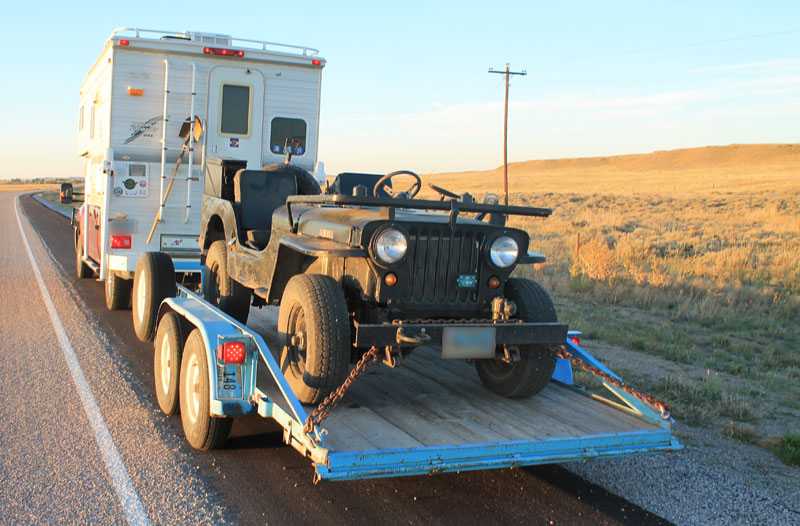 Above: US 85 in Wyoming
We have attended, "The Fall Color Tour" in Colorado several times.  It is a flat fender Jeep event based near Nathrop, Colorado.  The Fall colors tour is now limited to fifty Jeeps.  We also meet friends for a few days of Jeeping in the Black Hills each summer.
Joseph Colasanto
2015 Chevrolet Silverado 3500HD
2019 Eagle Cap 1165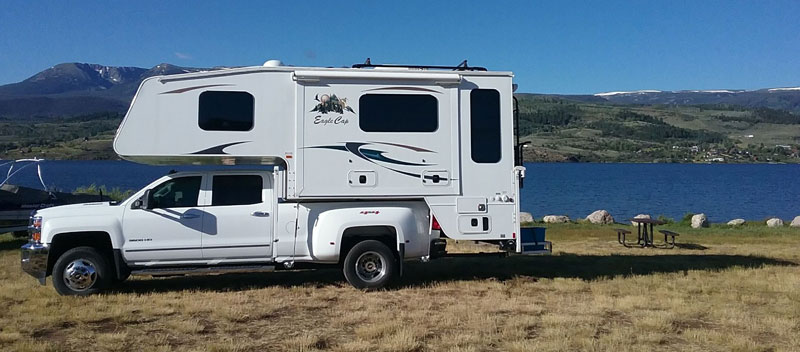 We love being outside and enjoying everything our great country offers.  Our truck camper is our escape.  Nothing beats an evening out by the campfire looking at the stars in an out-of-the-way and quiet destination.  Our paddle boards always go with us and we try to find a spot close to a lake or any other body of water to enjoy.
We have made many modifications to our rig.  Almost everyone has been published in Truck Camper Magazine.  I can say without a doubt that we have one of the most unique Eagle Cap 1165 truck campers out there.  From modifying the sleeping area to adding shelves, towel bars and upgrading the exhaust fan in the bathroom then re-doing the kitchen and cabinets (published mod in 2020) the camper fits us to a T.
This past year I removed and built a bigger book/magazine rack that matches the decor of the camper and added more solar panels for longer off-grid camping trips.  For 2022 I hope to install lithium batteries if the cost comes down.
This might be one of the most widely traveled truck campers in the US in the last two years.  When purchased in Spring 2019 it went from Arizona to the East Coast then back to Colorado.  Then we did many smaller trips in Colorado for the rest of the year.
In 2020 it should have been going to Alaska but Covid put a stop to that.  Instead, it went from Colorado to the Pacific Northwest then followed the Pacific Coast (Highway 101) from Astoria, Oregon down to California.  Once inland we outran wildfires for days coming close in Northern California and Nevada.
In 2021 Covid still wreaked havoc so we decided to spend the winter (January through April) in Galveston, Texas on the Gulf of Mexico living full-time in the camper.  It handled everything perfectly.  Then, we took a trip to the Grand Canyon before heading home.
In 2022 and 2023 we are planning trips to Orlando, Big Bend National Park, and the Granddaddy of them all, Alaska!  Covid please end.
A bad day camping always beats a good day at home doing yard work!
Steve Lindquist
2020 Ford F-350
2020 Northern Lite 10-2 EX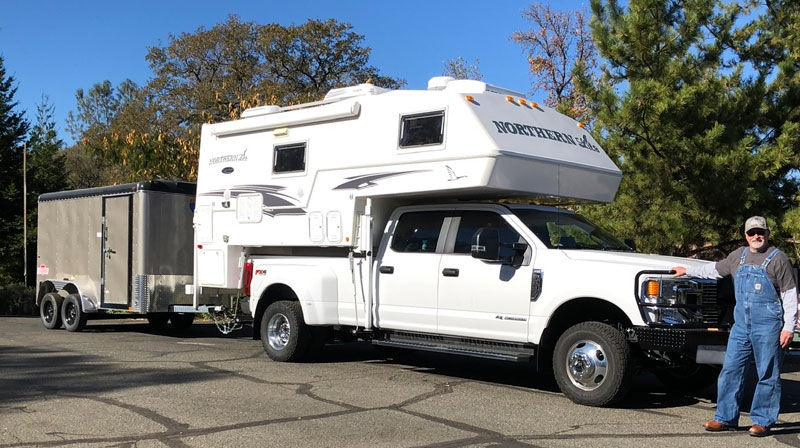 I bought my truck camper in October.  Late in November, I moved to Alaska and that was a trip of a lifetime.  I enjoy my truck camper because of the freedom to go in areas where big rigs can't go.  I like ice fishing, and riding snow machines and ATVs.
I have installed a diesel heater and next year I will increase my battery bank capacity.
Karson Branham
2008 Ford F-150
1970 Alaskan 8' (no cabover)
Having an Alaskan Camper to do on-site helicopter support and maintenance has saved a lot of extra traveling.  The camper gives me much more flexibility on the road, as well as provides a place where I can prepare quality meals and save money.
My home base is in northwest Oregon. From there I have worked in Alberta, California, Tennessee, Kentucky, Oklahoma, South Carolina, Utah, Washington, and California, as well as Oregon.  All from the comfort of my Alaskan Camper.
Jeff Buckley
2011 Ford F-250
2017 Travel Lite 625SL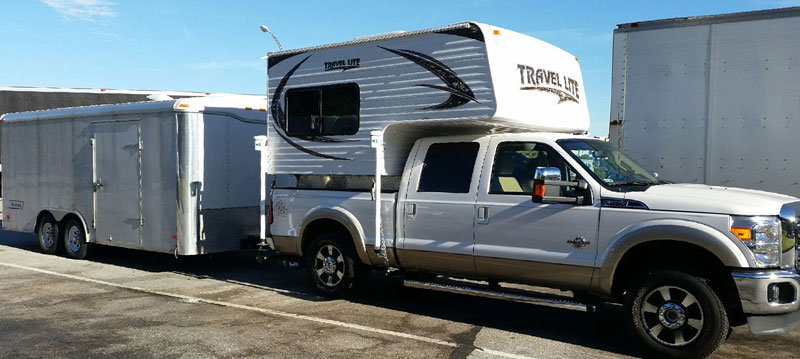 I bought a Travel Lite 625SL so that I could close the tailgate and pull a 20-foot enclosed trailer with either one of my classic cars or a trailer lot of old car parts to car shows and swap meets.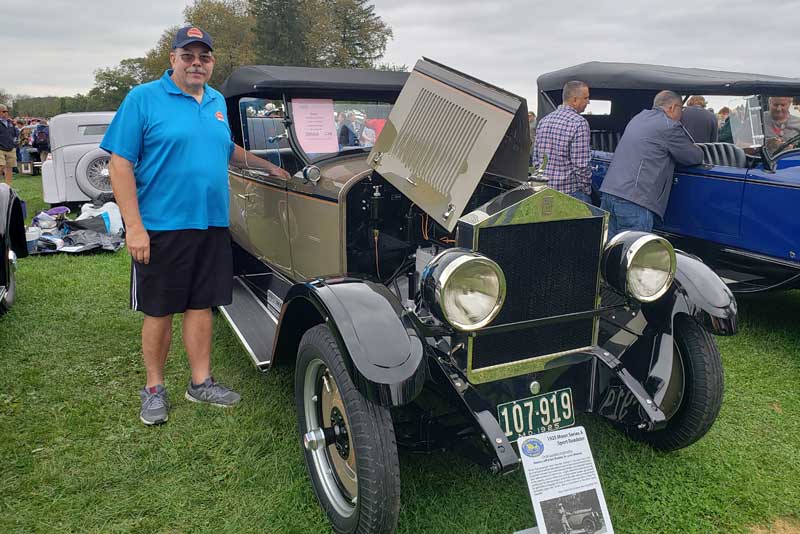 Above: AACA Hershey, PA Swap Meet 1925 Moon Series A Roadster
It's a great way to stay on my swap site with my car or car parts around me.  No hotel for me!  This means I primarily dry camp for three to eight days at a time, not including travel nights.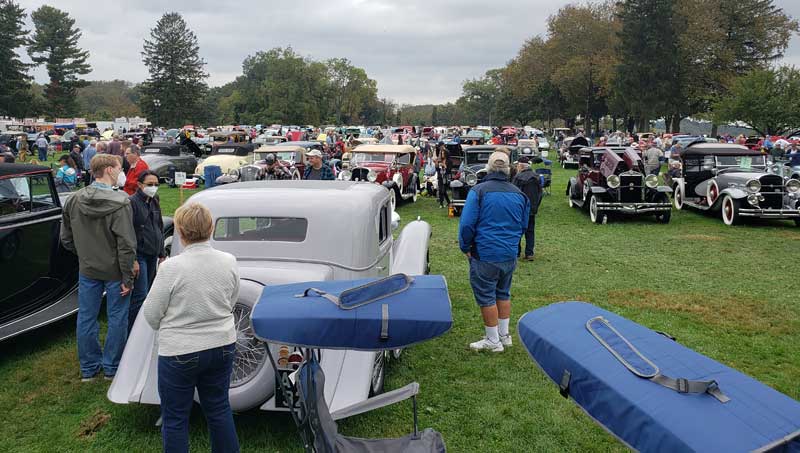 Above: AACA Hershey, PA Swap Meet Car Judging on Saturday
At some of the larger swap meets there are many campers, but very few truck campers.  I have so many people ask about the truck camper that I carry along sales brochures to hand out.  While most of the time I go by myself, I do take a car friend along to some of the events. I go all over the USA to these meets.  When I am not doing this, I do tent camping as a Boy Scout Leader with our troop.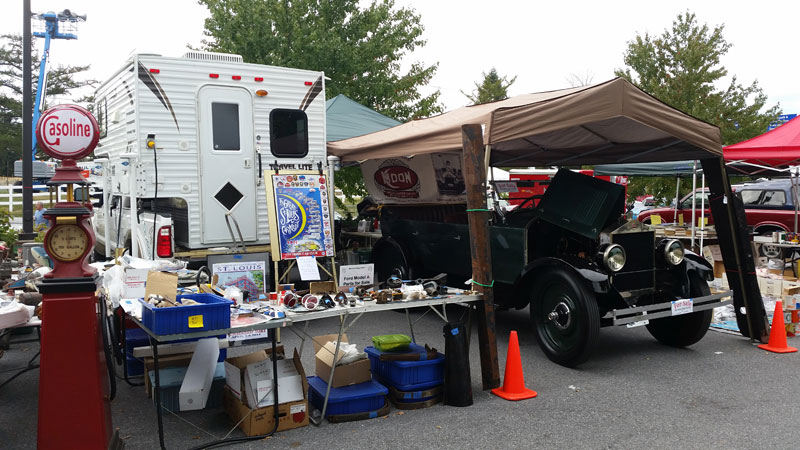 The Hershey AACA (Antique Automobile Club Of America) swap meet in Pennsylvania during the fall is the granddaddy of all meets.  Hundreds of thousands attend the event from all over the world.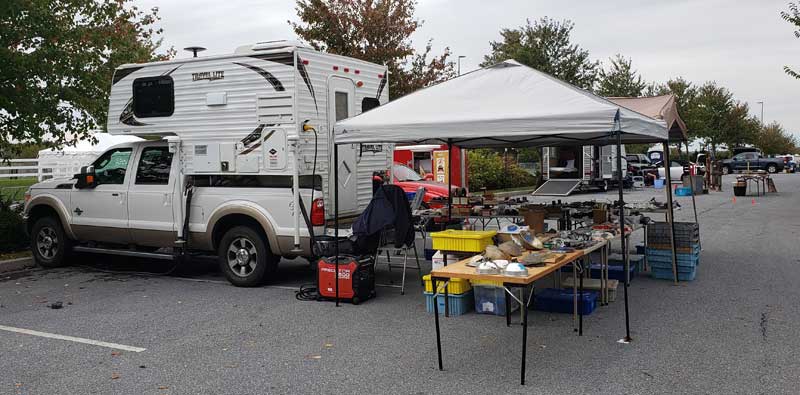 I attend other national and regional car events that change venues each year as well.  The Chickasha Oklahoma pre-war swap meet in the spring is another great event.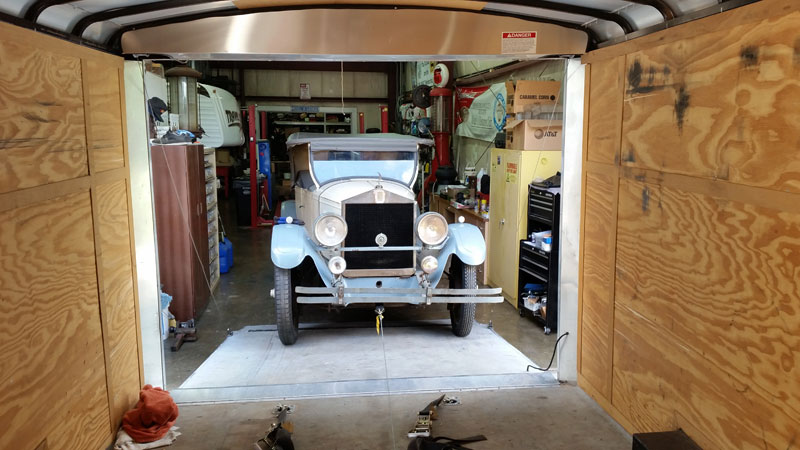 Above: Getting 1924 Moon Series A Touring ready to Deliver to new owner in New Mexico
When traveling to and from events I am a big user of Walmart's and other local spots to stay overnight.  When I get tired, I just find a rest spot and take a quick snooze before traveling again. It's a perfect setup for my needs and lifestyle.  I couldn't imagine it any other way.
Lee Cattaneo
1997 Ford F-250
1993 Sunline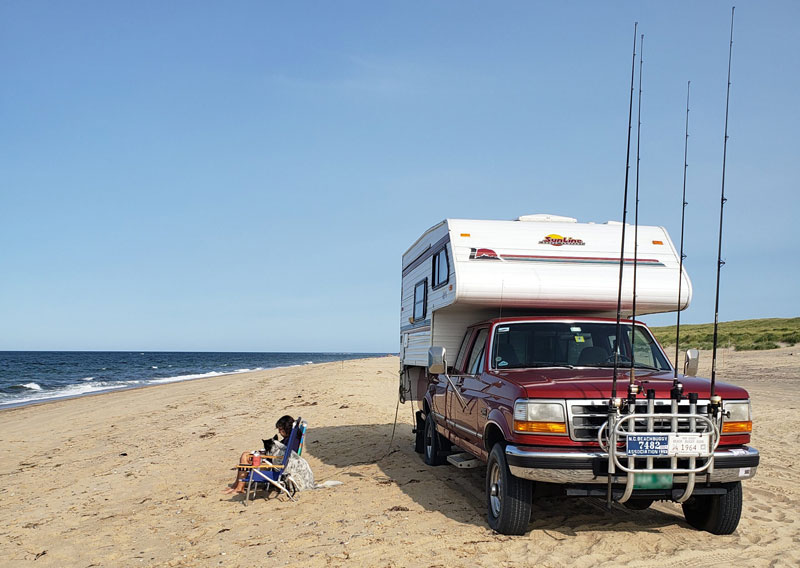 Above: Race Point Access at Cape Cod National Seashore
I bought my first camper in 1970.  My son, who was one year old at that time, had many food allergies and it required his meals to be prepared in a way that precluded us from traveling and eating in restaurants.  The truck camper solved that problem.  We liked it so much that we continued after he outgrew the allergies.
We were living near the ocean in New Jersey and I had been surf fishing since I was a kid.  I noticed several truck campers on the beach and gave it a try.  That's how I started with beach camping.
The first camper was pretty heavy so I bought an 8-foot Sunline unit that fit in the truck bed with the tailgate up.  We used that until 1993 when the kids were grown up and my wife and I wanted to stay overnight at Cape Cod National Seashore in Massachusetts.
To get an overnight pass to stay on that beach the camper had to be inspected and have a permanently mounted toilet.  No porta-potties allowed.  In order to be able to get the pass, we bought the 9.5-foot Sunline that we currently have.  It was special ordered to contain features, like an extra battery compartment.  We knew what we wanted after truck camping for 23 years. It is the last truck camper that Sunline made.
That camper was first on our 1984 Ford with a 351 cubic-inch engine, which was getting a little tired.  So, in 1997 we ordered the Ford F-250 we have now with a 7.3 diesel.  The truck is equipped with the camper package, off-road package, locking front and rear axles, manual transmission, and carpet delete; rubber mats are better for beach use.
The truck and camper are both in original condition and are in our garage when not in use.  The truck is only used for hauling the camper and has never been on snow and salt-covered roads.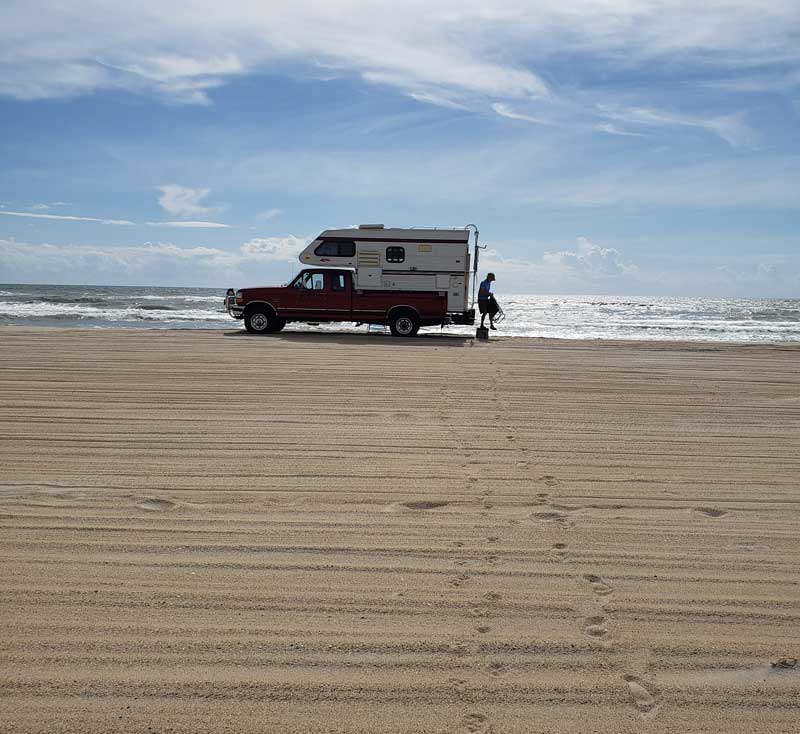 Above: Frisco access at Cape Hatteras National Seashore
Today we go surf fishing on the beaches from Cape Hatteras to Cape Cod.  In between, we fish beaches at Assateague Island in Maryland, Cape Henlopen in Delaware, and Island Beach State Park in New Jersey.  We have also been to beaches in Georgia, Florida, California, Oregon, and Washington, but have not driven the camper out on those beaches.  We stayed in the campgrounds.
I am a member of both the New Jersey and North Carolina Beach Buggy Associations which work to keep access open.  The Beach Buggy Associations are awesome.  They do cleanups several times a year and maintain good relationships with the park operators.  They also assist newbies on the beach and try to instill a culture of respect for nature.
We travel a lot for vacations and have been cross-country three times with the camper.  We have seen a lot of the backcountry.  We were planning on going to Alaska in 2021, but we all know how that worked out.
David J Abrams
2020 Ram 2500
2018 Lance 995
We owned several RV types over the years, including a Class C Winnebago that we loved.  All RV setups have limitations, but we have found a truck camper is best for us.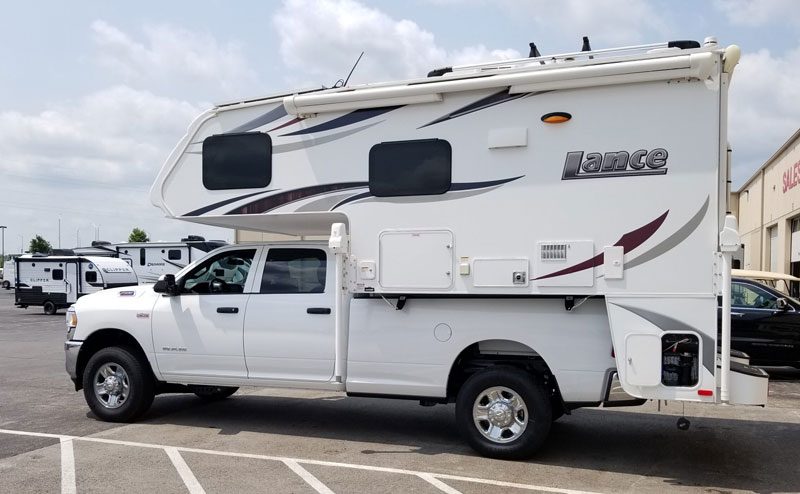 We are avid motorcyclists and travel to Colorado to ride off-road.  Our truck camper allows us to bring our motorcycles, but still have a vehicle to travel in if the weather gets bad or we simply need supplies.
We have done some Jeeping as well, and our truck allows us to bring both our Jeep and our camper with us.  Being inside of a truck camper with all the room and amenities still leaves us in awe of what can be stuffed into the back of a pickup.
We travel anywhere in Colorado for the scenery.  We also attend several band competitions each year.
Mark and Donna Zeisberg
1994 GMC K2500 6.5td
1997 Shadow Cruiser pop-up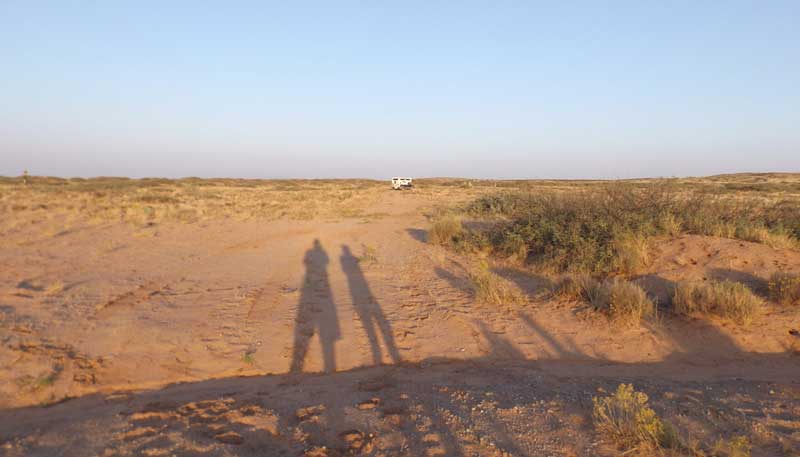 We have a truck camper to go overlanding and avoid signs of humans.  We also go for scenery and wildlife; from bugs (hopefully not irritating ones) to buffalo.  I've always said to waterfront owners while admiring their view, that it looks different every day.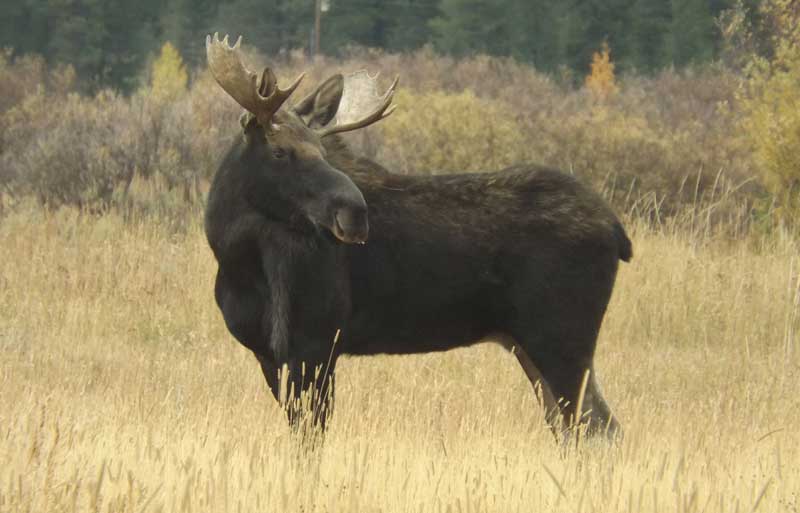 Above: North of Island Park, Idaho while boondocking on west side of Grand Teton Mountains
We also enjoy traveling southwest Utah for the colors and textures.  I can't help but take pictures of the landscapes that are so very different than that we are accustomed to.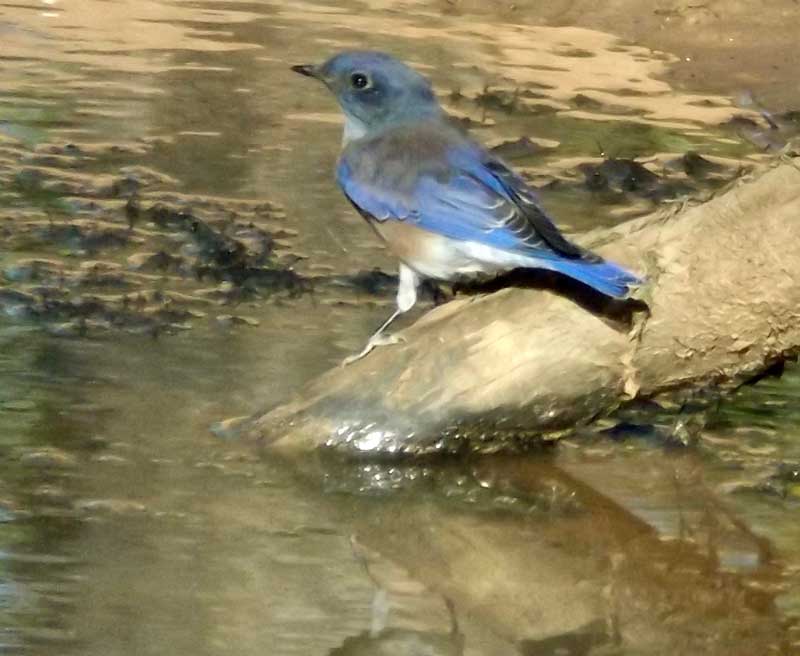 Above: Small water hole deep in the Coconino National Forest near Flagstaff, Arizona
It's also good to get a bird picture and reference a book to identify the species.

Above: BLM Outside Badlands National Park, South Dakota
I have an economy (comparatively) stock 1994 GMC 6.5 turbo diesel four-wheel drive truck with a well maintained (with minor modifications) 1997 Shadow Cruiser truck camper.  The pop-up camper allows us to listen to sounds outdoors while being sheltered.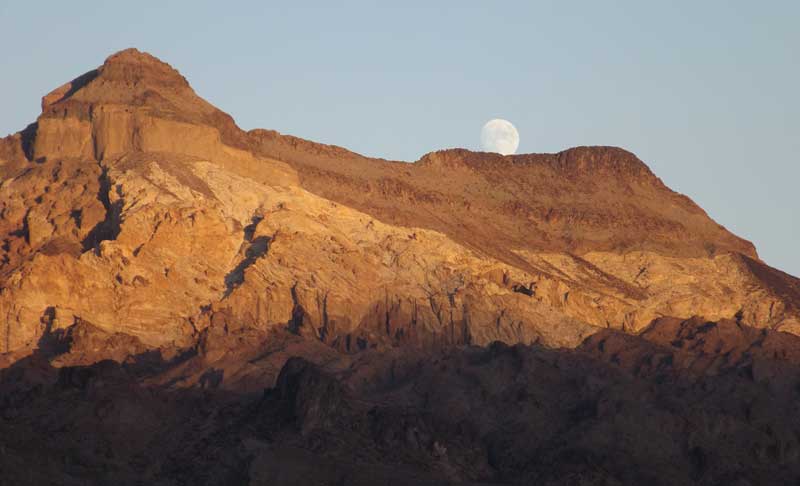 Above: Fire Mountain Cove on the Colorado River, Lake Mohave, south of Las Vegas, Nevada
We do large loops of more than 6,000-miles originating in the east and moving west to areas of less population.  Daily we are in search of that rarely traveled two-track leading to a fire ring and view on a wildlife trail.

Above: Near Marble Canyon with Vermillion Cliffs in the background
That's a boondocker's paradise. We're hoping to make it a way of life!
Reed Prior
2017 Ram 3500
2016 Arctic Fox 865
I like to take impromptu weekend trips to places of all kinds and during all seasons.  I don't want to deal with campgrounds; most close in the winter months anyway.  I want to be comfortable no matter where I'm parked for the night; whether in the woods, at a truck stop, Cabelas or Cracker Barrel.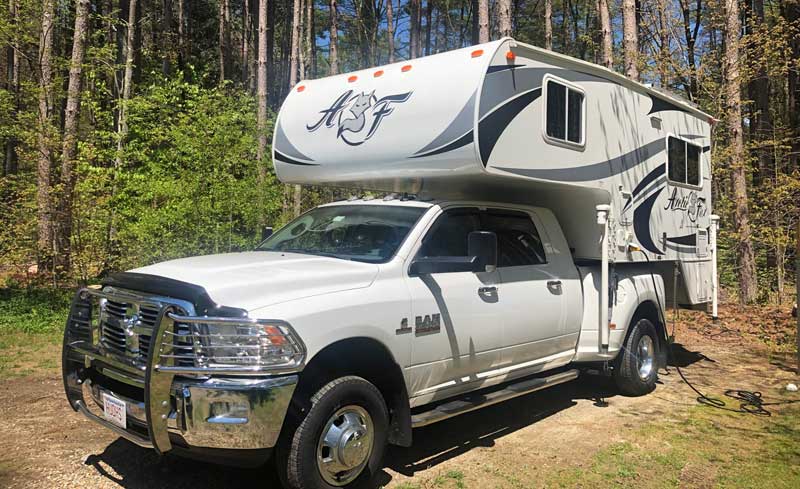 I want to be able to drive into urban areas as much as possible.  Pulling something or driving something more than 25-feet long is a nuisance.  I like the fact that I can park almost anywhere during the day (parking ramps are still unfortunately excluded), and I want to have considerable flexibility in parking overnight.
To be able to maneuver and yet be comfortable in all weather and road conditions, I have a Ram 3500 dual rear wheel diesel for my truck and an Arctic Fox 865 camper.  I avoided a slide-out model to minimize leaks and maintenance, to eliminate the need to level the rig, and to make it possible to park in places like truck stops and Walmarts without appearing to abuse the overnight privileges.
I modified the Arctic Fox 865 with heavy-duty gel batteries (will upgrade to lithium soon) 400-watts of roof solar, a 2,500-watt propane generator, and installation of two small computer fans to circulate cabin air throughout the basement area when it's extra cold outside.
I visit museums, national parks, professional meeting venues, university campus lectures, and friends and family all over the US.  A truck camper is perfect for dropping in on friends.  Park overnight in their driveway to reduce interference in their home lives, and also be able to recharge your batteries and fill your fresh tank using their garden hose.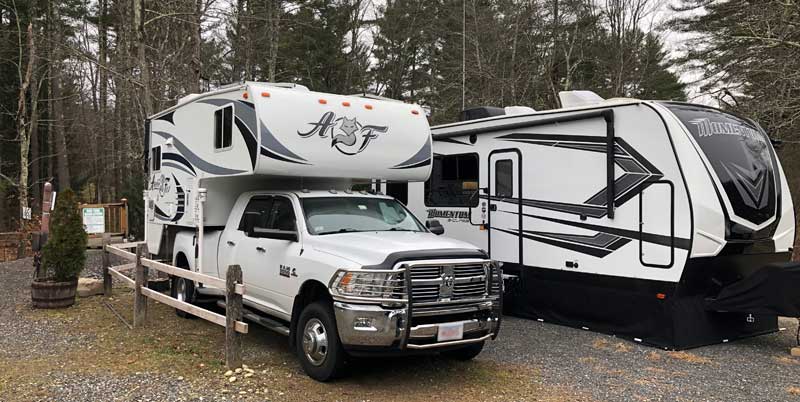 I'm a full-time RVer.  I have a 43-foot Breckinridge park model trailer on a mountain lake campsite in New Hampshire for the summers, and a modified Grand Design 21G 25-foot trailer (a toy hauler custom modified into a winter home with an extensive library and office facilities).  The latter resides year round on a four-season campsite in southern New Hampshire.
Dave Riddle
2015 Chevrolet 3500 HD
2017 Host Mammoth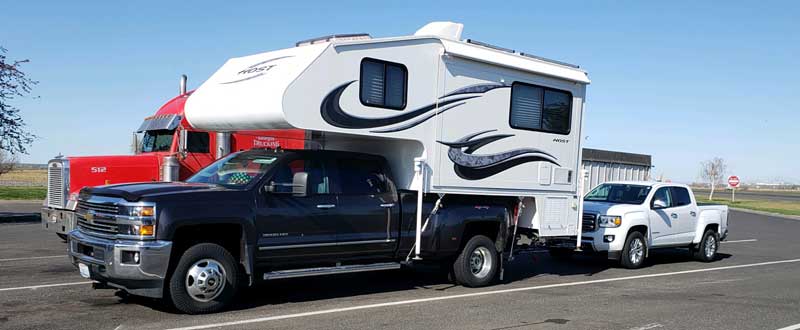 Truck camping allows us to tow a boat to various locations for fishing and water sports.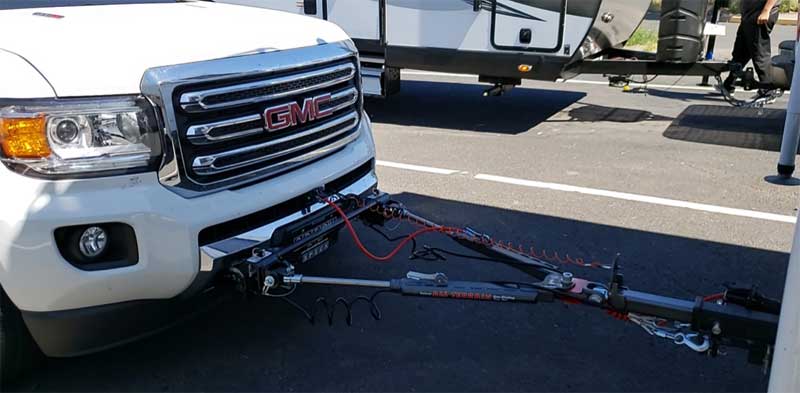 When we're not towing the boat we tow a small four wheel drive pick-up truck and spend our time rockhounding and driving the roads that the truck camper doesn't fit on.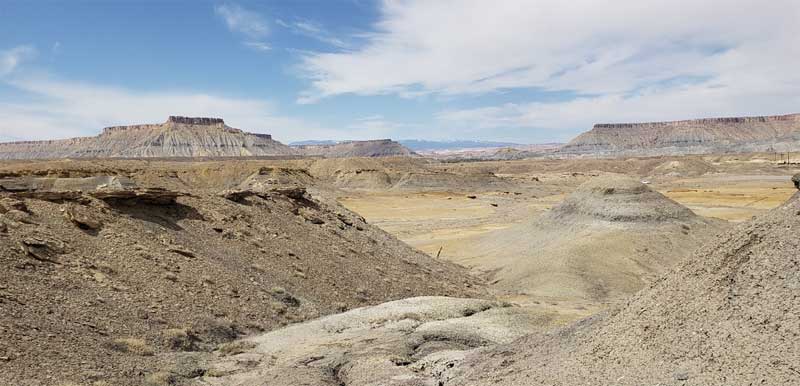 Above: View near Capitol Reef Scenic Byway; their truck camper is just to the right of the mound in the center of the picture.
Most of the backroads are gravel, rutted, and remote.  It's on these scenic backroads that we discover amazing beauty.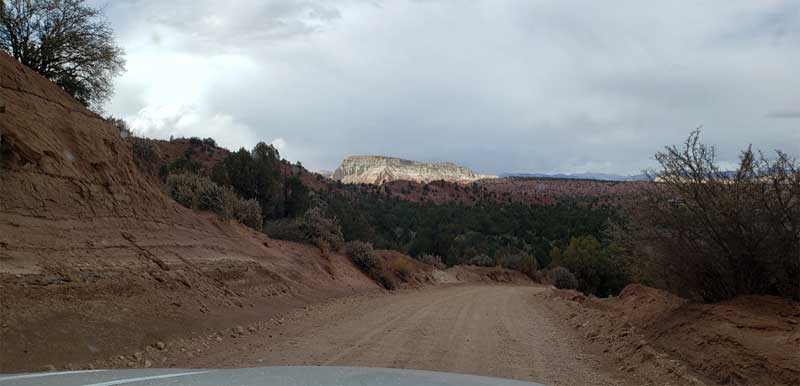 Side Note: The roads in the Grand Staircase-Escalante area can be quite deceiving in terms of their difficulty and remoteness.
The road above looks fairly tame, however, when it rains, the dry ground becomes a red sticky clay that adheres itself to everything.  The BLM folks were very specific when we talked with them.  They said if it's been raining within the last two or three days to be very careful as the roads become impassible due to the sticky mud.  They said that even the bigger four-wheel drive trucks can become mudded to the point of not being able to negotiate the muddy and slick roads.  Needless to say, we were very careful about this and didn't venture out if it looked like it was going to be a problem.
As far as remoteness goes, the scenic byways can be quite long and are very remote.  The Waterpocket Fold Road that we drove was about 60 or more miles long, most of it was dirt with long stretches of soft and deep sand.  We saw very few people (like maybe a half dozen) on this road.  Other drives were similar.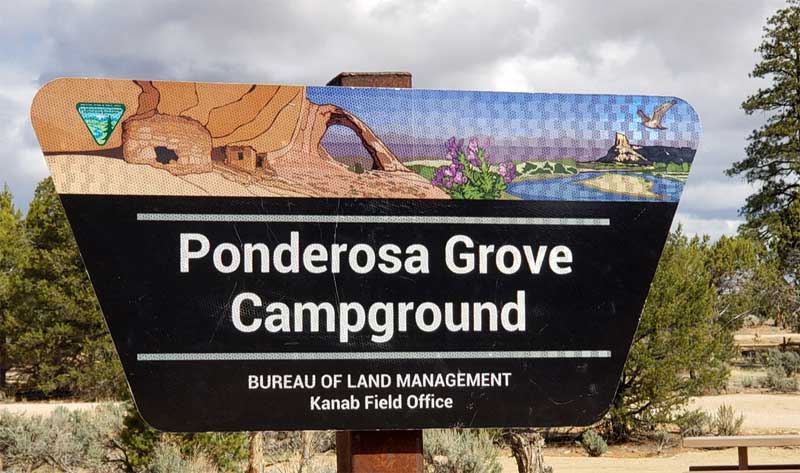 Above: BLM's Ponderosa Grove Campground was a base camp; about 15-miles from Kanab, Utah
We use a Torklift Magnum hitch and a 48-inch hitch extension for towing.  I have also have installed front Timbrens.  We have over 400-watts of solar and AGM batteries, which works really well.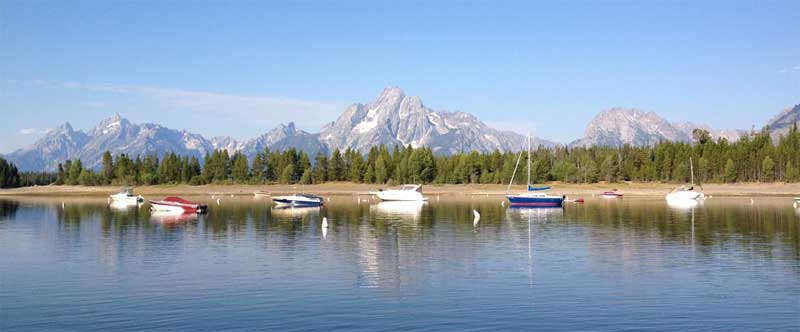 Above: Colter Bay, Grand Teton National Park with the Tetons in the background
We love boondocking and do so whenever it is possible.  We enjoy Lake Chelan, Lake Roosevelt, and Jackson Lake in the Tetons.  We also enjoy the scenic byways in Utah in the Grand Escalante area.
Marc Maria
2016 Ford F-250
2021 Capri Retreat 8-foot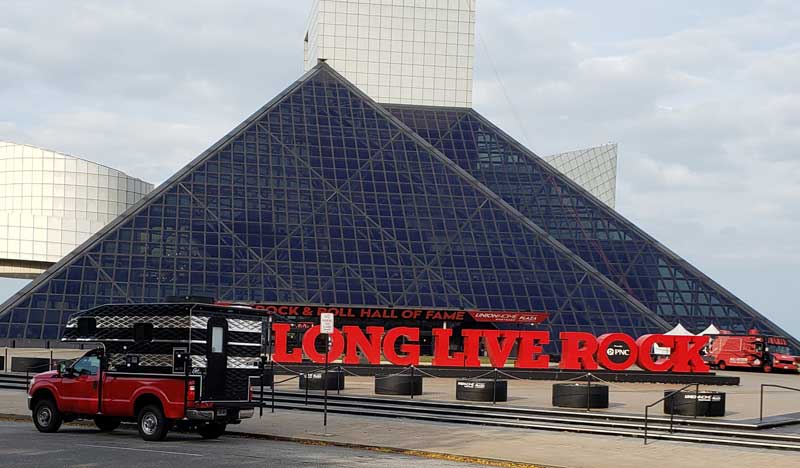 I am a firefighter and no longer live near the city I work in.  I sleep in my camper on my day in between the days I'm at the station.
I live in western Maine and work as a Fire Lieutenant for the City of Woonsocket, Rhode Island fire department (long story).  My schedule is 24-hours on starting at 0800, then 24-hours off, then 24-hours on then 5-days off.  That cycle repeats indefinitely.
On the days I'm working, I stay in the station like everyone else I work with.  The rig is parked in the lot at the station.
On the day off between the two days at the station, I boondock wherever I can.  Cape Cod and the beaches of Rhode Island offer plenty of fishing opportunities.  And there's endless stealth and boondock opportunities within an hour so I can get to work on time that second workday.  At the end of my second day at the station, I drive home about four hours for my five days off.  I joined Harvest Host and Boondockers Welcome for places to stay.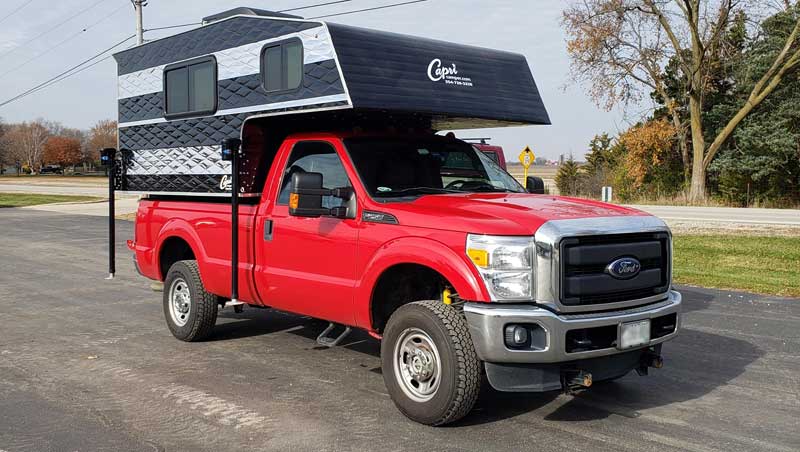 I bought the Capri, my first truck camper, from Vacationland in Illinois.  They are one of two dealers, I believe, that stock new Capris.  I drove out to pick it up and stopped at the Rock and Roll Hall of Fame on the way back.
I decided to get a truck camper after the price increase at a local hotel where I had been staying.  They raised their rates so much it became unsustainable.
I decided on the Capri for many reasons.  It was mostly because I already had my work truck that I plow snow with as well as my every day around the homestead.  It's a regular cab.
Since it's only me I opted for an East-West bed orientation so the cab overhead wouldn't be so bad.  Most campers are North-South which makes the overhang ridiculous on a regular cab.
Plus, I wanted an 8-foot model with a flush back.  The lightweight of a Capri was a bonus.  A hard side with heat was a necessity since I'll be using this year-round.  I had looked at some other brands, but couldn't find any in stock, and the lead times were too long for me.  I found this one in stock at Vacationland.
My 2015 Ford F-250 four wheel drive long bed truck carries my 8-foot Capri Retreat loaded very well, coming in 1,000 pounds under GVWR dry.  I would like to get airbags to help with the sway.  She's a bit top heavy.
So far I love it and can't wait for many adventures.  Northern Maine, Canada, and Cape Cod are high on the list for this coming year. I intend to use my Capri to hunt and fish out of.
Sean and Katie
2019 Ram 2500
1990 Starcraft Roadstar (8′ pop up)
We can camp with our truck camper in places where RVs are not allowed since only the truck is touching the ground.  Also, my wife does not like sleeping on the ground.  As a family we fish, hike, swim, mountain bike, ride dirt bikes and tow a boat or box trailer.
I added a window shaker air conditioner. I also removed the water system since it would just freeze and we don't need it.  I modified the former water compartment to still hold the seat cushion, but it now flips up so I can fit three mountain bikes (one is a tandem).  Even with the bikes inside, the camper can still sleep three to four people if they're friendly.  I like being able to have the bikes loaded for riding at a moment's notice during the week.  I also tow a box trailer to free up space in the camper.
We like going to areas where we can spend a few days exploring.  This year we went to Copper Harbor and Traverse City in Michigan and Brown County State Park in Indiana among other places you would definitely have to look up.