Mitch Polinsky loves truck camping, but his head is in the clouds. Is he full of hot air, or has he just gone thermal? We get to the plane truth on this soaring subject.

How does a Professor of Law and Economics at Stanford Law School cut loose? Why with truck camping and soaring of course. For Mitch, it all started with a January, 1967 article in National Geographic titled, "Sailors of the Sky". Mitch was nineteen years old and the images of gliders and the stories of their adventures captivated him. Ah, the power of magazines.
Twelve years later, Mitch would finally have the opportunity to take flight in a glider launching a life long love affair with soaring. Today he tows a glider behind a Four Wheel Camper Hawk and soars into the desert skies above Utah and Nevada. His personal record is a 606 mile (975 kilometer) eight hour flight. Let's just say that Mitch takes our "go anywhere" motto to infinity, and beyond.
For his article, Professor Polinsky instructs us on his pre-purchase truck camper research, his camper modifications, the art of soaring, and the finer points of avoiding restricted airspace. Sharpen your No. 2 pencils. Eyes front. Class is in session.
TCM: You said in an email to us that you had a story about tent camping versus truck camping. Could you tell us your story?
Mitch: In the summer of 2009 I went on a three week glider flying trip in Nevada and Utah. I took a tent and a lot of camping equipment and pulled my thirty-four foot long glider trailer behind my Honda Ridgeline. I was at an airport at which twelve other glider pilots were living in their RVs, while three of us were living in our tents. Every day the local winds would blow the dust on the ground through the mesh of my tent and lightly coat everything with dirt inside, and one day a thunderstorm came through with fifty mile an hour winds that bent my tent poles.
I want to stay at the glider airports rather than in a motel because there is a good sense of community and camaraderie there among the pilots. But after that experience, I vowed to get something like a Class B or Class C motorhome, or a truck and camper for the summer of 2010.
TCM: So why did you choose a truck camper?
Mitch: I am very safety conscious and wanted a truck and camper instead of a motorhome mainly because of safety. I've found that motorhomes lack many of the safety features available in recent pick up trucks. Most motorhomes don't have side impact air bags or electronic stability control and they have a much higher center of gravity. The Ford F-150 has side impact air bags and electronic stability control. It also has a five star crash rating.
Once I settled on the truck and camper idea, I had to decide whether to get a hard-sided camper or a pop-up camper. Pop-up campers have a safety advantage by providing a lower center of gravity while driving, and they are usually lighter in weight than a comparably sized hard-side camper. I'm pulling a 2,600 pound trailer behind me, so I didn't want to overtax the truck. I wanted the lightest possible camper.
There's another reason why I wanted a truck with a camper. There's a chance with my gliding that I won't be able to get back to my home airport and that I might have to land somewhere other than at an airport. One of the places glider pilots end up landing at in Nevada are dry lakes in the high desert. If that were to happen, I would need a four-wheel drive vehicle to get to the glider. Having a four wheel drive truck is a big advantage if someone had to come and pick me up. A conventional motorhome wouldn't work well for this purpose.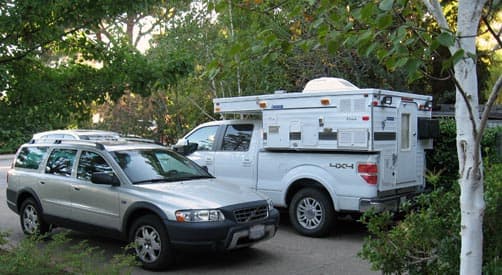 Lastly, I wanted a truck camper, and more specifically a pop-up camper, because I live in a private home on the Stanford University campus with other faculty. With a pop-up camper in the down position on an F-150, nobody complains about my keeping the truck and camper on my driveway. I wanted something I wouldn't have to store at a paid storage lot.
TCM: How did you do your research for your pop-up camper?
Mitch: I read Truck Camper Magazine, went to manufacturer websites, and spent a lot of time researching various options.
As I did my research I kept hearing good things about Four Wheel Campers. I talked to Tom Hanagan, the President of Four Wheel Campers, and Stan Kennedy, their Sales Representative. They both spent a huge amount of time with me on the phone and were very patient in answering my questions. The more I learned about their products the more it became clear that one of their campers would be ideal for my needs. Their Hawk model, which is what I got, was the lightest pop-up camper that I could find for a six and a half foot bed. A visit to their factory solidified my enthusiasm for their product and for the Hawk model. A big advantage of Four Wheel Campers for me is that they are only two hours and fifteen minutes from my house, and not far out of the way on my route to Nevada where I mainly go to fly my glider. So, it would be easy to stop by there in the future for any repairs or upgrades.
Four Wheel Campers did a lot of little custom things for me. I got a TurboKool evaporative cooler, also known as a swamp cooler, the first one they ever installed on one of their campers. I also got a window air conditioner. It works better than the swamp cooler, but when I can't plug in, the swamp cooler is very nice. I also had them make a longer slide out bed to accommodate my wife's and my preferences for not having to climb over the other in order to get down to the main level of the camper. With the extra long bed they provided, we can both sleep parallel to the length of the truck.
Then my wife, Joan, asked, "How will I dry my hair?" Without shore power, she wouldn't be able to use a hair dryer unless I got an inverter. We settled on a 2,000 watt inverter which will run a hair dryer, toaster oven, or power tools, though only one at a time.