In 1989, Larry Bluhm was getting ready to watch the World Series when disaster struck.  Lucky for Larry, his truck camper was ready to go during San Francisco's major earthquake.  Larry's story is incredible!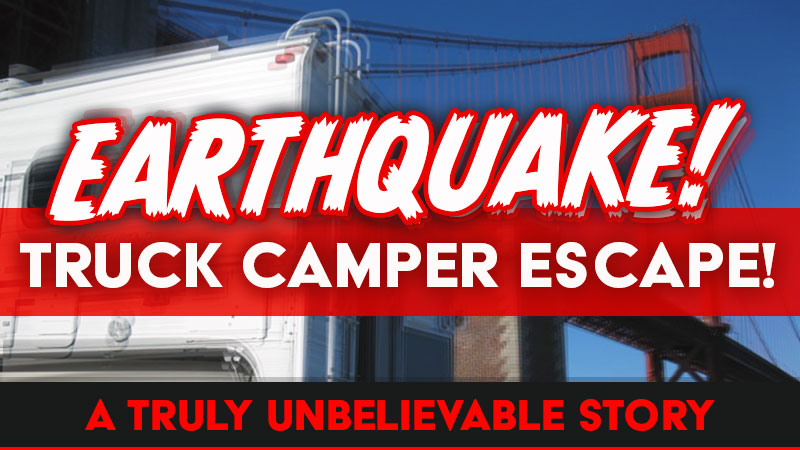 Larry Bluhm saw, "The Truck Camper as a Family Emergency Vehicle" and, "Truck Camper Hurricane Preparedness" in Truck Camper Magazine, and then contacted us with an amazing story.
Larry wrote, "I was living in San Francisco next to Golden Gate Park during the Loma Prieta earthquake.  My truck camper was parked right in front of my building.  My apartment was thrashed and later yellow tagged, with red-tagged buildings on the same block.  Through several days of aftershocks, I stayed on the park side of the street in my truck camper with all utilities functional."
Now that's a story!  We immediately emailed Larry back and asked for an interview and some pictures.  It turns out Larry was a very interesting truck camper long before the earthquake struck in 1989.  Get ready for a real shake, a big rattle, and one more reason why we roll with truck campers.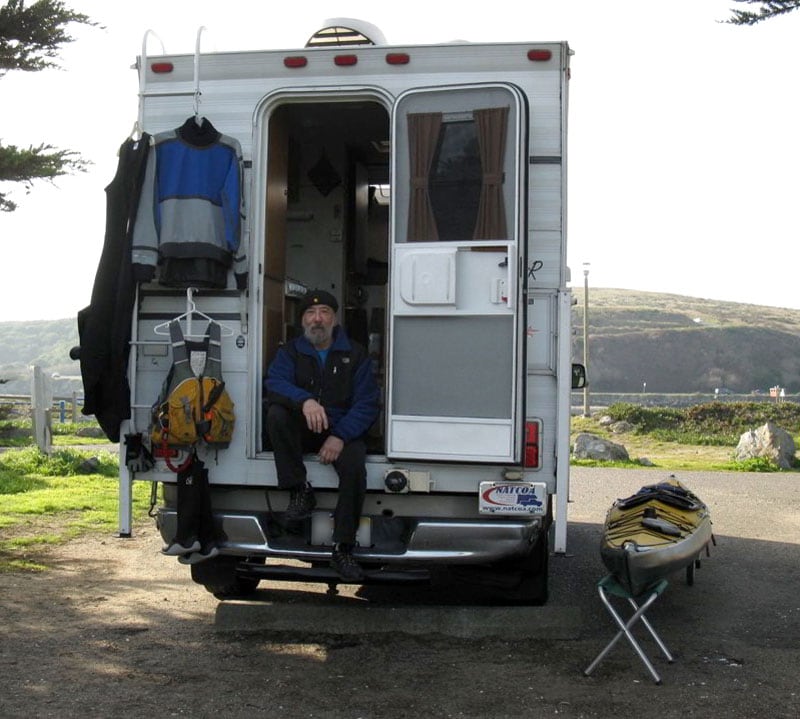 Above: Larry and his Northstar Laredo SC
Most of us have never experienced a major earthquake.  What's it like?
Living in California, earthquakes happen on a regular basis.  I'm not terribly concerned about them, but the Loma Prieta in 1989 was a gnarly one.  It happened in the afternoon while the World Series was on with Oakland and San Francisco.  At the time, I was working two jobs but happened to be home that day.  I remember it being warm out.  As the game was about to begin, the earthquake struck.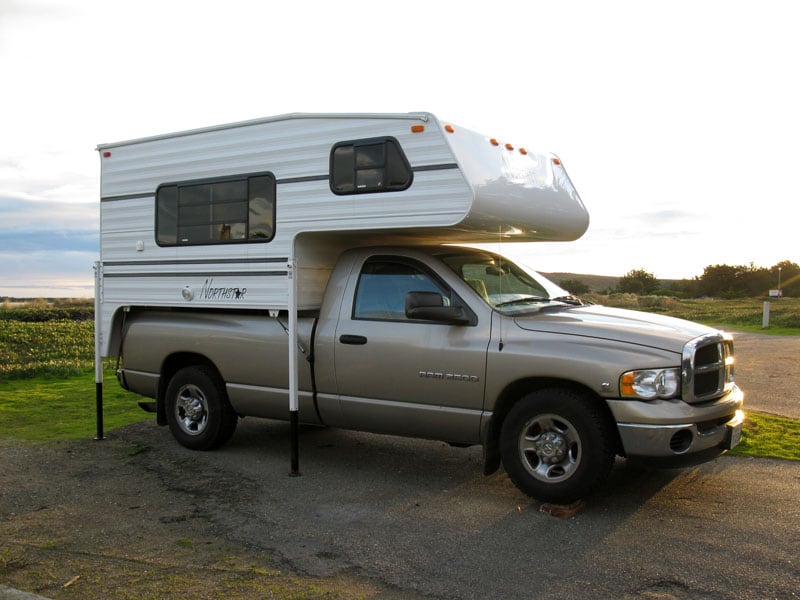 Above: Larry's Northstar Laredo in Bodega Bay, California
My apartment started to go in harmonic vibration.  At that point, I got seriously worried that the building was going to come down on me.  My loft bed was sturdy, so I got under it and the shaking stopped shortly thereafter.  Our apartment building was yellow tagged, which meant it was habitable but the building needed structural work.  If the building had been red-tagged, everyone would have to get out.
"I spent three nights in the camper because it was safer and the stuff in my apartment was all over the place."
During the earthquake, stuff came out of my cabinets, and the bookshelf launched across the living room.  The apartment was in bad shape, with plaster down and stuff on the floor.
My truck camper was out front and food was in the refrigerator.  At the time I lived on Fulton Street with a building on one side and Golden Gate Park on the other.  I spent three nights in the camper because it was safer and the stuff in my apartment was all over the place.  There were aftershocks and the truck's suspension made it better.
Like I said, I spent three to four days in my camper as things were getting cleaned up in my apartment.  With the camper, I had a civilized space to stay at night.  I had utilities and a functioning refrigerator in the camper.  Some neighbors had food in my camper's refrigerator, so I was a popular guy on the block.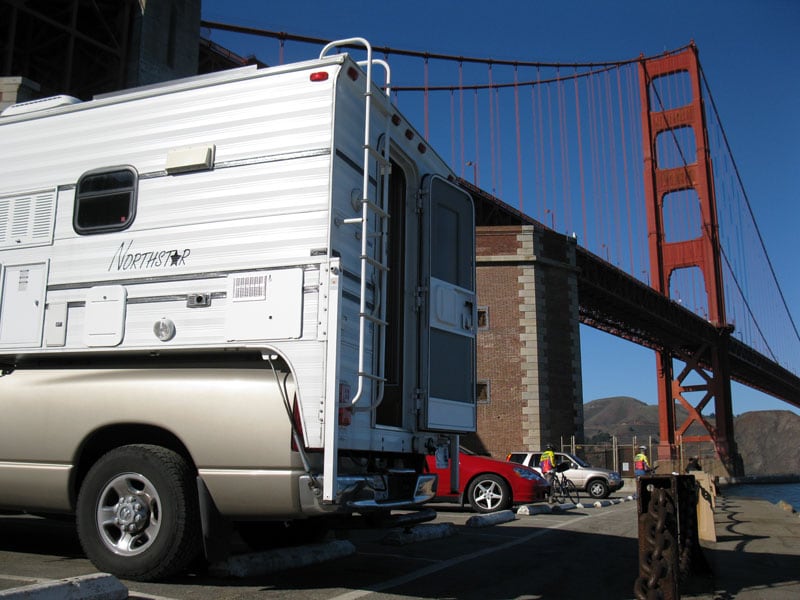 That's an amazing story.  You truly used your camper as an FEV, thirty years before long before the Family Emergency Vehicle article was published.  How did you get into truck camping?
My camping experience began in the Boy Scouts.  Today I enjoy activities including climbing, mountaineering, backpacking, on and off-road cycling, skiing, kayaking with a folding boat, and rollerblading.
I've traveled and camped on foot, at the end of a rope, on bicycles, skis, kayaks, and motorcycles and slept more or less successfully in bivy bags or less, tents, hammocks, snow caves, and the occasional portaledge.  I've only had a handful of "epics".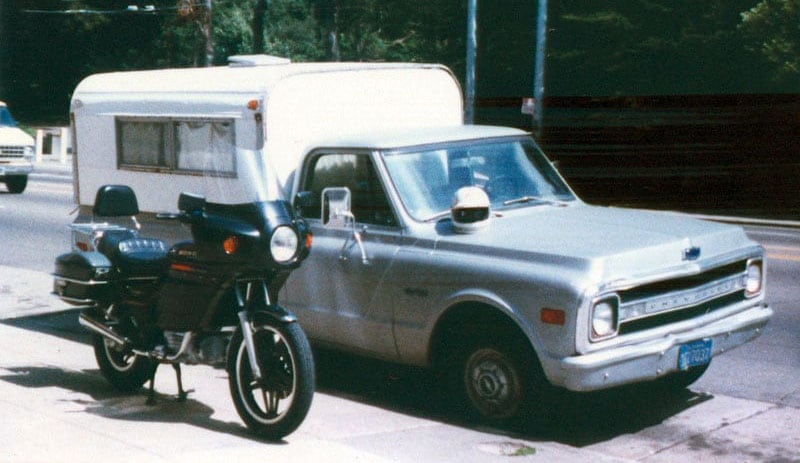 You're a brave man to sleep in a portaledge.  Those things are insane!  So how did all of this lead to a truck camper?
In 1973, I was living in a college town in Michigan.  This was before I moved here to California.  A guy down the street had made a custom camper.  It was a nice gypsy wagon.  I thought it was the coolest thing in the world.
Some years later I found an old Siesta sleeper for a song and a dance.  I did a complete remodel and used it for work and for recreation.  That was the beginning.  Now I've upgraded the wheels and I have the Northstar Laredo that will take me into retirement.
It's just me so I don't need a large camper.  I don't want to deal with that much.  Compared to my climber camping experiences, the Laredo is like a palace.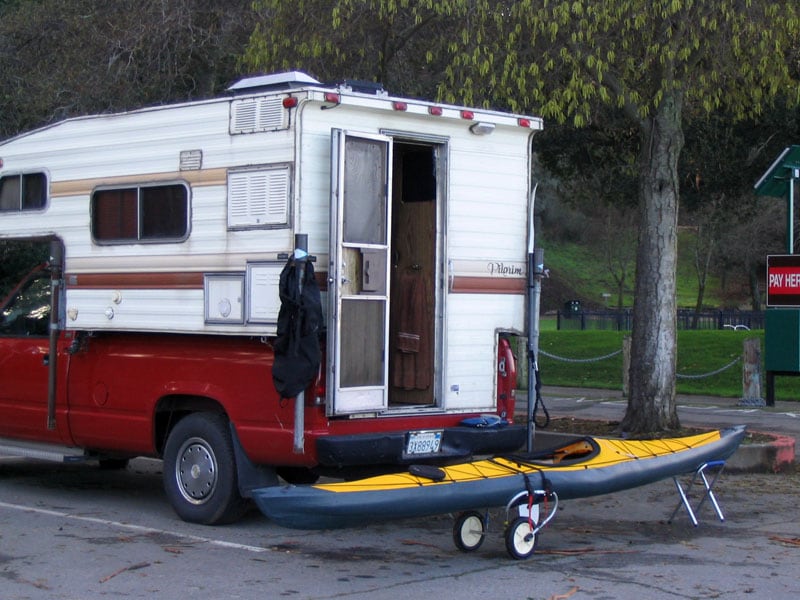 When I started truck camping there was no such thing as basements or slide-outs.  They make an amazing camper, but add considerable weight.  They also raise your center of gravity and the truck camper can be difficult or impossible to use with the slide-outs in.
Above: Camping at Lassen National Park, California
I was looking for something light and small, so I went with the Northstar.  The Laredo is only seven feet wide, which I like.  It's a small, well built, and compact.  As a third-generation family business, we also get great support.  Plus, the camper is great.
"My camper is an excellent base camp and it is also my daily vehicle."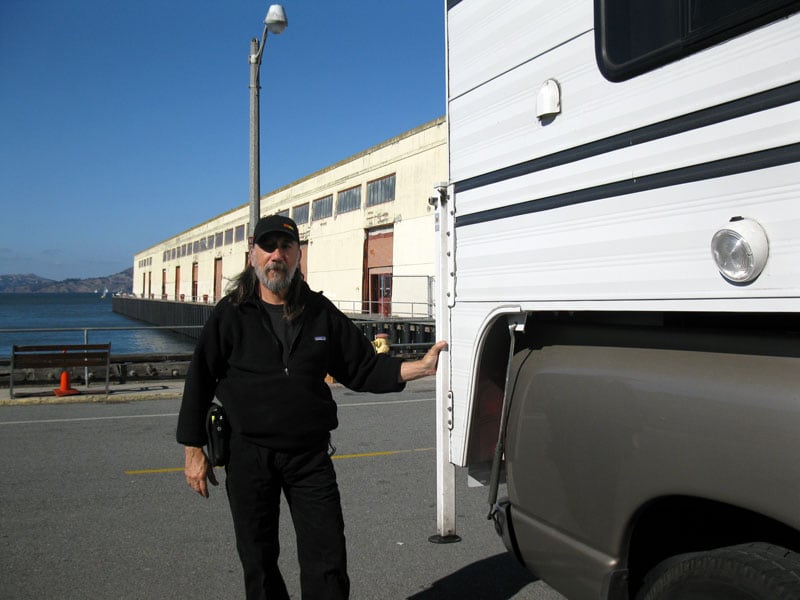 Above: Larry at work in San Francisco with his Northstar
How do you use your truck camper now?
My camper is an excellent base camp and it is also my daily vehicle.  It's my transportation other than on foot and bicycle.  It's my lunchroom, and my coffee spot at work, and gives me occasional overnight accommodations.  I've owned three campers and they've hardly ever been off the truck.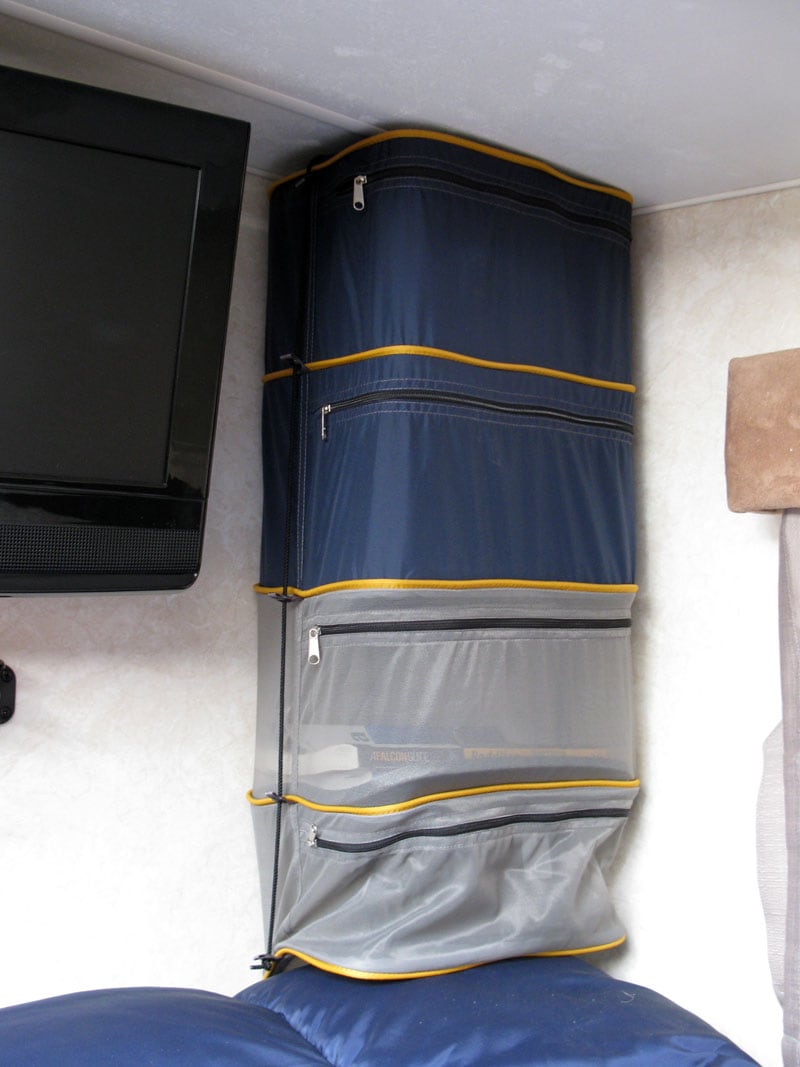 Above: Larry added a storage compartment in his Northstar
I've hauled lumber, materials, and large quantities of tools to and from job sites.  It's also a recreational vehicle.  When I go kayaking, I have amenities.  I go from paddling to a hot cup of coffee.
My camper is also an economic backup.  Should a natural disaster hit, I have a shelter that I can move.  And because I use it every day, I have changes of clothes in it, the galley is stocked, and the refrigerator running all the time.  I'd be good for at least a week before I would need to restock.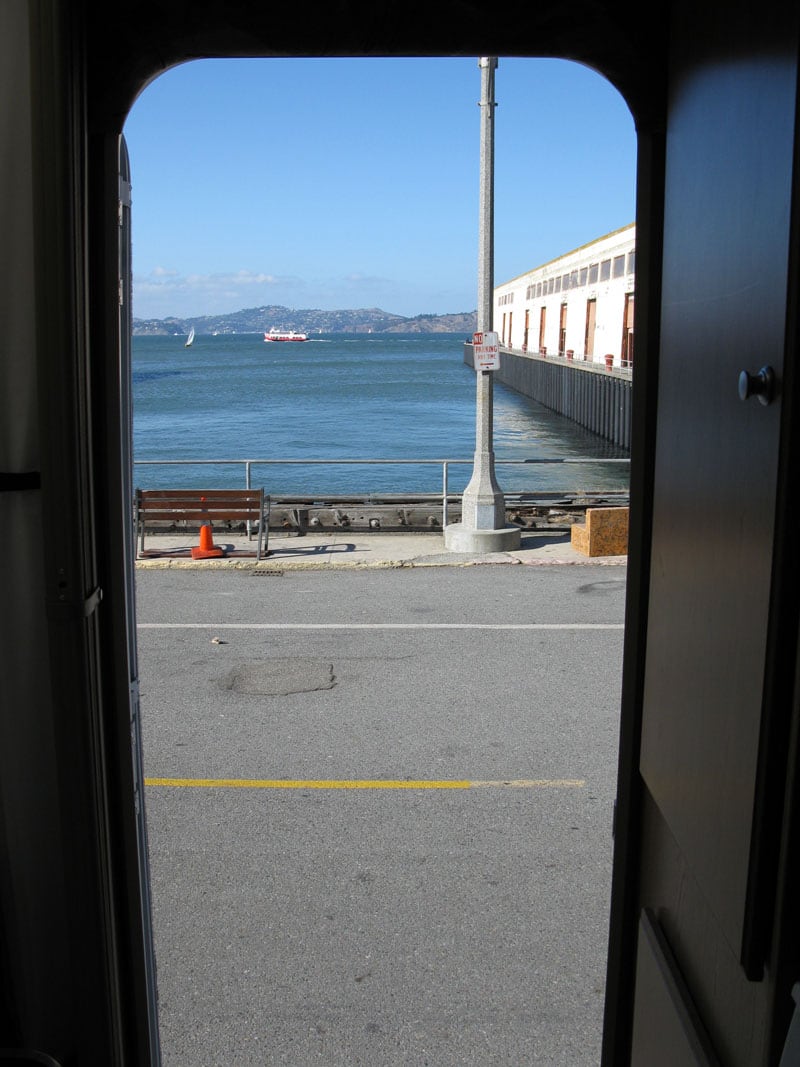 Above: View from his "lunchroom" at work
How does your truck camper help you with work?
I do technical theater and theatrical design for a living.  I've also been doing production work for art museums and theaters.  I design sets, lighting, sound, and work as a union stagehand.  For twelve years, I have been the Technical Director for Cowell Theatre in San Francisco.  I'm responsible for technical items in the theater.
The theater is an old military complex that was converted to a theater.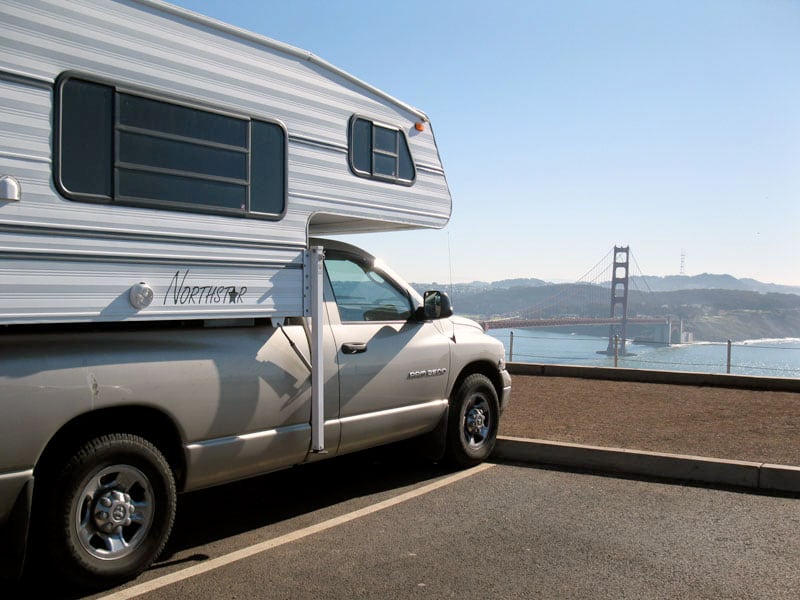 There is a large parking lot at the end of the pier looking at the San Francisco Bay.  So, my outside view is a view of the bay.  The theater is at the end of the pier, and the parking lot is at the edge of the bay.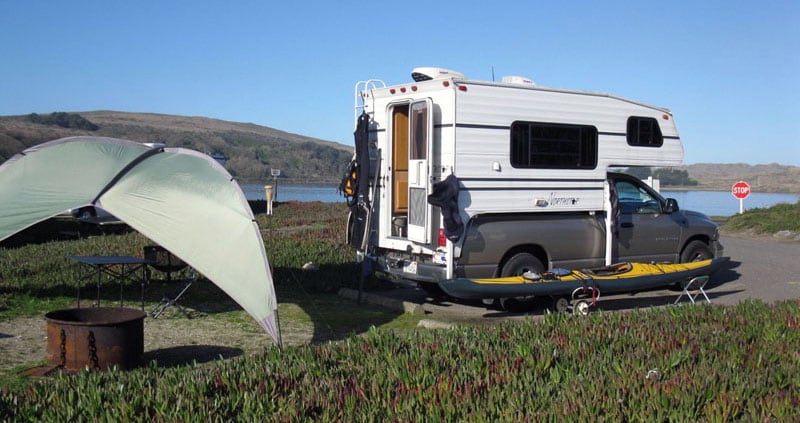 Above: Doran Park, Bodega Bay, California
That would be an amazing, and otherwise expensive view.  Where do you go when you go camping?
I generally avoid RV parks and rarely hook up.  Destinations are usually National Parks and National Forests, State and County parks, climbers camps, and some urban stealth locations.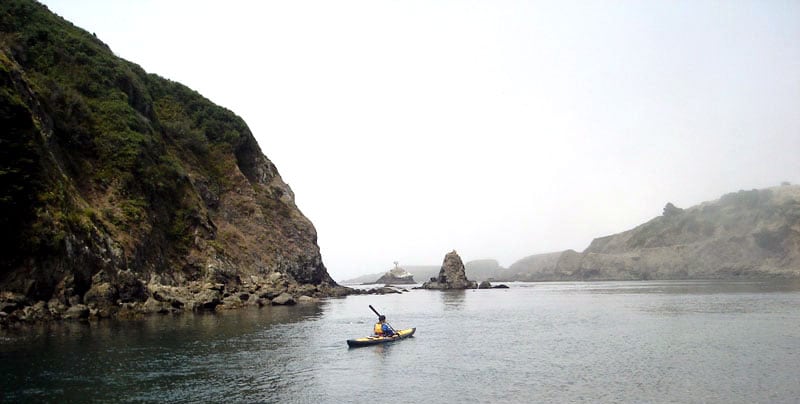 Above: Kayaking in Albion, California
I mostly visit destinations in western states that have to do with climbing.  I go kayaking, get out in the woods, go for a hike, or a bike ride.  I work hard and then take a week off and go to National and State Parks.  That's pretty much my pattern of recreational use.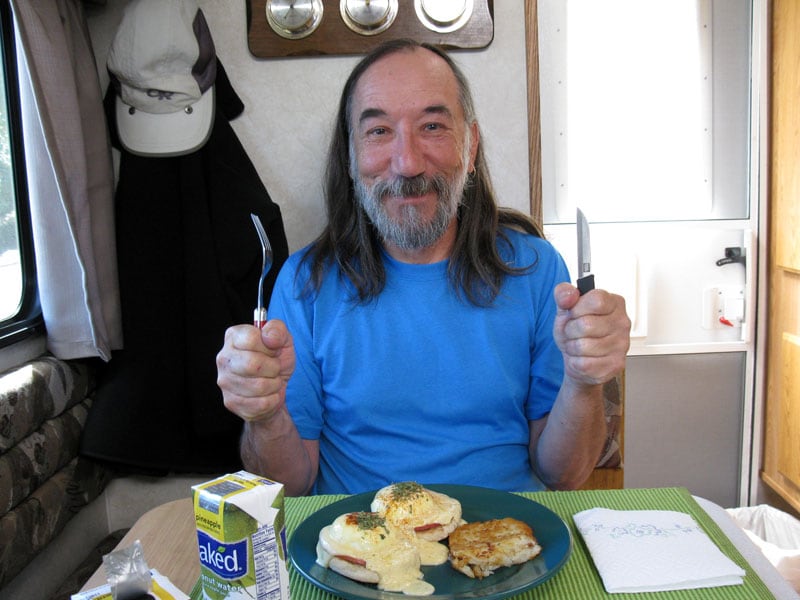 Above: Larry and his famous Eggs Benedict
I want to go to Death Valley when I have time off around the holidays.  In California, we can go from the desert to the alpine to the sea coast.  Most everything is available.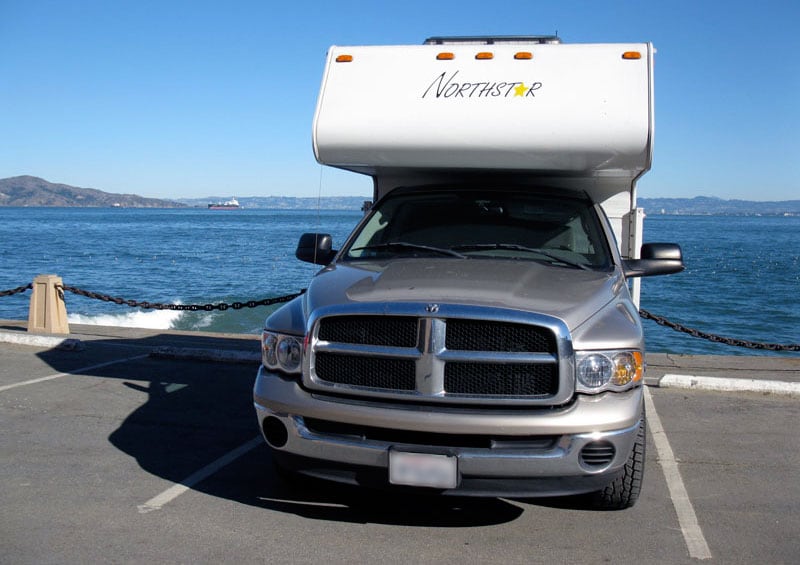 Above: Larry's Northstar Laredo fits in a normal parking spot
My ears perked up when you said, "urban stealth locations".  How do you scope those places out and feel safe?
Check out the location ahead of time.  The biggest challenge is finding something level.  In San Francisco, they will ticket you if you put two blocks on the sidewalk to level out.  Sometimes I drive around until something feels right and then pull over to be as low profile as possible.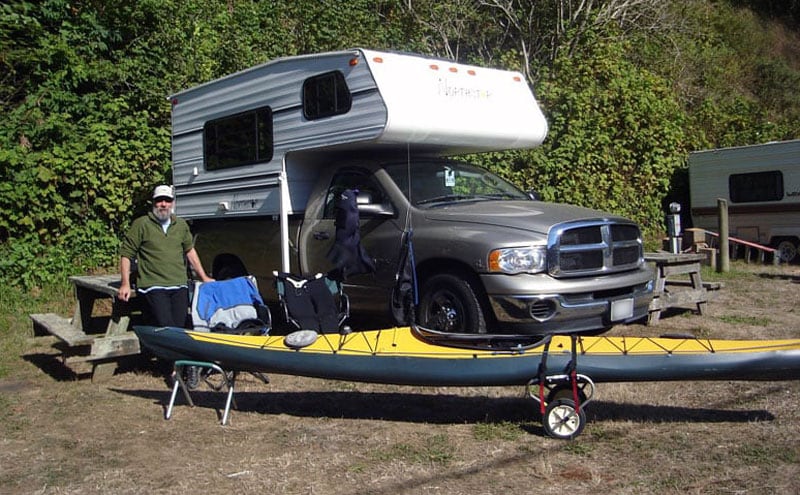 What's your plan after retirement?
I pretty much want to see the country.  I want to take a long loop route in Michigan, and see my sister who lives there.  I may haul a trailer and keep it at her place.  Basically I want to see the country for a time.  I may possibly go to Rio in South America.
Is there anything else that you would like to add to your interview?
It's been lovely to have a mobile life support unit with me.  It's been a base camp for many adventures and it's worked out well for me.  It's been great particularly when I was traveling throughout California going to various theaters making a living.
Have you used your camper as a Family Emergency Vehicle?  If you have used it to evacuate during an earthquake, hurricane, tornado, forest fire, etc., please share your Family Emergency Vehicle story.
Larry Bluhm's Rig
Truck: 2004 Dodge 2500, standard cab, single rear wheel, long bed, 4×2, diesel
Camper: 2011 Northstar Laredo SC, 50th Anniversary Edition
Tie-downs and Turnbuckles: Happijac
Suspension Enhancements: N/A
Gear: Transferred solar panel from my last rig, added a brace for the table, fabric type storage compartments