Long past bedtime and far from the reaches of civilization Bill Rosso steps out of his Northstar and into the pitch black wilderness to capture the wonder and beauty of the night sky.  Is that a mountain lion print?  And this ice should hold, right?

Truck camping is about going the distance in pursuit of our dreams.  Getting off the sofa, putting together a truck and camper, and going out there to do what you're passionate about.
Drive to Prudhoe Bay, Alaska and dip your toes into the icy Arctic.  Buy a National Parks pass and explore the landscapes of Yellowstone, Glacier, and Yosemite.  Grab a metal detector and hunt for gold nuggets in Northern California.
Whatever your dream is, it's probably not on television or the internet.  Turn those addictive time-wasting boxes off and make your dreams come true.  No excuses.  Life is short.  Go get it.
This is the inspiring vibe we got from Bill Rosso.  First, Bill doesn't have one dream, he has many.  He dreams of traveling to exotic locations and hiking into the wilderness.  He dreams of climbing the world's highest mountains and experiencing diverse cultures.  He dreams of pushing his life-long passions for photography and astronomy to capture the night skies.  He dreams, and dreams, and dreams.
Second, Bill was turning his dreams into action long before he bought his Northstar 850SC truck camper.  In fact, it was on such an adventure that the idea of a truck camper was suggested to him; not as a RV, but as a base camp to supercharge his pursuits.
For Bill, a truck and camper is nothing less than a living-the-dream machine.  Of course reality has a funny way of throwing curveballs into the best made plans.  Especially when those plans involve driving out into the middle on nowhere – by yourself – and venturing into the darkness of night for hours.  What could possibly go wrong?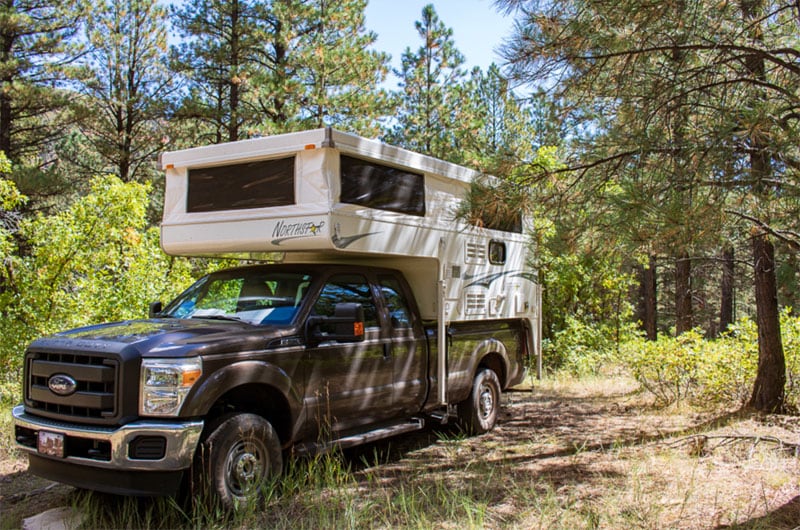 Above: Bill's Northstar 850SC in Marti La Sal National Forest in Utah
How were you introduced to truck campers?
After retiring in 2015, I went out to climb Mt. Whitney in California with my brother. While car camping, he suggested a truck camper to serve as a base camp for my extensive hiking, climbing, and night sky and landscape photography trips.
A truck camper would offer a comfortable alternative to sleeping on the ground. With a four-wheel drive truck, I would have the capability to access the wild and remote locations I prefer. Being able to boondock in remote locations on BLM and Forest Service land is a big plus.
Better gas mileage and clearance made a pop-up truck camper the obvious choice. Northstar's long history, quality construction and materials offered the durability I desired. The Northstar 850SC's indoor and outdoor showers were another strong selling point in my decision.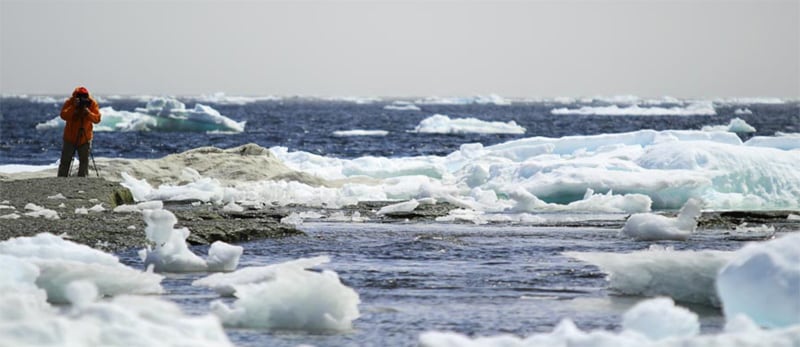 Above: Taking pictures of the Labrador ice flow
You've taken your truck camper rig from Labrador to New Mexico. How do you decide where to go?
Last year Truck Camper Magazine published a really helpful article about creating a Google Map for planning truck camping adventures. I adopted that and made a Google map of the best locations for night sky photography.
My preferred camping locations are typically on Bureau of Land Management (BLM), National Forest or National Parks land. I very rarely stay in private campgrounds.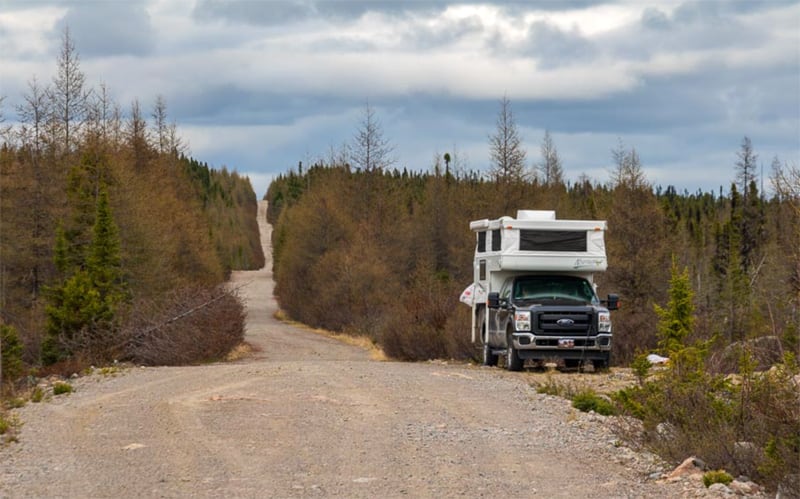 Above: Boondocking on Orma Lake Road, Labrador
I use a variety of sources to find the most interesting locations. Expedition Portal is a website I use frequently. I also read the lifestyle and destination articles in TCM. When I took the Trans Labrador Highway, there was a helpful article in Truck Camper Magazine that I used.
That was probably, "Labrador and Newfoundland Adventure Tips" with Ross and Anna Webber. What criteria are you looking for in a night sky destination?
For night sky photography, I'm looking for an area with low humidity as far as possible from sources of light pollution. Humidity causes hazinesses that blurs the night sky. Light pollution from cities and towns also compromises the night sky.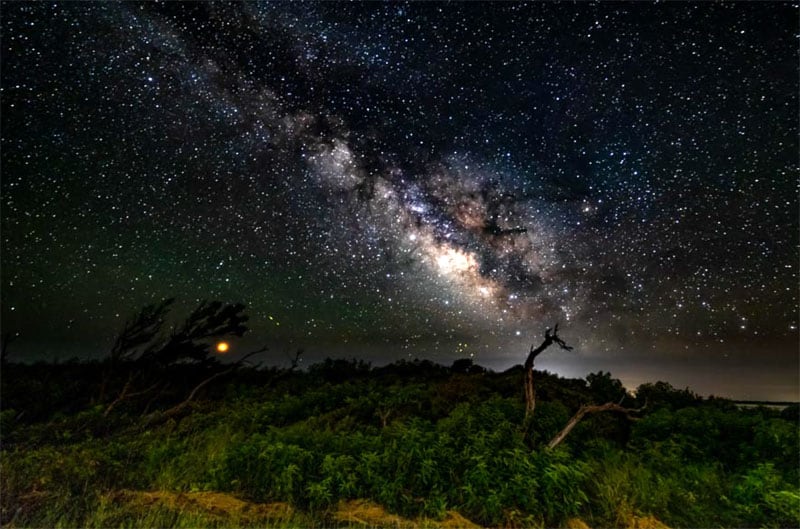 Above: Pea Island, Mars Rising, Outer Banks, North Carolina
I live in North Carolina's Outer Banks so I can point my camera east towards the dark ocean. The desert southwest is also ideal due to its dryness. The southern Utah National Parks are also great, but they are getting too crowded. Too many people use flashlights which can ruin night sky images.
There are still a good number of places still on my bucket list. Number one is the Atacoma Desert in Chile. It's the driest spot on Earth and the night sky photography possible there is incredible.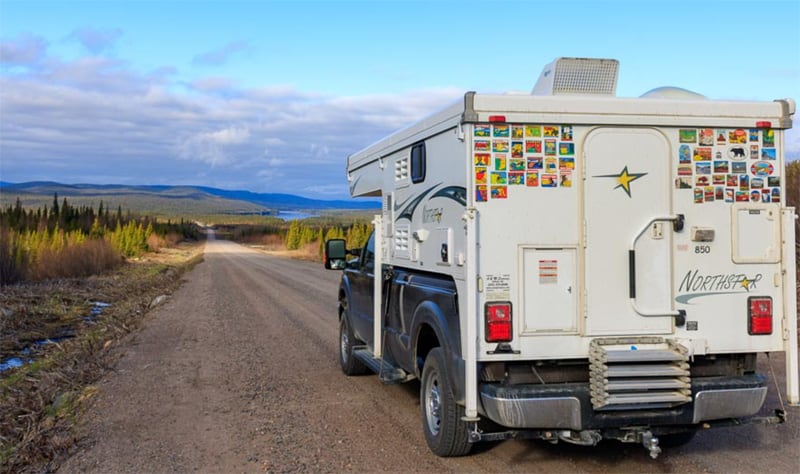 We know a few folks who have taken their truck campers all the way to Chile. In some of your pictures you can see a lot of stickers on the back of your Northstar. What are those about?
A lot of them are national parks. The left side has stickers of states and provinces. I think I've been to 38 states and 5 provinces since I bought my camper three years ago.
On the right I have vintage stickers for national and state parks or mountains I have climbed. I find those stickers on eBay and Amazon. I'm about out of room, so I've got to decide if I will continue on the sides of the camper.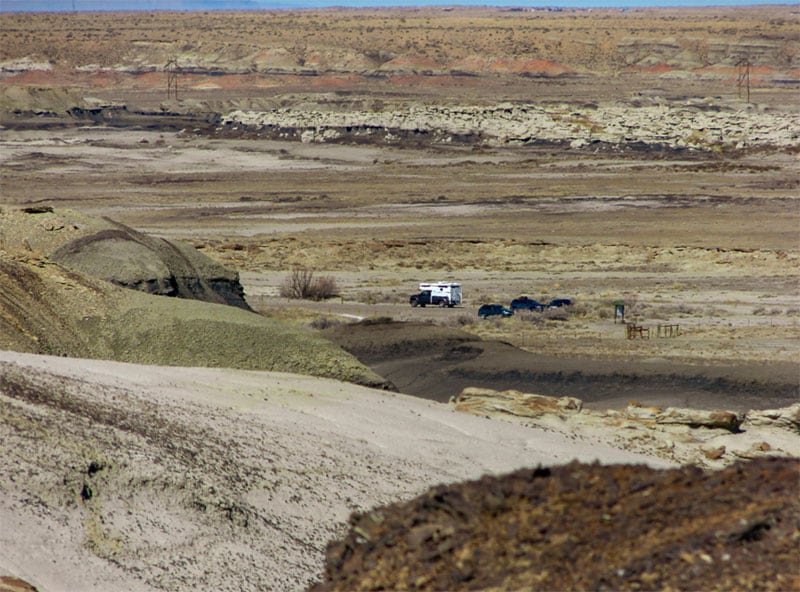 Above: Free camping in the Bisti Wilderness, New Mexico
I went to Bisti Wilderness in New Mexico. I could not find a sticker for Bisti, so I made one with a photograph. I used Zazzle on the internet and they made me a sticker for $3.99. The stickers on my camper are definitely a conversation starter at gas stations and campsites.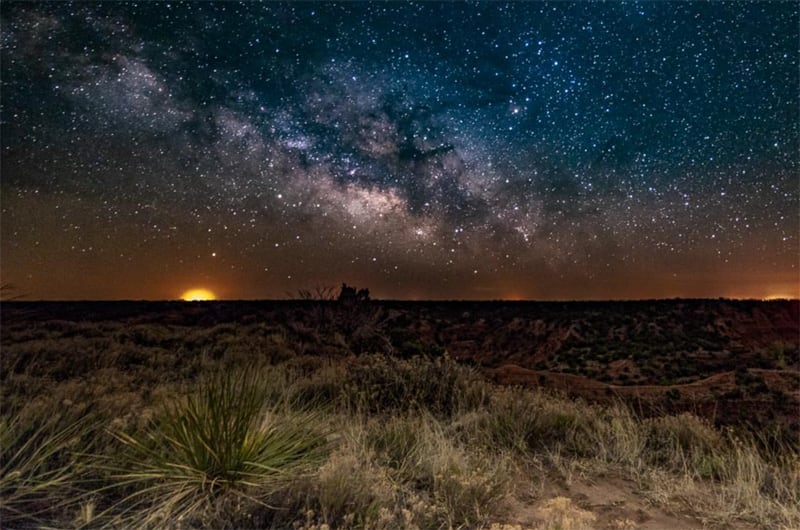 Above: The Caprock Canyons in Texas
I bet they are. What got you into night sky photography?
When I was a youngster I had my own dark room and was quite passionate about photography. There were time constraints when I was working, but I was always interested in the hobby. After I retired, I got back into it.
I have long been interested in astronomy as well. Over time, these two interests started to mesh. In the past three years I have gotten more into night sky and landscape photography.
Most of my night sky photography is self-taught. I pour over the suggestions of other night photographers online, and conduct a lot of experimentation in the field.
During the summer months, when the sunset doesn't happen until 7:30 or 8:00pm, I don't even go out until midnight. I might shoot until 3:00am. It's an all night session. You've got to be prepared to stay awake.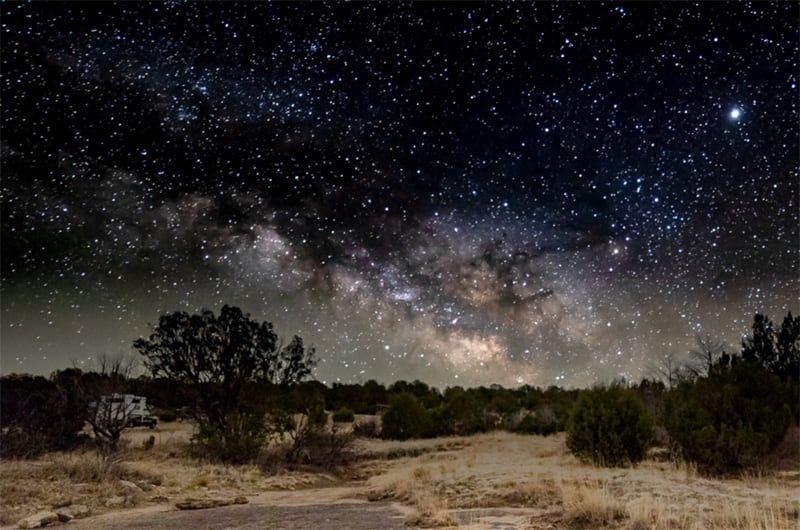 Above: Bill's camper in Northstar Camper in Mills Canyon (left bottom of the photo)
That's long past my bedtime! What's it like taking pictures in remote locations in the middle of the night?
You run into interesting things. I was in Mills Canyon in northeast New Mexico. I had my tripod set up and no one was around. I looked down and there was a fresh mountain lion print. When you see that at 2:00am by yourself, it gets your attention.
I was out in the winter photographing the marsh after a snow storm here in North Carolina. The ground looked frozen, but it wasn't. The marsh gave out below me, and I sank to my waist. It was 10-degrees Fahrenheit outside and it took me 10-minutes to get out of the water. The whole time I was carrying my camera over my head.
Here in North Carolina's Outer Banks, we are sticking way out into the Atlantic. We'll get Nor'easters in January and February where it will be 25 to 30-degrees, and the wind will get up to 50 to 60-miles per hour. It can get pretty miserable.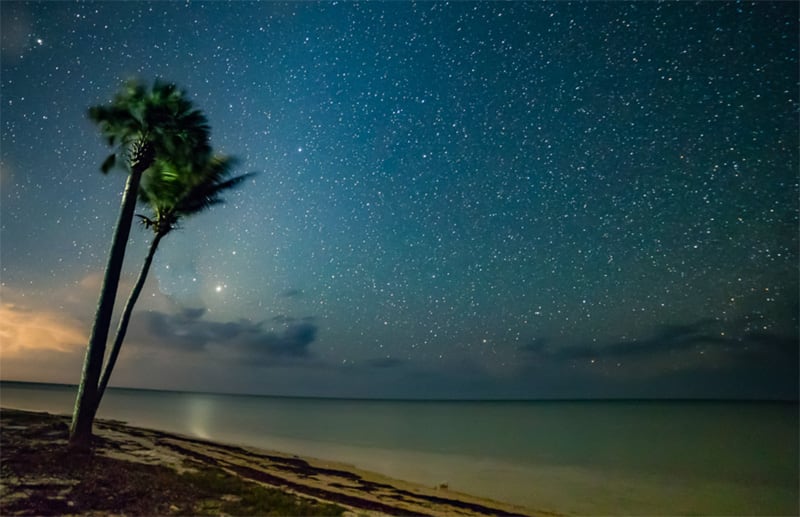 Above: Little Duck Key, Florida
You're obviously very devoted to this hobby. Is there a particular technique or set of equipment one needs to capture the night sky?
I use a Canon 6D Mark II DSLR camera. It has a larger full-frame sensor that allows for better low light photography.
To capture the Milky Way, I use a 14mm f/2.4 wide-angle lens. Like the Canon 6D Mark II, the 14mm lens is designed for low light. The combination of the D60's full-frame sensor and the 14mm f/2.4 lens is key.
To gather enough light on the camera sensor, the camera shutter needs to be open for 20 to 30-seconds. You can't hold a camera stable for that long, so a quality tripod is a must. Without the low light capability of the camera and lens, and a steady tripod, my night sky images would lack detail and definition.
The biggest challenge to night sky photography is that there aren't many opportunities to do it. You need clear skies. You also want a night without the moon, which cuts your opportunities down to about ten days a month. Then you're limited to a narrow window of time between about two hours after sunset and two hours before sunrise. When I was in Labrador I had one good night in the whole month I was there.
Above: Star Trails, Outer Banks, North Carolina
That sounds like quite a challenge. The circular stars in some of your images are remarkable. How do you do that?
I point the camera at Polaris, which is also called the North Star. Polaris is where Earth's axis is located. Then I take a series of 70-photographs in a row. They will be a minute exposure each. Then, I'll blend all those photos together. The stars appear to revolve around Polaris, but it is actually the Earth rotating on its axis.
I get the most definition from the Milky Way. Otherwise the photographs just look like a field of stars. I also try to photograph what's in the foreground, like the photo with my camper in Mills Canyon.
To capture those images, I take one photograph for 30-seconds of sky and then a second photograph for four to six minutes of the foreground. Then I'll put the two photographs together on my computer. That's how almost every Milky Way photographer gets the foreground. Without that technique, you wouldn't see the foreground.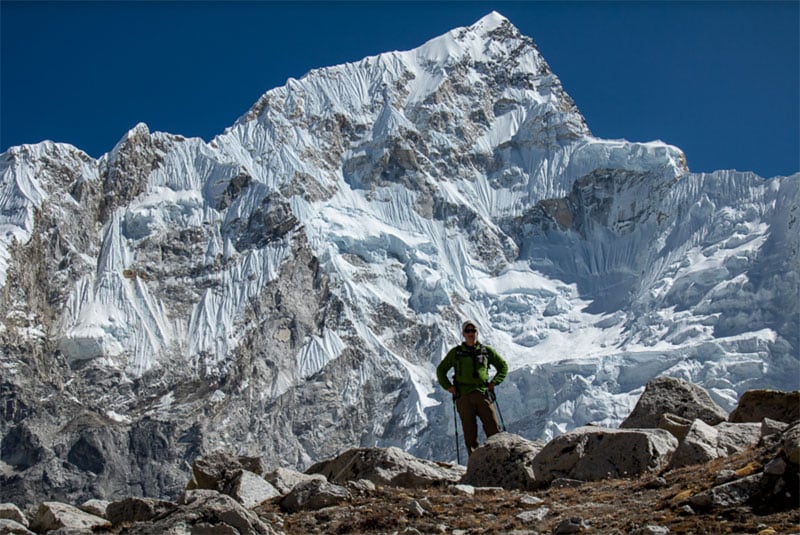 Above: In front of Nuptse, Nepal
On your website, GoHighPhoto.com, you also have some incredible photography from Nepal, Patagonia, and Newfoundland. Obviously you're not taking your truck camper on all of these trips, so how do put those experiences together?
When I go to places like Nepal, I get a guide contract through the local services. That way the money goes directly to Nepalese. Nepal was four-week trek. Rather than a tent, we stayed in small tea houses that you hike between as you go to each area.
At one Nepalese tea house there were folks from Germany, France, and England. One game they all played was Uno. Everyone was playing it. We didn't all speak the same language, but we all knew how to play Uno. I have met some incredible people from around the world through my photography and climbing adventures.
Mt. Kilimanjaro needs to be climbed with a guide. There are companies based in the USA that will hire a Tanzanian to guide you. Again, I went straight to the Tanzanian company so the guide gets the full amount of money. I find that I learn a lot more about the culture from working directly with the guides.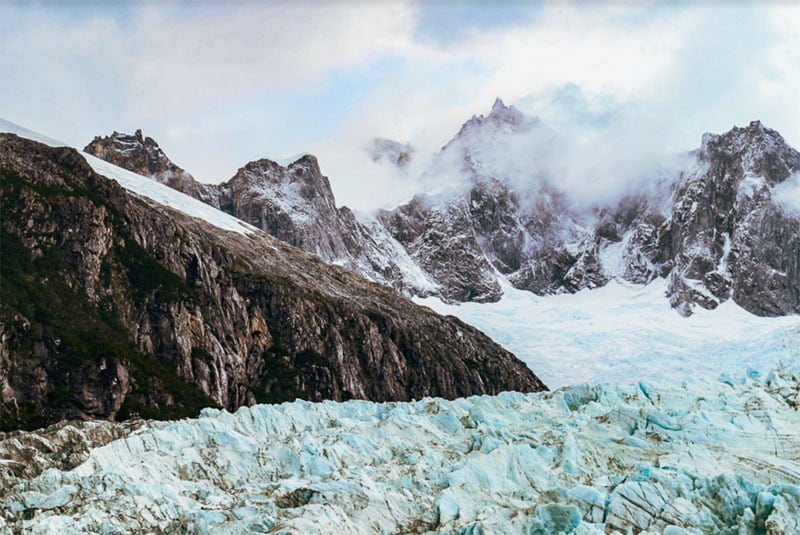 Above: Pia glacier in Chile
I got back from Patagonia in March. It was unbelievable. The Chileans and Argentinians are incredible. The list is so long of places to go in the world.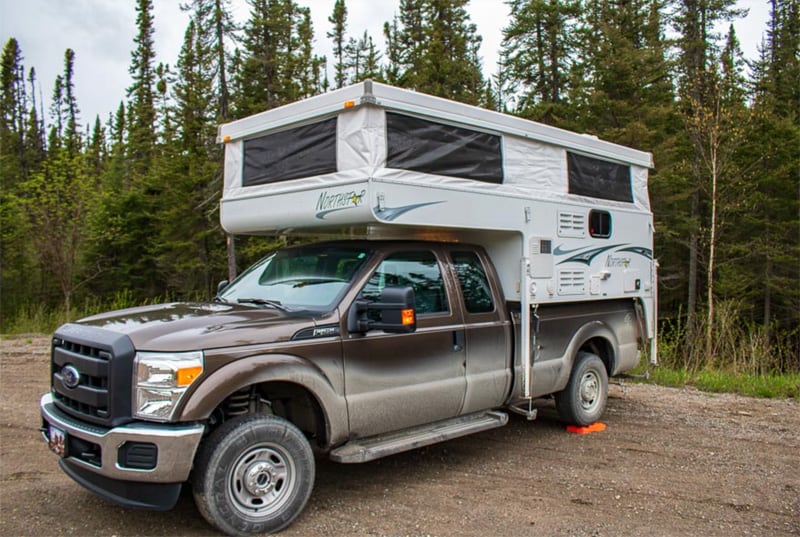 Above: North Quebec boondocking
As this interview was scheduled, Hurricane Florence passed just south of the Outer Banks where you live. Tell us about that experience.
Luckily it wasn't a direct hit here. I had the Northstar packed up so I could bail at the last minute. The camper is great for that.
My daughter lives four hours away, so I can visit my grandkids by parking in their driveway. I'm not in their hair, and we all have privacy. I use my camper all the time.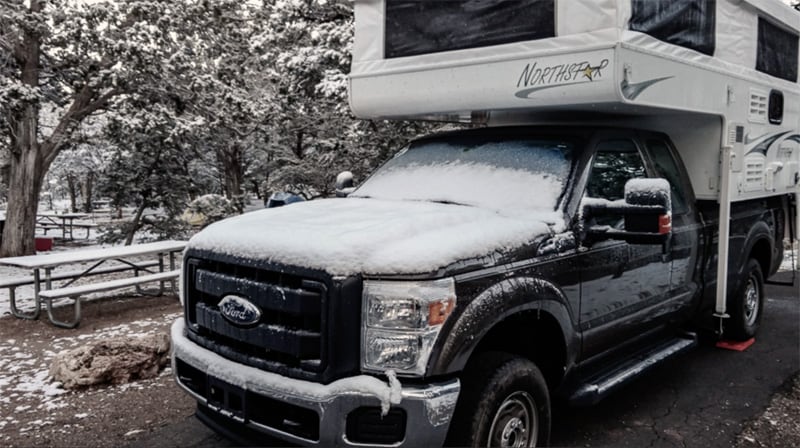 Above: Mather Campground, Grand Canyon, Arizona
We love visiting friends and family with our truck camper for the same reason. Is there anything else that you'd like to add?
Truck Camper Magazine helped me tremendously when I started researching campers. I was into backpacking and tenting, so I didn't know much about truck campers. I've been really pleased with my camper. It fits my lifestyle.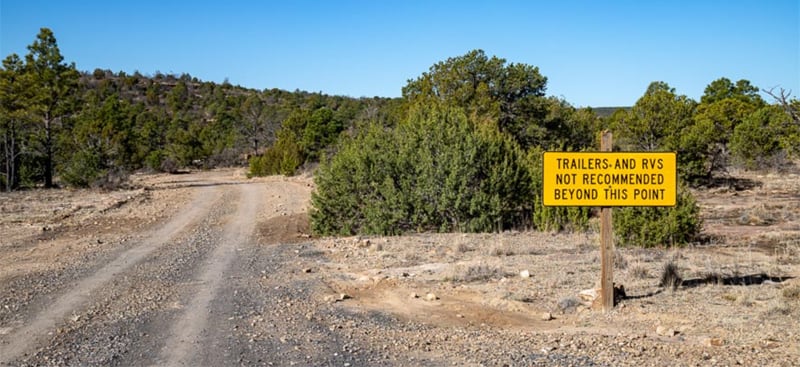 Speaking of that, one of the photos from Mills Canyon was down a road with a sign that said, "Not recommended RVs and trailers". I went down it and didn't have a problem. There was only one other person with a pickup truck down there. That's why I have a truck camper.
Bill Rosso's Rig
Truck: 2016 Ford F250 crew cab, 4×4, single wheel, long bed, 6.2 liter gas
Camper: 2016 Northstar 850SC popup
Tie-Downs and Turnbuckles: Torklift
Suspension: Factory installed heavy duty suspension and skid plate