Ross and Anna Weber share their experiences and best recommendations for truck camping through Labrador and Newfoundland.  Look out!  Moose and icebergs ahead.

Ross and I left June 1, 2014 on an adventure through Labrador and Newfoundland.  Leaving Southern Ontario behind, we drove the less traveled highway to Quebec City.
East of Quebec City, we drove Highway 138 on the north shore of the St Lawrence River to Baie-Comeau, 260 miles.  We turned north on Road 389 and drove 350 miles to Labrador City.
There were lots of trees, hills, curves, and rocky terrain.  Eventually, we experienced almost mountainous terrain.  Along the way, the logging, hydro, mining, and transport trucks appreciated us pulling over to let them by.
From Labrador City, we drove the Trans Labrador Highway to L'Anse-au-Clair, about 750 miles.
We ferried to Newfoundland at Blanc Sablon.  Once there, we explored Newfoundland over a three week period.
Heading homeward, we ferried from Port aux Basques to North Sydney Nova Scotia and turned towards the Acadian Peninsula of New Brunswick.  Then north to Mont Joli, Quebec, and, turning westward, we traveled home along the south shore of the St. Lawrence River.  The whole of Newfoundland is steeped with history, scenery, outdoor adventure, and good food.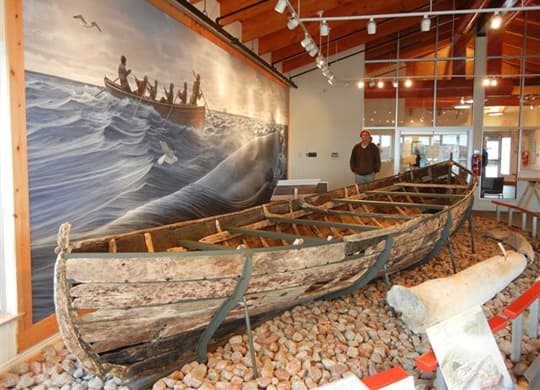 Above: A Basques Whaling museum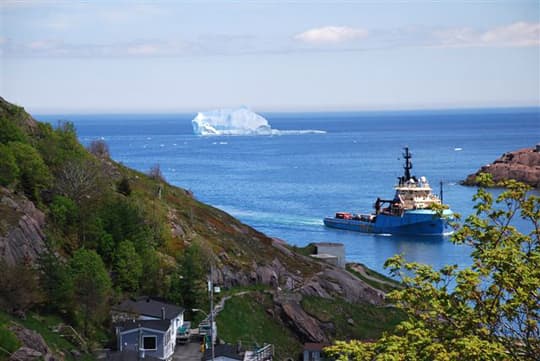 Above: St. Johns, Newfoundland
Above: The Skerwink hiking trail on Bonavista Peninsula, Newfoundland
Here are some tips and advice for anyone interested in truck camping through Newfoundland and Labrador.
1. Labrador Coastal Drive is a good website to plan the trip through Labrador.
2. Visit the tourist information centers in the towns for great local and historical information.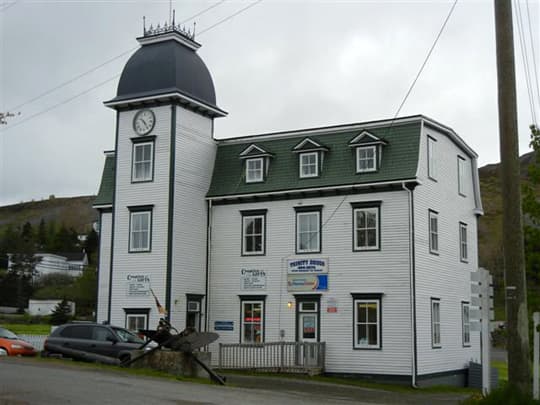 3. In Baie-Comeau, Quebec, stock up on all provisions including fuel and propane.  Also, ensure your equipment, including tires, operate properly.  We contacted the local services for road status even though there is a sign at the beginning of the road indicating which sections are open.  Spring was later than usual with road thaw just underway.
4. Take advantage of carrying a free satellite phone through Labrador as there is no cell service. We picked one up at the Hotel in Labrador City and turned it in at Northern Lites Inn in L'Anse-au-Claire.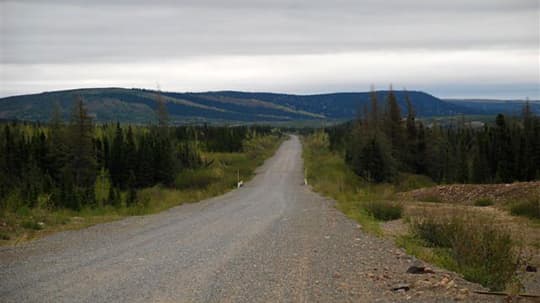 5. The road through Labrador is gravel and there are very few places to pull off to rest. There are no real side roads that are accessible to anyone except ATVs or snowmobiles.  Take advantage of a widened road area or truck stop.
6. Buy the Provincial Park Pass.  These parks have quality sites, free WIFI at the offices, clean laundry, shower and washroom facilities, and very knowledgeable local staff.
7. Reserve the ferry ride to and from Newfoundland.
8. Be prepared for all types of weather.  We traveled the months of June and July.  We experienced temperatures between 24 degrees and 100 degrees Fahrenheit.  It rained for awhile every day.  Take advantage of all the sunny breaks.
9. Spend time chatting with the local people.  Everyone is so friendly and interesting.  They will tell you where to free camp, where to buy the freshest seafood, and where the best non-touristy attractions are.  Someone told us to drive on down to Point aux Choix, Newfoundland where we enjoyed the most amazing local shrimp burger ever.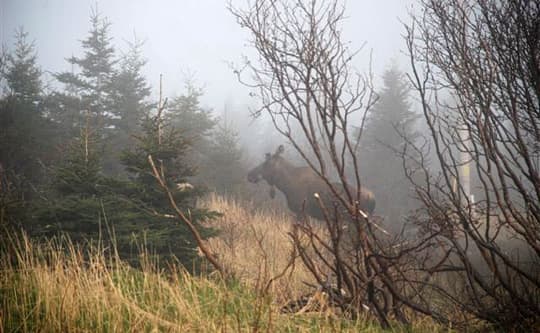 10. Pay attention to the wildlife cautioning signs.  We counted seventeen moose on a fifteen mile stretch of road near St. Anthony, Newfoundland.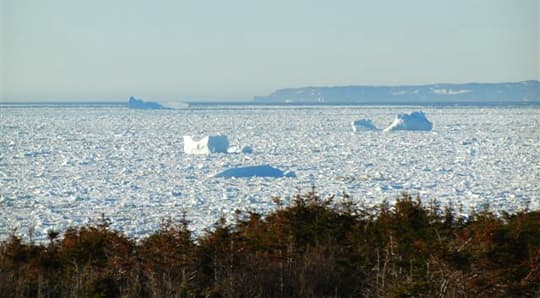 11. Seeing and photographing icebergs was most fun.  The locals announced 2014 to be a bumper crop.  We saw hundreds of them.  They are all so unique.  We took hundreds of pictures.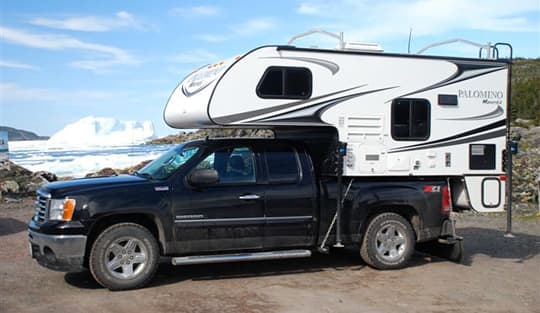 Favorite Boondocking and Camping Spots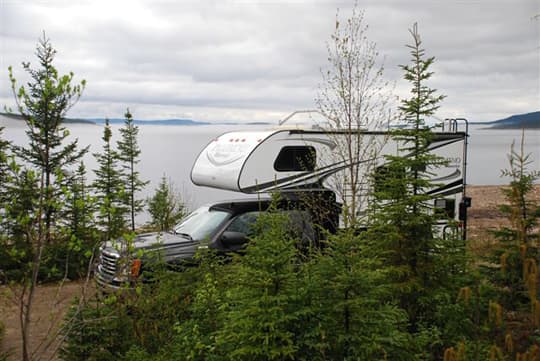 Our favorite boondocking site was near Manicougan Crater (formed by a meteor striking the earth millions of years ago).  We found a roadway to the reservoir edge at mile 178 on Road 389, Quebec.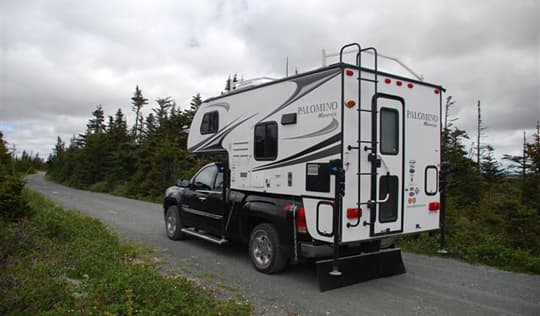 Our second favorite boondocking spot was at Chance Cove Provincial Park at the bottom of the Avalon Peninsula, Newfoundland.  It was three miles through the bush to great fishing and lots of laughter with the local campers.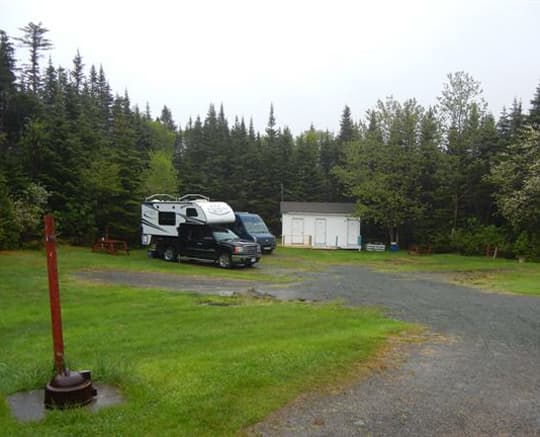 Our favorite paid camping site was Trinity Cabins and Trailer Park, Bonavista Peninsula, Newfoundland.  It was $20 with electrical hookup and water, spotless washroom facilities.
Truck: 2012 GMC Sierra 1500 Z71, extended cab, short bed, 4×4, gas
Camper: 2013 Palomino Maverick M6601
Tie-Downs and Turnbuckles: Better Kit Chains and Turnbuckles
Jacks: Rieco-Titan wireless remote controlled electric camper jacks
Suspension: Timbren Blocks added to enhance suspension
Accessories: LED lights, Torklift Glow Step, Custom Aluminum Roof Rack