Jim Jeffries wanted a pop-up truck camper rig that could fit into his standard garage.  With help from Phoenix Campers, he has now accomplished this seemingly impossible design feat – twice!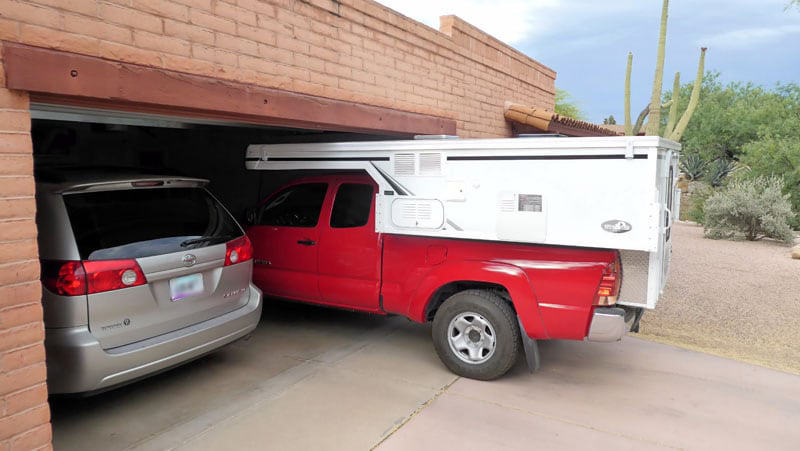 People often discover truck campers because there's something very specific they want to do. There's a desire to go salmon fishing in Alaska, boondock off-road on BLM land, tow a boat, ATV or snowmobile, or park in the driveways of friends and families across the country.
After looking at motorhomes and towables, they come to find that truck campers are the most versatile RV solution available. Fishing, boondocking, towing, and moochdocking? Truck campers can do that.
Another desirable truck camper feature is relative compactness, especially for pop-up truck campers. This feature caught the eye of Jim Jeffries, and triggered a vision. Could he find a truck camper that would fit the height and depth of his standard garage?
Robby Rowe of Phoenix Campers was up to the challenge. In fact, Robby has now designed not one but two Phoenix Campers that fit Jim's standard garage. His new Phoenix Mini-Max is a bit longer and wider than his first Phoenix, but it still fit the garage – barely!
What follows is the story of how Jim and Robby worked together to design two Phoenix Campers to fit Jim's standard garage. Measure by measure, feature by feature, here's how it's done.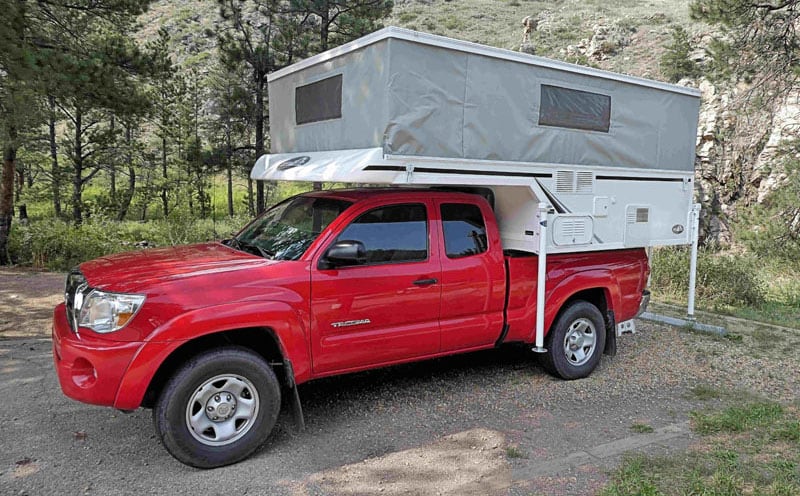 How did you first get into truck campers?
My wife and I started tent camping when we were young. After that we owned three different VW Vanagon models. We started with a well used 1960 VW Vanagon with a 6-volt electrical system. Our last a 1984 VW Vanagon model.
Before buying our first pop-up camper, we camped in a 1994 Ford conversion van that we modified for camping. Just before buying our first Phoenix Pop-Up camper, we even camped in our 2006 Toyota Sienna van with the back seats removed.
And that's how we got into truck campers. We were camping in our Toyota van next to a small Northstar pop-up truck camper.  That afternoon it rained heavily.  As we huddled in our van we could see our neighbors sitting in their dinette with a cup of tea, reading a book, and enjoying their camper.  That moment in time was a decision maker.
When we returned home from that trip, I started my research on pop-up truck campers. That continued for about six-months.  During that time, I contacted Northstar, Alaskan, Four Wheel Campers and Phoenix Campers to look at their layouts and get their brochures.
I studied every detail and specification. Our main criteria was that our new pop-up camper had to fit into our standard garage to comply with our HOA rules.  That was our number one priority.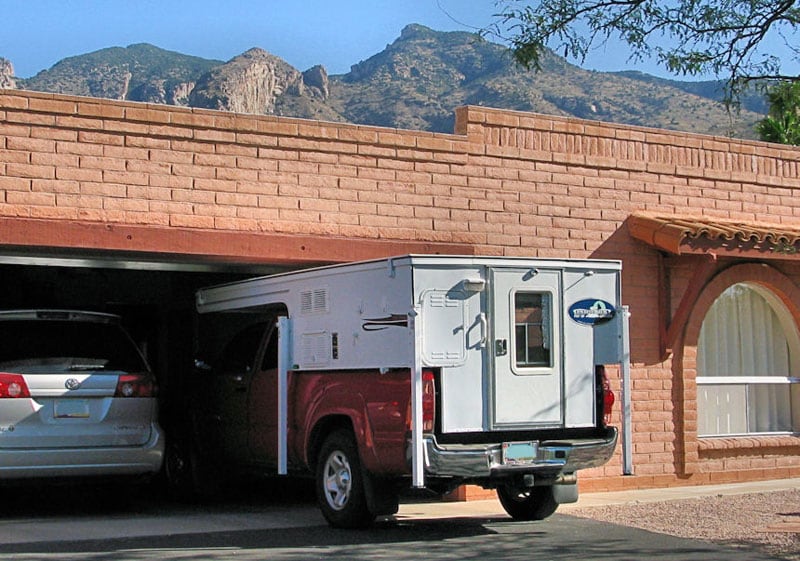 That's an unusual requirement. Was there anything else on your wish list?
Yes, I had a few other criteria that were also important. I wanted a camper that was easy to drive so that we could get in and out of traffic safely and easily.  I was also looking for a lightweight pop-up camper that could be mounted on a Toyota Tacoma or Nissan Frontier. And I was looking for good fuel mileage and handling on the road.
I measured several different trucks models to see how they would fit in our garage. We decided on a Toyota Tacoma and are very happy with it.
With the dimensions of our truck in hand, I started writing to pop-up camper manufacturers to see if they had the ability to modify or control the height of their campers.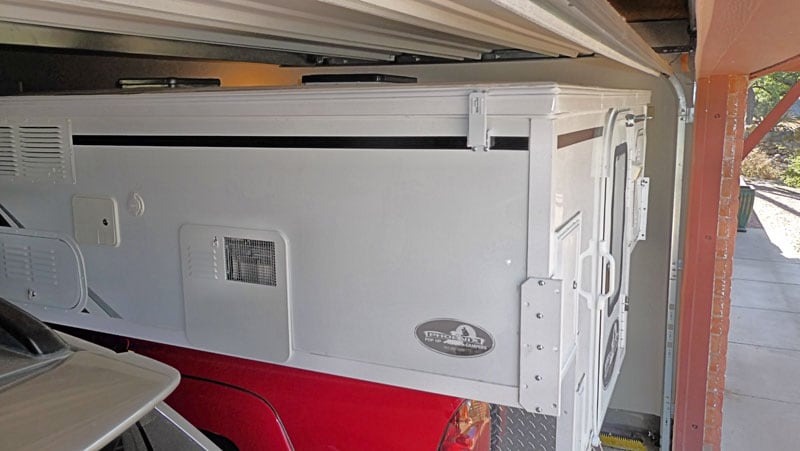 Only Phoenix Campers would build a pop-up camper low enough in its down position to clear our garage's 84-inch high opening when mounted on the Tacoma.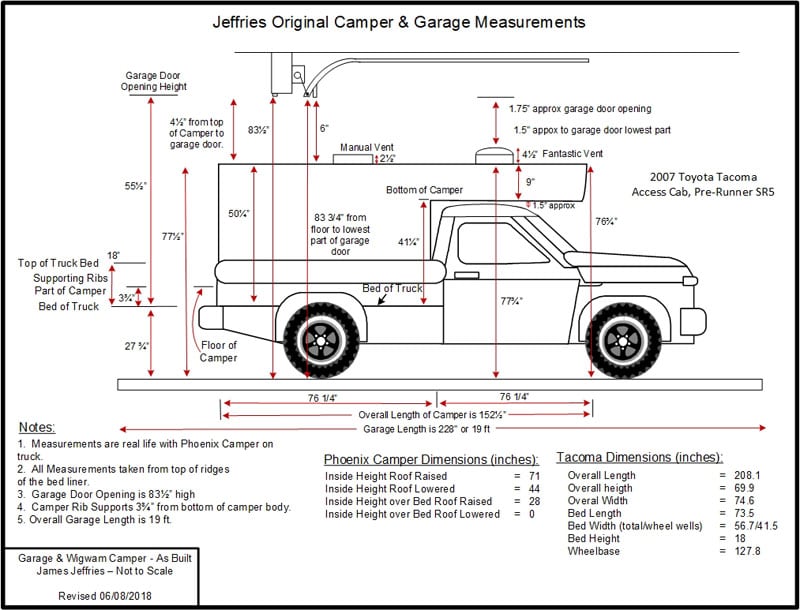 I sent a drawing to Robby Rowe at Phoenix Campers showing the truck with all the measurements and clearances for our garage. That's when our camper project was born.
Did you have the opportunity to actually see a Phoenix Camper before placing your order?
Yes, we traveled to Denver to meet Robby and see Phoenix Camper's operation. I had a preconceived notion that Phoenix Campers had a large factory with an assembly line, but it was a small family run operation.
When my wife and I arrived, Robby had a camper that was about 80-percent complete. This allowed us to see the materials and construction methods. When we left, we were ready to give Robby a deposit.
Working with Robby was a pleasure. He never complained about the millions of emails and drawings that I sent him.  He was easy to talk to and very knowledgeable.
He started in the camper business as a young man working with his father.  He listens and will give his advice and opinions.  He is not an overpowering person and has a quiet confidence from his years of experience.  I probably drove him nuts with all of my emails and design questions.
For our first Phoenix Camper, we sent Robby a deposit in February and we asked to pick the camper up in June.  We didn't mind waiting because I was working and planned a mini-vacation in June. We picked up our camper in early June and camped on the way back to Tucson.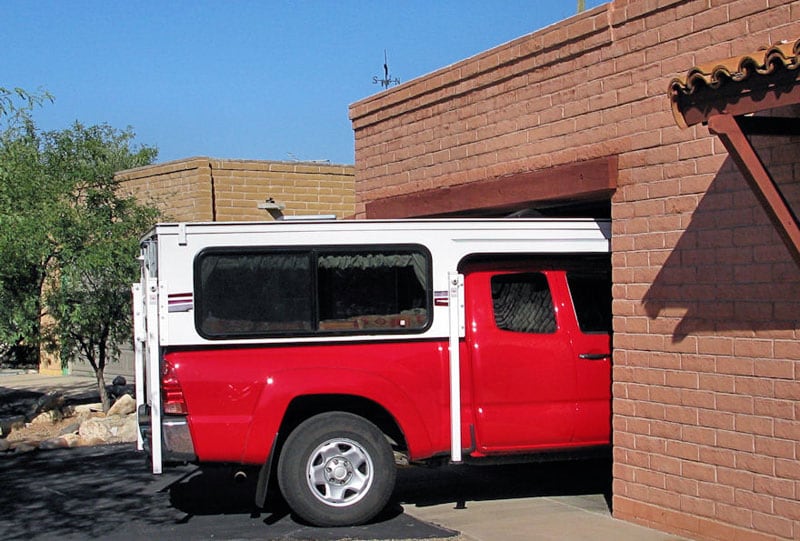 Above: Jim's first Phoenix Camper easily fit in his garage
Other than the reduced height, what was custom about your first Phoenix Camper?
We ordered a three cubic foot, three-way refrigerator for our first Phoenix Camper. We opted for a fixed bed with a thicker queen-size foam mattress that extends over the cab. This allowed us to sleep north-south instead of east-west.  We also picked our own interior fabrics and had it shipped up to Phoenix Campers.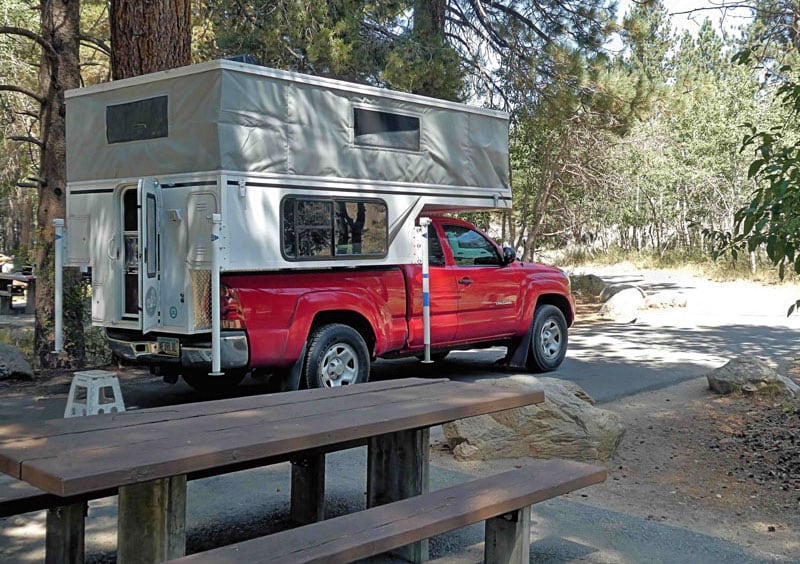 You've actually just bought a new Phoenix Camper.  You must have really liked your first one to get a second Phoenix Camper.  What was the reason for the upgrade?
Our new Phoenix Camper started with ideas and concepts from our first Phoenix Camper, but incorporated a Thetford cassette toilet from the Mini-Max, as well as a Rieco-Titan electric roof lift.
After having and enjoying our original Phoenix Pop-Up Camper for ten years, and growing a little older, we decided to upgrade to a slightly larger and more comfortable pop-up camper.
The design of the stove and sink area was a tight fit as I tried to minimize the rear overhang. The galley side of the camper controlled the overall length of the camper, and was a key design element.
As before, we supplied Western design motif fabrics that Robby had fabricated into cushions and curtains. Robby is very willing and happy to work with customers with their design ideas.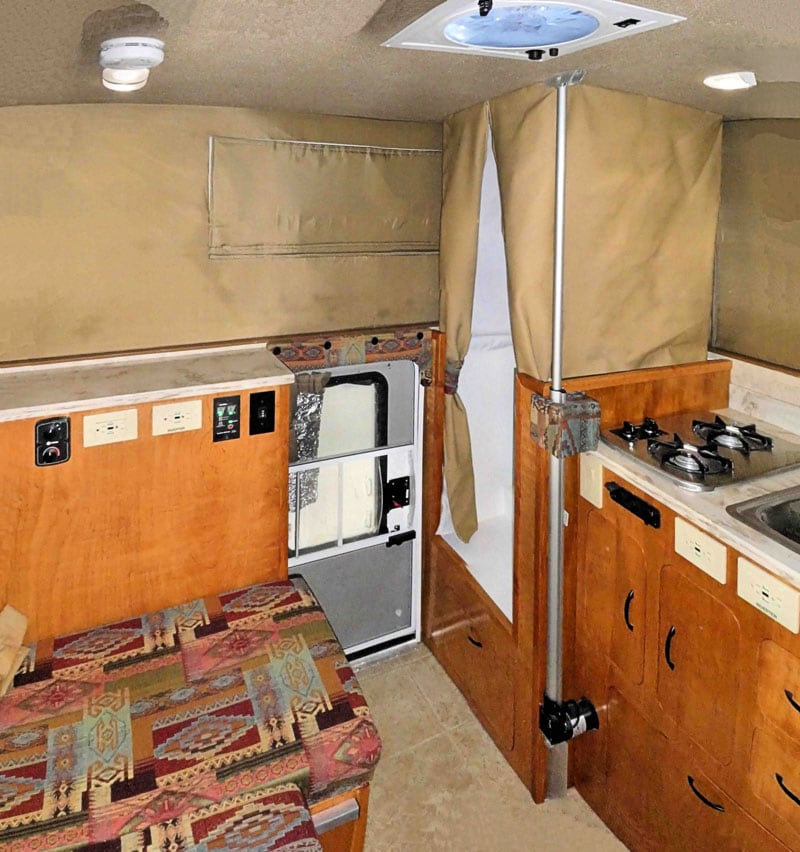 The main reason we wanted a new Phoenix Camper was the roof lift. Lifting the roof manually on the our first Phoenix was getting harder over the years. The roof area of our first Phoenix was a little longer than some of Robby's designs and the roof was a little heavier to lift. I can't tell you what a pleasure it is to push a button to raise and lower the roof. We also wanted a few comfort items on our new camper; like a permanently installed toilet instead of a porta-potty.
We saw a great article in Truck Camper Magazine showing Phoenix Camper's new Mini-Max model. That article pushed us over the edge to buy a new pop-up camper.
I started by getting Robby to send me a marked-up drawing with basic measurements of his Mini-Max. Then I created my own scale drawing. My drawing became the starting point for designing our new Phoenix Camper.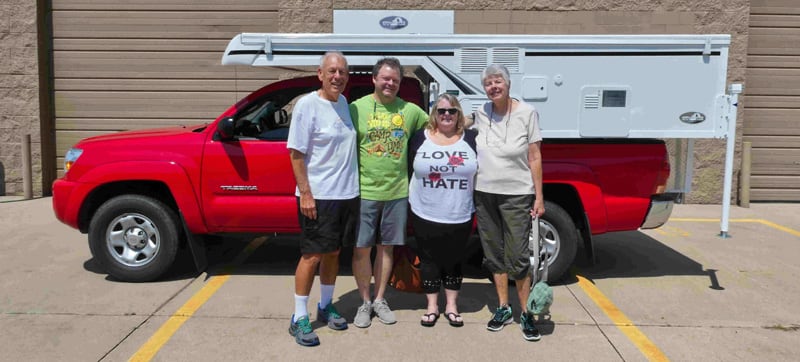 Above: Jim Jeffries, Robby Rowe, Cari Rowe, and Mary Jeffries
Fitting into our garage was once again our primary design criteria. Of course, I had a great relationship with Robby and Cari at Phoenix Campers. Working with them was fantastic!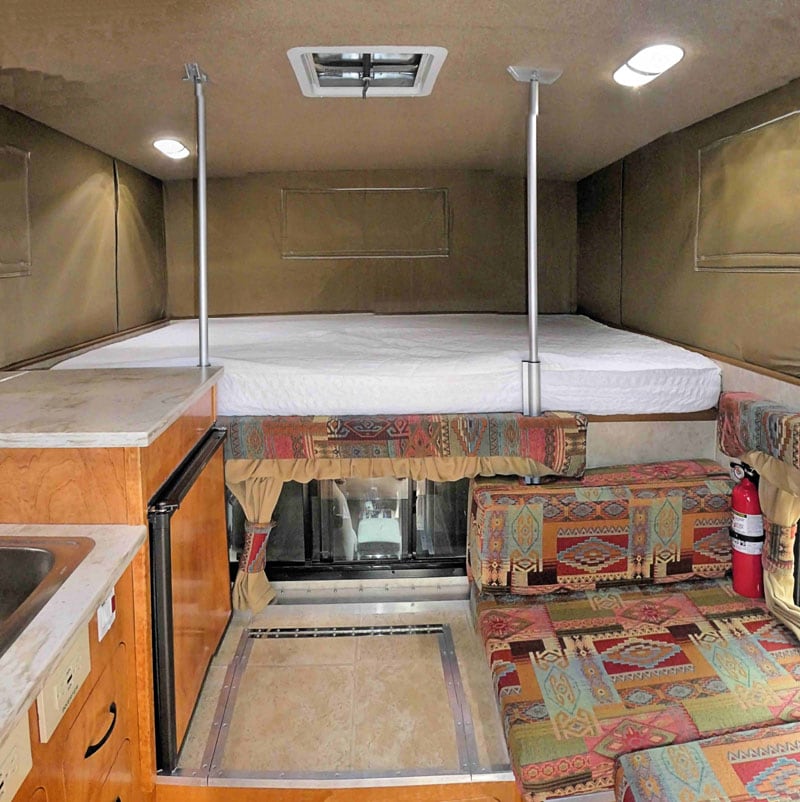 What else is different about your second Phoenix Camper?
In addition to the electric roof lift, our new camper has a permanent Thetford cassette toilet and a shower attachment. It also has a small hot water heater, a much nicer forced air propane furnace, a small grey water tank and a large fresh water tank.
I opted to keep the same Dometic three-way, three cubic foot refrigerator. I didn't believe our new camper would have a roof area large enough for solar array capable of supporting a 12-volt refrigerator.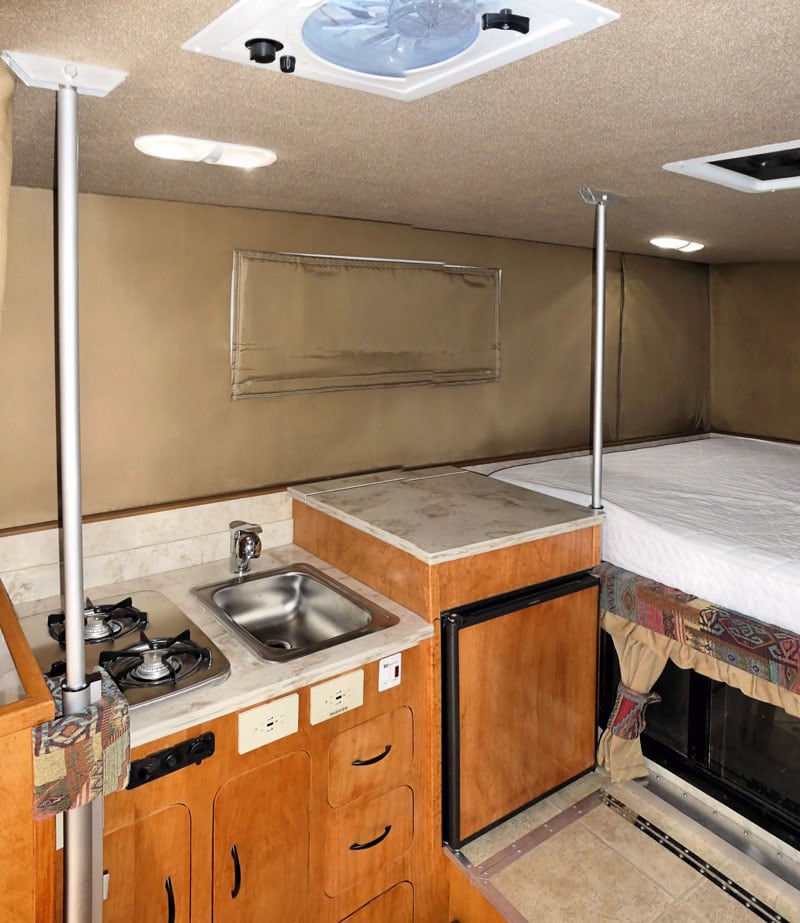 For its superior performance, I supplied Robby with a 12-volt, 120-amp AGM battery. I also added a 12-volt DC to 120-volt AC, 1000-watt inverter with extra outlets and USB charging ports.
Robby supplies a DC panel that includes a DC volt meter, a cigarette lighter outlet, and USB charging ports. This is a great addition. We enjoy our morning coffee and I bought a small Chulux K-Cup coffee maker that draws 850-watts. The Chulux coffee maker has been a perfect addition to our camper.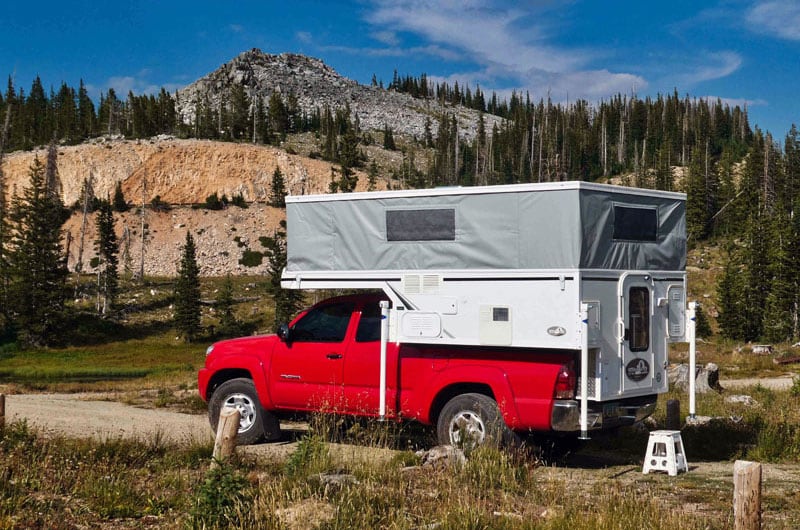 The overall length of the truck and new camper is 157-inches. The new camper extends past the rear bumper by 7-inches. It's also 84-inches wide, which is 14-inches wider than our old camper. Our new camper is much bigger and more comfortable than our old camper.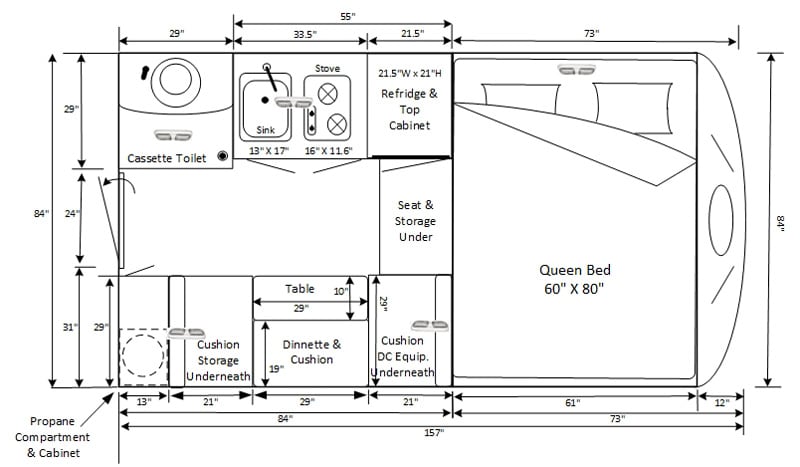 I worked closely with Robby creating this new design, and Robby magically pulled it off.
Robby continues to improve his design and development of Phoenix Campers. Among other improvements, he has added a Lucid memory foam queen mattress, and a ceiling headliner that solves the sweating issue and provides better insulation.
Despite the increased length and width, does your new Phoenix Camper fit into your garage?
Yes, it does. However, that's not the whole story.
In an effort to make sure that the new camper would fit in the garage, I made numerous measurements and sent several drawings to Robby similar to our first camper. Our house is an older design with a smaller 19-foot long garage. I wanted the new camper to be as wide and as long as it could be and to still fit within our garage, along with our Toyota Siena van. That was a challenging order that worried me. In the end I had to trust Robby, my measurements and drawings.
With our first Phoenix Camper, I didn't have to add any components to the rear suspension. Because of the increased weight of the new camper (approximately 250 additional pounds), I had to add suspension components. This added a level of complexity. Anything that I added to the rear suspension could possibly raise the overall height of the camper beyond my 84-inch maximum.
After talking with Robby about different suspension ideas, I added an Air Lift suspension kit on the rear of our truck. Firestone also markets a similar product.
I had each air bag hose run separately to the rear bumper. This way, I can control the pressure in each air bag independently and level the camper on the truck. For example, the left side of the camper has more equipment and is heavier. The air bags also allow us to get the truck and camper into the garage by controlling the air pressure.
The air bags have not been trouble free and have leaked air for various reasons. I believe that they are now repaired and functioning properly, but all air bags suspensions will need to be checked and maintained.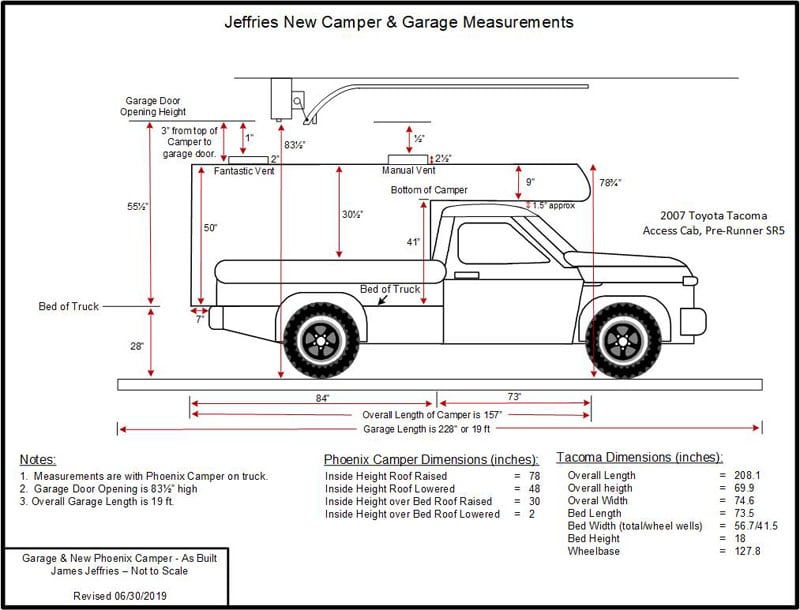 After we mounted the camper on the truck at Phoenix Campers, I relaxed a little. The camper, including the roof vents, was slightly under 84-inches. Of course I was still nervous when we arrived home and I pulled the truck and camper into the garage.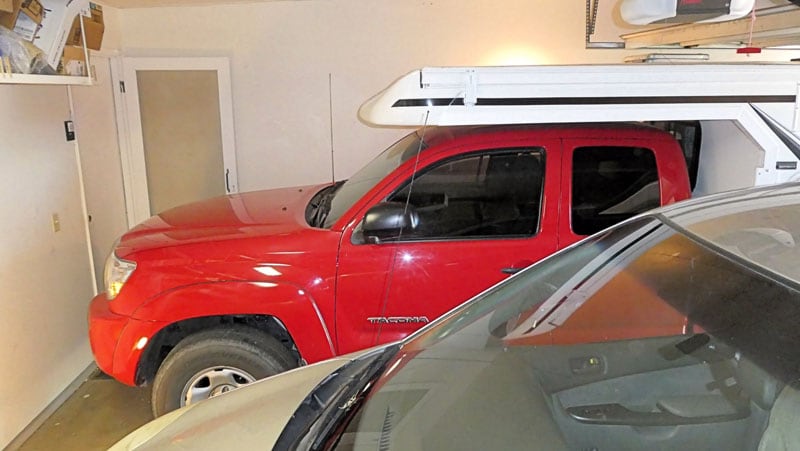 With our rig in the garage, we have 15-inches to the front wall. This allows us to barely walk in front and access our kitchen door. We also have 4-inches to the rear of the garage door.
To say it's a tight fit would be an understatement. I think we maximized every possibility with the truck, camper, and garage. Every time we go out we are very careful to check that the camper will clear.
Now that you've proven it's possible twice, what advice do you have for people who want to put their entire rig in their standard size garage?
My advice is to find a competent builder, like Robby Rowe, who is willing to work closely with you. Also make sure to use the old carpenter's adage of, "measure twice, and cut once". I measured every aspect of the camper and truck innumerable times and used our Tacoma without a camper to simulate the new measurements with a camper.
Scale drawings are a good help, and can help visualize the finished product. Measurement mistakes can be nearly impossible fix after the camper is built.
My previous experience working with Robby to build a pop-up camper probably saved the day. If you are very, very careful and work with a competent and caring builder like Robby, you can have the pop-up camper of your dreams and have it fit your garage.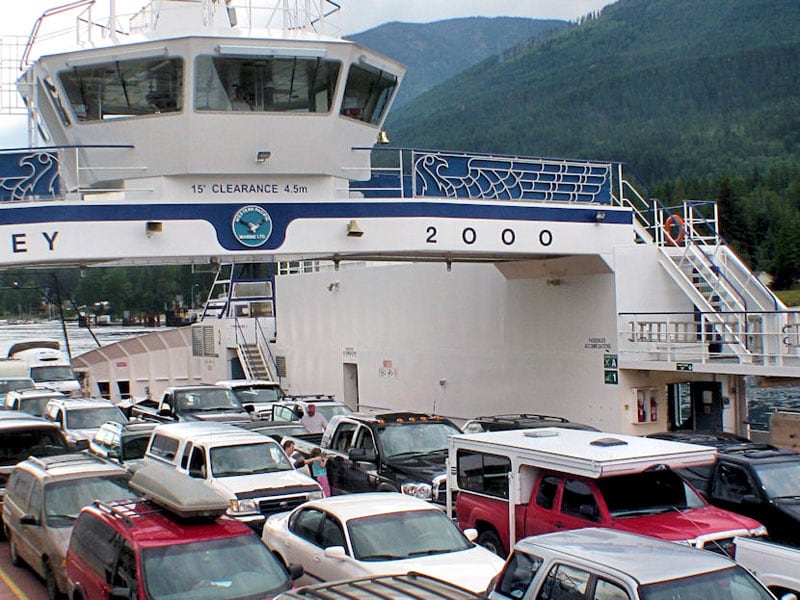 One thing about having such a compact rig is that you were charged passenger car rates on the Alaska ferries. Tell us about that.
One of our first big trips in our first Phoenix Camper was a trip to British Columbia and Alaska on the Alaska Marine Highway. The cost of the ferry is based on the vehicle's length and width. A premium added for widths over 8'7".
By having our camper fit entirely within the footprint of the truck, we didn't have to pay more than the normal cost for our Tacoma. Our new Phoenix Camper still fits within normal width dimensions and would not be charged a premium fee.
Here's an excerpt from the Alaska Marine Highway website:
"Planning an RV trip on the ferry needs special consideration prior to booking a reservation. Before making reservations, be sure to measure your vehicle's total overall length, height and width. Fares are determined by the total length and width (including trailers or add-ons). Most ships can accommodate vehicles up to 60′ in length. Measure the width of your RV with the mirrors folded in – 8'6″ is the standard width rate, RVs that are 8'7″ to 8'11" wide will be charged an additional 25% premium. RVs that are over 9′ wide will be charged an additional 50% premium."
With our first Phoenix Camper, we took two different ferries while traveling in Canada and Alaska.  I had always wanted to go to the Queen Charlotte Islands, which is an eight-hour ferry ride from Prince Rupert, British Columbia. We spent about a week on those islands.  Then we continued on the Alaska State ferry from Prince Rupert to Juneau.
While in Juneau, we took a boat tour into a fjord where we viewed glaciers and wildlife. In Juneau we camped at the Mendenhall Glacier Campground, which borders a lake with the glacier beyond. After Juneau, we continued on the ferry to Skagway, and then headed east to Banff and Jasper.  On our way home we drove through Idaho, Montana, Utah, and finally back home to Tucson totaling forty-one days on the road.
When we picked up our new camper in the Denver area last summer, we started another fun and long camping trip. We continued across Colorado, Wyoming, Idaho, Oregon and California before returning to Tucson. Along the way last summer, we had to dodge major wildfires with lots of smoke especially in Oregon and California.
We were gone about six weeks and really enjoyed the new camper and how spacious it is compared to our old camper. The electric roof lift was a very welcome addition. Our new camper has 78-inches between the floor and ceiling when the top is raised. The new camper is very comfortable and easy to live in on the road. We could have stayed longer if it hadn't been for all the smoke and fires.
Do you have any trips planned at this time?
We don't have a big special trip planned, but I've been researching a camping trip in Baja, Mexico all the way to Cabo San Lucas. This past Spring we were on vacation in Loreto, Baja, Mexico, and we saw so many campers of all kinds lining remote beaches in Baja. I wanted to be there with them, and we might do a late Spring trip in 2020 to Baja.
We especially enjoy the spectacular beauty of the West and Northwest of our great country. We love seeing nature and animals and enjoy quiet, peaceful campsites where we can just relax.
Jim Jeffries' Rig
Truck: 2007 Toyota Tacoma, Access Cab, single rear wheel, long bed, 4×2, V-6 gas engine
Camper: 2018 Phoenix Custom Pop-Up
Tie-downs: Four Internal Ratchet Straps and Eye Bolts
Suspension: Air Lift Ride Control Model 59561