Let this be a cautionary tale for husbands who innocently take their wives along to buy a part at a dealership that happens to have luxury truck campers in stock.  You've been warned.  Here is how a $5 part turned Into a $40K triple-slide.

Gary Creps just needed a $5 part.  No big deal.  A Lincoln $5 bill, and he was out the door.  Nothing to it.  Just another day in the life for Gary, less five bucks.
But something funny happened along on the way.  It seems Gary's wife took a slight detour into a 2013 Eagle Cap 1165 as Gary searched, innocently, for that simple $5 part he needed.  While he was working tirelessly to find the affordable part, he had no idea that his wife was opening a new chapter in their future, one that would cost 799,990% more than what he had in mind.
This is the story of how a $5 part turned into a $40K triple-slide Eagle Cap.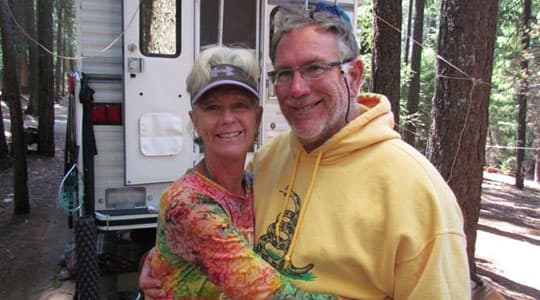 Above: Gary and Lisa Creps
TCM: How did you get into truck camping?
Gary: Both my wife and I grew up camping with our families.  My family tent camped out of a station wagon.  My father-in-law had a Travette camper and that's where I was introduced to truck campers.  My wife and I have had campers as part of our life since we were married thirty-five years ago.
We started with a 1977 three-quarter ton Chevrolet Cheyenne (C-20).  When I loaded the Travette on that truck, the suspension couldn't handle it.  So, I upgraded the suspension.  After the upgrade, the unloaded ride became really stiff.  At the time there was no information out there about properly matching a truck and camper.  I learned as I went, talking to other camper owners and people at part stores about batteries, tires, tie-downs, and suspension.  Anytime I saw a camper, I'd ask questions and learn.  There was no internet, so I had to find people to talk to.
The Travette was a simple camper with an ice box and no bathroom.  Before our trips I would go to the ice house and get a large block of ice.  There was an elegance to the simplicity of that camper.  We went to the Grand Canyon and Death Valley for our honeymoon in that Travette.  We had that camper for about five years.
Then we had an opportunity to get a Lance and we never looked back.  It was a 1985 11.5 foot camper.  There was more room.  It had a heater, an air conditioner, a larger bed, a three-way refrigerator, and a bathroom.  Everything was more comfortable and roomier.  We had two small boys at the time, and the Lance could easily support our young family.  We had the 1985 Lance until 2002.
In 2002, we purchased a 1995 Lance 880 with a north-south queen size bed.  It was a good deal from a family member who barely used it.  It was also more modern than our 1985 model.  We enjoyed the 1995 Lance for eleven years and just sold it in December of 2013.  It was in top condition as it was stored under cover all year.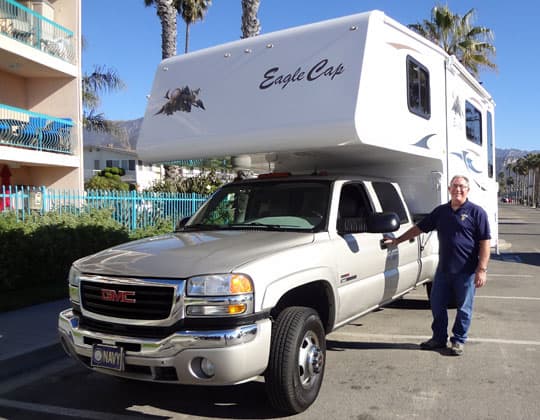 Above: Gary and Lisa's 2013 Eagle Cap 1165 and 2005 GMC 3500 Sierra
TCM: Tell us about getting your 2013 Eagle Cap 1165.
Gary: My wife and I still love to camp and explore, even though we are now empty nesters.  We wanted more room than our old Lance had, so I was looking around at new campers.
Then my wife and I went down to our local RV dealer looking for a camper part.  My wife went outside and the sales guy says, "You've got to see this camper".  She walked into the Eagle Cap 1165 with the peninsula and it was over.  The search for that $5 part, translated into a brand new, top-of-the-line, triple-slide truck camper.  The sale price was very reasonable, so we did it.
Before actually signing the paper, I allowed myself to walk off the site, but we left a deposit.  We gave ourselves one day to think it over, but the decision was essentially made that day.  We love it and have never looked back.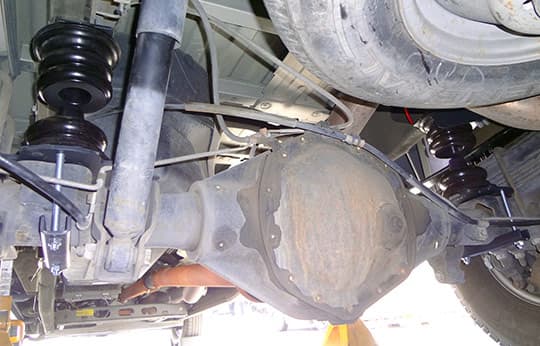 Above: SumoSpring Rebels installed on Gary and Lisa's 2005 GMC 3500 Sierra
TCM: Why did you get the SumoSprings Rebel?
Gary: Before SumoSprings were in the picture, I loaded the camper on my truck and drove it around the neighborhood.  It was okay, but I wanted to manage the sway potential, as it is a relatively heavy unit.  I had used traditional air bags for over ten years with the Lance campers.  They worked well, but I wanted something better.
The RV dealer told us about an innovative speciality truck spring manufacturer; SuperSprings.  I researched SuperSprings' products on the internet and gave them a call.  When I learned that SumoSprings were manufactured from a solid urethane material, and saw how the product operated under load, I was impressed.  As luck would have it, the manufacturer was only forty-five minutes up the road from us.  That's when I made an appointment with Gerry Lamberti, CEO of SuperSprings International.
Gerry and I talked technically about the application and he recommended their new SumoSpring Rebel product along with a set of their SuperSprings.  The SumoSpring Rebel is actually a two piece, upper and lower unit.  With the two piece system, the SumoSpring Rebel allows the frame and axle to be fully-independent when the truck is unloaded.  When the truck camper isn't loaded, the rear truck suspension handles as it would completely stock.
I use the truck camper about five weeks a year.  The rest of the year I use the truck around town.  If I had a suspension enhancement system that was always active, I'd lose my kidneys like I experienced back in 1977 with by modified Chevy three-quarter ton.  With the SumoSpring Rebel system, the camper rides well unloaded.
When the truck camper is loaded, the SumoSpring Rebel system engages to properly balance the rig.  Of course the SumoSpring Rebel, like all SumoSpring products, cannot rupture like a traditional air bag.  That's another big advantage.  The teaming of the SumoSpring Rebel and the SuperSpring is a superbly performing system.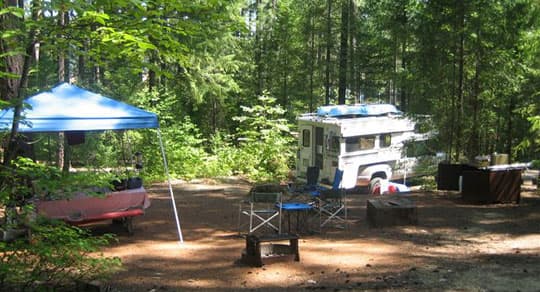 Above: Camping at Trinity Lake has been a family tradition for the Creps
TCM: Tell us about your truck camping lifestyle.  What do you like to do with your new Eagle Cap rig?
Gary: Every year we go on a two week family vacation with our boat.  We primarily go to Trinity Lake in northwest California.  Our kids are the fourth generation of our family to enjoy camping, hiking, fishing, water skiing, wakeboarding and boating on that beautiful lake.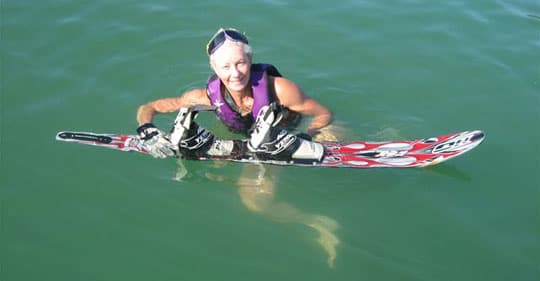 Above: Lisa and Gary like to go water skiing on Trinity Lake
California is so diverse geographically and geologically.  We enjoy exploring Death Valley, the vastness of the Mojave Desert, the Owens valley, and the Sierra Nevadas.  We have traveled to Lassen in Northern California and the coastal ranges.  We have gone wine tasting and camped on the beach.  There's also the southern deserts of Anza-Borrego Desert State Park and the Salton Sea State Recreation Areas.
We have not been able to go on as many weekend trips as we would like, but we expect to change this with the Eagle Cap camper.  To emphasize our new commitment, our first trip was an over the weekend stay on Rincon Beach in Ventura, California.  That was fantastic.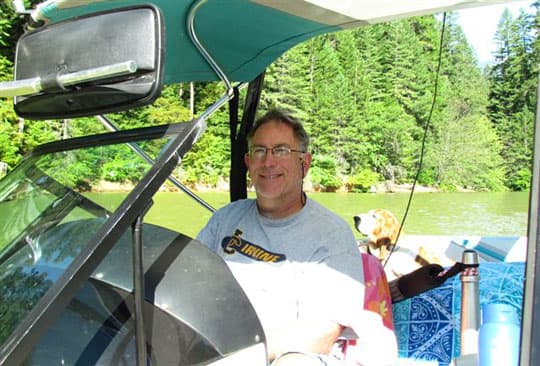 Above: Gary and Lisa tow their boat for river and lake trips
TCM: Do you take the boat all the time?
Gary: The boat comes with us on all river and lake trips, short or long.  The truck and camper easily handles the load so it is not a bother for a short trip.
For us, camping is enjoying the phenomenal geographic diversity in our country.  We love going on adventures seeing the unique geologic and historical features of this country.
Above: Dudley loves camping and boating
TCM: Your dog, Dudley, is adorable.  I see that he even goes with you on the boat.
Gary: Dudley, a Basset Hound, travels with us in the camper.  He was raised as part of the family and loves camping and boating.  He always rides in the truck with us.  He's a real sweetheart.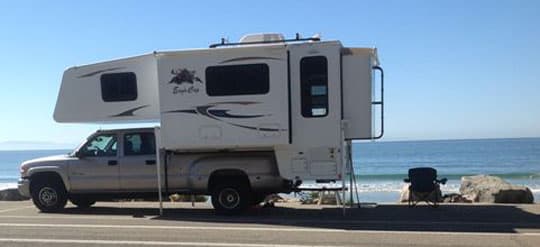 Above: Gary and Lisa's Eagle Cap 1165 on the Pacific Coast
TCM: What's next for your truck camping plans?
Gary: We're preparing our plans for 2014.  We want to visit Yosemite and Sequoia National parks in the winter.  We will also return to Lake Trinity this summer.
This camper has the capacity to handle more of the family.  We can bring the fun into the camper.  Before, everyone could not fit around the table.  In the Eagle Cap dinette, everyone can join us.  This camper has a tremendous amount of room, and will be a family hub.
Truck campers are the way to go.  We have loved our truck campers.  They have given us the flexibility and agility to go anywhere we want to go at almost a moment's notice.  We have always loved our truck campers and can't envision us ever going over to a motorhome, ever!
The Eagle Cap 1165 is quite amazing.  We have more comfort than we ever imagined with it, yet we still maintain the truck camper feel, including the flexibility and maneuverability that we're used to.
Having the Eagle Cap in our backyard also gives as a guest house and an emergency refuge.  After the earthquake in 1994, we lived in our Lance for six months while our house was being repaired.  So, if we have another earthquake, we have our new larger capacity emergency refuge; our Eagle Cap 1165.
Truck: 2005 GMC 3500 Sierra, dually, 4×2
Camper: 2013 Eagle Cap 1165
Tie-downs/Turnbuckles: Happijac tie-downs with Qwik-Load turnbuckles
Suspension: SumoSprings Supreme, SuperSprings, Bilstein Shocks,
Tires:  upgraded to Load Range E, 235-85-16 with a 2-inch rear wheel spacers
Gear: Reese Class 5 hitch receiver, Reese hitch extension
Gauges: DiPricol Pryromenter and Boost Gauges
Do you have a neat story about how you found your truck camper?  Please share your story.