Let this be a cautionary tale for husbands who innocently take their wives along to buy a part at a dealership that happens to have luxury truck campers in stock.  You've been warned.  Here is how a $5 part turned Into a $40K triple-slide.

Gary Creps just needed a $5 part.  No big deal.  A Lincoln $5 bill, and he was out the door.  Nothing to it.  Just another day in the life for Gary, less five bucks.
But something funny happened along on the way.  It seems Gary's wife took a slight detour into a 2013 Eagle Cap 1165 as Gary searched, innocently, for that simple $5 part he needed.  While he was working tirelessly to find the affordable part, he had no idea that his wife was opening a new chapter in their future, one that would cost 799,990% more than what he had in mind.
This is the story of how a $5 part turned into a $40K triple-slide Eagle Cap.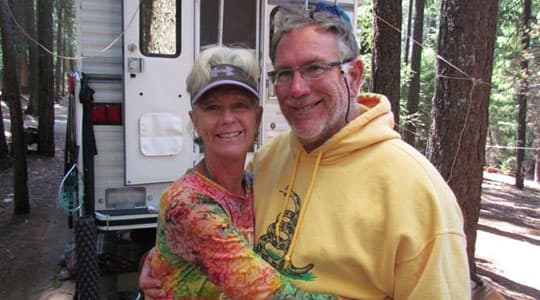 Above: Gary and Lisa Creps
TCM: How did you get into truck camping?
Gary: Both my wife and I grew up camping with our families.  My family tent camped out of a station wagon.  My father-in-law had a Travette camper and that's where I was introduced to truck campers.  My wife and I have had campers as part of our life since we were married thirty-five years ago.
We started with a 1977 three-quarter ton Chevrolet Cheyenne (C-20).  When I loaded the Travette on that truck, the suspension couldn't handle it.  So, I upgraded the suspension.  After the upgrade, the unloaded ride became really stiff.  At the time there was no information out there about properly matching a truck and camper.  I learned as I went, talking to other camper owners and people at part stores about batteries, tires, tie-downs, and suspension.  Anytime I saw a camper, I'd ask questions and learn.  There was no internet, so I had to find people to talk to.
The Travette was a simple camper with an ice box and no bathroom.  Before our trips I would go to the ice house and get a large block of ice.  There was an elegance to the simplicity of that camper.  We went to the Grand Canyon and Death Valley for our honeymoon in that Travette.  We had that camper for about five years.
Then we had an opportunity to get a Lance and we never looked back.  It was a 1985 11.5 foot camper.  There was more room.  It had a heater, an air conditioner, a larger bed, a three-way refrigerator, and a bathroom.  Everything was more comfortable and roomier.  We had two small boys at the time, and the Lance could easily support our young family.  We had the 1985 Lance until 2002.
In 2002, we purchased a 1995 Lance 880 with a north-south queen size bed.  It was a good deal from a family member who barely used it.  It was also more modern than our 1985 model.  We enjoyed the 1995 Lance for eleven years and just sold it in December of 2013.  It was in top condition as it was stored under cover all year.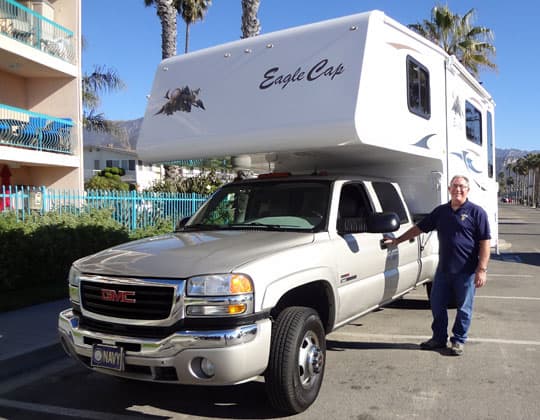 Above: Gary and Lisa's 2013 Eagle Cap 1165 and 2005 GMC 3500 Sierra
TCM: Tell us about getting your 2013 Eagle Cap 1165.
Gary: My wife and I still love to camp and explore, even though we are now empty nesters.  We wanted more room than our old Lance had, so I was looking around at new campers.
Then my wife and I went down to our local RV dealer looking for a camper part.  My wife went outside and the sales guy says, "You've got to see this camper".  She walked into the Eagle Cap 1165 with the peninsula and it was over.  The search for that $5 part, translated into a brand new, top-of-the-line, triple-slide truck camper.  The sale price was very reasonable, so we did it.
Before actually signing the paper, I allowed myself to walk off the site, but we left a deposit.  We gave ourselves one day to think it over, but the decision was essentially made that day.  We love it and have never looked back.