SuperSprings once again takes aim at traditional air bags with the new SumoSpring Rebel, a more versatile version of their successful leak-proof, rupture-proof, closed cell urethane suspension product.

We have yet to attend a RV show or truck camper rally where the often controversial subject of air bags hasn't come up.  Heck, you can't get a half-dozen truck campers together for more than a day or so without someone talking about how they love or hate their air bags.  The reason air bags are so commonly the subject of debate is both their historical ubiquity throughout the truck camper marketplace, and their inherent capabilities and failings.
For decades, air bags have been a go-to suspension enhancement solution for sagging loads, uneven load distribution, and just about any other suspension issue truck camper rigs can experience.  Unfortunately, air bags are too often prescribed to solve problems they were not intended to address.
Air bags do not increase the GVWR or payload capacity of your truck.  In fact, no aftermarket suspension product can increase the GVWR or payload capacity of your truck.  GVWR and payload can only be determined by the truck manufacturer as part of a complex equations factoring in the type, quality, strength, and capacity of your tires, brakes, axles, frame, and overall truck design.
Air bags are essentially small automotive tires; rubber and fabric containers holding air under pressure to support a load.  As such, air bags share the same vulnerabilities to puncture, leaks, and deflation as automotive tires do.
To address these air bag vulnerabilities, SuperSprings debuted the SumoSpring in 2010.  The SumoSpring is an air bag replacement product made from a homogenous form of microcellular polyurethane.  SumoSprings have been so popular that SuperSprings is now introducing a variant of the product that improves its versatility; especially for truck camper applications.
To tell us more about the SumoSpring Rebel, we talked to Gerry Lamberti, CEO of SuperSprings International.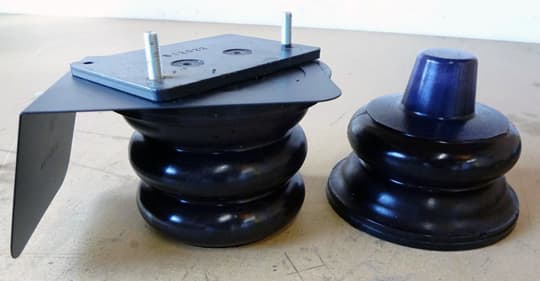 Above: The two-piece SumoSpring Rebel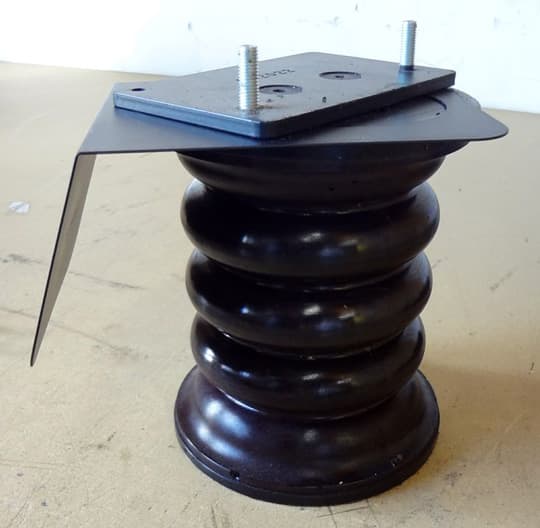 Above: The SumoSpring Rebel – placed together
TCM: Before we get to the new SumoSpring Rebel, tell is about the original SumoSpring, the Maxim, and why you brought that product to the market.
Gerry: SuperSprings has been in the automotive suspension industry for over sixteen years.  Our primary focus has been on mechanical solutions including the SuperSpring self-adjusting rear leaf spring system.
One comment we often heard at industry and consumer shows was a preference for air bags over other suspension enhancement solutions.  Air bags were the default choice, mostly due to the clever advertising by the air bag industry.
All of this got me thinking about an air bag that didn't have the downsides of a traditional air bag system; mainly the potential for deflation, leaks, and ruptures.  Air bags also require maintenance to maintain proper air pressure and need to be adjusted depending on the load.
When we talked to folks about air bags, they would tell us they liked the product, but then there was always a "but".  They would say, "I like air bags, but they deflate" or, "but I had one break" or, "but they're a pain to maintain."  It was always a "but" about traditional air bags.
During my research for a better air bag solution, I talked to various manufacturers of cast polyurethane elastomeric and microcellular foam parts for the automotive industry.  We experimented with their products and approach, but they didn't have the technology to get the performance we needed.
That's when we started talking to Pleiger Plastics, a cutting-edge German company with a plant near Pittsburgh, Pennsylvania capable of producing a micro-cellular polyurethane product with the density, tensile strength, elongation, tear resistance, rebound, and compression characteristics we were looking for.  I explained to them my idea of taking a traditional air bag and converting it into a shaped spring of closed cell urethane with hundreds of thousands of tiny bubbles performing as a progressive rate spring.  The Pleiger team understood my vision and got to work.
At the time, we were working with the United States Border Patrol and installing SuperSprings on about 1,000 of their trucks every year.  When I mentioned the concept of the SumoSpring, their agent became very interested.  When the first prototypes were ready, the product was tested on the challenging off-road conditions the Border Patrol travels every day.