SuperSprings once again takes aim at traditional air bags with the new SumoSpring Rebel, a more versatile version of their successful leak-proof, rupture-proof, closed cell urethane suspension product.

We have yet to attend a RV show or truck camper rally where the often controversial subject of air bags hasn't come up.  Heck, you can't get a half-dozen truck campers together for more than a day or so without someone talking about how they love or hate their air bags.  The reason air bags are so commonly the subject of debate is both their historical ubiquity throughout the truck camper marketplace, and their inherent capabilities and failings.
For decades, air bags have been a go-to suspension enhancement solution for sagging loads, uneven load distribution, and just about any other suspension issue truck camper rigs can experience.  Unfortunately, air bags are too often prescribed to solve problems they were not intended to address.
Air bags do not increase the GVWR or payload capacity of your truck.  In fact, no aftermarket suspension product can increase the GVWR or payload capacity of your truck.  GVWR and payload can only be determined by the truck manufacturer as part of a complex equations factoring in the type, quality, strength, and capacity of your tires, brakes, axles, frame, and overall truck design.
Air bags are essentially small automotive tires; rubber and fabric containers holding air under pressure to support a load.  As such, air bags share the same vulnerabilities to puncture, leaks, and deflation as automotive tires do.
To address these air bag vulnerabilities, SuperSprings debuted the SumoSpring in 2010.  The SumoSpring is an air bag replacement product made from a homogenous form of microcellular polyurethane.  SumoSprings have been so popular that SuperSprings is now introducing a variant of the product that improves its versatility; especially for truck camper applications.
To tell us more about the SumoSpring Rebel, we talked to Gerry Lamberti, CEO of SuperSprings International.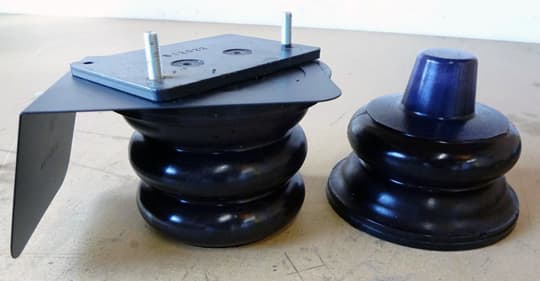 Above: The two-piece SumoSpring Rebel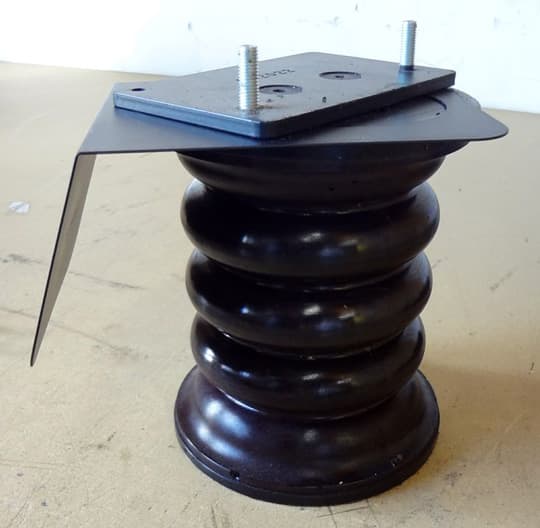 Above: The SumoSpring Rebel – placed together
TCM: Before we get to the new SumoSpring Rebel, tell is about the original SumoSpring, the Maxim, and why you brought that product to the market.
Gerry: SuperSprings has been in the automotive suspension industry for over sixteen years.  Our primary focus has been on mechanical solutions including the SuperSpring self-adjusting rear leaf spring system.
One comment we often heard at industry and consumer shows was a preference for air bags over other suspension enhancement solutions.  Air bags were the default choice, mostly due to the clever advertising by the air bag industry.
All of this got me thinking about an air bag that didn't have the downsides of a traditional air bag system; mainly the potential for deflation, leaks, and ruptures.  Air bags also require maintenance to maintain proper air pressure and need to be adjusted depending on the load.
When we talked to folks about air bags, they would tell us they liked the product, but then there was always a "but".  They would say, "I like air bags, but they deflate" or, "but I had one break" or, "but they're a pain to maintain."  It was always a "but" about traditional air bags.
During my research for a better air bag solution, I talked to various manufacturers of cast polyurethane elastomeric and microcellular foam parts for the automotive industry.  We experimented with their products and approach, but they didn't have the technology to get the performance we needed.
That's when we started talking to Pleiger Plastics, a cutting-edge German company with a plant near Pittsburgh, Pennsylvania capable of producing a micro-cellular polyurethane product with the density, tensile strength, elongation, tear resistance, rebound, and compression characteristics we were looking for.  I explained to them my idea of taking a traditional air bag and converting it into a shaped spring of closed cell urethane with hundreds of thousands of tiny bubbles performing as a progressive rate spring.  The Pleiger team understood my vision and got to work.
At the time, we were working with the United States Border Patrol and installing SuperSprings on about 1,000 of their trucks every year.  When I mentioned the concept of the SumoSpring, their agent became very interested.  When the first prototypes were ready, the product was tested on the challenging off-road conditions the Border Patrol travels every day.
During the testing, I was going back and forth from our headquarters in Santa Barbara to the US-Mexico border getting feedback on performance, conducting our own tests, and taking measurements.  We were looking to find the right height, density, shape, and plating.  After a lot of experimentation, we got it right.  Pleiger's engineers and our testing were instrumental in helping us find the right balance of properties for the SumoSprings.
TCM: In the five years since the original SumoSpring was announced, how has the product been received in the marketplace?
Gerry: The SumoSpring has found success in some unpredicted areas.  At SEMA three years ago, we were approached by the biggest auto distributor in Australia.  From that meeting, we ended up developing and exporting a version of the SumoSpring for the Australian pickup truck market.
Then we developed a SumoSpring for Class A motorhomes.  In September of 2010, Bob Livingston, Publisher of Motorhome Magazine, heard about what we were doing and ran independent tests on Ford and Workhorse Class A chassis.  His review was very successful and for six months we couldn't make SumoSprings fast enough.
TCM: Have SumoSprings been successful in the domestic truck market?
Gerry: Yes.  They continue to be popular for the domestic truck market.  The SumoSpring has been an excellent product for us.
TCM: Why is SuperSprings coming out with the SumoSpring Rebel?
Gerry: That brings us back to the Australian market.  In Australia, they use very light pick-up trucks similar to the Ford Ranger and Toyota Tacoma.  When these lighter duty trucks were running empty with SumoSprings installed, we found it was over compensating and impacting their ride quality.  We tried different densities of microcellular urethane, but nothing could compress and extend fast enough for the bumpy gravel roads our customers experience in Australia.
That challenge led to the development of a split SumoSpring.  When we tested the first split SumoSpring prototypes, we immediately discovered improved ride quality; specifically when unloaded.  Using this design approach, the suspension can also go through the full travel length intended by the truck manufacturer.  This is what our Australian customers needed.  It's made a big difference.
Above: The above photos show the convex and concave halves of the SumoSpring Rebel, on a Chevy with the truck jacked and weight off (click to enlarge)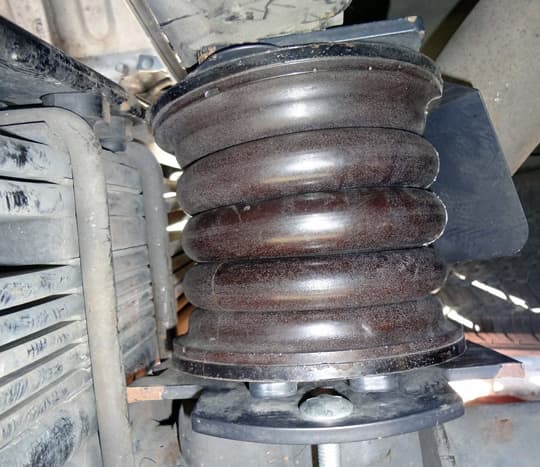 Above: The SumoSpring Rebel engaged on a Chevy 3500 with a loaded truck camper
TCM: How does the SumoSpring Rebel work?
Gerry: The SumoSpring Rebel is split into convex and concave halves.  These two halves are aligned perfectly and marry together when the truck is loaded to provide additional support.  When unloaded, these two halves can separate returning your truck's spring pack and suspension to stock operation.  The ability to separate top and bottom halves dramatically improves driver comfort.  It's a very simple concept, and it works beautifully.
We sent the first SumoSpring Rebel products to Australia for testing and they just loved it.  Now the Australians use the one-piece SumoSpring Maxim for commercial trucks that have a constant load, and the SumoSpring Rebel for trucks with variable loads, including truck campers.  The SumoSpring Rebel is a huge hit down under.
It's a good thing the SumoSpring products are going well as we have substantial funds tied up in the molds alone.  This proprietary method of fabrication is expensive and time intensive product to produce.
TCM: It sounds like truck camper customers who are interested in SumoSprings should opt for the SumoSpring Rebel.
Gerry: Absolutely.
TCM: What's next for the SumoSpring product?
Gerry: We have some ideas percolating.  For example, I may offer different densities of SumoSpring products for different applications down the road, but that's off in the future for now.  We're always working on improving ride quality and versatility for our customers.  If you were here, you would find us brainstorming about how to fine tune and evolve our products.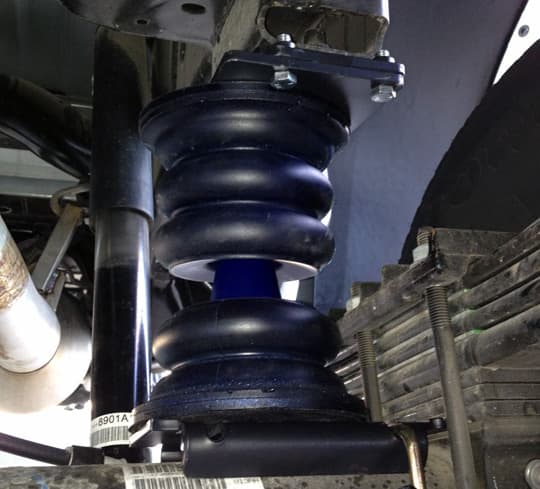 Above: The SumoSpring Rebel installed on an unloaded Dodge 3500 dually
TCM: Is there any opportunity for the SumoSpring Rebel to come mis-aligned after installation?
Gerry: During the install, the top and bottom halves of the SumoSpring Rebel are aligned perfectly before tightening the brackets.  The brackets themselves are aligned to specific points on the frame, spring pack, or axle, depending on the truck's make and model.  Often times these points are existing factory holes in the frame.  This ensures the brackets and SumoSpring Rebel system are lined up with geometry of the truck.  There isn't any opportunity for this geometry to be misaligned.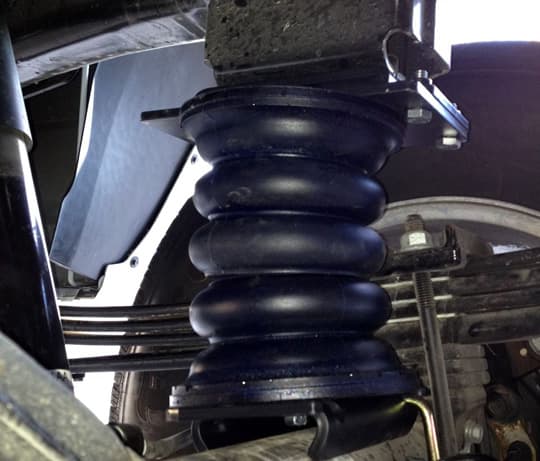 Above: The SumoSpring Rebel installed on a loaded Dodge 3500 dually
TCM: Are there SumoSpring Rebel brackets for Ford, GM, Dodge, and Toyota trucks?
Gerry: We have Ford, GM, and Dodge brackets ready to go.
TCM: How much does the SumoSpring Rebel product cost?
Gerry: The Maxim and Rebel are the same price.  Those two kits are currently $589 less $100 mail in rebate.
TCM: You said that Pleiger is a German company with a factory in Pennsylvania.  Are SumoSprings made in the USA?
Gerry: Technically, the SumoSpring material constituents are imported by Pleiger from Germany and then the final product – the SumoSpring itself – is manufactured in Pennsylvania.  We maintain a big focus on all our suspension products being made in the USA.
TCM: Why would someone choose the SumoSpring Rebel over traditional air bags?
Gerry: It's a fit and forget it product.  You never have to maintain SumoSprings, or worry about deflation or rupture or problematic air-lines.  You could literally get a nail through a SumoSpring and keep going.  Don't try that with a traditional air bag.
The US Border Patrol has been using SumoSpring products for five years now with zero maintenance issues – and they drive their rigs hard.  They love our product.
TCM: What would someone experience who changed from traditional air bags to the SumoSpring Rebel system?
Gerry: They would experience a dramatic improvement in unloaded ride quality.  They would also enjoy the comfort of knowing that SumoSprings are nearly indestructible, and maintenance free.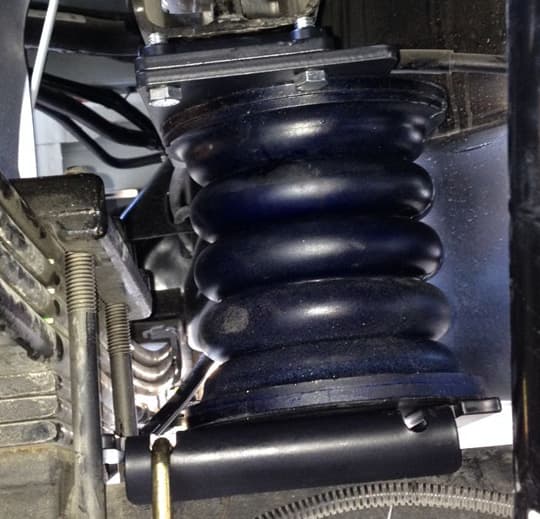 Above: The SumoSpring Rebel engaged with a loaded truck camper
TCM: What about the fact that SumoSprings do not allow for side-to-side leveling like air bags do?  For example, what if a truck camper is heavier on one side due to a slide-out and requires more support of that side?
Gerry: I'm glad you asked that.  We recently had a truck camper customer do an installation with the SumoSpring Rebel system who had exactly that situation.  He had a truck camper with a slide-out on one side and he was concerned about the rig leaning.  Without the SumoSprings, his rig was literally one inch lower than the other.
I suggested to him that he install the SumoSpring Rebel system and then we would take a look at how the system adjusted for this side-to-side weight difference.  The SumoSpring material is progressive and offers more support as it compresses.  If the product worked as it was designed, it would compensate for the weight difference and level the load.
As it is set-up, this brought the truck to within a half inch difference side to side.  The progressive rate material and parabolic spring curve worked as it was intended.
In this particular example, the side-to-side weight difference wasn't that significant.  Most modern truck campers are designed to be well balanced front-to-back and side-to-side.  For these campers, the SumoSpring Rebel will be a natural fit-and-forget match.  If you have an older camper or a model that happens to be exceptionally heavy on one side, the SumoSpring Rebel may not completely address the imbalance.
TCM: What is the warranty on SumoSpring products?
Gerry: SumoSprings have a two year warranty.  We are looking to extend that warranty because with the exception of misapplications, warranties are virtually non-existent.  It's an excellent product.
TCM: When will the SumoSpring Rebel be available?
Gerry: The SumoSpring Rebel is available right now.  Call us at 1-800-898-0705 and we can answer your questions.
For more information on the SumoSprings Rebel, visit SuperSprings website at www.supersprings.com.