Living full-time in a Lance Camper, Maggie Karam explores the United States and Canada, visits family and friends, and relentlessly pursues her adventure bucket list.  All by herself.

Almost everyone reading this article would go out of their minds if all they had left to do was stay home and watch television.  So why is it that some folks retire to a comfy sofa and remote, while others are compelled to hit the road and explore?  Is there an adventure travel gene?
If there is, surely Maggie Karam has it.  As a textbook example of someone with itchy feet, Maggie has an insatiable urge to travel.  For as long as she can remember, Maggie has been escaping the confines of traditional house to hitchhike, drive, and RV the world before her.
With her Energizer Bunny-like wanderlust, it's incredible that it took decades for Maggie to discover the freedom and versatility of a truck camper rig.  Once she did, it was a match made in heaven.  As she explains, her Lance Camper might be the closest thing she's ever had to a home.
What follows is Maggie's amazing story; from leaving home at 16 to discover America, to living full-time in fifth-wheels, to finally getting a truck and camper.  Along the way it becomes perfectly clear why she is known as Wonder Woman.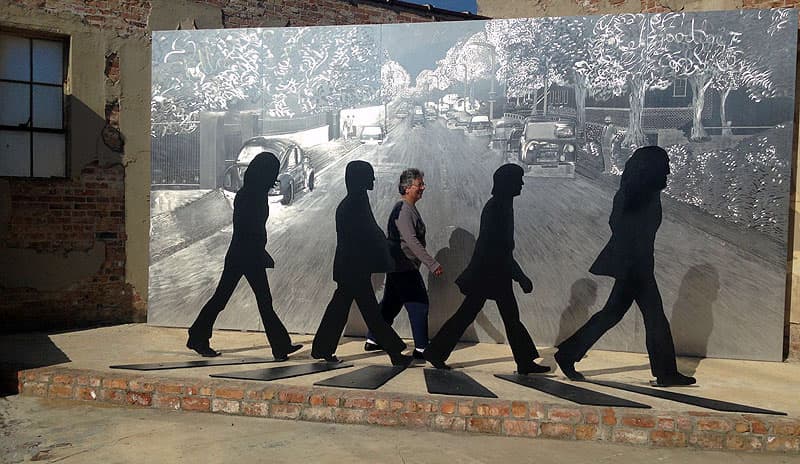 Above: Maggie at the Beatles sculpture in downtown Walnut Ridge, Arkansas
TCM: Tell us about your camping experiences over the years and what brought you to truck campers.
Maggie: I did not camp at all in my childhood.  I remember a boy sharing with the fifth grade class that he had gone to camp over the summer.  I didn't know or understand what that meant.  I cornered him later to ask for clarification and all he said was, "It was like any other summer camp.  Everyone knows what summer camp is!"
I left home after graduating high school and hitch-hiked across the country.  First, I went to Washington, then back to California, then to Florida, and ended in Michigan in the middle of winter, which I was not prepared for.  After my life in downtown Los Angeles, the wide open spaces I found were exciting, enchanting, seductive and awe inspiring.
I spent some months on Catalina Island off the coast of Los Angeles and explored the whole island by foot, boat, and bicycle.  I danced in the storms raging from the otherwise calm Pacific side of the Island.
My first RV was a 1960 Volkswagen cargo van that had been set up as a camper.  Then I had a 17-foot Shasta trailer.  Then I had a Class C, my least favorite.  Fast forward 20 years and there were a series of fifth wheels that my then husband and I traveled in.  The fifth wheels were my first true introduction to the classic full-timing set up.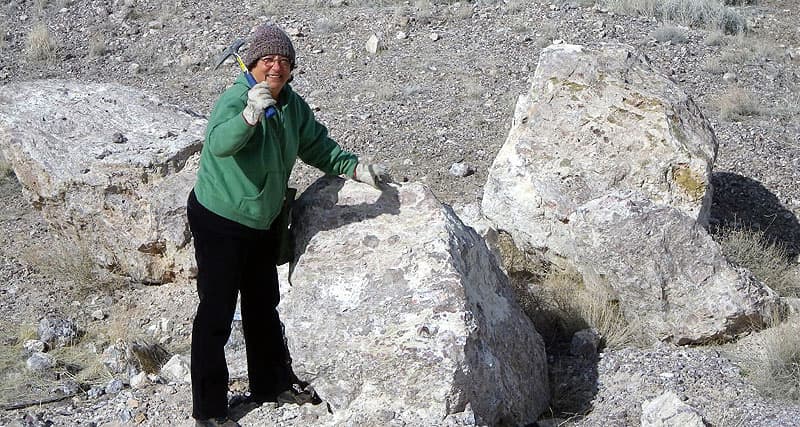 Above: Rock hounding in the New Mexico desert
One year we would focus on finding all the hot springs to soak in, in both commercial and little known pools.  One pool we found had tropical fish (like you would see in a household aquarium) swimming around in this tepid water, while there was snow all around.  Another year we would focus on free off-road sites to boondock.  Then we started rock hounding and focused on locating the best spots to find semi-precious stones.
Eventually, I set my sites on Alaska.  My friends, Jerry and Judy Funk, said, "The best way to do Alaska is in a truck camper".  After much research and discussion, we had to agree.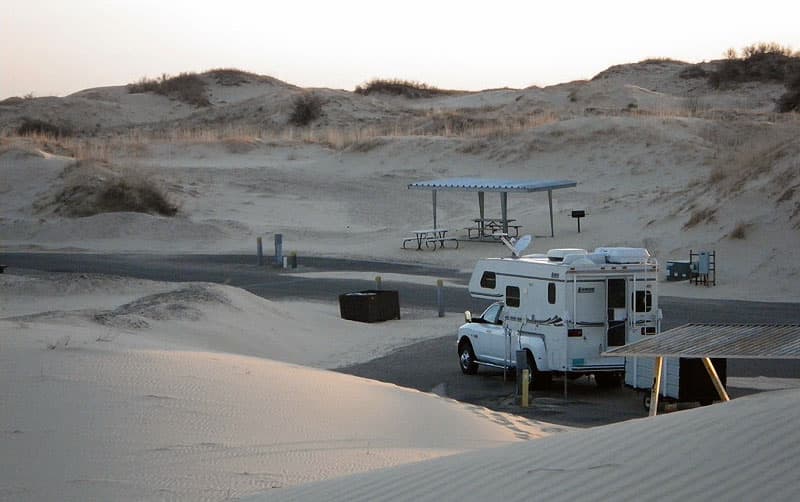 Above: Maggie's first trip with her Lance 1130
With some further research, we located the perfect used truck camper.  My son bought the best truck to carry the camper as he was concerned for our safety, and wanted us to have a trouble-free adventure to The Last Frontier.