Full-time RVers, George and Sarah Baker, use their self-leveling Ford F450 flatbed for a fifth wheel, an Arctic Fox 990, and a Tri Glide Harley.  Look out Route 66.

Back in September of 2009, Truck Camper Magazine published a "Ditch the Fifth" series with truck camper owners who had made the switch from a fifth wheel to a truck camper.  At the time, our perspective was focused on how truck campers were more versatile and efficient than fifth wheels, and thus a better choice for many.
Since that time, our viewpoint has changed.  We have met many fifth wheel owners and learned about the advantages and disadvantages of that RV type.  Some of these fifth wheel owners also owned a truck camper forcing us to reconsider our truck campers or nothing attitude.
There are excellent reasons that motorhomes and towables of every category exist.  Each RV product type serves its own niche, purpose, and advantages.  Truck campers aren't better across the board, just generally better for what we want in a RV.  As our tagline says, "Go Anywhere.  Camp Anywhere.  Tow Anything".
There's no law that says you have to pick an RV type, and stick with it.  More importantly, there's no law that says you have to only have one RV.  Besides, truck campers are to fifth wheels as minivans are to motorcycles; totally different animals.
George and Sarah Baker's full-time RV lifestyle illustrates this point beautifully.  The Bakers keep a fifth wheel at a private campground in Texas, and snowbird there every winter.  In the spring, they lock-up their fifth wheel, back their Ford F450 under an Arctic Fox 990, and hit the road.
Their fifth wheel stays behind as their home base.  Their camper, and a Harley Tri Glide motorcycle are their escape and explore vehicles.  I may be the Publisher of Truck Camper Magazine, but their two RV approach to a full-time RV lifestyle makes sense.  They get the space and comfort of a large fifth wheel all winter, and the simplicity and maneuverability of a truck camper all summer.  Even better, it's all done with one truck.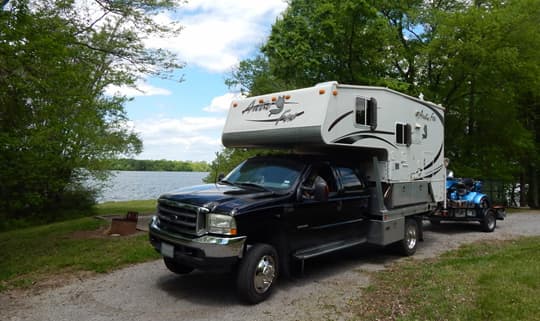 Above: Sarah and George's 2003 Ford F450 and 2008 Arctic Fox 990
TCM: Explain how you became full-timer RVers who split your time between a fifth-wheel and a truck camper.
George: We have been camping all of our married life.  First with tents, then a pop-up, and then a fifth wheel.  We have also been to all of the lower forty-eight states on a motorcycle, camping in a tent or a bunkhouse motorcycle camper.  Right now, we spend the winters in our forty-foot fifth wheel and travel during the summer in our truck camper.
Sarah: We talked about this lifestyle for twenty years before we retired.  When we sold our house we already had our fifth wheel.  In fact, we lived in the fifth wheel for four years before we retired.  When we retired, we traveled during the summer, and work camped in the winter.  The following year we bought our place here.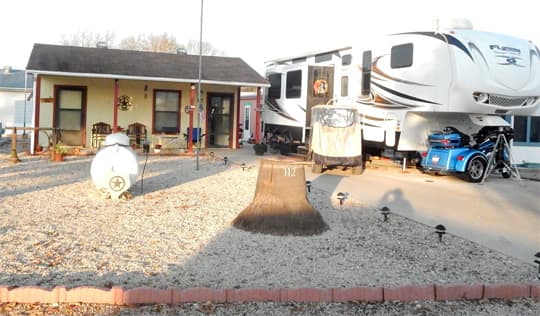 Above: Sarah and George's fifth wheel
George: Living full-time in a RV is really not a lot different than living a house.  The fifth wheel stays in the same place all the time.  The difference is that we have no yard work, no trees, and no maintenance on a house.  We have maintenance on the fifth wheel, but not at the cost of a house.  It's cheaper to stay in a fifth wheel than in a house.
We live in a 55+ retirement RV community.  We own our own 50' by 70' lot with a 12' by 24' shed that can be used as a workshop, or for storage.  We pay about $1,000 dollars in dues every year.  That covers everything from maintenance of the campground, to the clubhouse, to the water bill, to the campground roads, and everything that the manager does to take care of the grounds.
We pay our electric bill and property taxes, but taxes are only $40 dollars a year for our lot.  Once you pay for your lot, your only cost is yearly dues and your electric bill.  Since we're gone in the summer, we don't pay that then.
TCM: You just made a lot of folks very jealous.  No yard work?  No snow removal?  No outside house work?  From your perspective as full-time RVers, are there any downsides to living without a house?
George: For me, there are no downsides.  There's no lawn to mow and no shrubs to trim.  That's all taken care of.  The only downside is the relatively small living area.  If you want a big living area with a big garden or your own trees, you need a house.