If you have ever thought about going full time in a truck camper, Jerry and Judy Funk's story may send you over the edge.  It's time to full-time with the Funks!

Anyone who has experienced the exhilarating freedom of living in a truck camper for a few weeks or more has probably dared to think about going full time; sell the house, purge the stuff, and permanently hit the road footloose and fancy free.  We even talk about this wild and crazy idea now and then here at Truck Camper Magazine.  Someday we might just do it.
We met Jerry and Judy Funk at the Fall 2011 North-East / Michigan-Ohio Valley Truck Camper Jamboree, aka, the "Clam Jam".  When we learned that the Funks were full-time RVers who spent half their time in their Lance Camper and half their time in a fifth wheel, we had to get their story.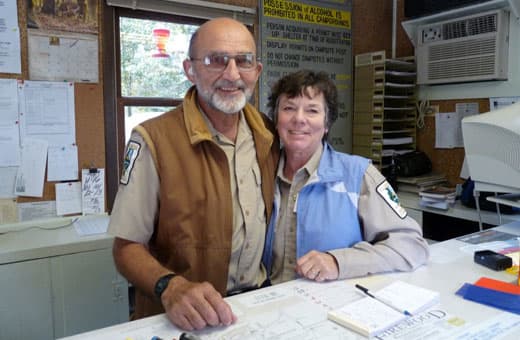 Above: Jerry and Judy Funk as camp hosts
TCM: We know you have a fifth wheel and a truck camper.  Which came first?
Judy: We started being snowbirds in 2001 with a thirty-two foot fifth wheel.  That changed in 2006 to a thirty-four foot fifth wheel when we sold our condo and became full-time RVers.  In January of 2007, we bought our Lance 1055.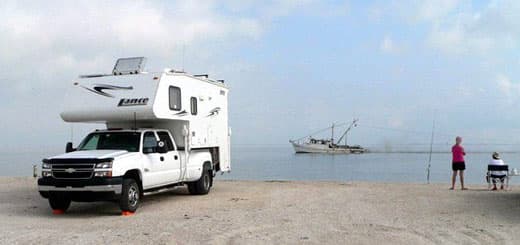 Above: Beach camping at Indianola Beach, Texas
TCM: Do your fifth wheel and truck camper have separate roles in your RV lifestyle?
Jerry:  Yes, they do.  The fifth wheel is on our RV lot near Fort Worth, Texas and we use it as our home base when we're not traveling.  The fifth wheel is also set up for boondocking and we use it in the desert near Quartzsite and Yuma if we are wintering there.
The truck camper has become our main travel vehicle.  It is small, easy to use, and allows us to get to many places that we would otherwise not be able to get to with our fifth wheel.  We often take it on ferries and find it to be the perfect vehicle for exploring just about anywhere we want to go.
In Alaska, we took our truck camper to Prudhoe Bay and many small off the main road places.  We took the Marine Highway Ferry to Cordoba, Sitka, Wrangell, Petersburg, Ketchikan, and Juneau and saw very few other RVs, most of which were also truck campers.
Our truck camper is also the perfect vehicle for traveling in Mexico's small towns and beaches.  We can drive through a large city in heavy traffic and camp in a remote national forest with ease.
Even though the camper is easy to load and unload, we usually leave it on.  That means the truck camper is with us and we do not have to go back to it every night.  We stay where we happen to be and continue on the next day.  That gives us a much greater range and we can see a lot more in a much shorter time.  We have now traveled extensively in both rigs and find the truck camper to be our favorite travel vehicle by far for many reasons.
TCM: I love the idea of having a fifth wheel for long term living and a truck camper for adventure travel.  What brought you to a truck camper in 2007?
Jerry: We're social and nosey and meet a lot other very mobile travelers.  We realized the value and mobility of a small rig.  After a winter traveling all over Mexico with friends in two truck campers, we decided to get our own truck camper.  We already had the truck.
Judy: We were fifth wheel snowbirds for five years before we bought our camper.  We would spend our summers in the condo and then winter in the Southwest or Mexico in our fifth wheel.  We had never had a truck camper before and we did a lot of thinking and looking before we bought the Lance.  Three weeks after we bought our truck camper we were deep in Mexico and have never regretted the decision.