If you have ever thought about going full time in a truck camper, Jerry and Judy Funk's story may send you over the edge.  It's time to full-time with the Funks!

Anyone who has experienced the exhilarating freedom of living in a truck camper for a few weeks or more has probably dared to think about going full time; sell the house, purge the stuff, and permanently hit the road footloose and fancy free.  We even talk about this wild and crazy idea now and then here at Truck Camper Magazine.  Someday we might just do it.
We met Jerry and Judy Funk at the Fall 2011 North-East / Michigan-Ohio Valley Truck Camper Jamboree, aka, the "Clam Jam".  When we learned that the Funks were full-time RVers who spent half their time in their Lance Camper and half their time in a fifth wheel, we had to get their story.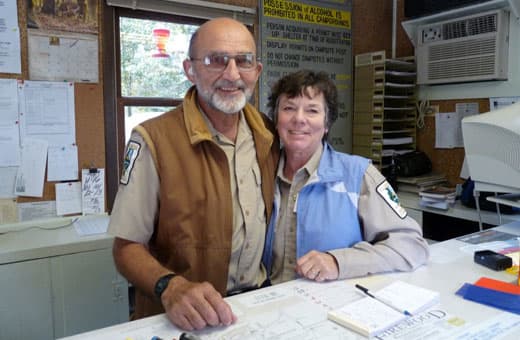 Above: Jerry and Judy Funk as camp hosts
TCM: We know you have a fifth wheel and a truck camper.  Which came first?
Judy: We started being snowbirds in 2001 with a thirty-two foot fifth wheel.  That changed in 2006 to a thirty-four foot fifth wheel when we sold our condo and became full-time RVers.  In January of 2007, we bought our Lance 1055.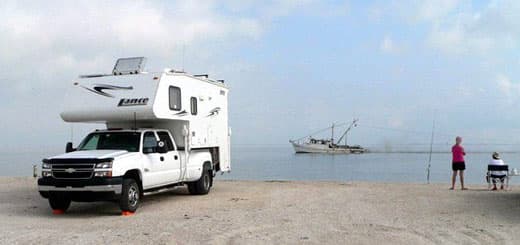 Above: Beach camping at Indianola Beach, Texas
TCM: Do your fifth wheel and truck camper have separate roles in your RV lifestyle?
Jerry:  Yes, they do.  The fifth wheel is on our RV lot near Fort Worth, Texas and we use it as our home base when we're not traveling.  The fifth wheel is also set up for boondocking and we use it in the desert near Quartzsite and Yuma if we are wintering there.
The truck camper has become our main travel vehicle.  It is small, easy to use, and allows us to get to many places that we would otherwise not be able to get to with our fifth wheel.  We often take it on ferries and find it to be the perfect vehicle for exploring just about anywhere we want to go.
In Alaska, we took our truck camper to Prudhoe Bay and many small off the main road places.  We took the Marine Highway Ferry to Cordoba, Sitka, Wrangell, Petersburg, Ketchikan, and Juneau and saw very few other RVs, most of which were also truck campers.
Our truck camper is also the perfect vehicle for traveling in Mexico's small towns and beaches.  We can drive through a large city in heavy traffic and camp in a remote national forest with ease.
Even though the camper is easy to load and unload, we usually leave it on.  That means the truck camper is with us and we do not have to go back to it every night.  We stay where we happen to be and continue on the next day.  That gives us a much greater range and we can see a lot more in a much shorter time.  We have now traveled extensively in both rigs and find the truck camper to be our favorite travel vehicle by far for many reasons.
TCM: I love the idea of having a fifth wheel for long term living and a truck camper for adventure travel.  What brought you to a truck camper in 2007?
Jerry: We're social and nosey and meet a lot other very mobile travelers.  We realized the value and mobility of a small rig.  After a winter traveling all over Mexico with friends in two truck campers, we decided to get our own truck camper.  We already had the truck.
Judy: We were fifth wheel snowbirds for five years before we bought our camper.  We would spend our summers in the condo and then winter in the Southwest or Mexico in our fifth wheel.  We had never had a truck camper before and we did a lot of thinking and looking before we bought the Lance.  Three weeks after we bought our truck camper we were deep in Mexico and have never regretted the decision.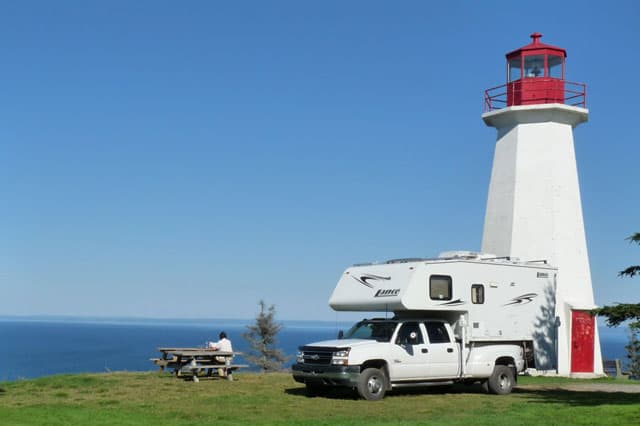 Above: Cape George, Ballantyne's Cove, Nova Scotia

TCM: What made you want to sell your condo and become full timers RVers?
Jerry: We enjoyed traveling in the fifth wheel and realized that there was no real need to go back to the condo.  Alaska, the Canadian Maritimes, and the National Parks in the Southwest would all be summer trips and we wouldn't even get to the condo.  It was an easy decision to sell it.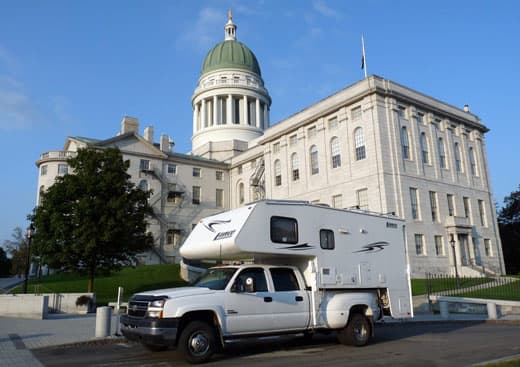 Above: State Capitol, Maine

Judy: We retired eleven years ago.  The first five years we traveled eight to nine months each year in the fifth wheel.  We sold the condo six years ago and have lived in the fifth wheel and the Lance ever since.  We spend about half of our time in the fifth wheel, and half our time in the truck camper.
TCM: Without having a house, do you worry about not having a physical home to go back to should something happen?
Jerry: We think about that, but we don't worry about it.  Judy has had two total hip replacements on the road, one in Indianapolis and one in San Antonio.   We stayed in the fifth wheel with no problems.
When people live in a house, they seek medical treatment near that house.  We are able to go to where we thought the best treatment would be.  We didn't have to worry about the house; we just found the best treatment and went there.  I have been to hearing specialists in Phoenix and San Antonio.  We are both retired from the medical field and find that our mobility is a real advantage in seeking quality care.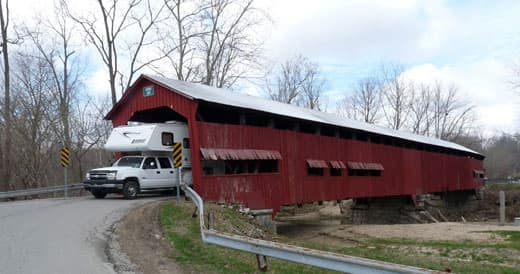 Above: Greencastle, Indiana

TCM: How do you handle the regular day-to-day stuff like getting the mail, paying bills, handling taxes, and insurance?
Judy: We use a professional mail service in Sioux Falls, South Dakota.  There are others in Rapid City, South Dakota, Florida, and the Escapees mailing service in Livingston, Texas.  Many RVers use these services and they are all good.
We have our mailing service forward our mail to a post office via general delivery, or a campground, or friend's house whenever and wherever we want to get it.  We usually get our mail every two to three weeks.  We initially went to Sioux Falls to set things up and this was very easy to do.  In two to three days all the legal stuff can be done and you will have all your questions answered.
Driver's licenses, license plates, auto insurance, and voter cards are all done through that address.  South Dakota has no state income tax and we get our federal tax forms the same way anyone else gets them.
We use credit or debit cards most of the time and most bills are automatically paid from our bank account.  We vote by absentee ballot and that is very easy to do.  Cell phones, the internet, and these professional services make everything easy to do.  There is no reason why you can't go anywhere in a RV and do the same things to get your day-to-day stuff done.
Above: Solar panels were a modification they made on their new Lance 1181
TCM: Did you make any modifications to your camper to make it more compatible with your full-time lifestyle?
Jerry: We really didn't need to modify the camper for our lifestyle.  We can be in our Lance for six to eight months at a time and we go anywhere we want to go.  If we had hook-ups more often, we wouldn't need to do anything with the camper and we would be fine.  As it is, we hardly ever hook-up or stay at campgrounds which required some modifications to be able to be off-the-grid and comfortable for a long period of time.  Our camper has a solar system, catalytic heater, and water filters to extend our boondocking capabilities.
TCM: Do you feel like you're missing out by not being near your friends and family all the time?
Judy: We spent most of our lives in a fairly small town and most of our friends aren't there anymore.  We have been on the road for ten years now and most of our friends are also traveling.  We keep in touch with cell phones and email and get together far more often than if we were in a house somewhere.
We have far more friends now than ever before and see them all over the country.  All of our kids live in the Chicago area and we camp host at a nearby state park when we want to see them.  We fit our family time into our travel plans.
Last year we were in the Chicago area for the month of April, then left for the summer to tour the Canadian Maritimes.  We were in the Chicago area again for the month of October.  This year we will probably be in Chicago for a few months over the summer.  When our daughter lived in Maryland for a few years, we camp hosted near her house in Maryland, so there are advantages to being mobile.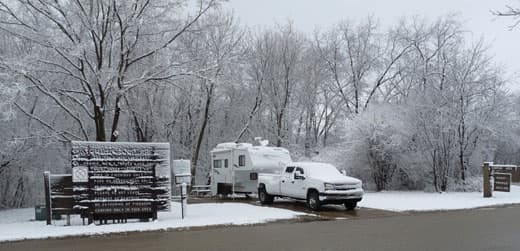 Above: Illinois camp host site near family
If your children are spread around the country, you can spend time with them all.  You're going to miss out on some things, but if you want to travel, this is a great way to do it.
TCM: When you're on the road, what's your schedule?
Jerry: We travel on a whim.  We know where we're going, but when or how we get there is part of the fun.  That's a big reason we bought the truck camper.  We like the back roads and small towns and often stay in places we never knew were there.
There's always a place to stay at the end of the day.  We are nosey and can always find something to do.  We may stay a day or two in a place and just poke around.  Then we move on to the unknown.  There are all kinds of interesting places and things out there waiting to be found.
We rarely stay for more than a few days anywhere when we're on the road.  We stay at fairgrounds, county or city parks, National Parks and forests, BLM land, and US Army Corps of Engineers Campgrounds.  We find all kinds of places to camp and the truck camper always makes it easy to fit in.
TCM: How do you decide where to go next?
Judy: We travel with the weather and look for anything that seems interesting to explore.  This winter, we will explore the BLM lands of the southwest desert.  In early spring, we'll head to the National parks in Utah and that area.  Next summer we will camp host near the kids.  Sometime in September we will head to either Churchill, Manitoba to see the polar bears and the Aurora Borealis, or we will head east to the truck camper rallies and explore the East coast.  For next winter we may head to southern Mexico, one of the areas we really enjoy.
This is all very flexible and can change at any time.  If either of us finds something else to do, we talk it over and make a new plan.  We have completely changed plans while driving down the road.  That is one of the beauties of being a full timer in a small rig.
TCM: Since you've been full-timing, where are some of the places that you've been?
Judy: Alaska, Western Canada, the Canadian Maritime Provinces, the East Coast, the Florida Keys, the desert Southwest, the West Coast, and over 20,000 miles in Mexico.
TCM: Is there any other advice that you'd like to give people who are thinking about full timing in a truck camper/RV?
Jerry: We all have our own needs and ideas.  If someone already has a RV, we think they should keep that and their house and hit the road to wherever they want to go.
After a winter or two of being a snowbird, they should have a good idea of how they want to go from there.
Judy: They may find that being a snowbird with a house is best for them.  If they do go full time, they will have a better idea of the type of travel they like to do, and maybe the type of RV they really want to have.
There is a lot of valuable information on the internet and we definitely think people should look at that before they hit the road.  The Escapees RV Club has a forum with a wealth of information on full timing and RV related issues that will be very helpful.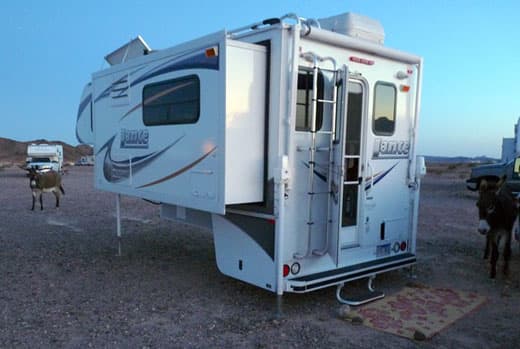 Above: Boondocking in Quartzsite in their new Lance 1181

Jerry: For extended time in a truck camper, it's nice to have a slide or layout with some open space.  Large holding tanks and a dry bath are important to us, as is a layout with nice window views.  You're likely to wind up in a larger camper, and probably a larger truck, such as a full-size one ton dually.
JERRY AND JUDY FUNK'S TRUCK CAMPER RIG
Truck: 2006 Chevy 3500, crew cab, dually, long bed, 4X4, diesel
Camper: 2006 Lance 1055 and now

Lance 1181
Tie-downs and Turnbuckles: Torklift tie-downs, Fastgun turnbuckles
Suspension Enhancements: Rear Timbrens
Gear: Pacbrake exhaust brake, 240 watts solar, three twelve volt AGM batteries, Onan 2500 watt generator, Wave 3 Catalytic Heater, hard-wired 30amp whole house Surge Guard, built-in whole house sediment water filter, second kitchen faucet with under counter carbon filter, led interior lights, Wilson cellular antennae and amplifier, Cradlepoint Router