After 44-years of driving a semi, the Truvers are exploring the countless places they could see, but not visit.  Now in a Capri Camper, they can stop and experience what they've been passing.  Don't miss their destination recommendations.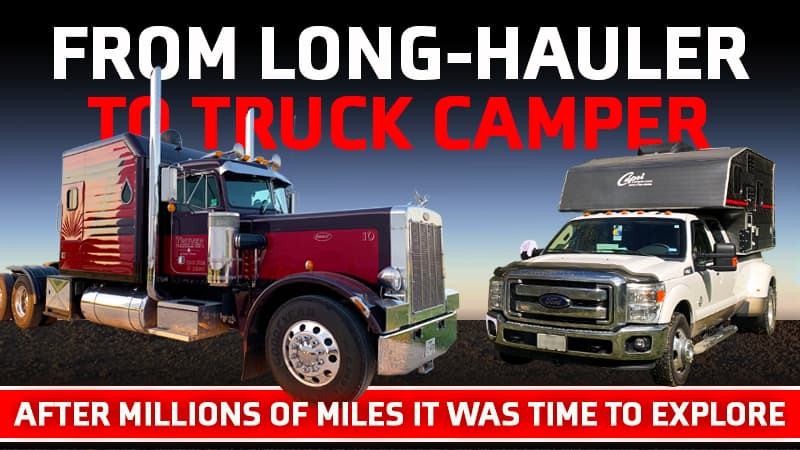 We all know the experience of driving past something we want to stop and see.  Maybe you're on a business trip for an important client meeting and see a tantalizing antique store.  No time to shop.  Too bad.
Or perhaps you're on a family vacation when you see an aviation museum just off the highway.  If only your kids were a bit older, and you weren't on a tight schedule before returning to the office.  Oh well.
As folks who enjoy thrift stores, they are often nowhere to be found on our days off.  If there's a place we need to get to, they're suddenly everywhere, with LP records on sale just to make Gordon even more nuts.
Driving past tantalizing places is part of traveling, but perhaps no community gets it worse than long-haul truckers.  Their entire mission is to drive from Point A to Point B without stopping for antique stores, museums, or LP hunting.  All they do is see what they cannot stop to experience.  What torture.
Mike and Julia Truver know exactly what I'm talking about.  They pilot an eighteen-wheeler on no-fun point-to-point delivery schedules for a living.  And like many of us, they go bananas when they see something interesting and can't park and explore.
Thankfully, they bought a Capri truck camper, one of the lightest and most versatile hard sides on the market.  With their Capri rig, they can now go where they want, park where they want, and experience whatever opportunities come their way.  After years of non-stop work, they're having the time of their lives.  Nothing semi about it.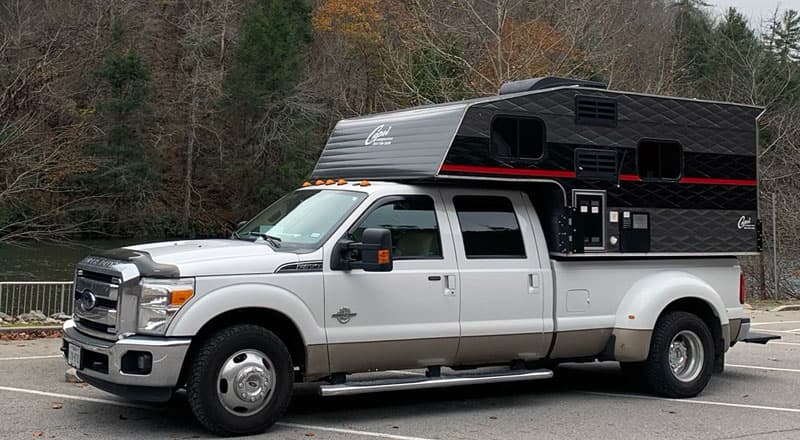 Above: Mike and Julia's Capri Retreat in Ocoee River Tennessee
How did you discover truck campers?
We have been semi-truck drivers for 44-years.  On the road, we stay in our truck's small sleeper cab.  It has a bed, microwave, and a cooktop, but no running water.
After many years of having this lifestyle, a truck camper seemed fitting for us.  Unlike our tractor-trailer, a truck camper would allow us to go anywhere.  We want to go places with length restrictions and switchbacks.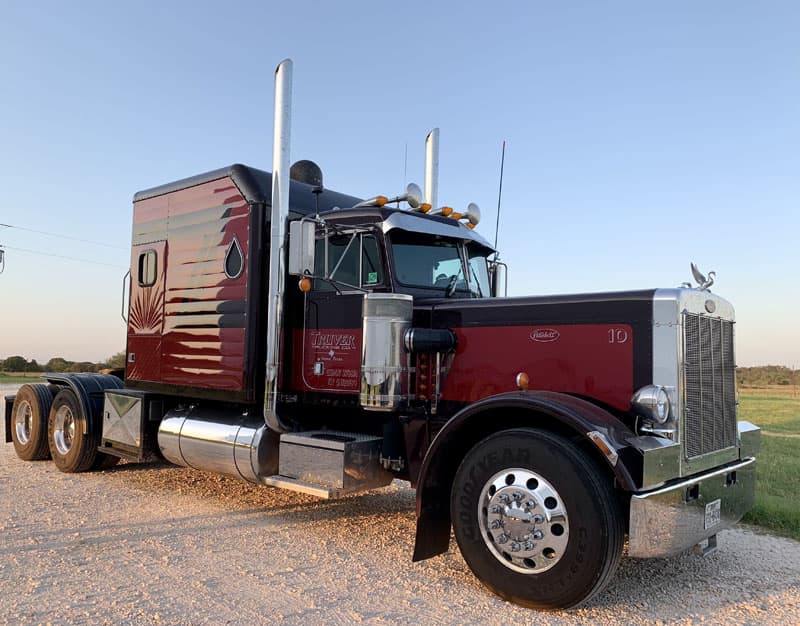 Our Capri truck camper rig is perfect for us.  We can take the truck and camper with us when we stop to see something.  We can make supper.  There's never the need to drive back to where the camper is set up.  It's always with us.
It was also important that we could bring along our dog, Scampi.  Scampi was with us day and night in the semi.  She literally went everywhere.  We once figured out that she had at least two million traveling miles.  We both have motorcycles and Scampi even rode with us in a carrier on the back of Mike's Harley Davidson.  With our truck camper, we didn't need to worry about finding a hotel that accepted pets.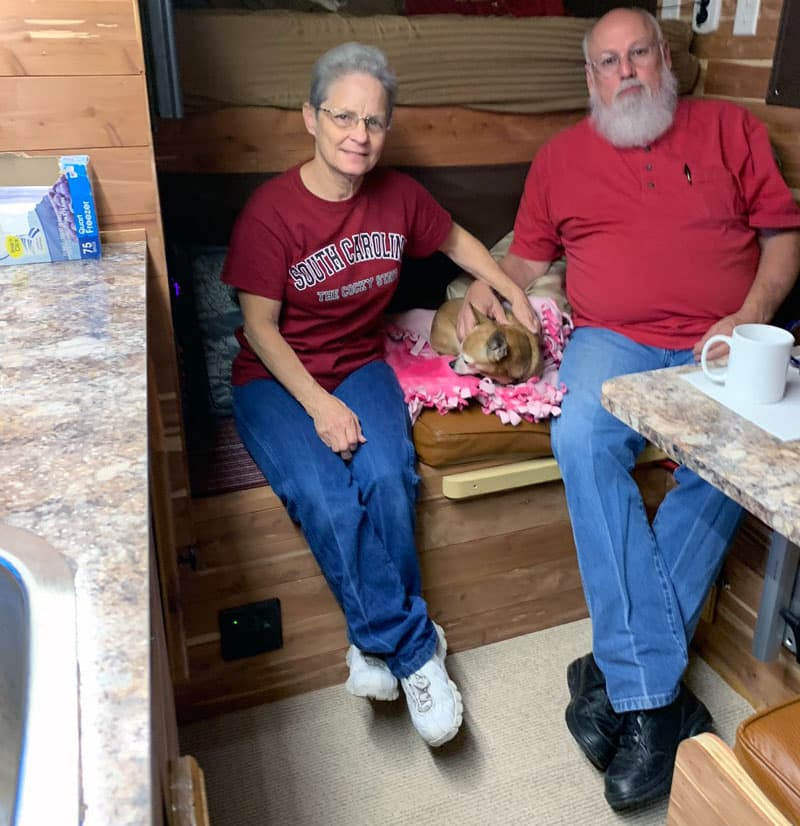 Sadly, we recently lost our beautiful Scampi to cancer at 14 years old.  She traveled with us for 12 years, so losing her was heart-wrenching.  So goes our story, but we continue to explore with our Capri and carry her in our memories.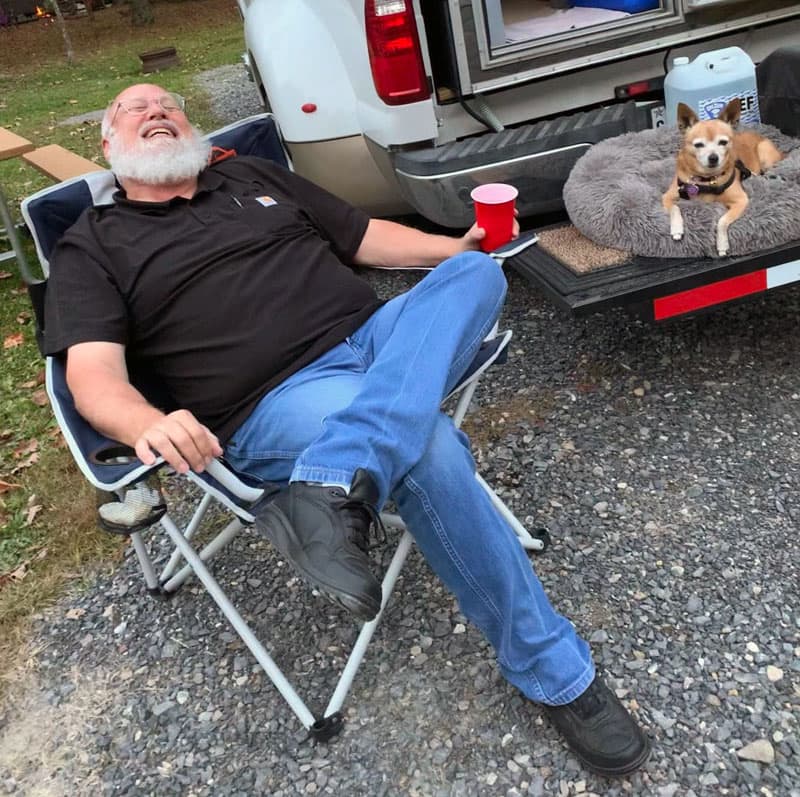 We know how hard it is to lose a wonderful family member and traveling buddy like Scampi. How did you decide that a Capri was the right fit for you?
In our opinion, Capri Campers are a very classy-looking camper with a beautiful exterior.  We are also extremely lucky to have the Capri Camper factory only about 25-miles from our Texas home.  Pete and Tyson D'Acosta and the Capri team have been very accommodating throughout the whole process.
Capri normally makes custom campers built to order.  When we decided we wanted a Capri, Pete told us about a 2018 demo unit that a fisherman had used for six months.  He never put water in the unit or used the shower or sink.  It was a Capri Retreat, their largest model.  We bought it sight unseen in October of 2019.
We looked at travel trailers and motorhomes before considering a slide-in truck camper.  Looking back, we are so glad we didn't go with something bigger.  There are many places we have gone with our Capri that a trailer or motorhome cannot go.
Gordon often says, "Try that in a fifth-wheel" after he turns around in a tight space or drives down a particularly rough road. It really is amazing how many places a truck camper rig can go. Since your camper was built for someone else, did you make any changes?
When we saw it in person, we were delighted to see the beautiful cedar interior and the sink and shower we wanted.  However, the first change we needed was a bed spacer to fit the cab height of our dually truck.  We also needed swing-out brackets for our jacks to clear the dually fenders.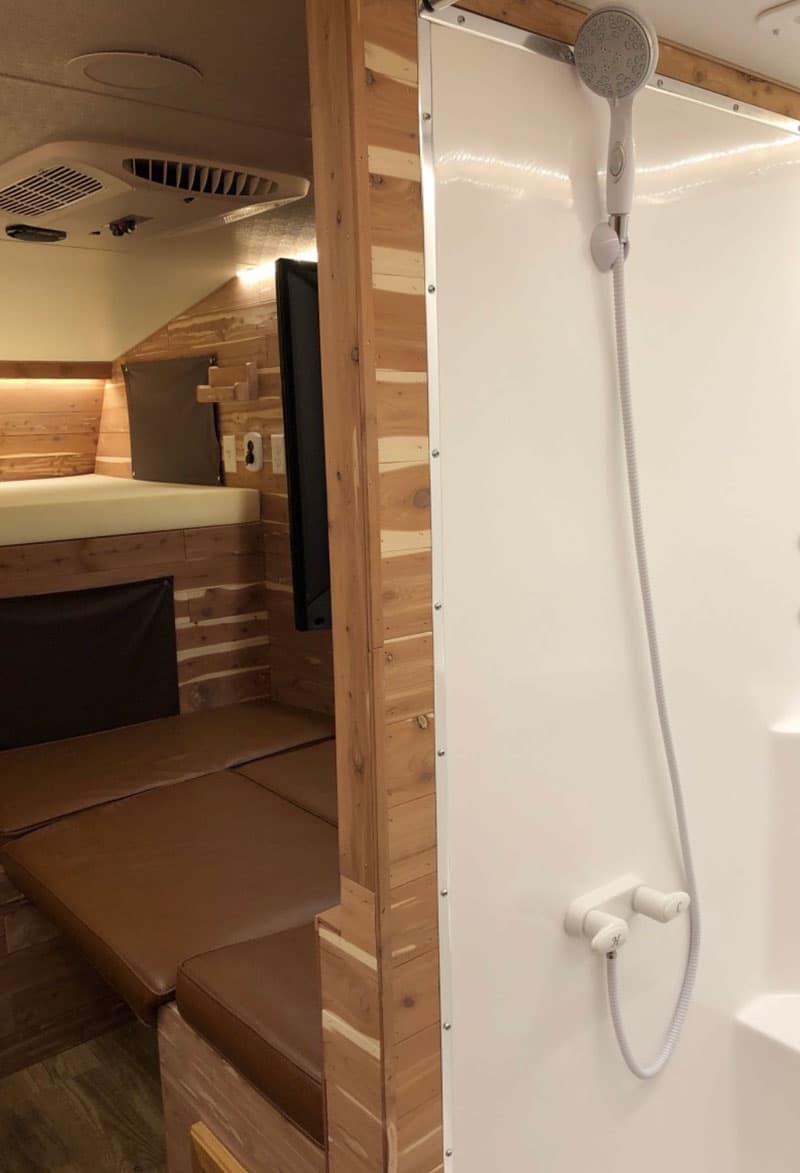 Pete at Capri suggested adding a Fantastic Fan.  We were skeptical about how much air it could move, but it lives up to its name.  Pete also removed the stationary dinette and pole and installed a Lagun dinette table.  It swivels into different positions for meals or meal prep, or out of the way.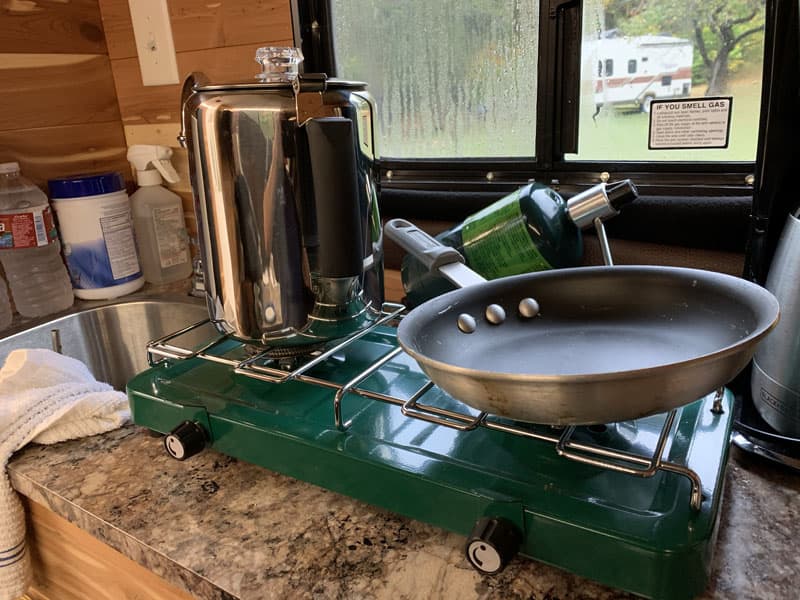 The unit didn't feature a built-in cooktop, but we have a two-burner Coleman for cooking and making coffee with our percolator.  We also have a portable propane Little Buddy Heater for warmth when quiet camping is required.  It keeps us toasty warm.
The built-in refrigerator and freezer are big enough for our needs.  The roof-top air conditioning is essential for the hottest Texas summer days.  We have also used the heating element in the air conditioner, which has performed great.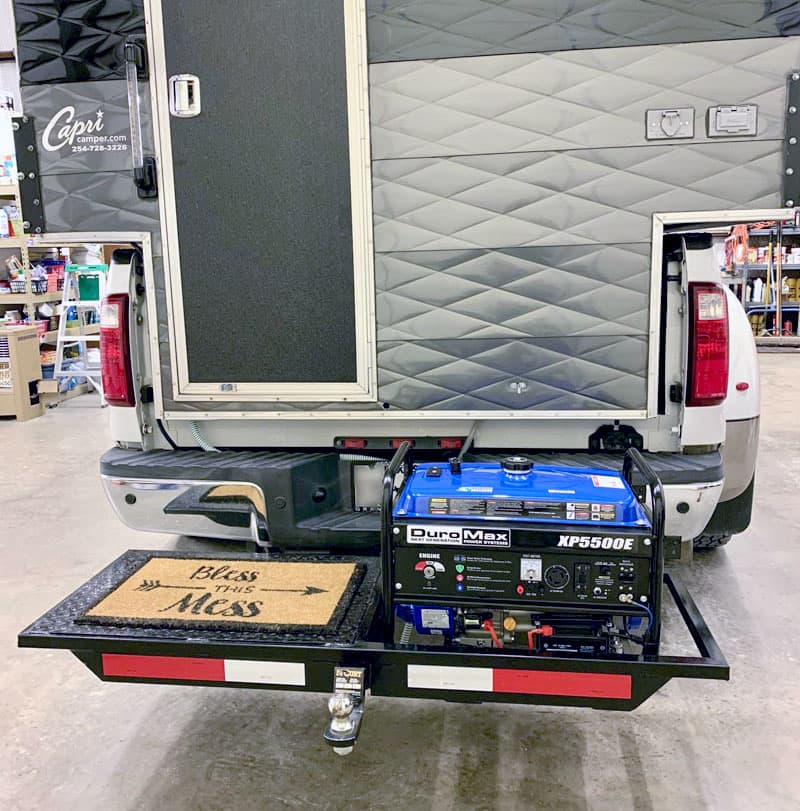 For dry camping, Pete installed a porch platform in the rear pickup receiver that holds a 5,500-watt DuroMax generator.  It will run for 10 to 14 hours on one tank of gas.
You described getting to places that you couldn't go with a semi-truck or larger RV. What kinds of places are you talking about?
We are mainly seeing places that we have looked at from the highway during our four-plus decades of driving an eighteen-wheeler.  We saw countless roads we wanted to go down, towns we wanted to explore, and places we wanted to visit.  With the truck and Capri, we can go to all of them.  Length and weight are not an issue.
For example, when we were driving on Interstates I-26 and I-40 in Tennessee and North Carolina, we would look at the map and see twisty roads.  These roads are not approved as truck routes, so we would get a ticket if we took them with our semi.
Another good example is Cades Cove in Gatlinburg.  It's very narrow at points and no RVs are allowed.  However, you can go with a truck camper.  We were one of the few RV types that could make that 13-mile trip.  It ends up in a big circle at the end.  They have pull-outs right on the river that we fit in.  If we had to pull a trailer, we couldn't have done that.  Having the camper was fantastic.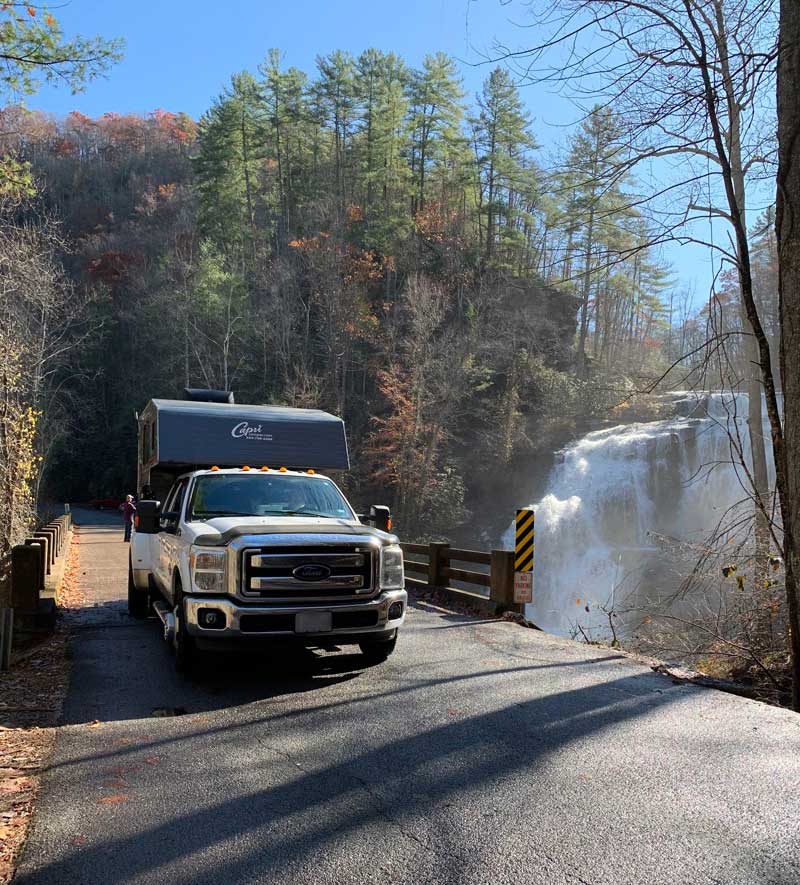 One of our favorite places is Bald River Falls in Tellico Plains, Tennessee.  When we were at the visitor's center, they told us that we could stay the night in the parking lot.  The next day a lady told us to go six miles out of town and take River Road.  She said we wouldn't regret seeing Bald River Falls, and we don't.
It turns into dirt when you get into North Carolina, but it's a hardtop until you're there.  There's also dry camping on either side, a self-pay station, and parking close enough to walk right up to the falls.
When we're driving the eighteen-wheeler, we have to plan everything in advance.  With the camper, we decide on our direction each day.  We are carefree and live spur-of-the-moment with no agenda.  We can go this way or that and do whatever we want.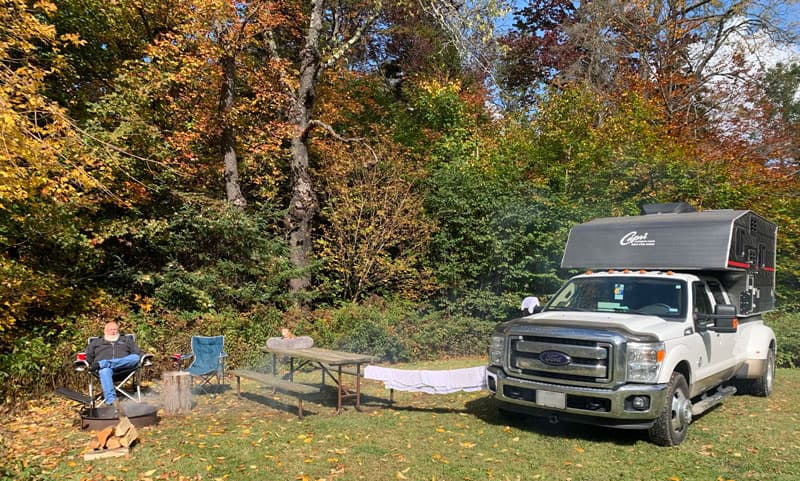 Above: Molly Stark State Park, Vermont
The recommendation for Bald River Falls was definitely a road magic moment. Where else have you been in your camper that you'd recommend?
We've been all over Maine, Vermont, and New Hampshire to see the fall foliage.  One of the best places for hookups with a lake view and beauty is in Newport, Vermont at Prouty Beach RV Park.  They had clean and warm bathrooms.  There is an old church there.  With the foliage, it was gorgeous.
Molly Stark State Park in Vermont is exceptional if you want to hike an absolutely vigorous and beautiful hiking trail.  They do not have hookups, but they do have bathrooms.
There's also great hiking in that area.  We're in our 60s, so it took time to do it.  The Mount Olga Trail is absolutely worth the trip, but it is steep.  When you get up to the top, there's a tower and you can take pictures.  Thankfully, there's an easier trail for the return.  We went both ways on the trail and it's exhilarating.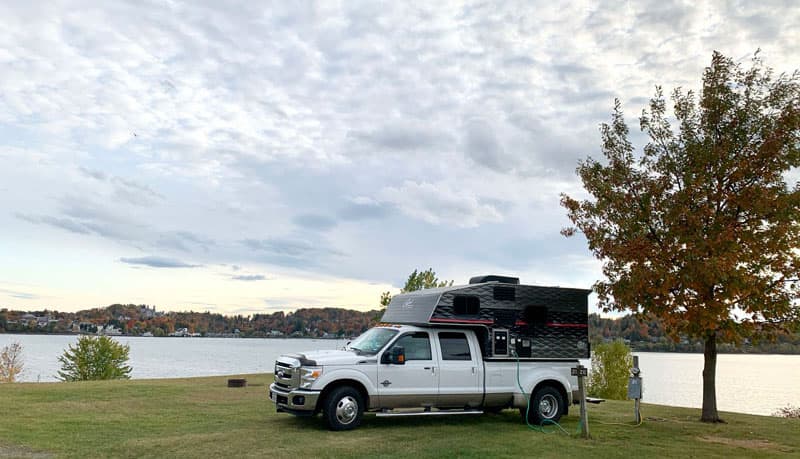 Above: Lake Memphremagog, Vermont
Highway 100 through the middle of Vermont is a wonderful drive.  We started in Wilmington near Molly Stark, and just to the west of the state park is Highway 100.  We took it north as far as Lowell to Orleans and then into New Hampshire.  It's a beautiful drive and the people were laid-back country folks, like us.
North of Flintstone, Pennsylvania, the state park was packed.  It was about 3:00pm, so we needed a place to park for the night.  That's when we found Hidden Springs Campground in Clear Springs, Pennsylvania. It's a delightful place.  We did pay about $55 a night, but the scenery and the town were nice.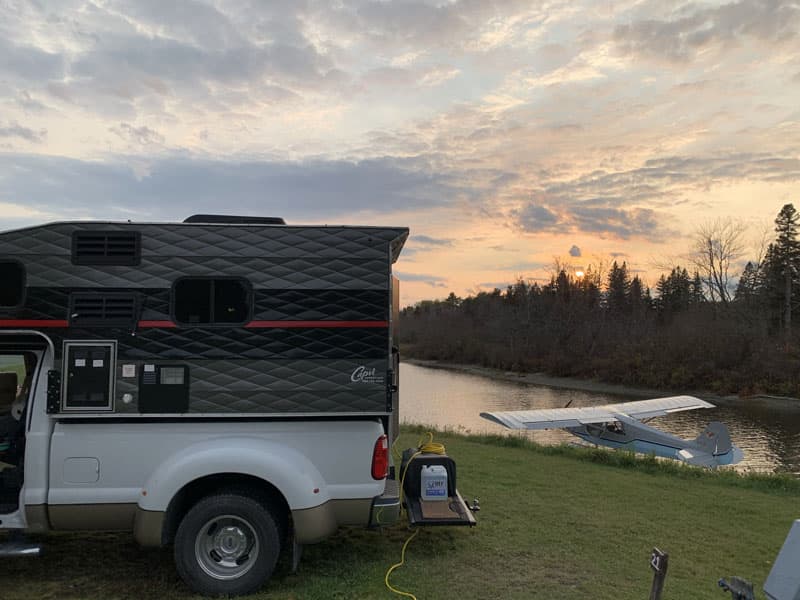 In Jackman, Maine we found a place where the seaplanes come in and land.  There's a campground there called Jackman Landing Campground (pictured above) and, for $20 a night, you get water and electricity on the river.  It's wonderful and the people are laid back.
When traveling the Northeast, we stay off the interstates and toll roads.  We have done plenty of interstates with our semi.  With the camper, we want to get off the beaten path.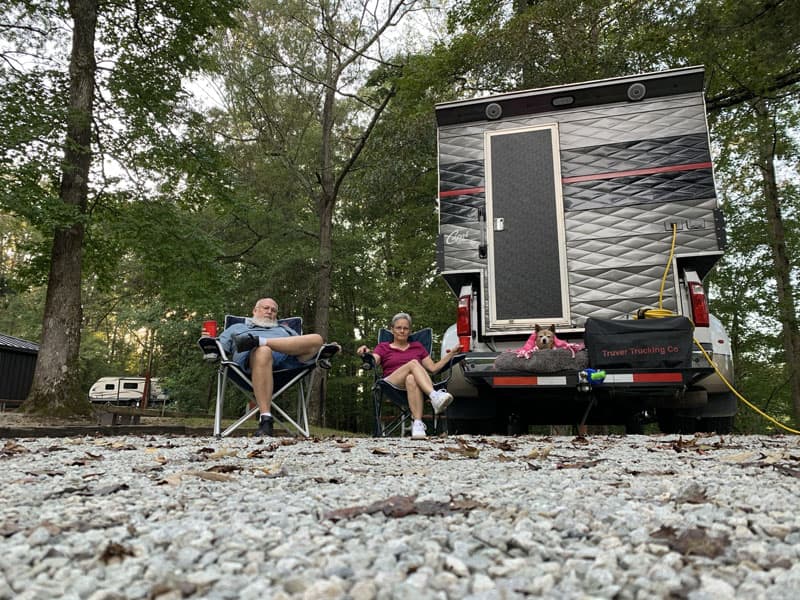 You have also traveled through Tennessee, Alabama, and Arkansas. Do you have any recommendations in those states that we could add to our Google Map?
Natchez Trace State Park has hookups, bathrooms and it is right by the lake with paved walking trails.  It's right off I-40 in Wildersville, Tennessee.  There are three different state park areas you can visit.  We stayed at Cub Creek Lake (above and below).  We've been there three times now because we liked it so much.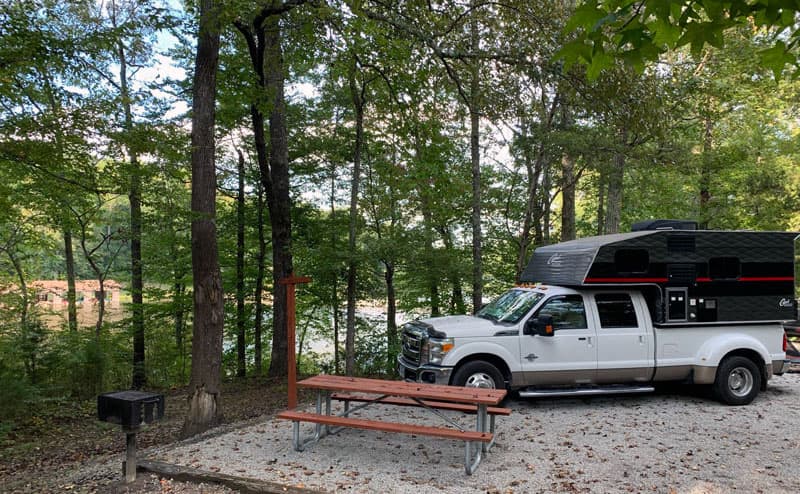 In Wetumpka, Alabama we enjoyed Fort Toulouse and Fort Jackson State Park near the old Confederate fort.  It's a nice, flat place.  There's a lot of places to walk by the Coosa River.  Deer were there every morning.  There is water, electricity and a dump station.  It was $18 a night.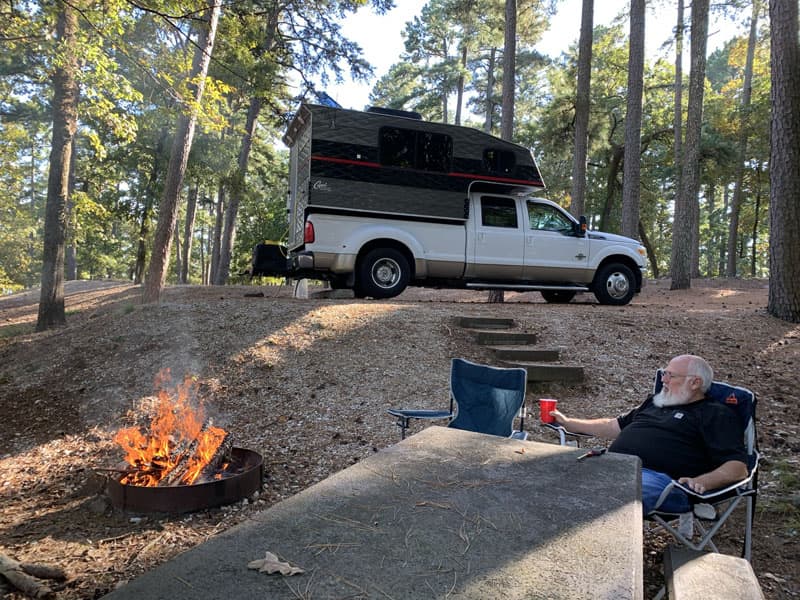 Iron Mountain is an Army Corp of Engineer campground in Arkansas (pictured above and below).  It was $16 with water and electricity, and the lake.  We were there in the middle of the week and there were only three campers in the park.  It's very hilly there, and they had small spots, so it was ideal for a truck camper.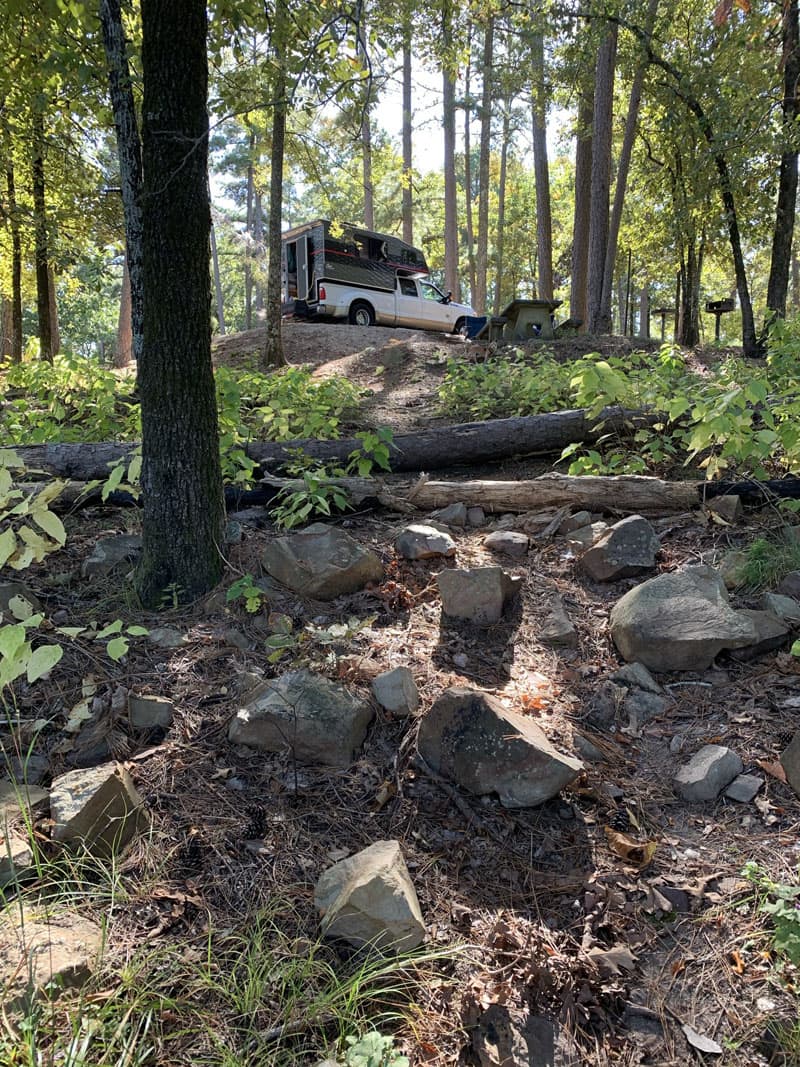 It sounds like you guys are having an absolute blast finally experiencing all the places you've been watching pass you by all these years. What's next?
We have been through Moab hundreds of times in our eighteen-wheeler.  We'd like to go there with our camper and explore the Green River.  In Sedona, Arizona, and Bisby, Arizona trucks aren't allowed.  We've seen a lot of these places from the road.  Now we want to go and really explore these places.  We also want to go to Alaska but, with Covid closing the border, we can't go right now.
We just like our truck camper so much.  We get to a campsite, plug-in, hook up to water and we're done.  Then, we watch people who are setting up tents and more complex RVs around us.
We also enjoy the flexibility of a truck and camper.  We can go anywhere.  We are so used to small space living that our Capri Camper actually seems large to us.  We love it.