In an age when most of us don't keep a car for more than ten years, Jack Purdy has been using the same truck and camper for forty-four years.  One truck.  One camper.  And one heck of a good story.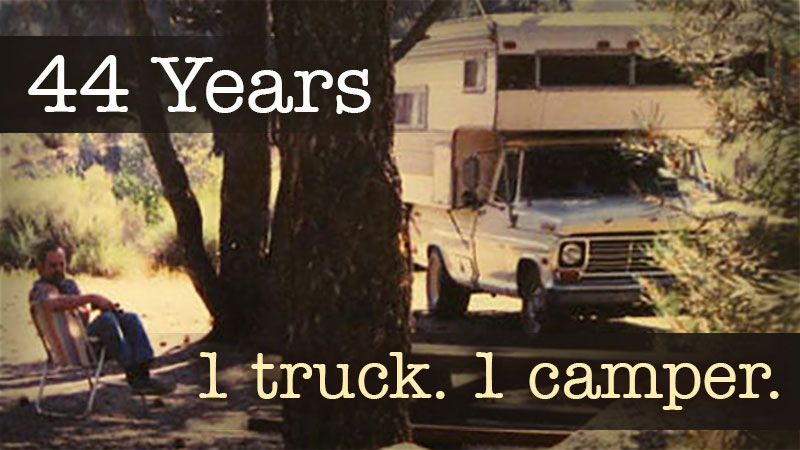 Let's make this official.  Until we hear otherwise, Jack and Joann Purdy are the current Truck Camper Magazine World Record holders for owning and operating the longest still-in-service truck and camper combination.  There are older trucks and campers on the road, but none have been together anywhere near as long as the Purdy rig.
And it sure is a "Purdy" rig.  In fact, it's so "Purdy" that one of Jack's photographs won the 2011 Truck Camper Magazine Calendar cover.  Jack's picture was the runaway winner with more votes than any other photograph that year.  After the calendar was announced, we received email after email about the charm of Jack and Joann's camper, the stunning setting, and the overall warmth and character of his photograph.  We couldn't have agreed more.
So how does someone keep a truck and camper going for forty-four years?  And what kinds of stories accumulated from four and a half decades of truck camping adventures?  We went right to Jack and Joann themselves to find out.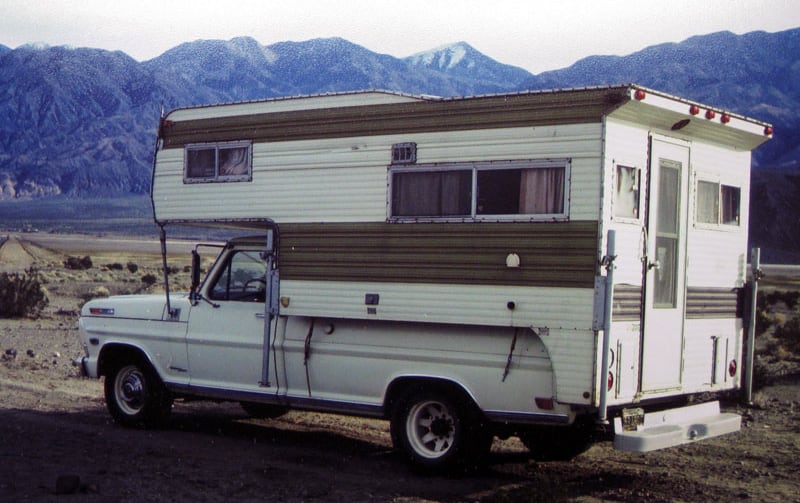 Above: The earliest photograph of their Ford Camper Special and Roll-A-Long camper, 1976
How did you get into truck camping?
Back in the early 1970s, I ordered plans out of an outdoor magazine to build your own truck camper.  When I looked over the plans I thought, "This looks like a lot of work"  and decided not to move forward.  Even though I didn't build the camper, that's when the idea for a camper was first set in my mind.
In 1976, when my wife and I were dating, we both loved camping.  At the time, I had a Pontiac station wagon and a tent.  Joann and I soon decided we needed something a little more comfortable, but we didn't know what.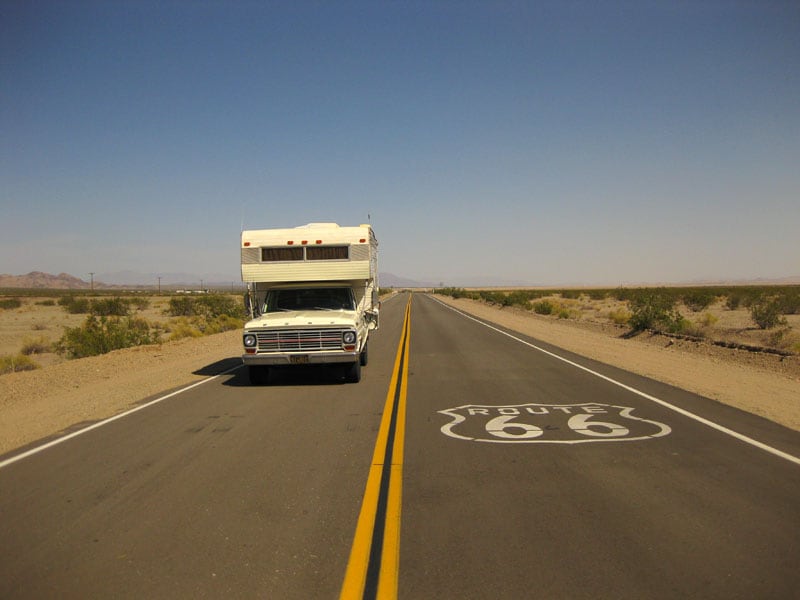 Then we were driving around one day and saw a Roll-A-Long truck camper parked by the road with a "For Sale" sign on it.  "Wow", we thought.  "Maybe this is what we have been looking for"!
We looked at the inside and the camper didn't have any apparent water leaks.  We bought the truck and camper at the same time, so I also checked the truck's engine out.  That was good.  There were no dents in the truck body.  There were a few dents in the back of the camper because the previous owner had a motorcycle trailer.  That was alright with us.  We drove it to check how it drove and we made sure everything was working.  It looked good to us so we bought it.
Other than what I had learned from the camper plans years prior, we didn't know anything about truck campers.  What we did know is that this would be much better than a tent.  As it turned out, we couldn't have made a better choice.  We are still using that same truck camper thirty-five years later.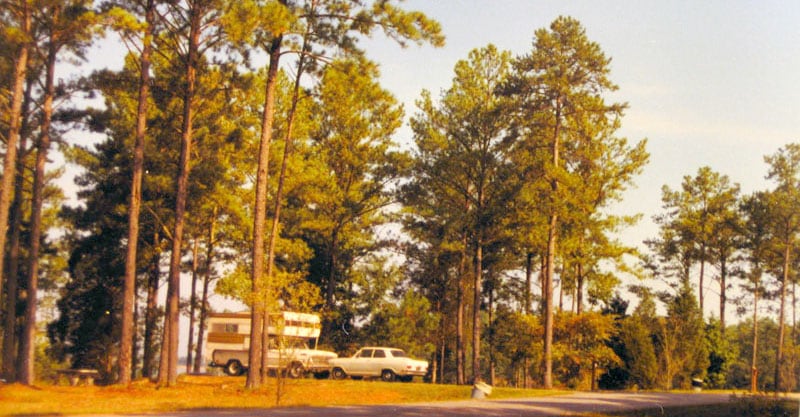 Above: West Point Lake, Georgia in 1980
That's absolutely incredible.  When you saw the Roll-A-Long on the side of the road, what was it about it that attracted you to it?
Mainly that we would have a truck to drive around in when we weren't using the camper.  I can haul things with the truck.  Everything is in one unit and it's easy to park places.  It just fits our style.
At that time we bought it, we didn't realize how perfect it was for us.  We like to explore and camp off the beaten path.  We enjoy being able to park almost anywhere a car can.   We certainly benefit from getting better gas mileage than a motorhome.  Plus we don't have the inconvenience of hooking up, towing, and backing a trailer.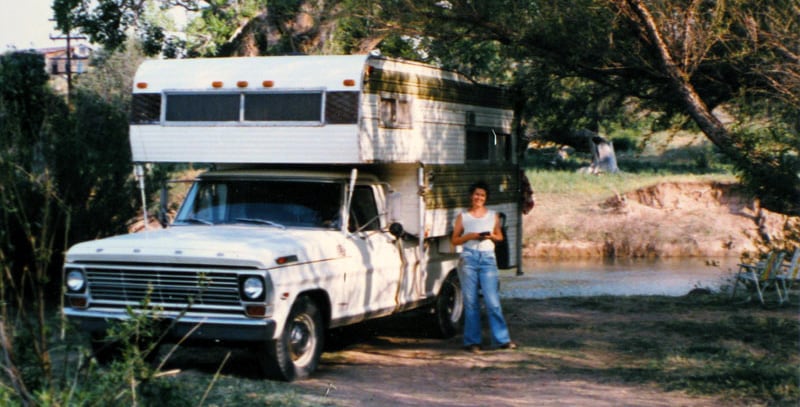 Above: Verde River, Arizona in 1980
After forty-four years of truck camping, I'm sure you have some truck camping memories that stick out.
We drove our truck camper to our wedding in Nevada.  On the way, we went through Death Valley.  The day before the wedding we stayed in Goldfield, Nevada which is like a ghost town.  The next day we drove to Tonopah, which was the closest big town that had a justice of the peace.  We got married on February 14th.  Joann's grandmother was married on Valentine's Day and we thought that was cool.  After the wedding, we went back to Death Valley and camped at one of our favorite spots.
Another big memory is when we drove up to a city in the old Panamint Mountains that dates back to 1876.  It was a wild town that had killings and a red light district.  The road going up Surprise Canyon in Panamint Valley is a four-wheel drive road.  We didn't realize it until we started up the road.
It must be about ten miles from the valley to the old ghost town.  Once we started up, there was no turning back.  There were places where the road got narrow and water was going over the road.  We kept going and finally made it.
Above: Panamint City, California – Live and learn!
When we got up there it was late afternoon, so it was too late to go back down in the dark.  We camped there all night and it was like eighteen degrees.  The next day we had to go down, and that was worse.  I had to ride the brakes, which meant I had to stop every ten minutes to let the brakes cool.
Another memory that sticks out was when my step-daughter was a senior in high school.  I drove her and her boyfriend to the senior prom in the truck camper.  They had the prom in Los Angeles at the Bonaventure Hotel.  The other kids were getting out of limos and they got out of the camper.  She said that it was cool.
Later on, when my step-daughter got married in San Diego at Presidio Park we also used the camper.  She wanted an outdoor wedding.  I drove her to the wedding and we pulled up in the camper.  All these people were there for the wedding and she got out of the truck camper in her wedding dress.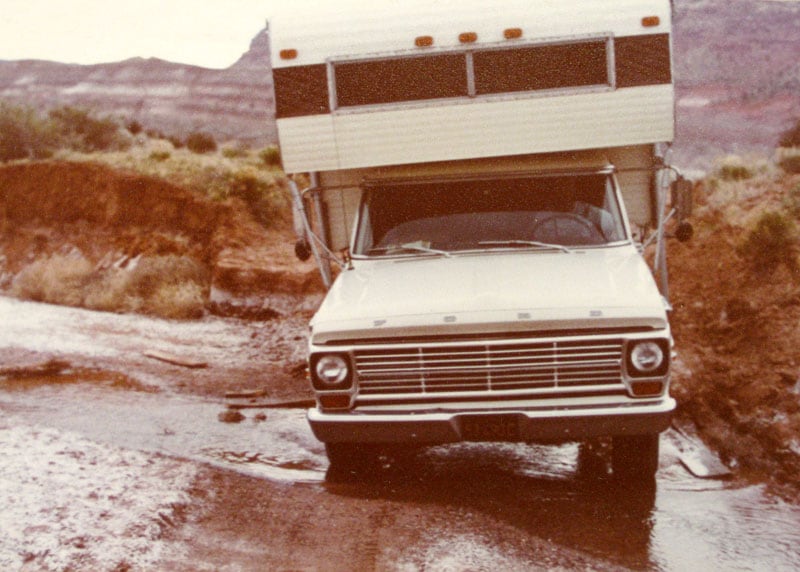 Above: From the Odyssey trip
This camper has been across the United States several times.  One of our favorites was our three month "Odyssey" trip.  We just wanted to look at the country and see different places.  We went where we wanted to.  At the time I was reading the book, Road Food, which is about restaurants around the country that are road food restaurants.  We'd sample what they had.  That was fun!
"The camper is like part of the family, so I guess you can say I baby it."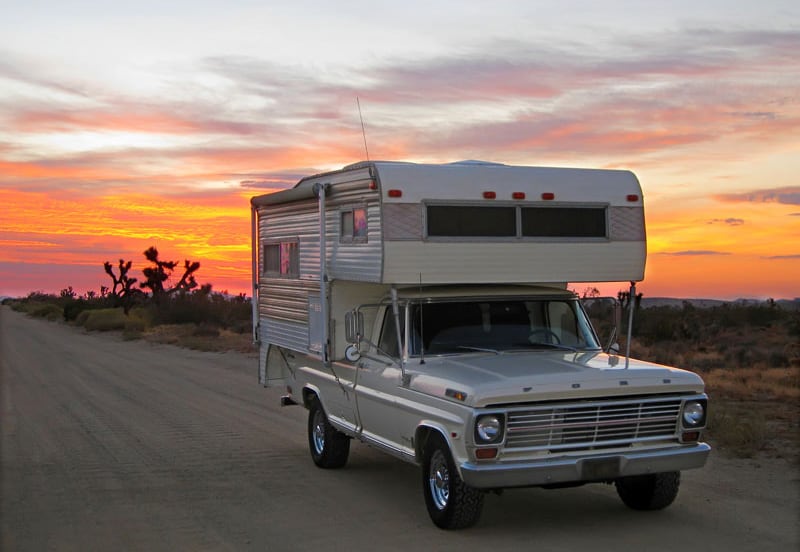 Above: Ancient Valley, Mojave Desert, California
Please tell us how you have maintained the camper over the years to keep it going strong and in good condition.
I'm an RV technician.  I'm also a vehicle freak, I guess.  I love to work on vehicles and engines, so whenever anything goes wrong, I fix it.
The camper is like part of the family, so I guess you can say I baby it.  I had the truck repainted.  For the camper, I've repainted areas that were starting to fade and I've kept the camper sides waxed.
We live in the desert so there's not a lot of road salt or anything.  It's mainly the sun that's the issue.
As far as the engine goes, I replaced the original 360 V8 with a 390 V8 of the same vintage.   A few years ago, I had that engine completely rebuilt.  I'm also a speed freak, so I had the engine built for extra power and torque.  I also had the transmission rebuilt in the 1980s and they put heavy-duty parts in it.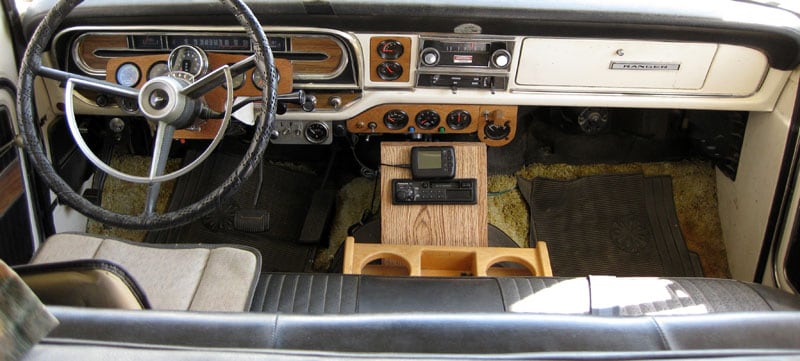 Here's the inside of my truck with the gauges I have installed.  I can monitor the outside temperature, water temperature, and engine oil pressure.  I made the panel from a piece of scrap oak and it clamps around the steering column.  I have the engine voltmeter and ammeter below it.
The lower panel has the transmission temperature, fuel pressure, ammeter for the camper battery, and voltmeter for the camper battery.  I have since disconnected the fuel pressure gauge for safety reasons.  These panels were also made from scrap oak.  The top panel fits in the place where the ashtray used to be.  Below, on the driveshaft tunnel, is a small back up monitor and stereo AM/FM cassette radio.  I mounted them to a box I made out of scrap paneling and secured it to the tunnel.
How many miles are on your truck?
That's a good question.  When I got it, it said 70,000 miles.  Right now it has rolled over once, and it's got close to 80,000 on it, so it's probably pushing 200,000 miles, I would guess.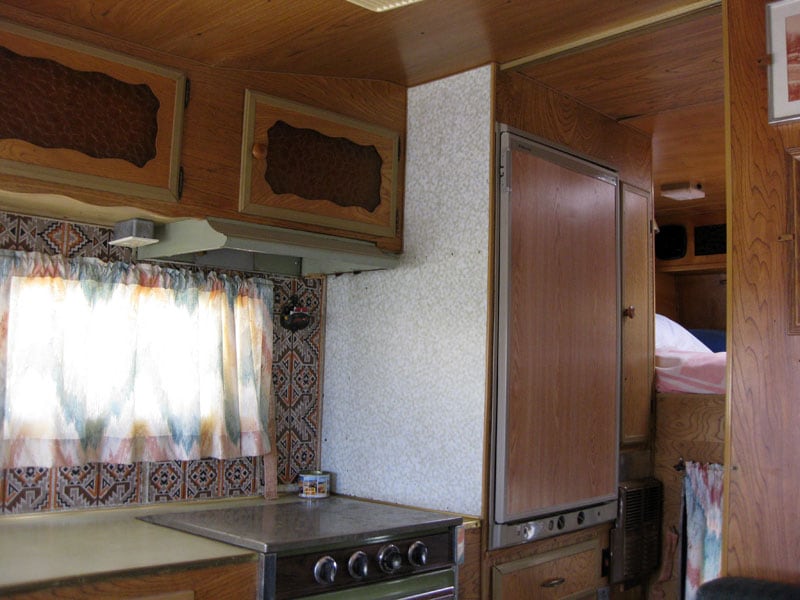 I'm sure you've made some modifications since you've had your camper so long.
I have replaced the icebox with a refrigerator, installed a heater, installed a roof air conditioner, added a grey tank, and added an awning.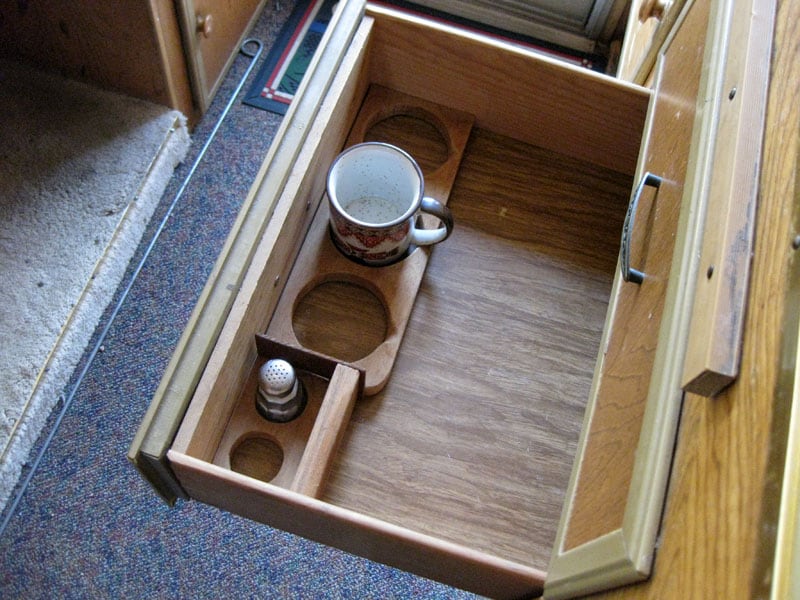 The camper had a small roof vent over the bed.  I put in an escape hatch that we can crawl out of.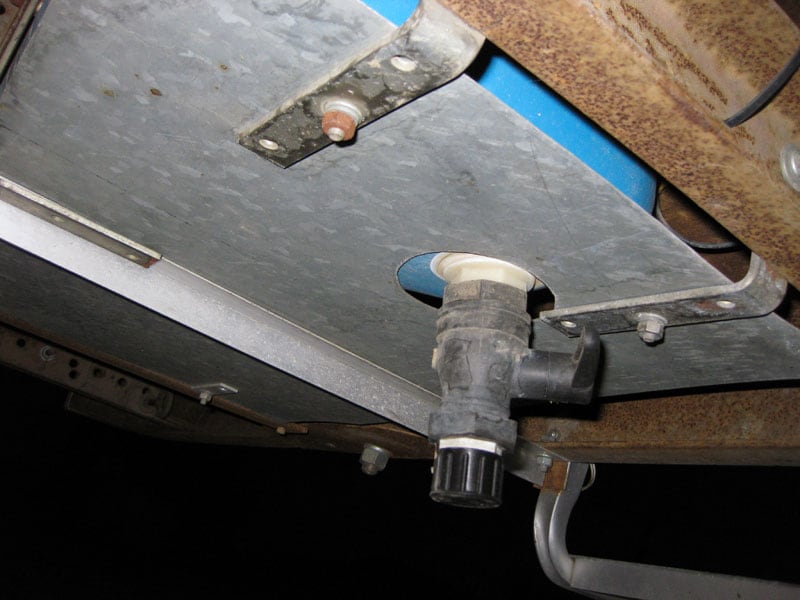 The picture above is of my Barker five gallon holding tank.  I mounted it behind the rear bumper, under the rear overhang of the camper.  I cut a hole in the bottom of the tank for the drain valve.
I used a Marelon three-quarter inch marine ball valve but any valve that has male hose threads on the discharge side would work.  On the inside of the tank use a three-quarter inch pipe thread lock nut.  If the valve doesn't have a shoulder, a three-quarter inch pipe nut will need to be used on the outside.  Use 3M 5200 Marine adhesive sealant to seal both the outside and inside before tightening the lock nut.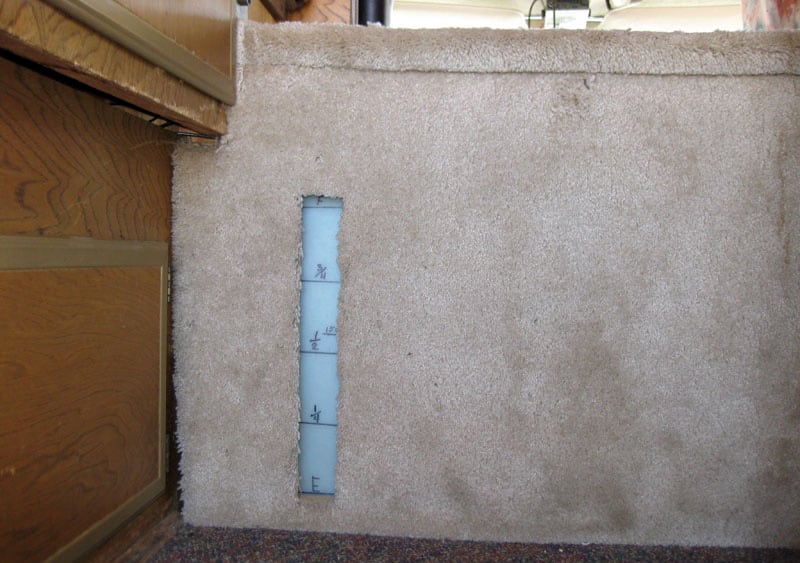 Above: An easy way to see how much fresh water is in the tank; no tank monitors required.
My wife, Joann, is a great seamstress.  We are on our second set of curtains for the camper.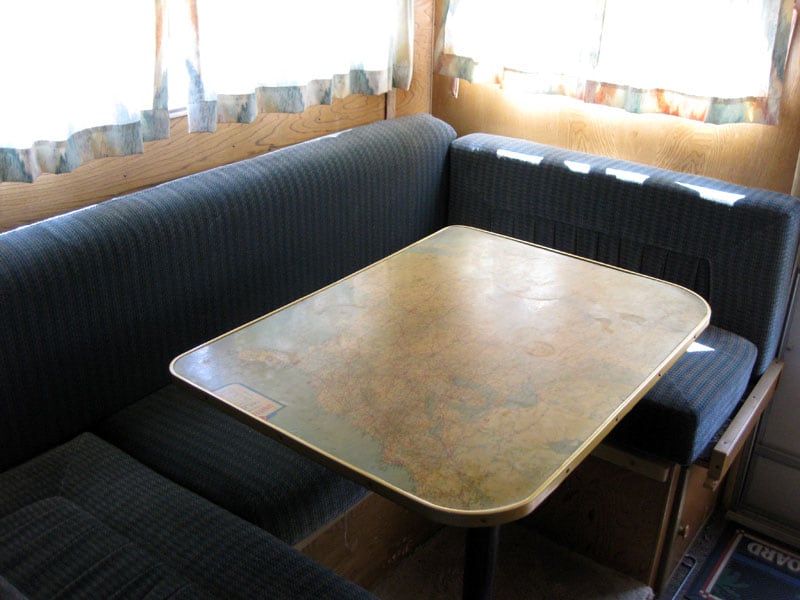 We re-covered the seats a long time ago.  We also got upholstery fabric and made our own cushion covers.  I've also put down new carpeting at least twice.  We plan to keep our camper forever.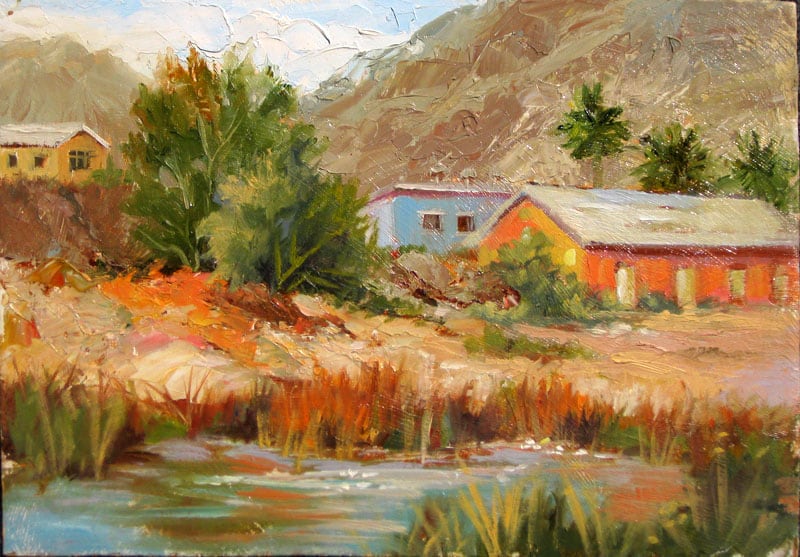 Above: One of Joann's paintings of Tecopa Lake
You already told us some of the stand out adventures you've had.  Where do you like to go with your truck camper?
Jack: Tecopa Hot Springs is a favorite place.  We like to soak in the hot spring baths.  There's a little pond where you can park and there are frogs in it and you can get serenaded by the frogs.  Joann even did a painting of the pond.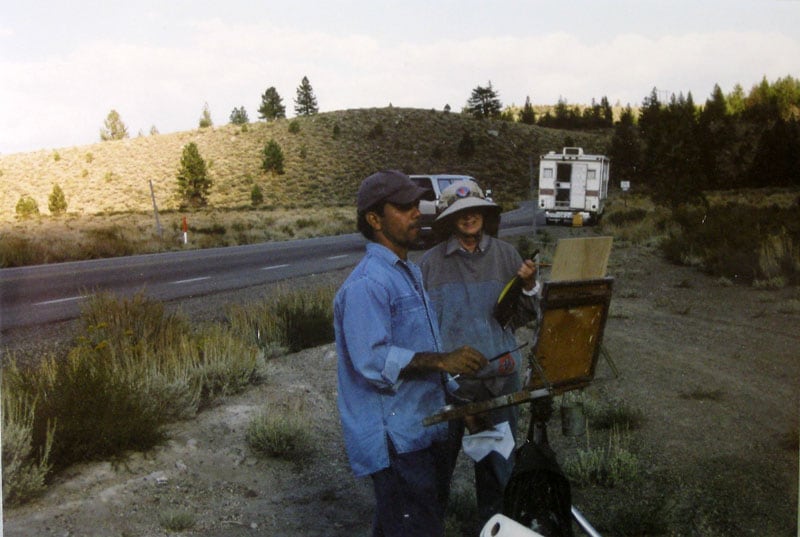 Above: Joann getting some pointers from a painting instructor
Joann: I go to a lot of week-long painting classes.  During the classes, we live our camper.  We also go on painting trips.  We went to the High Sierras for painting classes that were put on by prominent artists.  We stayed in the camper up there.  There was on location painting where every day we would go to a different location.  With our truck camper, we had a place to carry my painting supplies.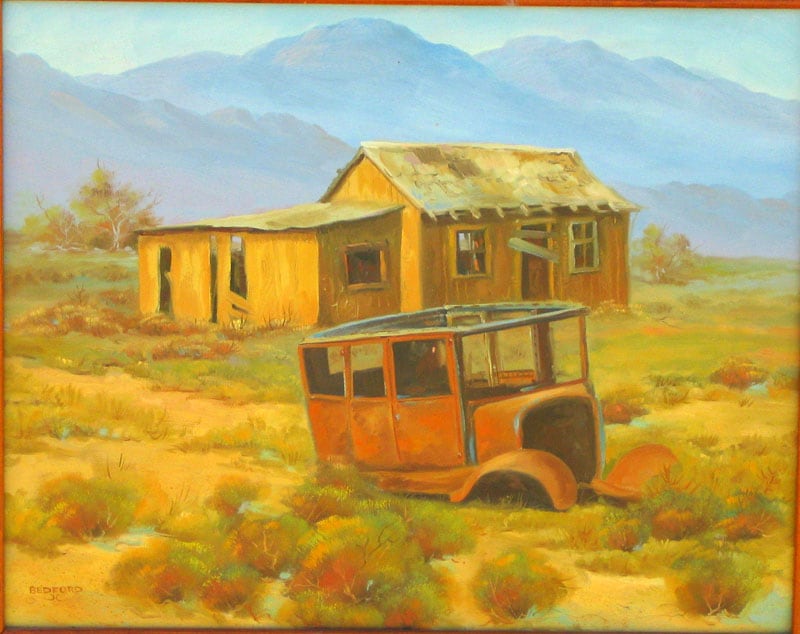 Above: Joann's painting of Rhyolite, Nevada
Jack: Another favorite place we like to go to is northern Arizona above Williams.  We have a favorite spot along the Verde River.  The old Route 66 goes through Williams.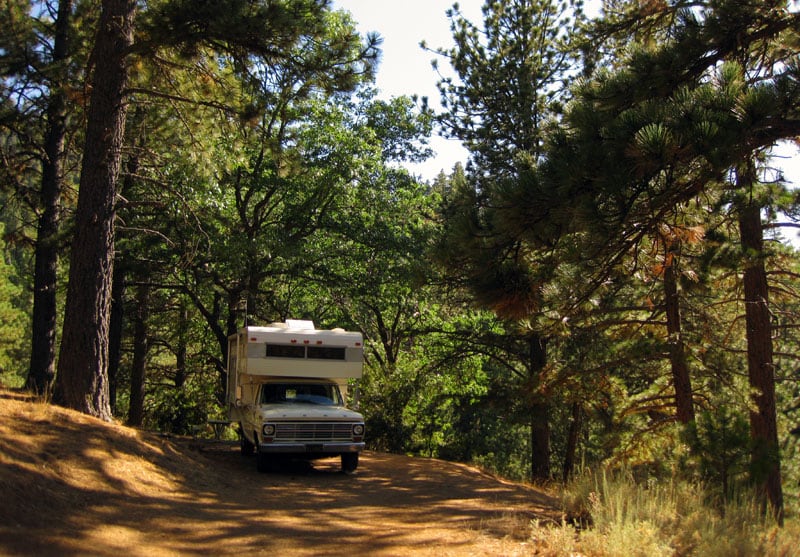 We like Tehachapi Mountain Park (pictured above).  We like to go there to escape the desert heat.  It's close to home so we go every chance we get.
El Mirage Dry Lake is a dry lake about thirty miles from where we live.  They had speed trails out there every so often.  We've taken the camper out there and watched the speed trails.  Since it's a dry lake, we would come back with a dusty, dirty camper.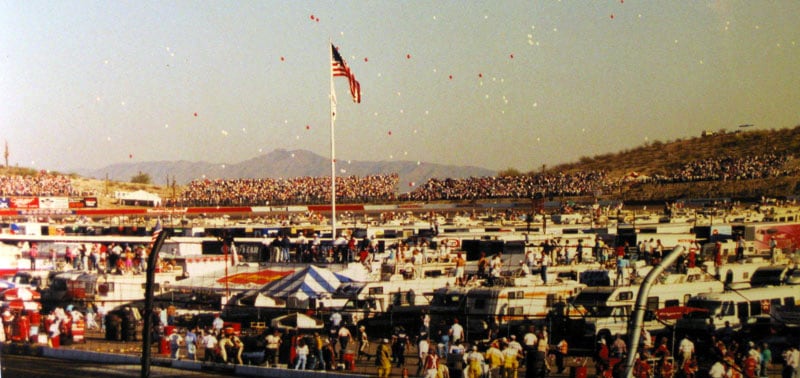 Above: A NASCAR race, when you could get pit a pit pass to be close to the action
They let you camp out by the Salt River before NASCAR got real popular.  We could have a campfire and hear frogs at night.  They didn't charge to get close.  As it got more popular they started a special RV parking area.  Then we were there with the motorhomes that were running generators.  It was noisy, smelly, and not as fun anymore.
That's a shame.  It's tragic when we lose a special place like that.  I really enjoyed you telling us earlier that the camper has become a member of your family.
That's how we feel about it.  It's part of us.  There are so many more stories.
Back in the 1970s and early 1980s, I was working in aerospace.  I got laid off.  At that time, I was into trucks.  So, I thought I'd go to trucking school.  We found out that there was a truck driving school in Wichita, Kansas.  I decided to go to school to learn how to drive an eighteen-wheeler.
We drove our camper to Wichita and stayed in a little campground, next to a cornfield, outside of the city while I went to truck driving school.  It lasted a couple of weeks.  It was May and we were in tornado alley.  There were days when there was lightning, thunder, and wind rocking the camper.  I'm from Southern California, so I was getting a little worried.  There weren't any tornadoes, but I was worried.
I got a truck driver's license and everything, but then the aerospace company I worked for called me back, so I never got to use my truck driver's license.  I do find that everything I learn I use at one time or another.  That driving experience of learning to drive a truck really helped in a lot of ways.  Other than driving skills, they taught me how to watch out for safety hazards on the road.  It helps in driving the camper.
I get Workamper News and I like to see what's going on.  A few years ago, they needed someone in San Diego.  I applied and got the job.  I stayed down there working for a couple of years.  We had the camper so I lived in it.  Joann kept the home front going, and came down to visit.  I'd help the maintenance guy at the campground do electrical repairs on the sites and help clean up the grounds.  I'd do anything that needed fixing.  It was an older park.
The camper has also been a home for us between moves and locations.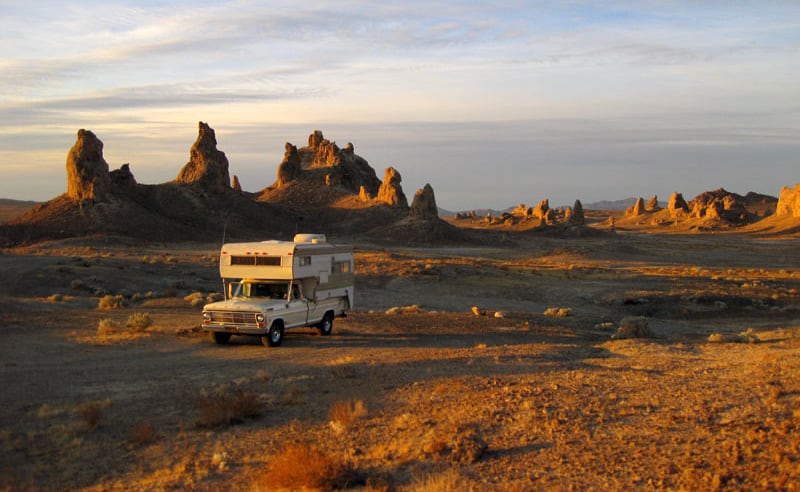 Above: Trona Pinnacles National Natural Landmark, California
What recommendations do you have for truck camping destinations?
We used to go to Anza Borrego Desert State Park when we lived in San Diego.  We like Silver Strand State Beach.  You used to be able to park at the Silver Strand and camping was cheap, like a dollar a night.  Then California got in a financial bind and raised the fees.  Last we knew it was like twenty dollars a night.
As soon as the desert flowers come out, we like to go to Joshua Tree National Park.  One good thing about truck campers is that a lot of campgrounds in Joshua Tree have small spaces.  If you have a motorhome or something big you couldn't get into a lot of the campsites because the camping spaces are small.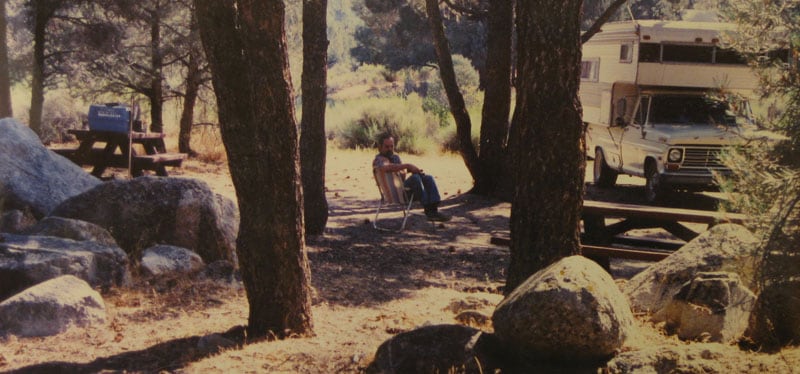 Above: Chimney Creek Campground, at a free campsite, in the Sierras near Kennedy Meadows
The Sierras around June Lake are nice.   When we went there for a painting class in the Fall, the trees were turning color.  It was pretty.
Another place we haven't really explored, that I want to go to, is the Mojave National Preserve.  It's east of Barstow about forty miles.  The old Mojave Road, used by Indians and early traders, runs through it.  Most of it is a four-wheel drive road but some portions are okay for high clearance vehicles.  There are also paved roads and graded dirt roads that go to various points of interest.  There are two campgrounds, Hole In The Wall and Mid Hills plus a few boondocking spots.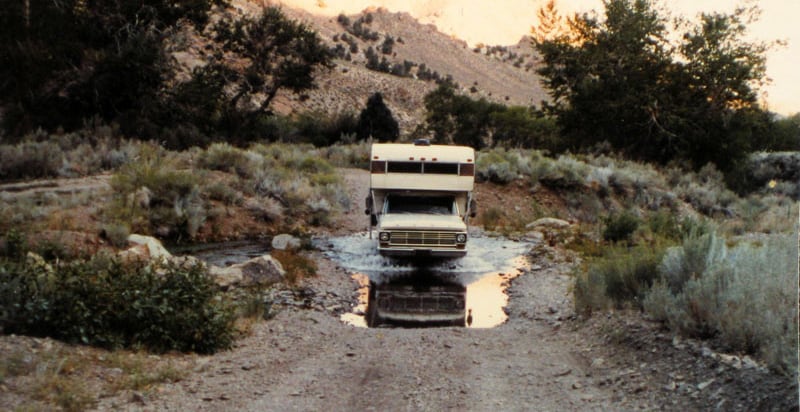 Above: Crossing the Amargosa River in Death Valley
How does your cat, Googie, like the camper?  Harley loves traveling.  What tips do you have for people traveling with cats?
Googie is our third cat.  Our first cat was named Nikon and he went everywhere.  We took him all around in the camper.  He got old and couldn't move around and we lost him.
Then, we got Baby Cat in Lancaster, California, where we were living at the time.  She just showed up outside and it was February.  She was meowing outside, and she was in bad shape.  We nursed her back to health.  We called her Baby Cat.  We took her in the camper everywhere.  She didn't really like it, but got used to it, and tolerated it.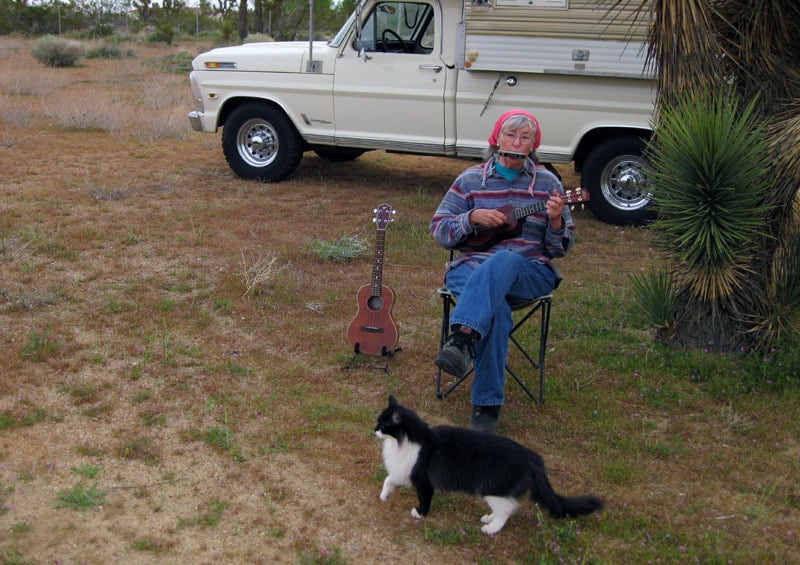 Above: Joann playing the ukulele and harmonica.  Their cat, Googie, was dancing to the music!
Our current cat, Googie, was a stray that the people next door to us left outside.  Joann puts food out for the birds that he was coming over and eating.  We thought he was starving, so we gave him food and took him in.
We keep the litter box in the camper.  We take the regular cat dishes.  That way they are used to their dish and their blankets.  When we stop at a campground, we let the cat get used to the surroundings.  We had Googie at the park in San Diego where I was workamping.  He just fit right in and stayed by the RV.  He would like to explore under other RVs.
He stays close by.  Once he gets used to the surroundings, he is okay.  Every cat we've had, when it gets dark we bring them in.  There are coyotes around us here, so have to be careful.  And we give them lots of attention and reassurance.
Mama Cat and Bella, our other two cats, get panicked as soon as the engine starts, so since getting them our camper trips have been limited.
When we visit our daughter in Clovis, California we take our camper and park in front of her house.  It's our Roll-A-Long motel.
We also get to see our granddaughter and great-grandson in Reedley.  We're proud that our granddaughter is going to Harvard on a scholarship for a PHD in Micro-Biology.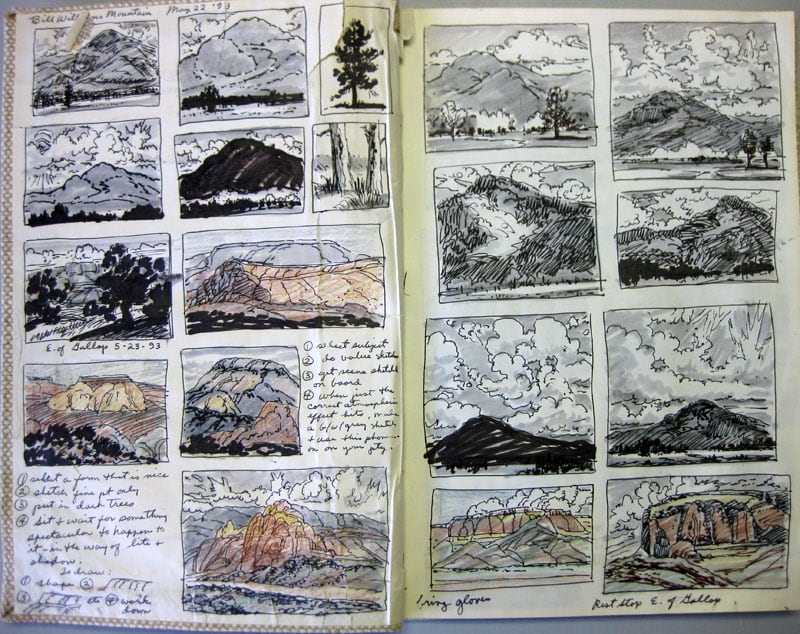 Above: The sketches in Joann's journal
"Over the years, we have seen so many different and wonderful places that we would have never seen or experienced without our truck camper."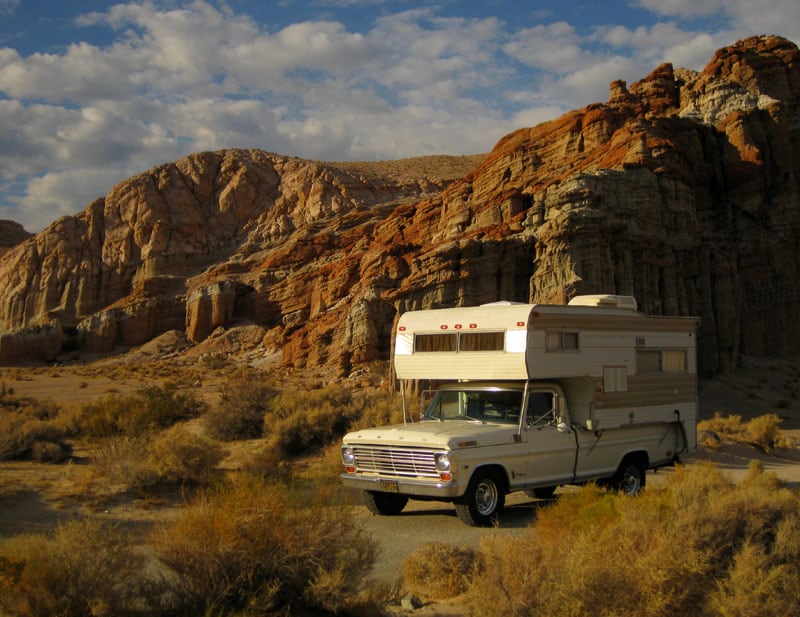 Above: Jack's calendar contest entry in 2011 that landed him the cover.  Click here if you'd like to enter the most current calendar contest.
Your photos are gorgeous as evidenced by being the winner of the 2011 TCM Calendar Contest cover.  Tell us about your photography.
Joann's daughter is a professional photographer, so she coaches me a lot.  One thing that has helped is being married to an artist.  Artists looked at things differently than a normal person.  They see things that are artistic or photogenic.  I've picked things up from her in taking pictures.
I don't retouch on the computer.  I like to just take photos.  The camera I use is a Canon Powershot.  It's a good little camera that I can put in my pocket.
Above: Jack cooking with his solar oven.  It works well if it's not windy.  Jack and Joann cooked a whole chicken at Tecopa with it.
Is there anything you'd like to add to your interview?
Joann: Living in southern California, we can have earthquakes.  If our house gets flattened, we know we have a home.  It's nice to know that.  We have water, propane, and everything we need.
Jack: One thing Joann discovered is the sun oven.  Every camper should have a sun oven.  We have to keep it moving so that the sun shines down into it.  It's reflective.  There's a gauge in it so that it can go to 400 degrees, but it stays at about 350.
Joann: When we were at Tecopa we were baking a chicken in it.  The chicken was in there for two hours and smelled so good.  The people in the motorhomes near us came by and couldn't believe it.  You can also use it to heat water for your dishes.
The first thing in the morning, I make tea.  I have a jar I've painted black so it absorbs heat so that I can heat water.  We also heat up leftovers.  It's a wonderful thing, and it saves propane.  We painted a brick black that we keep in the solar oven, which keeps heat consistent.  I bought the best one they make.
Jack:  Over the years, we have seen so many different and wonderful places that we would have never seen or experienced without our truck camper.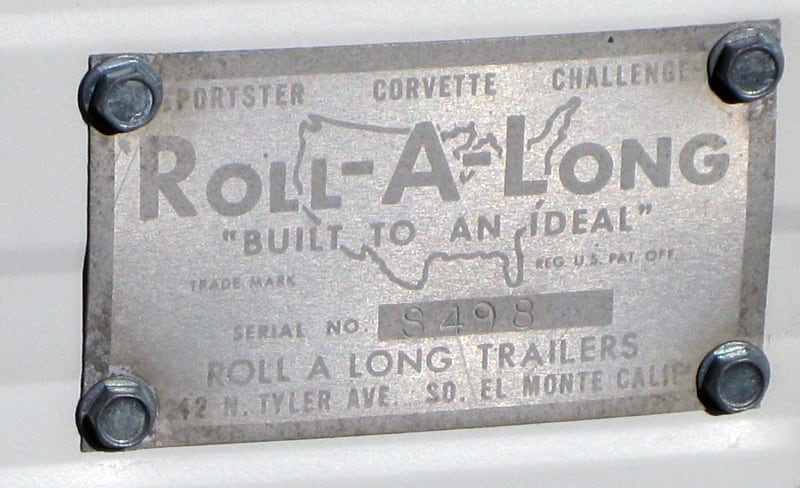 Do you have a vintage camper (pre-1980s)?  If you'd like to share a photo or two, we'd love to add them to our Vintage Gallery.