Experimental aircraft events, towing a sailboat, avoiding bear claws, remote medicine work, towing a 1952 Jeep, fishing for Browns, Nascar races, horseback adventures and more. Another seventeen incredible readers reveal why they go truck camping.
What's your story? Click here to share why you go truck camping.
Steve and Andra Savage
2012 Ford F-350
2019 Northstar Laredo SC
We like the beach and we like to bike, so those two things are front and center in our truck camping lifestyle. You are much more likely to find us camping near a beach than in the mountains.

We also like festivals and events like the Experimental Aircraft Association's annual AirVenture in Oshkosh, Wisconsin. The annual event is the biggest gathering of air aficionados in the United States. There is similarly large event in Europe every year.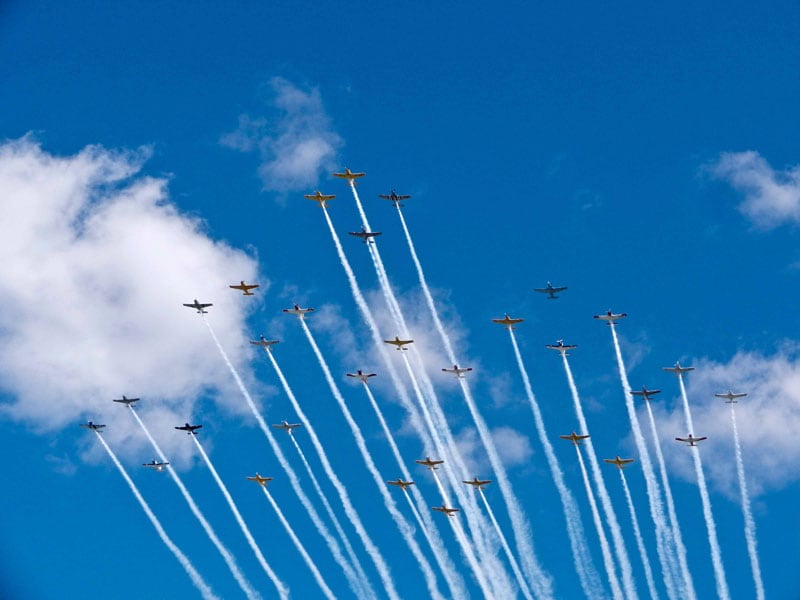 For aviation enthusiasts, the event is a mindblower. Even for folks, like us, who have no intention of building a plane or becoming pilots, it's spectacular.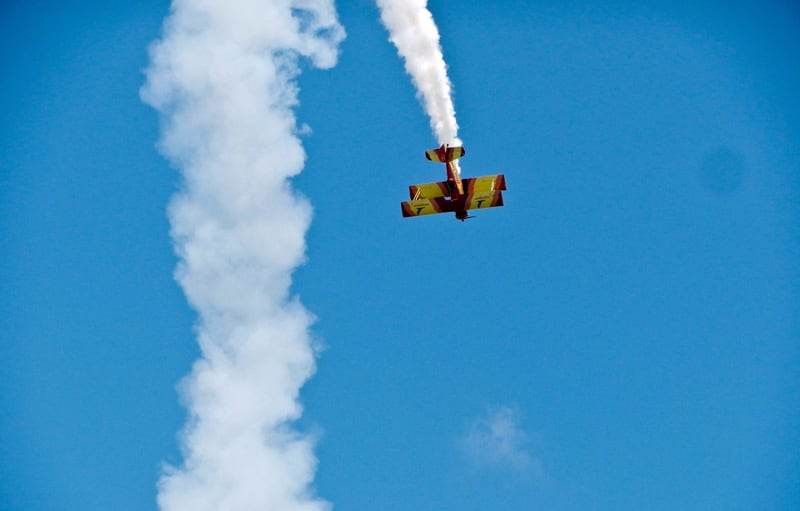 Just to see a F22 stop in mid-air and make a right hand turn is worth the trip. If it has to do with aviation, it's there!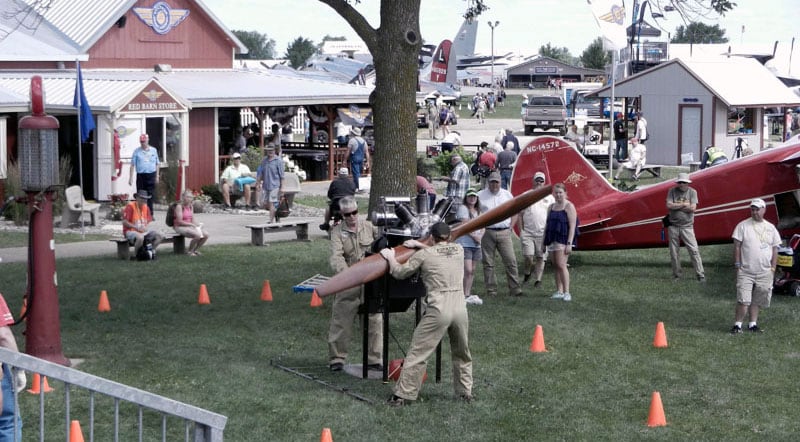 We also attend car shows, food festivals, craft shows – you name it. We are game for almost anything. We also recently became volunteers for the American Red Cross and will be doing disaster relief in the coming months using our truck camper.
Last year we biked in the Palo Duro Canyon State Park in Texas. Talk about being over our heads on the bike trails there!
We also travel with our cat, Callie Sue, a calico we found on an on-ramp to the Interstate outside Nashville when we were returning from picking up our first truck camper in Arkansas. Callie Sue was a three-ounce kitten we figure someone just tossed out.
We always have a rescue animal. The last three have been cats. I made a pass-through between the truck and camper windows we put in place when we camp. She treats the truck as her own private suite and only joins us when she is hungry or wants to bug the crap out of us in the middle of the night.
Bill McKeon
2007 Ram 3500
2011 Northern Lite 10-2 SE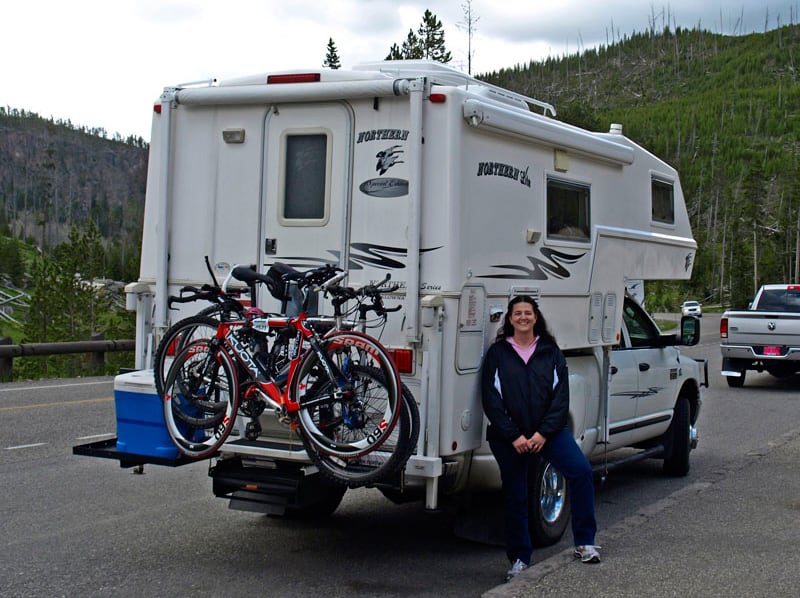 I use my Northern Lite for Ironman and other triathlons. We camped in Coeur d'Alene in Kansas and other locals areas associated with triathlons. It's great to have a familiar place to relax and prep for a race. Since moving to Alaska the triathlon scene is limited.
We bought a trailerable 23-foot sailboat this summer. There are great lakes and places to launch to access Resurrection Bay, Homer, the Kachemak Bay and the Prince William Sound. Our Ram 3500 diesel dually has no problem towing the boat with the camper. Next spring we hit the water!
I had a bike rack for the inside of the camper to keep my triathlon bike out of the weather. We had a Torklift 36-inch truss installed this winter and it works great for the sailboat.
Jason Hardy
2015 Ford F-350
2012 Arctic Fox 990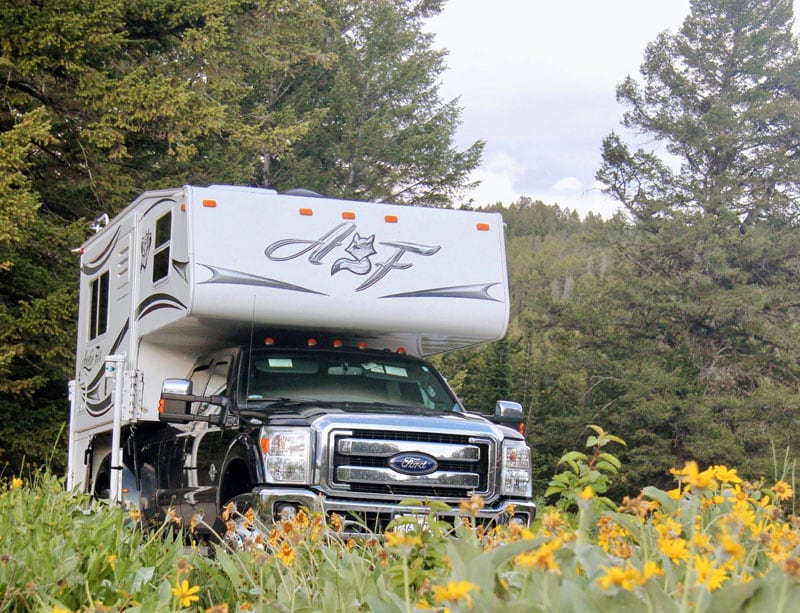 Prior to purchasing our truck and camper, we had a large Fleetwood pop-up tent trailer and a Toyota Tacoma tow vehicle. We really enjoyed that set-up as it allowed us to camp in many campgrounds that otherwise were only accessible to tent campers or those with very small RVs.
The more we camped, the more we wanted to explore new locations. The places we wanted to go were getting further and further away, sometimes requiring an overnighter en route.
The pop-up wasn't very convenient in those situations. There was too much set-up time, the canvas was not very soundproof and there is a total lack of stealth camping abilities.
We were also finding ourselves camping in bear country quite often. My wife and kids weren't too keen on the thought of a bear ripping through the canvas of our trailer (okay, neither was I). We decided that a hard-sided RV with minimal set-up would suit our needs better.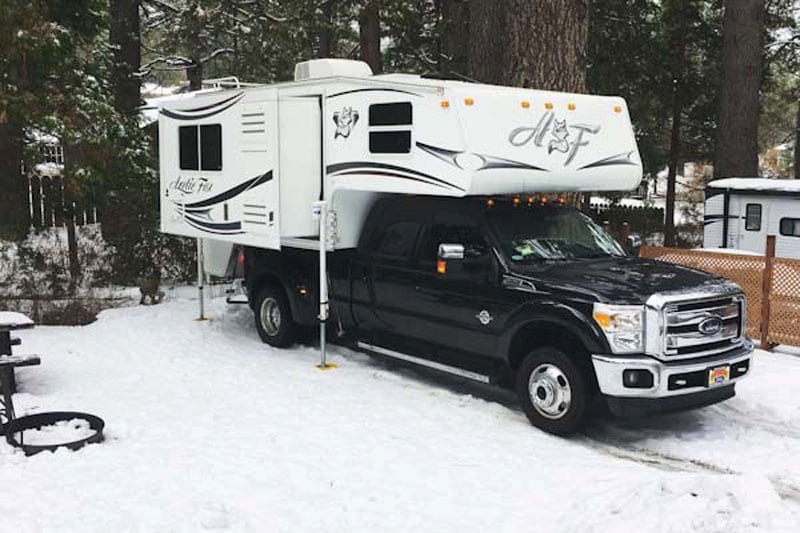 We chose not to get a trailer due to California (our home state) having a maximum highway speed of 55 miles per hour while towing. Like Sammy Hagar said, "I can't drive 55".
We began checking out the local dealerships for motorhomes. Because we still liked camping off the beaten path, we were looking at very small Class Cs and Bs. Eventually we decided that we couldn't live without four-wheel drive capabilities, which eliminated the Class Cs. While it was possible to find motorhomes in the B/B+ class that were equipped with four-wheel drive, they were priced way out of our budget.
Also, my family felt very cramped in these tiny motorhomes. The reality is that we never even considered a slide-in truck camper as an option. The RV dealers here don't even carry them.
We had our ah-ha moment when we ran across pictures online of modern truck campers with slide-outs. We went and checked out the only two used ones listed in all of southern California, and found out that the 10-footers with a single slide met all of our requirements.
We decided that we wanted either an Eagle Cap 995 or an Arctic Fox 990. The next step was figuring out what size four-wheel drive pick-up we needed.
More online research brought us to Truck Camper Magazine where we learned that a dual rear wheel pick-up was really the only way to go with either of these campers. This was a bit of a tough pill for us to swallow at first since we didn't need such a large truck for any other purpose. The truck and camper combo also needed to fit in our small, suburban driveway.
We bit the bullet and purchased a slightly used dually and then we found a slightly used Arctic Fox 990. We love this set-up. Every time we go camping we fall in love with it even more. We can camp in places other RVs just can't get to, or won't fit.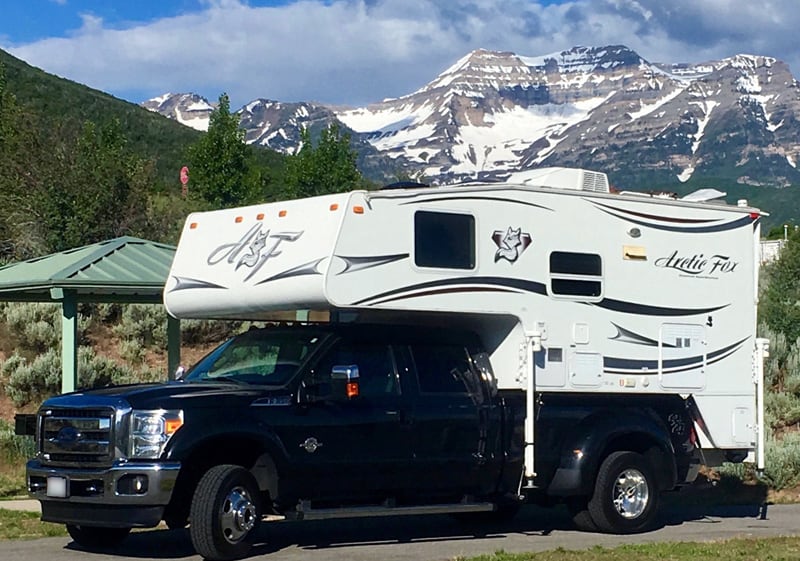 The versatility of this rig is truly amazing! We've been discussing a trip to Yellowstone and the Grand Tetons for the last fifteen-years and we were finally able to check that off of our bucket list this year.
We were able to keep some of the costs down by overnighting at Cracker Barrels along the route. Who doesn't love the smell of fresh biscuits when you wake up?
Only twice did we camp at campgrounds with hookups to recharge/refill. We've even expanded our camping season to include winter camping in our local mountains. We've camped in tent only campgrounds that other RV's wouldn't have fit in.
In California a truck camper isn't even considered an RV; it's just payload allowing us to skirt around some of the RV restrictions.
Bill and Kira Jones
2017 Ford F-350
2018 Northern Lite 9-6Q SE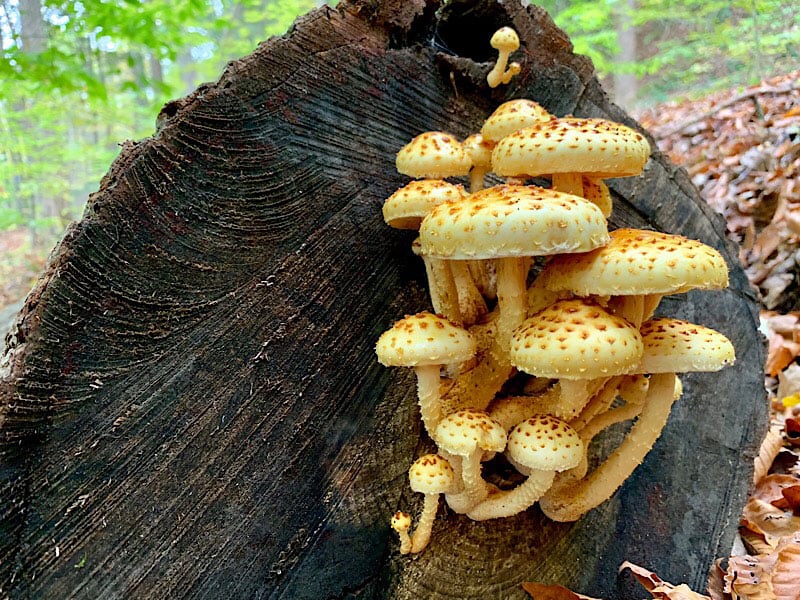 Above: Finding interesting life forms in the forest of Robert H. Treman State Park, New York
We like to go to remote places to go hiking with our dogs, to photograph wildlife and wildflowers, to see structural and erosional geologic features, to see the night sky without light pollution, and to make short videos.

Above: Utilizing a tent site, no hookups needed, at the far edge of the camping area. Next door to Rough and Tumble, Roamers Retreat campground, Pennsylvania
With a truck camper, one can be at a location, instead of having to travel to or from a motel or RV campground.  On several occasions, we have been able, sometimes allowed after negotiations, to make camp in a tent site or area, when no other sites were available.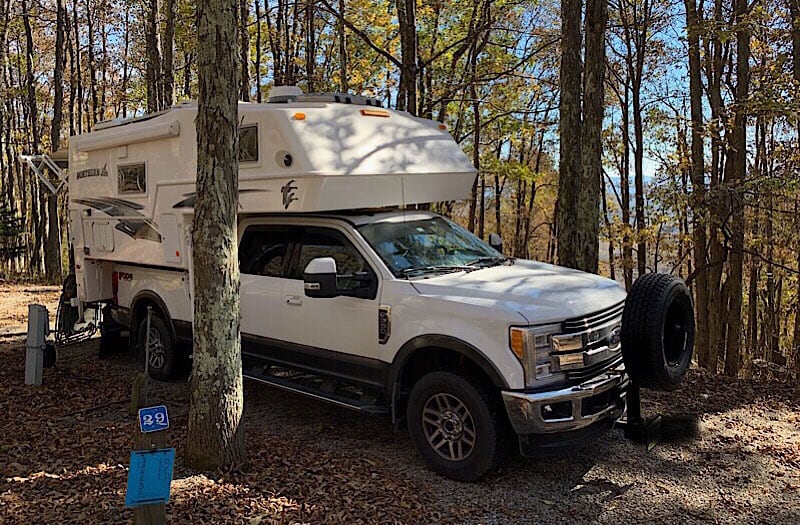 Above: Capability to access and setup on a very small campsite pad, with steep approach and departure ramps, with barely enough width between trees, on the side of a mountain.  Pictured is a campsite in Grayson Highlands State Park, Virginia.
Campground operators are sometimes surprised when we tell them that our system is standalone autonomous.  They then tell us that we can setup anywhere over there, and then tell us where the dump station is located.  Also, there have been reduced rates on some occasions; same as for a tent site with no hookups.
I like to go to events such as outdoor antique engine and railroading, meets, expositions and museums.  There is often a dry camping area (reasonable low cost or free) associated with these events, located either on the event grounds or nearby as in next door or across the road.  Each event is unique and we have met many interesting people and gained technical knowledge about the associated machines, mostly from discussions with these enthusiasts.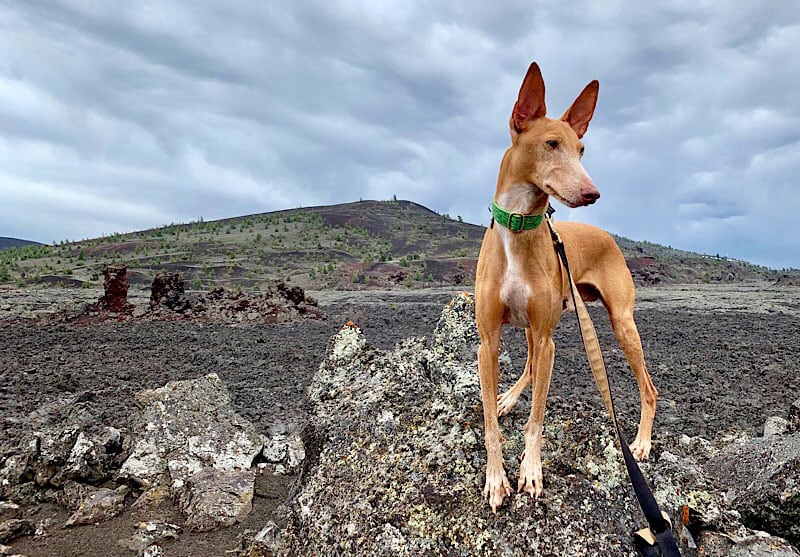 Above: Craters of the Moon National Monument and Preserve, Idaho
Kira likes to go to botanical, vegfest, sewing, stitching, crocheting, and quilting related venues.  Extra points if they allow dogs.
On many occasions we have been approached by other campers inquiring in one way or another, "Why did ya'll go with a truck camper configuration?".  After much consideration, the first response I give now is, ground clearance.  We have heard, and seen, many incidents of other type rigs scraping the asphalt or plowing the ground, damaging both.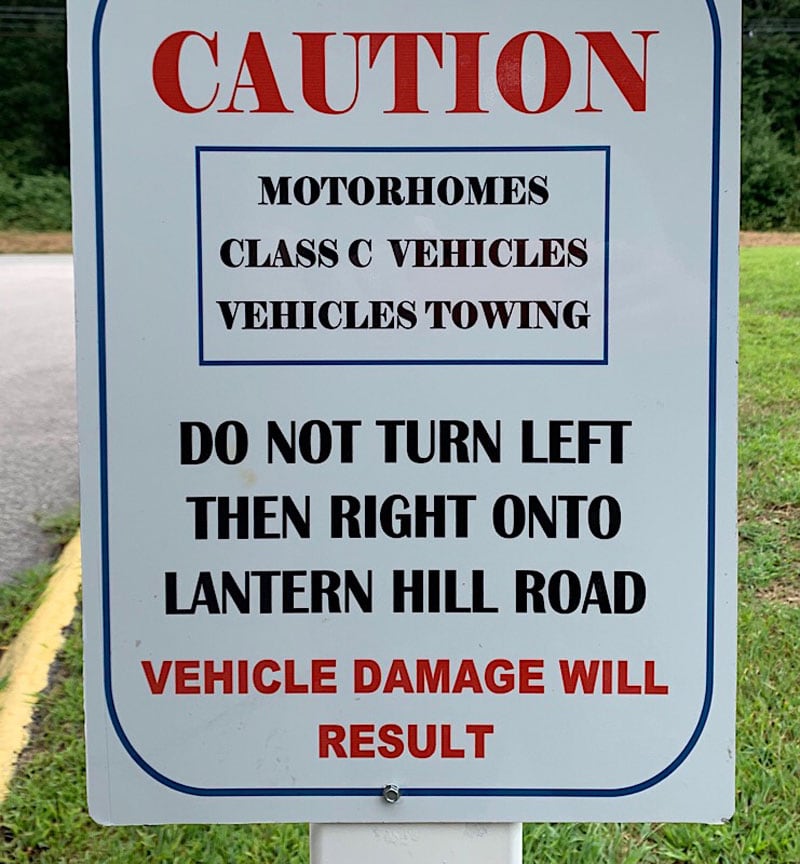 Above and below: Ground clearance is better in a truck camper rig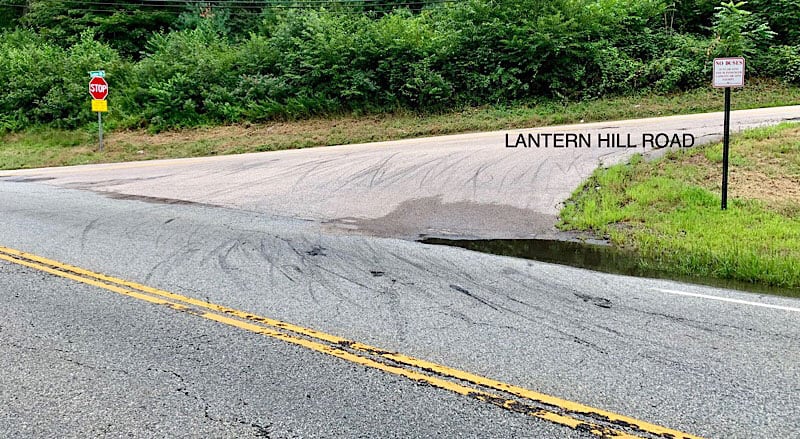 Our truck camper system has been on some mighty rough ground and marginally maintained BLM and USFS roads.  We just proceeded slowly, and had no problems.  There is also the advantage of being able to have four wheel drive, and we have used it on many occasions to get the rig off of or across soft, wet, mushy, muddy, or grassy ground.  We have not seen a Class A or C with four wheel drive yet.  Well, there was that Unimog.
We tent camped in the past, and overnighted in motels coming and going.  It was a logistical hassle and increasingly expensive.  With truck camping, we can just arrive and then depart with no offloading or reloading of gear.  Also, our truck camper is pet friendly.  So, no more looking for motels of that type along the way.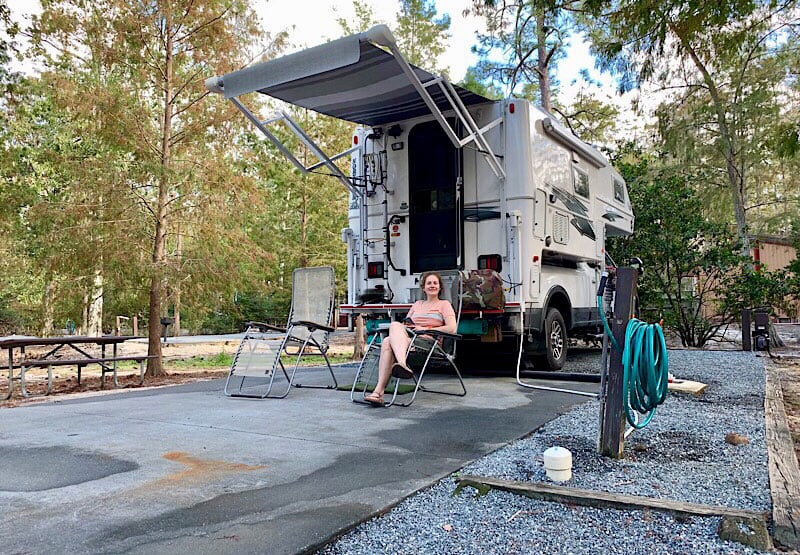 Above: Campground type site length, and availability is not an issue especially in glamping type campgrounds like Walt Disney World's Fort Wilderness, Florida
Convenience par non:  Need a nap, chewing doings, walk critters and humans, or a pit stop break?  Well, just park safe and get to it.
Jordan Pawley
2004 Chevy 2500
2007 Outfitter Apex 8

I have a passion for remote medicine and volunteer work. We all love to travel, and to explore new things.
The secret to life? Well, that's easy. Find what you love, and make it work for you. I'm sure you both would agree.
I use my camper to stay in as I work remote medical contracts for things like Spartan races, dog sled races and sports competitions – all over Oregon and Washington.
I have a 2004 Chevy 2500, crew cab with the 6.0 gas engine. I bought it shortly after graduation in 2008 with 10,000-miles on it. She now has 260,000-miles.
I have a flatbed, custom built bumper (that my brother and I built), airbags, built-in air compressor, cell phone booster, ham and CB radio, driving lights, 33-inch tires, cold air intake, chip and dual batteries.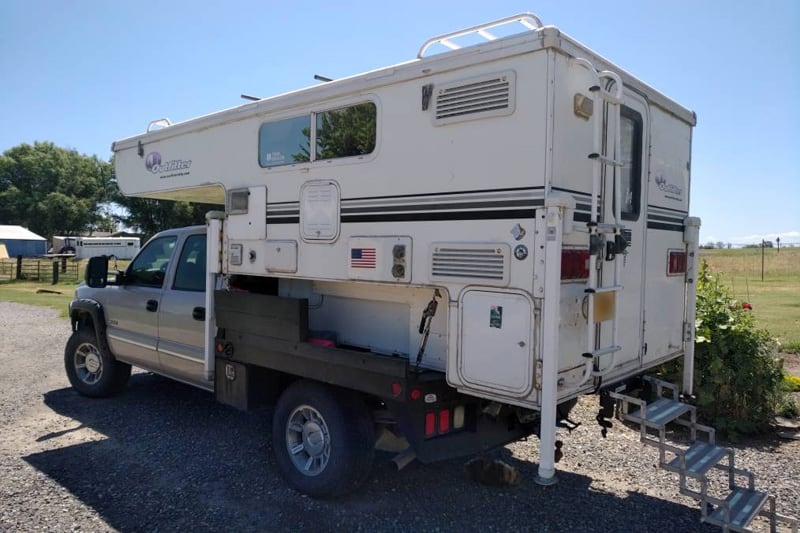 My camper was a well loved 2007 Outfitter Apex 8 pop-up camper. It needed a lot of work when I got it. I installed a large charge relay and Anderson plug and connector for heavy duty charging from the truck.
It also has dual 6-volt golf cart batteries, all-LED lighting, 800-watt inverter, and I replaced/reinforced the floor. I will replace the table with a Lagun table mount, and replace the standard toilet with a cassette. I want to add 300-watts of solar and a 12-volt refrigerator as well as a more reliable battery gauge.
Anywhere I am contracted or volunteer I visit. I've been to Joseph, Oregon for the Eagle Cap Extreme Dog Sled race, Bend/Sunriver for events and training, like the sun river triathlon Spartan race. I also plan to use it for Team Rubicon Deployments.
Currently I am working as a Safety Manager, and Remote Advanced Emergency Medical Technician in Dutch Harbor, Alaska. Last month was Egegik, and next month will be on the sea.
Check out more pictures on Expedition Portal for my camper and truck.
Philip Tron
2009 Chevy 3500
2012 Lance 1050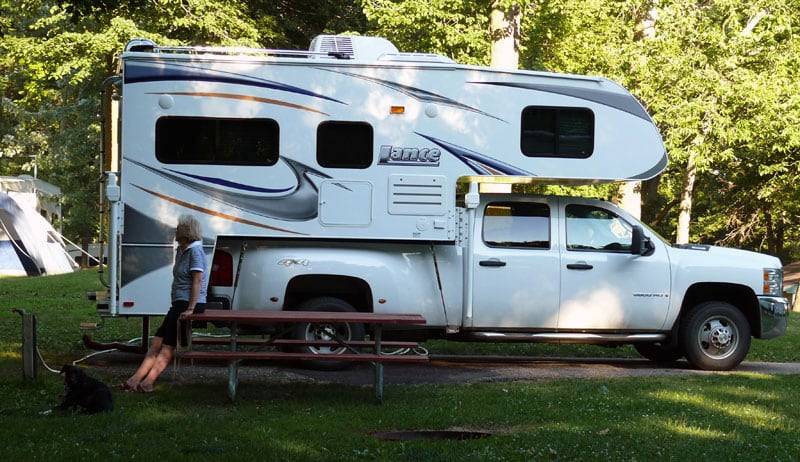 We use our present camper for travel, often far from home. The ability to fit into smaller spaces and drive less than perfect roads makes a truck camper the ideal RV.
Back when we both had jobs, we had a truck camper so we could pull a boat while carrying our house. Now I use our truck camper as a hunting camp in the fall.
While we were between homes in 2013, our truck camper housed two adults, a dog, a cat and a litter box for three weeks. It wasn't hard.
In the last six years there have been two trips to Alaska and one around Lake Superior. We live in the flattest place in North America, on the bed of a glacial lake. The nearest hill is twenty-miles away. We tend to look for reasons to go places where the ground goes up and down. It provides housing while pursuing outdoorsy adventures.
Pat and Clare Eastes
2019 Chevy 2500
2014 Lance 865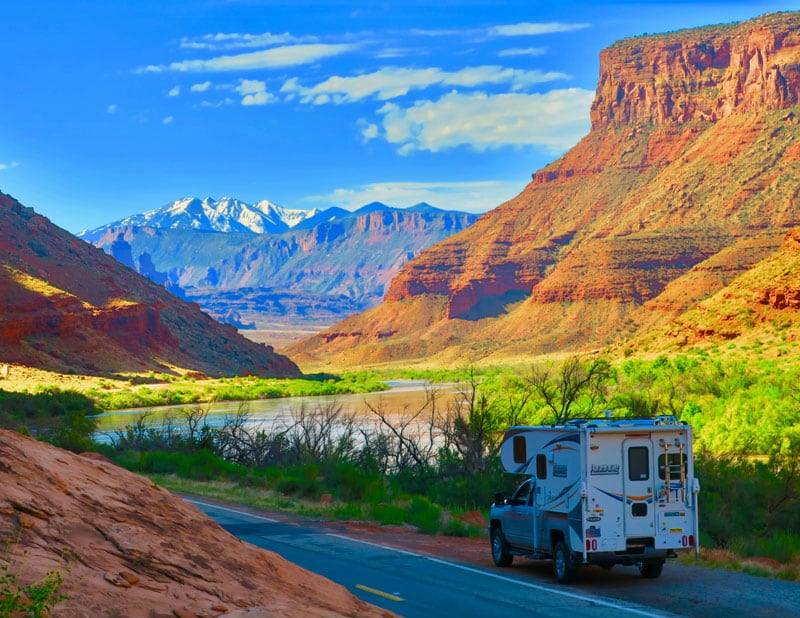 My husband and I have tent camped for over 15-years, camped in a pop-up camper, had another pickup camper, a Class C motorhome, a toy hauler and five different travel trailers.  The only unit we have not camped in is a Class A or a fifth wheel.  We regularly camp two to three days each week during the camping season.
We are very lucky to live in Wyoming. We moved here 42-years ago from Texas. One of the main reasons for the move was our passion for camping and the variety of public lands that are available here.
We have been to all 50-states and continue to love the Rocky Mountains.  We also love Alaska and are getting ready to make a second two-month trip there next year.  We have been fortunate to visit several other countries and we believe that Alaska (closely followed by the Canadian Rockies) is the most beautiful place in the world.  We are so lucky to now have more time to travel, camp and hike!
We love our truck camper! Here's why we have one:
1. For just the two of us, a truck camper is a smaller size and we are able to access the typically smaller Forest Service and BLM governmental campsites better.
2. Truck campers can go on Forest Service, BLM and gravel-type roads that are rougher than ones you might want to go on when pulling a trailer.
3. A camper is much lighter than other RVs. The lighter weight of the camper is much easier to haul and easier to drive.
4. We have a small trailer that carries our two ATVs easier than the former toy hauler we used to have. We love ATVing and our truck camper pulls our two units very easily.
5. When we go on very bumpy roads in Wyoming and Montana and on longer roads such as the Alaska Highway, Cassier Highway, and roads in Yukon Territory, our vehicle doesn't bump up and down as much on the frost heaves.
6. We love boondocking and just traveling everywhere. The smaller unit is perfect for that.
7. Our camper's insurance and licensing fees are much cheaper.
8. Storage for our smaller camper in the off season is at the back of our house which is free instead of a storage rental unit at $40 to $60 per month.
9. Truck campers get better gasoline mileage than larger motorhomes or trailers that are pulled by pickups.
10. We are major hikers and enjoy having a place to come back to and shower when needed.
Our camper is a self-contained Lance 865 non-slide. We have opted for a non-slide because we have seen many slide-outs hanging out of the side on trailers as people are taking them in to repair facilities.
Our camper has conveniences such as a microwave when we are plugged-in (rarely done) and an oven for biscuits and casseroles when we are in the boonies and using propane. It has a wet bath for cleaning up after ATV rides and hikes in the mountains.
We camp two to three days each week in our mountain area near us. We love the Rocky Mountain West and the states of Wyoming, Montana, Colorado, Idaho, Utah (Moab is great), and Arizona and spend much time in each of those places.
We sightsee, camp, ATV and hike. Fishing is another activity we do when we're in the mountains. It is easy to load items into the camper and head out very quickly.
We like the serenity that being able to get to out-of-the-way places allows us to do. Our camper can get us places that most travel trailers and motorhomes could not reach.
By the way, we love Truck Camper Magazine! Thank you for all you do for all of us truck campers.
Tom and Ruthie Ralls
2009 Chevy 2500
1994 Shadow Cruiser 800
We take our 1952 Jeep on a trailer to Jeep events in South Dakota and Colorado.
When we get firewood in the National Forest, we take the trailer with us. We get about half the load in the evening, spend the night and finish filling the trailer in the cool of the morning. The wood stays on the trailer until we get it off and split it.
We go jeeping in the Black Hills of South Dakota for a week in June. We will be going to the Fall Colors Tour in September. It's a week in the mountains close to Buena Vista, Colorado. Our Airedale Terrier seems to enjoy camping as much as we do.
JP Cote
2014 Ford F350
2013 Lance 855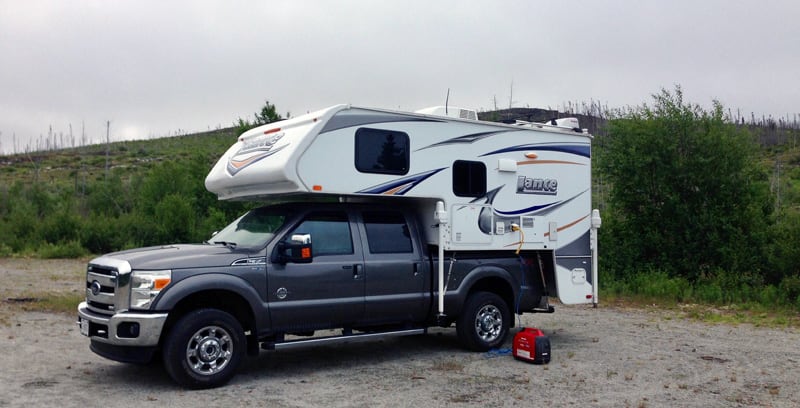 We like to visit areas in the Northeast and use our camper when we go ATVing far from home. I drove about 300-kilometers (186 miles) of the Trans-Taiga Road in northern Quebec before I decided to go back home. Next time I go up north I will bring more then one spare tire. When you are at the end of that road you are at farthest point from any town via road in North America; 745-kilometers (463 miles).
Mark and Joyce Harrison
2005 Dodge 2500
Northern Lite 10-2 EX CD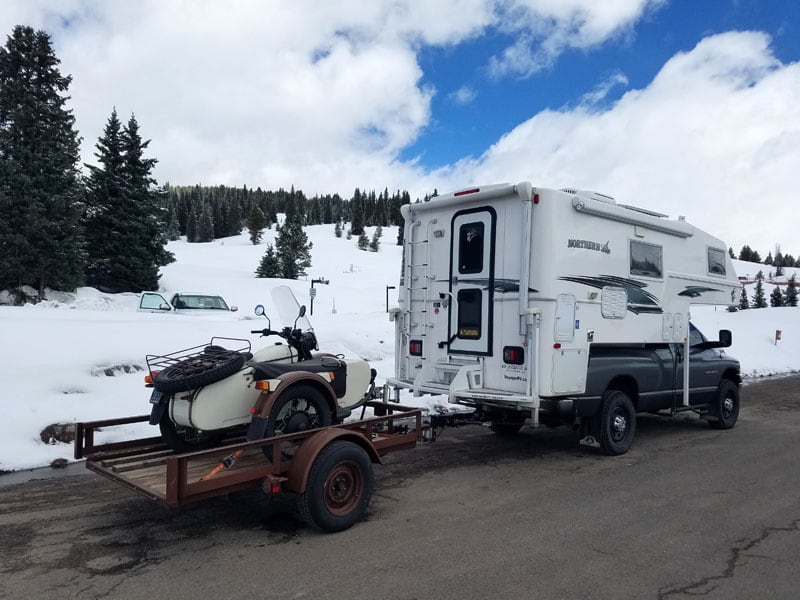 In the 1970s, we had two Red Dale truck campers before the kids came along. I had a Barth Class A in the 80s that we used for business and camping with our two kids and our cat. Then we inherited my Dad's Class B and used it for weekends and cross-country trips.
When we moved to Wyoming, I bought a Wyoming Cadillac – a Dodge 3/4-ton, four-wheel drive Cummins – with the idea we would get a 28 to 30-foot Airstream to enjoy into retirement.
Borrowing a friend's 30-footer and hauling it from Wyoming to Cape Cod, Massachusetts to Arizona and back to Wyoming convinced me that we had to rethink our decision.
Finally Joyce, my wife of 51-years, suggested we look hard at truck campers again. Storage was a major issue since Joyce likes to quilt. I found her a 70 year old Singer feather weight sewing machine. That keeps her quilting and embroidery hobbies happy.
I shoot at SASS Cowboy Competitions so I needed secure storage for guns, ammunition, gun carts, and other needed accoutrements to be able to compete. So, basement storage was essential.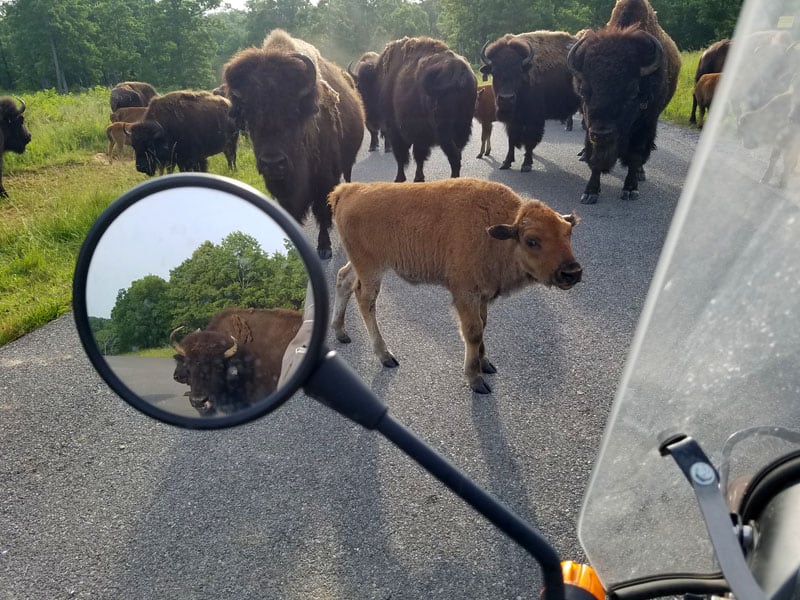 We chose the Northern Lite 10.2 EX CDSE as it was the closest camper to be 90-percent of our criteria of storage, capable of zero-degree camping, relatively lightweight for its size, quality of construction, tank storage, and solar powered eliminating the need for a generator. I also wanted the ability to pull a small utility trailer for my sidecar motorcycle.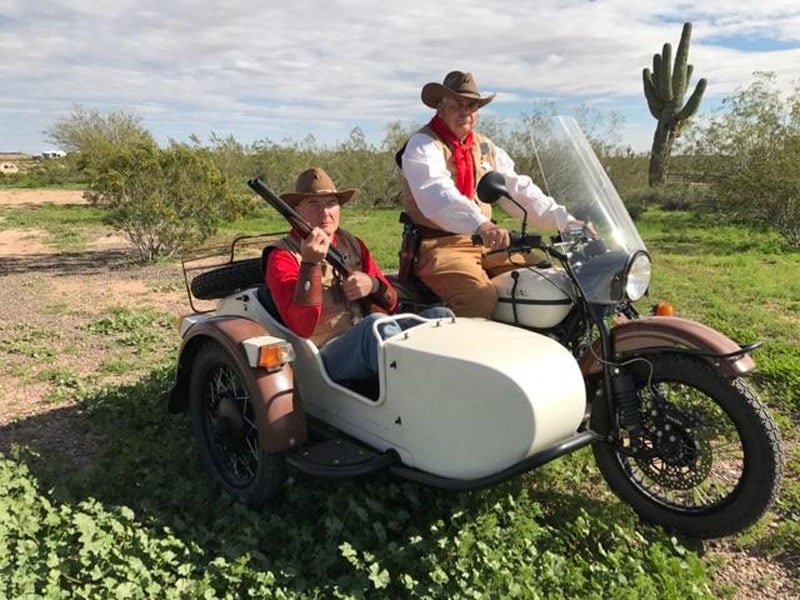 A Torklift 20,000-pound hitch and hitch extension were added to be able to pull the trailer. We soon realized that we needed to load leveling hitch even though the trailer only weighs 1,600-pounds. 150-pounds of hitch weight 8-feet in back of the rear axle is a lot of additional weight on the rear axle and caused the hitch to easily drag when a driveway isn't level with the road.
We also added 19.5-wheels and tires, a Hellwig Big Wig sway bar and upgraded the rear suspension. The truck has preformed very well getting a pretty consistent 13 to 14 miles per gallon and handling mountain passes over 12,500-feet regularly.
We have had the truck camper mounted for almost three years. It has taken us to southern Florida to visit the kids three times, Arizona to the National SASS Championships three times, to Washington State to show our grandson where his dad spent time growing up on a sailboat, to Wyoming many times to quench our love of the Tetons and Yellowstone, to New England and New York for regional and state SASS competitions three times, and criss-crossed the USA to visit our family and friends. We have driven 56,000-miles in less than three years.
In our 56,000-miles, we have boondocked 90-percent of the time. Even though my CPAP is the largest electric load for the camper, we have never really missed the lack of a generator.
We chose the camper because of its versatility and have been very pleased. The trailer does restrict your maneuverability. Next year we will leave the motorcycle trailer home. This will allow use the freedom to park in even more places. We are also modifying the backup camera system to more easily remove the camper so we can use the truck alone more easily.
Sylvain Robin
2015 Ford F450
2018 Lance 1172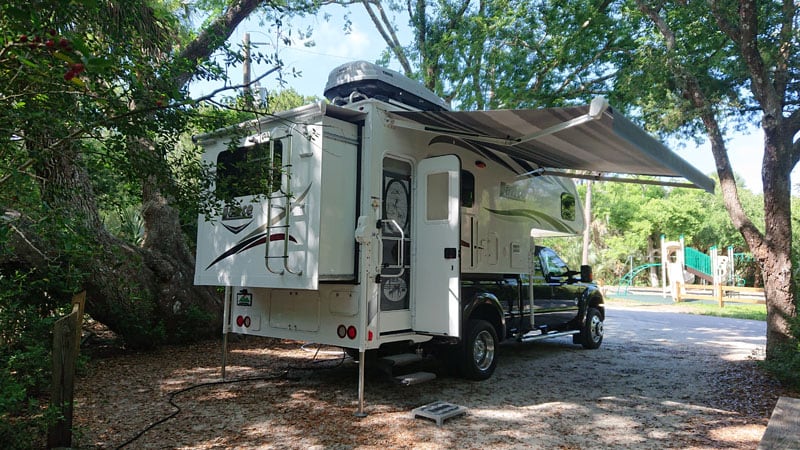 We always liked to see new places with our fifth wheel. That was getting tough, so we opted for a truck camper in 2012, and we love it. From that moment, everything became possible because the truck goes where we go. We like to camp near streams or wooded places like state parks.
Ed Krech
2016 Ram 3500
2011 Northern Lite 8-11
When I first got into truck camping, I used my camper for cross-country bicycle rides. My wife followed me. Then, after ten knee surgeries, I gave that up and started using the camper for disaster recovery around the country. Every now and then we went on trip to national parks.
Recently, I decided to quit chasing disasters because I was spending up to 100 days a year by myself at them. So, I retired again and now we mainly travel out west visiting interesting places to trout fish and tell folks about our lures.
We primarily stay near the body of water I want to fish and dry camp mostly in areas which are free. I am saving my money to help send my granddaughters to college.
We are on a four-month trip right now and can not believe that we are able to use the hotspot on my iPad. I am sitting at 10,000 feet elevation on a lake and have the internet. We will end this trip around the middle of October in Arkansas when the Browns are running. I always go to Colorado for salve for my hands.
I truly love the time I spend with my bride on these trips. Sometimes I will meet folks and have Bible study with them or meet young folks and teach them about our lures and take them fishing.
Pattie Cimagli
2011 Ford F-350
2011 Lance 1191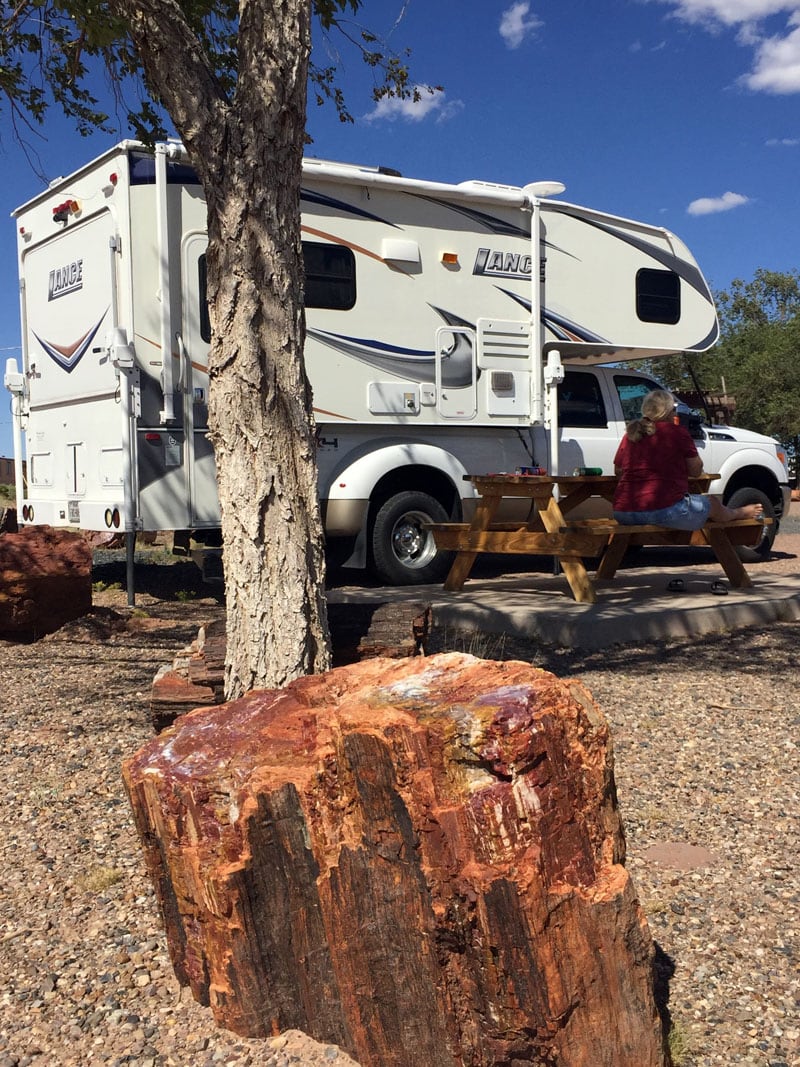 We bought our truck camper for simplicity and no towing. We've discovered it's the way we want to travel – off the beaten path. Where the steering wheel goes, so do we.
We travel steep grades, switchbacks, gravel, fields – you name it. Besides, two elderly ladies look so bad-ass in a dually with a Lance 1191!
We like camping in the off-season or where the tenters go. We have explored numerous locations, but the less populous are the most enjoyable. The Rockies are probably the best, especially the Tetons.
Tracy Quoka
2014 Ram 3500
2012 Travel Lite 890SX
We bought our truck camper to take to Nascar races in New Hampshire and Florida. While fuel mileage is about the same as our fifth wheel set-up, we spend a lot less money in tolls. We used to haul our fifth wheel to the races. People stayed in it helping to defray the cost, but now most have their own rigs.
We also take our camper on boat trips, especially when we stay at friends' lake houses. Our two Dalmatians also go with us. While they are welcome in their houses, it's not fair to the resident dogs.
Both places have 30-amp service so we have the use of our air conditioner. We rarely leave the lake at these two houses so there isn't a need for an extra vehicle.
We just built a porch and modified the rack that came with the unit so it's solid. The porch also has a spot for a generator and a storage locker.
We will probably take the generator to the Homestead race as we are exploring The Keys afterwards. This will keep the dogs cool while we do some exploring.
Frank Poole
2016 Ram 5500 HD
2016 Arctic Fox 990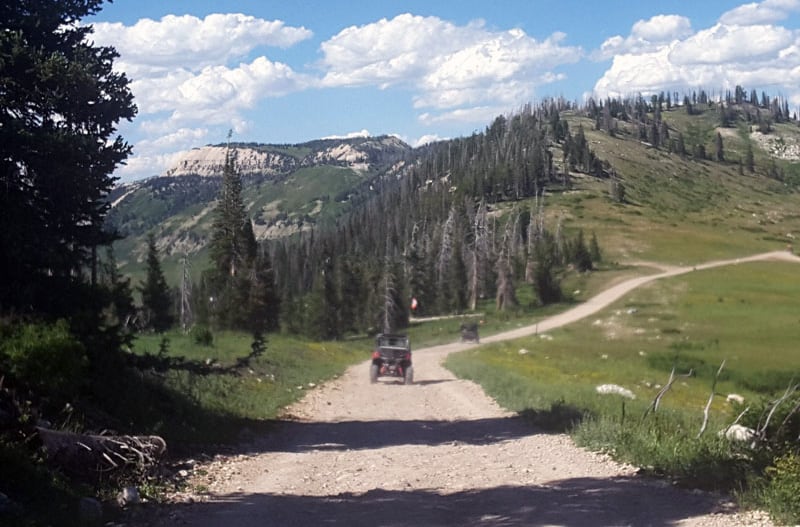 I enjoy ORV (Off-Road Vehicle) exploring and rallies.
When sitting in Seattle, Washington after retirement, I was starting to get antsy. My hobby at the time was scuba diving and doing dive camp-outs with fellow divers in a teardrop trailer for the weekends.
I did a 30-day trip to Wisconsin for a Camp Inn Meet. On the way back from numerous stops, I took a guided tour in Moab, Utah in a Hummer.
Whoa… Hooked I was, so I got a Polaris RZR 1000 XP. The problem was, I couldn't take both the RZR and teardrop trailer at the same time, so I had to rethink the whole scenario, and the boonies were calling.
I had to sell the RZR to get a Ram 5500 cab and chassis. I put a flat bed on it with a winch so I could off-load the camper, pull-up the buggy and go to a staging area.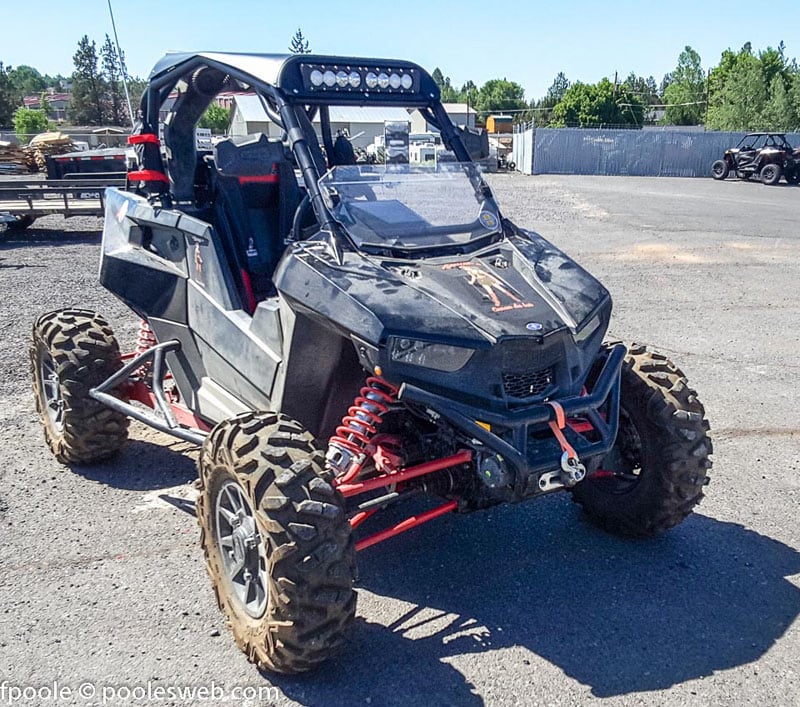 I got a smaller buggy version, the ACE 900 and trailer. That worked out fine. Eventually I had to give that up, and now have a Polaris RS1 that is slowly breaking me in.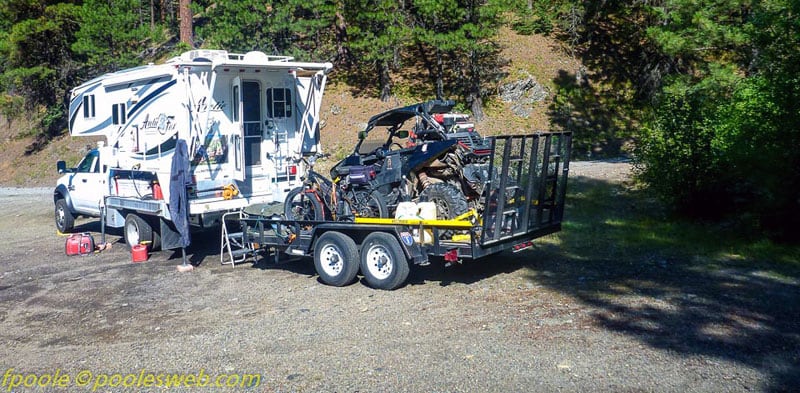 The whole game plan was, is, and will be to travel around the continental United States going to rallies and exploring other SxS (Side by Side) ORV parks/trails places along the way.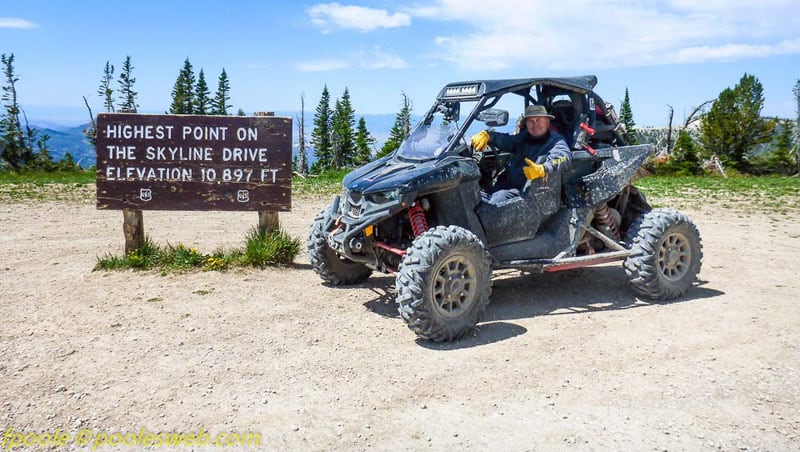 This last month I have been able to attend four rallies and I have three more to go. I am heading to Quartzsite, Arizona snowbird style and will ride the many trails down there. That's my purpose in life. Coming up to 73 years old, time is not unlimited, so I am doing what I can, when I can, with what I have. Cheers.
I mostly boondock to locations and with luck, just ride right from my campsite. I tow the buggy in a simple 7×14, 10,000-pound open trailer which works out fine. I don't wash the buggy too much. I like the dust patina, sorta like Mad Max style, and shows it's being used. It's all fun.
Kristina Perisho
2002 Ford F-350
1991 Palomino 186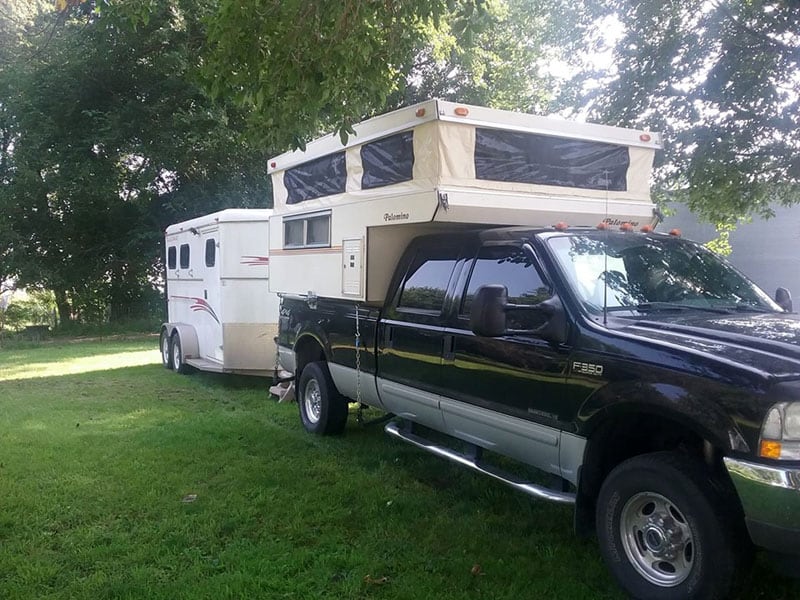 Three years ago I wanted to start enjoying my horse more and ride in new areas of the United States. I did not want to sleep in a hammock in my horse trailer anymore.
I looked on Craigslist and decided to make a trip to South Dakota from Iowa to buy a 1991 Palomino pop-up truck camper. It fits inside the 8-foot truck bed allowing the tailgate to close. More importantly, it only weighs 1,100 pounds. That was very important because I will not need an extension to pull my horse trailer.
To make sure I could haul legally and safely, I upgraded to a one-ton truck that already had airbags installed. What a difference that makes in the ride from the three-quarter ton I started with.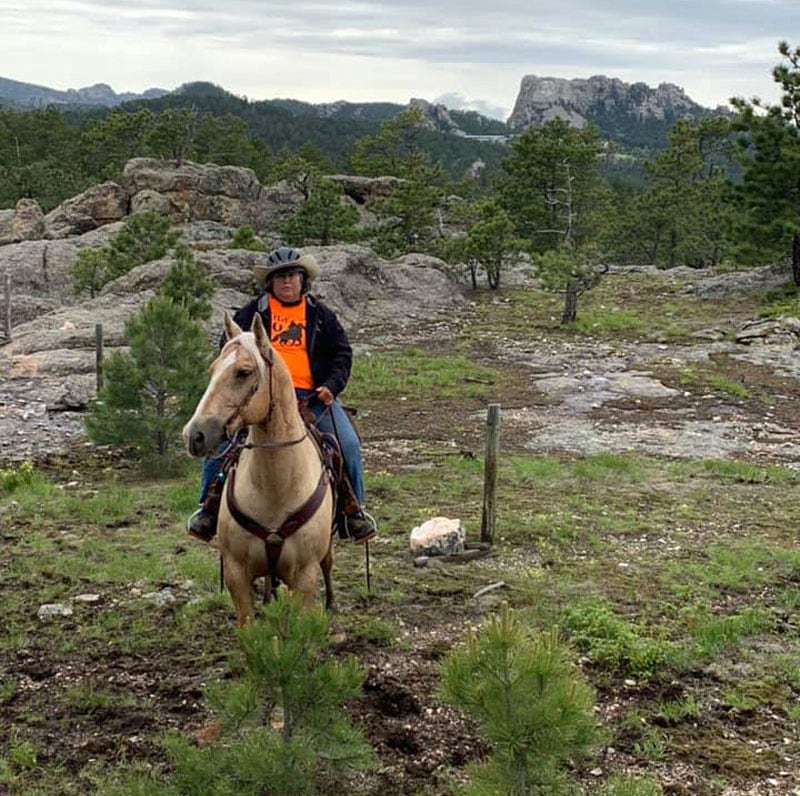 In June of this year I went on a ten-day horseback riding trip. I started with four days of riding at Fort Robinson in Crawford, Nebraska. They have a yearly trial ride called Ride the Ridge and they had about 150 riders show up to enjoy a great day of riding.
Fort Robinson has great trails to ride and hike. The tours of the Fort were fantastic as well. It was funny that my camping spot was next to the only other truck camper there for the ride.
After that, I drove two-hours north to Elk Haven horse camp in Keystone, South Dakota for six days of riding in the Black Hills. The riding was awesome with so many trails.
We chose not to ride to Mount Rushmore since we wanted to see to many other sites. We even took an afternoon to go sightseeing and rode the 1880 train. Now I am hooked and will plan a long vacation every year. I do weekend trips around Iowa with and without my horse.