I love having a bike with us when we go truck camping. This is especially true in the Winter when we visit various parks throughout our home state of Florida. Give me a big Florida campground with lots of bike paths and I'm in heaven.
After much deliberation, I bought a 2Ksilver Columba folding bike ($210 on Amazon) a few years ago that folds-up and fits into its own large heavy-duty vinyl bag (sold separately).
The folded bike in its bag fits in the back seat of our truck. Our cat Harley sleeps, naps, and generally cleans himself endlessly on the driver's side, and my bike rides ready to unfold and goes on the passenger's side.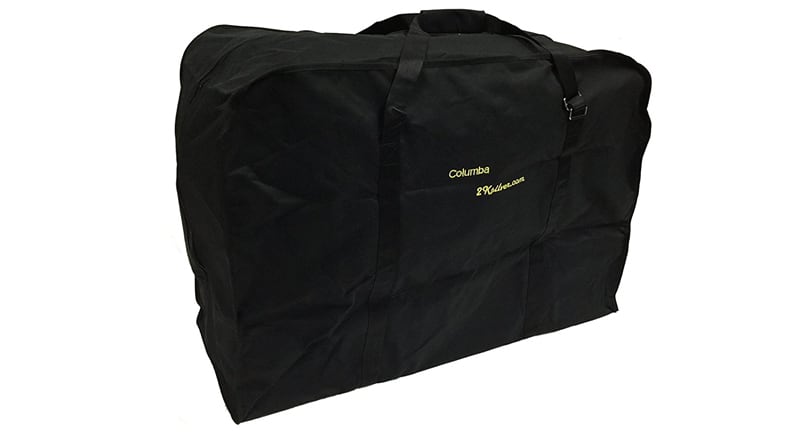 I discovered folding bikes after observing my friend, Carl Goode, riding his folding red bike. He famously found his on Craigslist, and was more than willing to tell me exactly how he found it, and the ridiculously low price he paid. Note to self; Carl is frugal, not cheap.
Anyway, I followed Carl's advice and started looking on Craigslist and – as luck would have it – found my own folding bike. It's a Columba 26-inch model with 18-speeds. It has full-size wheels, which many folding bikes don't have and I really wanted. Most importantly, once the bike is unfolded with its moving parts locked into position, it's very easy to ride.
We get inquires all the time about what bike to take with you truck camping, and where to store it. Carl and I love our folding bikes and store them in our crew cabs. That works for us.
Others bring non-folding bikes. We've seen folks store their bikes inside their campers. We've seen folks store bikes on the front of their trucks and on the back of their campers. Some use the front or rear hitches while others mount their bikes on their camper's ladders. However you bring a bike, it needs to be safe, secure, and relatively easy to remove and re-mount.
This week's Question of the Week is, "What make and model of bike(s) do you take truck camping, and how do you store them while traveling?"
If you use a rack, tell us what make and model rack you use. If you have a special folding bike like I do, tell us what model of bike you have, and where you store it. And by all means, please include a picture of your bikes and bike storage solutions with your answer. Let's ride!
Readers have responded!  Check out "The Best Bike Racks and Packs For Campers".