Bikes of every description get racked, strapped, hitched, stored in, on and around all kinds of truck camper rigs.  Do not miss the tandem bikes, e-bikes, and electric unicycle.  That's right, an electric unicycle for goodness sake!

It's no secret that truck campers love bikes and are extremely clever at finding ways to bring their favorite bicycle on the road.  What's news is how many of us have bought electric bikes.  With names like Juiced RipCurrent S, Addmotor Motan, Townie Go, RadMini, RadRover, and RadCity, we just learned about whole new world.  Out of the 50 or so bikes readers reported, about 20-percent are electric!  Who knew?
Then there are two tandem bikes and a long list of high-end performance bikes.  Evidently, bike makers are a lot better at naming their products than truck camper manufacturers.  Why can't campers get cool names like the Specialized Stumpjumper, Cannondale Quick, Norco Plateau, Kona Cinder Cone, and Trek Rumblefish?  Rumblefish!  Love it.
Finally, Michael C. really takes us for a loop by camping in a Chevy Volt that he charges at campgrounds (brilliant) and an electric unicycle (insane).  Normally he'd get the boot for not camping in a truck camper, but his sheer originality (and cunning) leaves us speechless.  Here's to you Michael!  Charge and travel.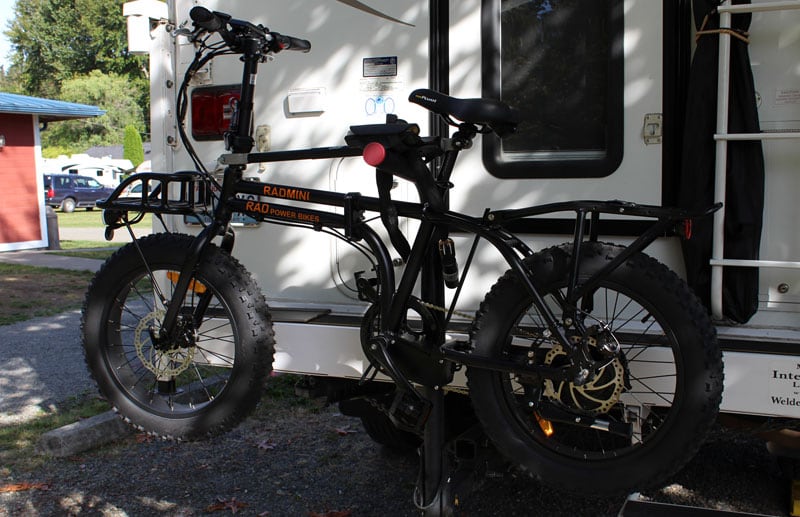 "I always bring my fat tire electric Rad Mini. It is sold by Rad Power Bikes out of Seattle. I've never had so much fun exploring pathways, dirt trails and riding through small towns. Being an electric bike and foldable it makes it so easy to take with us wherever we go. However, I've never used it in the folding position. Weighing 52 pounds I would not be able to put it in the backseat.
I carry it on the back hitch with a drop down bike carrier which I had to shorten by 10″ so that the tires would touch the ground when I'm ready to unload. This same carrier will also fit my front hitch which I don't like using due to bug splatter. If the weather is bad I cover the bike with a motorcycle waterproof cover which has been very effective in keeping the bike clean." – Roger Odahl, 2008 Ram 3500, 2004 Eagle Cap 950
"We have Dillenger electric bikes; a 2016 Explorer and a 2017 Leopard. Both are folding bikes. The handle bars fold down, the peddles are removed, and they fit in back cab. I put pillows between them when we travel." – Joseph Tamulevicius, 2017 Chevy 2500HD, 2016 Palomino SS-1240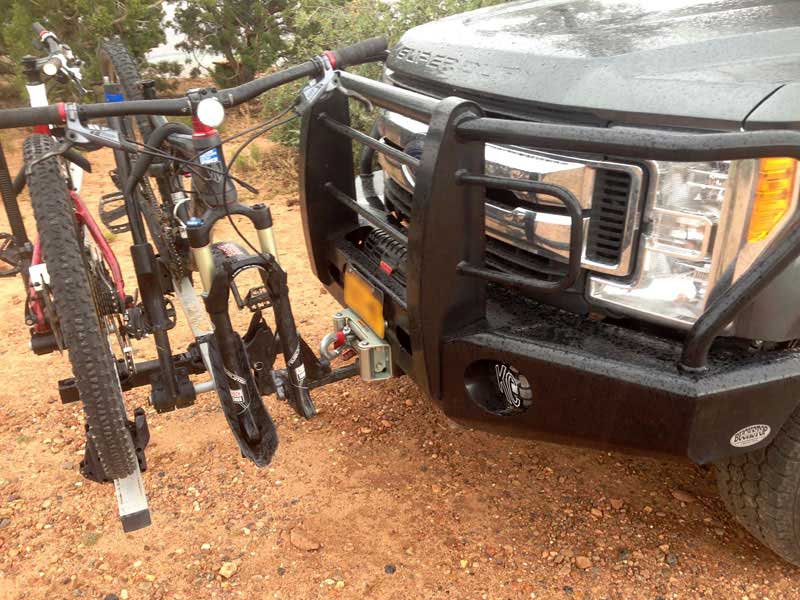 "We are fairly serious mountain bikers and usually build our itineraries using Trailforks (mountain biking trail database) and MTB Project (mountain bike trail maps).
We're currently riding a Trek Rumblefish and Specialized Stumpjumper. We keep them on the front of our rig. Mud and dust accumulation on the back would be problematic, to say nothing of the storage challenges.
To accomplish that, we put on an aftermarket Buckstop Bumper with an integrated 2-inch receiver. We remove the bike front wheels and seats to keep our site-lines clear. Fortunately, headlights are not really impacted." – Bob Eckert, 2017 Ford F350, 2015 Lance 825
"I have a 2017 Specialized Fatboy with an electric bike conversion from Hi-Power Cycles.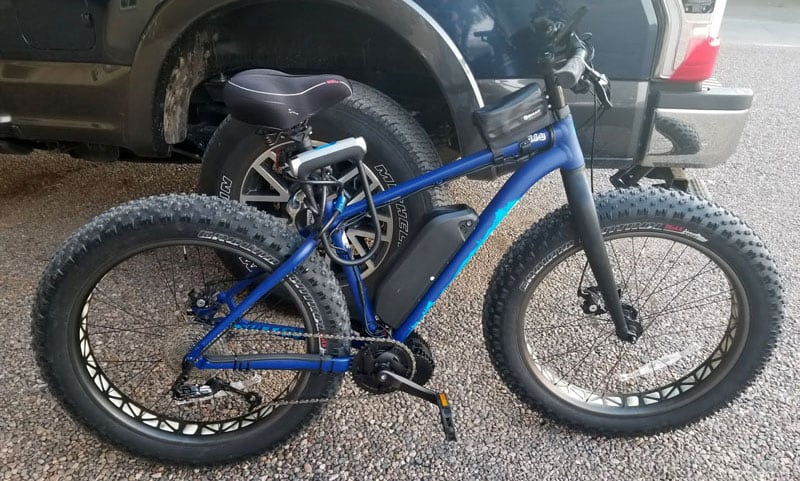 I have been strapping it vertically on the rear bumper of the camper, but I want to move to a front receiver hitch mount to keep it clean while traveling on dirt roads." – Dirk Keeler, 2017 Ford F350, 2018 Cirrus 820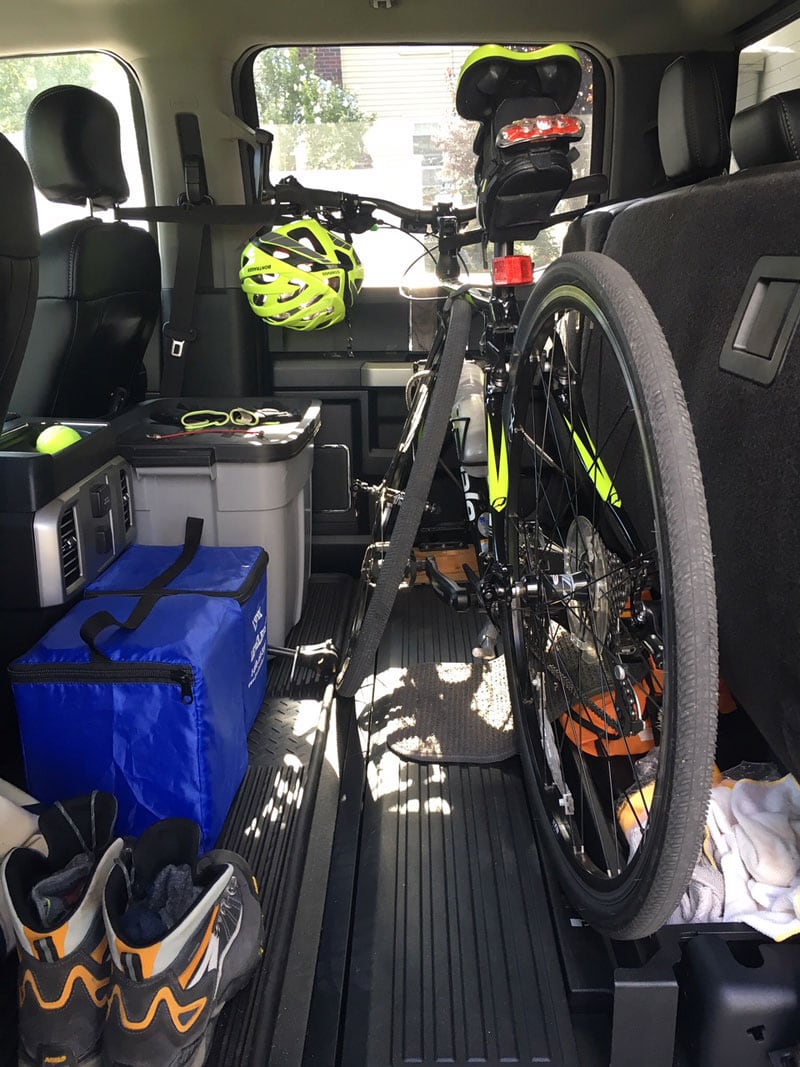 "I have a Cannondale Quick 24-speed hybrid. It lives in the back seat on a fork mount. The fork mount is attached to wood, which is velcroed to the under seat storage bin. The wood is necessary to allow the handlebar/brake to clear the folded-up truck seat.
I found out the hard way that the bond where the velcro is glued to the bin isn't strong enough for heavy braking. So now there are two quick-release backpack accessory straps between the front of the bike and the front and rear seat headrest poles that hold the bike in place.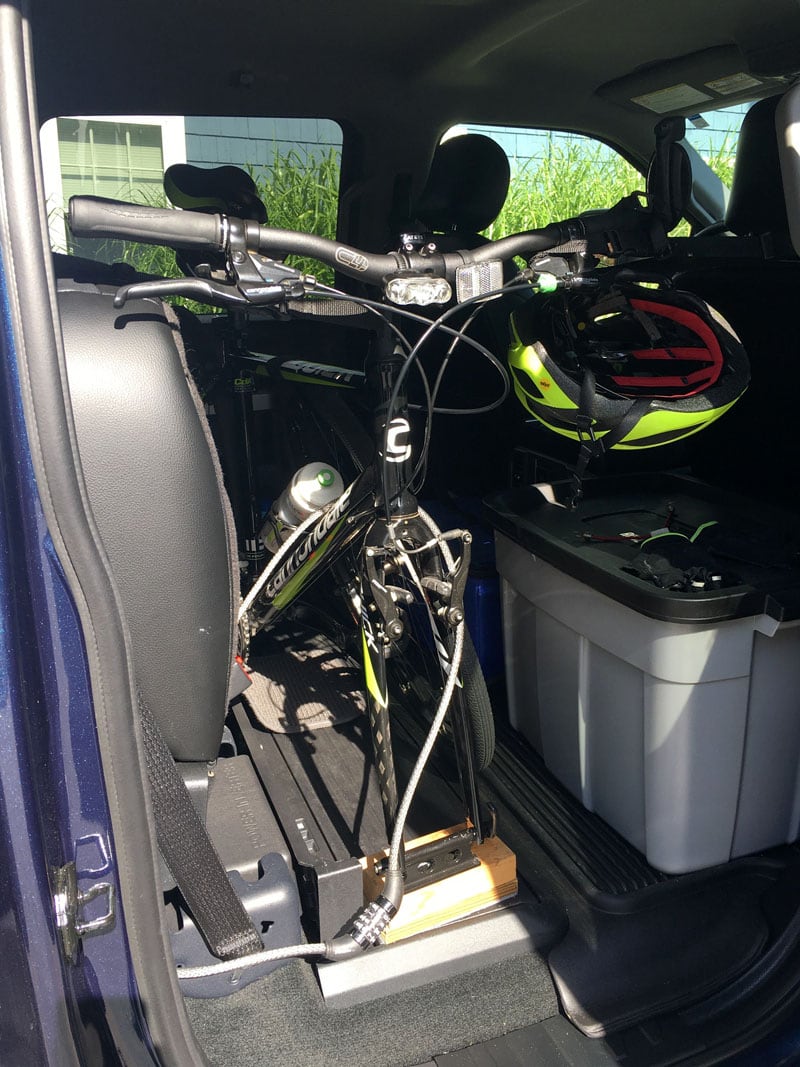 The rear truck seat was removed and the wood block bolted to the floor using a seat mount hole. The top of the front tire is strapped to the bike's crossbar to hold it in place. I use my bike cable lock to secure the bike to a seat mount." – Brett Burguard, 2017 Ford F-350, 2012 Northstar 9.5 Igloo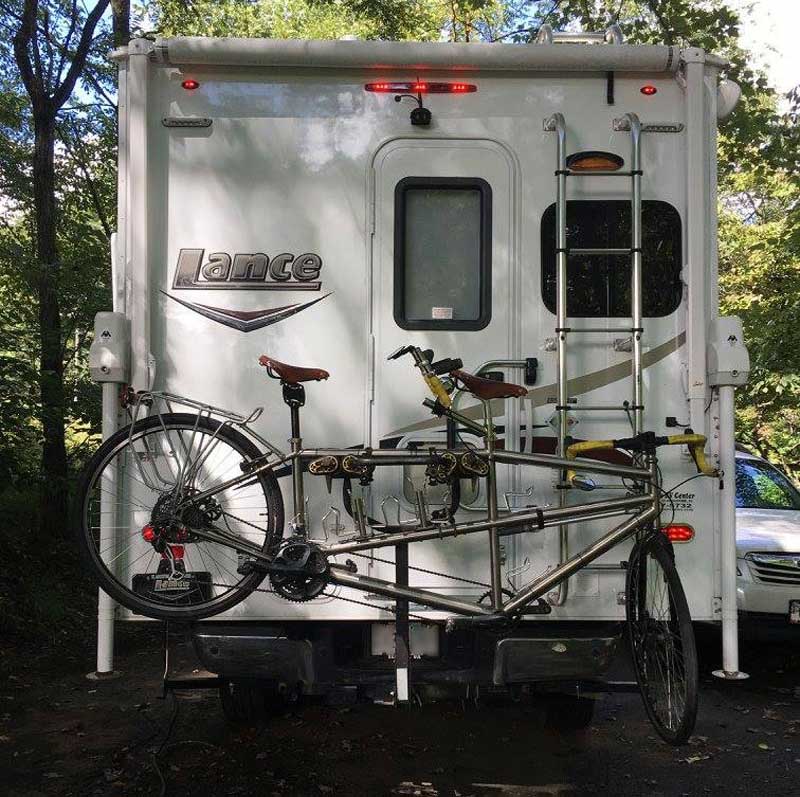 "We have a Seven Cycles tandem bike. We have a travel hitch rack for it when we're driving. It gets locked to the camper for storage at the campsite." – Marianne and Chris O'Brien, Ford F250, 2016 Lance 850
"We have a Cannondale Road Tandem. We carry it with both wheels removed on a Thule bicycle rack mounted in our front receiver." – John Strasser, 2012 Chevy 2500, 2013 Eagle Cap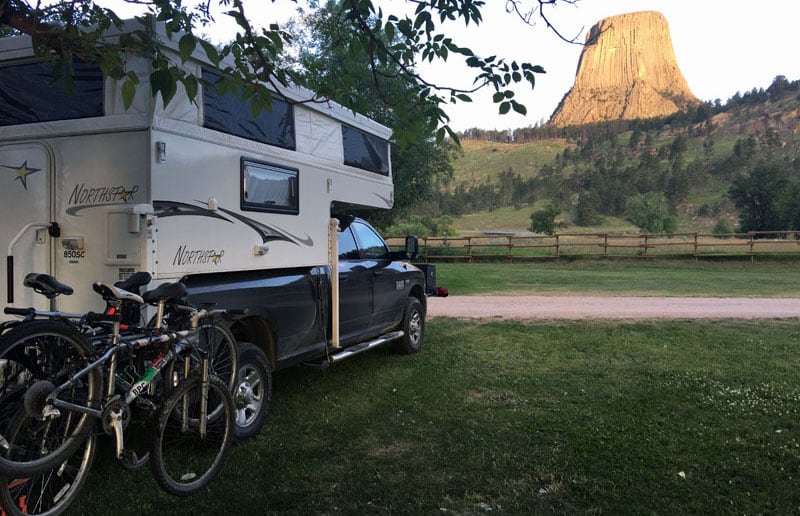 "We've got a couple of newer Trek gravel bikes as well as a couple of older mountain bikes.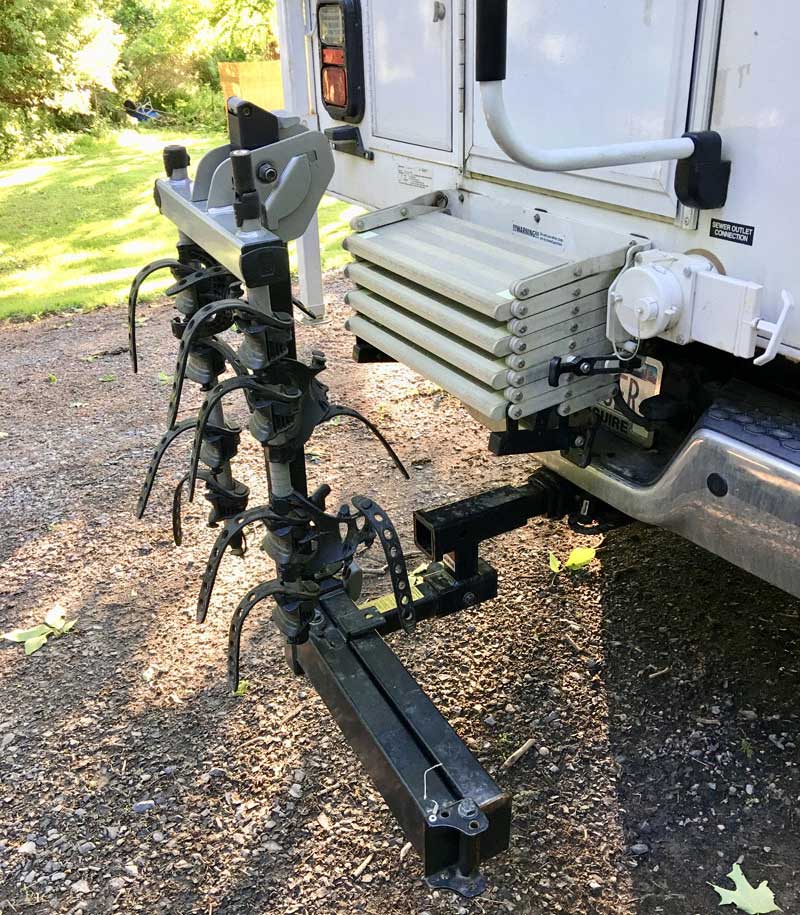 We have a pretty old Thule swing away four bike rack that has served us well.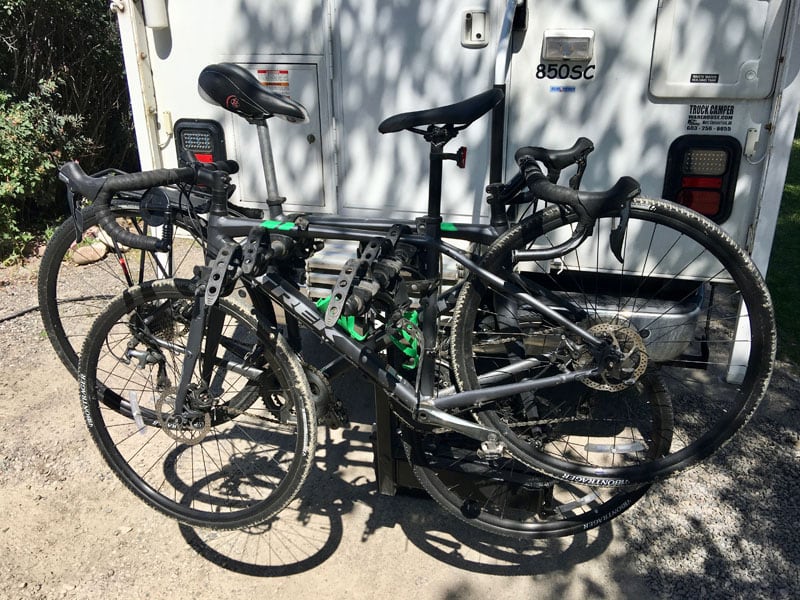 We have the rack on the back of the truck and have to use a drop hitch receiver so that the bike rack clears the Torklift Stow N' Go steps when we're using the camper. It's a pretty good setup for us." – Jim Tantillo, 2018 Ram 3500, 2017 Northstar 850SC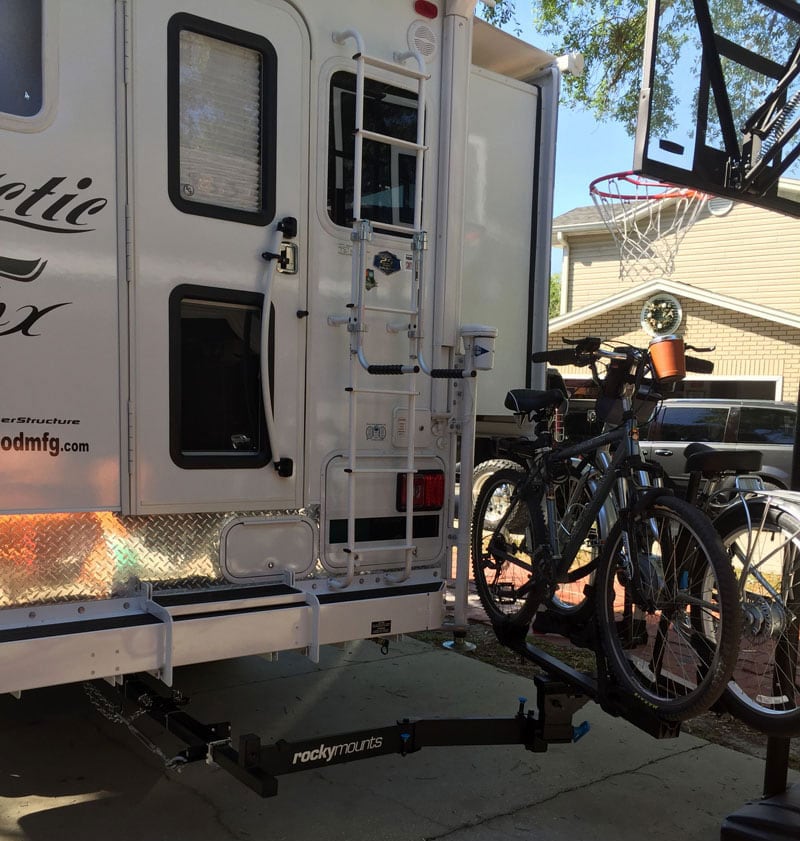 "We have two electric bikes; a Juiced RipCurrent S and a Townie Go step through. I purchased a Rockymount swing-away bike rack and a hitch extension. The bikes swing away from the door and allow access to the camper. I just went 8,400 miles with them on the back of the camper and had no problems." – Rick Jones, 2017 Chevrolet 3500, 2018 Arctic Fox 1150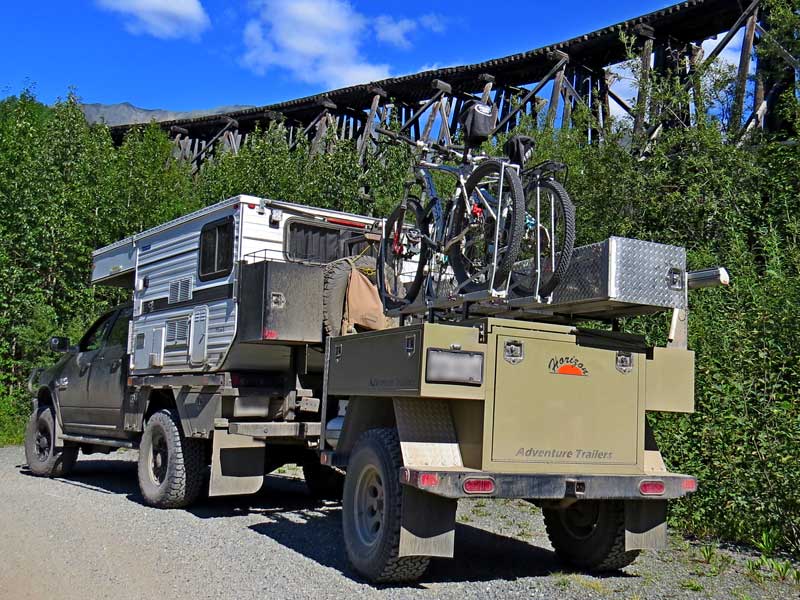 "We have Marin mountain bikes. Mine is a 29'r hardtail and my wife has a 26″ hardtail. We use a 1-Up USA roof rack mount that is mounted to crossbars on top of our utility/camping trailer. It keeps them up out of the dust, (mostly) and holds them securely enough for some off road travel." – Bill Elwell, 2016 Ram 2500, 2016 FWC Flatbed Hawk
"We have 20 year old Rocky Mountain mountain bikes. They are mounted on a rack on the front of the truck. The seats are off for better visibility, and the rack is adjusted to hold them as low as possible.
We would love to take our electric bikes, but they are heavy for the rack. Also, the risk of theft or damage while driving is too high. We're thinking folding bikes in the back seat might be an option, but we already have six bikes between the two of us!" – Orian Hartviksen, 2011 Ford F350, 2010 Northern Lite 8-11Q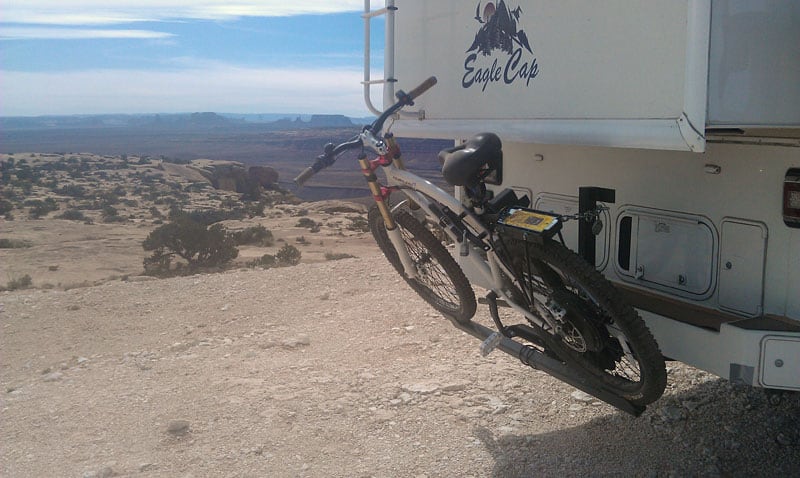 "I have a Prodeco Tech Outlaw SE electric bike on custom rear rack that tilts down for the rear slide. It has an interlock to prevent the slide from operating if the rack is up." – Charles Phy, 2011 Dodge 5500, 2010 Eagle Cap 1160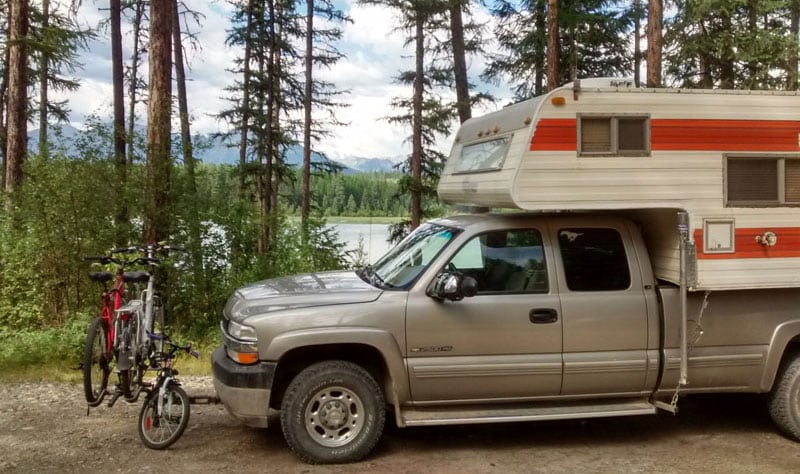 "We take our usual bikes with us. For me that's a choice between my 2015 Norco Plateau (aka, my city bike) and my 2008 Norco Bigfoot (aka, my chubby mountain bike).
The Plateau has rear rack and panniers, front basket, and more comfort. It can handle gravel roads and pretty much everything. The Bigfoot has 3.25-inch tires, no rack, and is not comfortable for long rides on flat surfaces.  My husband brings his 2006 Kona Cinder Cone (his only bike) and our daughter brings her current bike. The last two years that's been a 2016 24-inch Norco Detonator.
We carry our bikes on the front of our truck on a Swagman XTC4 hitch-mount platform rack. We always take our helmets with us!
You should ask all respondents where their favorite biking was located. We recently did the Hiawatha Trail in Montana and Idaho. Wow!" – Melissa Malejko, 2002 Chevy Silverado 2500HD, 1981 Okanagan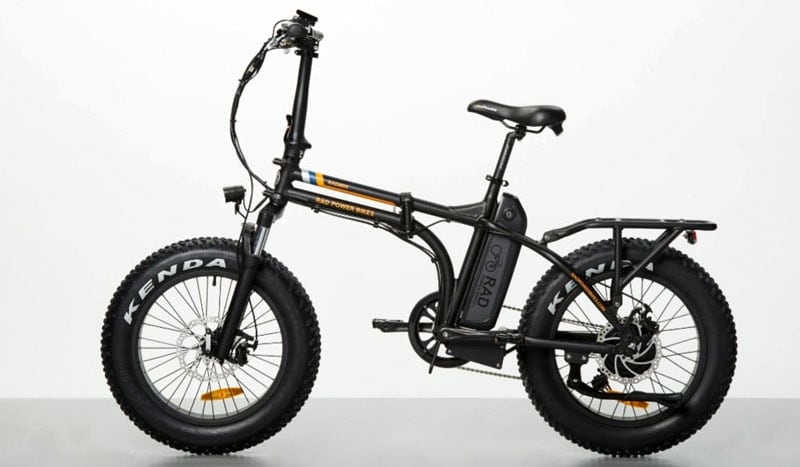 "My wife and I have two nearly identical folding electric bikes. They are the 4-inch fat tire type. They will fit in the truck or in the camper if I don't want to carry them on a rack.
They can go up to 20 miles per hour for 25 to 40 miles on a charge, which takes about five hours. They are pedal assist or throttle. We pedal until we're tired and motor back.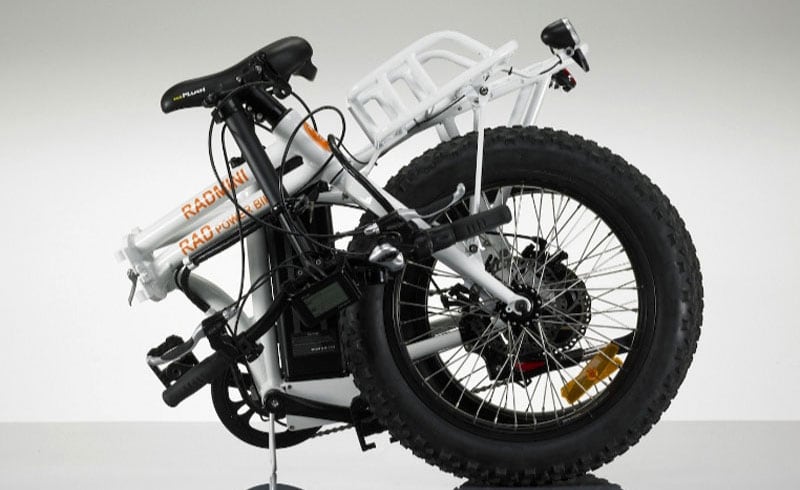 We can also disable the electric feature and ride as a pure bike. They weigh 60-pounds each. They are great as a quiet runabout. Mine (pictured above) is a RadMini and my wife's is a Addmotor Motan.
Because they are a Class-1 e-bike, they are allowed on any bicycle trail. Class 2 and 3 are faster bikes and usually aren't allowed. They have more rules governing them like a moped or motorbike." – Travis S., 2006 Ram 3500, CampLite 9.6S
"We have two 1992 Trek 930 bikes. Our truck has a front receiver hitch so we have a Hollywood Sports Rider SE2 rack and front mount them." – Stan Thornton, 2010 Ford F350, 2014 Adventurer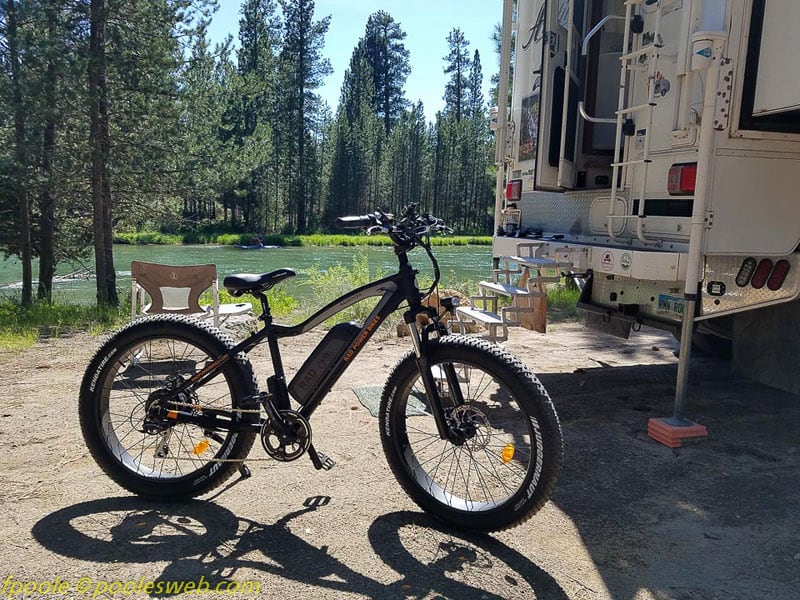 "I had an orange mountain bike, but I'm so out of shape that I hardly ride it. I got a RadRover (electric) e-bike and love it.
It's heavy at about 60-pounds, so the biggest problem is storage. I'm a solo 72-year old who thinks like a 25-year old. I could simply just pull it up the steps and store it inside the camper, easy-peasy. Well, that's easier said than done.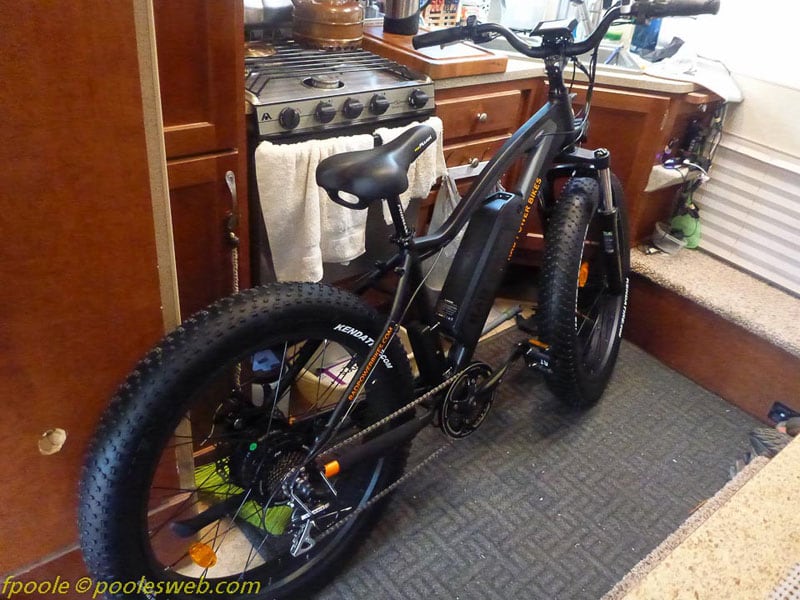 I pushed/pulled the front tire on and off and tried it with a homemade moving/lift strap. None were easy since there's big step from the bumper into the camper. Also, balancing the bike upright and twisting the handle bars through the door while holding it is a real pain.
I am working on a pulley system anchored from the base of the bed to bring it in. The back hitch blocks the access." – Frank Poole, 2016 Ram 5500, 2016 Arctic Fox 990
"I have a Surly Long Haul Trucker touring bike, although I do most of my touring these days in the truck and camper. I had a receiver hitch installed on the front of the truck.
My bike rack is a SportRack 2EZ Premium hitch platform system. If it's raining while I'm on the road, I put the bike in the camper. If I'm stopped for the night, I put a cover on it. Happy cycling!" – Wanda Myers, 1999 Ram 2500, 2003 Hallmark Cuchara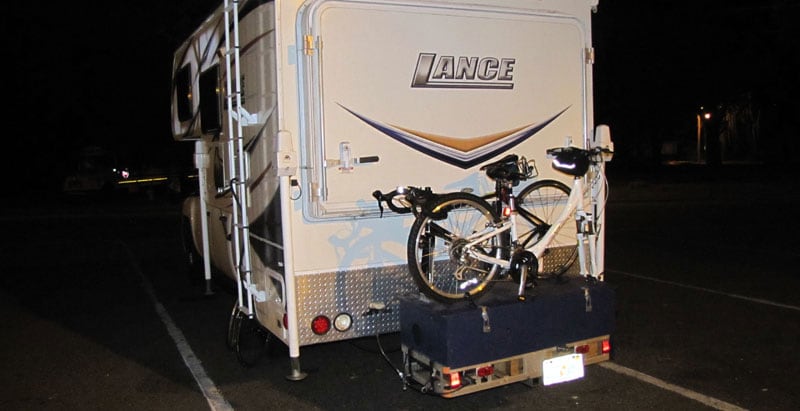 "I have a 2018 Specialized Roubaix Elite and my wife has a Liv Cycling Sedona. When I am by myself, I carry the bike behind the seat in my crew cab. When my wife is along and we are carrying both bikes, I put them on top of my generator box. That goes on the rear hitch.
The 2010 Lance 830 is a side-entry model, so there isn't any inconvenience with the bikes on the rear. I use a stranded cable lock to lock them to the truck." – Michael Suan, 2008 Chevrolet 2500HD, 2010 Lance 830
"I ride a Trek Multitrack 730 hybrid bike that I purchased over 20 years ago. One nice thing I did a couple of years ago was to have the handlebars raised. Now I sit more upright making the ride more comfortable on my hands and arms.
The bike is carried on the front of my truck in a custom 2-inch receiver that I had built for the truck. It uses a Swagman XTC2 rack. I have a cover for the seat, and I am thinking about some type of cover for the handlebar. So far this set-up has worked well and I have had no problems." – Stan Schroth, 1999 Ford F250SD, 2016 CampLite 800X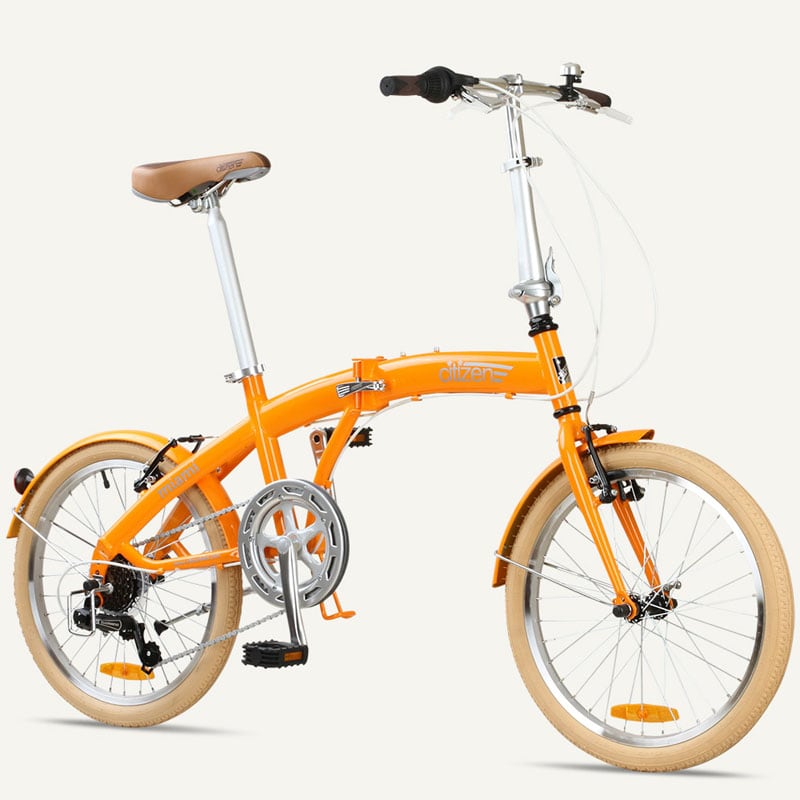 "We carry MIAMI Citizen Bike 20-inch, 6-speed, folding bikes that we generally store folded in their bags in the back seat of the crew cab or on top of the dinette bed area. They work well for us." – Ken Knopp, 2010 Ford F350, 2016 Lance 1172
"My wife has a 25 year old Trek bike with skinny all purpose 27-inch tires – which she loves. I have a 20 year old Huffy 18-speed, 26-inch mountain bike from Walmart. We bought it when we started tent trailering with the kids.
We have an older version of the Curt 18030 hitch mount rack that we use in a Curt bolt-on front receiver for the truck. I took the lower secondary air dam off the front of the truck to mount the hitch (bolted on plastic piece).
I am sure to plug the attachment holes on the primary air dam (I used strips of duct tape). If you don't you'll have a mysterious soft whistling sound between 45 and 55 miles per hour.
It's fairly wobble-free. I use a bungee cord threaded through the bikes and wheels. They are hooked to the front tow hooks on each side to take the slack out." – Dave Williams, 2013 Chevrolet Silverado 3500HD, 2001 Citation Supreme 10-2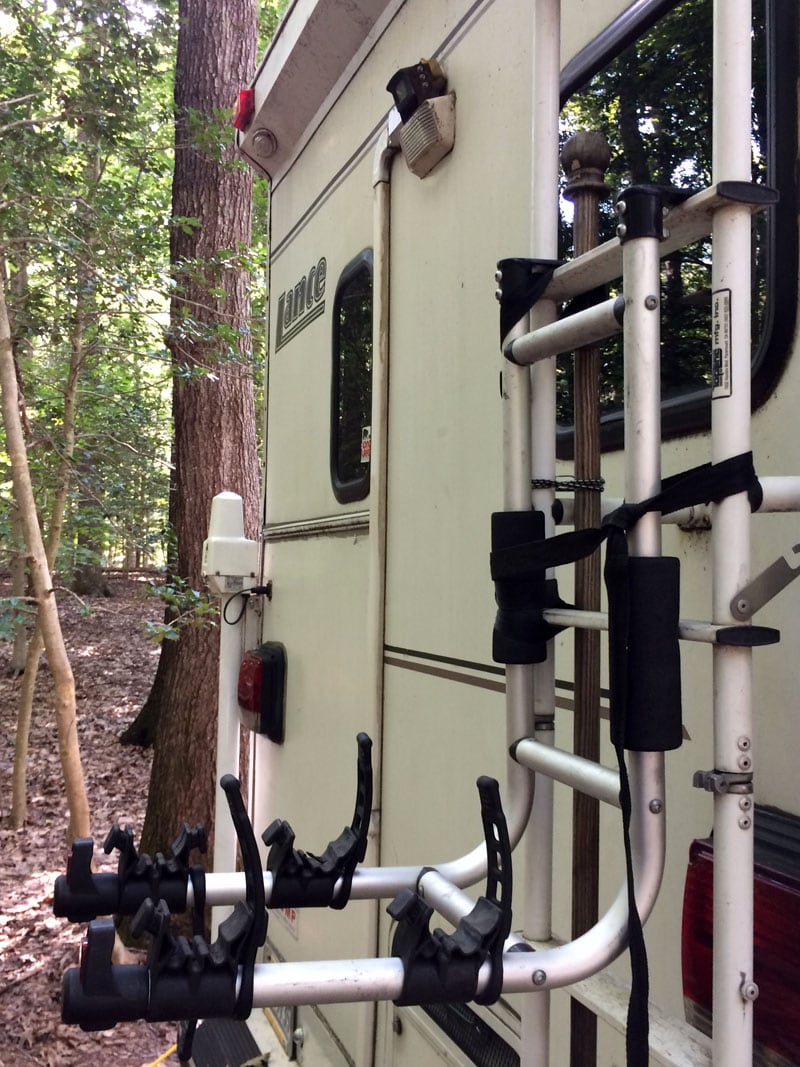 "I have a Swagman RV ladder rack.  It is lightweight and easy to put on and take off. I strap it to the ladder so it doesn't bounce around. The end of the strap can be used to further secure the bike.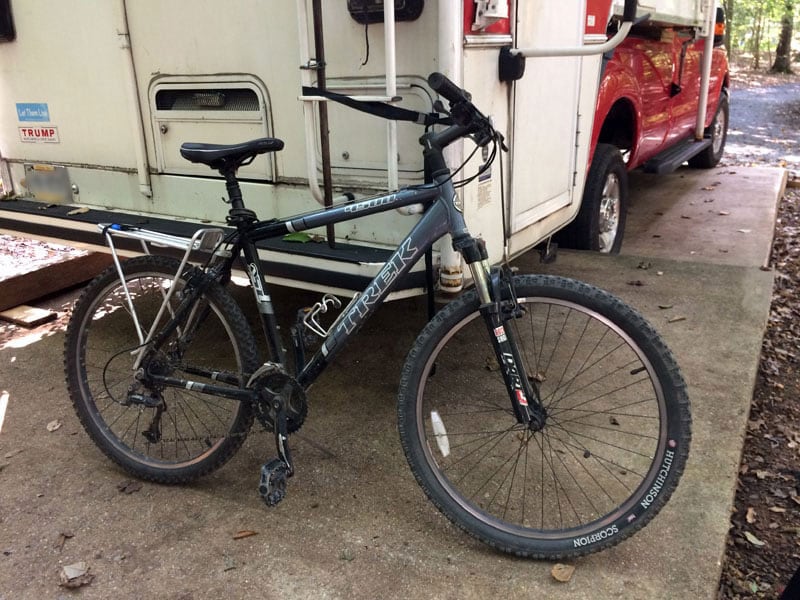 My bike is your standard Trek 4500 mountain bike." – Fred Patterson, 2013 F350 SD, 2002 Lance 1161
"We carry our Rad Power Bikes (RadCity and RadCity Step-Thru) on a Thule T2 Classic. We use a Torklift SuperTruss to extend out past the camper's overhang. At some point we will be adding a receiver to the front of the truck. That will to allow us to have the bikes and a trailer." – Scott Gettman, 1997 F-350, 2016 Adventurer 89RB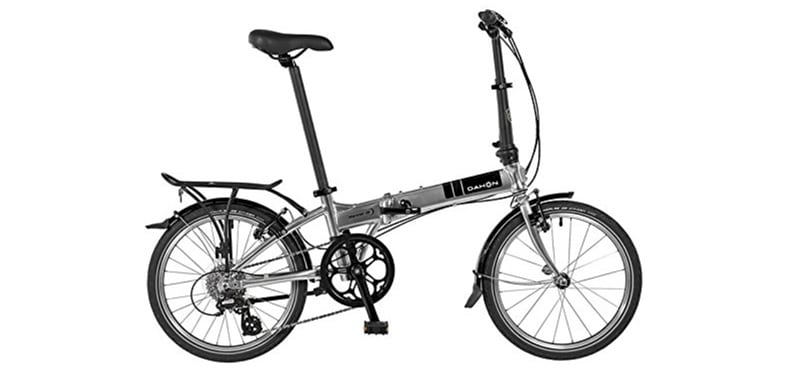 "We carry Dahon Mariner D8 folding bikes. I am a cyclist so I really like to have a good bike with me and these work great. They are lightweight and easy to move around as well. Unfortunately, I do not have a magic place to carry them.
For short trips, or when they will be taken out at the next stop, they ride on the couch in the camper. For longer trips they ride on the Thule rack on top. Great bikes!" – Mike Johnson, 2008 Chevrolet 3500HD, 2008 Eagle Cap 1160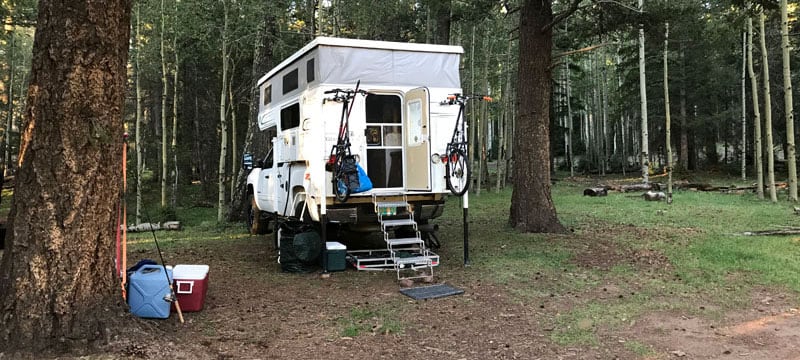 "Our bikes are Kona mountain bikes. We store them on the rear of our camper with custom bike racks put on by Hallmark RV. We love them because they are secure and stable. They also lock in place." – Victor Carrillo, 2010 Chevy 2500, 2010 Hallmark Guanella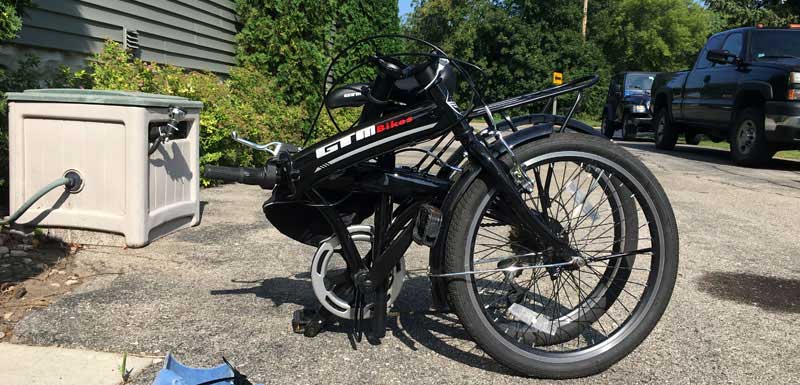 "I just bought a small, inexpensive GTM folding bike. I bought it through Amazon and I love it better than my more expensive, bigger bike that I keep at home.
It folds up and fits behind the driver's seat. It doesn't take up that much room. I just took a 22-mile ride on it. Although I have a gel pad on the seat, something more cushy would be nicer. I added a bigger basket to carry firewood which was worth the money!" – Bill and Rickey Werner, 2012 Ram 3500, 2005 Lance 981
"We have two folding bikes and four regular mountain bikes. We have a front hitch receiver onto which we mount a bike rack for the regular bikes. The two folding bikes go inside the trailer.
When camping, they are all locked to a tree, a picnic table, a bumper, or another immovable object using a 15-foot cable and lock." – William LaFountain, 2014 Ford F150, No Camper Yet
"I have a Specialized Roubaix that's stored on a simple ladder rack. It can hold two bikes upside down. It's a bit unfair for me to be answering this survey since I'm a 9000-mile-per-year avid cyclist who takes my bike along on camping trips just to get my training in while I'm gone from home.
It's not taken along for pleasure riding while camping. And only I ride, not Janet. It's an expensive road bike. It fits on the ladder just fine, but I do need to remove the front wheel (takes only two seconds). If I want to open the camper door prior to arrival, I need to loosen the saddle and push it in." – Ken Mercurio, 2017 Ford F-350, 2016 Arctic Fox 811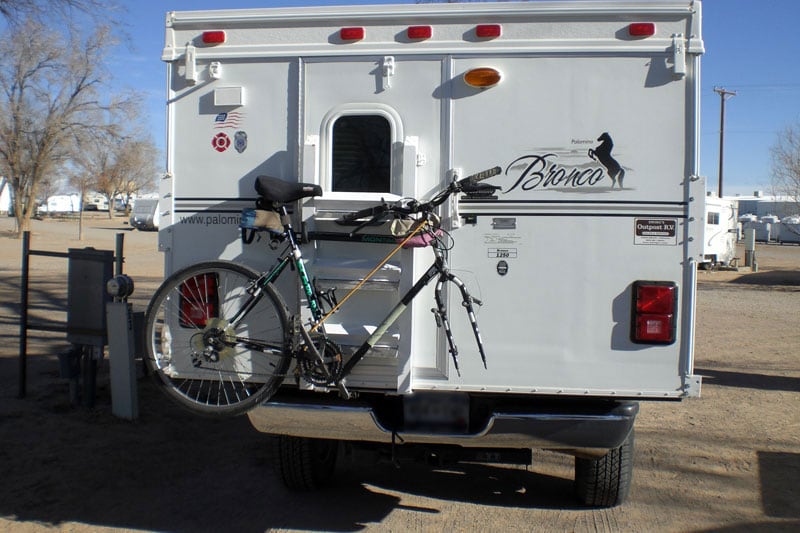 "We bought two Schwinn Montague bikes about thirty or more years ago when we were flying our single engine airplane to destinations like the Bahamas. They both fit into our Cessna Skylane's back seat. We rode them all over the islands.
The front tire comes off and it folds in half. You can get a travel bag but we never had one. The first year going to Arizona in the winter I made a carrier on the back of my pop-up camper to carry it.
Now we have the Arctic Fox and the bicycles go in the back seat. We don't use them much anymore since we spend a lot of time in the desert with the ATVs and the RZR." – Frank and Lynn Niehus, 2007 Ford F-350, 2007 Arctic Fox 1150
"We usually carry Dahon folding bikes that we got from Camping World. They have six or seven gears and 20-inch wheels. They fit inside our rig in a storage area. We have also put them in the back seat of the pickup when we had our other camper.
If we are going to do more serious biking we carry the mountain bikes on a hitch mounted rack." – Vince Kurpan, 2014 Dodge, Custom Camper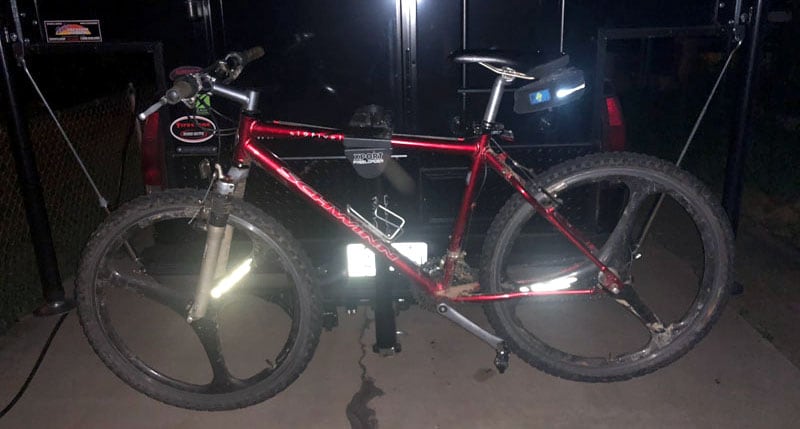 "I have a Schwinn S95 mountain bike and the Mrs. has a GT mountain bike. We carry them on a XPort Free Loader hitch carrier in the rear.
I've been finding my way to some of the state parks this year. The best way to enjoy a lot of the trails is on a bike. Walking is cool, but riding is awesome and a lot more fun. Negotiating some single track is a good way to enhance the experience." – Jacques Bonaparte, 2000 GMC K3500, 2018 CampLite 8.6
"We are just starting out truck camping. I am using 24-inch hitch extension with a receiver bike rack. My wife has a heavy e-bike and I have a carbon Cyclocross bike. We have made one trip with this setup and it worked well." – Dave Hunt, 2016 Silverado, 2014 Wolf Creek 840
"Our bikes are just generic cheap bikes, so nothing special. They did come with pedals and wheels though. Oh, and a seat. They've got to have a seat.
We hang our son's smaller bike on a rack that is mounted to the rear ladder. If we take our other two bikes, then we carefully put them in the camper.
We have our generator up front and there is no room for a rear mount. So there are not many choices. At least there are no other choices I have found in searching." – Rich Bain, 2004 Dodge 3500, 2010 Adventurer 810WS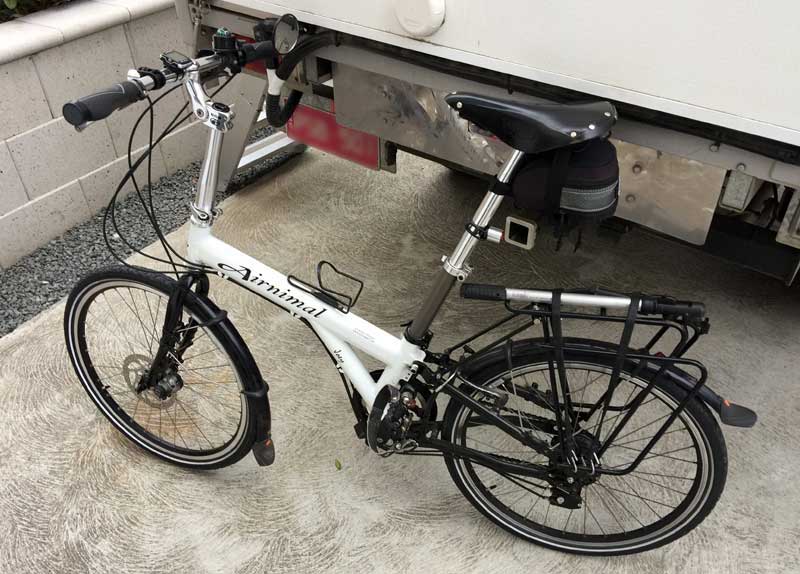 "I have Airnimal Joey and Birdy folding bikes.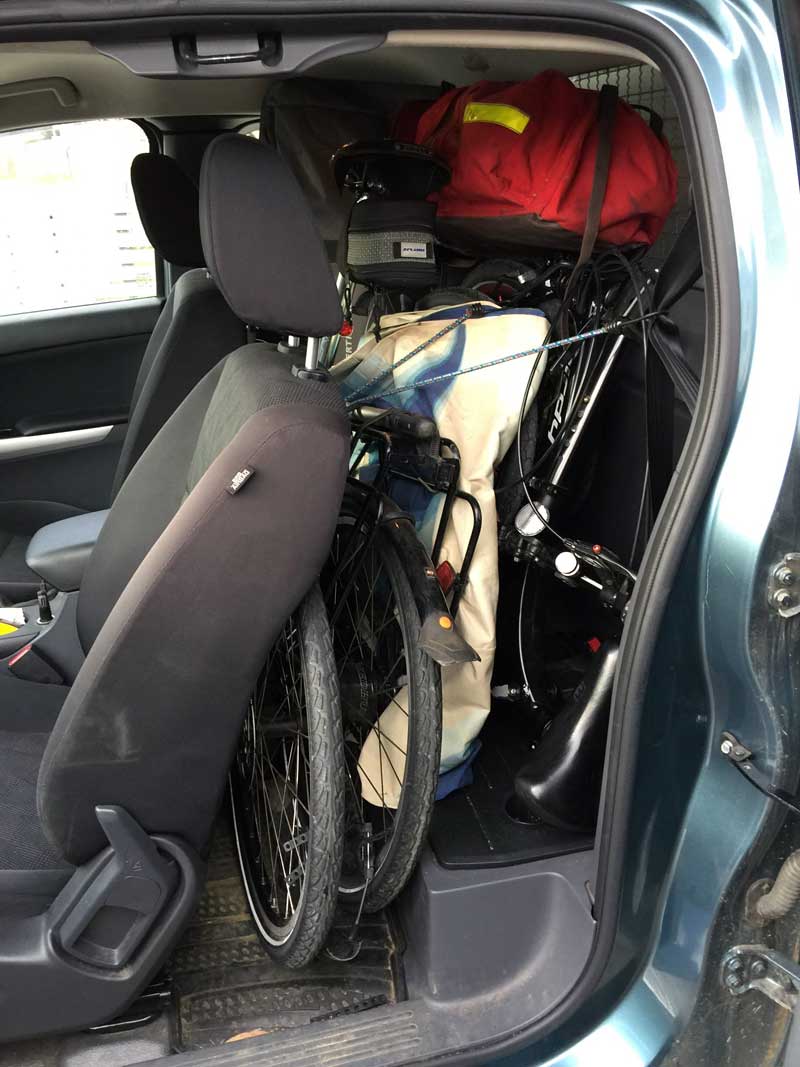 They are stored folded in the rear dicky seats along with a folding two person kayak" – Chris McKenzie, Mazda BT50 Freestyle, 2017 Active Camper Advantage
"I have two Trek Verve 3 bikes that are on a Surco swingaway bumper hitch rack.  It works great.  We don't have to take the bikes off unless we want to ride them.  They swing out of the way of the door and are locked on the carrier.  We bought a rack that accommodates four bikes so that we can bring the kids or the grandkids along." – Ann Gemberling, 2016 Ford 350 Lariat, 2001 Lance 1121
"I carry an electric InMotion V8 unicycle pretty much all the time. I've found that this has completely replaced my need for a bike.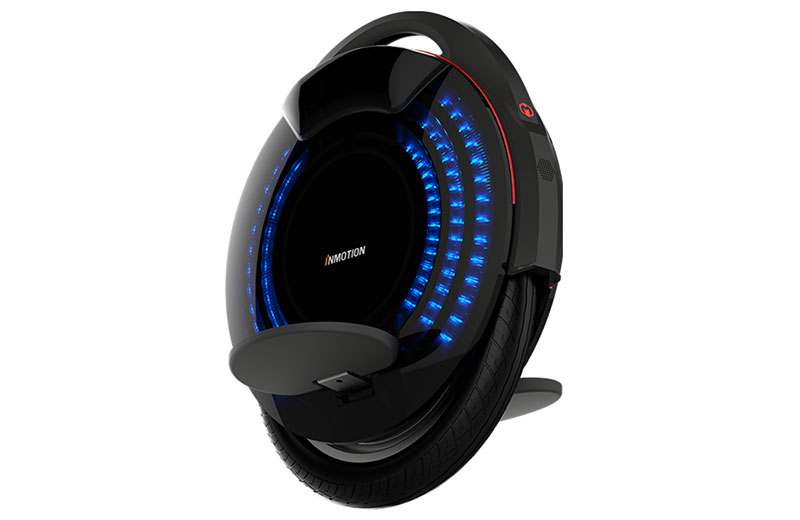 It's much smaller and is easy to tie down in the cargo area for safety. Instead of taking up the entire cargo area, my unicycle takes up about the space of a medium sized backpack. As an added bonus, I can charge it off the 110-volt power at the campsite while the car charges/runs air conditioning off the 220-volt side." – Michael C., 2017 Chevy Volt, I actually just sleep in the Volt when I camp