Bikes of every description get racked, strapped, hitched, stored in, on and around all kinds of truck camper rigs.  Do not miss the tandem bikes, e-bikes, and electric unicycle.  That's right, an electric unicycle for goodness sake!

It's no secret that truck campers love bikes and are extremely clever at finding ways to bring their favorite bicycle on the road.  What's news is how many of us have bought electric bikes.  With names like Juiced RipCurrent S, Addmotor Motan, Townie Go, RadMini, RadRover, and RadCity, we just learned about whole new world.  Out of the 50 or so bikes readers reported, about 20-percent are electric!  Who knew?
Then there are two tandem bikes and a long list of high-end performance bikes.  Evidently, bike makers are a lot better at naming their products than truck camper manufacturers.  Why can't campers get cool names like the Specialized Stumpjumper, Cannondale Quick, Norco Plateau, Kona Cinder Cone, and Trek Rumblefish?  Rumblefish!  Love it.
Finally, Michael C. really takes us for a loop by camping in a Chevy Volt that he charges at campgrounds (brilliant) and an electric unicycle (insane).  Normally he'd get the boot for not camping in a truck camper, but his sheer originality (and cunning) leaves us speechless.  Here's to you Michael!  Charge and travel.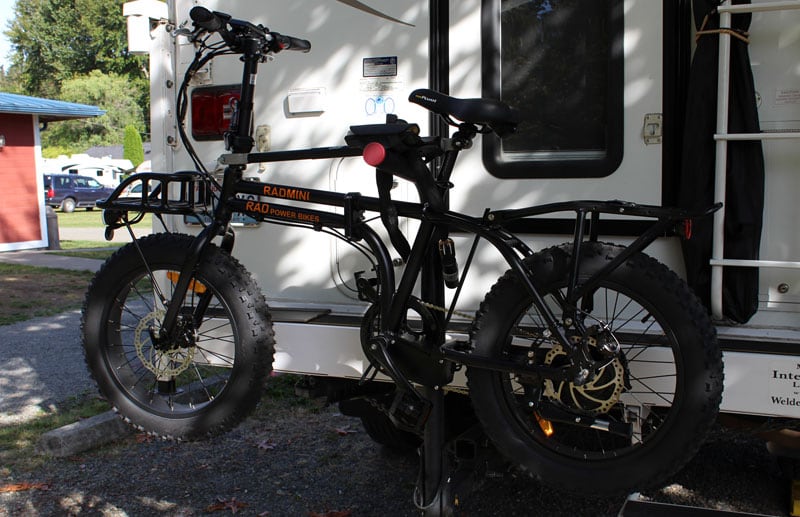 "I always bring my fat tire electric Rad Mini. It is sold by Rad Power Bikes out of Seattle. I've never had so much fun exploring pathways, dirt trails and riding through small towns. Being an electric bike and foldable it makes it so easy to take with us wherever we go. However, I've never used it in the folding position. Weighing 52 pounds I would not be able to put it in the backseat.
I carry it on the back hitch with a drop down bike carrier which I had to shorten by 10″ so that the tires would touch the ground when I'm ready to unload. This same carrier will also fit my front hitch which I don't like using due to bug splatter. If the weather is bad I cover the bike with a motorcycle waterproof cover which has been very effective in keeping the bike clean." – Roger Odahl, 2008 Ram 3500, 2004 Eagle Cap 950
"We have Dillenger electric bikes; a 2016 Explorer and a 2017 Leopard. Both are folding bikes. The handle bars fold down, the peddles are removed, and they fit in back cab. I put pillows between them when we travel." – Joseph Tamulevicius, 2017 Chevy 2500HD, 2016 Palomino SS-1240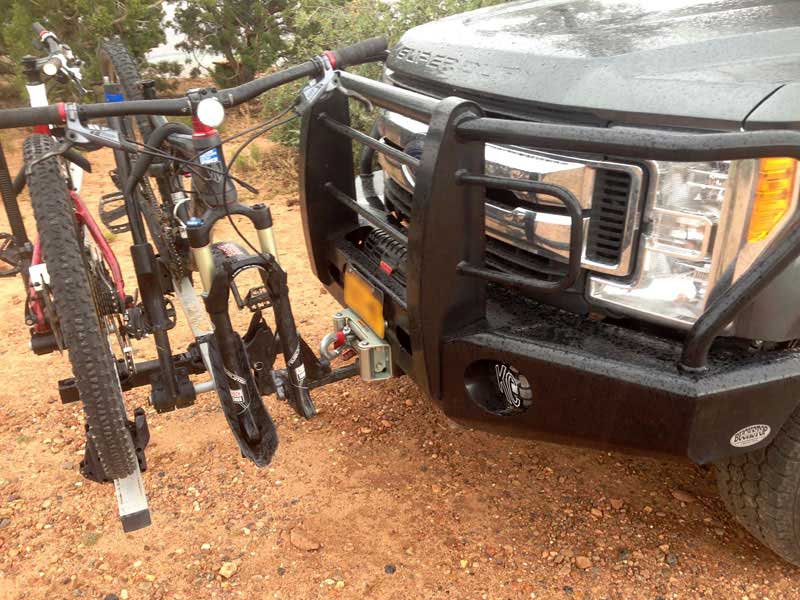 "We are fairly serious mountain bikers and usually build our itineraries using Trailforks (mountain biking trail database) and MTB Project (mountain bike trail maps).
We're currently riding a Trek Rumblefish and Specialized Stumpjumper. We keep them on the front of our rig. Mud and dust accumulation on the back would be problematic, to say nothing of the storage challenges.
To accomplish that, we put on an aftermarket Buckstop Bumper with an integrated 2-inch receiver. We remove the bike front wheels and seats to keep our site-lines clear. Fortunately, headlights are not really impacted." – Bob Eckert, 2017 Ford F350, 2015 Lance 825
"I have a 2017 Specialized Fatboy with an electric bike conversion from Hi-Power Cycles.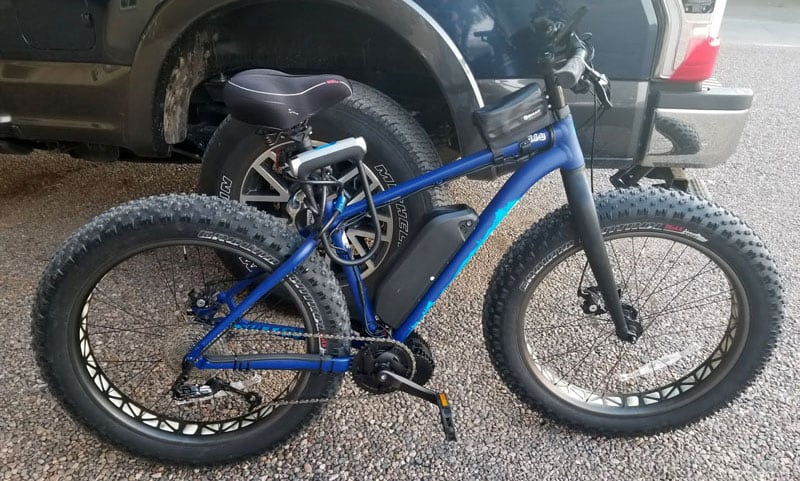 I have been strapping it vertically on the rear bumper of the camper, but I want to move to a front receiver hitch mount to keep it clean while traveling on dirt roads." – Dirk Keeler, 2017 Ford F350, 2018 Cirrus 820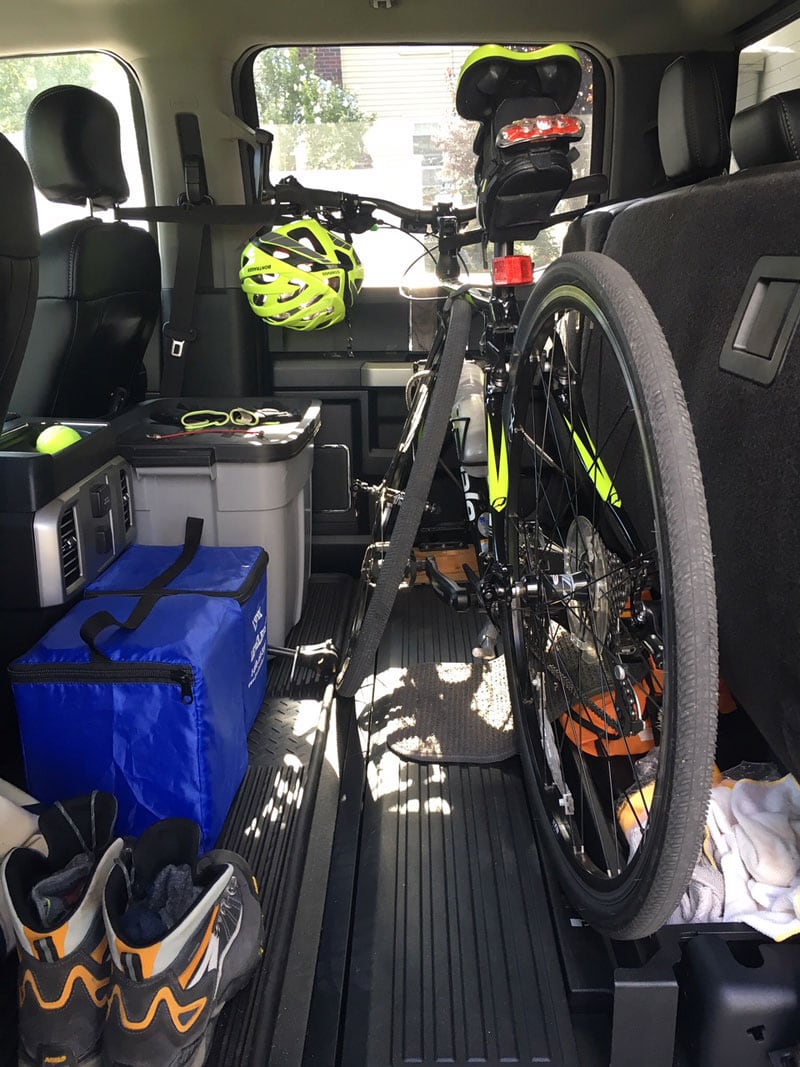 "I have a Cannondale Quick 24-speed hybrid. It lives in the back seat on a fork mount. The fork mount is attached to wood, which is velcroed to the under seat storage bin. The wood is necessary to allow the handlebar/brake to clear the folded-up truck seat.
I found out the hard way that the bond where the velcro is glued to the bin isn't strong enough for heavy braking. So now there are two quick-release backpack accessory straps between the front of the bike and the front and rear seat headrest poles that hold the bike in place.