Truck Camper Magazine's Triple-Dog Dare makes waves in the business world as, "A Case Study In Innovation Excellence".  Listen up Google, Disney, Coca-Cola…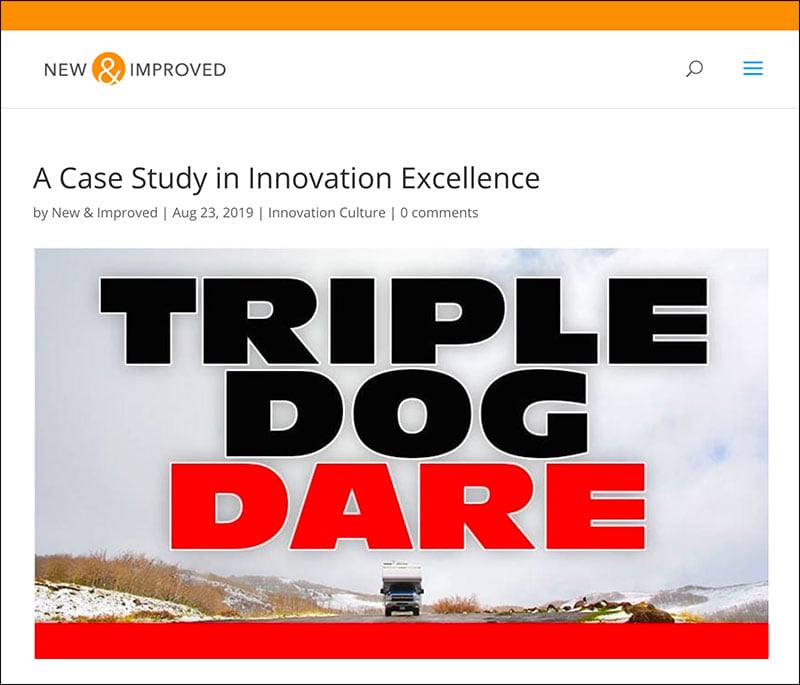 Bob Eckert, CEO of New York marketing agency, New and Improved, has published a third-party review of our Triple-Dog Dare and sent a detailed report to his corporate America client and subscriber list.
Who might be on this subscriber list?  Well, New and Improved has worked with the leadership teams at Kohler, Johnson & Johnson, the United States Navy, Pfizer, Google, Disney, American Express, Coca-Cola, Texas Instruments, L'Oreal USA, Mercedes-Benz and more.
Could the C-Level management teams from these prestigious companies be inspired by our truck camper industry dare?  Absolutely.
Here's an excerpt from the report:
"Even if you have zero interest in truck camping or RVs in general, this story is instructive for at least two reasons.  First, the triple dog dare is an excellent example of an innovative way to get an industry's attention, at least in cultures who understand its meaning.  Second, it highlights the need to understand and utilize our customer's ideas."
To read Bob's analysis of the dare, and what they describe as a, "…hidden danger for the RV Manufacturing Industry", click here.