Truck camper owners painfully reveal what happens when rig height bites.  Awnings get scratched, roofs get ripped, skylights lose their lids and more.  Read these harrowing memos, or risk a roadway rip off.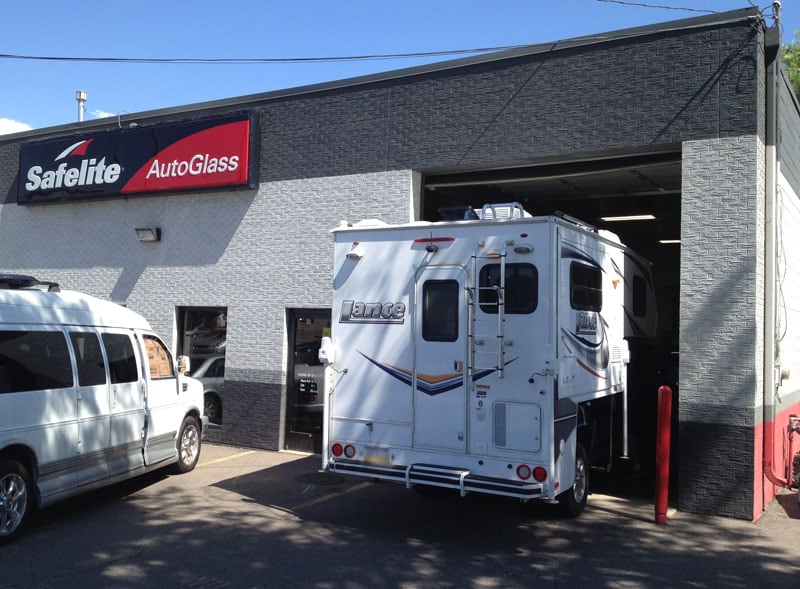 Above: Service Bays may not be marked, so ask ahead of time
As Harry Palmer recommends in his memo, the height of our truck camper is posted on our truck's dash – in feet and meters – where I can see it before contacting extra terrestrial objects. In a split second, I can check the numbers and make a decision. This has actually happened many times. Know your rig's height!
Know the Height of your Camper
These five readers share how they got into some interesting situations based on the height of their campers. Chuck even talks about how the width of his camper was an issue in South Dakota.
Account For Your Camper's Appendages
Submitted by: Chuck Webb, 2012 F350, 2015 Alaskan 8.5

PIC
Even with a pop-up, you need to remember your height. I barely squeezed under a limb in Ocala National Forest campground because of my roof mounted boat rack. Fifth wheels and full-sized truck campers had to camp on the other side, and we had the rest of the campground to ourselves.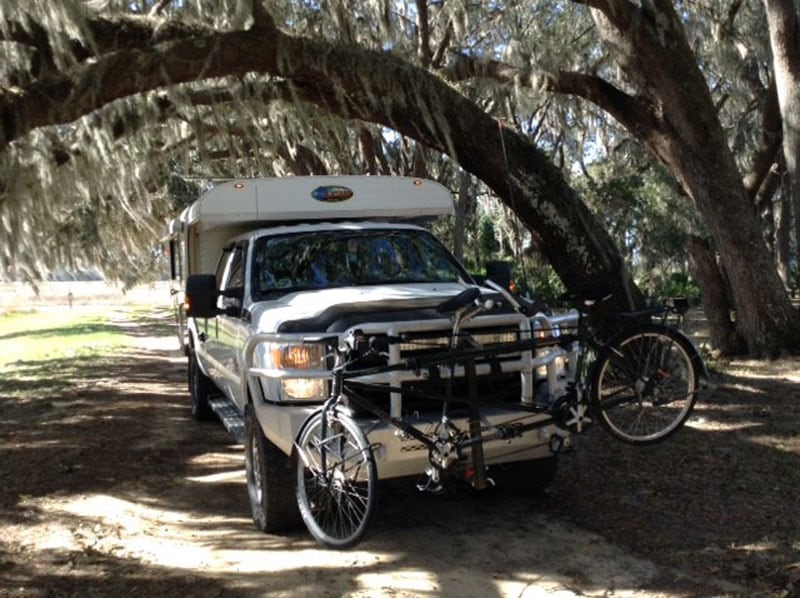 While navigating the tight tunnels on Needles Highway (South Dakota Highway 87), we measured the width of the camper, but neglected to add the additional width of the side awning. The resulting damage was only cosmetic (the awning still works), but the sound of the scraping against the tunnel wall still haunts us.
The Camper Memo
Measure your camper twice, including the width, and include any appendages such as awnings, boat racks, bikes, mirrors, etc.
Service Bays Are Not Always Marked
Submitted by: Rick Brundrige, 2015 Chevy Silverado 3500HD, 2000 Bigfoot C259.6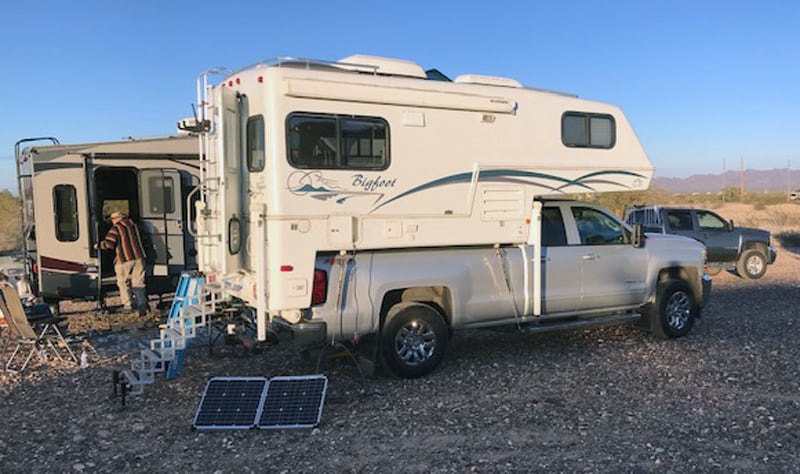 I was taking our truck into a GM dealership for some repairs. The camper was loaded. The service writer told me to drive into their covered service bay. I asked about the clearance of the air conditioner and she said that it was fine.
I looked to my left and saw a man frantically waving his arms. I got out the climbed the ladder of our camper and saw that it would have hit the top of the service bay door if I had continued.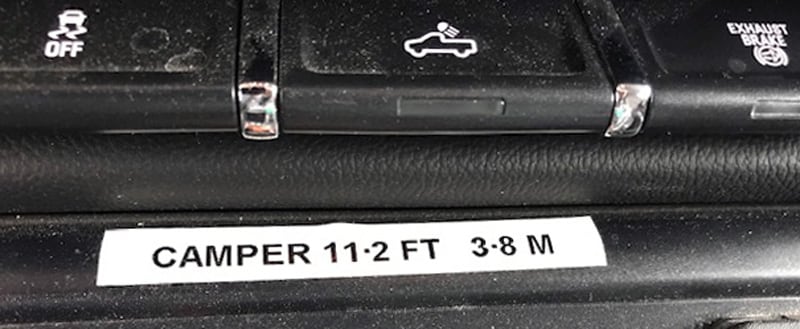 Above is the imperial and metric label that we made as a result of the near mishap.
The Camper Memo
Know the height of your camper and have someone watch carefully when you drive into a service bay. Many of them are not marked with clearance heights.
Quick Adjustments To Routes May Be Needed
Submitted by: Stephen B., 2003 Ford F-350, 2005 Lance 981
On a cross-country trip from Georgia to Colorado we took the southern route that went through Mobile, Alabama. There is a series of bridges and tunnels on I-10 to cross Mobile Bay and Mobile River. We suddenly encountered a tunnel with a sign that warned of maximum clearance of 12-feet. Bad luck.
Our truck and camper is generally 11.5-feet at its maximum height. Of course, clearance can change somewhat with tire pressure, weight load and rooftop carry-ons. While we were 75-percent confident that we could clear the tunnel, we could not predict how our clearance might change if we encountered an unexpected swale in the road, bouncing our rig to new heights.
We had to make a quick adjustment to our plans and exit onto the truck route that circumvented Mobile. We found a new road, camped in off-the-beaten-path parks, and saw places we do not usually pass. Good luck arose from bad luck.
The Camper Memo
Trip route planning needs to include posted clearances. Alternative plans may be needed, sometimes as you're driving.
Six Inch Fudge Factors Are A Good Idea
Submitted by: Harry Palmer, 2008 Dodge Ram QuadCab 2500, 2008 Lance 915
There are two parts to this story.
Part 1: I bought a new fifth wheel trailer and took it to a, "Run For Your Life" cancer support event. The event went three days. Since I don't sleep on the ground anymore, I thought the fifth wheel was just the way to go. While driving to the camping area, I drove by a tree. I didn't hit the tree, but a dead branch tore the roof for about 15-feet of its 30-foot length.
Part 2: I've had numerous truck campers since the late 1970s, and I have learned to measure my total height. My dad almost took his roof off by backing under a tree.
I have found the best and easiest way to measure is to climb up to the highest roof level on my stepladder, extend a 2×4 across the highest item on the camper, put a level on it, and then extend the tape measure to the ground.
Once I've done this, I add a 6-inch fudge factor to my measurement. The final step is to use a label maker and enter the total height onto a label and install it onto the dash. I never forget to check this as some highway bridges are much too low for me to pass under safely.
The Camper Memo
Measure the total height of your truck camper rig and post that height in front of the driver's position in your truck. For additional safety, add a 6-inch fudge factor.
Don't Always Trust Your GPS
Submitted by: Rick Law, 2005 Ford 550, 2003 Bigfoot c10.11sl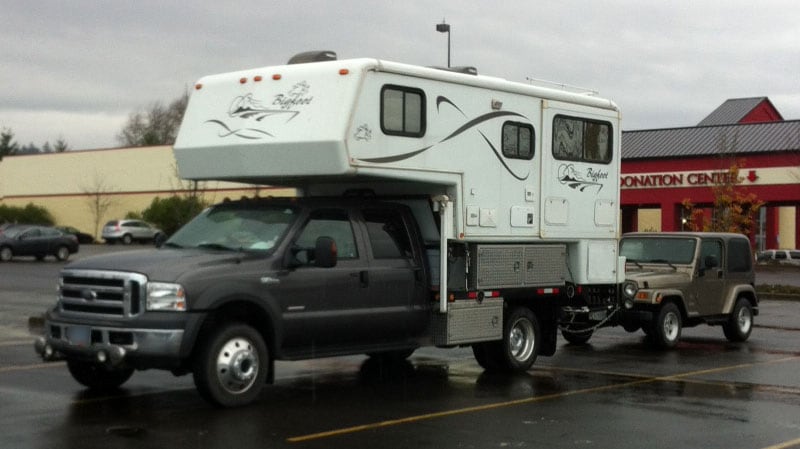 I have a Garmin RV GPS that took me to a commercial campground on a back road. After winding my way on the road, I saw the office for registration. We came in the back way to the office.
Unfortunately, from that direction, we hit a low branch attempting to park. I destroyed two skylights and damaged the air conditioner's shroud.
The Camper Memo
Don't always believe the GPS and, if you're not sure, get out and look before driving into an area.
Submit Your Teachable Moment
If you have experienced a teachable moment while truck camping (aka, a Camper Memo), please click here to share your story.