Justin Sturgill, Sales Manager for Skinny Guy Campers, participated in our Manufacturer's Dare 2 and sent in the following report and product evaluation. Don't miss the glowing Yooperlite.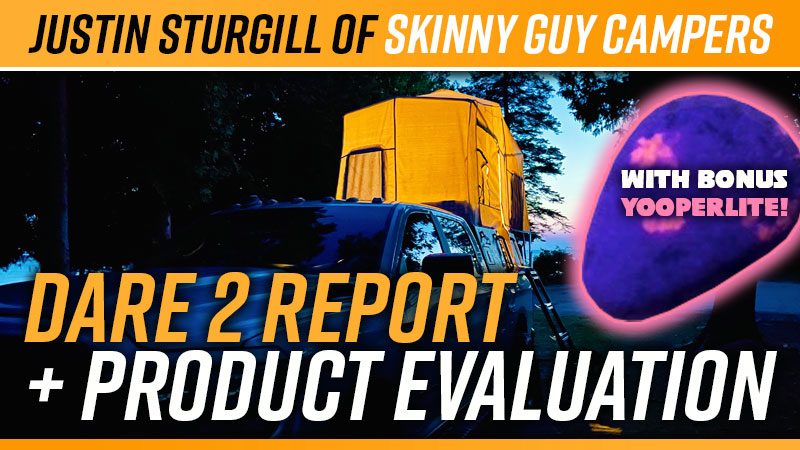 In April of 2022, we publicly triple-dog dared the truck camper manufacturers to go truck camping in their own products. The idea is to encourage, in a fun-spirited way, the truck camper design and leadership teams to experience their own products in real-life camping situations.
While many camper designers and leaders do routinely take their campers out, far too many don't, and their product designs and marketability suffer for it. That is the entire point of the dare. The more the industry experiences its products, the better the products will be. And the industry leaders might have some fun along the way.
What follows is the first official Dare 2 report. Congratulations to Justin Sturgill, Sales Manager for Skinny Guy Campers, for stepping up to the plate – as a brand new manufacturer no less – and taking our Dare 2 challenge. You rock!
This past September 13th-15th, Justin Sturgill went to the Upper Peninsula of Michigan with a 2021 Ram 3500 and 2022 Skinny Guy Camper 6.5 model with the Kit 'N Kaboodle trim and PrimoLoo option.
Above: Michelle and Justin Sturgill and their dog, Ray, on Lake Superior
Here is Justin's Dare Report for Skinny Guy Campers:
"We left Tuesday afternoon the 13th of September for the Upper Peninsula of Michigan. We have been to the UP many times, but for once we were going to take some time to camp and enjoy traveling west from the Mackinaw Bridge.
We chose the Upper Peninsula for several reasons. First, we love that it is only about five hours from our house. We also love that it is surrounded by wilderness and, of course, we have access to three of the five Great Lakes. Oh, and did we mention that it was fall? The Northwoods of Michigan is synonymous with fall colors, something we hoped to catch a glimpse of.
On Tuesday, we arrived at our first camp just in time to watch the sun disappear behind Lake Michigan. We set up camp no more than 100 feet from the shores of this beautiful lake. We prepared a simple but delicious corn chowder and french bread while enjoying a warm campfire.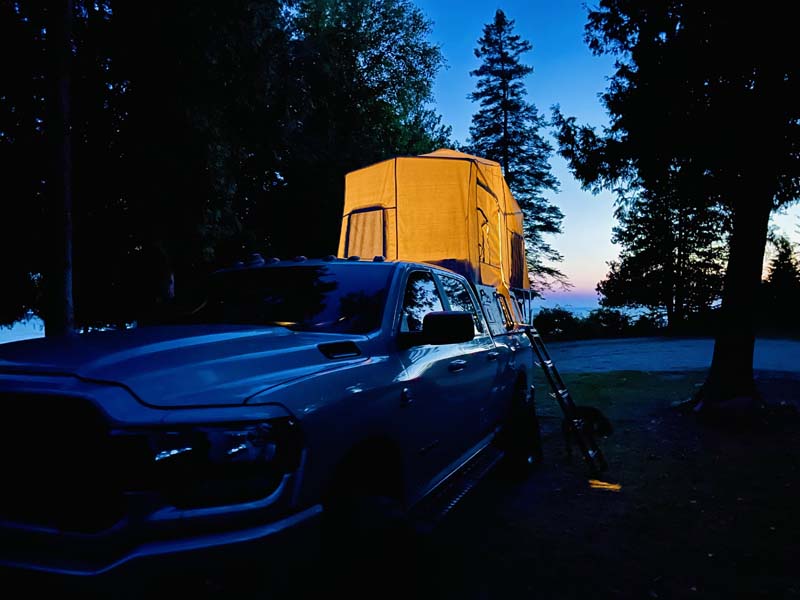 Above: The deployed Skinny Guy Camper glowing at their campsite
The lake was so peaceful with the water lapping against the rocks. With temperatures in the high 60s, we both knew this was going to be a great night for zipping down the windows and falling asleep to the sounds of the outdoors.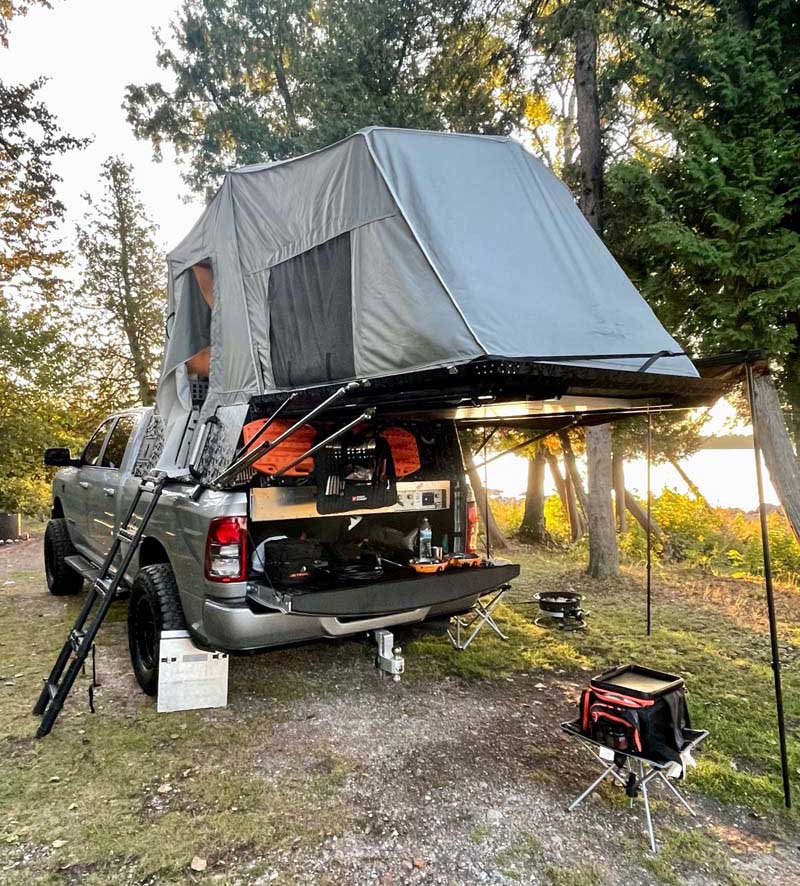 Above: Skinny Guy Campers leave the lower truck bed area open for storage
The morning brought coffee, warm cereal, and toast with homemade jam. The skies were blue and the temperatures were predicted to hit 80 degrees.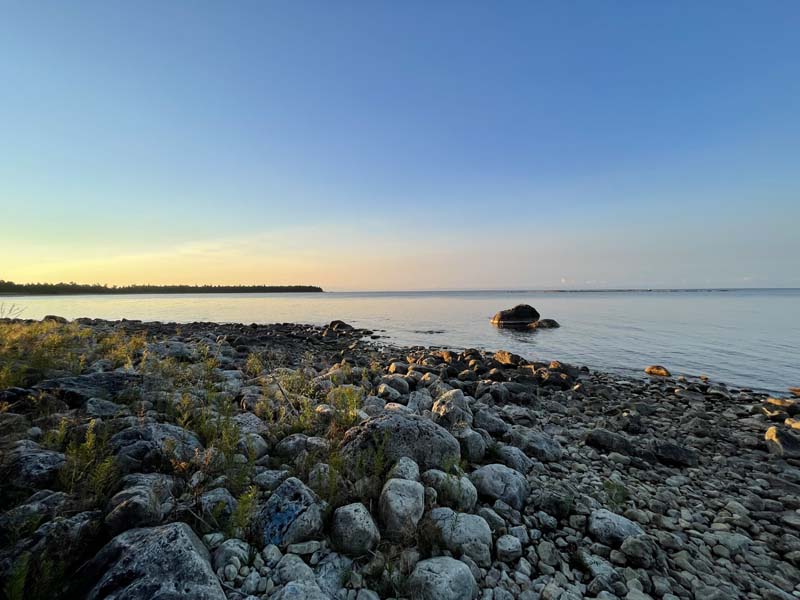 Above: Lake Michigan, first morning of their trip
After breakfast, we setup the shower and fired up the water heater for a couple quick showers before tearing down camp and heading west on Highway 2.
We made our way towards the town of Trenary where there's a bakery that is famous for its homemade toast, a sort of staple in Michigan.
After our stop in Trenry we continued north to the town of Marquette before turning west towards the Keweenaw Peninsula. We passed over the Houghton Hancock bridge and continued northwest to McLain State Park.
The park spends most of its summers full of campers, but after Labor Day, it is nearly empty of visitors.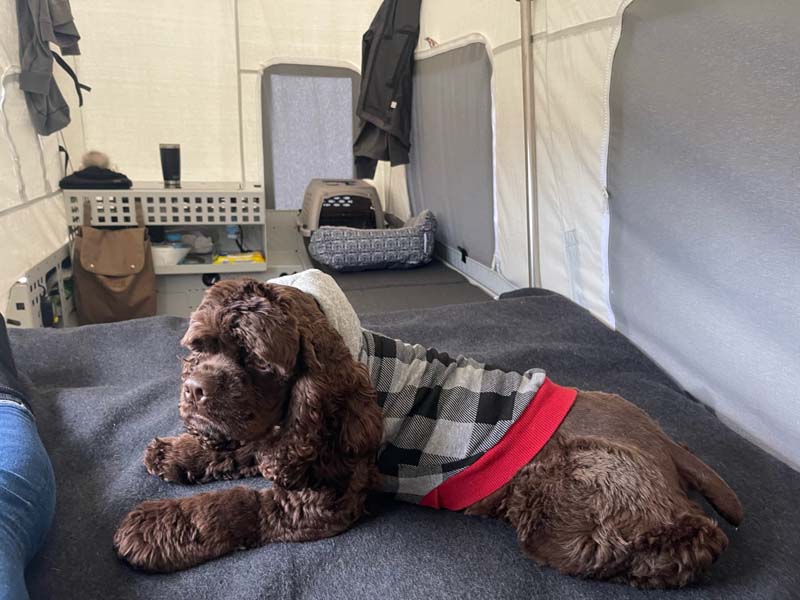 Above: Their pup, Ray, enjoying some down time in the Skinny Guy Camper
Nestled along Lake Superior we were pleasantly surprised by a nice spot near the lake. We settled in for the evening preparing a nice steak and potatoes on our skottle as we waited for dark.
As the dark fell, we prepared for our adventure and the reason we had driven so far; Yooperlite rocks! This rock containing the mineral sodalite glows like volcanic lava under a UV blue light.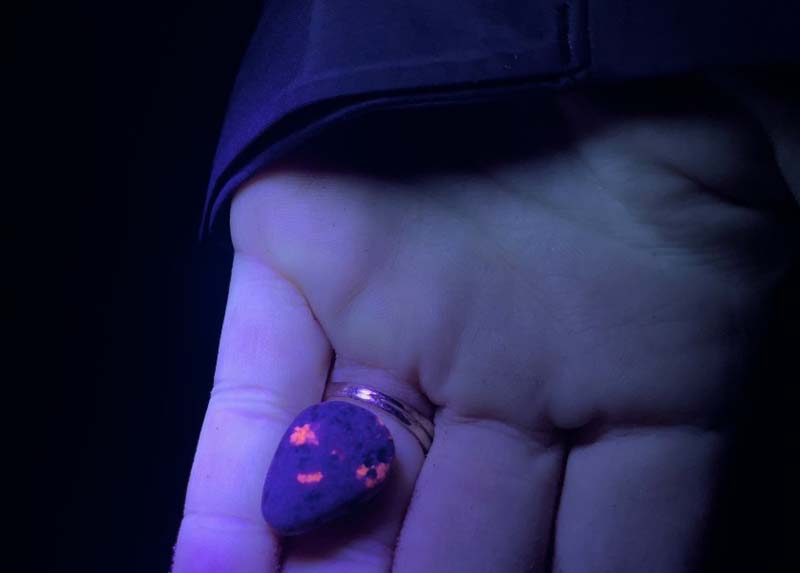 Above: Michelle's Yooperlite rock under a UV light
Yooperlite rocks are generally found along the north side of the Upper Peninsula along the shoreline of Lake Superior. At night, you use a UV flashlight to navigate through the dark. The Yooperlite rocks glow bright orange when the light hits them.
We searched for two hours. Michelle wadded around in the water and found one of these glowing stones. It was no bigger than a marble, but every bit worth the trouble.
Most people are not willing to go in the water because the lake can be very cold. You can find them on the shore and sometimes on the land in random places. Yooperlite looks like an ordinary rock until you hit them with a UV light.
After Michelle's find, we retreated to our Skinny Guy Camper giddy as a couple of school-aged kids over this glowing rock!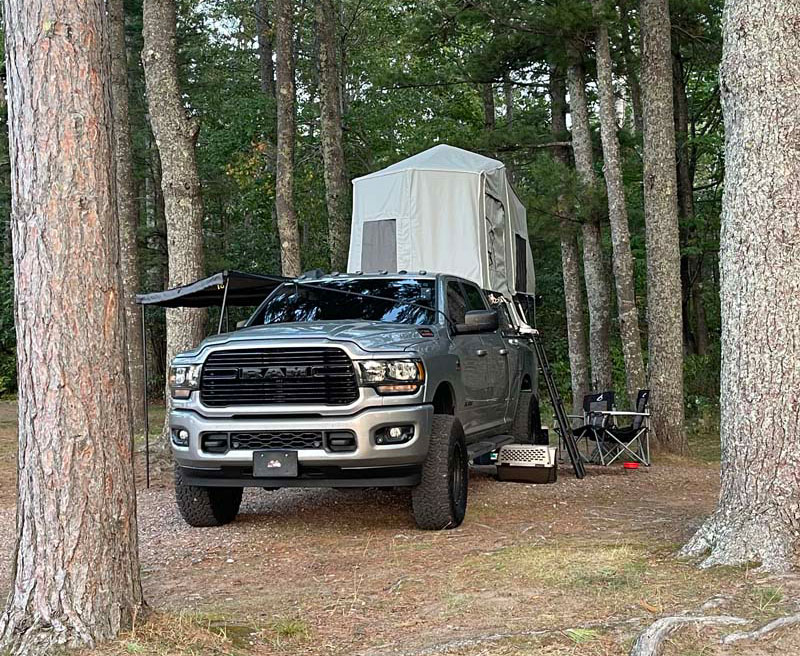 Above: Early evening at McLain State Park
The following morning was forecast for rain, so we quickly broke camp and made our way to the town of Calumet. We located a cup of coffee and an excellent breakfast sandwich in a small place in the historic part of town.
Above: Rocket Range Trail leads to Keweenaw Rocket Range
Then we drove north to Copper Harbor taking in the fall colors and visiting a few local attractions like the Jam Pot, Jacobs Falls, and the Keweenaw Rocket Range before turning back south to begin our trip home.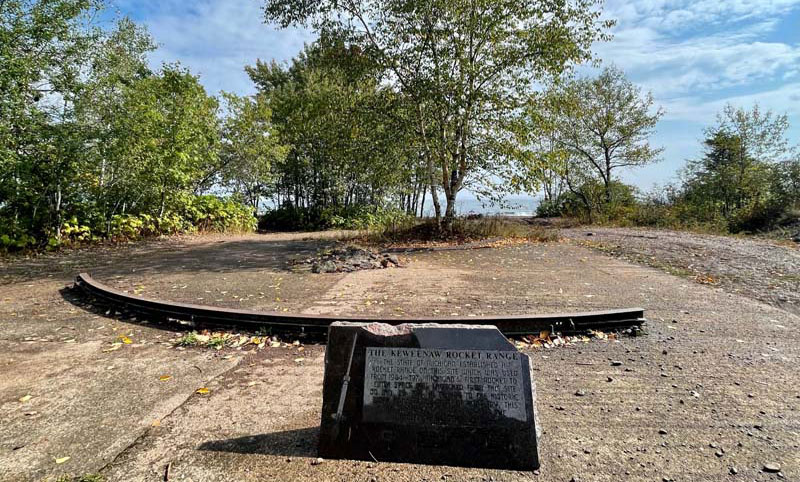 Above: Keweenaw Rocket Range marker in Copper Harbor, Michigan
We made one last stop at Peterson's fish market for some fresh-caught white fish tacos and enjoyed the sunshine on the deck of their outside seating space.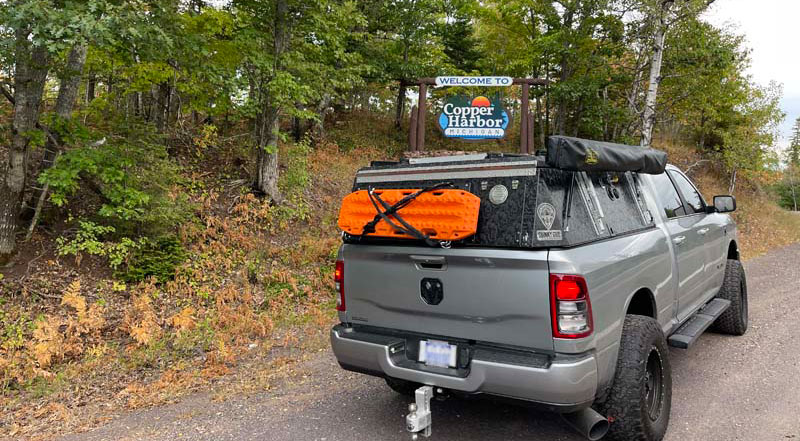 Above: Entering Copper Harbor on the third morning
We would have one more late night in Michigan before returning home; just a quick stop for sleep only to dream about a return trip in the very near future.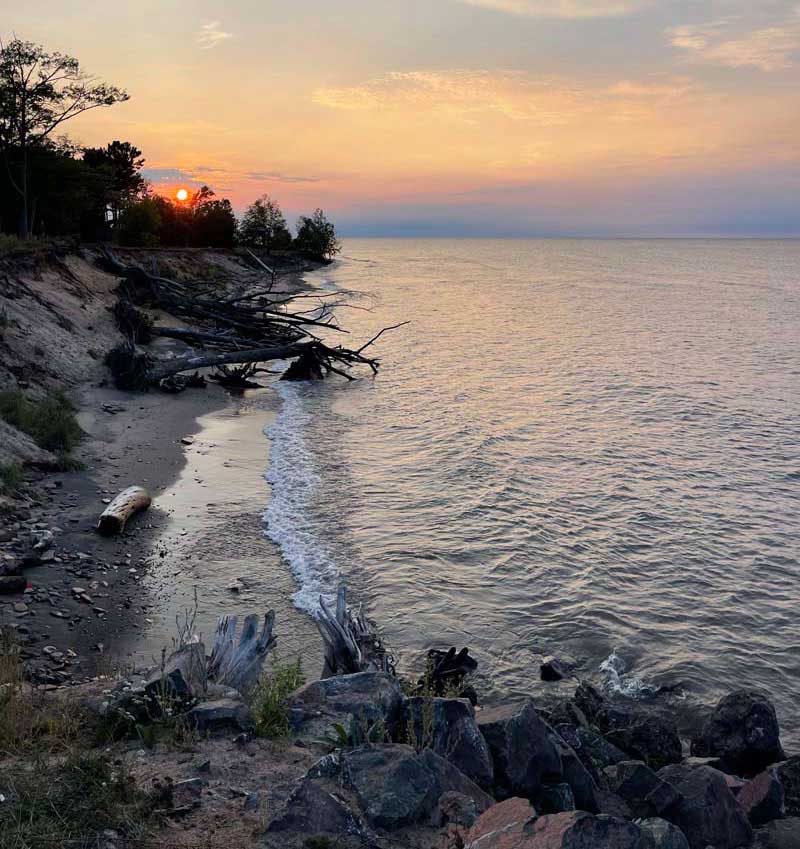 Above: Lake Superior's shore line
Skinny Guy Product Evaluation
One thing we learned along the way was how important it is for comfort is for the truck and camper to be level. This was key to the comfort of sleep we both got each night.
The cooler nights allowed us to utilize the furnace. We definitely figured out how well it worked and how much heat we really needed in a Skinny Guy Camper.
We also were able to use the hot water for the shower on this trip. The way the Truma heats water is different than other RV water heaters we have used in the past, or even at home. It definitely worked. It just took some time to get used to it.
We both agree that more outside space would be great. An awning would be amazing because, with the Skinny Guy Camper, you live out of it, not in it.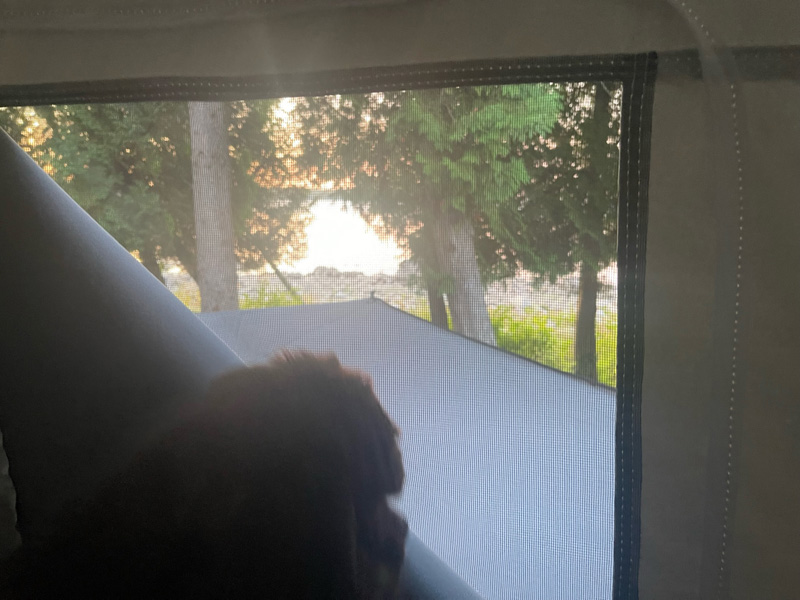 We also would like to see some kind of overhang over the windows so that, in any weather, we could zip down the windows and enjoy the fresh air.
We also felt like we need a way to read the fresh water tanks to know how much water is in them. That would be super helpful.
My wife traveled with me as she does on most trips. She is simple to please when it comes to camping features. But, when we use the Skinny Guy Camper, the hot water for washing up and the flushing toilet for those late night calls are absolute game changers.
Not to mention the inverter for her hair dryer and straightener because you can only wear a hat so many days.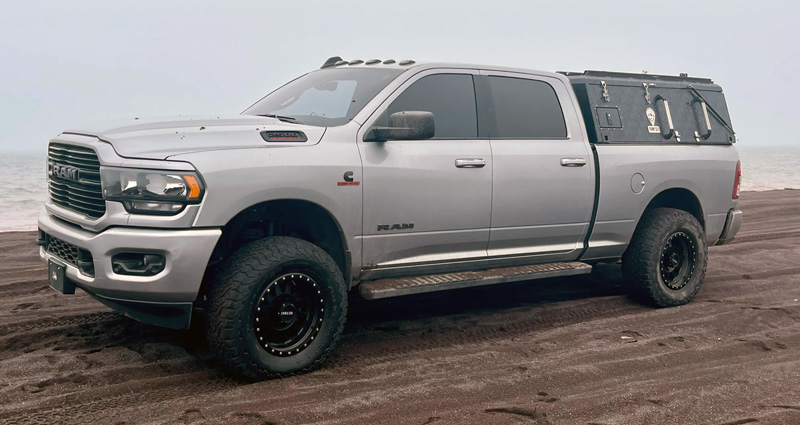 We both love the fact that this camper is shaped like a regular truck cap when it's closed. We can travel for miles with no worry of fuel stops. There was almost no impact to the fuel mileage of the truck.
Of course, we will truck camp more in the future. Truck campers are what we love. We have trips planned every month until the end of the year and then we start planning for 2023.
We use our Skinny Guy Camper quite a bit. Using our product is what we are all about. This is what I do for work, but we also enjoy it for our spare time for recreation. This type of travel is a lifestyle we have chosen and will likely continue until we physically no longer can do so.
For more information on Skinny Guy, visit their website at SkinnyGuyCampers.com.  Click here to request a free Skinny Guy brochure.