We hereby triple-dog dare the leadership teams of truck camper manufacturers, gear companies and dealerships to go truck camping.  This time everything about our industry challenge is bigger, and it starts right now!
If you believe the truck camper manufacturers, dealers, and gear companies need to use their own products more, please join us in signing the petition!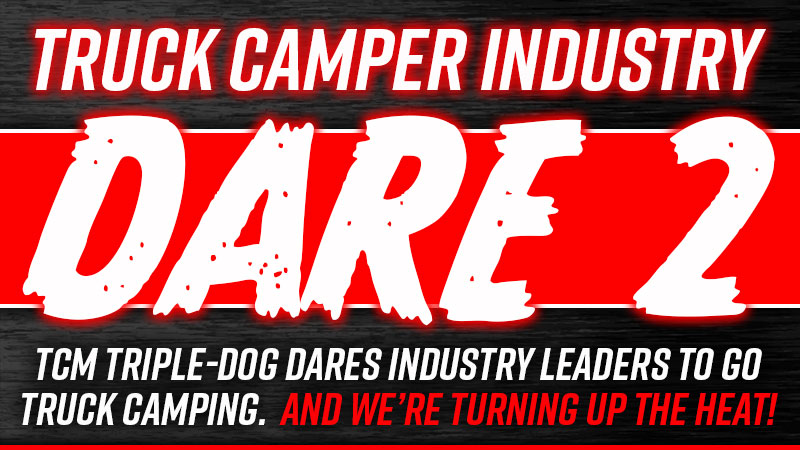 In 2019 we publicly dared the camper manufacturers to take their own campers out and objectively report their experiences.  We believed then, as we do now, that the more our industry leaders go truck camping in their own campers, the better those products will be.  We also believe that our industry needed a reminder of how fun truck camping can be.  After the past two years, who doesn't want to have more fun?
Seven truck camper manufacturers accepted our 2019 dare, took out a truck camper their company produced and reported their experiences in Truck Camper Magazine.  The reports were wide-ranging, but the overall impact was significant.  Many industry leaders thanked us for the nudge to go truck camping and were full of ideas big and small to make their campers better.
Truck Camper Industry Dare 2
We are throwing down the gauntlet once again and triple-dog daring our industry to go truck camping.  That's right.  This is an official triple-dog dare!  And we're turning up the heat.
For Dare 2 we are opening the challenge to not just the truck camper manufacturers, but the gear companies and dealerships as well.  If you work in the truck camper industry and have senior management, design, production, service, or sales responsibility, this dare opportunity is pointed at you.
We are also greatly expanding the amount of time industry leaders have to complete this dare; from four months in 2019, to seven months in 2022.  That's 75-percent more time!  With these two changes, we want to see more participation and fewer excuses.  Forget, "I'm too busy," or, "Oh I never saw that."  No, you're not.  And, yes you did!
How To Satisfy Dare 2
There are six rules every industry leader needs to follow to satisfy the dare.
1. Take out a standard production camper.
For the first dare, some industry leaders took out tricked-out versions of their products.  For Dare 2, we want to see the same products your customers can purchase.  No SEMA rigs or one-offs, please.  Gear companies and dealerships can take out any camper that's available to them, as long as it's a model available to the public.
2. Go truck camping for at least two days and two nights.
To satisfy Dare 2, an industry leader must go out truck camping for two consecutive days and nights.  For example, go out on a Friday night and camp, camp Saturday day, camp Saturday night, camp Sunday morning and drive home that afternoon.  As long as the truck camping trip is at least two days and two nights, it counts.
3. Fully live in the truck camper.
To satisfy Dare 2, industry leaders should eat, sleep, poo, pee, shower, and generally 100-percent fully use the truck camper during the dare.  Pack clothes away.  Charge electronics.  Make breakfast, lunch, and dinner.  Fill and dump the tanks.  Use the camper for everything needed for two days and two nights.  Fully live in that camper.
4. Take the rig somewhere appropriate to truck camping.
To satisfy Dare 2, you need to go somewhere other than the factory, dealership, or your residential driveway or neighborhood.  Go somewhere appropriate for truck camping.  For maximum impact, we recommend BLM lands, National and State/Provincial Parks, or anywhere you can boondock off-grid.  That's what truck camping is all about.
5. Take pictures of your experience.
To satisfy Dare 2, we need at least 12 photographs of your experience.  Show us where you went, what you did, and what you learned.  Your phone camera is fine and you can text the photos directly to us.  Show us your trip.
6. Complete the Dare 2 form.
Finally, to satisfy Dare 2 you need to complete our Dare 2 form, answer the questions and submit a minimum of 12 photographs.  The questions are related to where you went, what you did, and what you learned about your product and the truck camping lifestyle.  When you accept the dare as an eligible manufacturer, gear company or dealership representative, we will email you the Dare 2 form directly.
The Dare 2 Deadline
Industry leaders have from today, April 12th through November 12th, 2022.  That's seven full months to go truck camping for 2-days and 2-nights (or more).  All truck camping trips must be taken during this seven-month window to count.
The Dare 2 Prize
Once again, we will publish the story of any industry leader who goes truck camping in Truck Camper Magazine.  This is an open opportunity to get your products in front of thousands of truck camper owners and potential customers.  All you have to do is go truck camping.
Readers, Join Us In Daring the Industry
If you believe the truck camper manufacturers, dealers, and gear companies need to use their own products more, please join us in our triple-dog daring by sharing your name and hometown below.
Come on truck camper, industry!  Go truck camping!  It's so much fun!
Scroll down past the signatures to sign our petition.
Petition Dare 2 Signatures
Gordon and Angela White, Port Charlotte, Florida
Ray Stallings, McDonough, Georgia
Mike Noble, Austin, Texas
Glenn Johnson, Calmar, Iowa
Jim Davis, Sweet Valley, Pennsylvania
Berrett Harrison, Albuquerque, New Mexico
Roy Garland II, Mount Wolf, Pennsylvania
Bill Lawlor, Mineral, Virginia
Mike Tumchewics, Osoyoos, British Columbia
Bruce Allison, Calabasas, California
Chuck Coc, Colorado Springs, Colorado
Joe Yeatts, Coarsegold, California
Tom Davidson, Tucson, Arizona
Ken Distin, Ravena, New York
Paul Savage, Belfair, Washington
Ted Fuller, Northfield, Massachusetts
Steve Thompson, Tucson, Arizona
Gaston Belanger, Full-Time on the Road
Karen Fichtler, Port Charlotte, Florida
Mark Caillier, Keizer, Oregon
Doug and Cindy McIntosh, Taos, New Mexico
Mike Farrell, Conroe, Texas
Fred Patterson, Fairfax Station, Virginia
David Fradkin, Effort, Pennsylvania
Frank Niehus, Elbert, Colorado
Richard Easter, Toledo, Washington
Gene M. Cannon III, Jamaica Beach, Texas
Steve Faries, Sherman, Texas
Crystal Sanchez, Roopville, Georgia
Michael Brand, Grapevine, Texas
Richard Albright, Machesney Park, Illinois
Jennifer Richardson, Delta, British Columbia
Chuck Carroll, Lebanon, Oregon
Howie Burke, Wasaga Beach, Ontario
Craig Lembke, Cassadaga, New York
Karen Myers, Greeley, Colorado
Real Charbonneau, St Jérôme, Québec
Rick Jones, Penticton, British Columbia
Ric Doedens, Toronto, Ontario
Paula and Jerry Gale, Greenwood Square, Nova Scotia
Jeff Enserink, Roseburg, Oregon
Jack and Obadinah Heavner, Seattle, Washington
Steven Parker, Santa Fe, New Mexico
Brad Slatford, Regina, Saskatchewan
Tim Holman, Dayton, Ohio
Stephen and Donna Be, Grand Junction, Colorado
Bryan Appleby, Boulder, Colorado
Greg Chambers, Gridley, California
Cory Brown, Cincinnati, Ohio
Barry Schoenwetter, Wells, Vermont
Pat Bullock, Gardendale, Alabama
Kenneth Beal, Nine Mile Falls, Washington
Cody Walker, Sarcoxie, Missouri
C. Weker, Clear, Alaska
Les Wilks, Mission, British Columbia
Bob Eckert, Adirondack Park, New York
Steven Gasser, Calgary, Alberta
Ellis Butler, Cassopolis, Michigan
Terry Fleming, Scottsdale, Arizona
Doug Baker, The Sea Ranch, California
Robert Trader, Cape Coral, Florida
David Terrell, Roswell, Georgia
Don Smucker, San Angelo, Texas
Derik Smith, Springfield, Oregon
Jeff and Ali Knowles, Kalispell, Montana
Mike Shippy, Parker, Colorado
Jay Evenson, Rapid City, South Dakota
Harmony Zellers, Buckley, Washington
John Bailey, Memphis, Tennessee
Michael and Recy Tinder, Bremerton, Washington
Mark and Karole Traylor, Helena, Alabama
Alyn Wolf, Colorado Springs, Colorado
Roger and Elaine Odahl, Vancouver, Washington
Jon Dresbach, Cartersville, Georgia
Cheryl E Lane, Salem, New Hampshire
Gary Bond, Tillamook, Oregon
Alan Rogers, Windsor, Colorado
Bob and Lorrie Perry, Mead, Washington
Pat and Kerry Persing, Sequim, Washington
Mike Morin, Washington, New Hampshire
Tom Ralls, Newcastle, Wyoming
Ernie Clark, Orleans, Michigan
Scott Shriver, Concord, North Carolina
Larry Pearson, San Antonio, Texas
Stephen Paige, Clemmons, North Carolina
Mark Obert, Huntington Beach, California
Norm Thibault, St. George, Utah
Brian Masyga, Winona, Minnesota
Sylvie et Sylvain Robin, Terrebonne, Québec
Matt Misicka, Columbus, Ohio
Alain Larose, Mont Laurier, Québec
Paul Fahy, Atascadero, California
Michael Glasner, Concord, California
Richard Eachus, Twin Falls, Idaho
Jim Reidy, Millcreek, Utah
Nila Horton, Marysville, Washington
Bill Gustafson, Tahoe City, California
Harald and Christine Greser, Summerland, British Columbia
Terry Lefever, Churubusco, Indiana
Jodie Ramsey, Leesburg, Florida
Mike Sands, St. Catharines, Ontario
Dennis Chemnitz, Ronkonkoma, New York
Jon and Pam Hancock, Cicero, Indiana
John Livingstone, Iron Bridge, Ontario
Danny Crain, Horse Cave, Kentucky
Chuck Anderson, Tawas City, Michigan
Mark Vernon, Huachuca City, Arizona
Roy and Donna Bartholomew, Albrightsville, Pennsylvania
Grant Davidson, Milton, Ontario
Glenn and Caite Blount, Lake Jackson, Texas
Coby Schock, Lincoln, Nebraska
Jim Anderson, Delafield, Wisconsin
Scott Launey, San Diego, California
Janet and Jim Manis, Valparaiso, Indiana
David J Hull, Howard, Ohio
Louise Beauregard, Boisbriand, Québec
Lee Cattaneo, Orange, Vermont
Rich LeMieux, Old Orchard Beach, Maine
Mark and Barbara Rudowski, Monroe Georgia
David W. Sponable, Plattsburgh, New York
Chris Roark, Bloomington, Illinois
Don Fillman, Sandwich, Massachusetts
Jake Zboya, Richmond, British Columbia
Larry Koppenhaver, New Castle, Delaware
Jack Shambaugh, Mechanicsburg, Pennsylvania
T Cup, Honeoye, New York
Rodney Boyd, Rockwall, Texas
Russ Iverson, Asheboro, North Carolina
Brete Prewitt, Drexel, North Carolina
Charles J Leggett, Pine Prairie, Louisiana
Adam Eugene, Ely, Nevada
Al Schulze, Long Island, New York
David Anderson, Benson, Arizona
Bruce Johnson, Detroit, Michigan
Scott and Mary Palmer, Jones, Michigan
Kent Johnson, Las Vegas, Nevada
Cal and Colleen Breske, Sioux Falls, South Dakota
Teri Riley, Lebo, Kansas
Brian Hockensmith, Johnstown, Pennsylvania
Evan Bate, Port Stanley, Ontario
Mathew Stackpole, Rolinsville, Colorado
Robert Mackison, Culpeper, Virginia
Justin Lefor, Westcliffe, Colorado
JC Mullins, Eaton, Ohio
Del Smith, Rochester, Minnesota
Sean Harris, Cary, North Carolina
Dave Melssen, Dickeyville, Wisconsin
Mike Stanbro, Hillsboro, Oregon
Dave Winans, Bemidji, Minnesota
Keith Garvis, Prineville, Oregon
Ken Kerbyson, Mountain Home, Idaho
Francisco Garcia, Santa Cruz, Argentina
Chris Perry, Alsea, Oregon
Ted Johnson, Tokyo, Japan
Robert Lick, Meadowlakes, Texas
Yves Soucy, Cooper City, Florida
H.I. McDunnough, Missoula, Montana
Steven Lieber, Goodyear, Arizona
Roger Roberson, Highland, New York
Rose McLees, Lewistown, Montana
Richard Hylton, Smithville, Missouri
RJ Watts, Coatesville, Pennsylvania
John and Jo Mladjenovich, Sykesville, Maryland
Scott and Courtney Schmitz, Moraga, California
Steve Hudson, West Deptford, New Jersey
Paul Hurt, San Marcos, Texas
Dave Doyle, Terre Haute, Indiana
Don and Kathy, Ropiequet, La Pine, Oregon
Ken and Gayle Clegg, Hart Camp, Texas
Richard Macias, Santee, California
Peter Walsh (Capt PJ), Tacoma, Washington
John Elling, Tacoma, Washington
Sid Segars, Gilbert, South Carolina
Amy Delpiere, Allegan, Michigan
Tom Watson, Lititz, Pennsylvania
Jim Merrill, Olympia, Washington
Chris Reuter, Gretna, Nebraska
Bob Lilley, Easton, Pennsylvania
Clem Cote, North Smithfield, Rhode Island
Tom Kees, Munich, Germany
Allen Verbeek, Edmonton, Alberta
Carl Cunningham, St. Albans, West Virginia
David Osann and Heather Barker, Hendersonville, North Carolina
Terry Bennett, Big Bear Lake, California
Peter Lewko, South Bruce Peninsula, Ontario
David Anderson, Warren, Oregon
Bert Martin, Welland, Ontario
Roger Shaw, Perth, Ontario
Eli Rascati, Middletown, Connecticut
J. Kevin McCarron, Brookfield, Connecticut
Scott Williamson, Whitehorse, Yukon Territory
Gene Stevenson, Springfield, Oregon
Dean Philips, Clinton, Ohio
Barry Hansen, Seattle, Washington
Chris and Jane Baird, Henderson, Nevada
Jerry Nelson, Grand Blanc, Michigan
Ted Polk, Wadsworth, Ohio
Jim and Jenny Kirk, Santa Rosa, California
Bev Armbrust, Wadsworth, Ohio
Mark Zeisberg, Elkton, Maryland
Spencer Kaulback, Winthrop, Maine
Mark Pawlowski, Portland, Oregon
Barbara Haverty, Cassadaga, New York
Andy Woehler, Kennewick, Washington
Mark Unger, Collegeville, Pennsylvania
Ron Supinski, Smithfield, Rhode Island
Thomas Sullivan, Crystal Falls, Michigan
Bz Buford, Denver, Colorado
Marc Allard, Boisbriand, Quebec
Randy, Milford, Massachusetts
Vicki Liston, Toms River, New Jersey
En "Ian" Johnson, University Heights, Ohio
Randy, Kelly and Ryder Robertson, Muldrow, Oklahoma
Justin and Michelle Sturgill, Howe, Indiana
Matt and Becki Toole, Raleigh, North Carolina
Kurt Kneidinger, Meaford, Ontario
Steve and Gloria Lymer, Toronto, Ontario
Mark and Melinda Koster, Amarillo, Texas
Stephen Paushter, Framingham, Massachusetts
Keith Poliska, Murrieta, California
John Willard, Bonfield, Illinois
Linn Fillius, Englewood, Florida
Jake Schultz, Independence, Oregon
David Romero, Shreveport, Louisiana

The Dare for 2022 is now over.  Thank you!