As the not-so-funny joke goes, you can't kick the tires on a truck camper – they don't have any.  While that awful joke has you reconsidering the precious time you spend reading Truck Camper Magazine, kick this around: with a loaded and wet truck camper, most of us are probably carrying between 10,000 and 15,000 pounds on four or six truck tires; truck weight and camper weight combined.  That's a lot to ask of textile, steel, and rubber.
On our previous 1998 Ram 3500, we solved the wheel and tire question by ditching the stock 16-inch wheels and installing a beautiful set of Rickson 19.5 wheels and Kumho tires: KRS 03 245/70 R (steer) and Kumho KRD 02 245/70-R 19.5 (drive).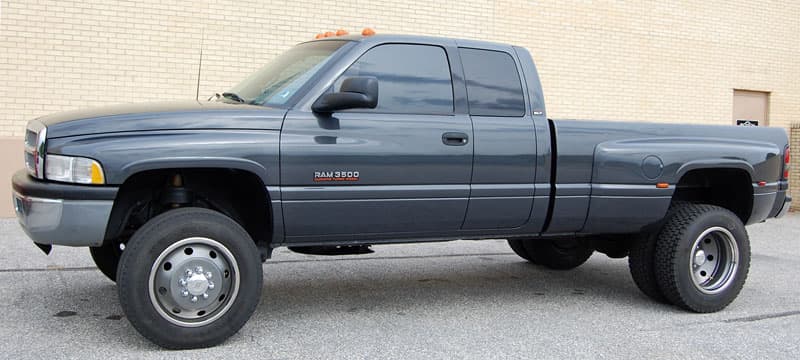 Above: Our 1998 Ram 3500 with Rickson 19.5 wheels and Kumho 245/70 tires
Over the following five years, we drove the living heck out of that truck with multiple campers and cross-country adventures.  In all of those miles, on pavement and the occasional off-road side-trip, we didn't have a single wheel or tire related issue.  Not one.  In fact, the Ricksons and Kumhos looked ready for more long distance hauling when we sold our Ram truck with the Rickson/Kumho combo in 2012.
Fast forward and we have a 2014 Ram 3500 dually with factory 17-inch wheels and Nexen Roadian HTX RH5 LTV LT235/80R17 tires (why tires need such long names is beyond me).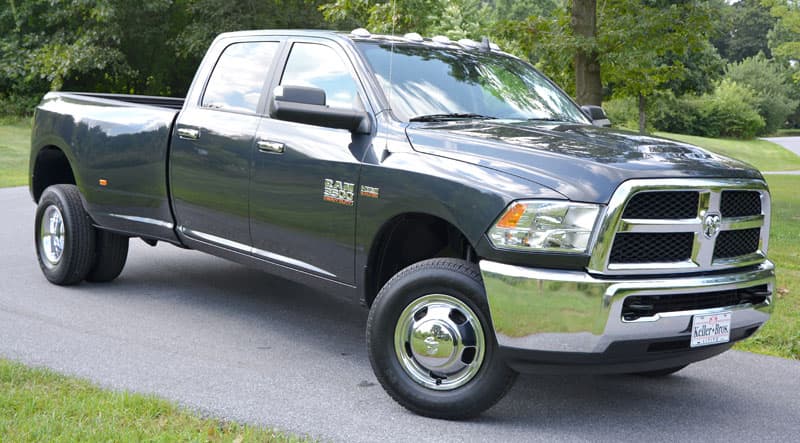 Above: Our current 2014 Ram 3500 with factory wheels and tires
After a cross-country trip that took us into Western Canada, another trip to Denver and back, two trips to Florida and back, and a few shorter distance trips, the Nexen tires are starting to show tread wear at 27,000 miles.  While it's not quite time for new tires, it soon will be.
To help us with our wheel and tire research, and to help others with the same, we are conducting a six question poll about wheel and tire preferences for a truck camper rig.
Here are the six questions:
Have you kept your OEM wheels, or have you upgraded?  Are you using the OEM tire brand and model, or have you upgraded?  What size wheels do you have?  What size tires do you have?  What brand tires do you have?  And approximately how long do you go before getting new tires?
Thank you to TCM readers Charlie Young and Kris Cassidy for inspiring this Poll of the Week.
To see the results of the poll, go to "Truck Camping Wheel and Tire Poll Results".